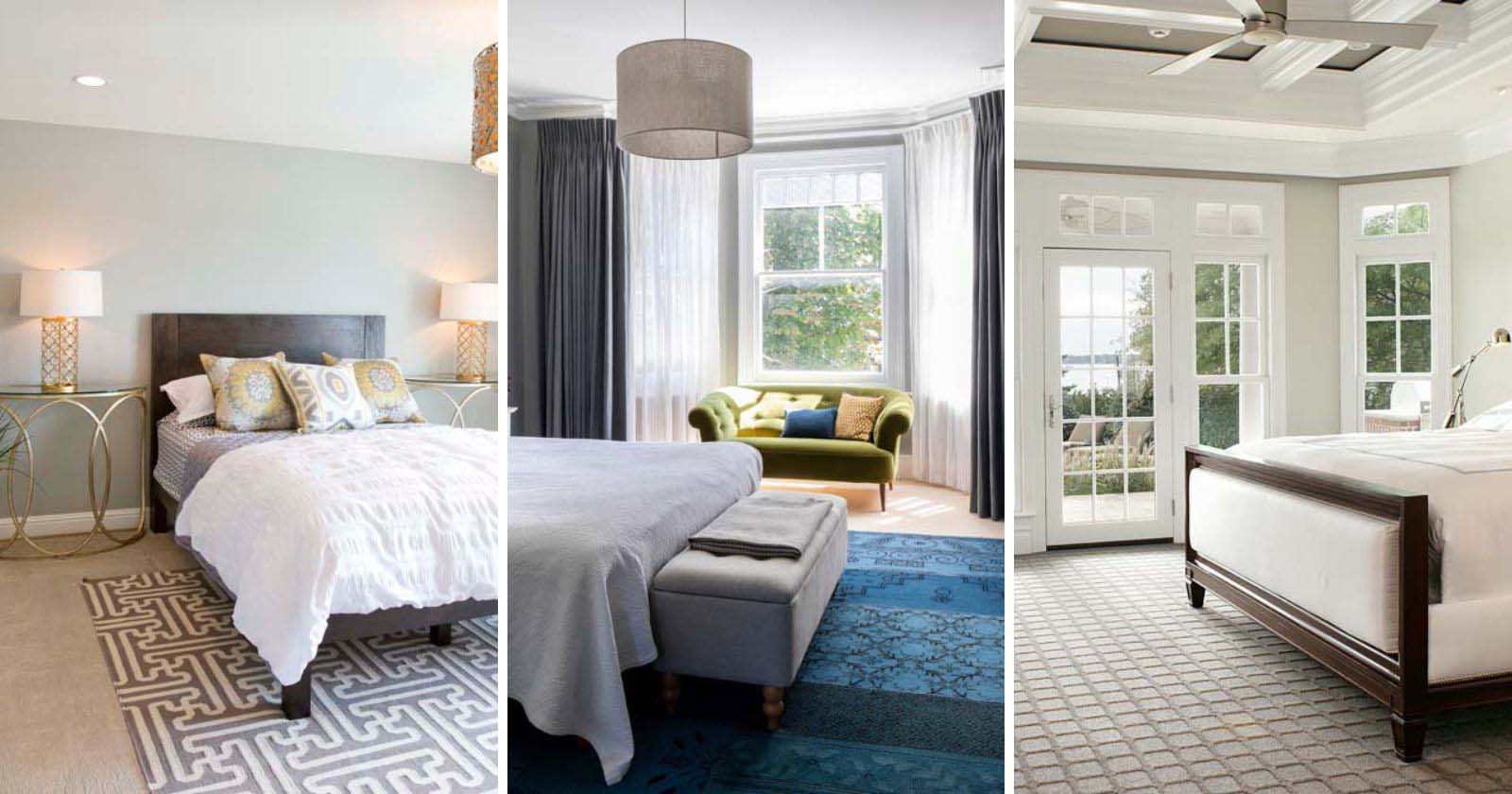 Gray walls give your home a modern look and are easy to maintain and clean. The versatility of gray and its ability to match different decor schemes and styles makes this neutral shade extremely popular. As such, choosing a rug or carpet to match your walls can be quite challenging due to the tons of options available. 
Light gray walls match well with darker carpets such as dark gray, blue, or brown, while dark gray walls are better accented by light colors such as cream, beige, or white. 
What kind of carpet goes with gray walls?
Ultimately, the carpet choice will be determined by the shade of gray on your walls and the mood or ambiance you want to create in the space. Some workable choices include colors like blue, beige, cream, and brown.
Should the carpet be lighter or darker than the walls?
The choice for either a darker or lighter carpet works interchangeably. Try matching the space with a light-colored carpet for dark-colored walls, and for light-colored walls, you should opt for dark-colored carpets.
Can you have a grey carpet with grey walls?
Absolutely! Matching a gray carpet with gray walls will give your space a modern, clean look. You can even choose alternating shades of gray between the walls and the carpet to break the single-color monotony while maintaining matching hues. 
If you've ever wondered what color carpet goes with gray walls, keep on reading to find out.
1. Light Gray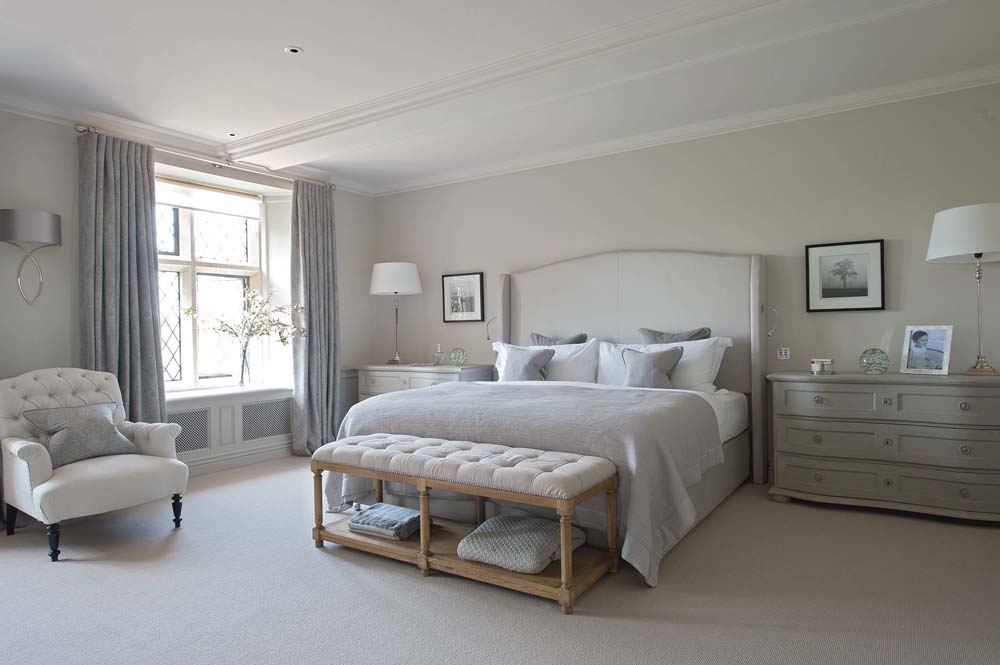 via Sims Hilditch
Light gray is a great color combination for lighter but low-maintenance shades. This carpet choice also creates a monochrome effect to make the space appear and feel seamless.
Go for furniture that'll contrast with neutral colors, such as vibrant and bright colors. You must also avoid gray for any large items in the room, such as sofas, cabinets, or tables. 
2. Beige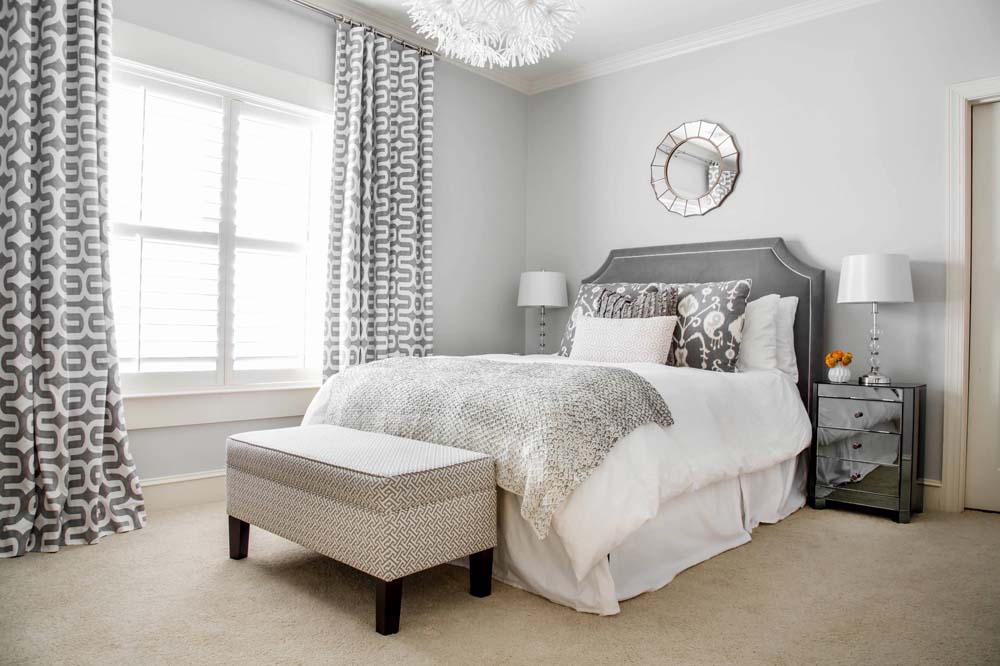 Beige is the perfect carpet color if you want to create a warm, cozy, and inviting vibe in your home. This color is associated with warmth and relaxation. It's an excellent choice for creating a comforting atmosphere to relax and unwind after a long day. 
The best designs that'll fit well with a beige carpet are minimalistic or bright open spaces. 
3. Dark Gray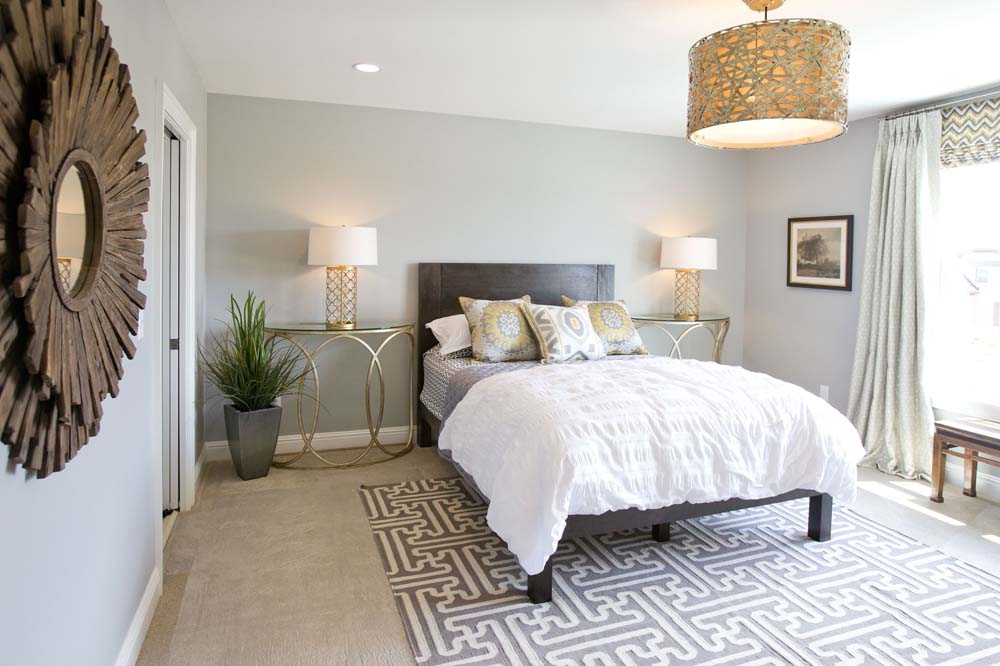 The dark gray combination is the go-to carpet color if you want an elegant, bold, modern look. Choose darker shades of gray to distinguish the rugs or carpets from the walls and floors in the space. 
This color is also a great choice to conceal dirt and stains as it won't easily show. For people with pets and children, dark gray carpet is one of the top choices as it's also less likely to show wear and tear.
4. Mint Green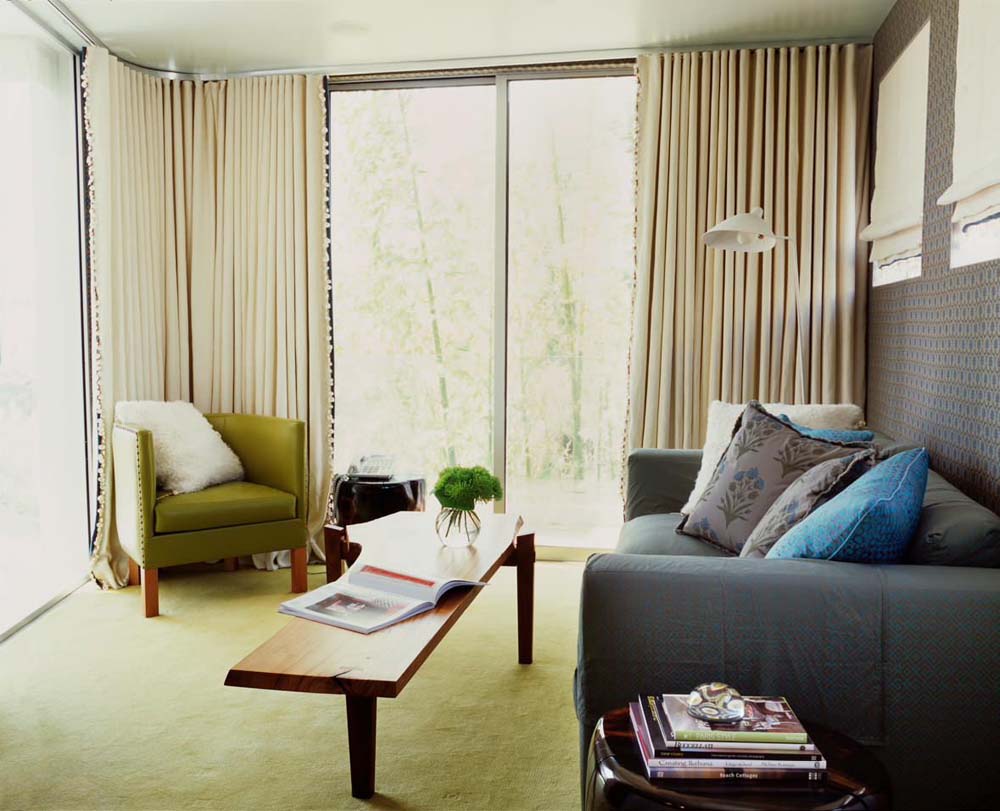 via Katie Leede
Trying something unique such as mint green can be the perfect way to add interest to your space. 
The mint carpet brings a fresh and earthy vibe to your room that can lift up the mood of the entire space while also making the room vibrant and visually appealing. 
A mint green carpet brings a sense of freshness to the space, while the gray walls provide a serene and calming backdrop. 
5. Gray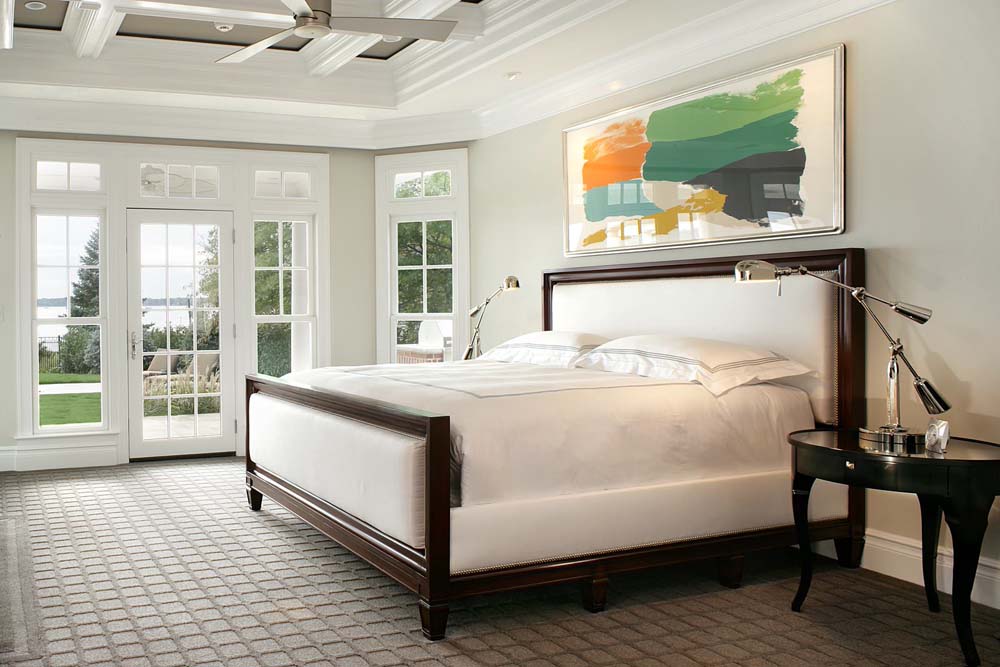 Matching gray walls with a warm gray carpet may be risky, but it's also worth it if done correctly. Naturally warm colors work well if you have vibrant furniture or decor in the room, making the furnishing stand out.
The light-colored bed and vibrant painting are easily brought out in this setting by the warm-toned gray carpet. The abundance of natural light in the room makes the carpet and furnishing choices stand out. 
6. Burnt Umber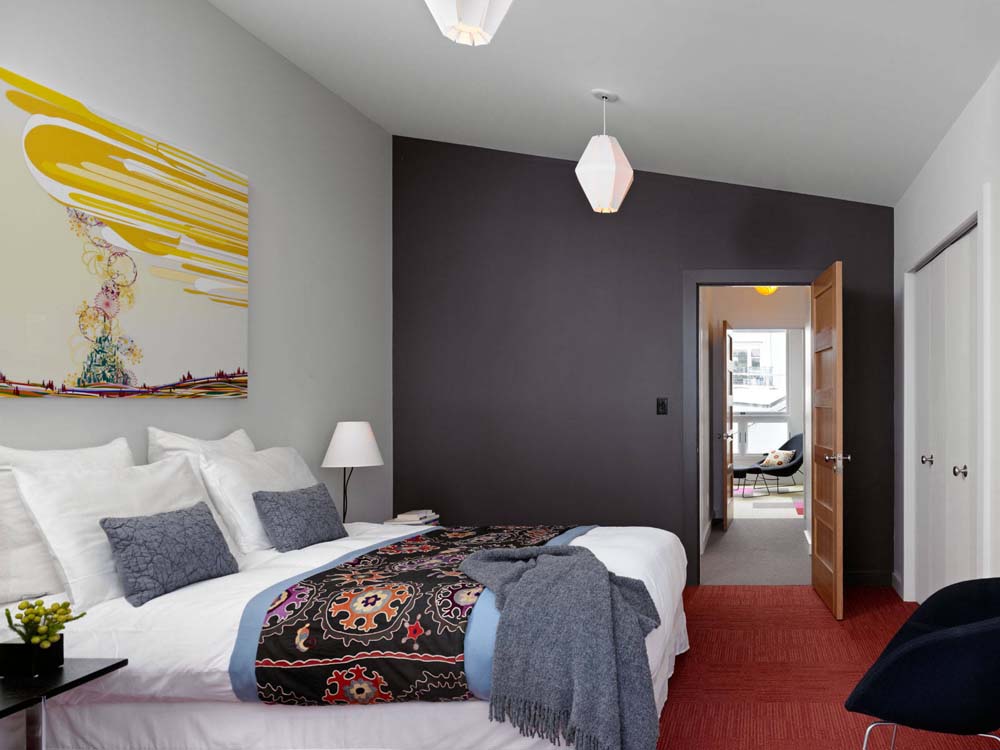 Reddish-brown is an excellent choice if you want a strong flooring color. A lighter shade of red-brown will warm up the room without being too loud, as with many bold colors. 
Moreover, brown is a great complementary color to create a comfy, inviting space. It will make a good combination for spaces such as the living room. The brown carpet highlights the gray in the walls, and the gray walls highlight the brown carpet creating a perfect scheme. 
7. Ivory Cream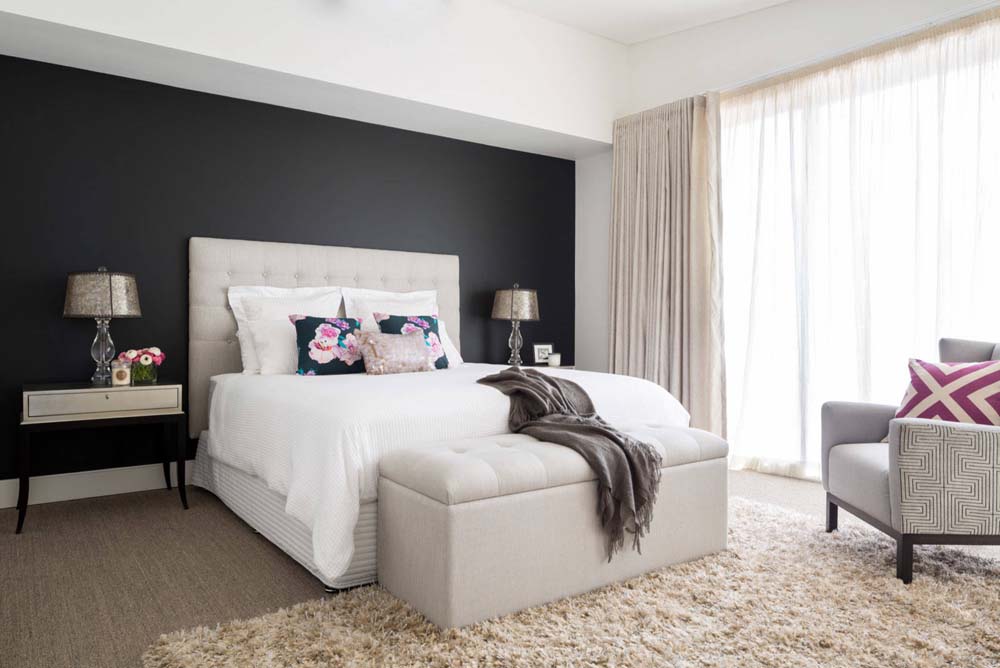 Another warm-toned color choice that'll work well with neutral gray walls. Since the cream carpet is also reminiscent of minimalist designs, it will create a clean, tidy, and cohesive look.
One of the main concerns for designers working with cream is the monotony the color may create with gray. This is especially true if you have similar toned furniture or decor in the room that may make the space look gloomy and lifeless.
To contrast your home's gray and cream tones, you can accessorize with colorful decor such as bright-colored throw pillows, houseplants, or a bright piece of art. 
8. Cool Gray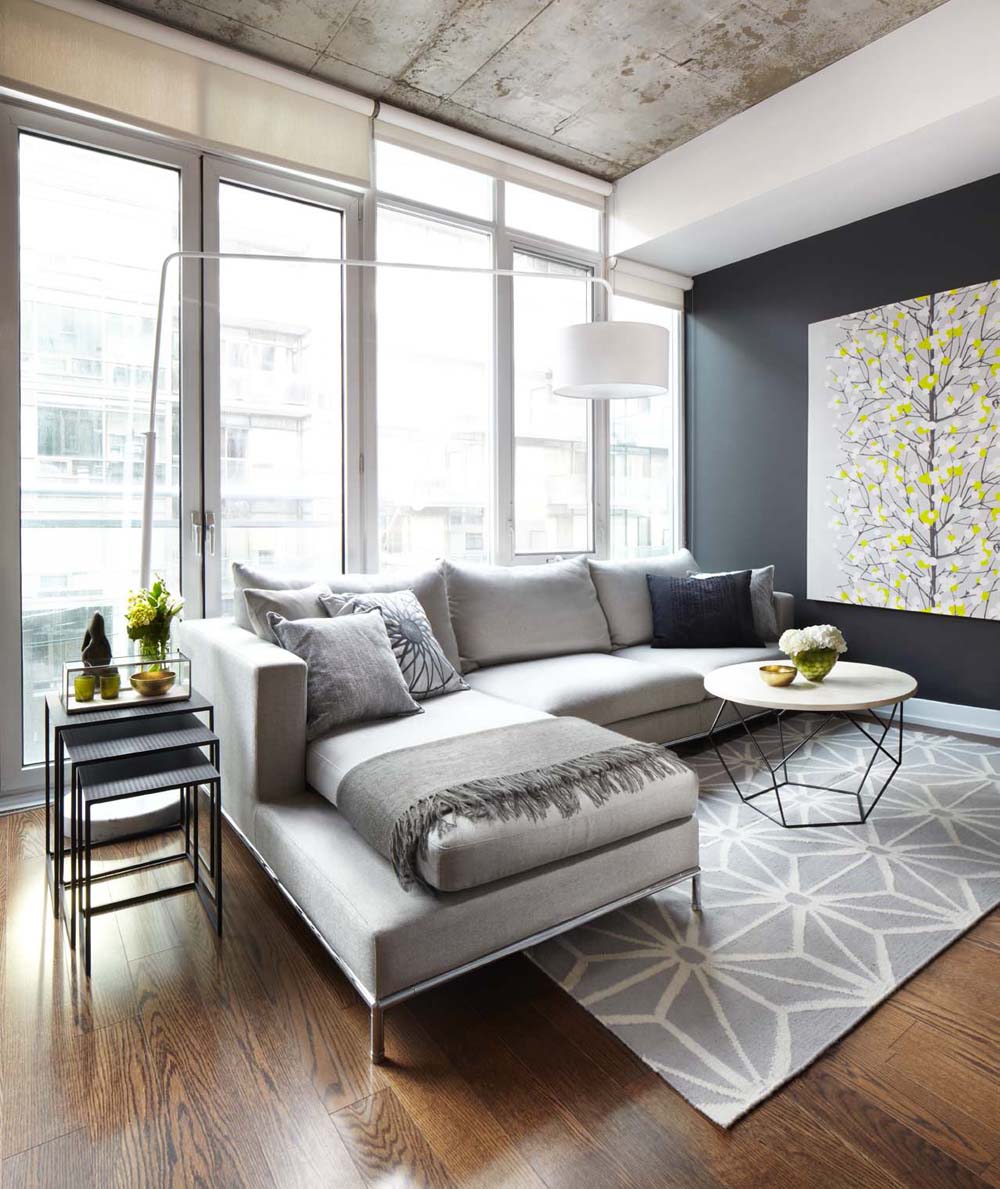 If you have a dark and light wall color combination, a cool gray carpet may do the trick. This carpet works well with dark-colored walls such as dark gray. You can combine the carpet with a gray sofa but be sure to include other vibrant colored decor in the room to liven up the space.
The gray sofa combines well with a cool gray carpet in this setting. The addition of bright-colored wall art and houseplants bring some life to the room. 
9. Light Blue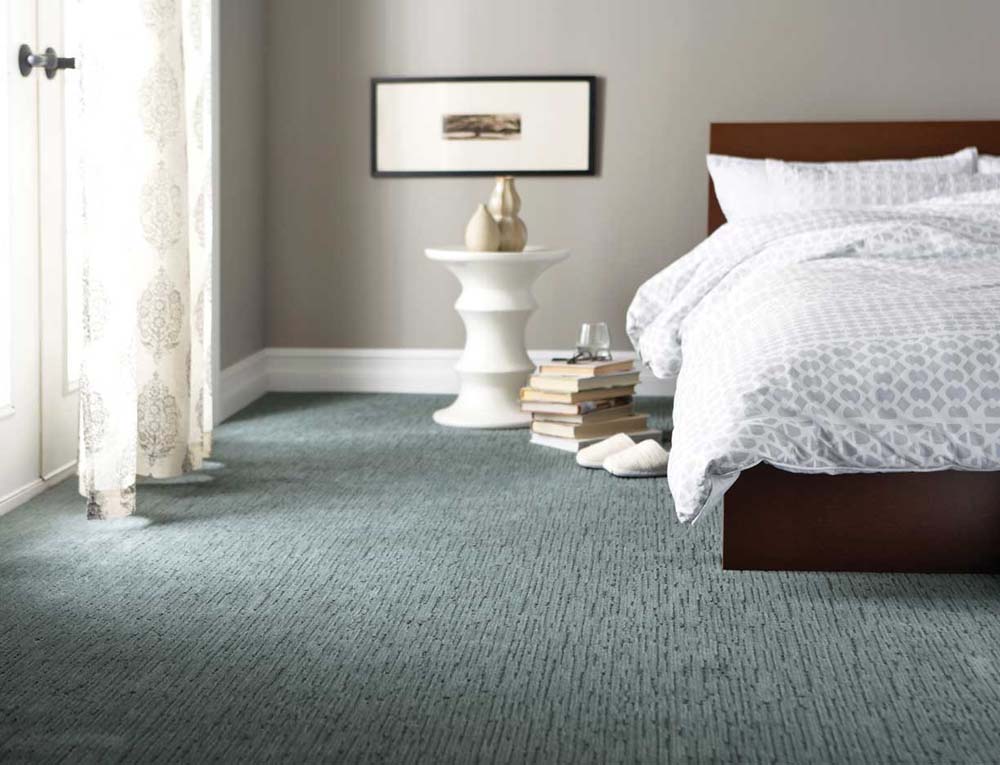 Some people may view gray as too neutral of color, and, as such, the best way to liven up the room is by adding a fresh color such as blue and light blue is one of the best tones. Light blue is more neutral than other shades and will blend in easily with gray walls. 
A light blue carpet creates a fresh, airy visual ambiance that instantly makes your room more attractive. The best way to utilize this color combination is when you have darker furniture, which makes the light blue hue balance out the darkness making the room more inviting. 
10. Blue Carpet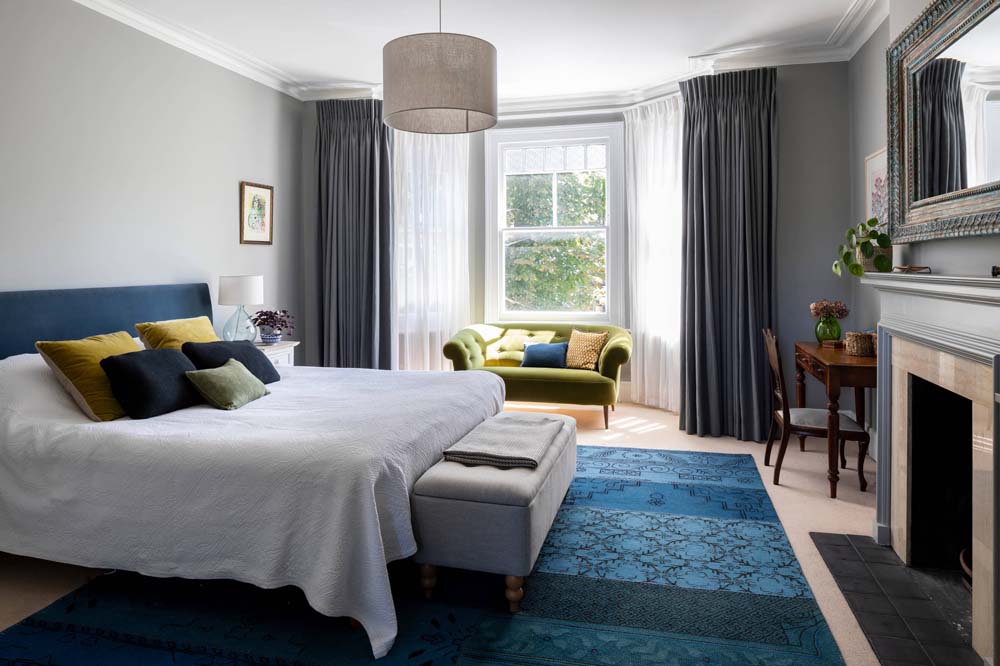 Adding a shade of blue to your space is the perfect way to create a coastal or nautical vibe. You can opt for different shades, such as turquoise or navy blue. 
Since getting a mono-colored rug may sometimes be difficult, you can go for a combination of blues that match your wall colors.
Being a non-neutral color, blue gives a unique and calming look when combined with other neutral tones, such as cool gray. The right color combination will depend on the shades of your wall. If your walls are painted dark gray, light blue shades such as turquoise or blue will be a great match.
Try navy blue or royal tones such as cyan and teal for light gray walls to add some liveliness to the space.
Bonus Ideas
Yellow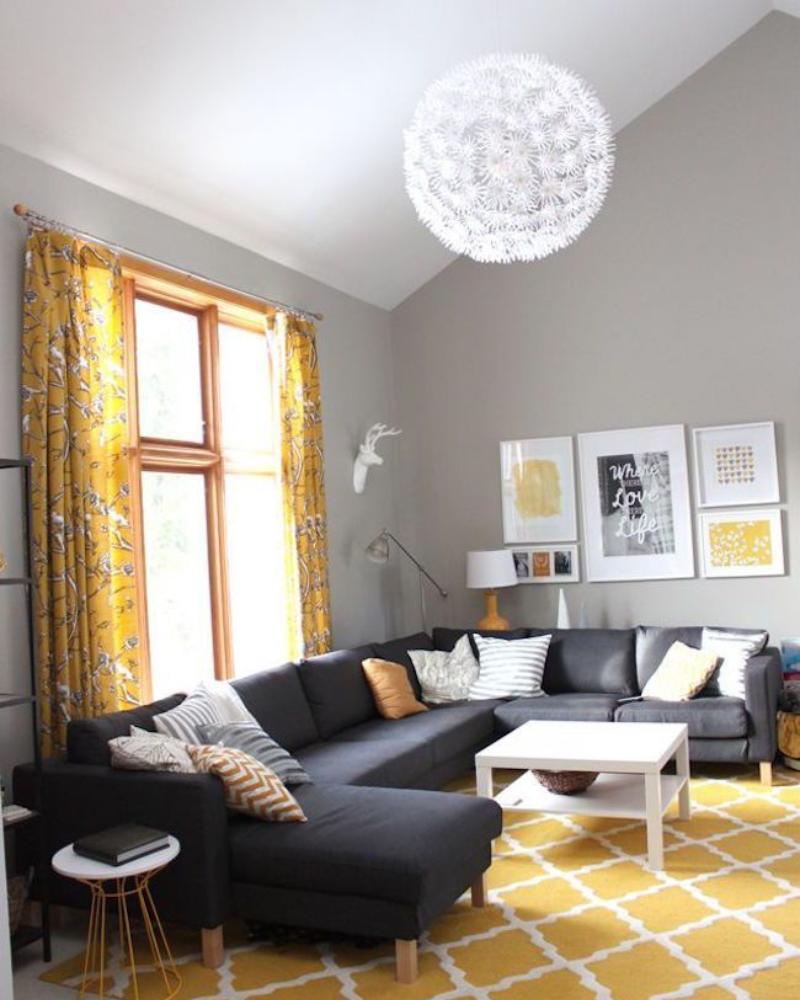 via Google Sites
Want to add a pop of color to your space? Yellow is the perfect color to do so, as it goes well with gray walls.
This color brightens up the room and makes it look warm and inviting. While it may seem too bold of a choice, yellow won't crash with the gray walls at all and will, in fact, complement them.
Going for a multicolored yellow carpet will add a bit of flurry to your home without going too overboard.
White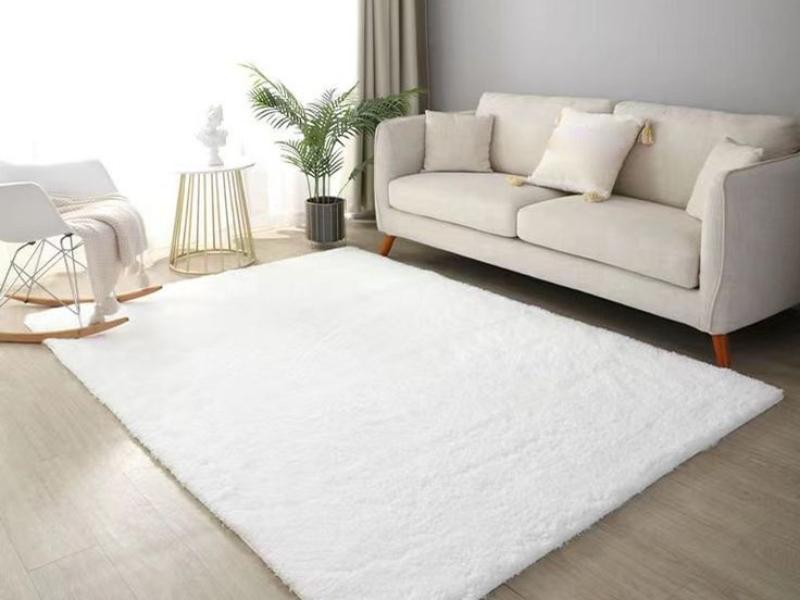 via Create White
A universal color that'll match just about anything. A white carpet in a space with gray walls will make the room feel like an open diary. 
This carpet choice will especially work well in small rooms where it can make them appear larger. 
Since it's easy to notice stains on this color, the carpet will be easy to clean though I wouldn't recommend it to people with pets or children.