A gray wall is considered a subtle and neutral backdrop for bold furniture and decor in interior design. When you choose gray as the color of your walls, you'll need to be creative with your flooring choices to achieve a perfect match.
Gray is a neutral color that combines well with almost any other color. Nonetheless, some colors pair better with gray walls than others. Therefore, it's essential to consider the color combo you decide for your home carefully.
What floor goes with a grey wall?
You should first research the materials available for flooring to pair with gray walls. Laminate or wood flooring is preferable for most rooms in the house apart from bathrooms; they don't tolerate moisture quite well.
On the other hand, tile or stone surfaces will work well in bathrooms, kitchens, and foyers since they are durable and can easily withstand moisture.
Should floors be darker or lighter than walls?
Generally, floors should be lighter than gray walls. Light colors reflect more light, making the room feel larger and brighter. 
However, there are some cases where it might make sense to have darker floors than gray walls. For example, if you have a lot of natural light in your room, you could use dark floors to create a more dramatic effect. Or, if you have a small room, you could use dark floors to make it feel cozier.
Ultimately, the best way to decide whether to have light or dark floors is to consider the overall look and feel you want to create in your room.
What wood floor color goes with gray walls?
Even though all wood has warm undertones, they can still be classified into cool and warm-colored woods. Pine, hickory, ash, poplar, and birch are all regarded as cool woods. They are light-colored woods with detectable gray and light blue hues.
On the other hand, cherry wood, walnut, chestnut, red oak, and cedar are warm-colored woods with dominant brown and red tones.
Gray wall paint color can actually differ when paired with dark or light wooden flooring. Ensure your room doesn't appear dull or gloomy by using a warm shade of wooden floor color.
However, since there are many different shades of gray, it's ultimately your responsibility to choose the right shade to match your home decor and flooring.
Color combinations can make or break your home's overall look and feel. So if you've ever wondered what color floors go with gray walls, keep reading to find out! 
1. Dark Brown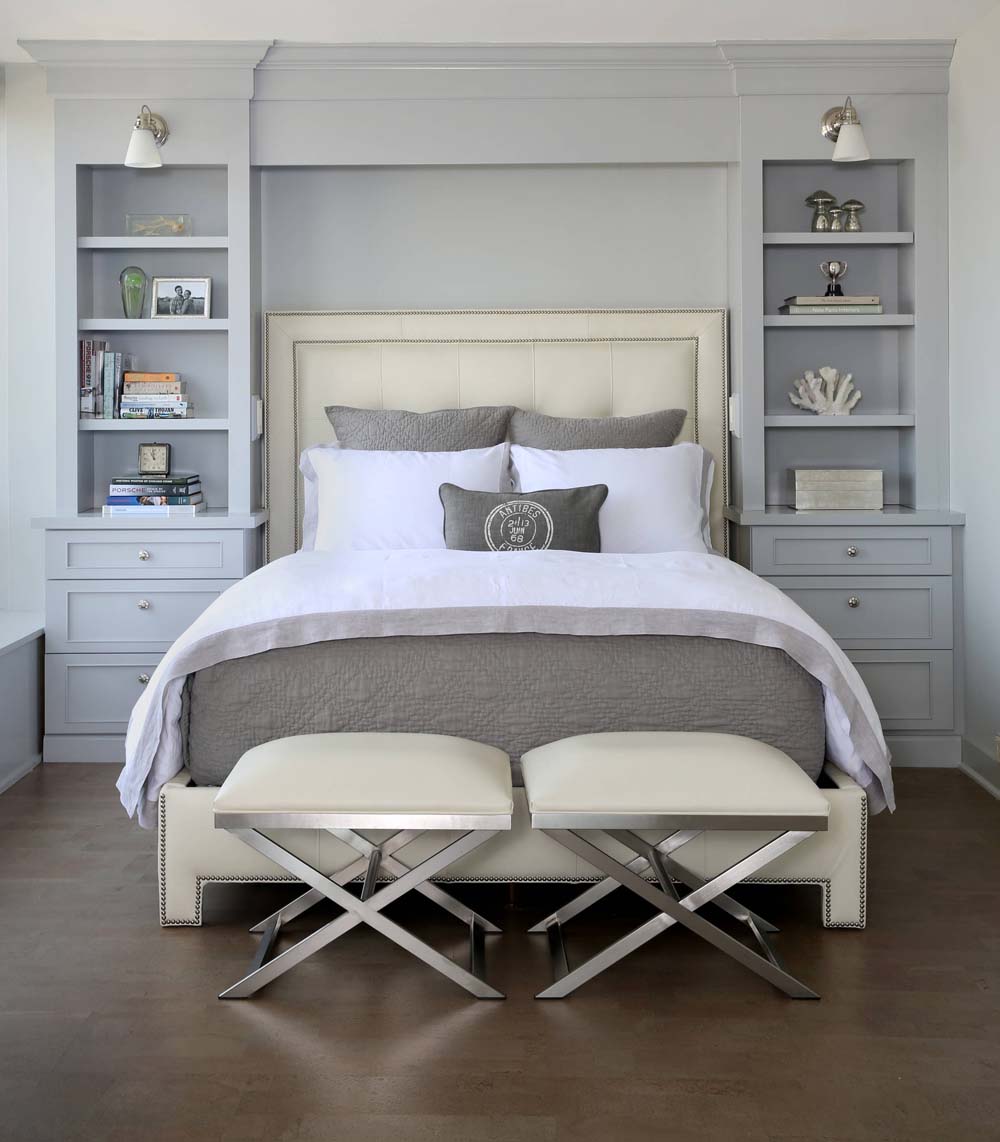 A dark hardwood floor will work great with gray walls since it contrasts the floor and the wall.
This dark brown wood floor looks stunning with the cool gray walls, making the room feel classy and elegant.
2. Patterned Wood Flooring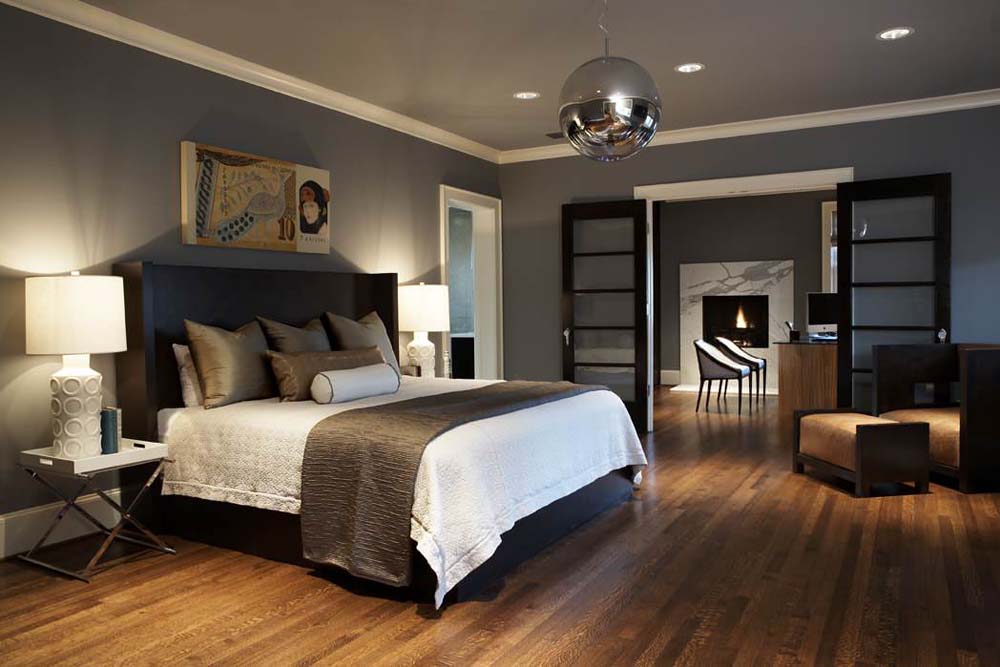 via Beth Dotolo
Infusing patterns in plain dark wood flooring is an excellent way to make your room chic and stylish.
Choosing this color combination is best for contemporary spaces, as shown above. The minimalist elements bring coziness and add a little excitement to the room. The design is effortless but immaculate.
3. Light Brown Hardwood Floor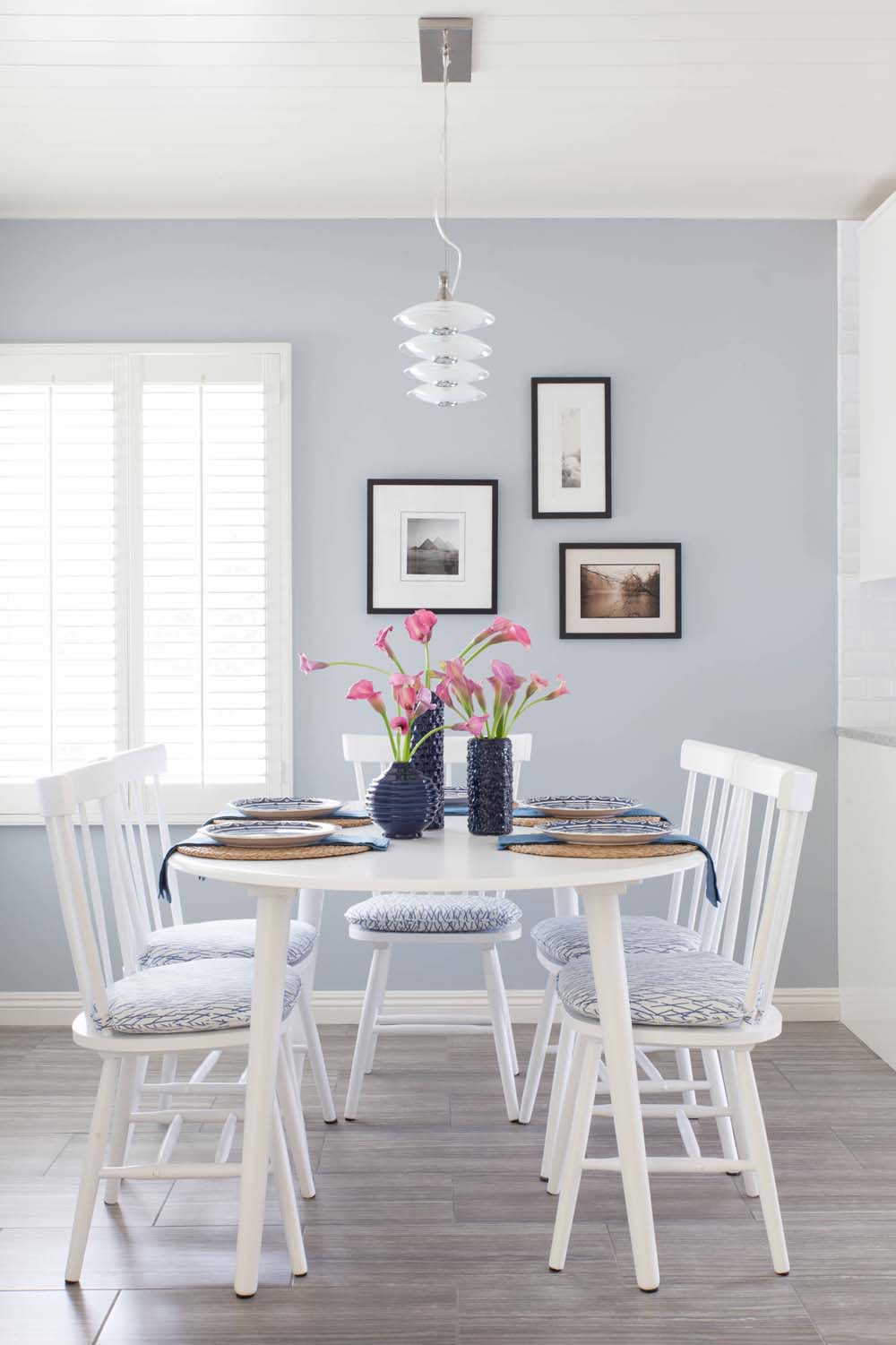 via Rande Leaman Interior Design
The cool gray walls in this design match perfectly with the light brown wood flooring. Oak and walnuts are some types of wood with a similar light brown color, and their combination with gray walls creates a natural and flawless room.
This light brown wood flooring is perfect if you want a classical or rustic touch to your room. The white dining table set and beautiful flowers add color to the design making the room feel spacious and brighter.
4. White Marble Floors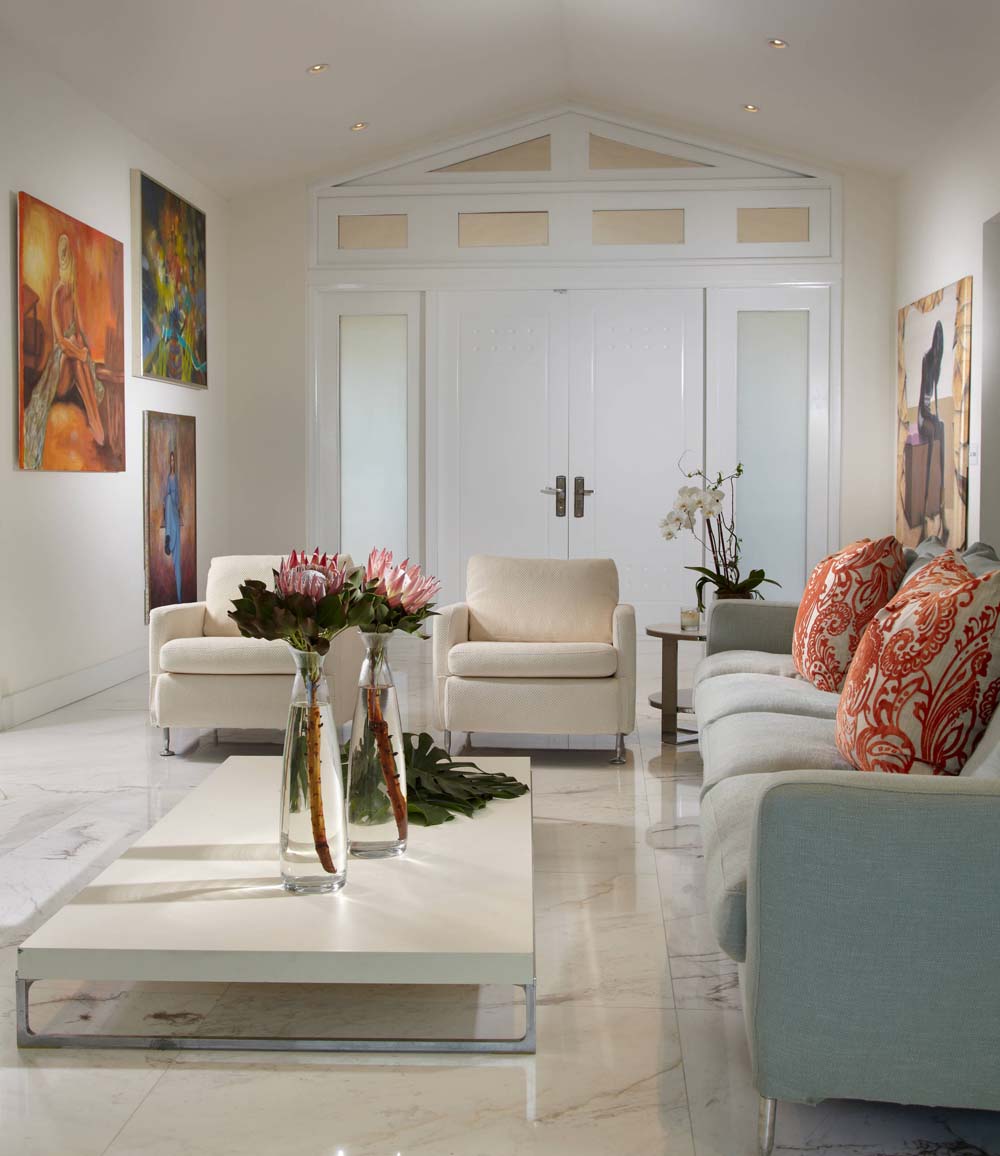 via J Design Group
A white marble tile floor is an excellent choice if you want an added aesthetic appeal to your gray walls. White marble floor tiles make a room feel more extensive and look very classy, fresh, and clean; they are perfect for a small room!
The marble floor tile in this design complements the gray walls perfectly, and its natural marble effects bring a gorgeous and luxurious look to the room.
5. Natural Wood Flooring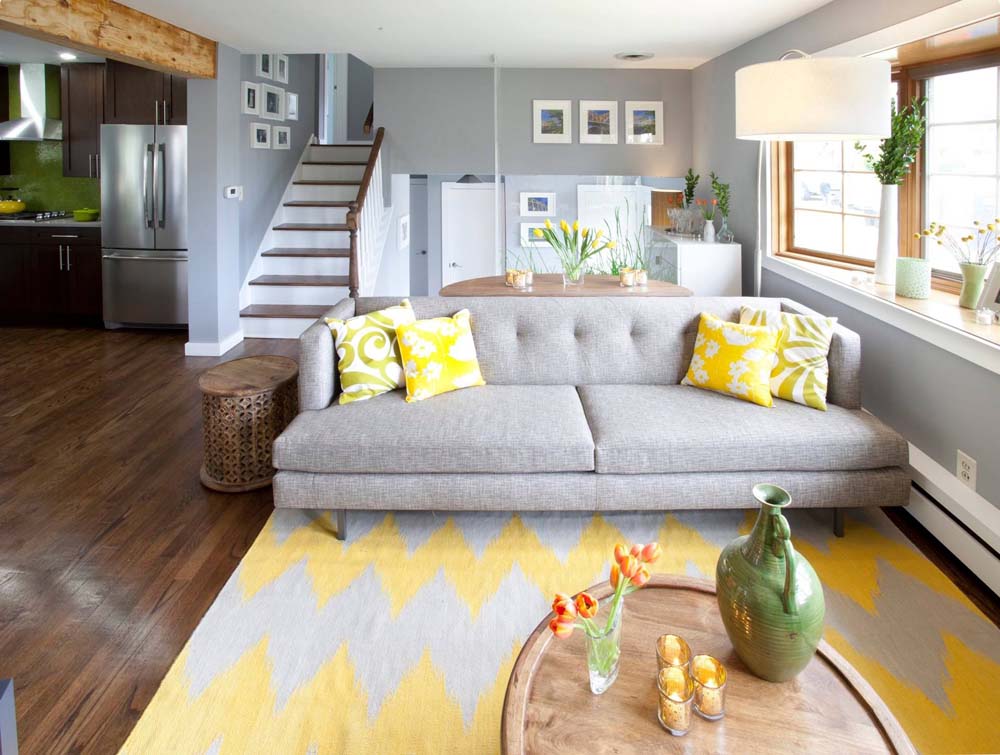 via The Cousins
Wooden floors pair pretty nicely with gray walls and are an excellent way to add a rustic vibe to your home. This living room, for instance, feels cheery and light, with gray walls contrasting with the hardwood floor.
The patterned yellow and gray carpet and yellow throw pillows punch up the neutral color palette of the living room. Add some greenery to have a fresh and inviting space.
6. Patterned Carpet on Light Brown Flooring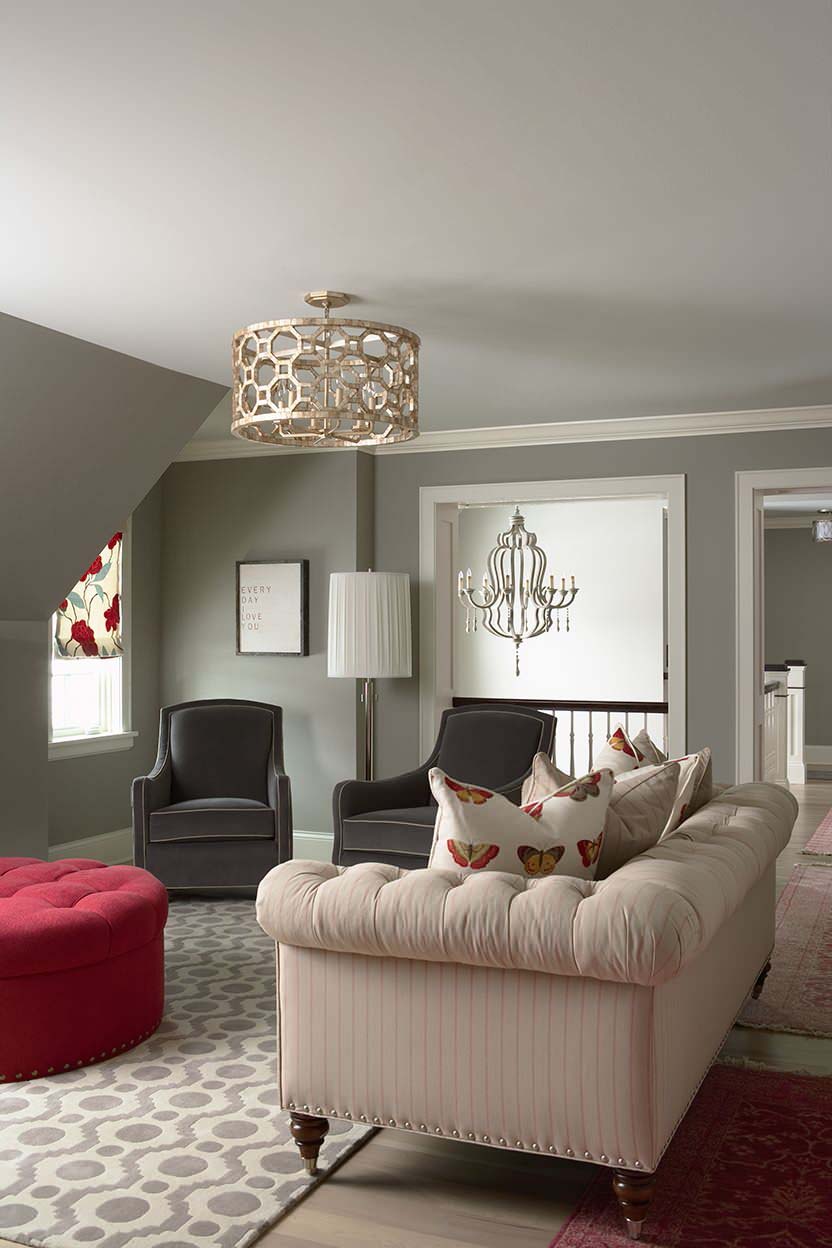 The patterned gray and white carpet is the highlight of this design. The carpet emphasizes the warm gray walls and light brown wood flooring, making the room look brighter and have a fresh and natural impression.
The bright accent colors, such as the red ottoman and carpets, break the neutral color scheme and spice up the design.
7. Caramel Flooring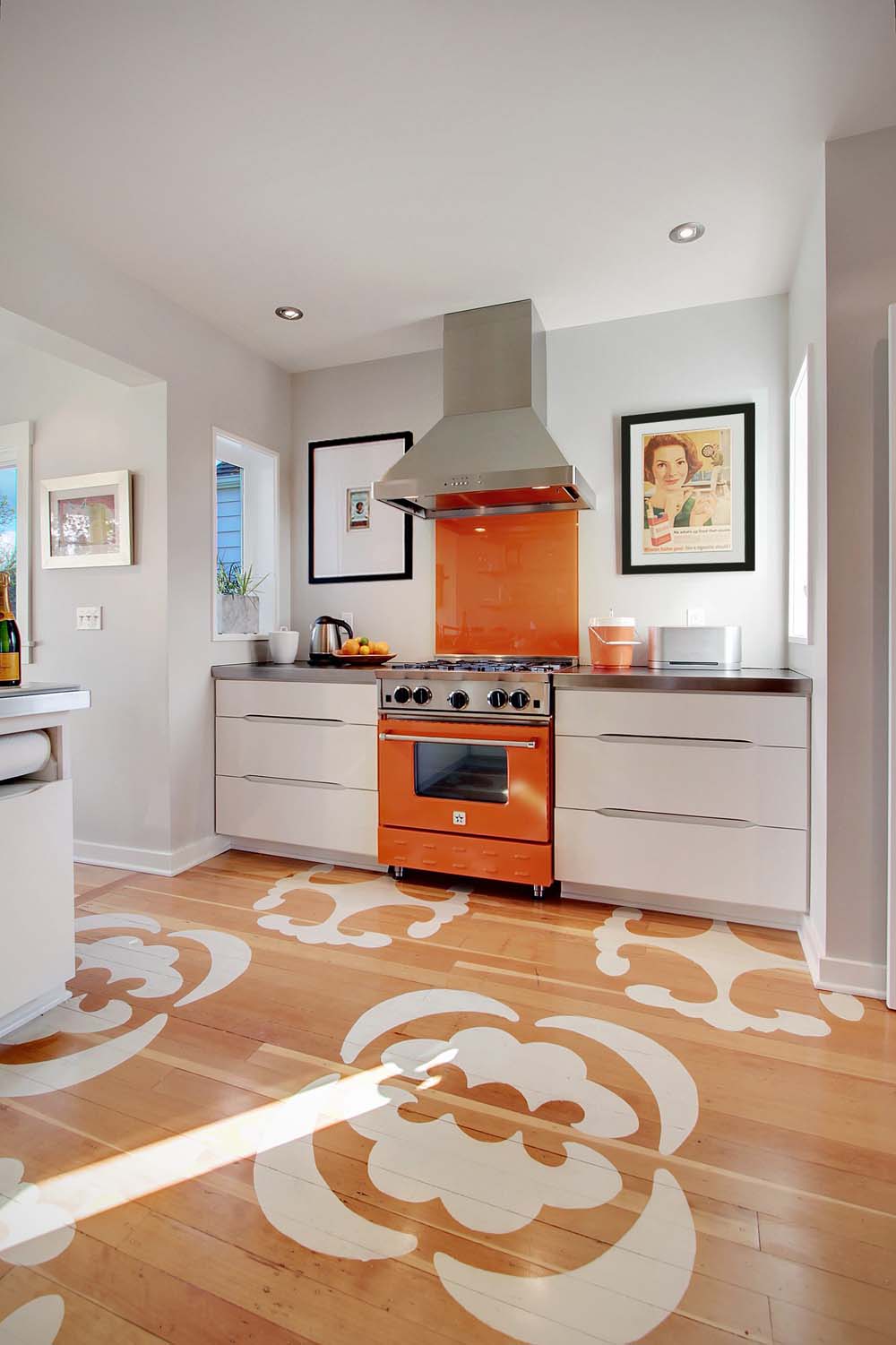 This caramel brown hardwood flooring contrasted against the light gray walls brings comfort and warmth to this kitchen. From oak to pine, combining light brown wood floors and gray walls will always create a flawless and natural look.
The light gray color gives a lot of contemporary vibe while giving the kitchen a minimalistic look. The white painted motifs on the floor and tangerine cooking area add color to the setup.
8. Brown Carpet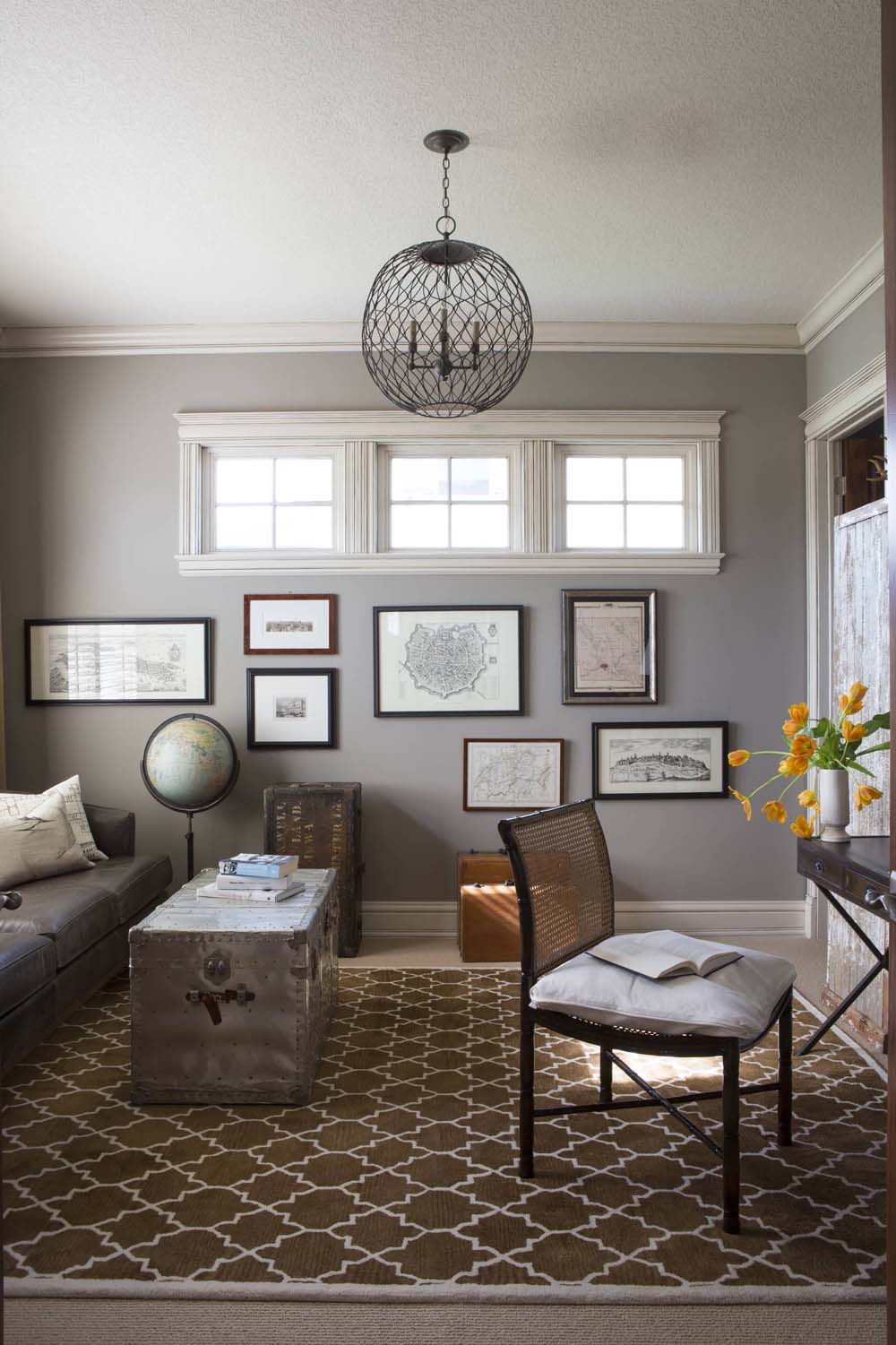 Painting your walls a dark gray color requires a complementary color for your flooring. In this case, the patterned brown and white carpet creates an illusion making the room immense and unending.
It also adds texture, depth, and angles to the already compact space. Accentuating it with bold colors, such as the dark gray couch and yellow flowers, gives the room a playful touch.
9. Subtle Blue Gray Carpet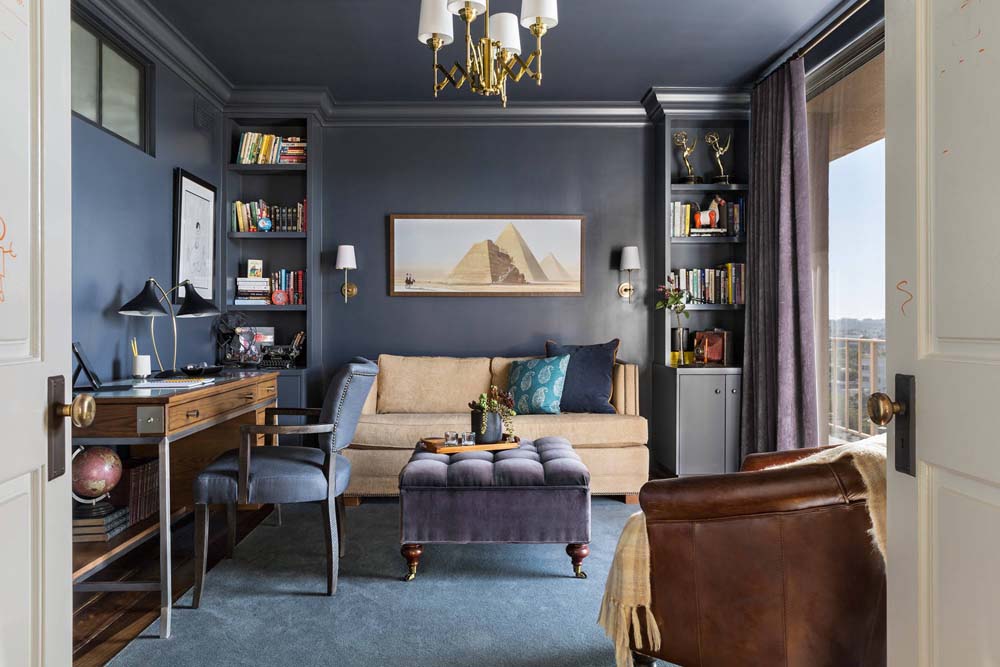 via Osinoff General Contractors
Combining a blue shade with dark gray walls is a great way to create a relaxed and refreshing vibe. The blue-gray carpet in this design gives the room a calming effect and a clean and refreshing feeling.
The harmony between these complementing colors is simply versatile and phenomenal. The beige couch adds color to the design and breaks the monochromatic scheme.
10. White Carpet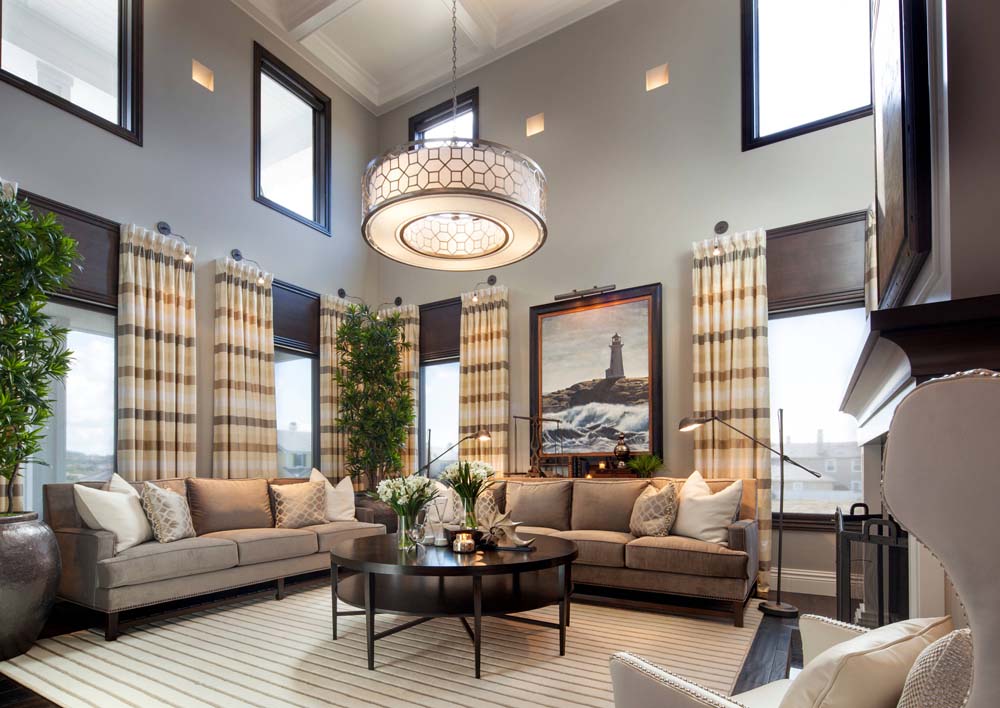 via Robeson Design
White floors may seem like a terrible idea for any busy household. Still, their combination with gray walls is simply marvelous. A white floor makes a room look more spacious and brighter.
The large windows in this living room are an added advantage since they allow more natural light to enter and make the room more cozy. The big potted plants add some color and life to the design.
11. Contrast Light Gray with Dark Gray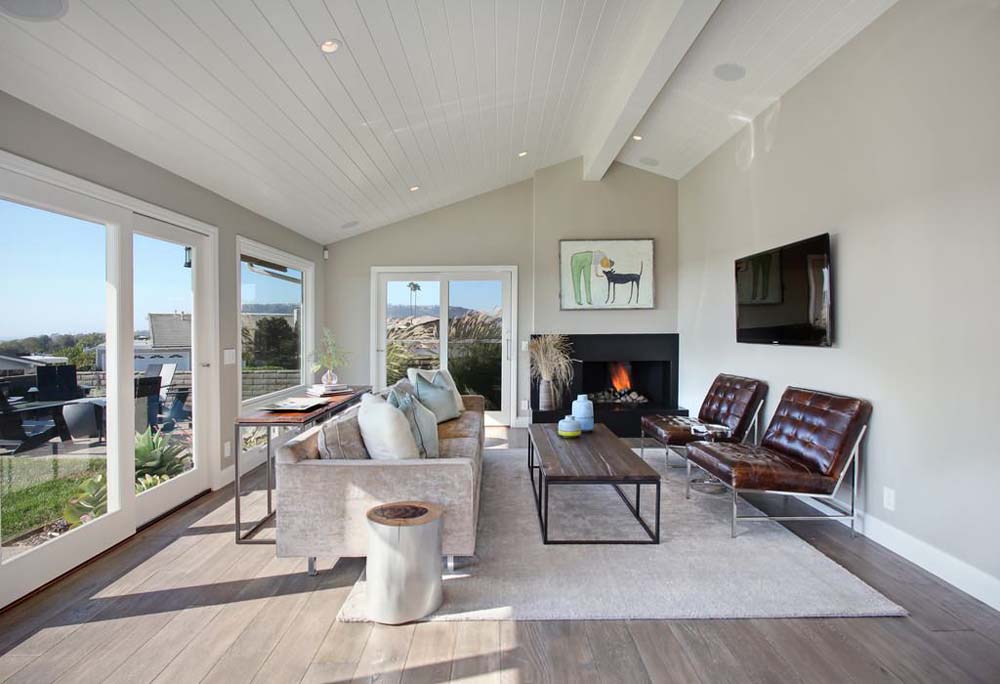 Using shades of the same color as in this design with light gray walls and dark gray wood floor is one of the best combinations for wall and flooring contrasts.
This classic design is perfect for an entertainment nook, and the dark brown couches and light gray carpet make it modern and elegant.
12. Dark Gray Wood Flooring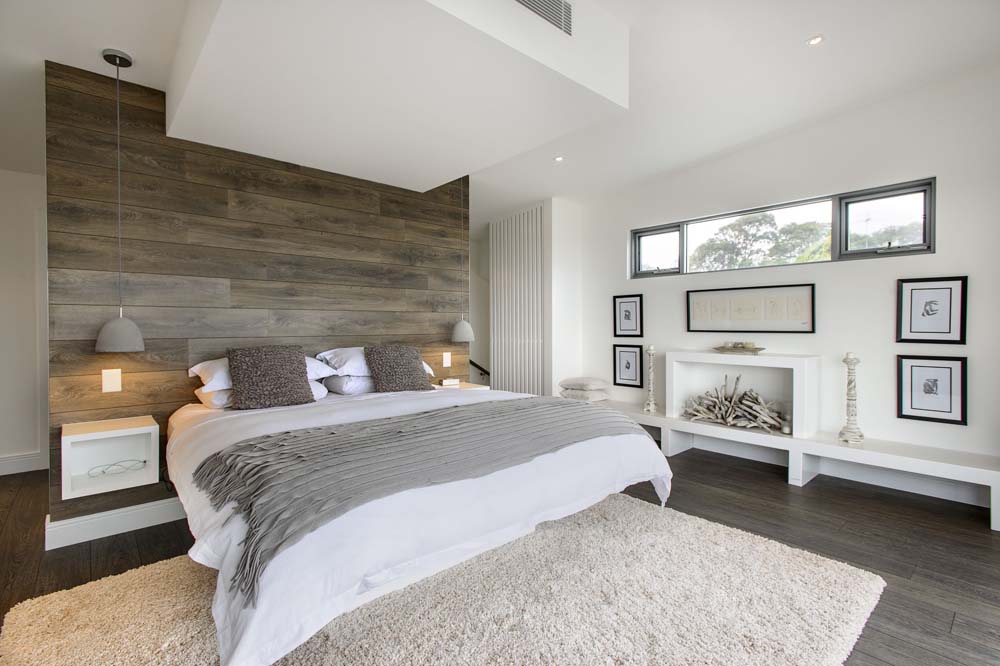 via CAPITAL BUILDING
A dark gray hardwood floor is an excellent way to add a dramatic contrast to your gray walls and make your home feel more elegant. The hardwood headboard matches perfectly with the floor and gives the design a rustic charm.
Ensure you use brighter accents, such as the white carpet in this design, if you decide to use this type of flooring. The cool color scheme in this room will make you easily relax and fall asleep.
13. Gray Tile Floor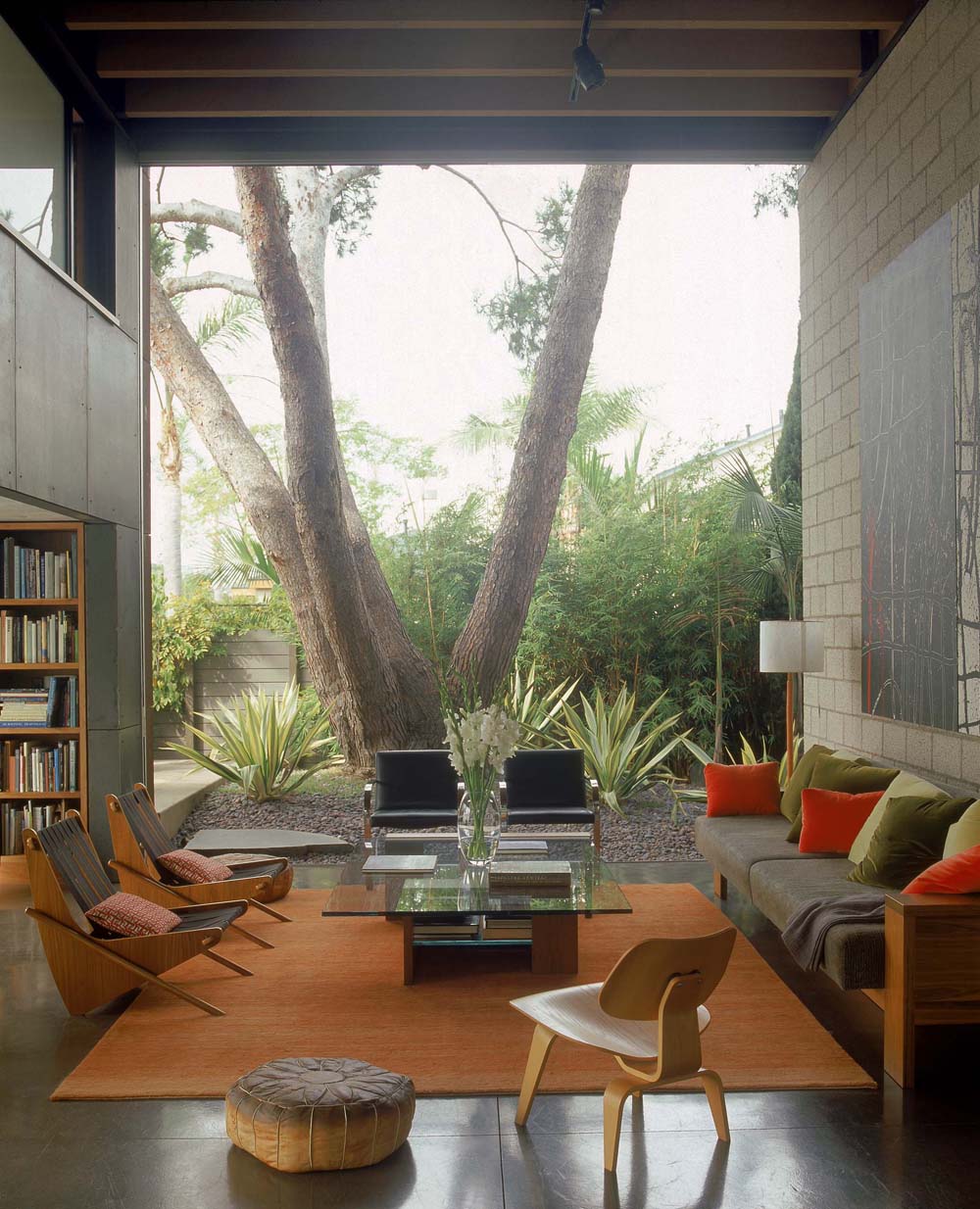 via Ehrlich Yanai Rhee Chaney Architects
This dark gray stone tile floor blends perfectly with the gray wall, giving the room in this design a rustic and industrial touch. Most people find a monochromatic-looking flooring and wall combo cleaner and neater.
The pale orange carpet and seats balance the warm and cool palette perfectly. This design is an example of modern architectural brilliance!
14. Green on Dark Wood Flooring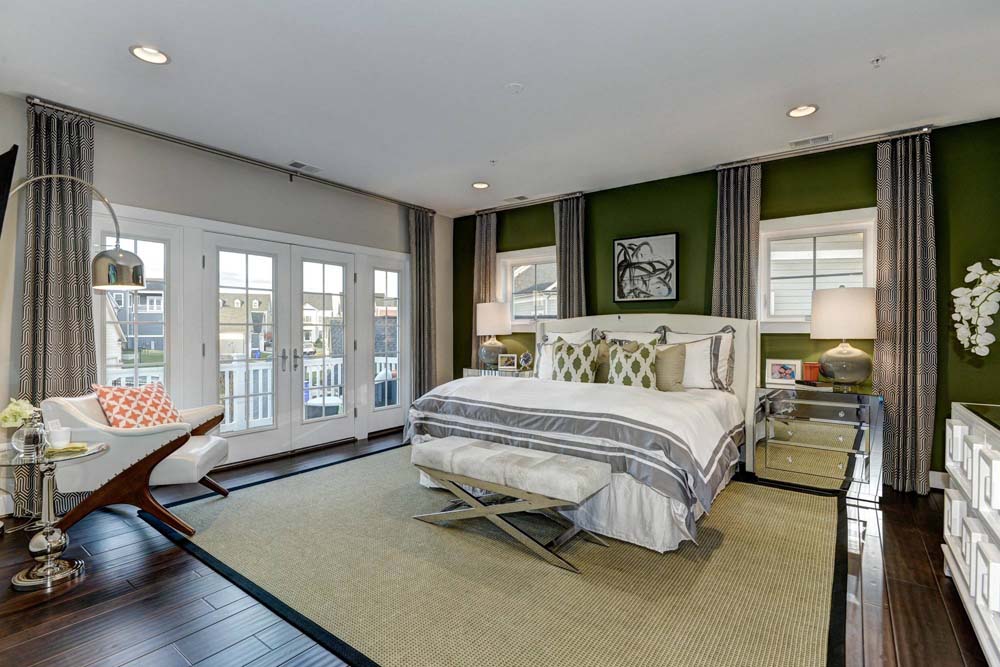 Gray and green are a fantastic combination in the bedroom. The sage green carpet takes this design to the next level, with the dark army green accent wall adding color and contrast to the room.
The sage green carpet and dark wood flooring form the base of this tranquil bedroom. The windows and French door allow natural light into the room, making it brighter and classy.