There are many fun and creative electric fireplace ideas with a TV above you can use to invigorate rooms in your home.
Electric fireplaces use a heater for efficient hot air production, and even though they may serve as a heat source, they aren't as effective as a gas fireplace.
Nonetheless, electric fireplaces are safer than gas fireplaces since they don't produce harmful carbon monoxide or have a real flame that can burn pets or children.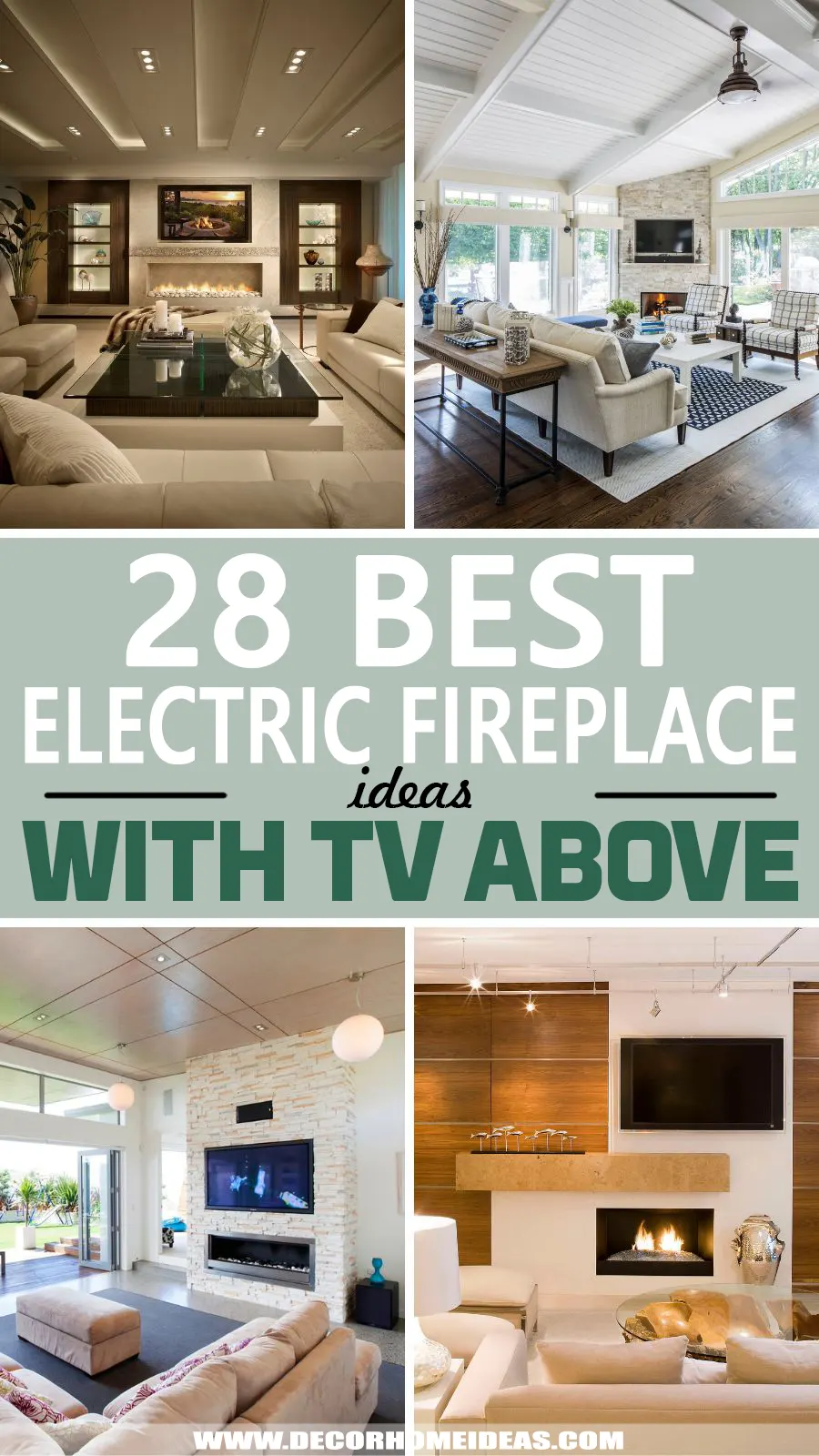 We've compiled the 28 best electric fireplace ideas with TV above to inspire your next interior design project.
Let's have a look!
1. Rift Sawn White Oak Fireplace Wall with TV Above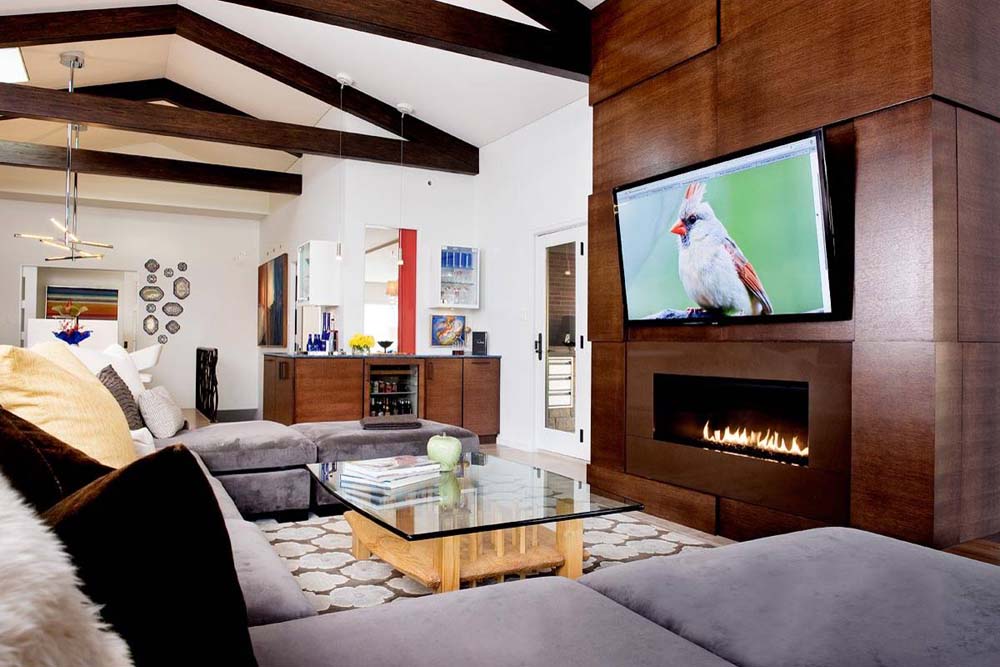 via Pavilack Design
This design uses a rift sawn white oak wall polished with veneer to create a sleek appearance. The electric fireplace has a quartz surround, giving it a clear, glossy look.
The large TV has been inclined to reduce neck strain while watching your favorite movie or TV shows.
2. Modern Fireplace with Natural Stone Surround and TV Above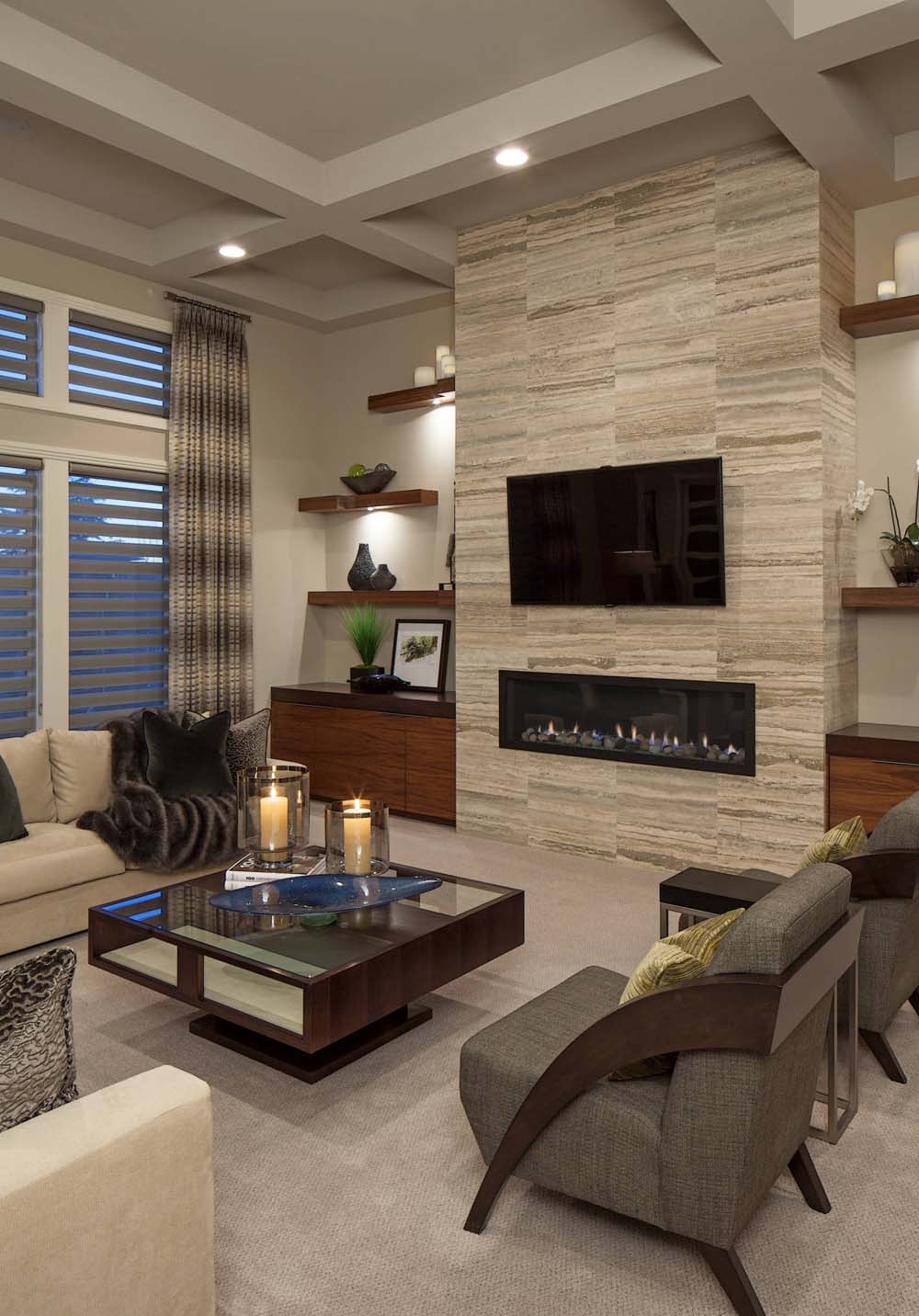 via Interiors Joan and Associates
This fireplace is simply stunning! The in-built electric fireplace has a natural travertine surround with a TV above it. 
The custom-built floating shelves add some color to the neutral theme of the room, and their recessed spotlights give a warm glow to the adjacent media wall.
3. Linear Fireplace Under TV in Bedroom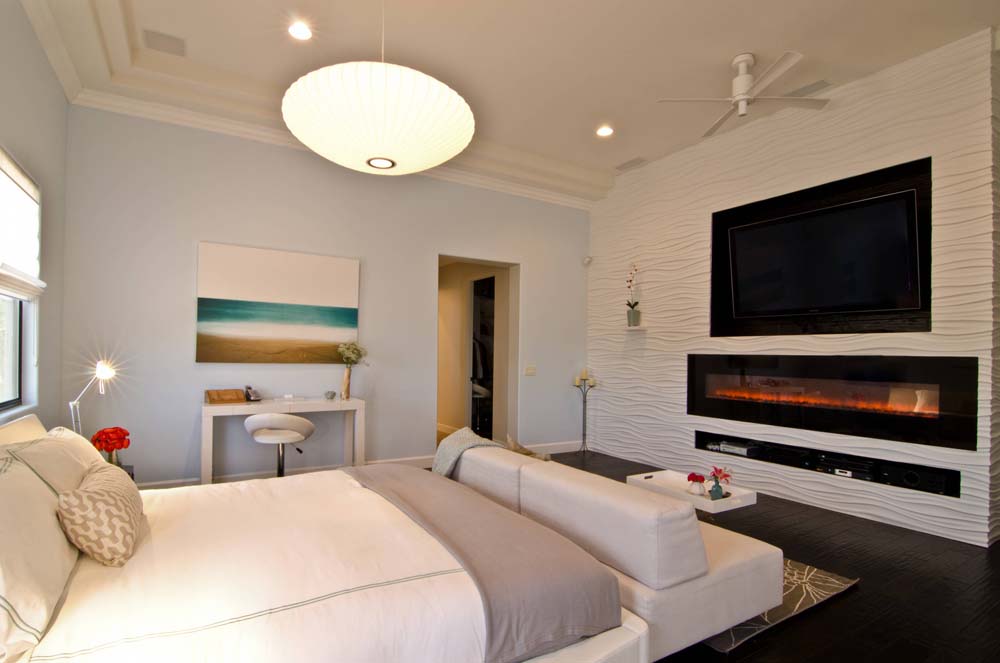 via Mackenzie Collier Interiors
This modern, cozy master bedroom design uses 3D wall panels to achieve a wavy, textured effect on the wall that houses the fireplace and TV.
A hardwood flooring has been installed behind the TV and matches the room's flooring. The tv is mounted to studs behind the flooring.
4. Ideal Fireplace with TV Above Combo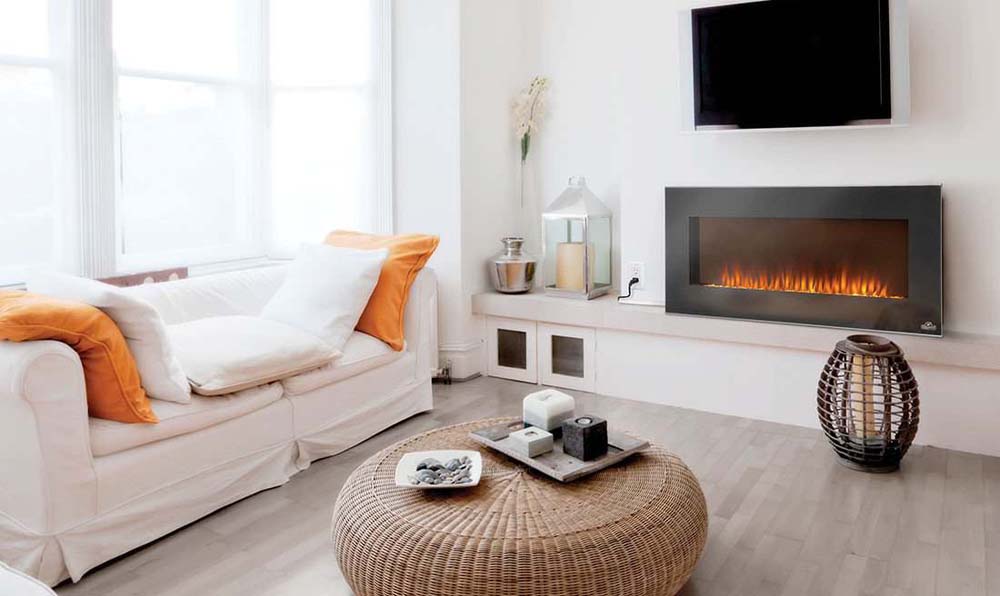 This setup best transforms your living room into a cozy, stylish, minimalistic masterpiece.
The framed fireplace and recessed TV unit use a black color scheme to stand out in the white living room and act as a focal point.
5. Coastal-Themed Electric Fireplace with TV Above Setup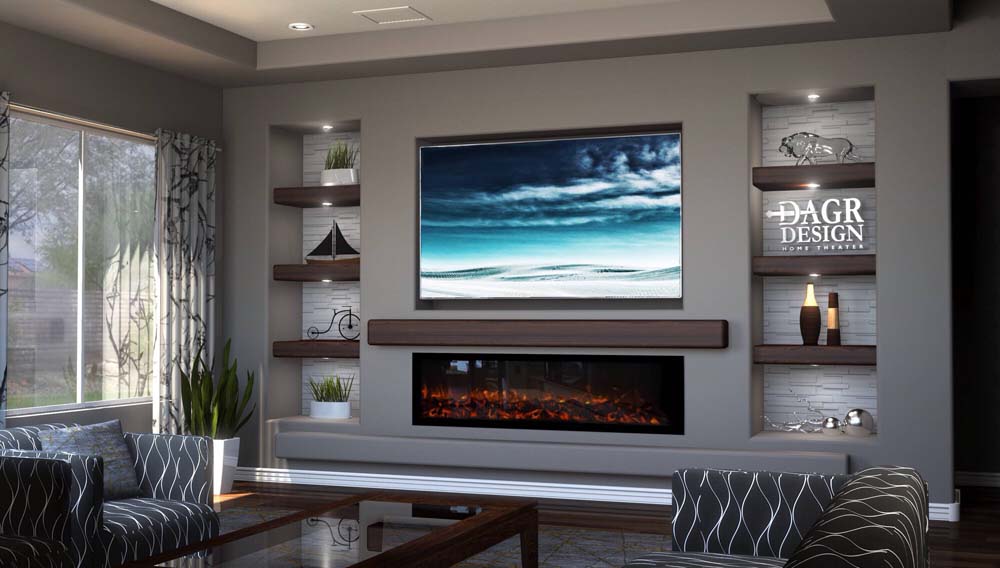 via DAGR Design Custom Home Theater
The TV and fireplace in this design have been separated by a dark wood mantle. The shelves use a similar kind of wood, and they contrast nicely with the gray walls.
This incredible electric fireplace mimics a wood burning fireplace. The recessed spotlights light up the accessories and bring a warm ambiance to the room.
6. Asymmetrical Electric Fireplace with TV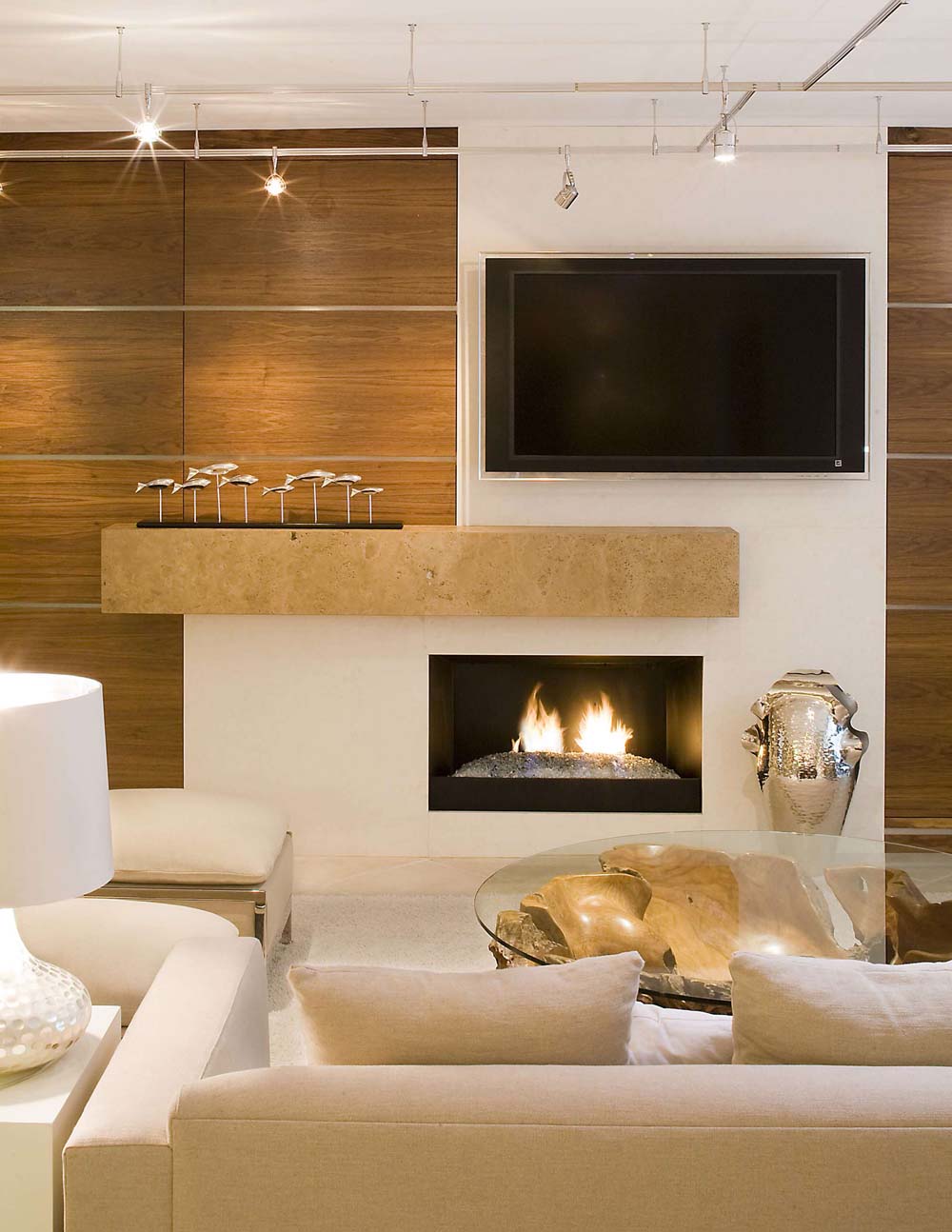 The TV in this design has been offset with the electric fireplace to create a nicely balanced look. The limestone mantel perfectly matches the custom walnut wall and is adorned by silvery fish accessories.
The horizontal lines on the walnut panels are small recessed brushed metal laminate reveals that allow access to hidden storage!
7. Built-In fireplace with TV Above on Black Wall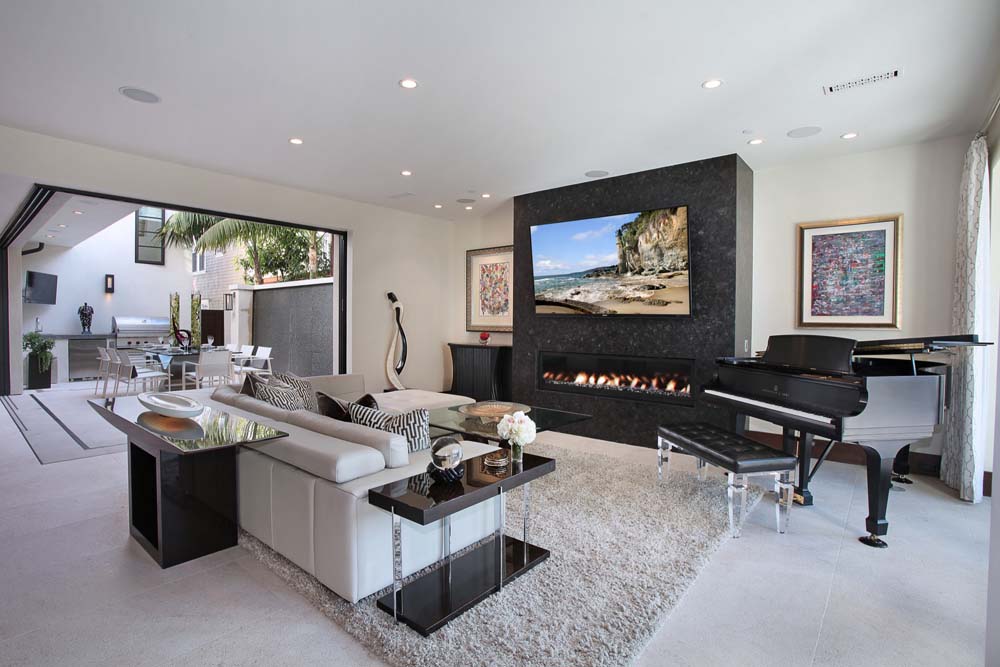 This black accent wall blends perfectly with the recessed electric fireplace and mounted TV. A black background matches well with TV and fireplace frames, making them practically unnoticeable.
8. Stone Fireplace Idea with TV Above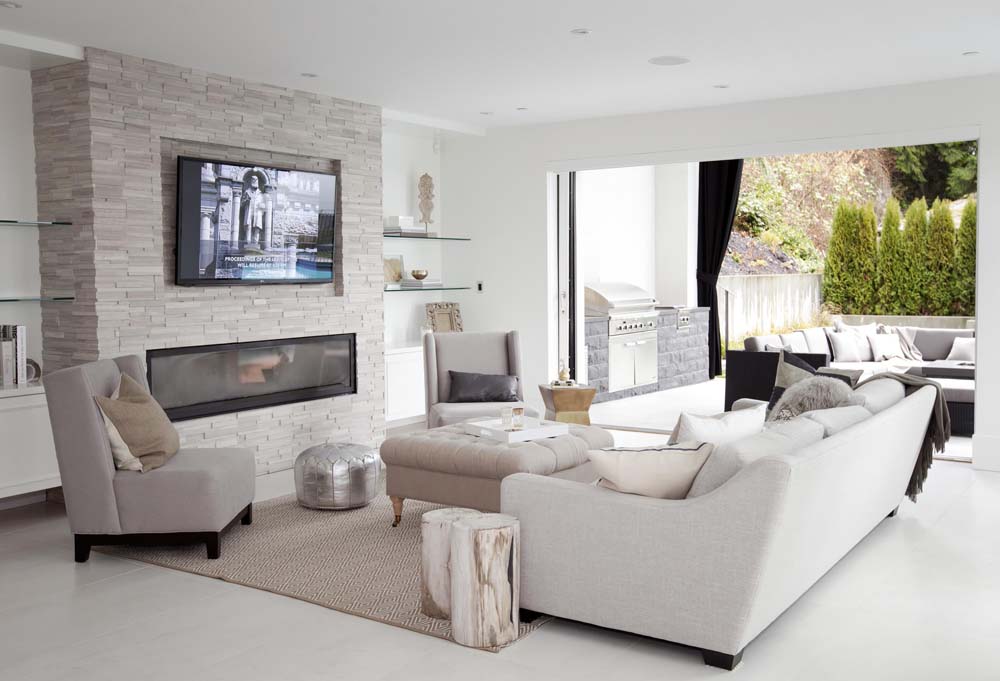 If you are searching for electric fireplace ideas that include rustic components, this natural stone tile wall with an electric fireplace and TV above is the perfect option. 
The glass floating shelves make the design even more classy. You can use natural stone or faux stone wall panels for your wall.
9. Marble Fireplace with TV Above Idea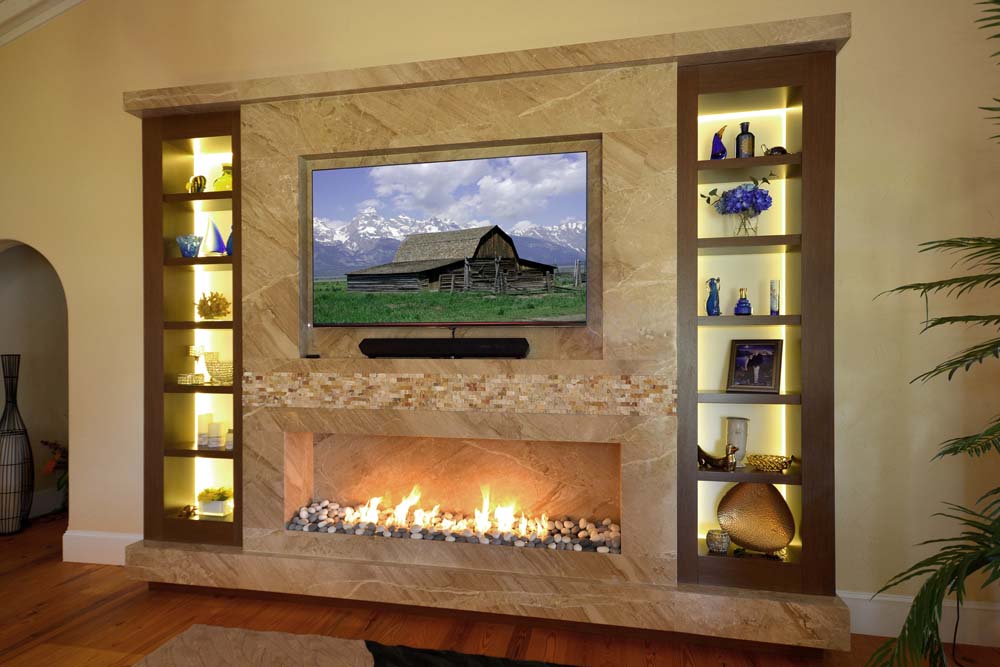 The marble wall in this design complements the adjacent walls perfectly and gives the setup a glossy finish.
The design uses a split-faced granite mantel, and the flanking cabinets are made of wenge veneer. The shelves have frosted glass panels and dimmable LED backlighting.
10. Contemporary Electric Fireplace with TV Above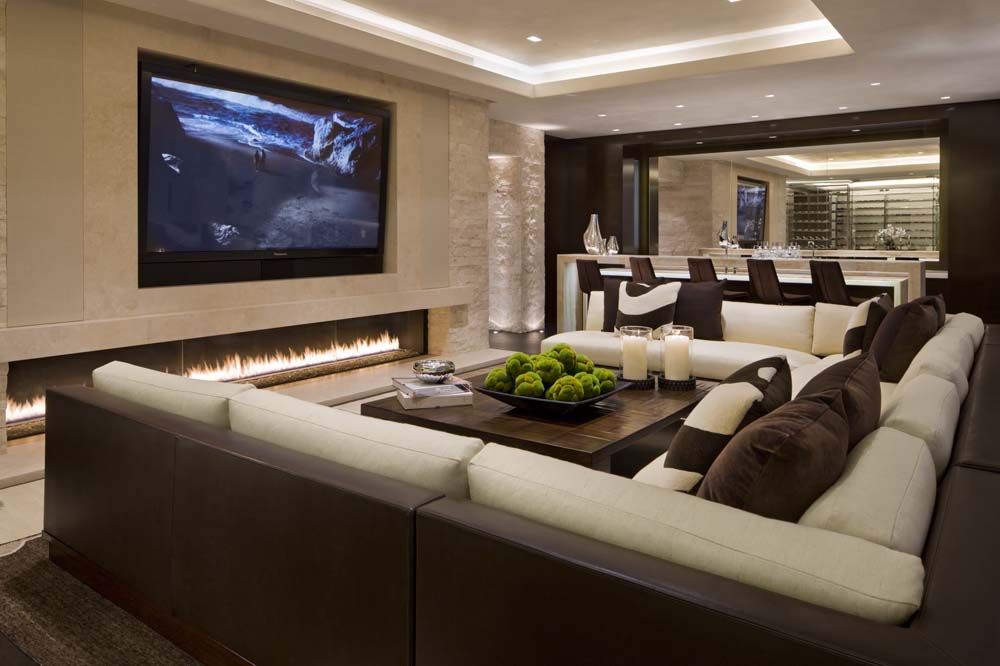 via Charles Cunniffe Architects Aspen
This long linear electric fireplace and large TV above it take this living room to the next level of modern sophistication.
The TV and fireplace surround is made of a travertine slab that perfectly matches the drywall. The recessed tv gives the design a sleek finish.
11. Modern Home Fireplace with TV Idea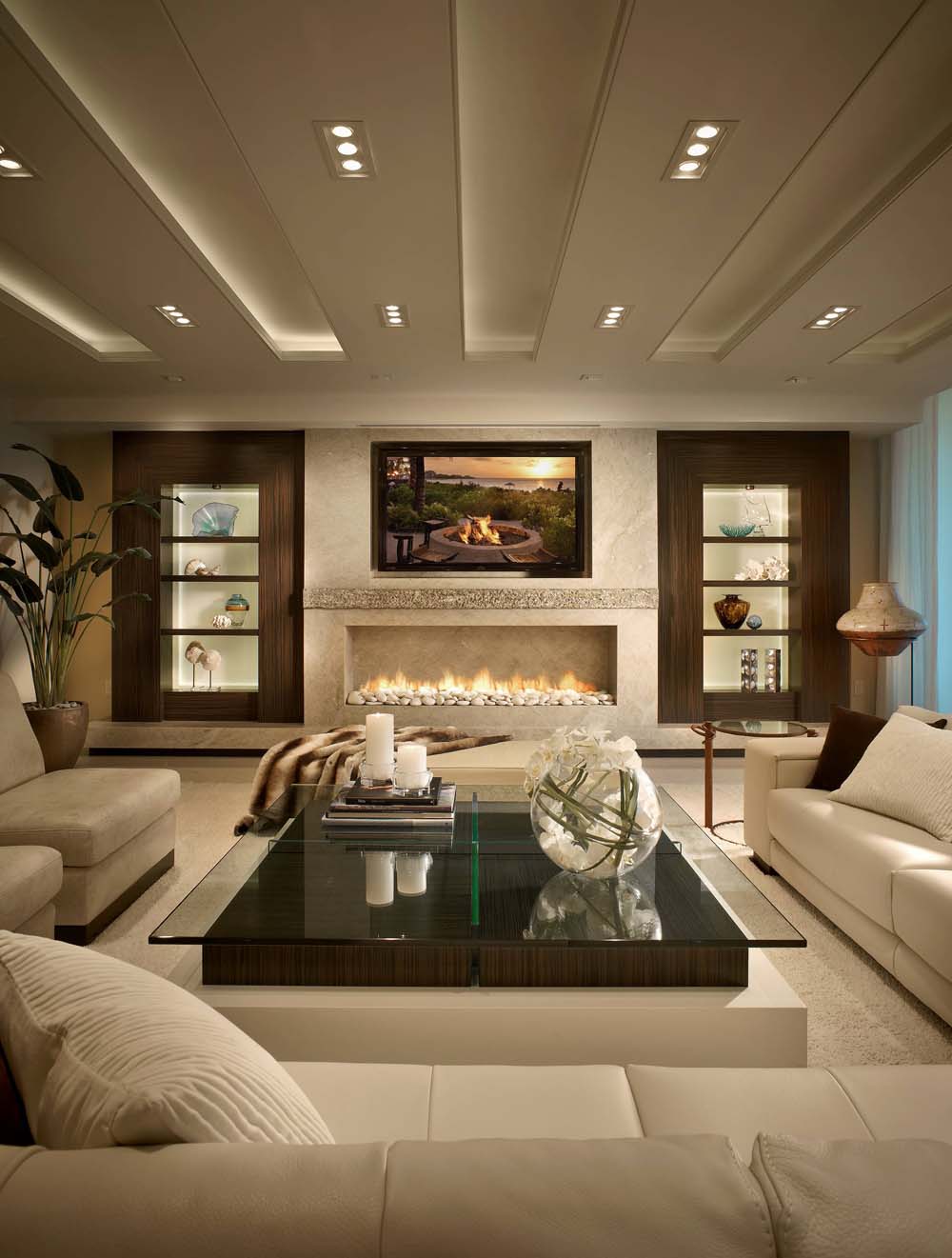 The warm wood tones in this design add texture and warmth to the room, making it more inviting.
Pair your TV mount with warm woods such as oak or walnut to achieve a sophisticated look.
12. Corner Electric Fireplace with TV Above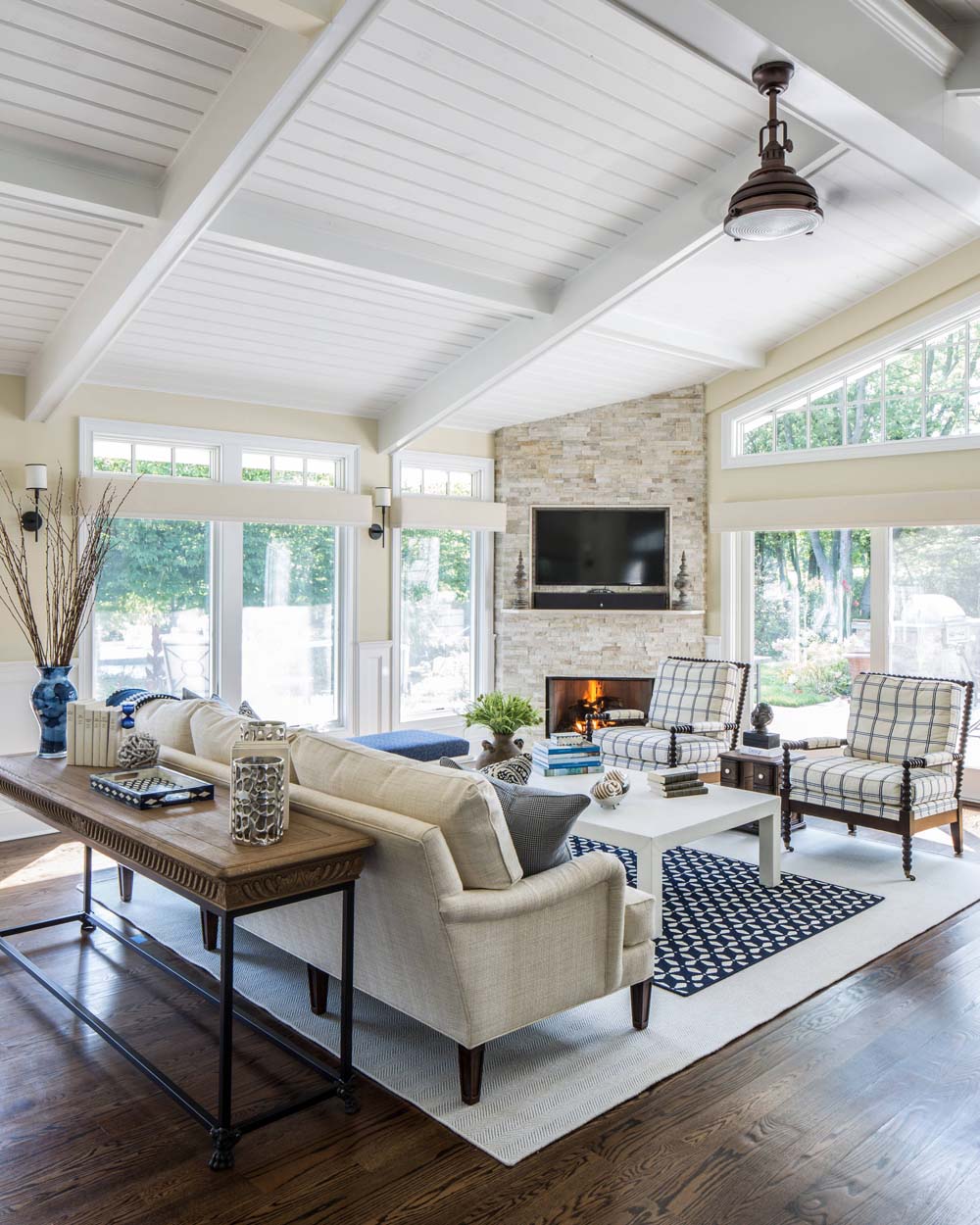 This corner electric fireplace with the TV above is an excellent way to add rustic flair to your farmhouse decor. 
The latte ledgestone wall cladding makes the recessed TV and fireplace a focal point.
13. Traditional Living Room Fireplace with TV Above
via Pinney Designs
The charcoal gray slate ledgestone wall gives this modern farmhouse living room a classy look.
The wood mantel contrasts nicely with the wall, and the adjacent shelves are fitted with LED strip lights to create a soft glow.
14. Classic White Fireplace with TV Above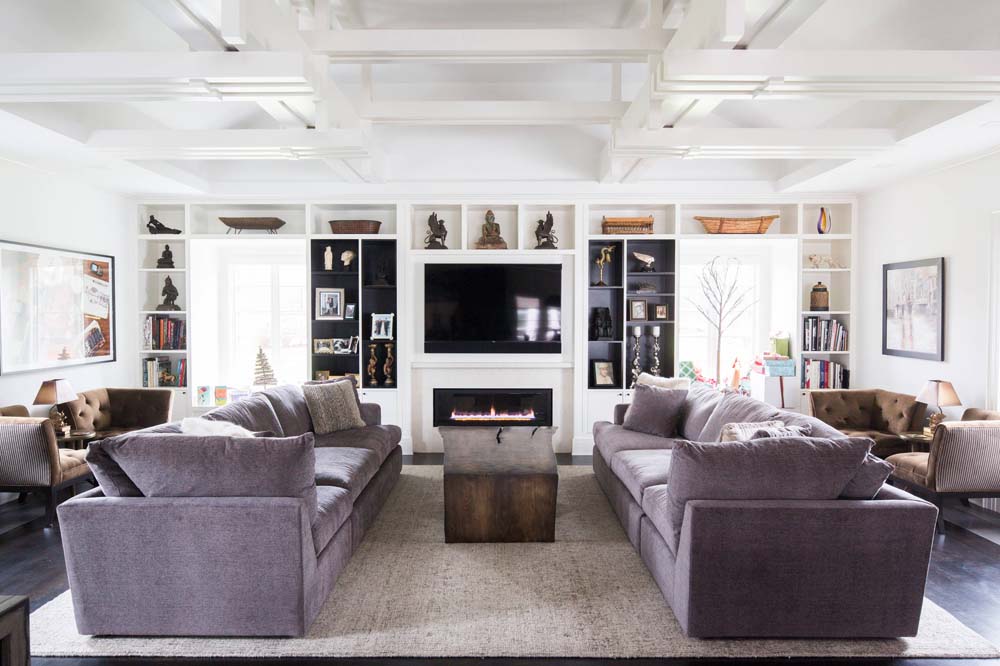 A white accent wall is common in classic electric fireplace ideas with TV above. The in-built TV creates a contemporary look, and the electric fireplace provides an attractive focal point.
The adjacent shelves near the fireplace have a black background that matches the fireplace and TV above it.
15. Fireplace with Brick Accent Walls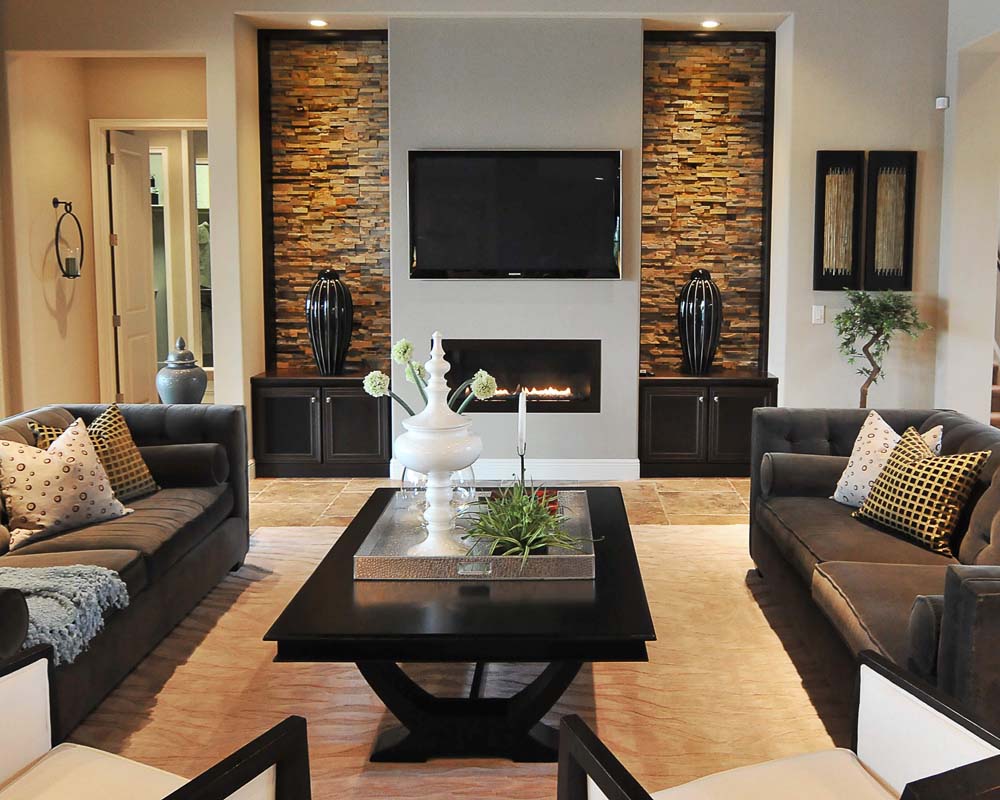 Instead of a stone wall for the fireplace and tv, this design used stacked brown ledgestone as accent walls for the fireplace and tv above it. 
The side cabinets and vases on top of them give this modern living room a rustic twist.
16. Two-Sided Fireplace with TV Above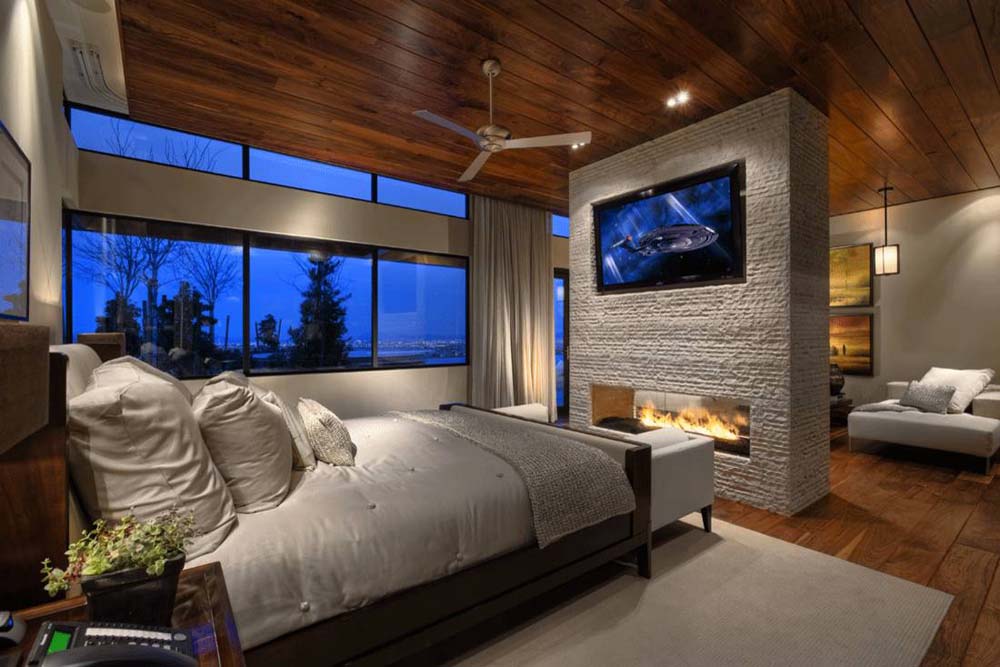 via Bridgwater Consulting Group
This electric fireplace with the TV above is a good idea to bring tranquility into your bedroom. 
The rough wall texture complements the farmhouse decor perfectly, and the two-sided fireplace creates a cozy ambiance.
17. Minimalist In-Built Fireplace with Recessed TV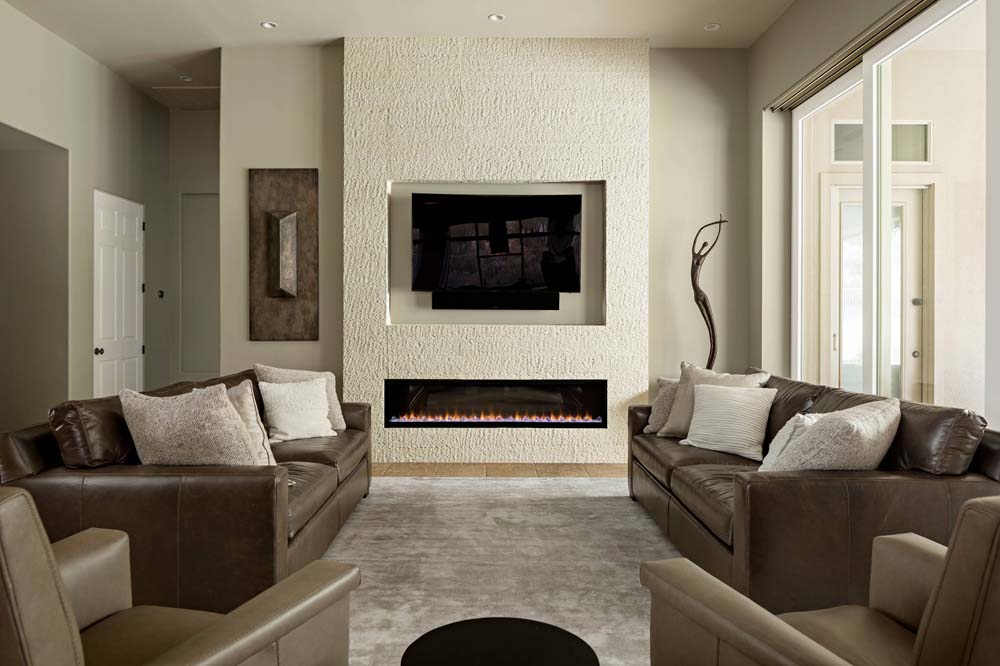 via AFT Construction
A small wall shouldn't stop you from having a media wall with a fireplace and TV above it. 
This design's in-built fireplace and recessed TV integrate perfectly with the rough wall to create a crisp, clean look.
18. Traditional Fireplace with Contemporary TV Surround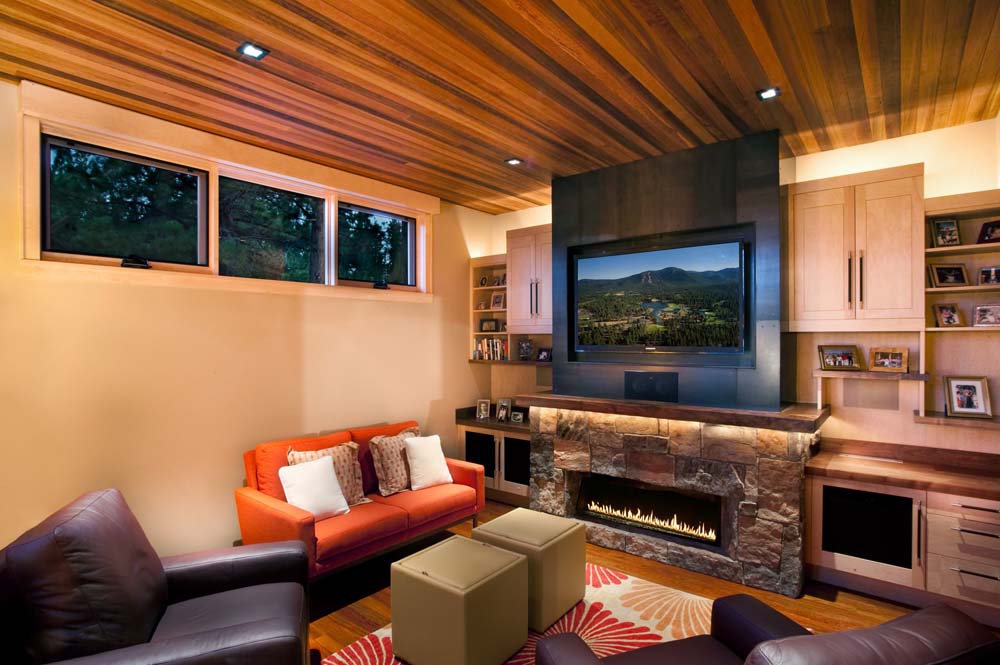 The eclectic fireplace in this design is recessed in a stone wall, while the TV surround above is made of sheet steel with an oiled finish.
The fireplace features a glued-up American black walnut mantel lit with LED strands.
19. Fireplace with TV Above and Hidden Storage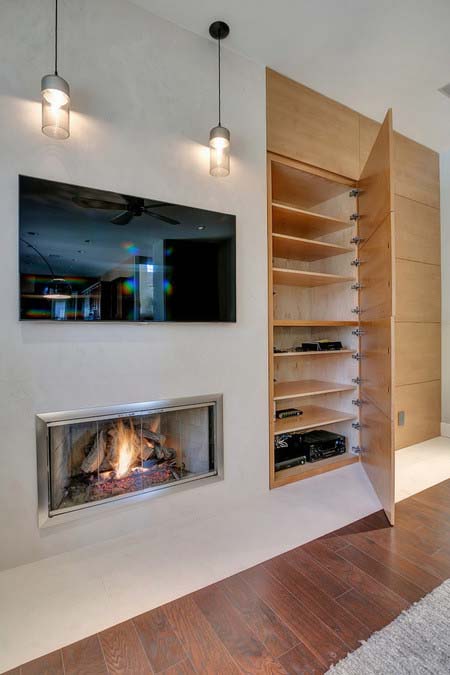 via Jami Abbadessa
This design transforms the space into a clean, modern family room. The electric fireplace has a silvery metal frame, and the hanging lighting fixtures brighten the limestone fireplace wall.
The paneled wood walls provide hidden storage for all the necessary entertainment accessories.
20. Sleek Fireplace Design with TV Above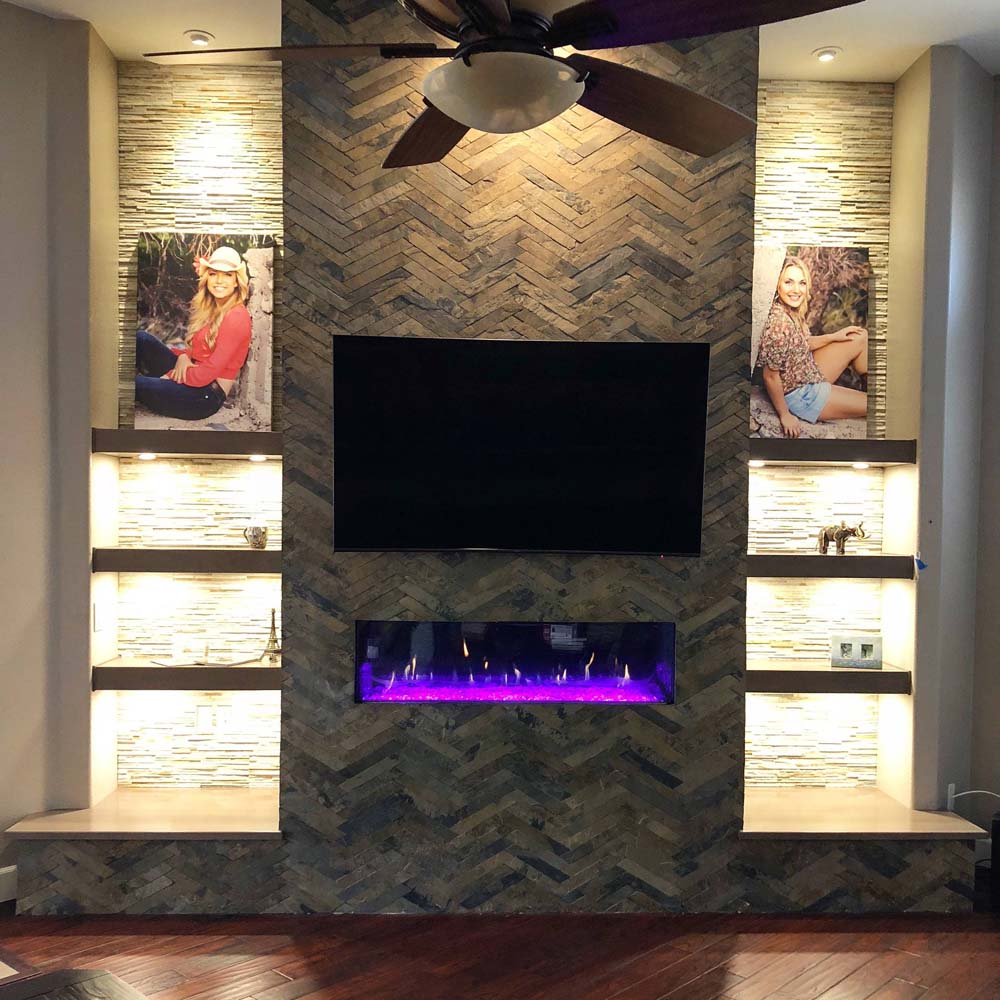 This design uses slate laid in a herringbone pattern for the fireplace surround. The fireplace wall is adorned by custom-made floating shelves with stacked ledger stones behind them that match the two gorgeous framed landscape photos.
The electric fireplace has been placed such that it's at eye level when sitting on a couch, thus acting as a focal point in the room.
21. Stand-Alone Stone Fireplace with TV Above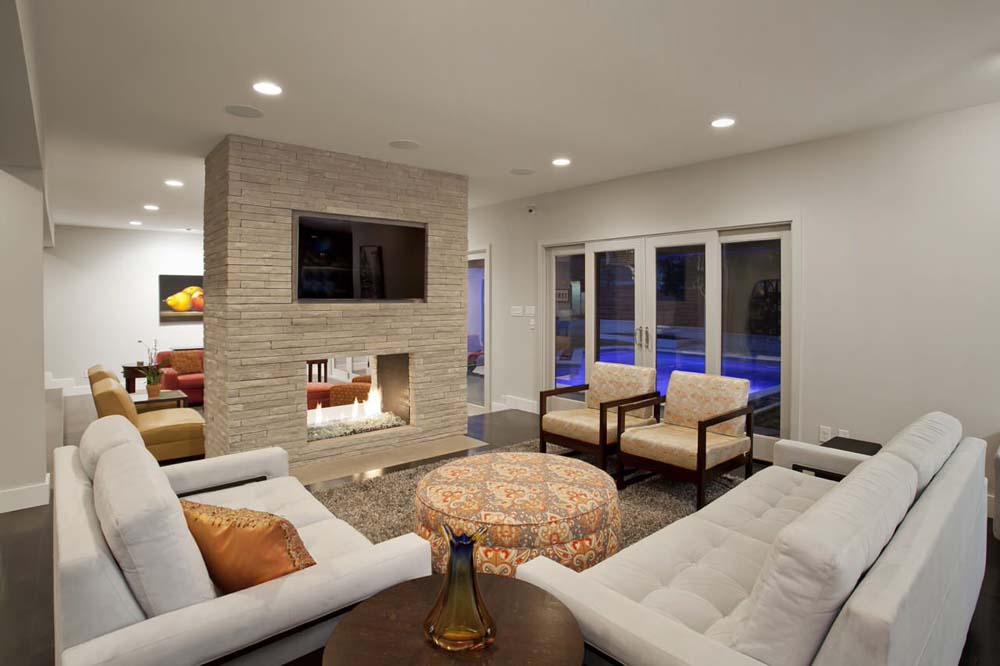 This stone fireplace is an excellent way to add a rustic feel to your modern living room.
The stone's natural, earthy tones create an inviting and warm atmosphere. At the same time, the double-sided electric fireplace turns the setup into a focal point in the room.
22. Rustic Modern Electric Fireplace with TV Above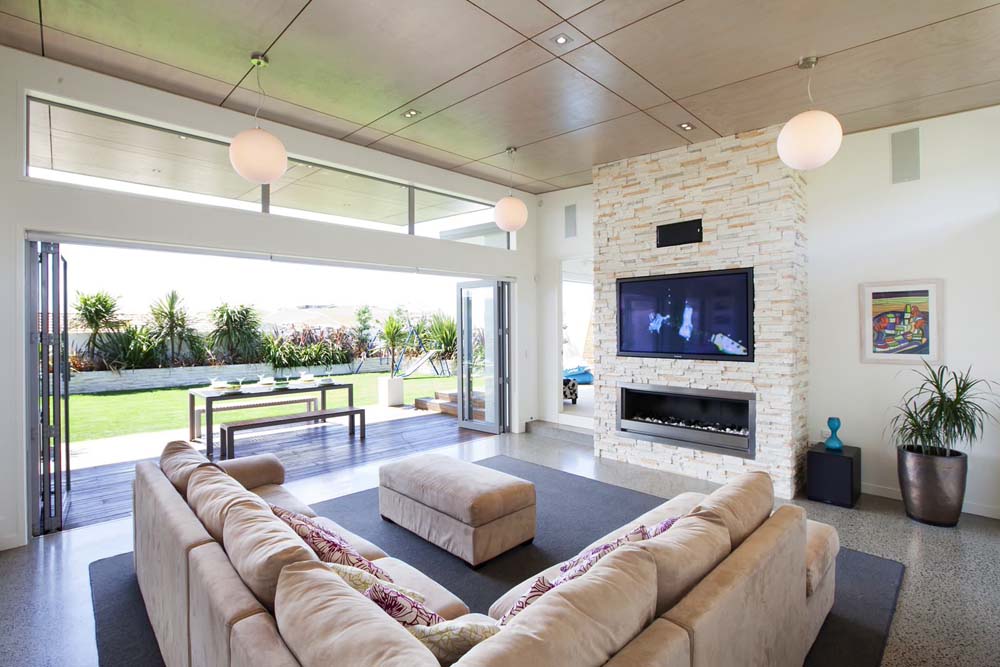 The electric fireplace in this design gives a cozy feel, and the TV above gives it an added layer of visual interest.
The fireplace wall blends perfectly with the adjacent walls' color scheme, making the room feel more spacious.
23. Simple Living Room Fireplace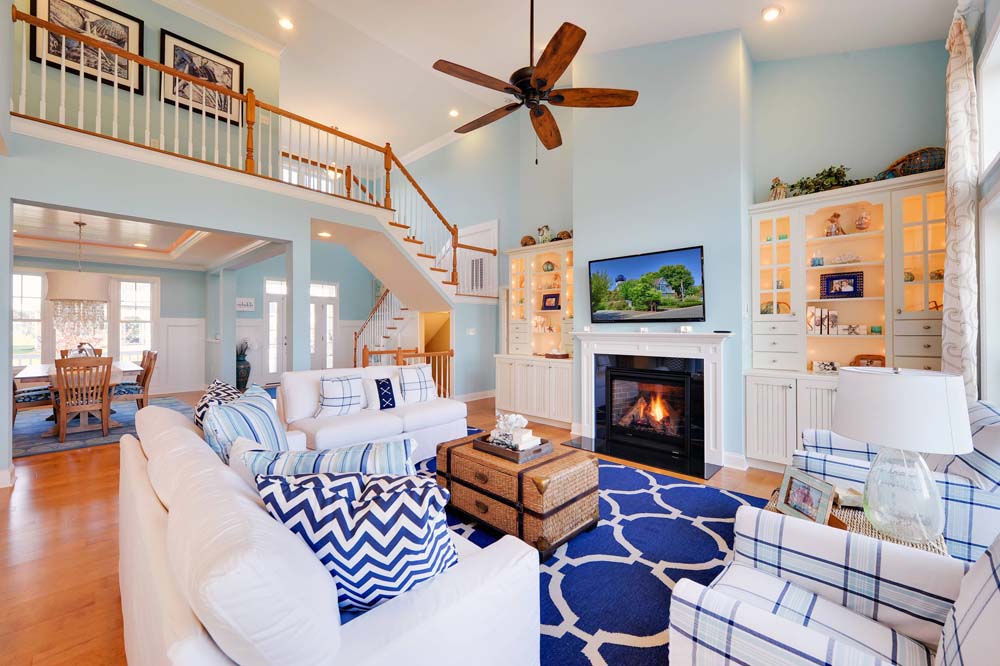 via Schell Brothers
This design uses a simple color palette to achieve an understated and elegant fireplace. 
The white fireplace mantel and black fireplace surround give the setup a beautiful, streamlined look and contrast nicely with the cay-colored walls by Sherwin Williams.
24. Stone Fireplace in Coastal Home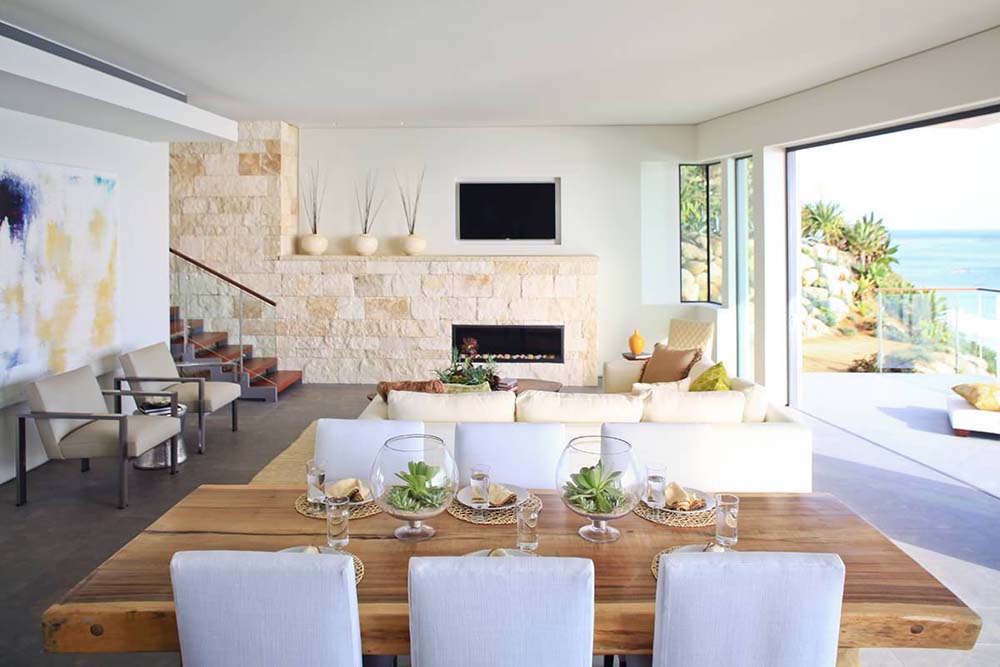 The stone fireplace surround in this design also acts as a mantel. 
The TV and electric fireplace have been separated by a considerable distance, eliminating any glaring distractions that might occur while watching your favorite movie.
25. Recessed Fireplace with TV Above on Tile Wall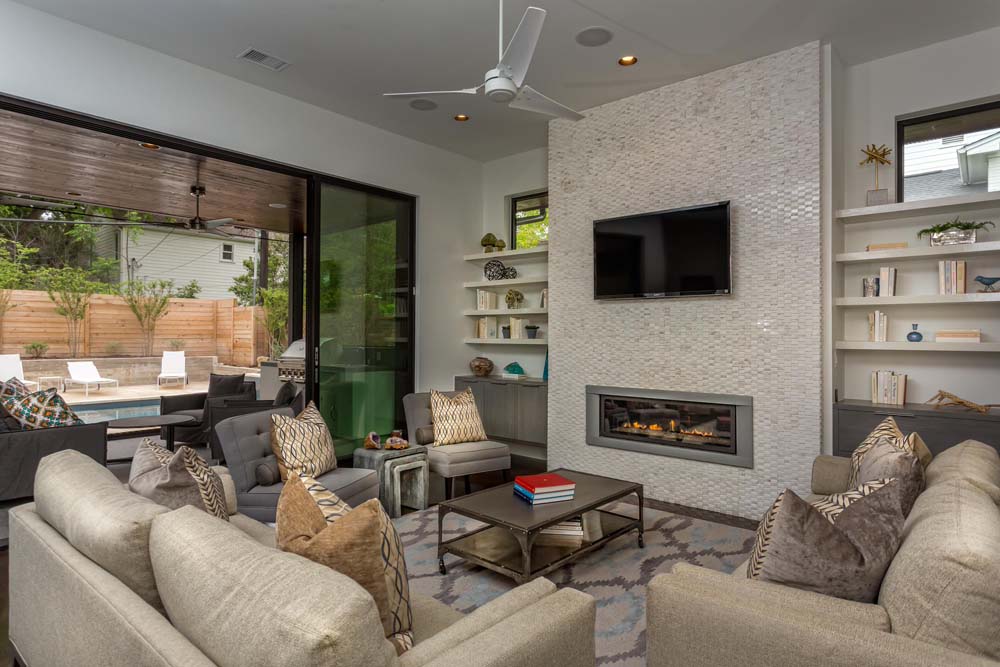 The tile fireplace wall gives this design a gleaming, sophisticated look.
The electric fireplace has a gray metallic surround and built-in shelves and side cabinets for extra storage.
26. Fireplace with Built-In Cabinet Detail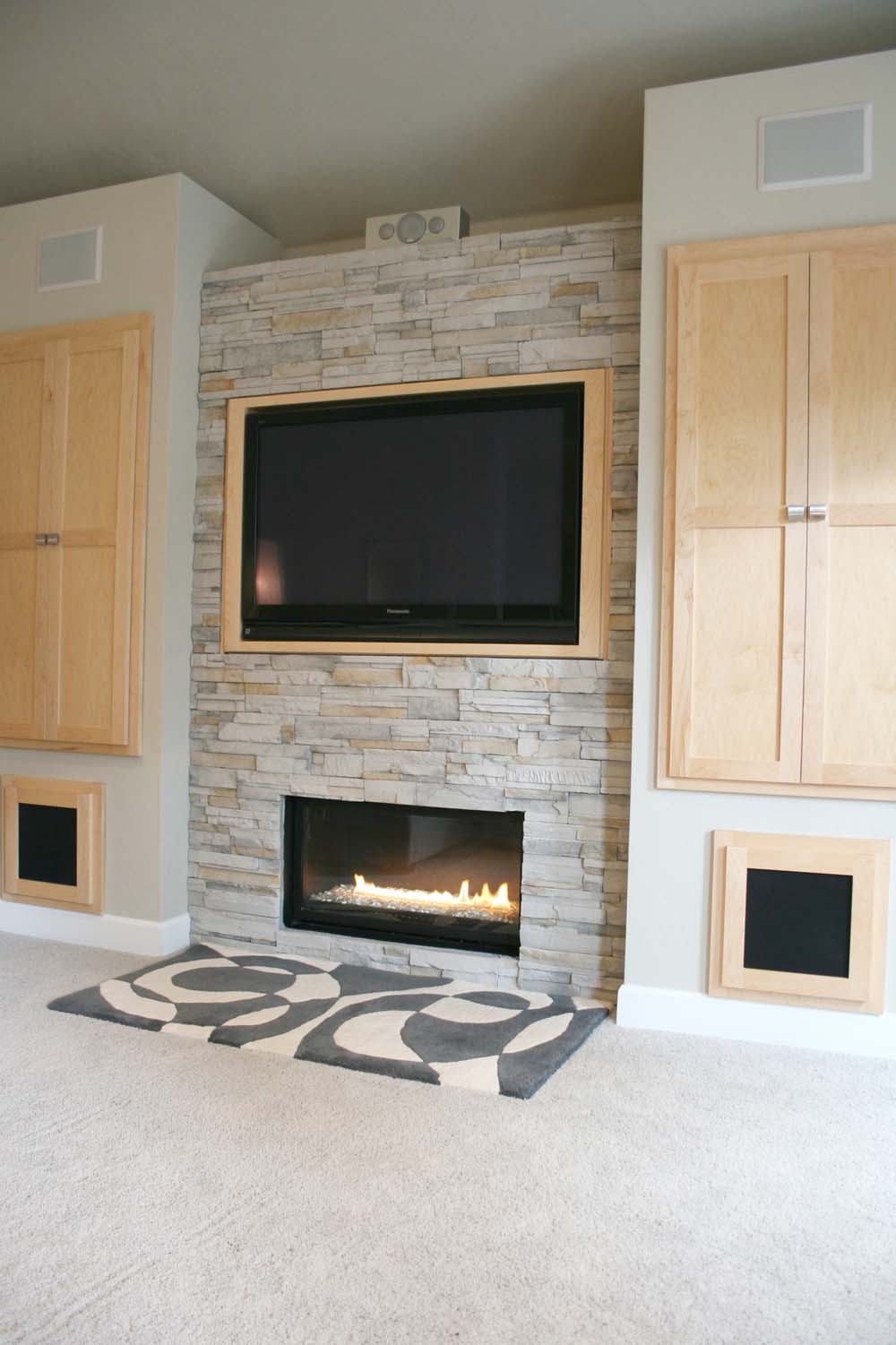 via Jordan Iverson Signature Homes
This fireplace design has a ledgestone surround and an electric fireplace with a ribbon flame. The built-in cabinets flanking the fireplace offer extra storage space and house built-in speakers.
The small square cabinets at the bottom hold the subwoofers. The TV can actually swing open to reveal hidden storage behind it and give you a better view of a different area in the sitting room.
27. Fireplace on Shiplap Wall Design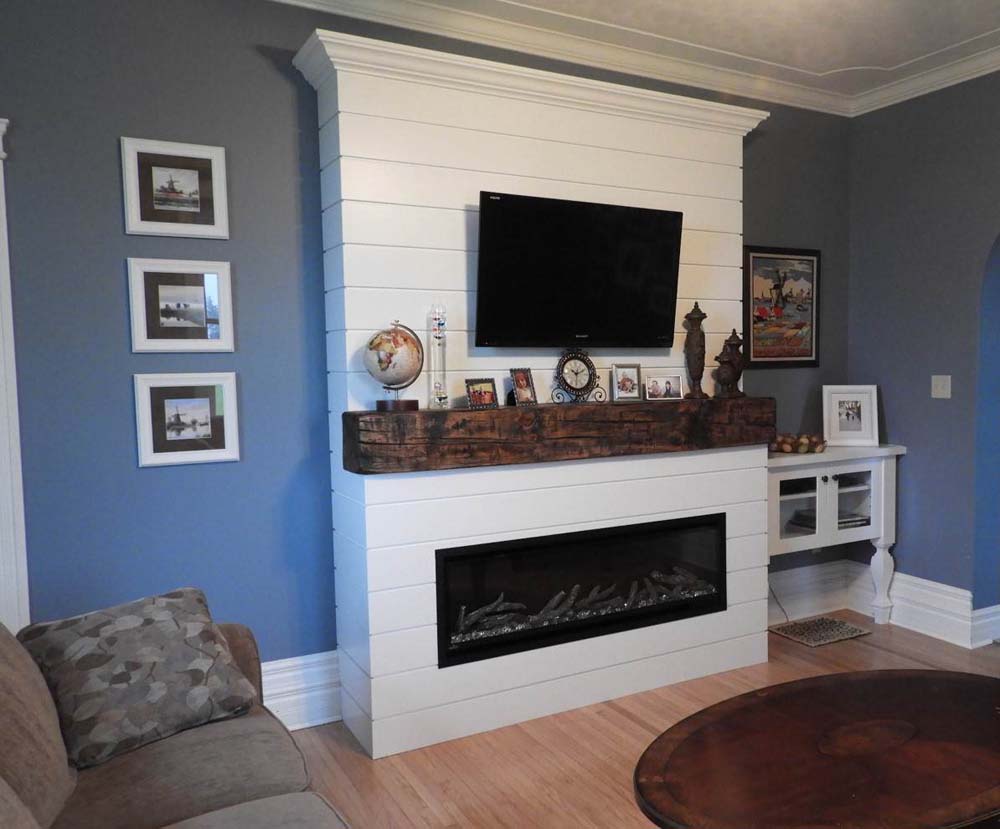 Using a shiplap wall design for your fireplace is an excellent way to add a rustic aesthetic to your room.
The dark wood mantel on this design contrasts well with the shiplap wall, making the setup a focal point.
28. Stylish Electric Fireplace with TV Above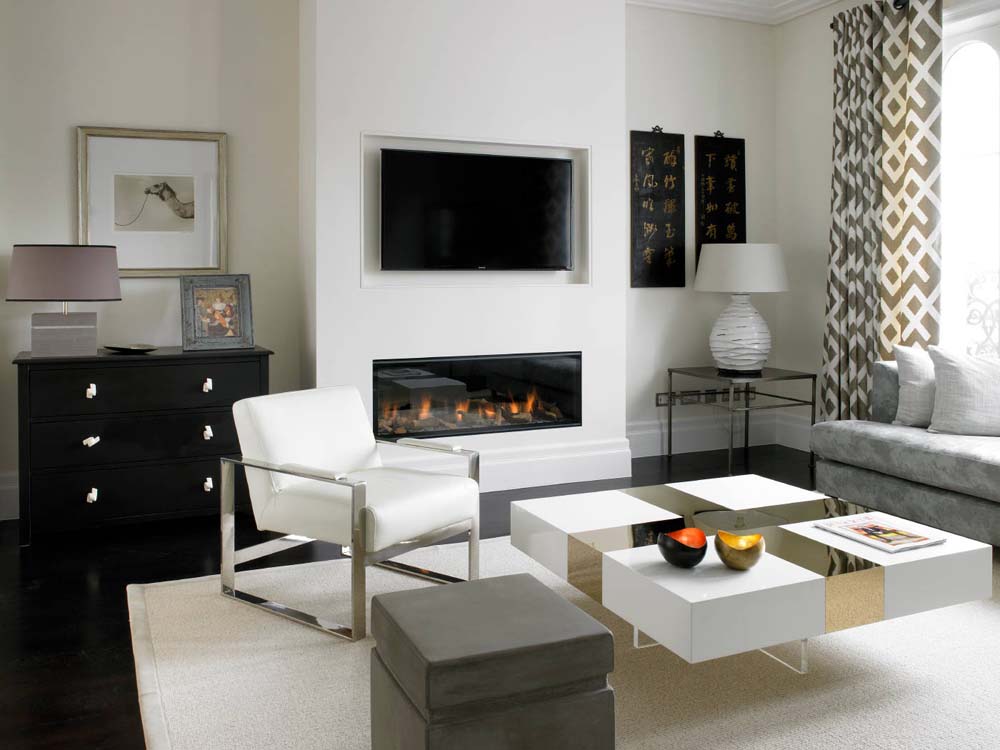 This modern minimalist fireplace with TV adds a touch of contemporary elegance to your living room.
The recessed TV unit and in-built electric fireplace will enhance the interior design of any room.
Ask the expert:
Is it safe to have an electric fireplace with a TV above it?
Yes, having an electric fireplace with a TV above it is safe. However, ensure your TV doesn't block the heat output of your electric fireplace. 
Each model has a heater in a different location, so ensure you check before installation.
Can an electric fireplace with a TV above be used as a primary heating source?
No, an electric fireplace with a TV above can't be used as a primary heating source. Electric fireplaces aren't as efficient as traditional furnaces and don't heat up a room as quickly. 
How far should a TV be above an electric fireplace?
Your heater output location will determine how far your TV should be from the electric fireplace. 
Generally, a minimum distance of 8 inches from the top of your fireplace to the bottom of your TV is advisable. Ensure you follow the manufacturer's instructions to determine the correct distance.