1. Hidden Shelves Caddy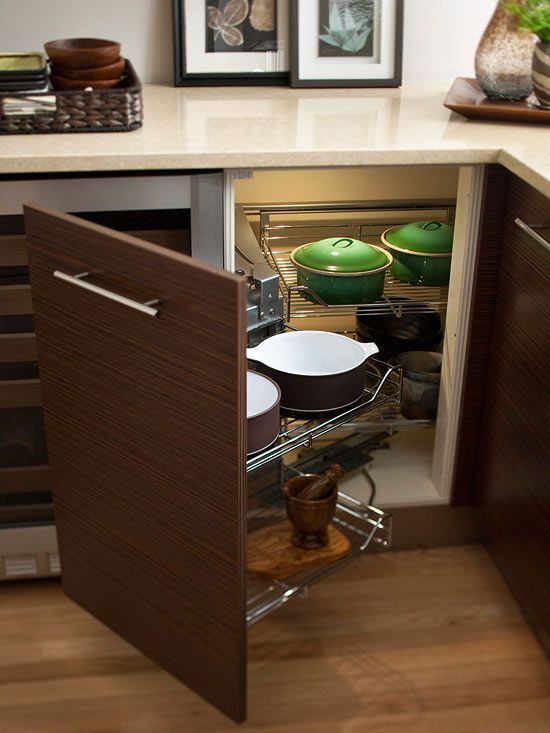 Photo: Credit
This smart and stylish addition to your kitchen tucks away big pots, dishes, and other items, handily. The attractive wood finish is also a plus. As creative kitchen storage ideas go, this one's worthy of any culinary heart of the house.
Save space as well as time and trouble with this practical and handsome caddy for large or smaller items.
Metal shelving is impervious to wear and tear, so you can put those big, heavy items in, close the drawer, and tuck away enough culinary wares to please the Iron Chef!
The grainy wood look and sleek metallic handle combine to make a sturdy drawer structure. And, it complements any kitchen design and hard-to-please chef with its easy-to-use functionality.
The best properties of the hidden shelves are not only to be found in their privacy, elegance, and style. Their fine look is a subtle feature of what a modern kitchen needs to represent.
The designs inspire and serve practically. They are in tune with everything else around the room, correspond to the atmosphere. Without a doubt, this is a special, serious furniture piece.
It can be manufactured in a variety of colors, combination of nuances, so it becomes perfectly unique. There is plenty of space inside that will safely hold the objects of your choice.
The kitchen is now a space for creativity and freedom because you have the practical solutions for all of your needs. Then, it somehow becomes easy to feel like the director of the culinary orchestra!