Modern grey house exterior color schemes are an exciting trend in home design. A grey exterior offers a range of options for homeowners to create unique, stylish and timeless looks for their homes.
Grey color can be used in various ways, from minimalistic to bold and vibrant designs.
There is no one best exterior house color. Each shade carries unique color hues and undertones that will work with or against a particular setting.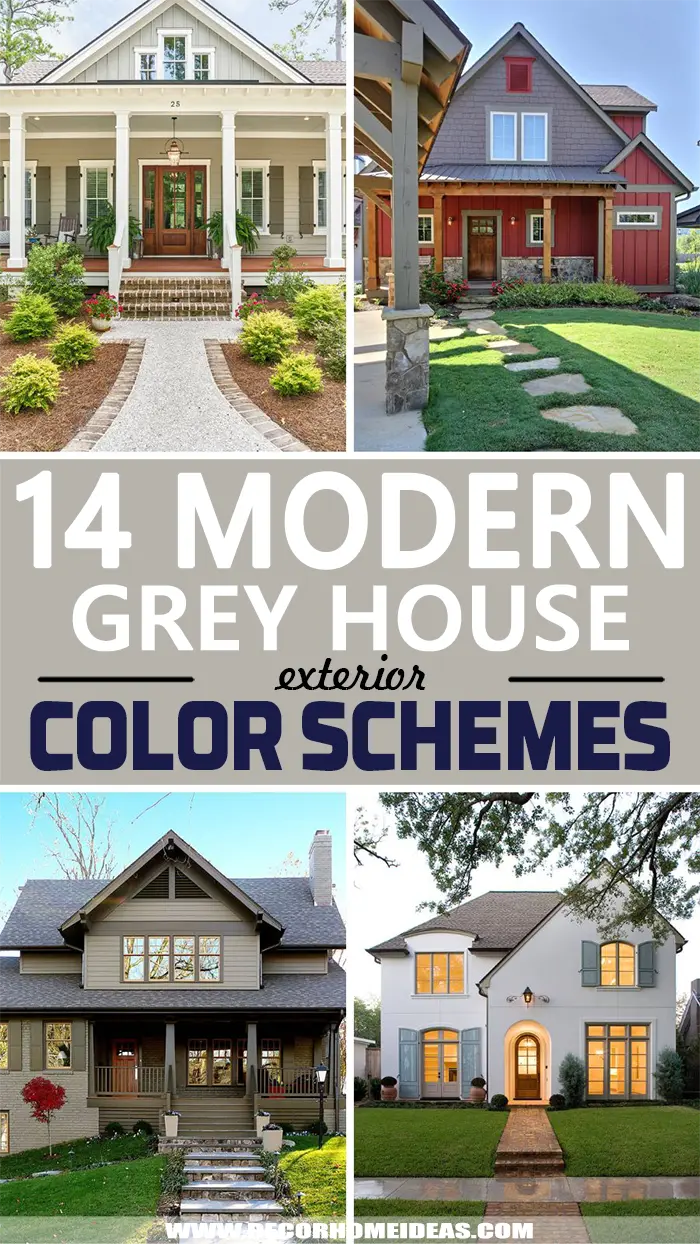 What looks like a great gray house down the block may not look as good on your home.
Look for cues in the landscape, the style, and materials used to build the home.
1. Dark and Light Gray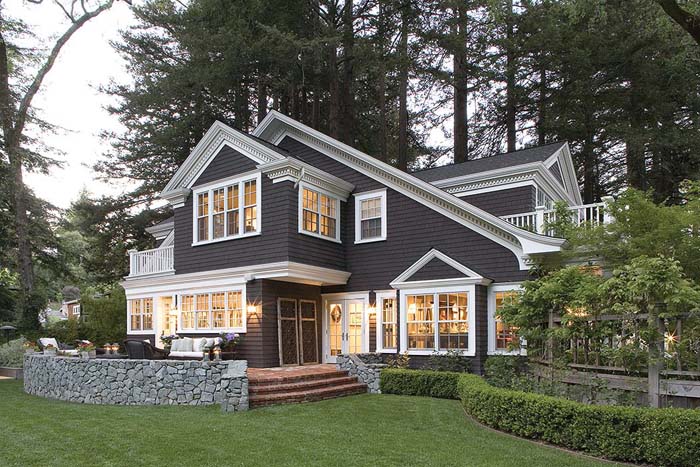 Charcoal gray exterior paint color and a light grey trim have a refined look. It's a quiet color scheme, blending in the well with the stone retention wall.
You'll find many gray house color schemes blending in with its porch area.
via Thomas Bateman Hood Architecture
2. Cedar Shakes and Shingles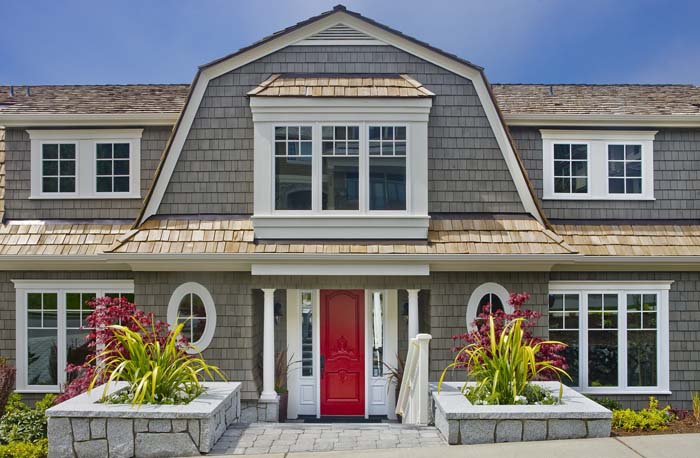 Gray shingles paired with a Shake roof are a familiar sight in Northeastern coastal towns.
A bright red door and white trim on the windows and entry complete the classic coastal look.
via Gelotte Hommas Drivdahl Architecture
3. Medium Gray and White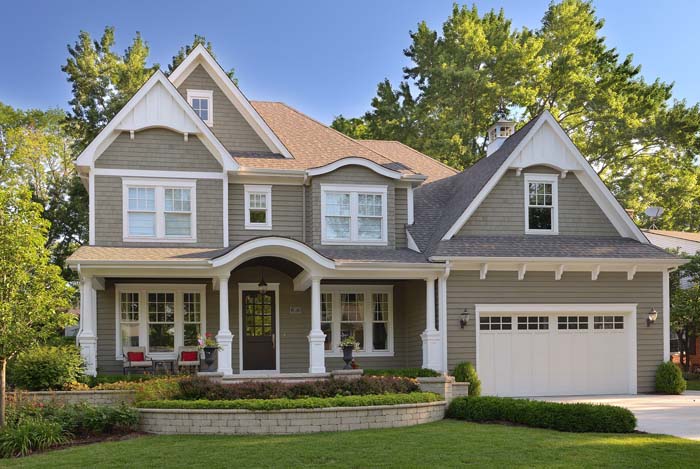 While gray is a neutral tone, it doesn't have to be boring. Medium gray siding with green undertones pops against the white trim color, porch pillars, gable pediments, and garage door.
Because of the sunlight to the right, a dark color may look too shaded.
4. Neutral Greige Palette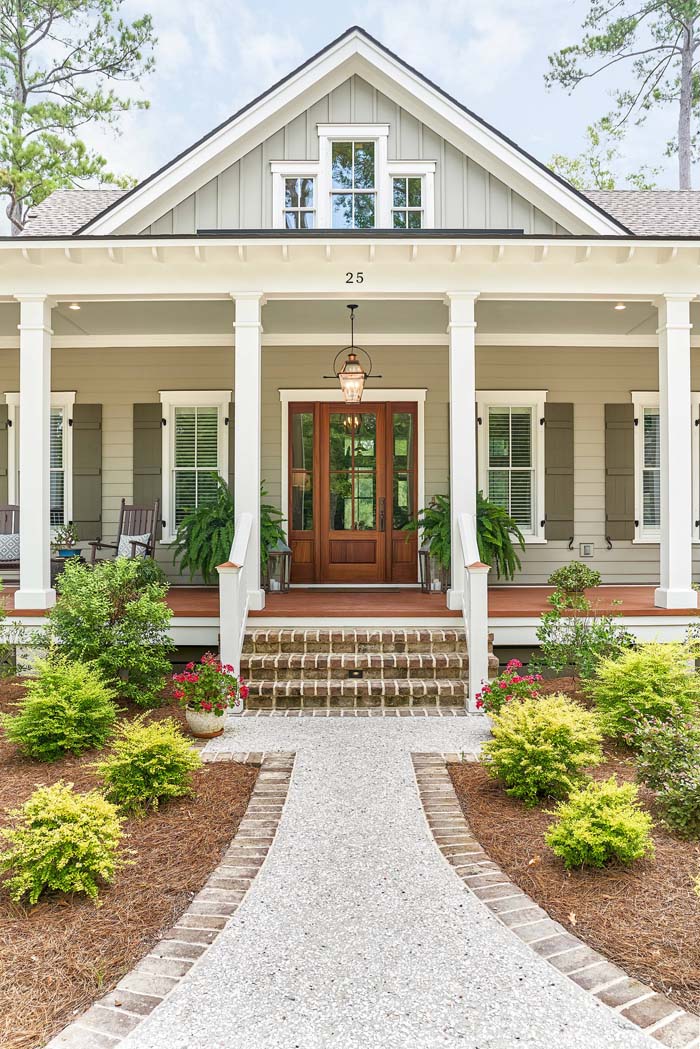 A neutral color palette with a beige color scheme adds richness to the home's exterior. It creates a uniform look that sets up a bullseye to the front door and the porch chandelier.
Working out a color combination is easier when your color palette shares the same undertone color.
5. Add Pale Blue with Gray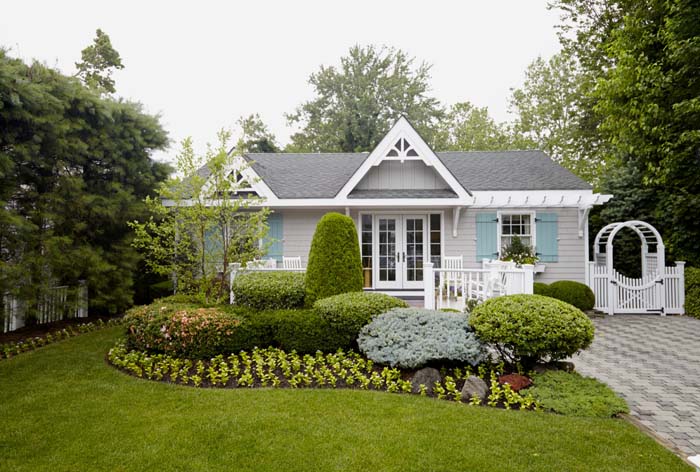 Your accent color doesn't have to be bold to get noticed.
Blue board and batten window shutters are the right amount of color to this home, with light gray siding and white trim.
Using a deeper gray for the roof shingles brings a calming effect to the cottage home. The driveway shares the same shades of gray as the two different shades of the house.
6. Deep Brown and Gray Stone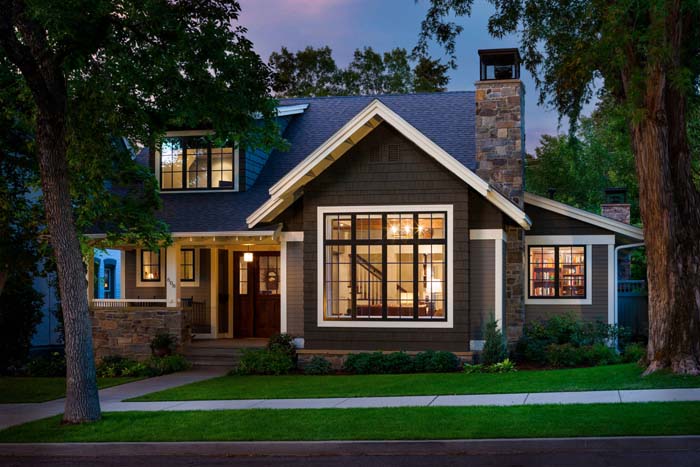 Dark brown shingle siding has a classic warm feel. The dark gray roof keeps the eye moving downward to all the incredible textures set up by the stone and siding.
Beige trim outlines the home's angles, preventing the materials from washing out.
7. Gray Blocks and Mustard Yellow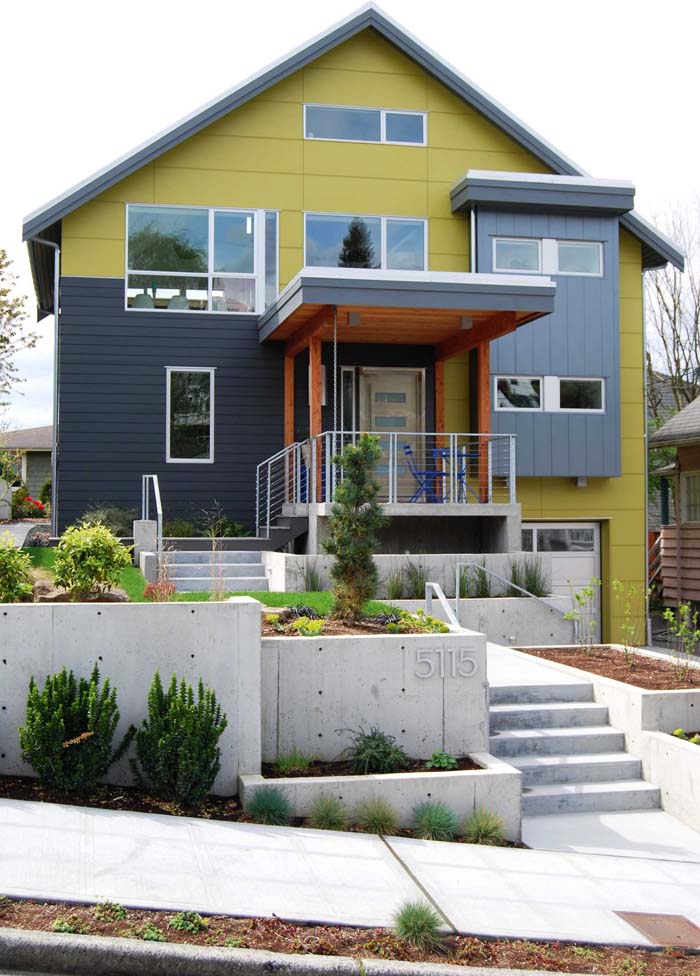 There's no law saying you have to stick to one exterior house color. A multi-colored palette of mustard yellow, light gray paint, dark grey, and reddish brown adds interest to this modular home.
Each color choice showcases its own particular material. Note the rectangles on the yellow, small shingles on the dark gray, and vertical siding on the light gray.
8. Black Roof, Gray Siding, and Beige Trim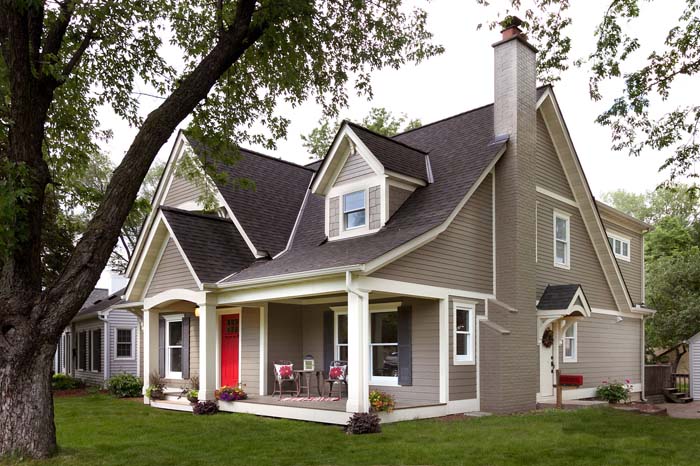 Creamy trim and black charcoal gray roof and window shutters help define the multiple angles created by the dormer and additions.
The medium gray siding has enough depth to unify the lighter and darker shades. A pop of red on the door creates a focal point.
9. Medium Two-Tone Gray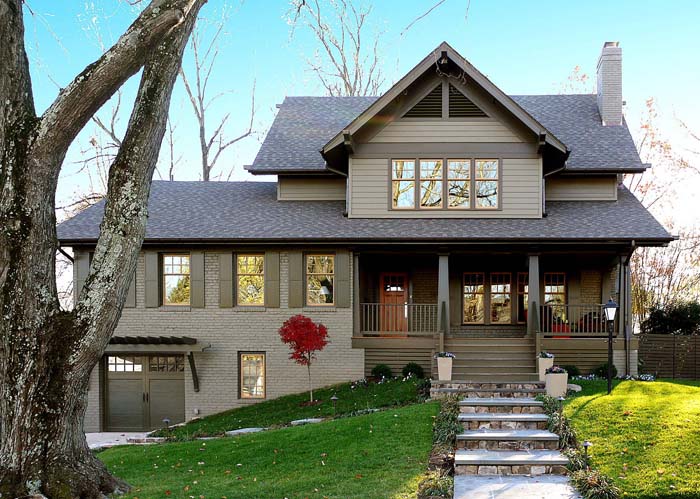 A medium-toned gray works well if your home has a lot of direct sunlight. It may look darker when the home sits in a lot of shade.
Note that this home is using two shades of gray that are very similar to each other. The Japanese maple tree picks up a little color seen in the brown wooden front door.
via Rill Architects
10. Gray Window Shutters, Dark Gray Roof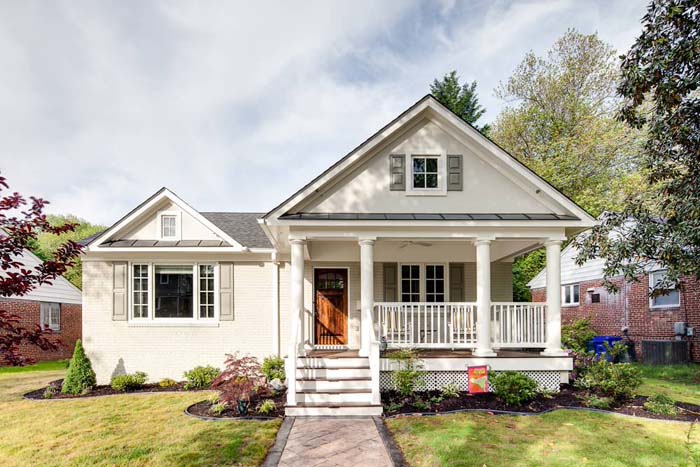 Gray siding and a darker gray roof with white trim add a calming effect to this country-style home. The photo shows a good example of how gray changes with sunlight.
Look at the gray window shutters that are all painted the same shade of gray. Their tone changes drastically between the shaded window, the window in direct sunlight, and the window shutters under the porch.
via BuilderFish
11. Slate Gray Window Shutters and Greige Window Trim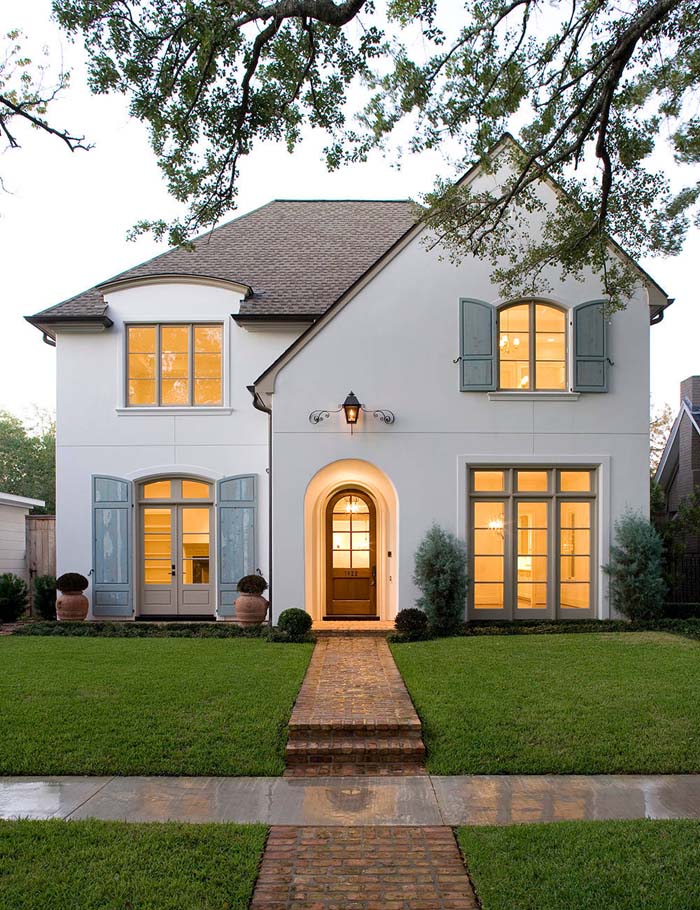 Distressed window shutters in gray add a rustic feel to the exterior of this home with its light gray siding. It pairs well with the golden light from the home's interior design.
Benjamin Moore's Stonington Gray could be a good choice to recreate this look. We also like the greige window trim.
12. Dark Gray, Copper, and Cream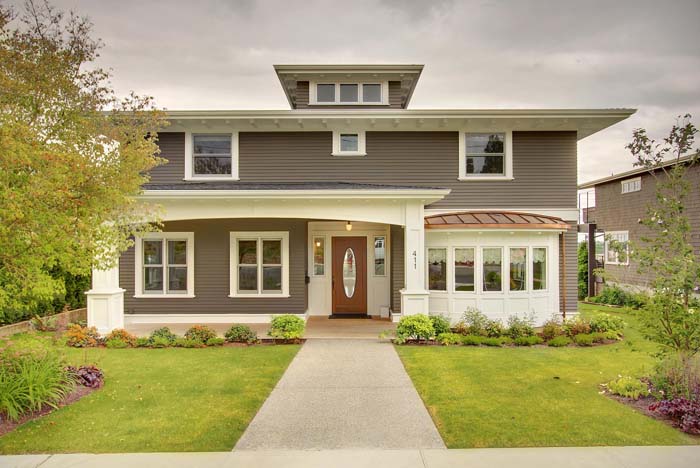 White, gray, and medium brown create a sleek look. The roof over the bay window has a copper tone that matches well with the brown door.
Note that the trim is painted all the same color and looks clean. Don't feel compelled to paint decorative elements a different color.
Their texture adds a lot and can stand on its own without it being necessary to add a separate color to enhance the details.
via First Lamp
13. Barnwood Red and Gray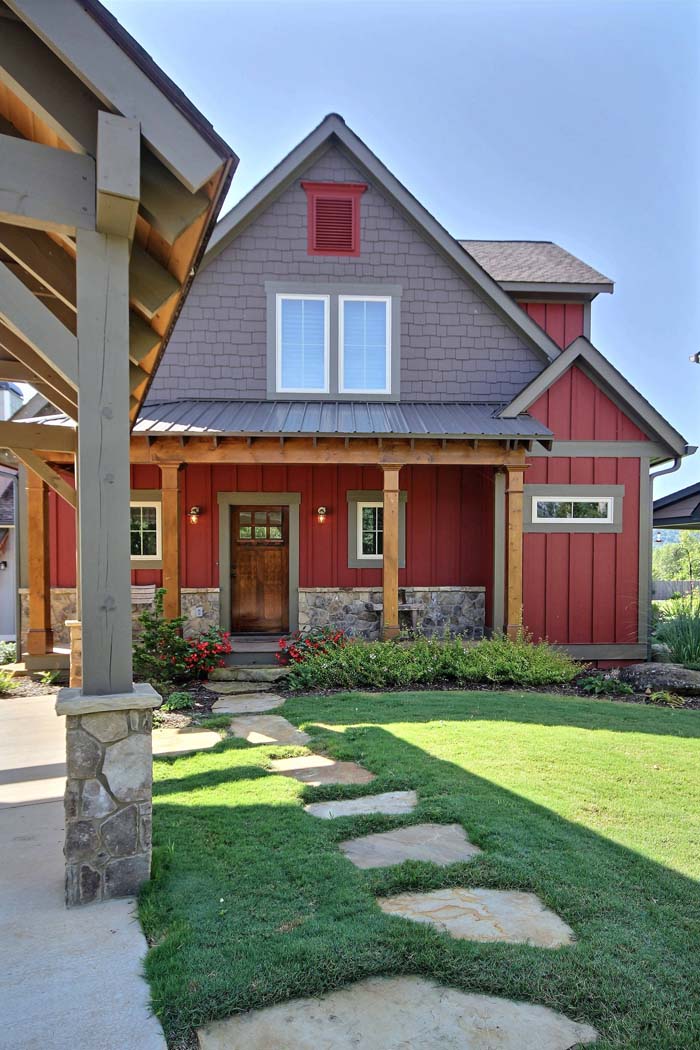 Barnwood red vertical siding teams up with red cedar shingle siding. The door and window trim is painted to match the shingles, connecting the two levels.
The gray color matches the stone facade on the bottom section of the porch. Light brown wood pillars keep the home looking authentic.
14. Greige, Gray Roof, and White Trim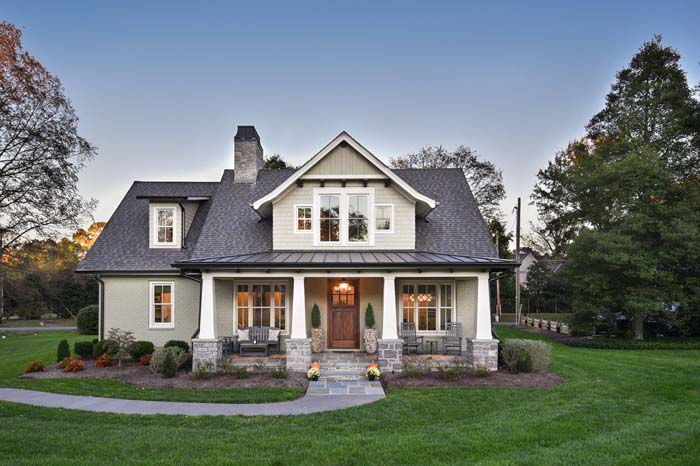 This is a gray with a lot of green undertone. You might try a greige tone like Sherwin Williams Repose gray or Polished Limestone by Glidden. In this instance, the trick was to let it stand out from the green surroundings without creating a stark contrast with the stone porch.
The gutters nearly disappeared after they were painted black. A popular choice for black exterior paint is Tricorn Black by Sherwin Williams.