What Is a Barndominium?
Bardominiums, rapidly gaining popularity amid rising housing prices in the US, are essentially barns that have been converted to living spaces—often with space for an attached workshop or garage.
The open, steel structure of a traditional barn offers a durable and spacious footprint for a home as well as endless opportunities for customization.
What's the Difference Between a Barndominium and a House?
Cost: Barndominium vs. House
While estimates on this topic vary widely, it is commonly accepted that a barndominium will cost less to build per square foot than a traditional home.
The simpler exterior shell is much cheaper to build and reduces the overall cost of the structure, often by as much as 50% per square foot.
Of course, the cost of the build depends greatly on the materials and finishings you choose for your home, and high-end design can raise the price.
Is It Cheaper to Build a Barndominium or a House?
Common estimates set the cost of building a barndominium at approximately $150-$250 per square foot as opposed to approximately $300-$400 per square foot to construct a traditional home.
What Are the Main Cost Differences Between a Barndominium vs. a House?
For a traditional home
The cost of framing out a traditional house—walls, windows, doorways—is a big part of your construction expense, and the primary difference between a home and a barndominium. Siding is also an additional charge specific to a traditional build required to protect the exterior of the structure.
For a barndominium
The open floorplan of a barndominium and steel-sided shell require far less framing and siding costs. Additionally, the simpler construction leads many barndominium buyers to do a lot of the labor themselves with pre-engineered kits.
What Is Included in the Barndominium Kit?
Depending on the builder, most come with an engineered foundation, windows, doors, insulation, concrete floors, and the complete shell and roof. Insulation, plumbing, HVAC, insulation, and interior fixtures are all additional costs to consider.
What Is Included in a Traditional Home Build?
When hiring a builder to construct your home, you will need to pay for the land, land prep if needed, foundation, framing, insulation, siding, roof, windows, doors, electrical, plumbing, HVAC, and interior features. Build kits are available for homeowners who want to do some of the construction. They come with pre-constructed walls with windows and doors already installed.
Size: Barndominium vs. House
While home sizes can vary widely depending on the number of bedrooms and living areas, the average home size in the US is 2,000 square feet.
Barndominiums come in standard sizes that can be customized with the addition of upper levels.
A 40×30 foot barndominium plan yields 1,200 square feet on the ground floor, while a 40×60 foot plan will give you 2,400.
Design: Barndominium vs. House
While both a barndominium and a traditional home offer extensive options for custom décor and fittings, the floor plans vary greatly.
A traditional home will have considerably more walls on the interior and greater room separation. Barndominiums are traditionally open-space floorplans with most of the living area integrated into one large space.
Walls are reserved for rooms requiring privacy, like bedrooms and bathrooms. Their simpler design reduces the amount of time it takes to build the home and the open spaces are considered more energy efficient.
They typically boast higher ceilings than their traditional construction counterparts with the average barndo offering a 14' ceiling vs. 8-9' in a classic home. Often made of metal, the barndominium exterior is also lower-maintenance than a traditional vinyl or wood-sided home.
Lifestyle: Barndominium vs. House
Pros
The barndominium option has many pros for a homeowner. They offer a lower cost housing option with a faster construction timeline, allowing you to enjoy your home sooner and have more money for additional investments.
Most barndominiums include a generous attached garage or workshop space that can be completely customized to fit your needs.
The open living space offers excellent entertaining opportunities and greater energy efficiency – lowering your monthly energy costs. The strength and durability of the structure means less maintenance, allowing you more free time to enjoy your home and your life.
Cons
Ready to build your own barndominium? While there are numerous positives to these popular home alternatives, there are some downsides to consider as well. It can be very difficult to find financing for your new home.
Despite the increasing demand, at this time barns are not considered to be homes, disqualifying the barndominium from many conventional mortgage options.
Additionally, with fewer on the market, there is little comparable data for appraisers should you choose to resell and selling can be challenging with heavy customization if it doesn't appeal to the buyer.
Where Are Barndominiums Most Popular in the U.S.?
With more and more people moving to increasingly rural locations, barndominiums are popping up all over the US. In many cases, it's easier to build one in a smaller, more rural town where the zoning laws are easier to work with.
They are also extremely popular in states with ample land available to build on or in areas with high housing costs.
The most popular states currently for barndominium builds are Texas, Michigan, Oklahoma, Missouri, and increasingly Florida as a solution to their hot housing market.
Barndominium House Plans
10 Best Barndominiums Homes
1. Traditional Look Barndominium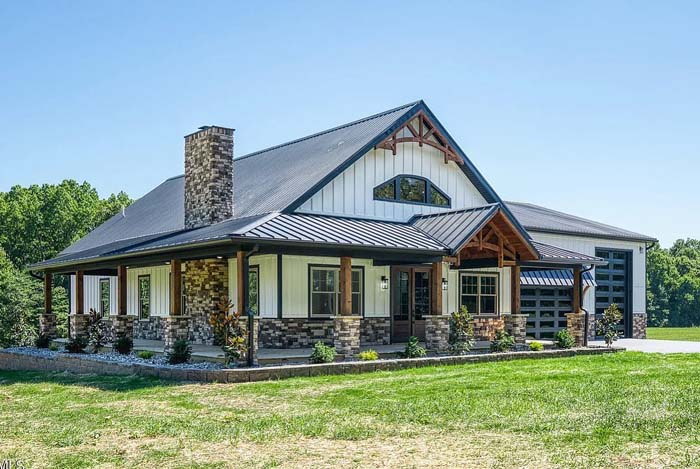 This plank-sided barndominium floor plan may have the bones of a barn, but it has all the curb appeal of a traditional home.
A double garage with an RV-height door completes the package.
via R2G Barndominium
2. A Porch Built For Entertaining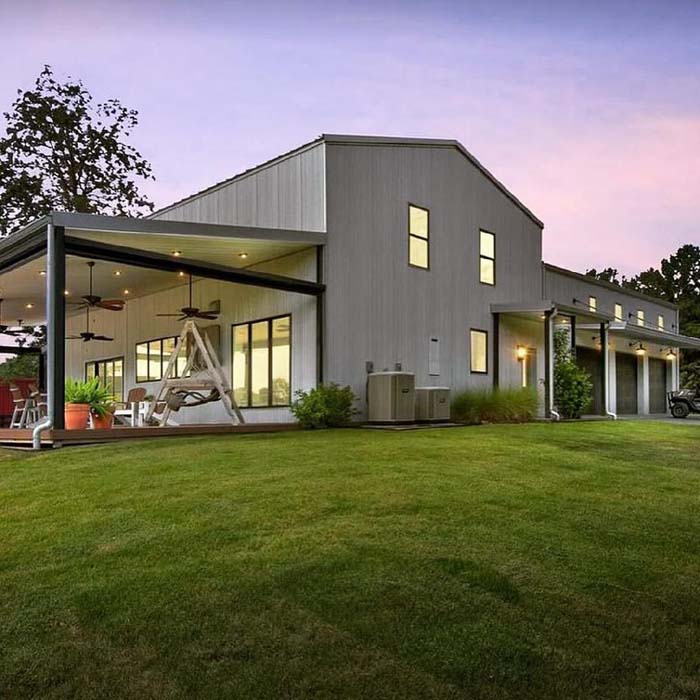 This spacious barn conversion has fantastic outdoor living space with the addition of a large, well-appointed porch.
Multiple ceiling fans keep you and your guests cool during those hot summer nights spent watching the sun set.
via Byron Hensley
3. True To Its Barn Roots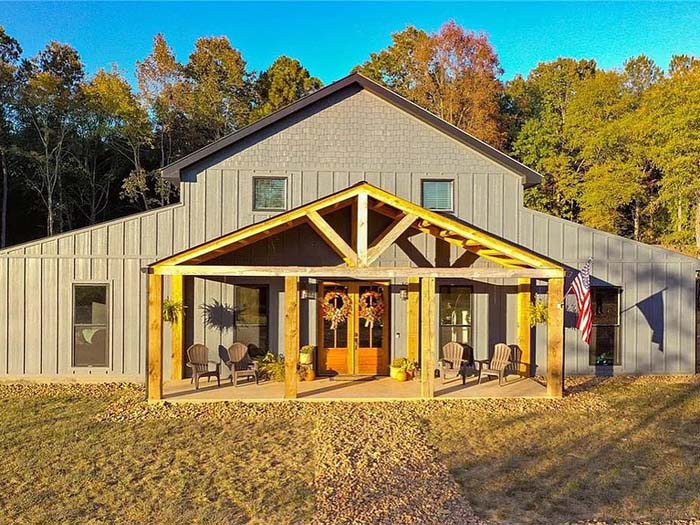 This open concept barndominium takes a traditional barn footprint and adds all the amenities of a home.
Gorgeous wood floors and interior barn doors add farmhouse appeal to the classic décor. An extended front porch with stunning wood double doors adds a homey credibility.
via R2G Barndominium
4. Metal Construction With Cupolas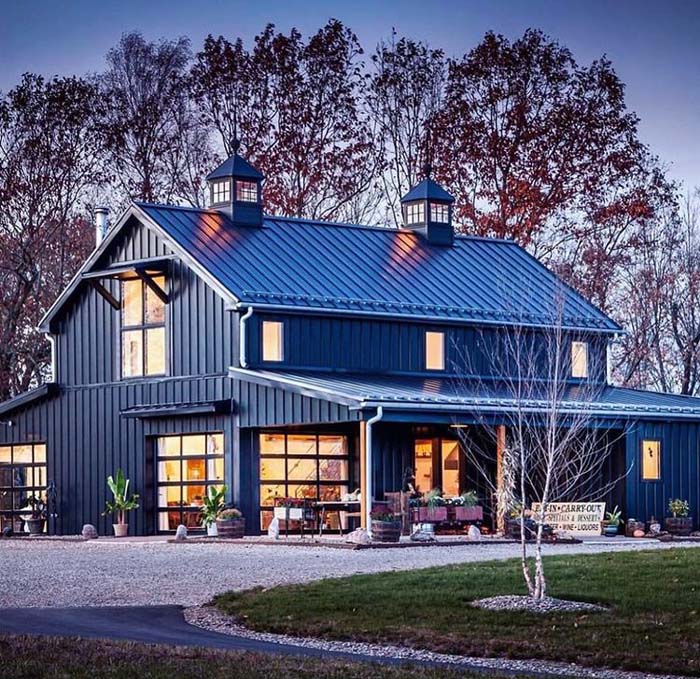 Metal siding and a metal roof provide long-lasting durability to this custom barndominium.
A pair of cupolas on the roof and garage door-sized windows offer natural light and ventilation to the spacious interior.
5. Wood Sided Custom Barndominium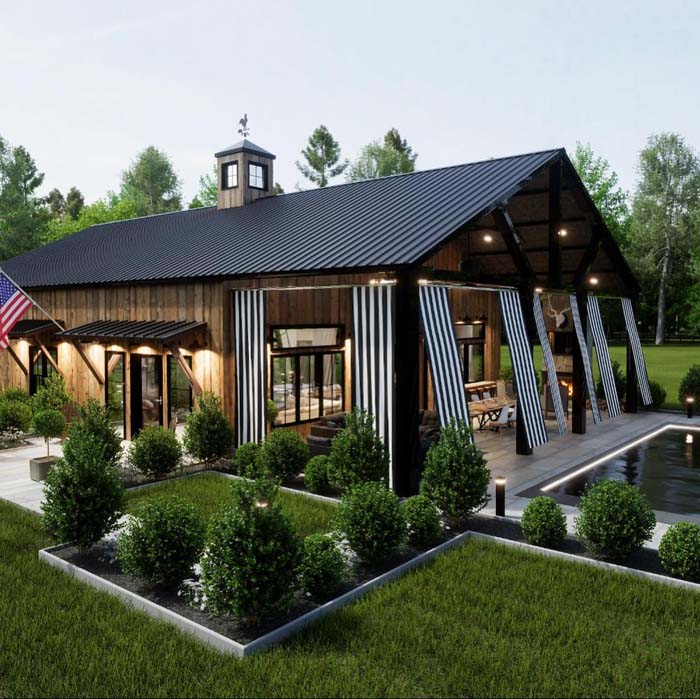 This open floor plan barn house packs a punch with large windows and a spacious front porch that doubles as a second living and dining area.
The bold striped curtains offer not only visual interest, but also as much privacy as you'd want on your porch, while a full-sized pool and manicured landscaping make for an inviting outdoor space.
6. Barndominium House
This beautiful barn home stuns in a soft green with natural wood accents. Despite its barndominium house plan, it could easily be mistaken for a traditional home.
Modern farmhouse lighting, flower boxes, and a wooden gable pediment add to its abundant curb appeal.
7. Rustic Wraparound Porch Stunner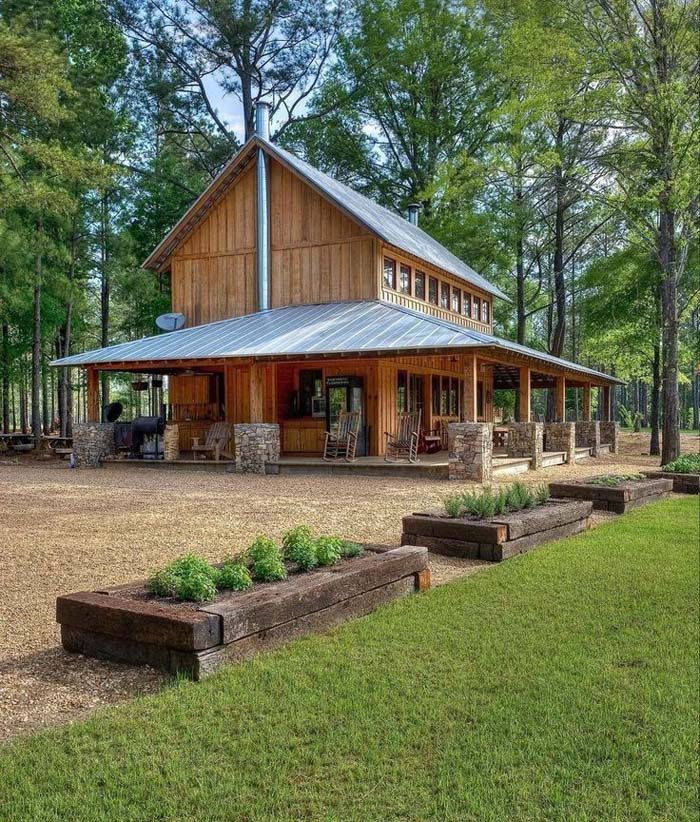 The traditional barn footprint and high ceilings of this wood-sided beauty offer a massive living area from a barndominium floor plan. 
The wraparound porch, complete with rocking chairs and barbecues makes for an inviting outdoor space in a cabin-like setting.
8. Multi-Level Dream Barndominium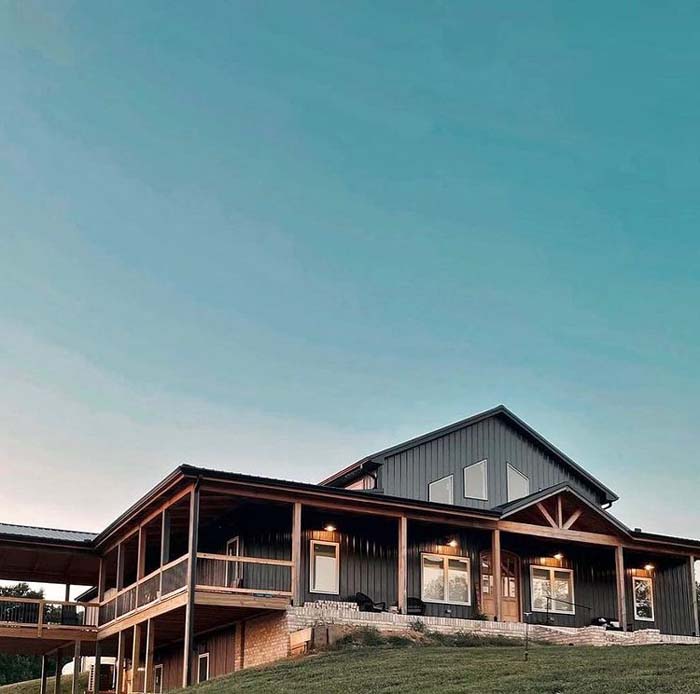 You will be living your best barndominium life in this massive metal construction barn house whose façade hides a spacious lower level, doubling the living area.
The extensive wraparound porch leads to a separate outdoor entertaining space with stunning views of the surrounding landscape. Perfection.
via Colleen
9. Wood Shake Pole Barn Construction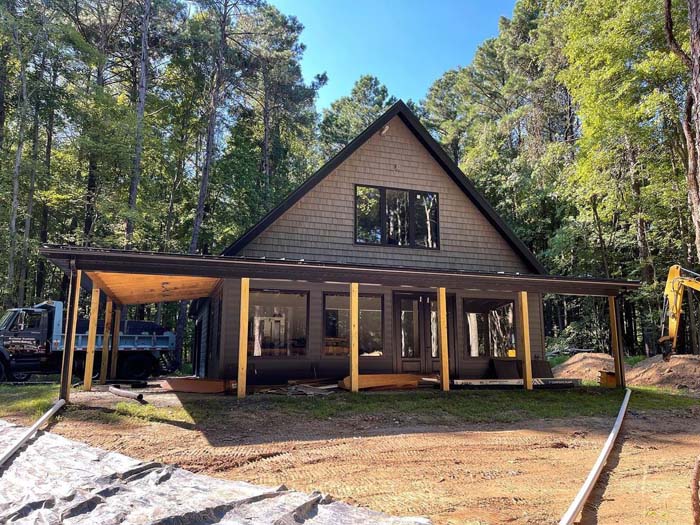 The gorgeous, bright kitchen is a stunning surprise in this rustic-looking pole barn build with wood shake siding. 
The A-frame second story offers expansive high ceilings, and the spacious porch is a perfect spot to enjoy the spectacular forest surroundings. Could you see yourself drinking coffee and watching the sun rise in this tranquil location?
10. Fire Pits And Fairy Lights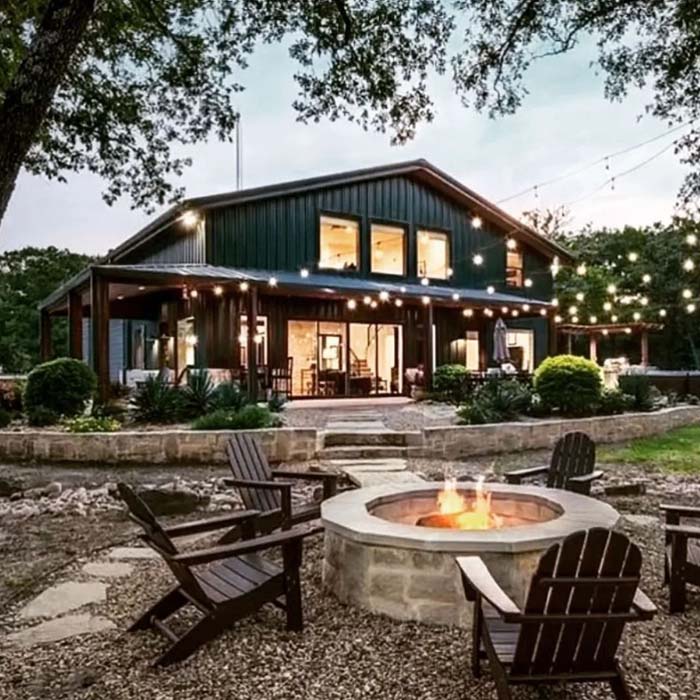 Every detail was considered in the construction of this home. The barndominium interior features stunning details like the wooden ceiling with beam detail and stone walls. 
The outdoor space is a paradise with a hot tub, fire pit, built-in barbecue area, and dining space. And the expansive garage with massive, vaulted ceilings will easily store all your toys. Did we save the best for last? You decide.