The company Harbor Cottage Houseboats is a leader in the build of floating homes which are of large sizes.
Fortunately, they also do smaller projects that we fell in love with.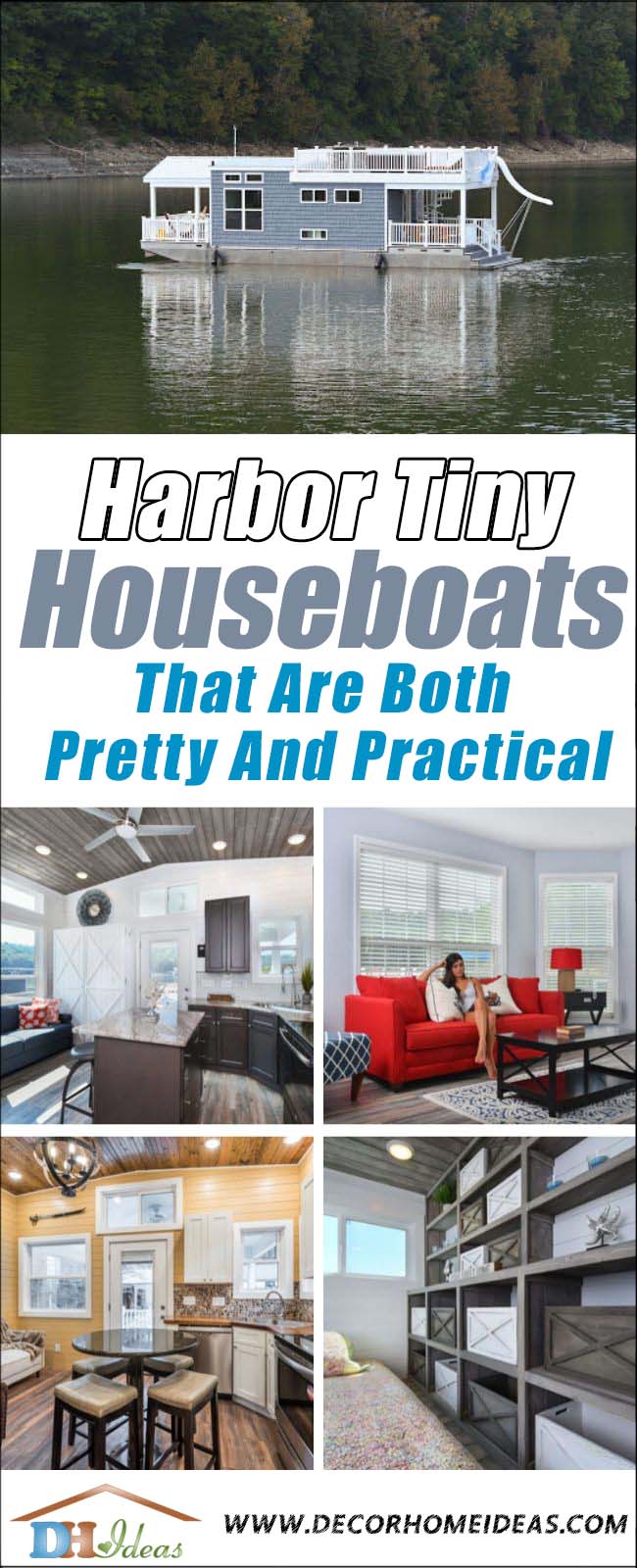 They have given them the name "tiny boat" and are just adorable.
Many of you may imagine a small boat home when they first hear the name of the US company project.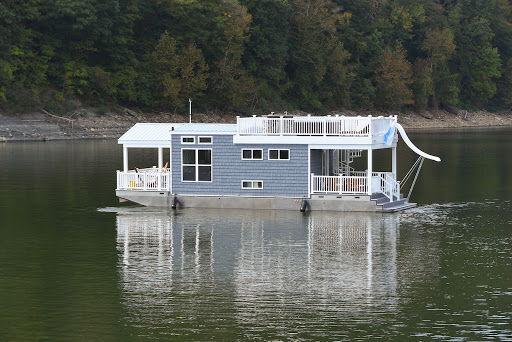 You are going to be surprised that it is not small at all! Space is so cleverly optimized that you would have anything a regular full-size home has!
What's included?
The tiny boat features a sleeping loft with size 7' x 7', a family room with size 13' x 15', a kitchen –  11' x 10', an entry Foyer – 4' 6" x 4' and a bedroom with size 9' 6" x 11'.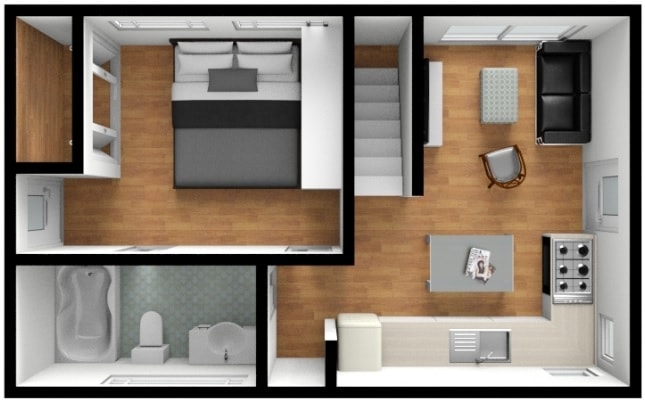 The sleeping places are 6 in total – a master bedroom, a lower stateroom and a murphy wall bed – all being comfortable and cozy!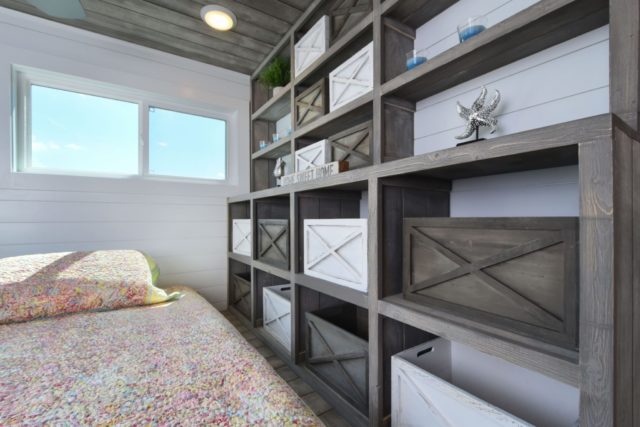 The comfort is complemented by luxury and spacious bathroom. There are a full-size toilet and a bathtub with a shower. The hot water is provided by an electric 50 gal water heater.
Your kitchen will be equipped with all possible appliances that you would need- a stove, a microwave, a refrigerator, a dishwasher, a washer and a dryer.
You can enjoy the outdoor environment on the two porches enclosed with railings for safety reasons and the 400 sqft sun deck on the roof of the boat.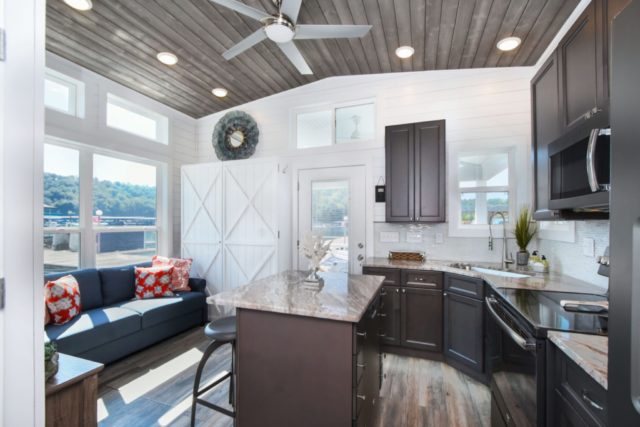 The designers of the tiny boat have used all possible space to create large and optimized outdoor places that can be used for different activities – sunbathing, fishing, reading a book or only to relax. 
The sun deck may be equipped with a hot tub where you can relax during the colder days while enjoying the surrounding nature. There is also a slide, a diving board, and a roof bar.
The tiny home is energy efficient. It is fully insulated in walls, ceiling and floor via the installed high-quality windows and the efficient central heat pump which ensures the desired internal temperature.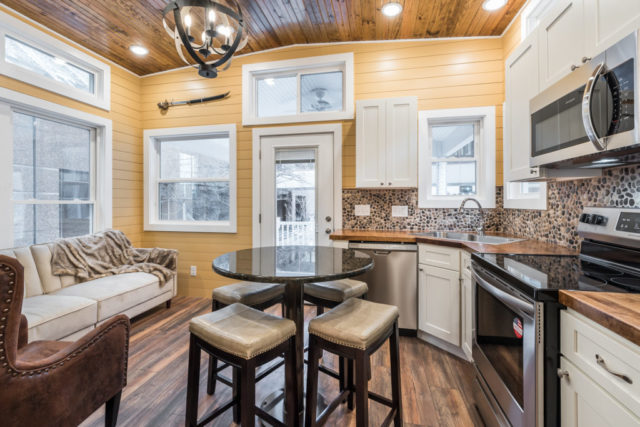 The manufacturer of these tiny boats guarantees the luxury and convenience of the space. If you have your own perception of interior design, you can customize it to suit your individual preferences.
From furniture to appliances, decor, countertops, paint colors, flooring, faucets, hardware, light fixtures. Just let the company know your wish and they will make it come true.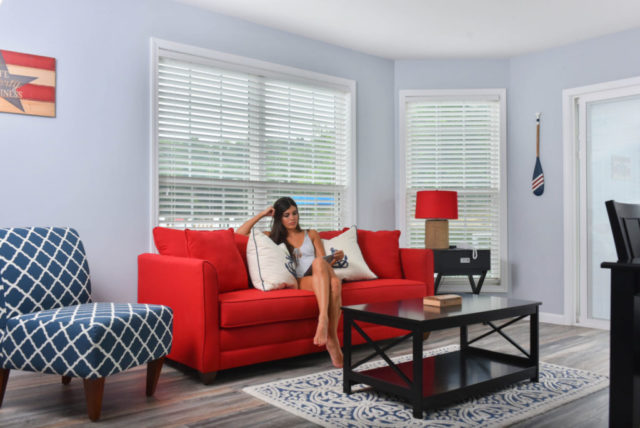 If you have doubts about whether to own such a lovely tiny home, Harbor Cottage Houseboats is ready to rent you one. It is no doubt that you would rather want to own that floating home once you have seen and tried it yourself!
In case you are eager to get your tiny boat, the manufacturer will deliver it to the lake of your choice, regardless of the distance. Another advantage they could offer is cooperation for the financing of the project by recommending you to several lenders.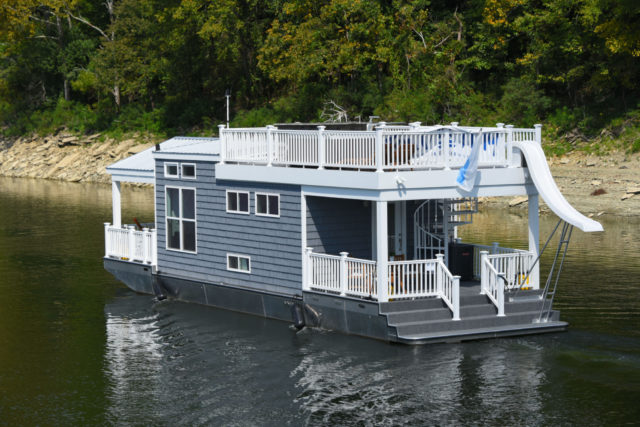 Have you planned your vacation already? Get your tiny boat and get the most of it!