Tricolor houseplants are an easy way to upgrade your indoor foliage — they bring the same freshness and life as a traditional plant, plus an extra pop of color.
Bring warmth to a space with leaves that feature red and pink accents, or go cool and contemporary with plants tinged with purple.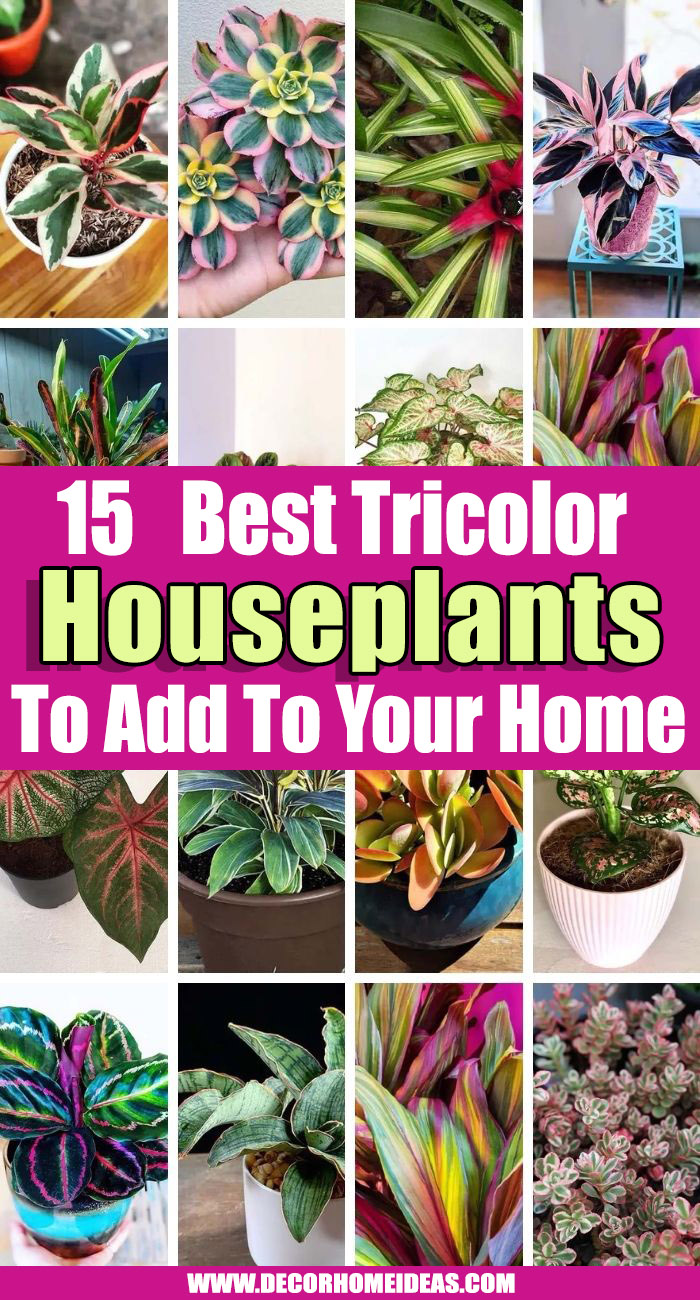 With so many leaf shapes and plant sizes, there's a tricolor plant for every room in the house.
1. Bolero Tricolor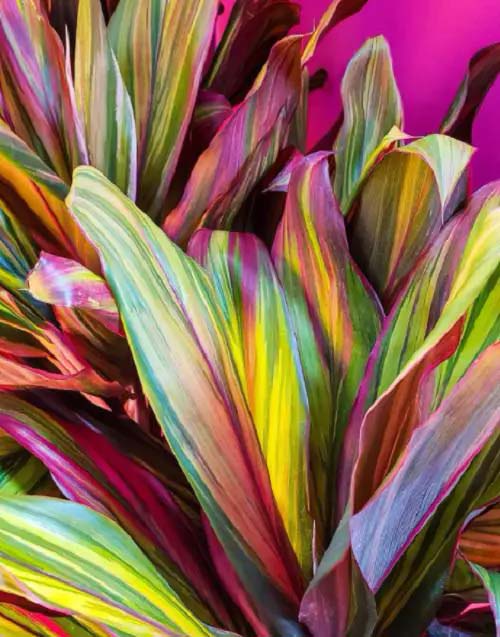 With its rich yellow, purple, and green hues, every leaf of the Bolero Tricolor is like a miniature work of art.
The leaves are wide and tall, giving the plant a lushness that's perfect for a modern space or a boho-chic home.
Use one plant for a burst of color, or arrange several pots together to create a miniature indoor jungle.
Botanical name: Cordyline fruticosa 'Bolero Tricolor'
via Botanical Bear
2. Candy Cane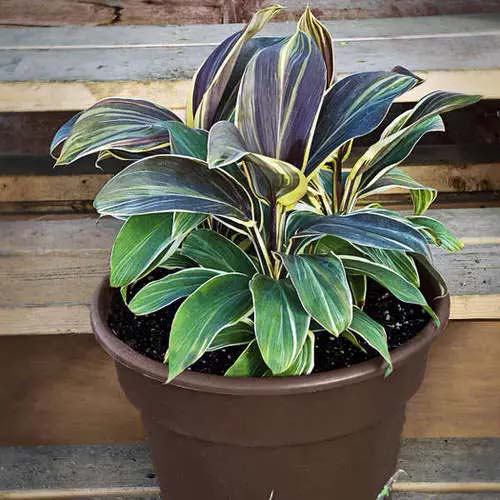 The Candy Cane plant might bring to mind images of Christmas sweets — the name comes from the distinctive stripes on the leaves.
Most versions feature varying shades of greens and beautiful yellow edges, but you can also find options with brilliant red accents or all-red leaves.
This plant thrives in many different conditions, including full sun and partial shade; you'll get the brightest leaves in a sunny spot.
Botanical name: Cordyline fruticosa 'Candy Cane'
3. Chinese Evergreen Tricolor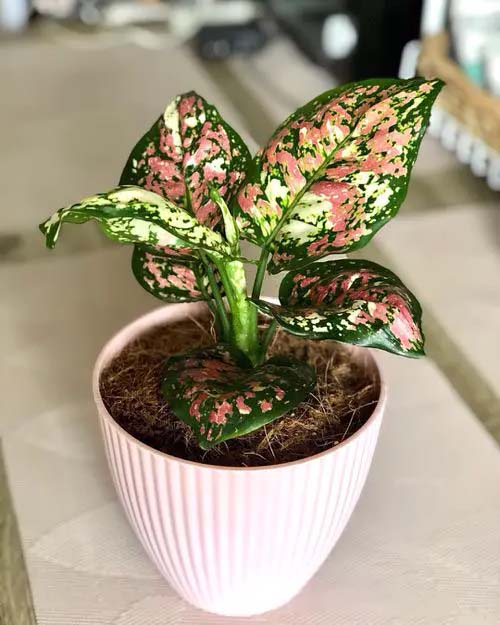 The Chinese Evergreen is one of the most fascinating tricolor plants on the market.
The leaves feature three distinct colors and an unusual camouflage-style pattern.
Some varieties feature three shades of green while others come in dark green, light green, and pink.
This is a great choice for a room with minimal natural light, as it doesn't require direct sunlight.
Botanical name: Aglaonema pictum tricolor
via Plant Nurse Jesa
4. Cleopatra Snake Plant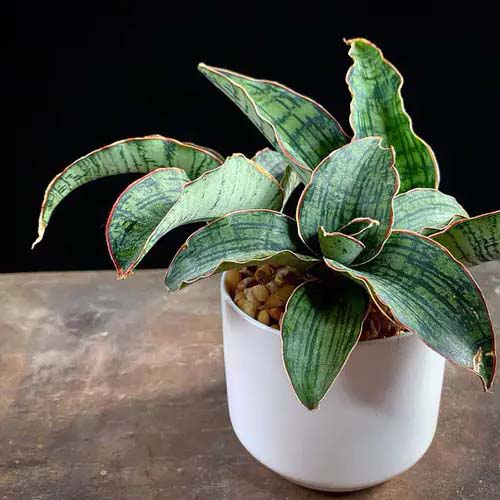 If you love the bold style of the Cleopatra Snake Plant, get ready to visit a few different nurseries — this plant can be challenging to find.
The gorgeous, detailed leaf pattern brings depth and texture to any room, and the unique rosette-style leaf arrangement sets it apart from your other plants.
Known for its slow growth, the Cleopatra Snake Plant is ideal for apartments.
Botanical name: Sansevieria 'Cleopatra'
5. Corona Tricolor Plant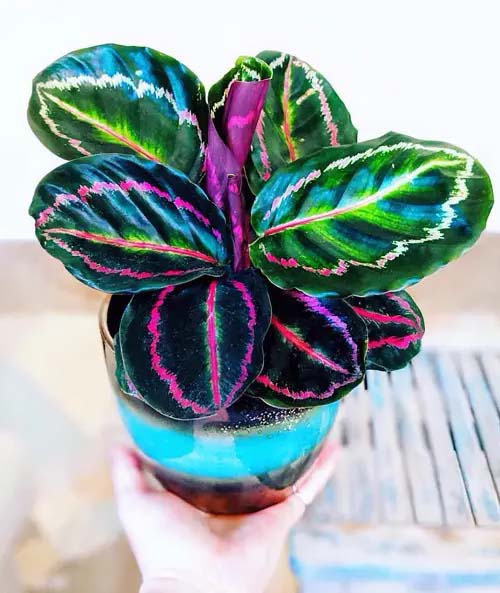 The Calathea Roseopicta is one of those plants that draws gasps of delight from your visitors.
With its deep green leaves and high-contrast green and pink pattern, it's a stunning addition to a plant stand.
The waxy leaves gleam beautifully. Best of all, this plant doesn't require direct sunlight; it prefers a bright but indirect light source.
Botanical name: Calathea roseopicta 'Corona'
6. Flapjack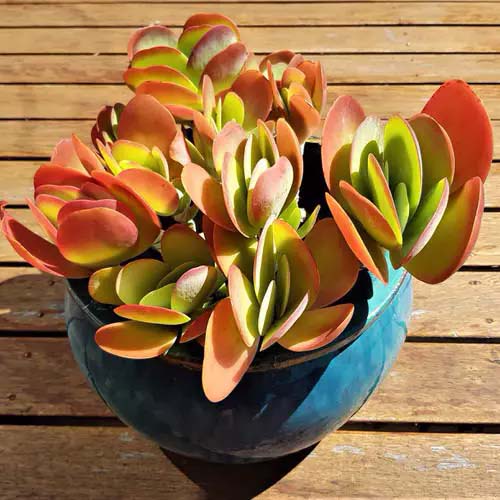 The adorable Flapjack houseplant is a type of succulent.
You'll know it immediately by the leaves — shaped like tiny, rounded clams that grow in small clusters, they look almost like the petals of a flower.
Choose the Flapjack if you're new to plant care; it's a low-maintenance option.
As long as it has a warm, sunny spot, this variety thrives on minimal water and little to no pruning.
Botanical name: Kalanchoe thyrsiflora
via About Succulents
7. Gingerland Plant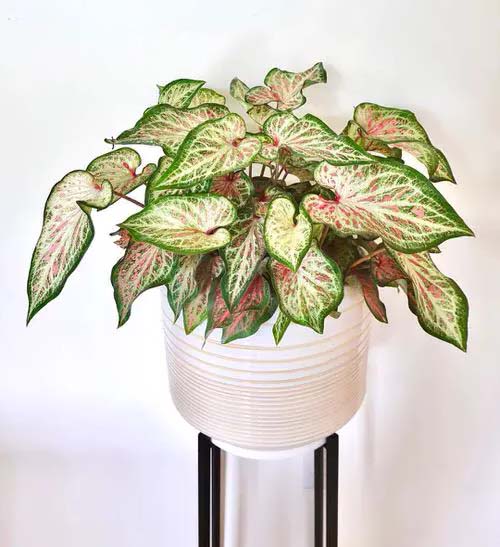 The Gingerland plant is also called Angel Wings, largely due to the shape of the leaves.
With two distinct lobes and a long, graceful point, each leave is graceful and elegant.
Most Caladium plants feature a high-contrast color pattern with dark green edges and pale green centers with deep red accents.
Since they need only a few hours of direct sunlight per day, they fit easily into an apartment or a room with a smaller window.
Botanical name: Caladium 'Gingerland'
via Plants By Bing
8. Lauren's Rainbow Croton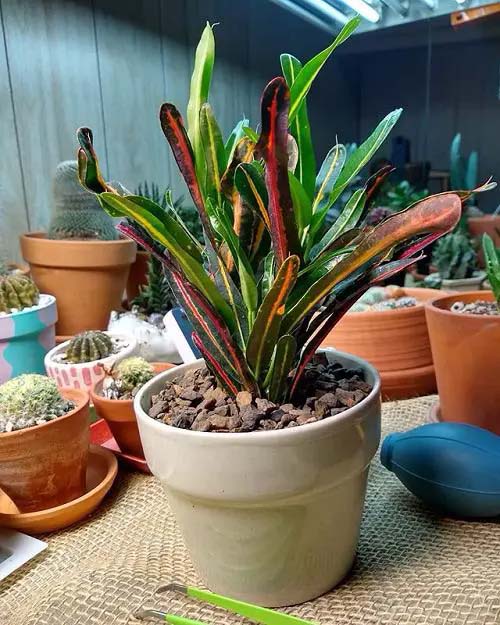 Are you looking for a big, bold tricolor houseplant?
The Lauren's Rainbow Croton is a fun choice. It features long, narrow leaves that grow in an upward direction, creating a tree-like effect.
The most exciting feature of this plant is the coloration — the green leaves feature bright hints of orange, yellow, and red.
For the most vibrant colors, set this plant in bright, direct sunlight.
Botanical name: Codiaeum variegatum 'Lauren's Rainbow'
via Sucs For You
9. Moonburst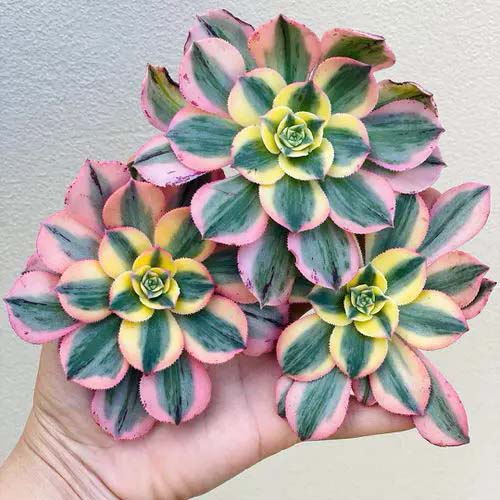 The name "Moonburst" fits this Aeonium plant perfectly.
The soft, muted shades of green, pink, and yellow combine with the wide, layered rosette shape to create an otherworldly effect.
Note the unusual leaf shape, which is round with a tiny point.
As a Moonburst grows, it gets larger, rounder, and even more beautiful. Since it's a succulent, this houseplant is a breeze to maintain.
Botanical name: Aeonium 'Moonburst'
10. Nidularium Houseplant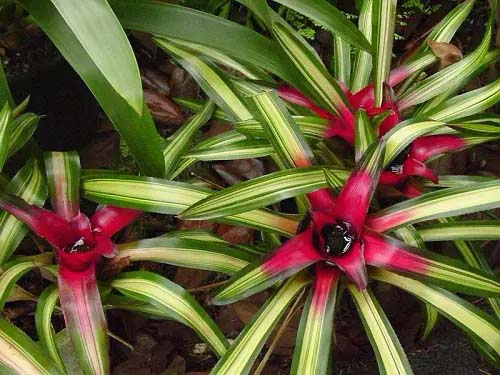 The Nidularium is instantly recognizable due to one key feature: the brilliant splash of red in the center.
Next to the tropical green shades of the leaves, this unexpected contrast creates a stunning effect.
The Nidularium loves bright, indirect sunlight and plenty of humidity; it's a lovely choice for a kitchen or a bathroom. Most versions live for 2-5 years.
Botanical name: Nidularium bromeliad
via Dave's Garden
11. Rainbow Peperomia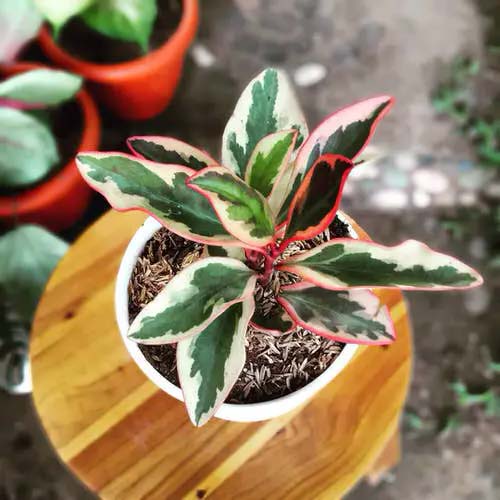 Are you looking for a houseplant for a small space?
The Rainbow Peperomia is the perfect option. It features large, high-contrast leaves that look beautiful indoors; the pale green edges and dark green centers are often accented with red or pink hues.
Since each leaf grows in an upward direction, the plant takes up a small amount of room.
Botanical name: Peperomia clusiifolia 'Rainbow'
via Dipuri Plants
12. Red Prayer Plant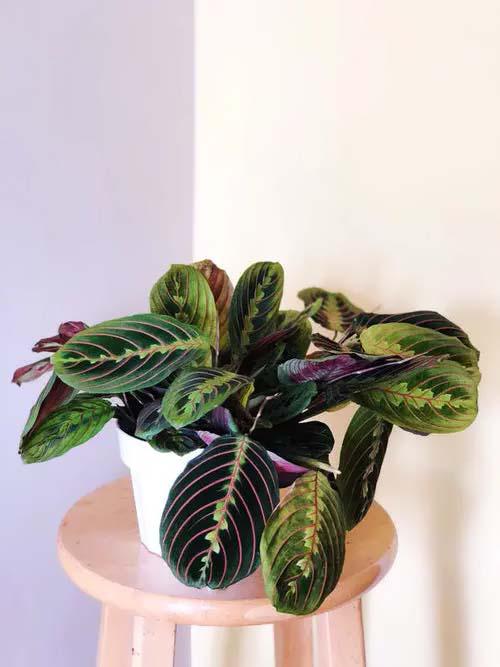 When it comes to striking vein patterns, the Red Prayer Plant is hard to beat.
Each of the oval-shaped leaves features brilliant pink veins that stand out against the dark green surface.
Look closely, and you'll see that the veins are slightly offset. In the evening, the leaves fold inward, creating the impression of praying hands.
As long as this plant is located in a bright space with plenty of humidity, you should only need to water it every two weeks.
Botanical name: Maranta leuconeura 'Erythroneura'

13. Rosebud Houseplant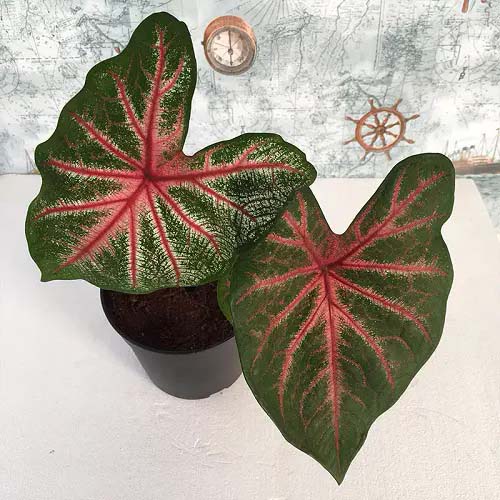 Large, heart-shaped leaves dominate the Rosebud houseplant.
With proper care, this tropical plant makes an impressive indoor decoration — the lush leaves feature thrilling patterns dotted with red or pink.
To achieve this level of health and beauty, you'll need to provide a humid location with lots of warmth.
Since these plants are toxic if ingested, they're not a good choice for homes with pets or kids.
Botanical name: Caladium 'Rosebud'
via Amulya Nursery
14. Tricolor Stonecrop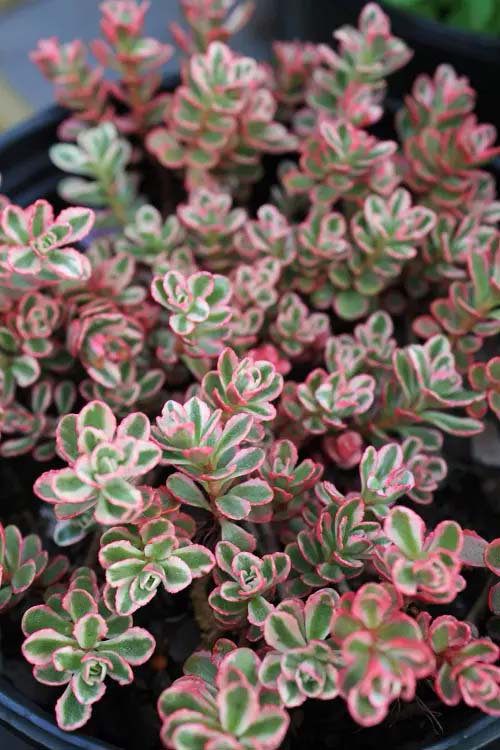 Tiny and delicate, the Tricolor Stonecrop is an adorable houseplant.
Each small leaf has a bright green center, a pale green edge, and a faint pink rim.
The effect is charming, particularly considering that the plant usually grows no higher than 6 inches. It thrives in a bright location and a wide pot; it will quickly fill the space you provide.
Botanical name: Sedum spurium 'Tricolor'
via Rareroots
15. Tricolor Stromanthe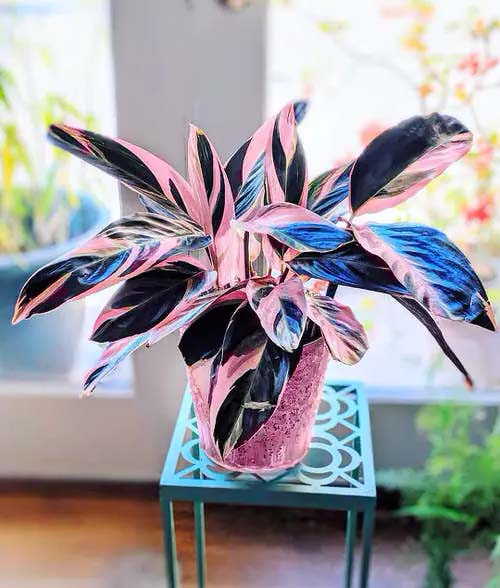 Marked by large, pastel-colored stripes on deep-green leaves, the Tricolor Stromanthe is a standout among houseplants.
It's a large plant, but since the leaves grow upward, it works well on the floor or a plant stand.
Make sure to choose a spot with plenty of light and warmth — this tropical plant loves the sunshine.
Botanical name: Stomanthe sanguinea 'Tricolor'
via Stunning Plants