If you get here the chances are either you have old picture frames around your house and still don't know what to do with them or you just saw some beautiful DIY decor project made of old picture frames and would like to know more.

We will help you either way. We have created a list of 25 great old picture frame ideas that are cheap, easy to do and can really change the way your home looks. In the short descriptions of all projects is the link to step-by-step tutorials and more information on tools and materials. So, what are you waiting for – get the best idea and try it at home.
1. Cork Board Made of Old Picture Frame
Creating a beautiful cork board like this one, requires 2 things – great picture frame and some skills. The original old picture frame was not silver, but it is painted to blend with the rest of the decor in the house. If you like to create similar one, click here to find out how!
2. Old Picture Frame Turned Into Message Board…with Pins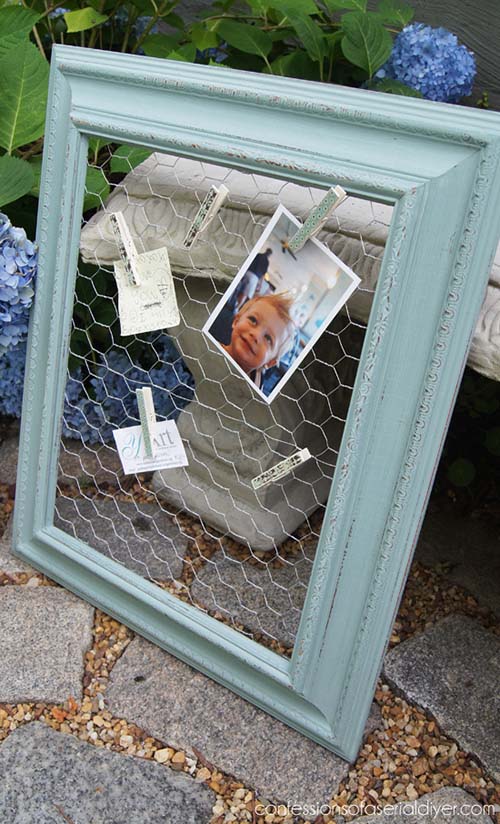 Photo: Credit
This project requires chicken wire, old picture frame which could be found at any yard sale and paint of your choice. Staple gun and some other tools could be useful to make the task even easier. Click here to find out how!
3. Lamp Base Turned Pedestal Table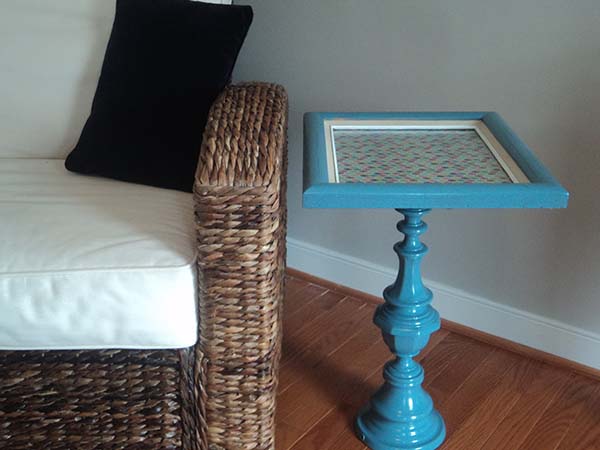 Photo: Credit
Can you guess what is used as a pole? If you bet on lamp or candlestick, you are right. Again, getting materials could be really easy and shockingly cheap. Just check at the local hardware store or any yard sales. If you like the DIY project click here to find out more.
4. Pin Cushion From Old Picture Frames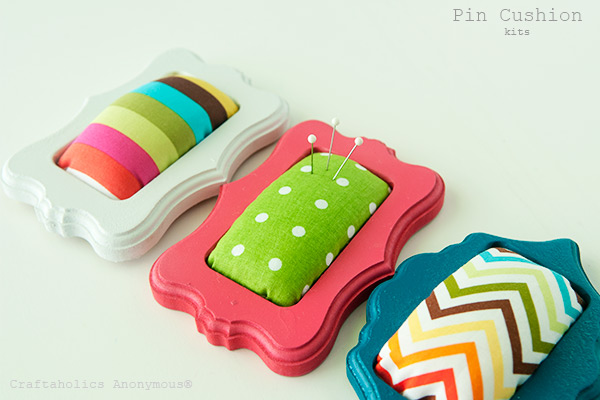 Photo:Credit
The kit includes 3 tiny unfinished wood picture frames and chipboard backing. You could be very creative with fabric and colors and make these as a gifts. Click here to find out more!
5. DIY Picture Frame Shelves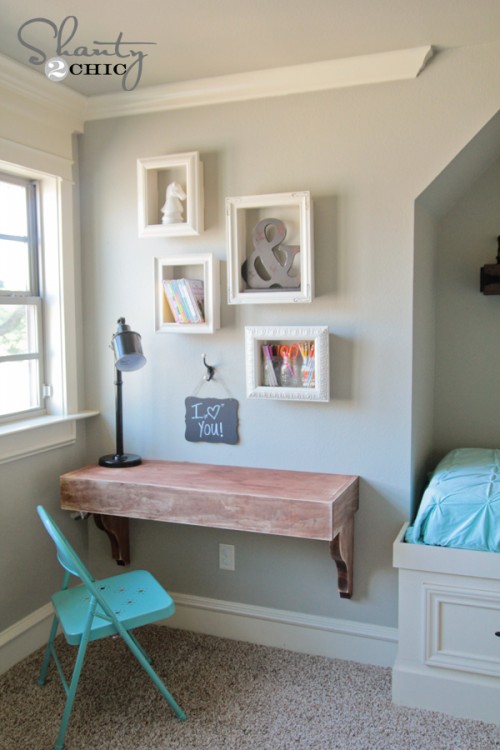 Photo: Credit
This is such simple project, and a great way to reuse old frames or to dress up cheap frames. The decoration inside each of the picture frames could be changed per your taste. It's open for a lot of creativity. You can also change the decoration according to the season. Click here to find out more!
6. DIY Monogram Picture Frame With Family Quote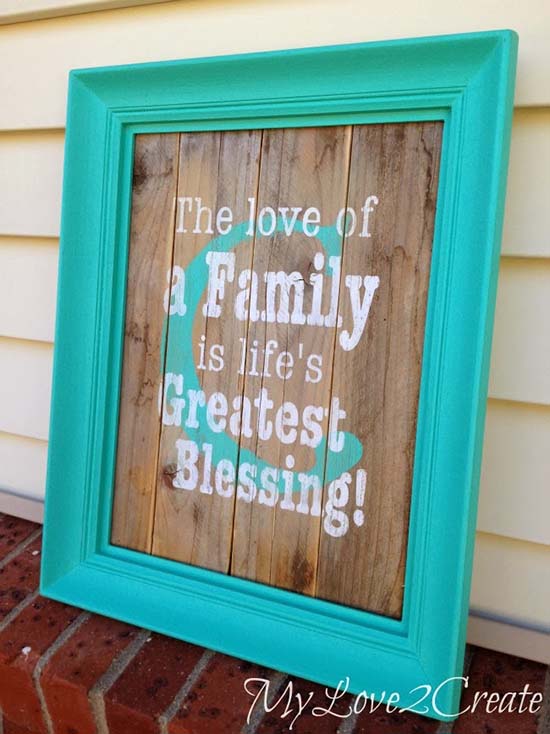 Photo:Credit
Putting a family quote in an old picture frame is another great DIY project. You can go with another bold and bright color for the paint. The quote could be with another saying. Click here to find out how!
7. Old Picture frames turned into towel holder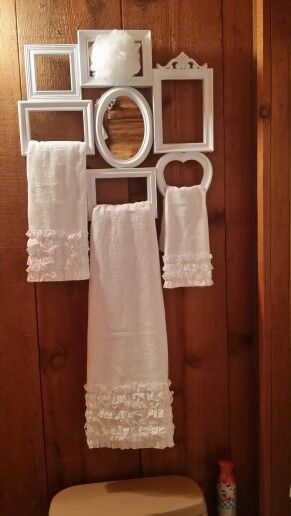 Photo: Credit
Get a bunch of different old picture frames, paint them in white and you can create great towel holders for your bathroom. Just clean the surface before painting, use some primer and then spray paint them.
8. DIY Framed Jewelry and Earring Organizer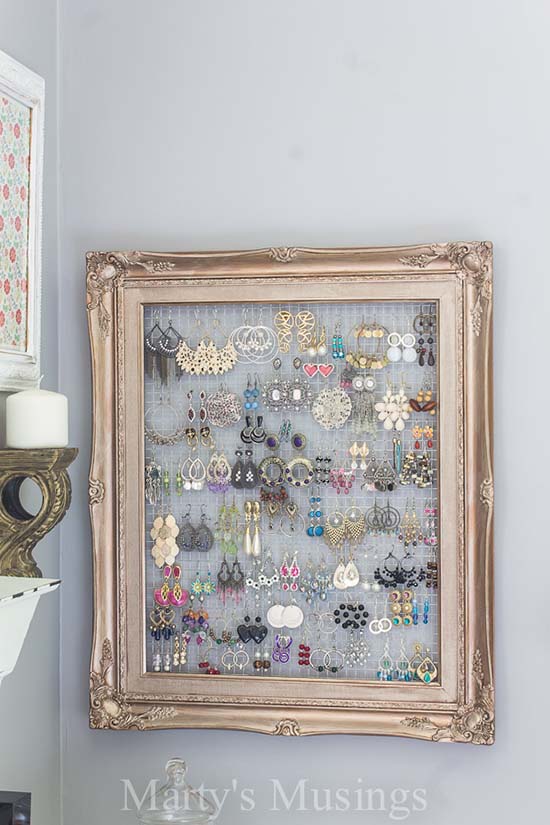 Photo: Credit
If you want a more chic and sassy way to organize your earring collection – here is your solution. This jewelry and earring organizer is so simple but packs a punch on the style meter! Click here to find out how!
9. Fabric-filled Wood Picture Frame as a Ceiling Medallion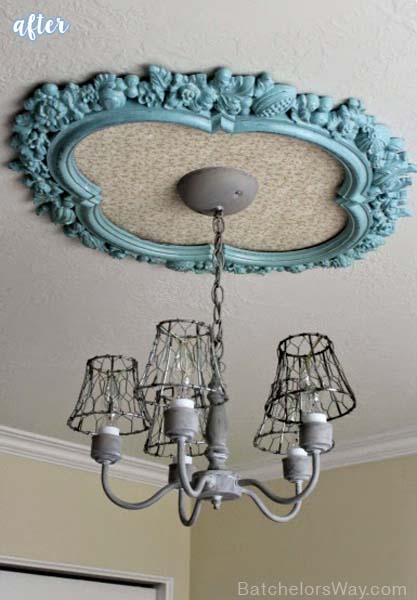 Photo:Credit
How to replace your boring ceiling light or chandelier without spending a lot of money? Well, you'll never believe the before and after of this DIY idea. Click here to find out more!
10. Old Wood Picture Frames Beach Decor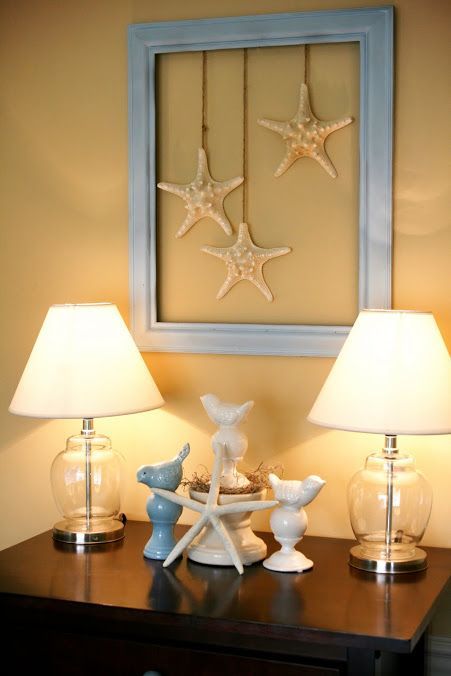 Photo: Credit
This is an easy picture to make-just some string and star fish and glued them to the frame! Can you do it yourself? Click here to find out more!
11. Old Wooden Picture Frame Fall Decor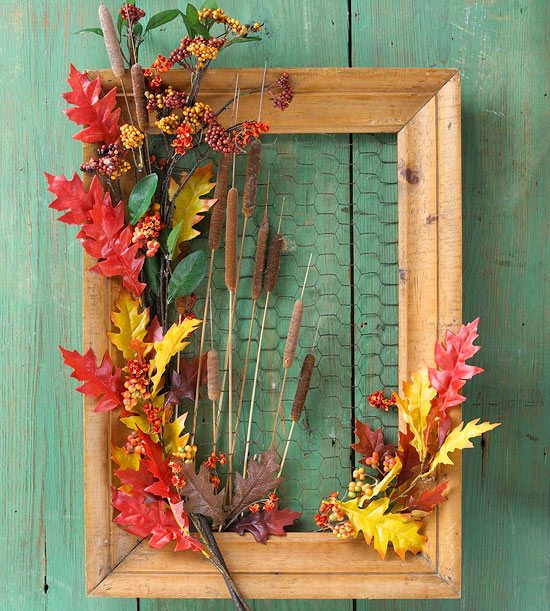 Photo: Credit
This one is made with chicken wire and an old wood picture frame. It's more about fall season decoration, but you can put some decoration that are not connected with any season.
12. Framed Monogram From Old Picture Frame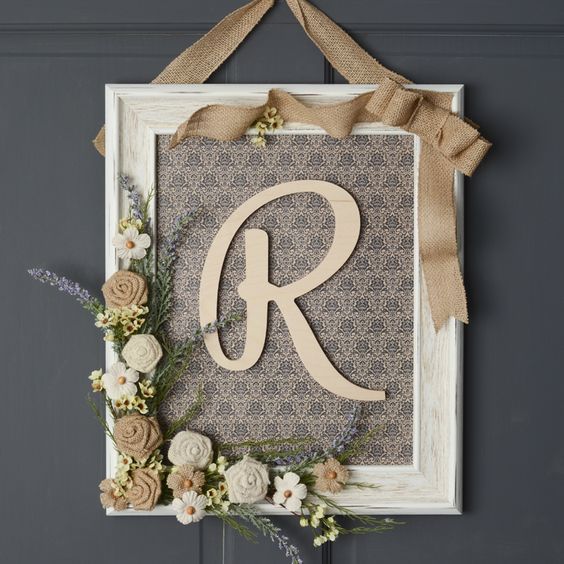 Photo:Credit
No matter where you put this framed monogram — your door, your wall, your desk — it's picture perfect! Pairing a wooden letter with burlap accents and some of the hundreds of colorful flowers available at A.C. Moore gives your décor a beautiful and rustic touch!
13. Old Picture frame to tray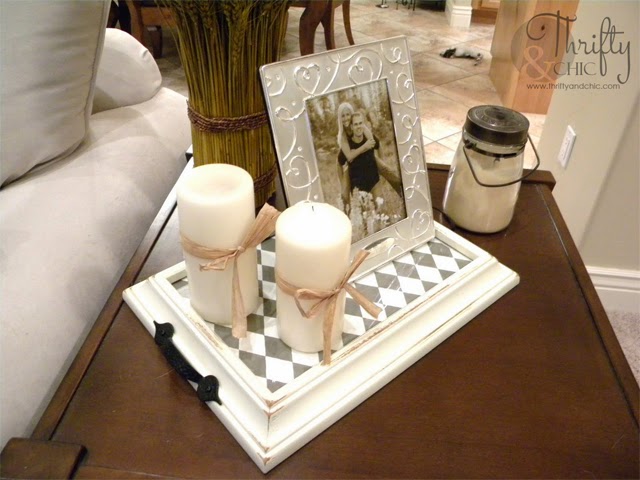 Photo: Credit
From previous experience, when picking the frame you want, try to find one that has some height or depth to it. It makes it more eye catching and appealing…and useful especially if its really deep. Click here to find out more!
14. Chic Bathroom Wall With Old Picture Frames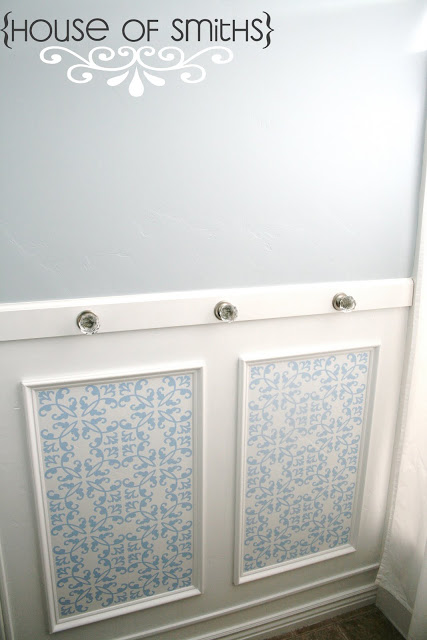 Photo: Credit
This one looks like something more complicated, but rest aside, the full tutorial can make things a lot easier. Great use of picture frames for a bathroom decoration. Vinyl is great. Click here to read it all!
15. Hanging Wood Basket For Flowers or Succulents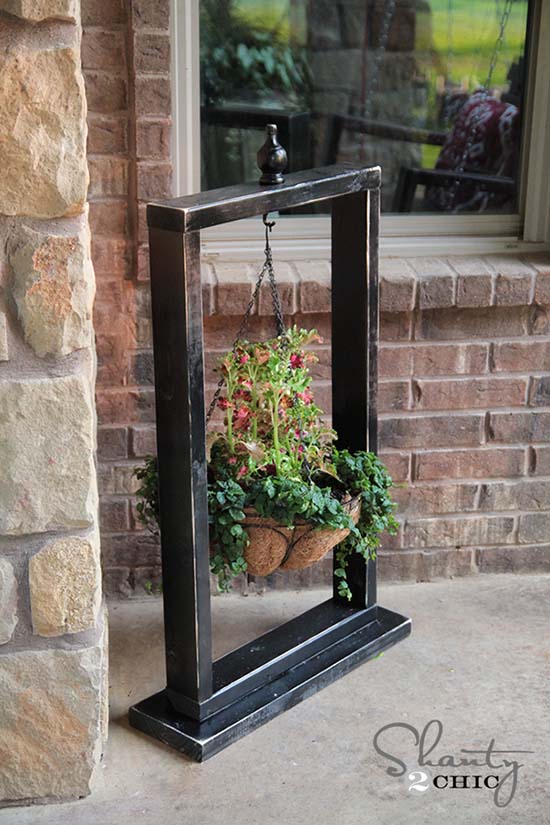 Photo: Credit
"I LOVE hanging baskets and think they are so pretty and add so much character to the spaces they are displayed. I really don't have any space on the actual outside of my house to hang them, so I thought it would be fun to create a stand to hold it for me.  This is such a simple project!  Here is how it turned out…" – Click here to find out how!
16. Wall Decoration From Old Picture Frames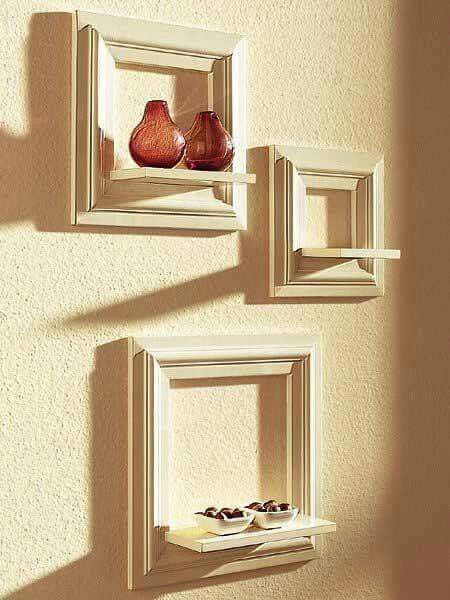 This DIY is picture frames with incorporated shelves so that you can put your decoration or accessories.
17. Old Picture Frame With Chandelier Decal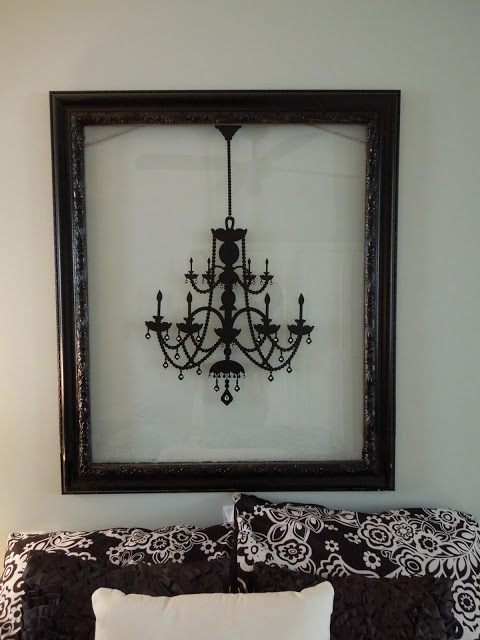 Photo: Credit
This was an old picture that got ruined in a flood past fall, so they took out the picture, and painted the frame black. Then bought a chandelier decal and put in on the front of the glass. Nice huh? Click here to find out how!
18. Flower Tray From Old Picture Frames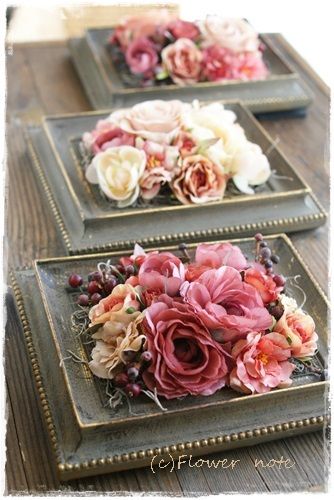 Photo: Credit
If you have some really nice old wood picture frames and some dry flowers, you can create amazing trays. They can serve as a decoration to a party or anywhere in your home.
19. Wall Decor for Nursery Room From Old Picture Frame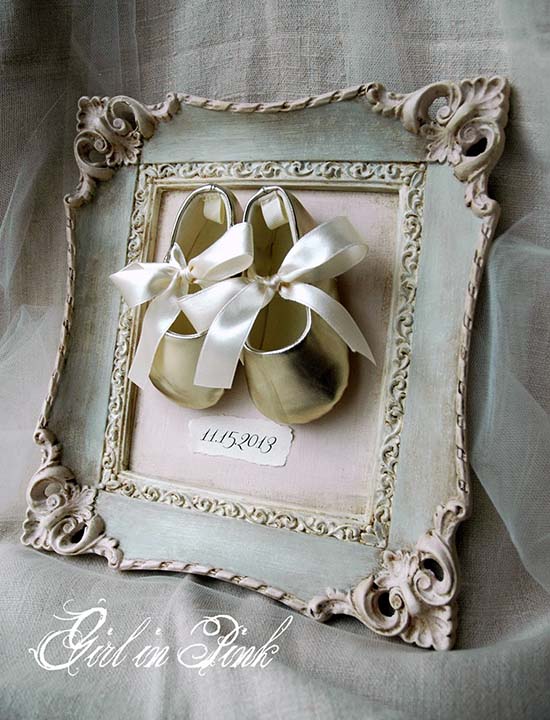 Photo:Credit
When you have a special day to remember – here is an amazing repurposed old picture frame. What started out as an inexpensive thrift store print in a dated frame, is now a special memento that will be hung in a very special little girl's sweet pink room! Click here to find out how!
20. Photo Display Picture Frame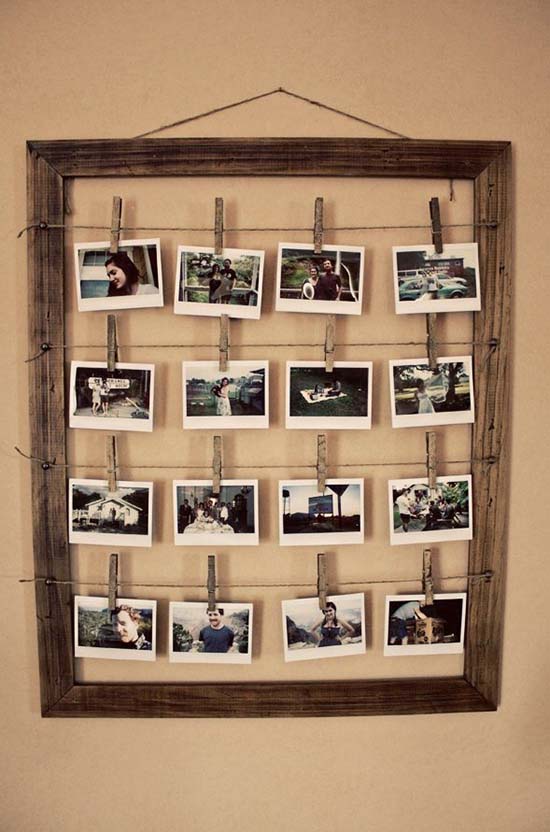 Photo:Credit
…I dreamed up a photo frame. It was the perfect display for our photos. It would be simple and beautiful. I could hang twine on the empty frame and hang clothes pins from the twine to attach the pictures.So they done it! It turned out great. Click here to find out more!
21. Create a Layered Frame Gallery Wall Title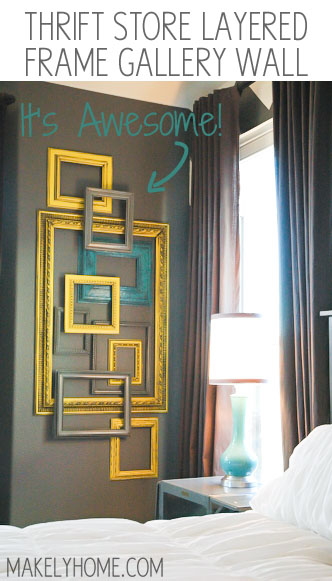 Photo:Credit
Because they wanted that little space to be important in setting the tone of the room, they also wanted it to be something unique.  After much consideration, they ended up with a wall of colorful, layered open frames. Another great example how creativity can make stunning home decor. Click here to find out how!
22. Garden Wall Decoration With Old Picture Frame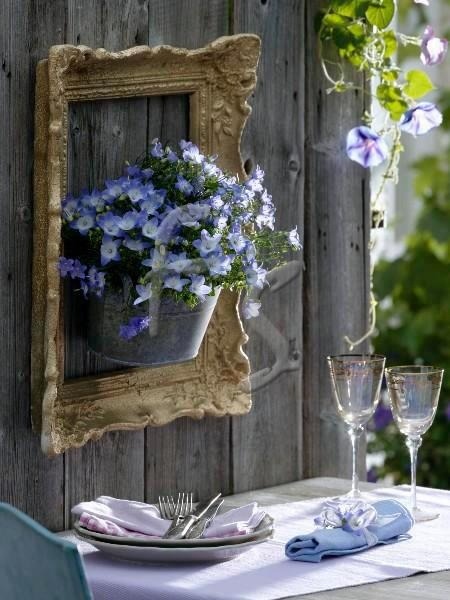 Photo:Credit
Speaking about garden decor and old wood picture frames and we have this DIY project. Very easy, just get a great looking picture frame and any flower planter and attach them as shown on the photo. It's another one of the great old picture frame ideas you couldn't resist to create.
23. Old Picture Frames Wall Flower Arrangement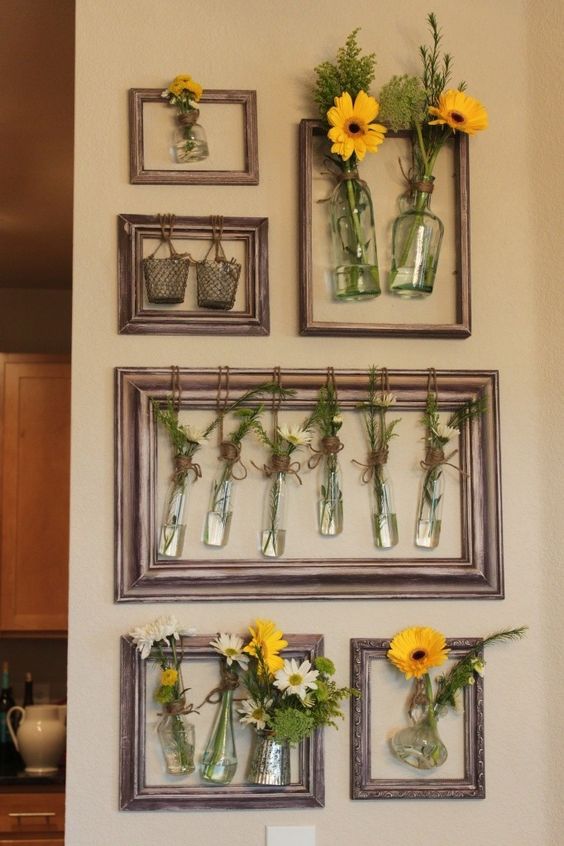 Photo: Credit
What about vases with flowers and herbs put in picture frames? Select different size and shapes of old picture frames and attach them to the wall. Then put some vases , but carefully tie them to the frames so that they couldn't be easily removed.
24. Create a Wreath In an Old Picture Frame
Photo:Credit
This project has two main parts – an old wooden picture frame and a wreath. If you already have a wreath of some kind, then just put in a frame and you'll have great wall decoration.
25. Vertical Chess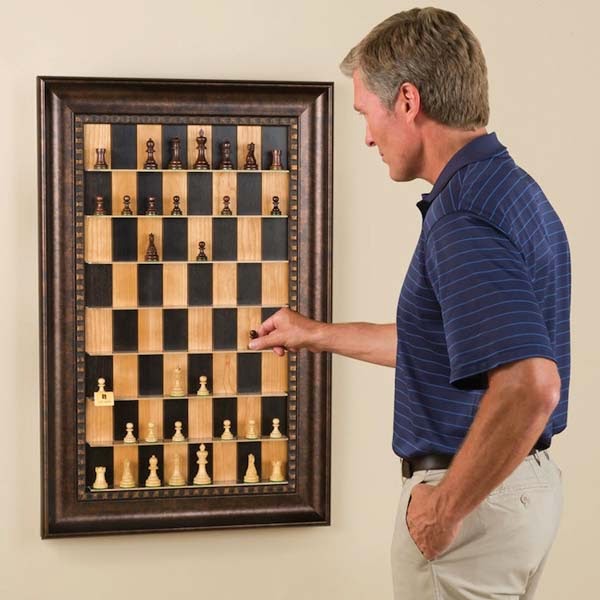 Photo:Credit
Amazing wall decoration idea with picture frame. It's a great for a gift to chess lovers.
I hope you'll love all these ideas and projects.
Please SHARE these useful old picture frame ideas with friends and family members. So that you can have all the projects saved in one place!