Most people spend more than one-third of their day sleeping, and yet often, the bedroom is the last space many of us think about when it comes to decorating.
Studies have shown that specific colors can affect our moods, so creating a calming environment in your bedroom is essential for restorative sleep.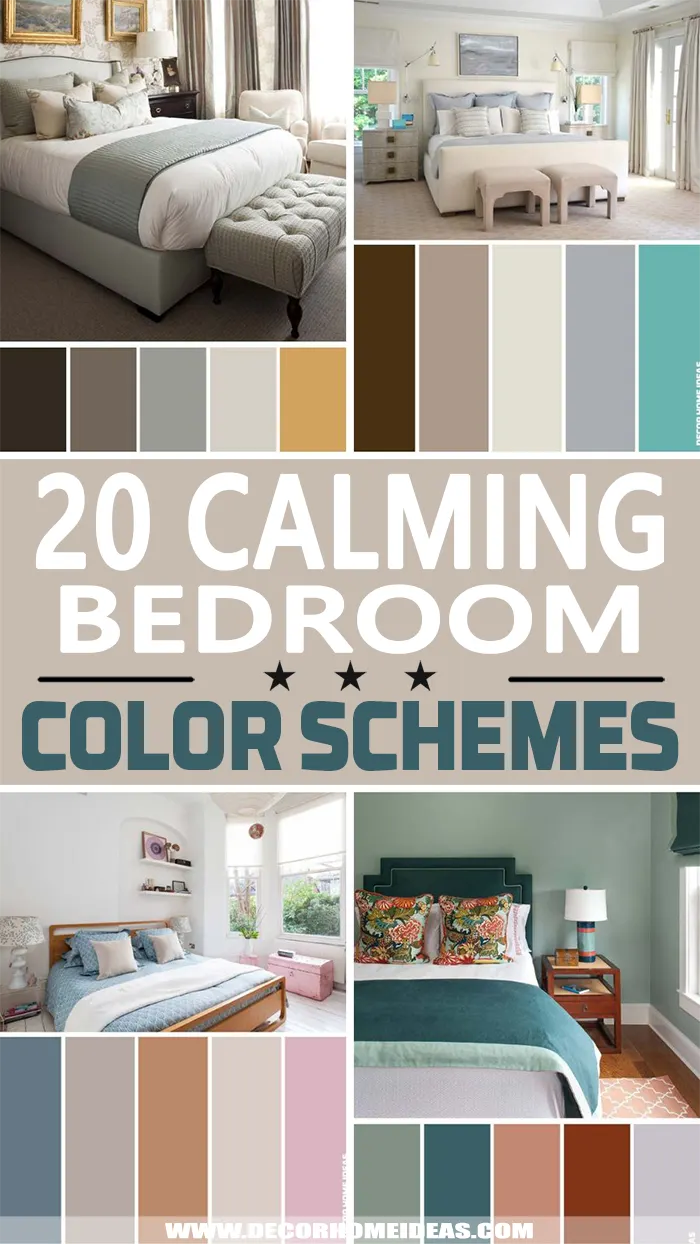 Here's how to make a soothing color scheme for your bedroom.
1. Grey, Soft Pink, and Black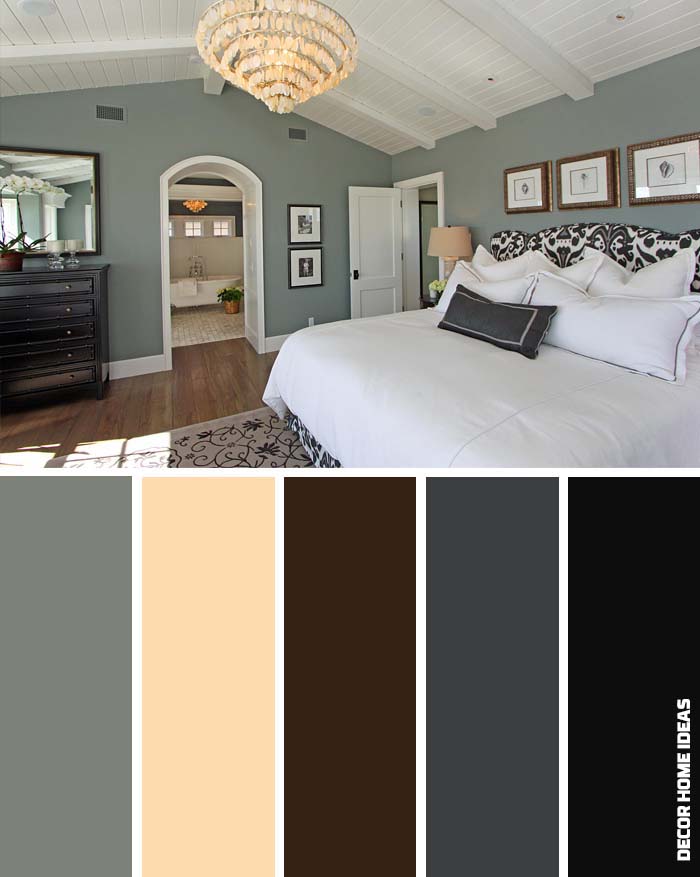 Gray has become increasingly popular as a bedroom color in recent years, and when paired with soft pink, it can create an elegant and sophisticated look.
The combination of these two colors, as seen in the bedroom featured by RS Myers Company, will give your room a cozy and inviting feel that will help you drift off into dreamland quickly and easily.
via RS Myers Company
2. Dark Grey, Taupe, and White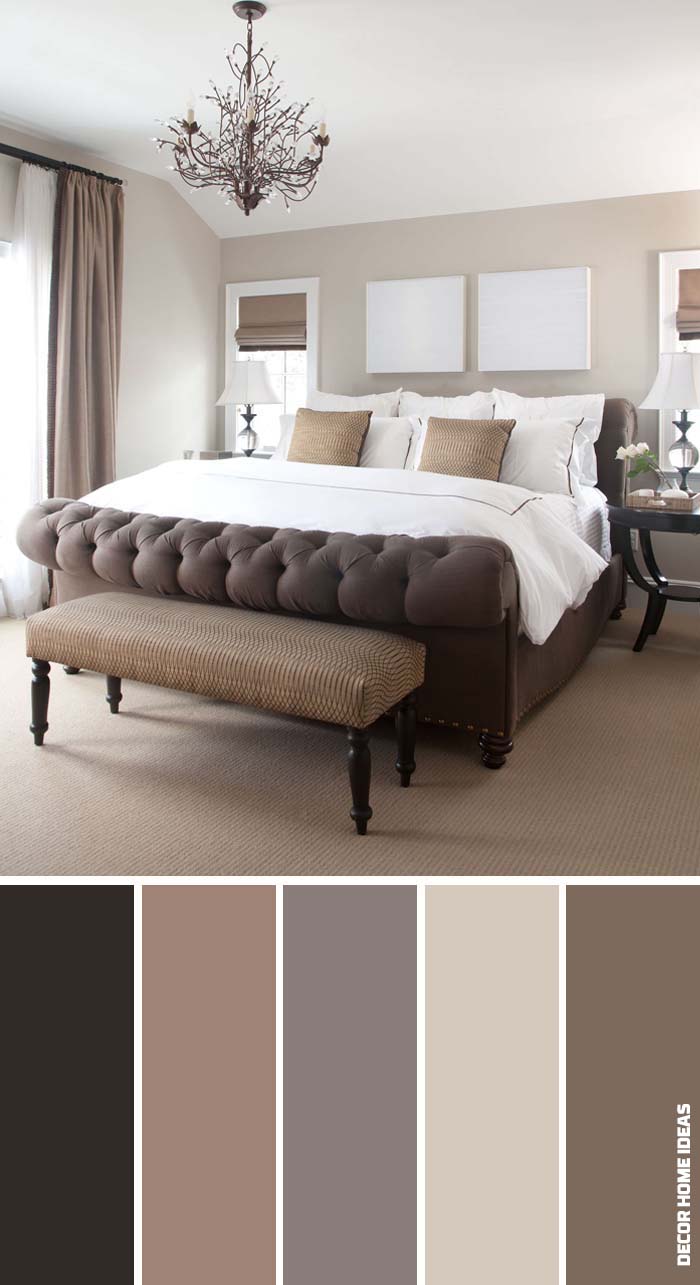 This vibrant combination of colors presented by Chalet Colorado will energize any room, providing a refreshing atmosphere without being too stimulating or overwhelming.
via Chalet
3. Brown, Gray, and Turquoise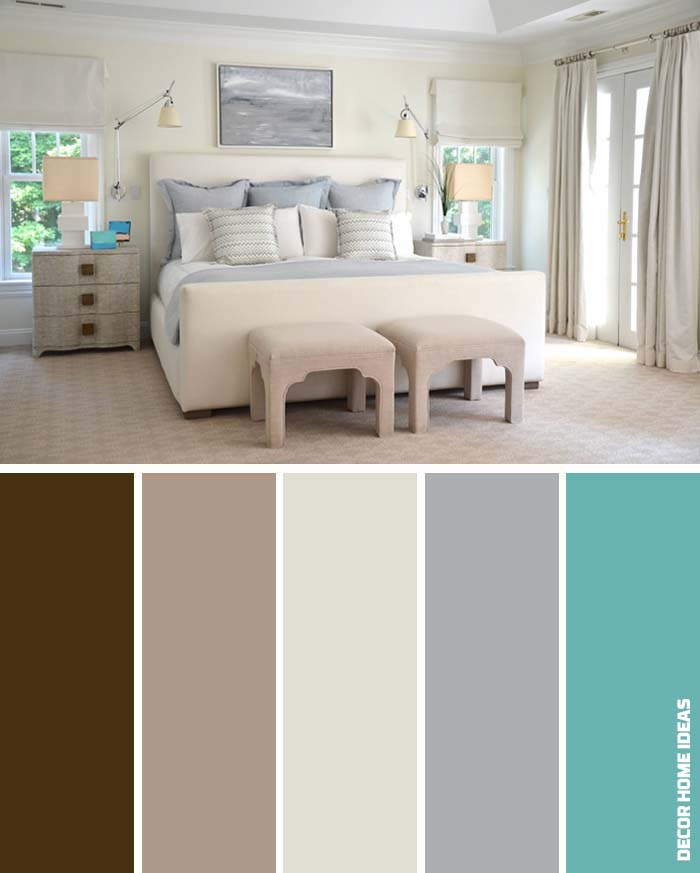 This neutral combination provides comfort without being boring or bland; it's perfect for those who prefer subtlety over boldness when decorating their bedrooms.
4. Black, Navy, Mauve Purple, and Gray
Gray walls combined with black accents create a sophisticated yet cozy atmosphere that is perfect for those seeking comfort and style in their bedroom design.
This look works exceptionally well when complemented by crisp white sheets and fluffy blankets in shades of cream or purple and navy blue pillows, as seen in this bedroom featured in Studio Revolution.
5. Apricot, Brown, and Maya Blue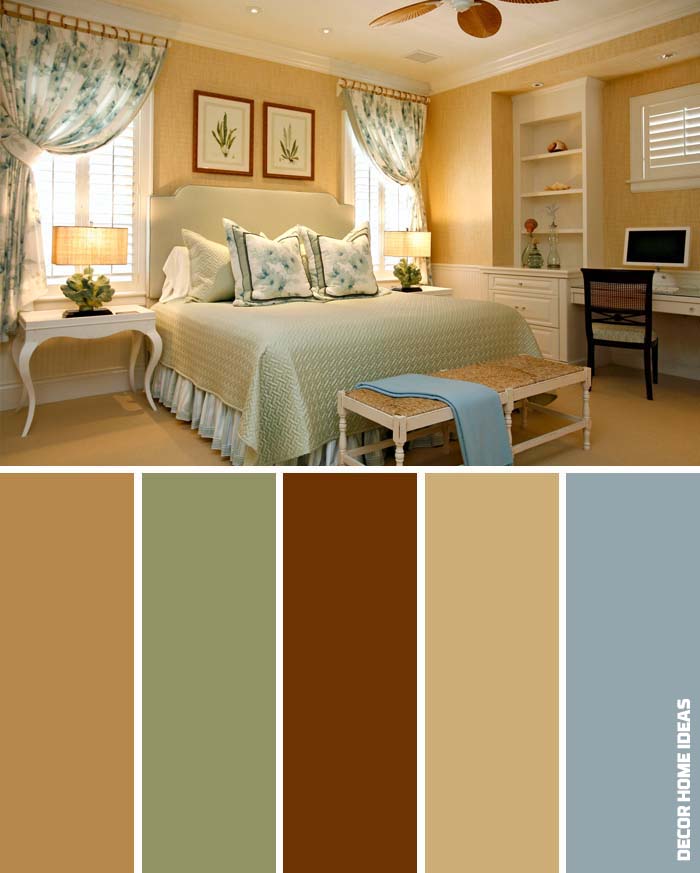 Apricot offers up just enough vibrancy without being too harsh on the eyes – making it perfect for adding some energy into any sleeping setup but still providing comfort at the same time; paired with brown and blue accents, this combo gives off just enough brightness which helps make everything feel fresh yet still relaxed – perfect for anyone looking to improve their sleep quality overall.
6. Savoy Blue, Gray, Lavender Pink, and Brown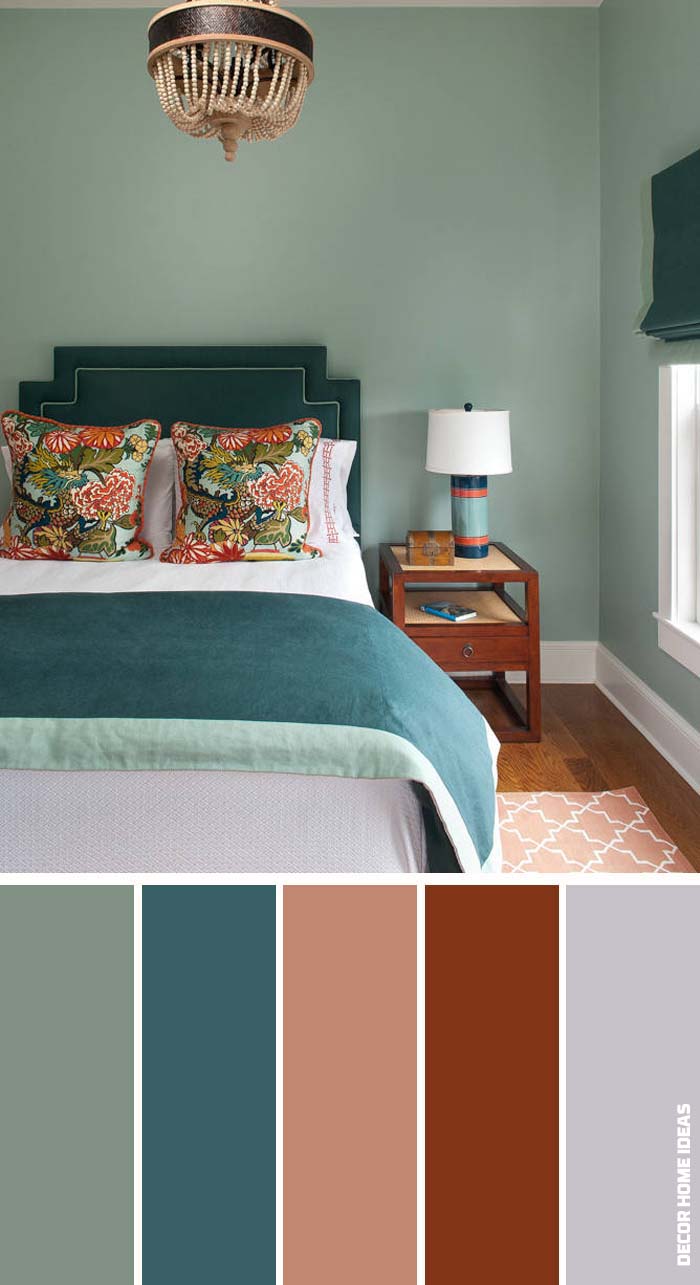 This bedroom by Ben Gebo Photography uses savoy blue to give off an air of sophistication, while gray adds just enough sparkle to make this scheme inviting yet still tranquil.
7. White, Tea Green, Gray, and Brown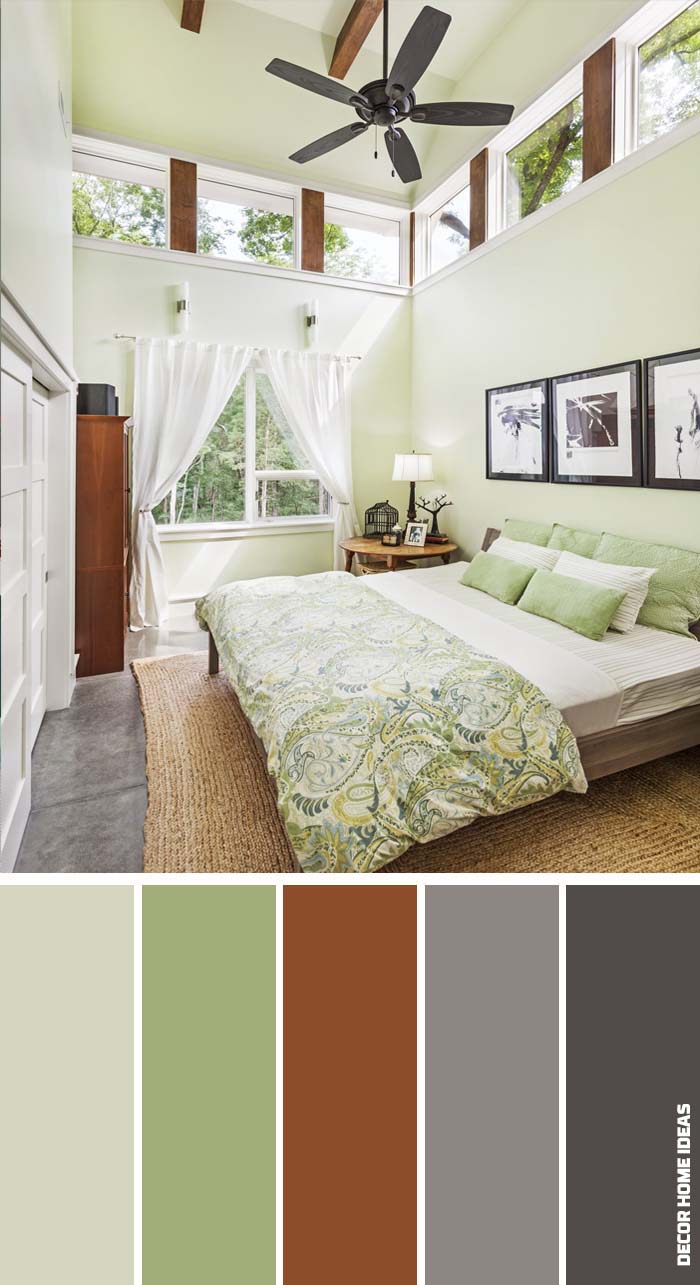 Gray is known for its calming qualities, so pairing it with white can create a lovely balance between serenity and brightness in any bedroom.
This bedroom by Sanders Pace Architecture adds some brown decor and green accents to accentuate the calming effect even more – perfect for getting ready to drift off into dreamland.
8. Yellow, Green, and Gray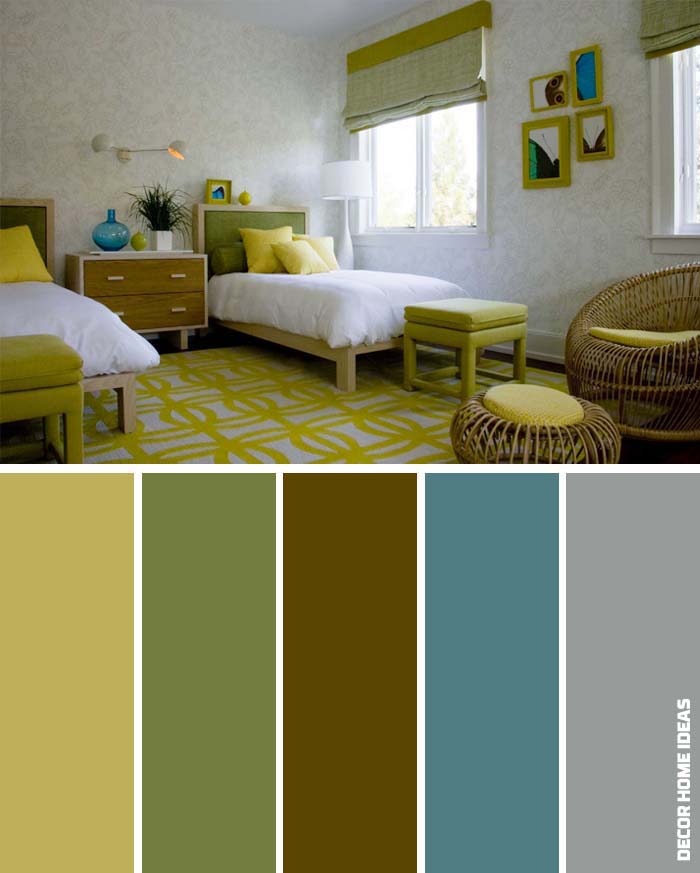 Yellow is often overlooked when it comes to bedrooms. Still, it provides quite a bit of warmth, making it ideal for creating cozy environments – especially if paired with green accents.
This combination gives off just enough energy without feeling overstimulating, so you can rest easy knowing you'll get plenty of quality shut-eye each night.
9. Heather Purple and Shades of Gray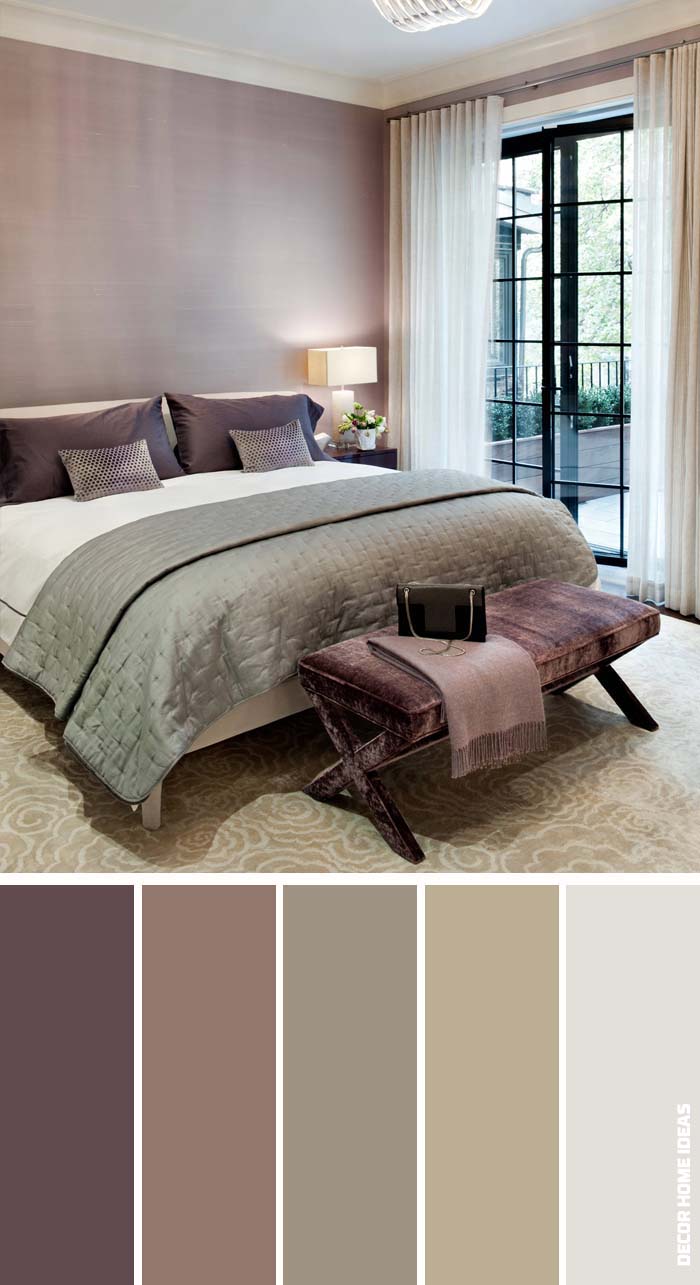 Heather purple provides just enough stimulation without being too overwhelming, so it's ideal for those who find traditional pastel shades too dull but don't want anything too bold.
Paired with gray accents as in this bedroom featured in DHD Architecture and Interior Design, this combination provides both comfort and style which helps make any sleeping setup appealing.
via DHD Architecture and Interior Design
10. Brown, Soft Pink, and Gray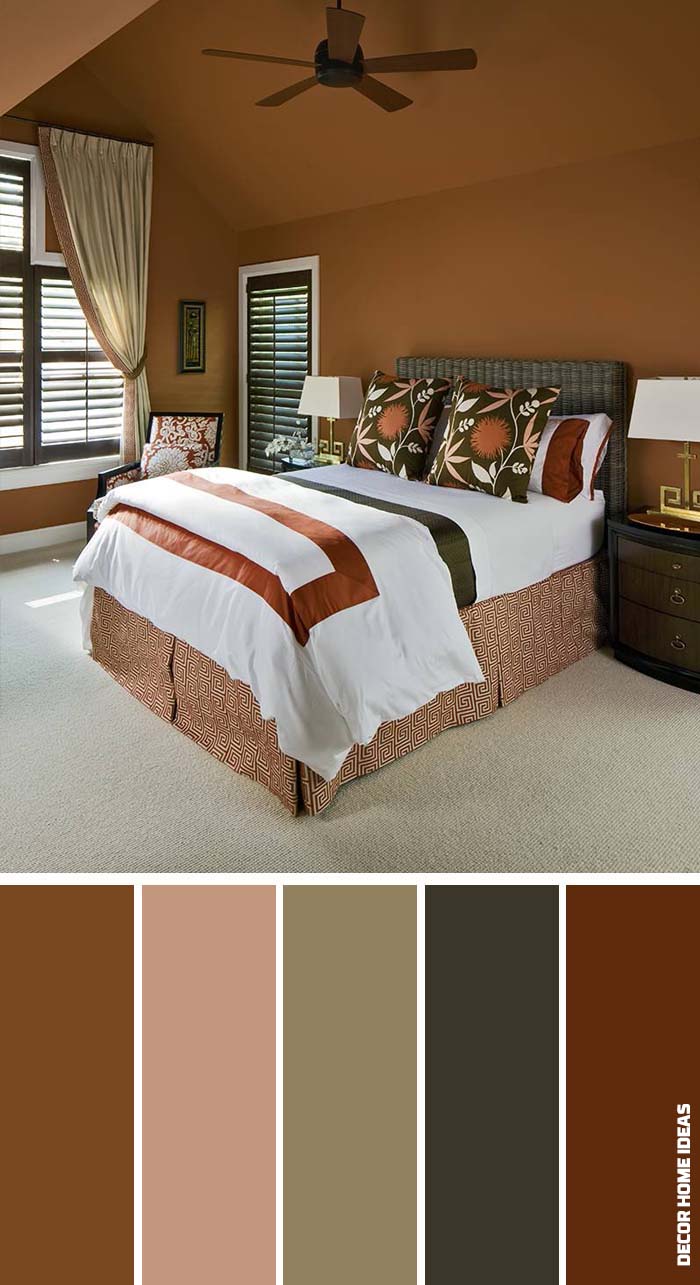 Try pairing brown walls with gray and pink furniture or accents for a more natural feel.
This combination by Amy Werfel Interiors brings out the warmth of wood while still providing plenty of visual interest without being overwhelming.
This look works great in bedrooms that have wood floors or wood furniture pieces.
11. Light Green, Brown, and Red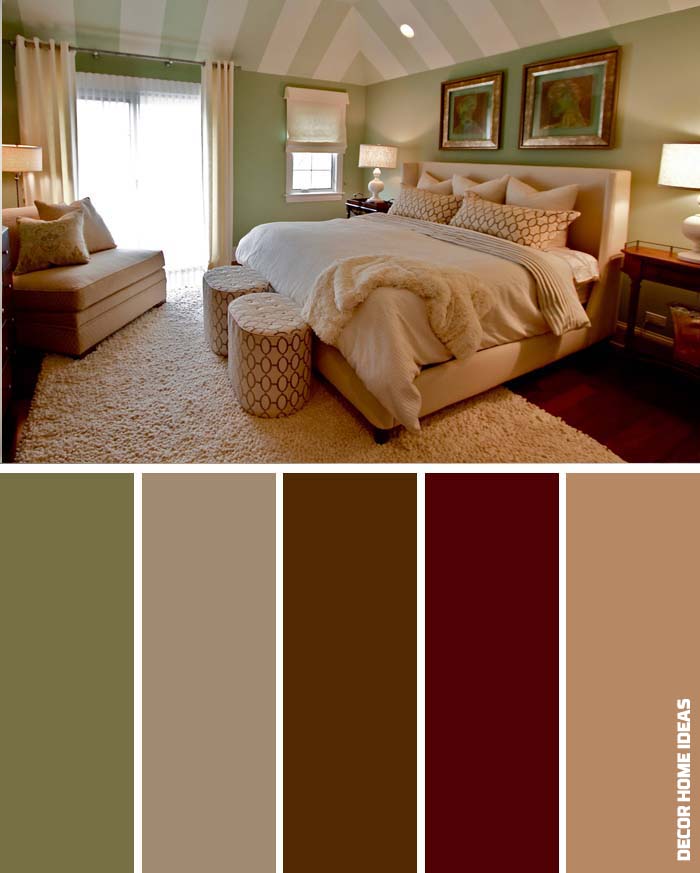 Light green has become increasingly popular in recent years due to its soothing qualities; when paired with brown and red accents such as upholstery fabric or wall art, this combination creates an inviting atmosphere ideal for anyone looking to get some much-needed shut-eye.
12. Gray, Pink, and Black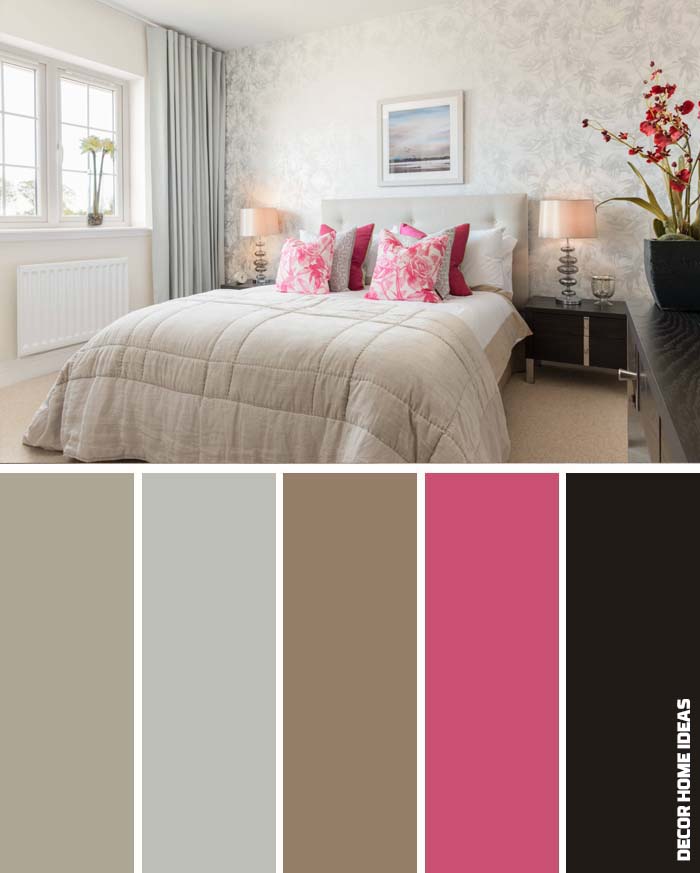 This bedroom featured in Zac and Zac Photography blog uses gray and pink to create an energetic yet soothing atmosphere, which is ideal for those who need motivation but also want to relax at the end of the day.
This color scheme works exceptionally well when used with black furniture.
13. Blue, Dark Gray, and Beige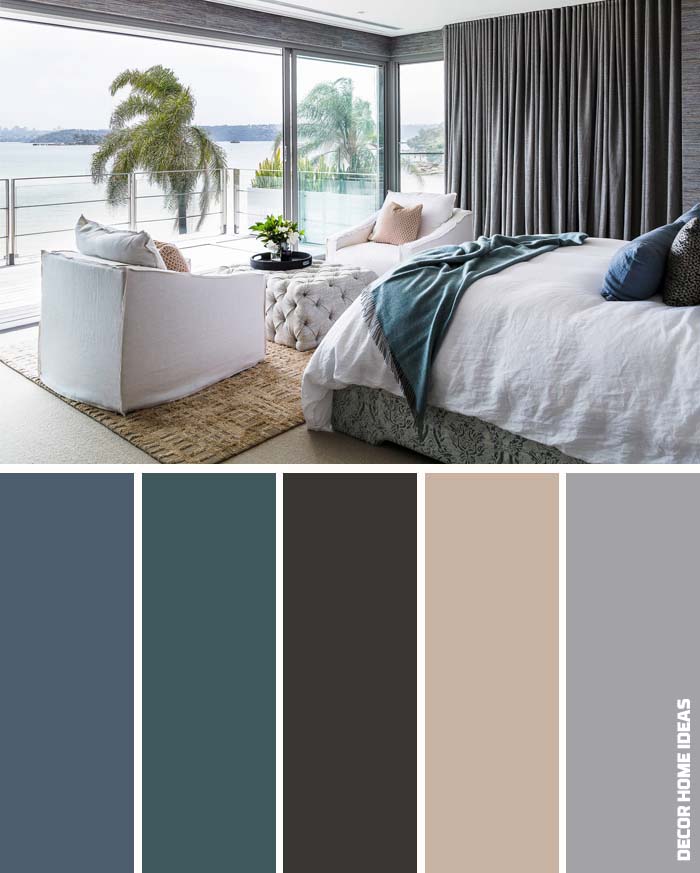 Dark gray is another excellent bedroom color because it creates an inviting yet tranquil atmosphere.
When paired with beige and blue accents, as seen in this bedroom featured in Marylou Sobel Interior Design, this color combination gives off a warm, earthy vibe that provides comfort and relaxation while also giving your room some visual interest.
via Marylou Sobel Interior Design
14. Gold and Gray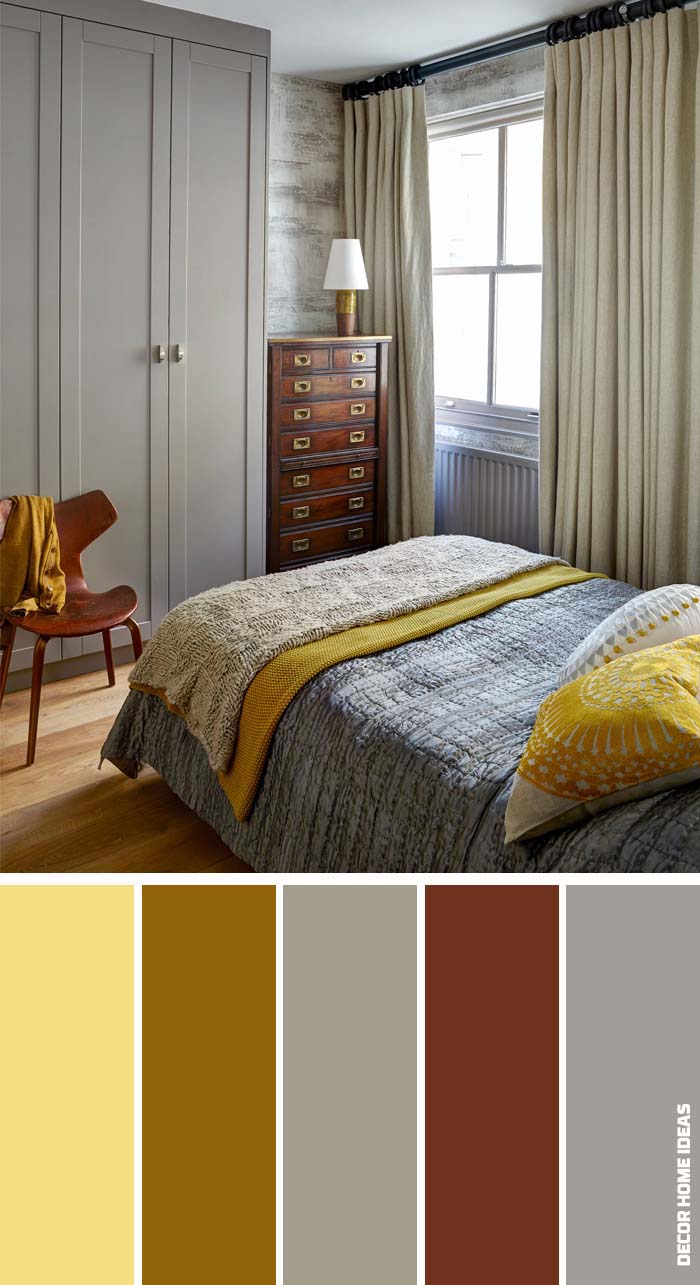 These two muted colors combine to create a soothing atmosphere in the bedroom.
In this bedroom by Sigmar, the gray walls provide stability, while the gold accents add just enough warmth without being overwhelming.
via Sigmar
15. Purple, Gray, and White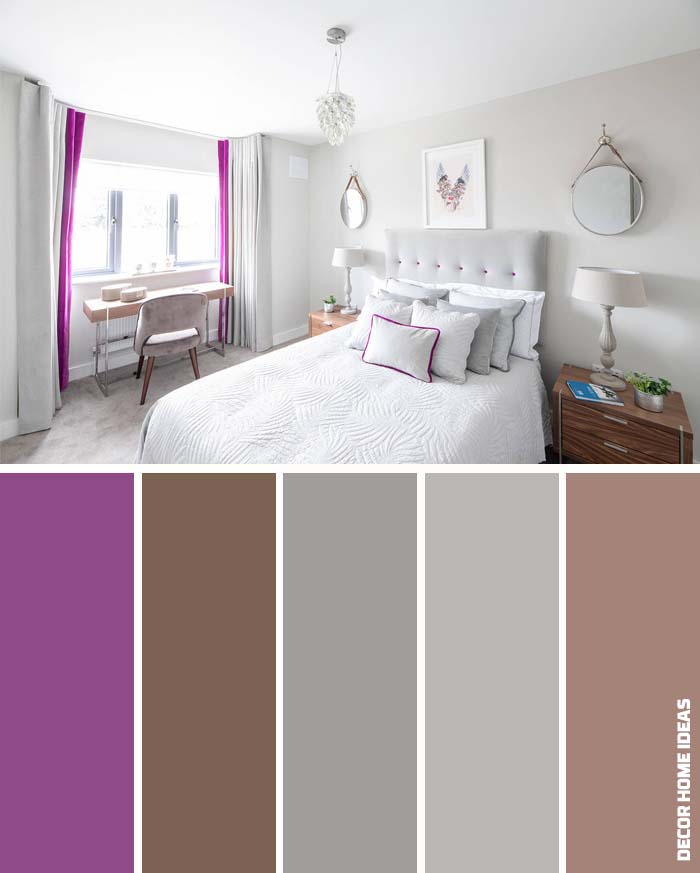 The gray walls in this bedroom featured in Wildthings Interiors give off a soft feeling while the purple and white accents add sparkle, creating a luxurious space with plenty of warmth for those who need it most during bedtime hours.
16. Warm Taupe, Silver Gray, and Cream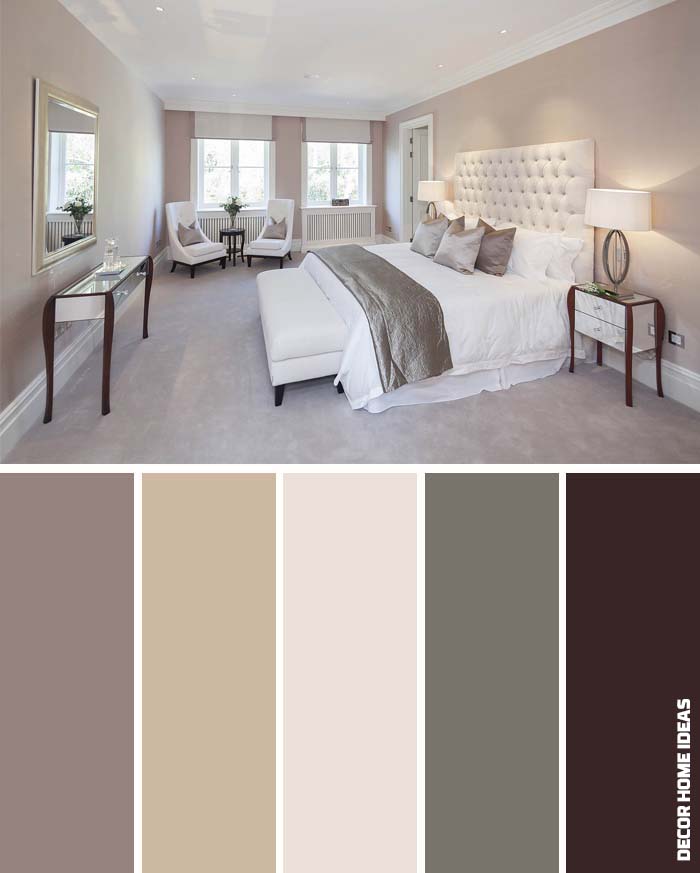 Perfectly balanced between lightness and darkness, this combination creates a warm and inviting space ideal for winding down before bedtime.
17. Sky Blue, Gray, and Pink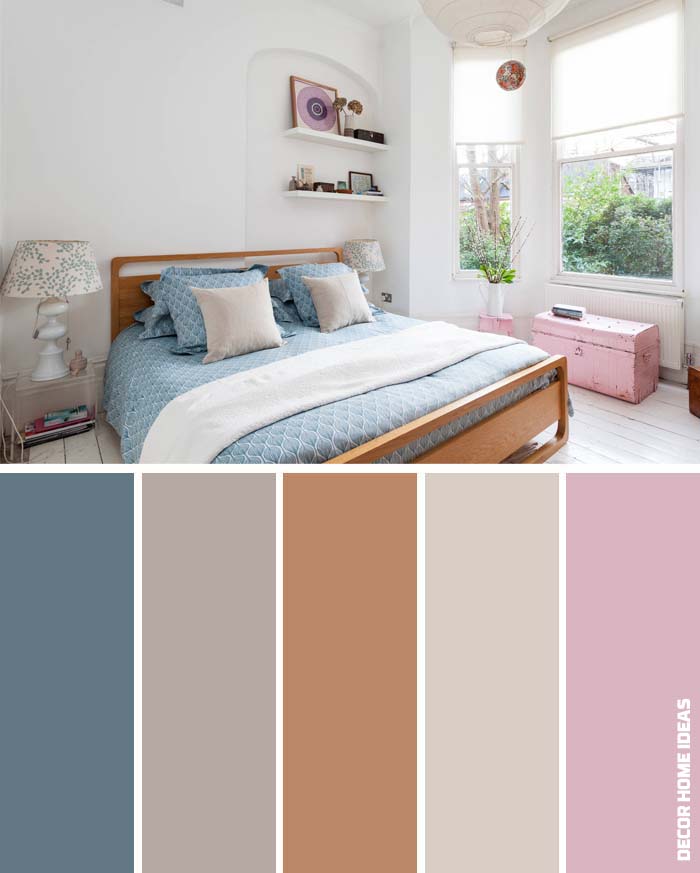 Sky blue is one of the most soothing colors for bedrooms because it creates a calm and relaxing atmosphere.
Pairing light blue with gray and pink can give your bedroom a bright, airy feel that is perfect for unwinding at the end of the day, similar to this bedroom by Chris Snook.
via Chris Snook
18. Grays and Gold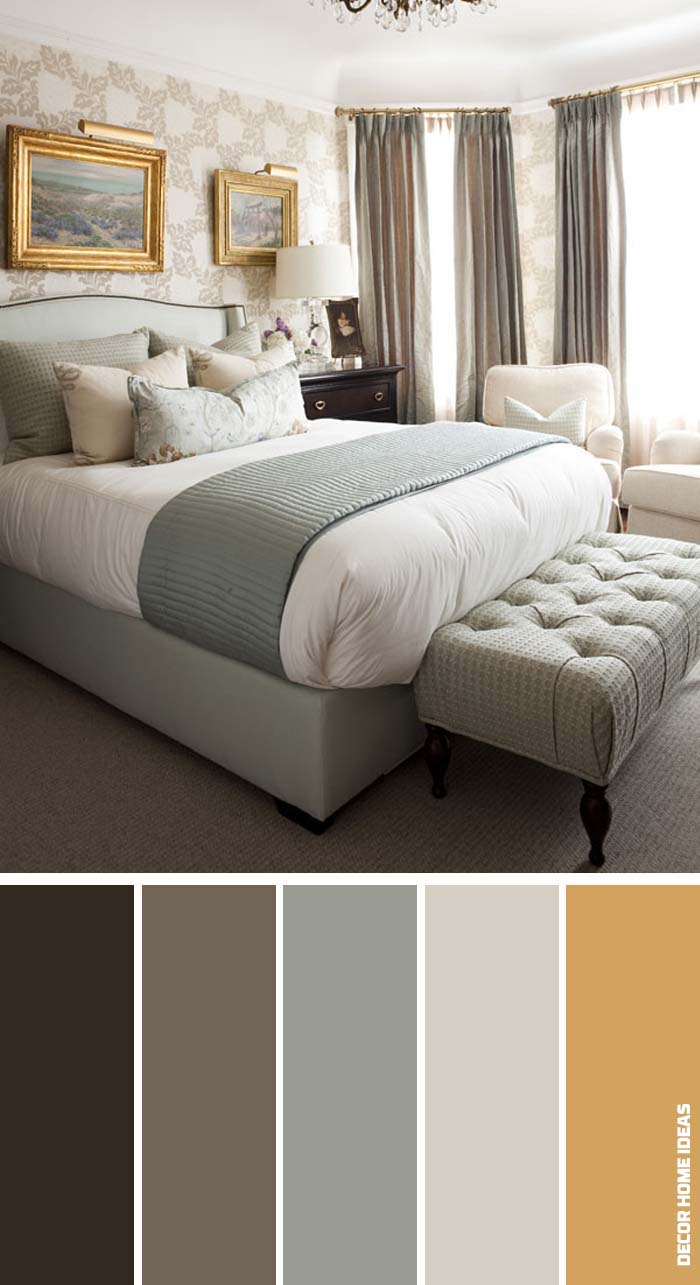 This bright yet balanced combination brings energy into the room while promoting calmness and peace – no easy feat.
The gray walls and teal accents, as seen in this bedroom featured in Caitlin Wilson Design, provide a cheerful yet elegant palette that will make your bedroom feel like an oasis after a long day's work (or play).
19. Gray, Amaranth, and Green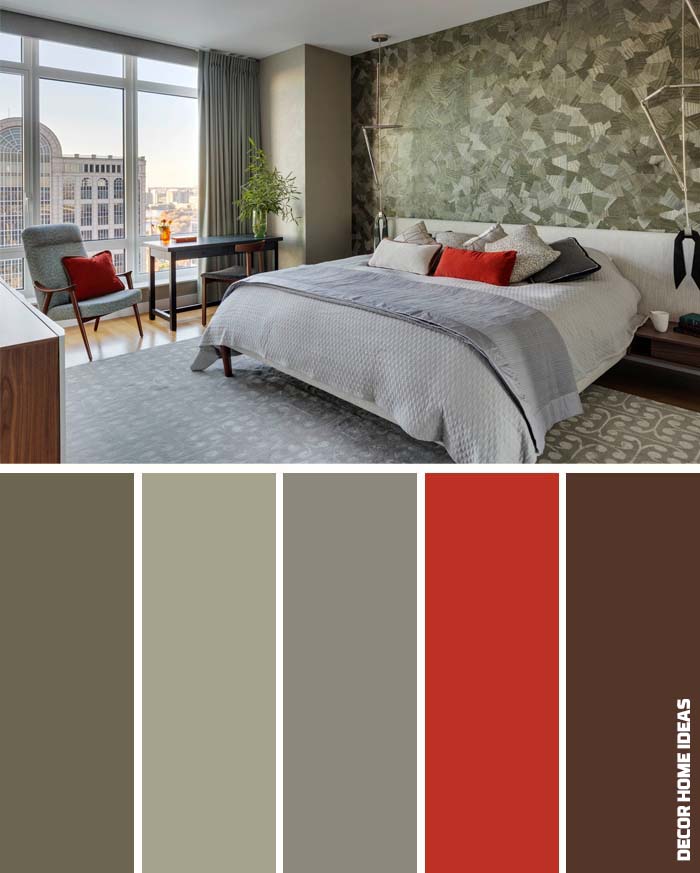 Gray and amaranth will do the trick if you're looking for something fresh and energizing.
Gray walls provide a hint of warmth without being too overbearing, while amaranth and green accents bring life into any space.
Together, as evident in this bedroom featured in Andra Birkerts Design, they create a stimulating atmosphere that won't keep you up all night.
20. Black, Brown, and Rose Quartz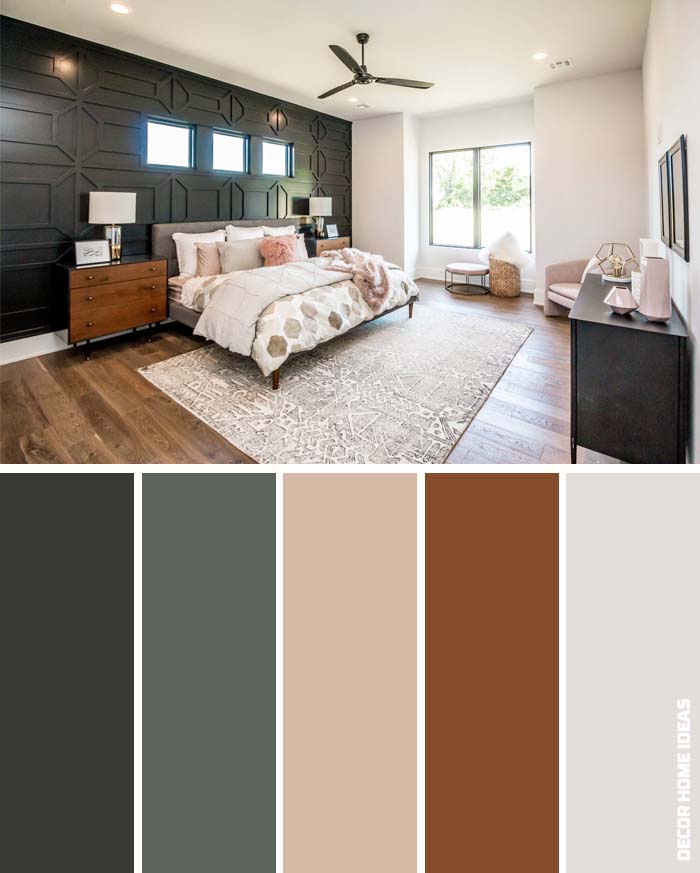 Black is often considered an intense color, but paired with rose quartz creates an elegant atmosphere that is great for bedrooms where relaxation is essential.
Black and rose quartz walls in this bedroom featured by Homes of Distinction provide contrast, while brown accents make things brighter—it's a winning combination.
Achieving better sleep doesn't have to involve drastic changes; sometimes, minor adjustments, such as changing up your bedroom's color scheme, can do wonders.
As we've seen here, numerous combinations offer different looks while still providing serenity—so get creative and find the best work.
Remember, no matter what palette you choose, if done right, your room should reflect precisely what kind of mood you want – one that's conducive to helping you get the best night's sleep possible every time.