One of the easiest ways to add visual interest to your bedroom is by using a two color combination. It simplifies the color palette, making it a breeze to introduce accessories in the form of furniture, art, and throw pillows.
If you're considering trying this decorating technique, we've put together a list of the best two color combination for bedroom walls.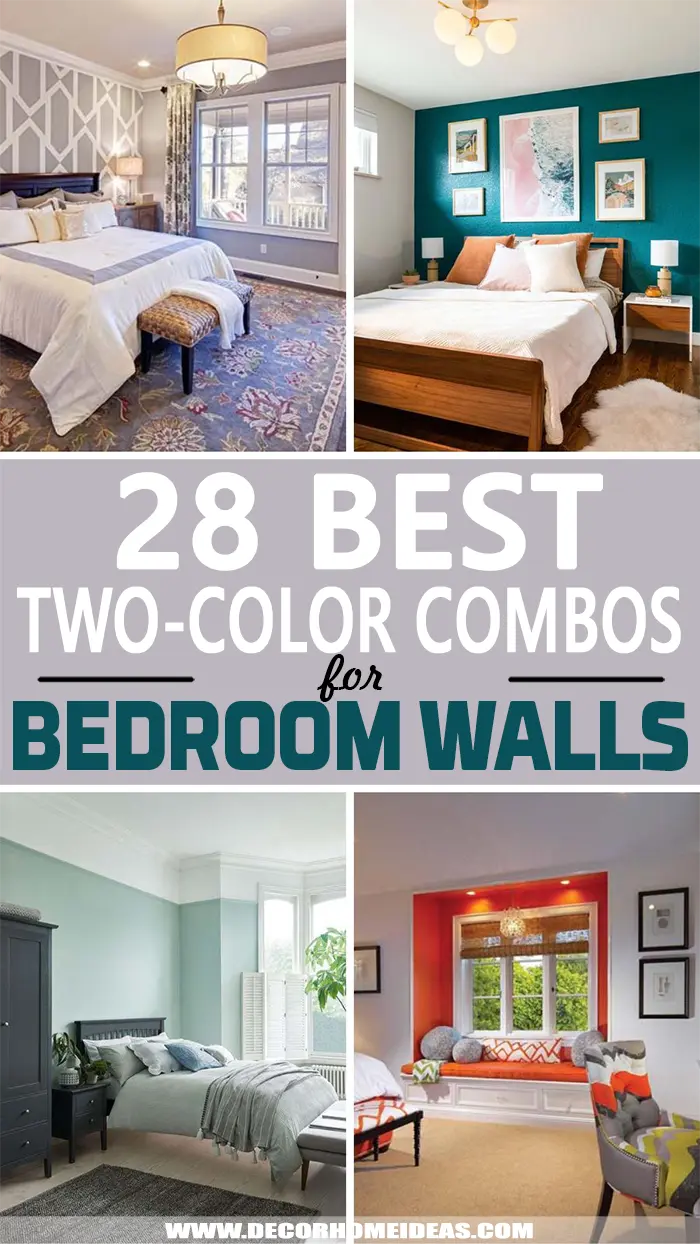 What 2 colors go well together in a bedroom?
Pairing blue with brown is considered the best two color combination for bedroom walls. The soothing blue plays well with the organic nature of brown.
You can change the shades of the wall paint depending on the style you're trying to achieve and the natural sun exposure the room receives. Different shades of the same color will have a different impact on the mood of the room, so it's important to take some time to test different colors using a color wheel with a variety of paint chips.
You may lean towards a darker shade of a base color, or you can go with the complementary color, which is the color directly across from the base color on the color wheel.
Which wall color is best for bedroom?
Any cool color, like a light shade of purple, green, or blue, works as a  bedroom color. The colors are peaceful and restful.
If you're really stuck, there are consultants available online to guide you through the process. Asian Paints is a company that specializes in color combinations for every room. They use state-of-the-art technology to combine their paint colors, creating your ideal bedroom color scheme.
1. Cream and Blue-Gray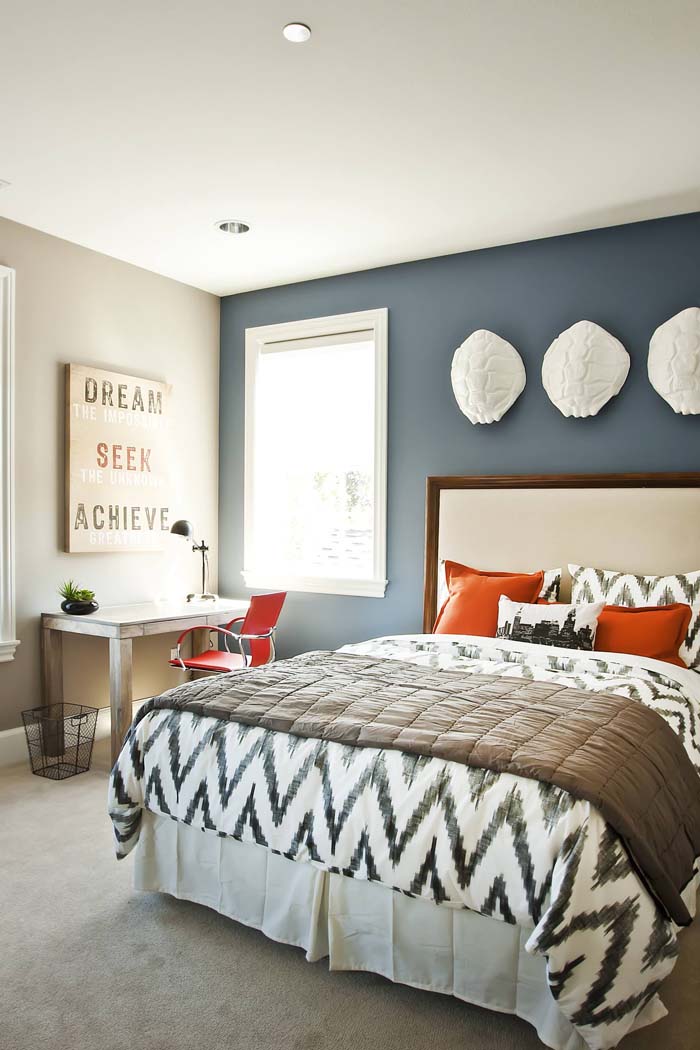 A subtle blue is a great idea for a bedroom wall.
Paired here with creamy beige, it has a calming effect on the room. Brown and orange accents bring balance to the room that includes a desk for work.
2. Mint and White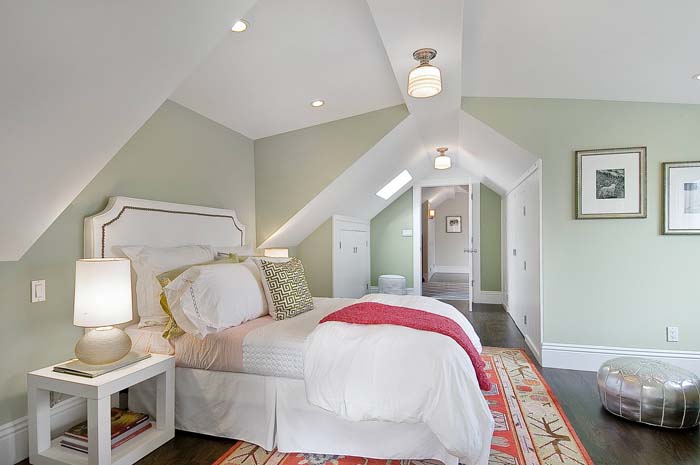 Mint is a popular pastel paint color for a bedroom.
This attic bedroom benefits from the light color with white on the ceiling and closet area so it will reflect the natural light coming in through the skylight.
via Cardea Building
3. Pear Green and Pale Blue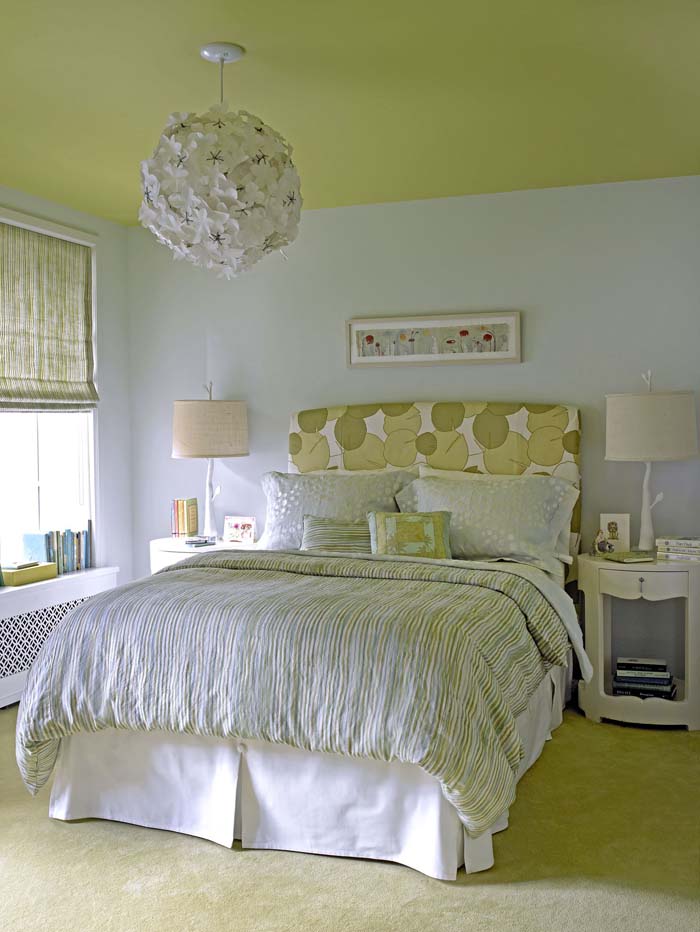 Here's a classic example of how white takes on shadows and pulls in color from other elements.
A very pale blue is paired with citrus green to keep the room from feeling too dark and somber.
4. Light Gray and White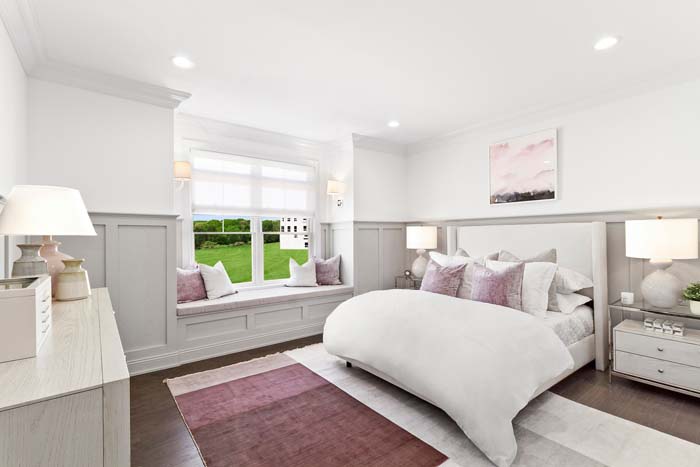 Your color combination should be based on the mood you're trying to achieve and not just adhering to a particular style or trend.
The Traditional style would dictate the lower half of this bedroom be usually filled with dark color or wood. The contemporary twist keeps the room feeling airy with the use of a light gray paint.
Raspberry accents and dark wood floor are enough to pay homage to the room's traditional roots.
via Beechwood Homes
5. Black and Light Gray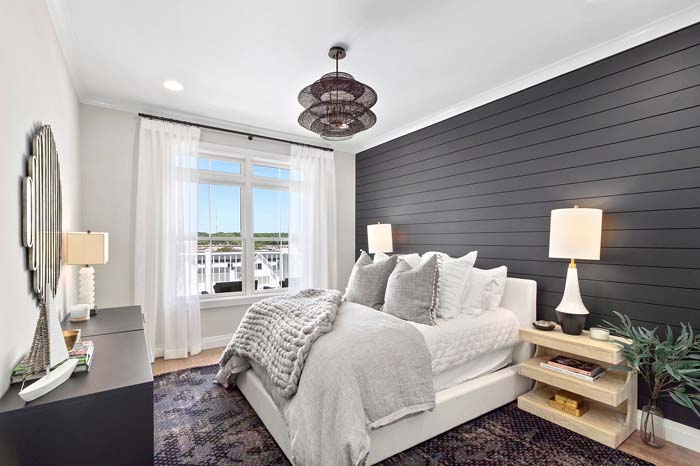 Classic black and white is toned down by replacing white with light gray. Light gray walls give you the lightness of white while limiting the reflectivity, keeping the soothing ambience.
Painting the shiplap black is another idea that changes the look from a modern farmhouse style to a coastal vibe with a masculine influence.
via Beechwood Homes
6. Yellow and White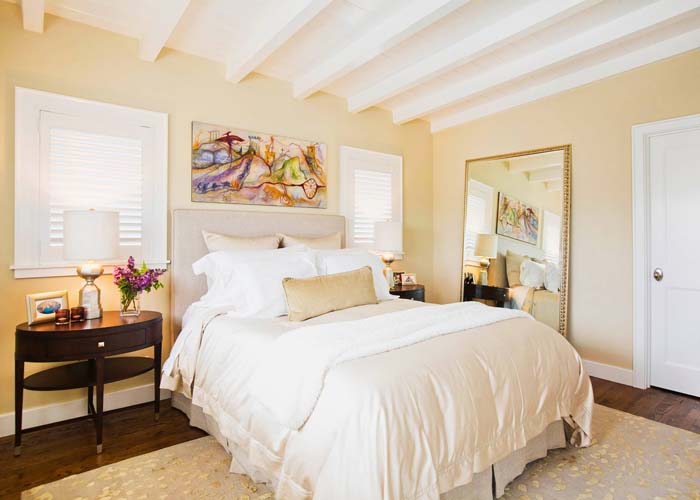 Yellow is often avoided in bedrooms because this bright color can raise the energy level, making it difficult to relax before bedtime.
If having a yellow bedroom is close to your heart, stick to a pale shade like straw. Yellow walls are tempered here with the use of a white ceiling and accents.
7. Blue and Green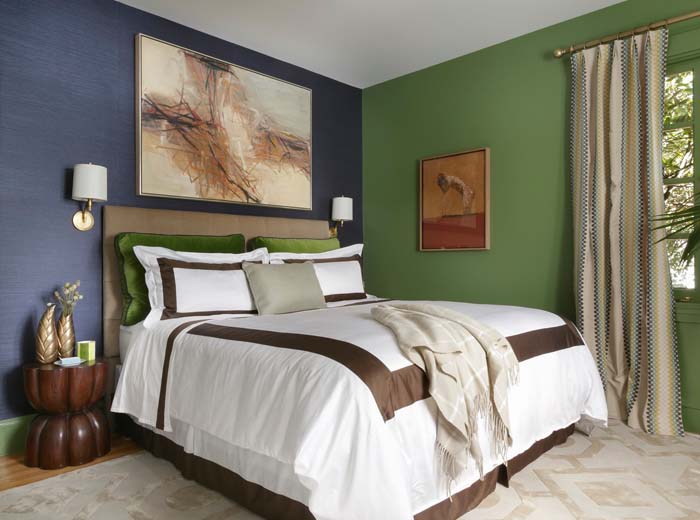 The two tone color combination here is about using a feature wall. The deep green walls are visually interrupted by the blue grass-cloth accent wall.
The abstract art and geometric print on the bed linens bring a young, modern vibe to the room.
8. Two-Tone Gray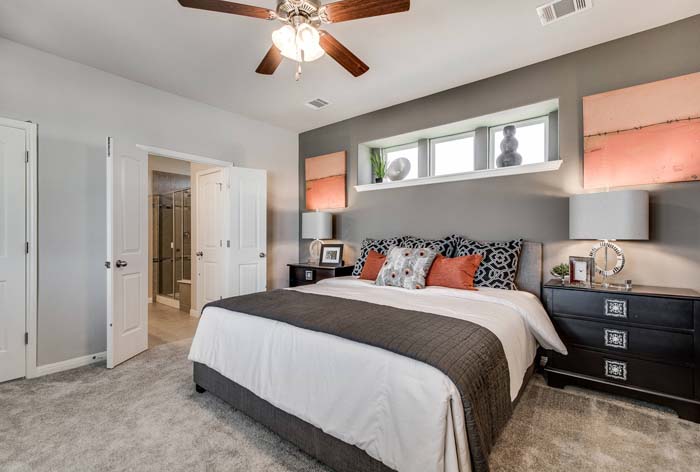 Light and dark gray work together to keep this basement bedroom from looking too dark. The deep gray feature wall provides a nice backdrop for the coral accents.
It's a sophisticated solution for designing a modern masculine bedroom.
via Pacesetter Homes
9. Light and Medium Gray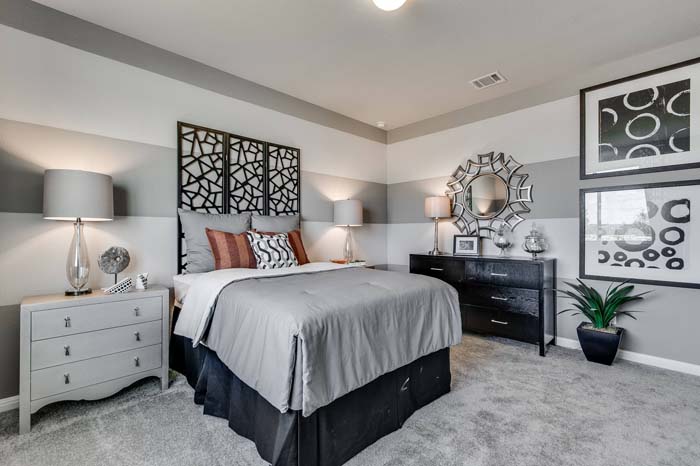 Wide stripes are an easy way to add visual interest without complicating the design.
The simplicity allows room for accessories with ornate details.
10. Brown and Beige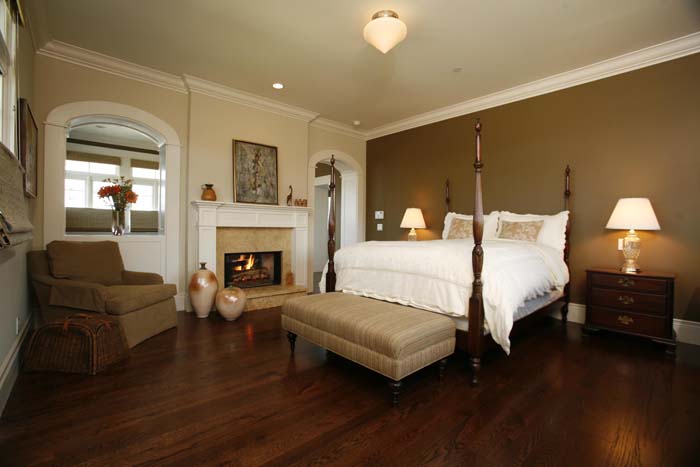 A Traditional bedroom is dressed in a neutral color palette.
Using different values of the same color scheme makes it easy to create an accent wall.
via Shigetomi Pratt Architects
11. Topsail and Cream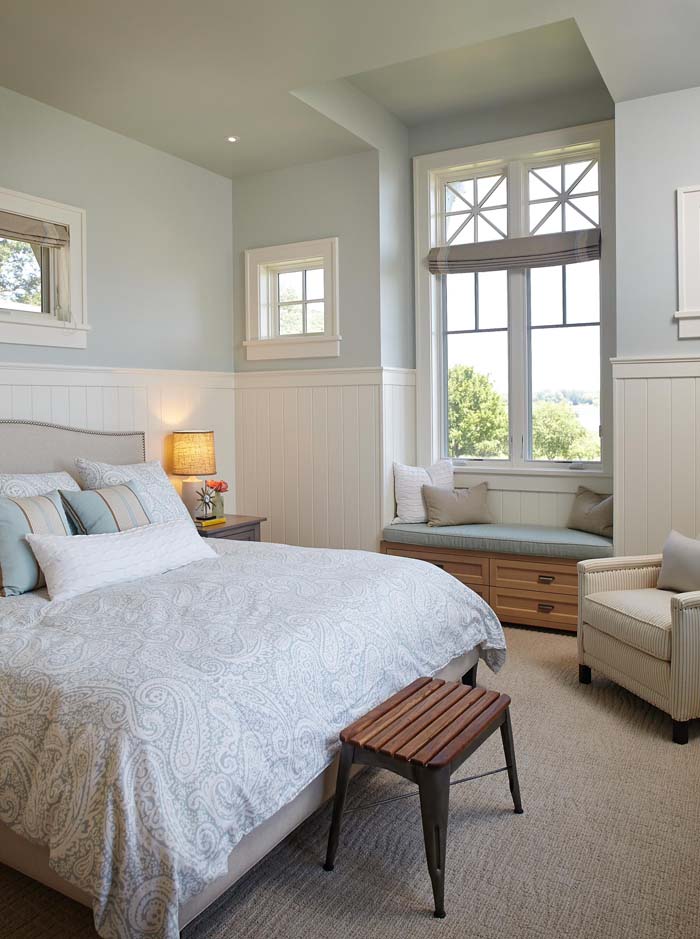 Even when you want your bedroom to feel clean and simple, white walls are rarely the answer. An ivory or even a blush pink can pair with the neutral top color.
It will depend on whether you want the room to feel neutral, feminine, or masculine. The upper color is Topsail, by Sherwin Williams.
via Francesca Owings Interior Design
12. Mint Green and Off-White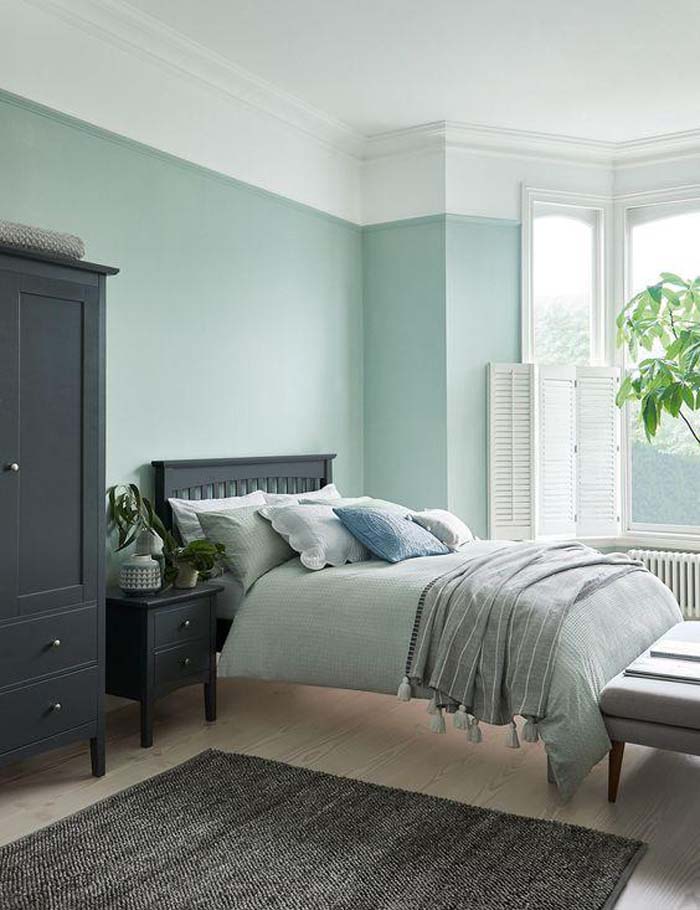 Mint green is one of the most soothing colors you can pick for a bad bedroom. An off-white keeps the green from becoming overwhelming while keeping the room feeling fresh.
A minimalist bedroom has a masculine balance with the mint green paired with the dark gray headboard, furniture, and area rug.
13. Pink and Gray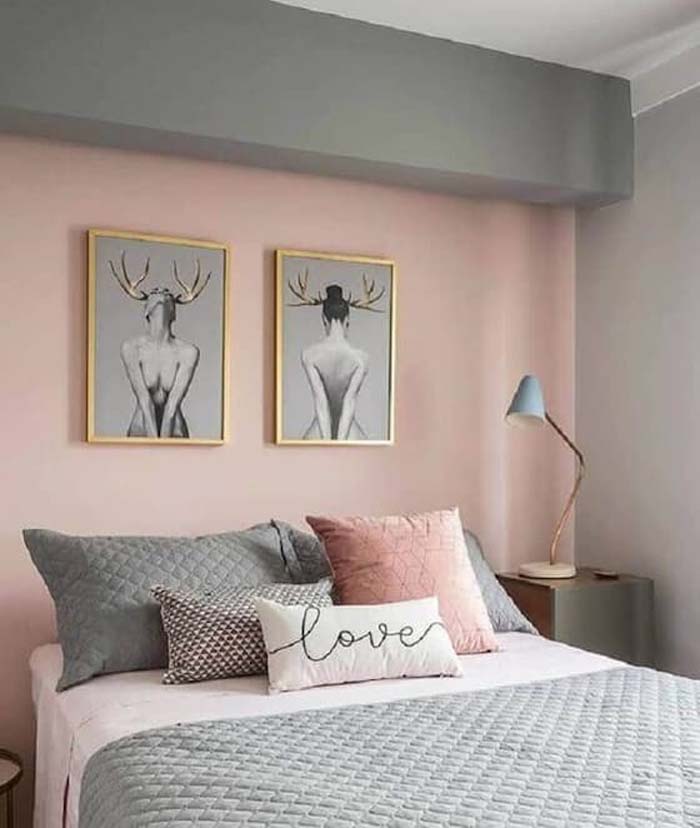 This grey and pink two colour combination has a retro, Hollywood glam feel. Sharp lines on the furniture, such as the side table pictured, add a modern touch and keep the pink from overpowering the intention.
Don't worry about "matching pink" shades. They are all fundamentally shades of red and work well together.
14. Orange and White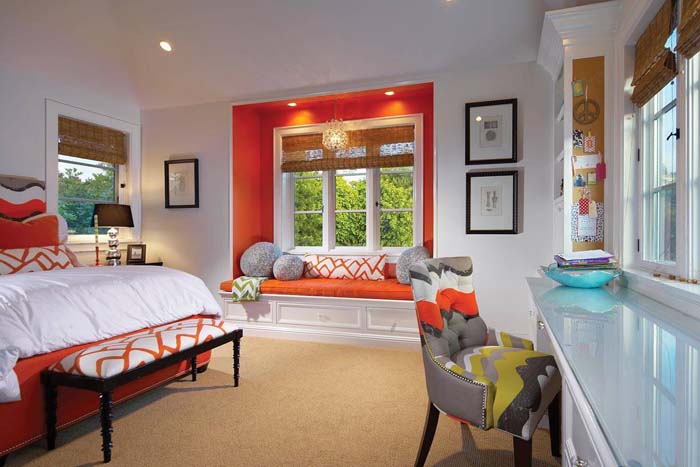 When you want to add a modern, vibrant flair to a bedroom, try a white and orange two color combination. Adding orange paint color to this reading book gives this interior design a lively personality.
It's such a bold color that you really don't need to cover an entire wall to make a statement. Follow up with accents in the bedding and other accessories like the bench.
15. Mustard Yellow and Pale Blue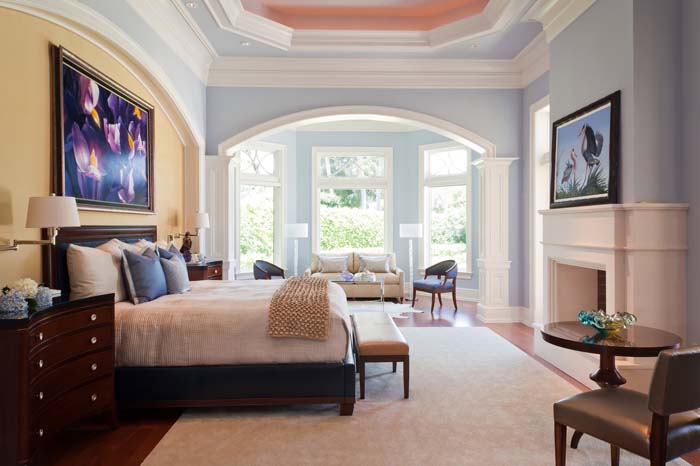 Shown here, Sherwin Williams Upward is a light shade of blue that has enough color to stand up to the mustard yellow in this traditional bedroom.
It tempers the heavy feeling of the dark furniture without disrupting the tranquil mood. The mustard yellow is a warm color that brings out the rich hues in the dark furniture.
via Harwick Homes
16. Light Gray and Dark Green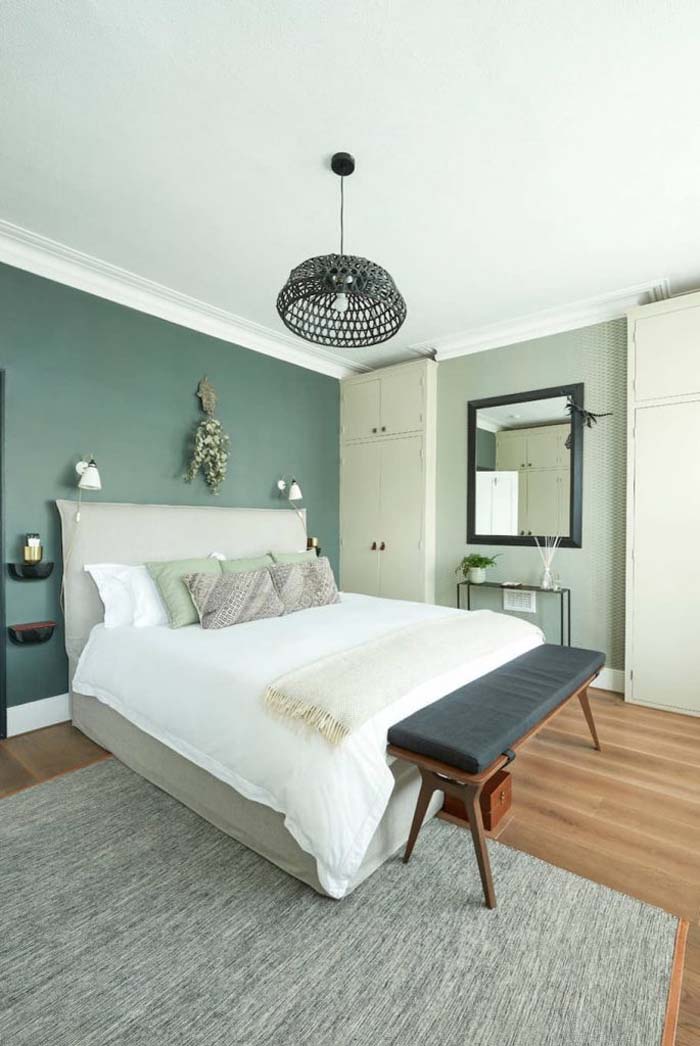 Pair a dark, muted green with a light gray that has green undertones for a soothing bedroom that has organic feel. The rest of the room is minimally decorated.
The light brown floor keeps the room feeling relaxed.
17. Dark Green and Off-White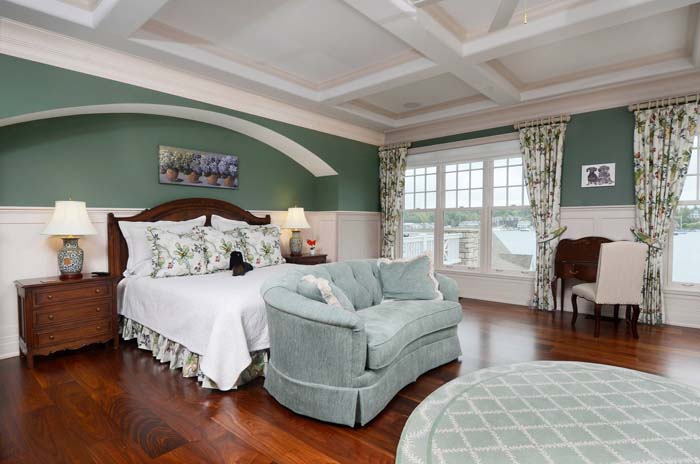 Pairing white with dark green could be a jarring contrast. The shades paired here are both tempered by their blue undertones.
The bedroom has warm appeal while keeping its traditional style.
via Birchwood Construction Company
18. Beige and Greige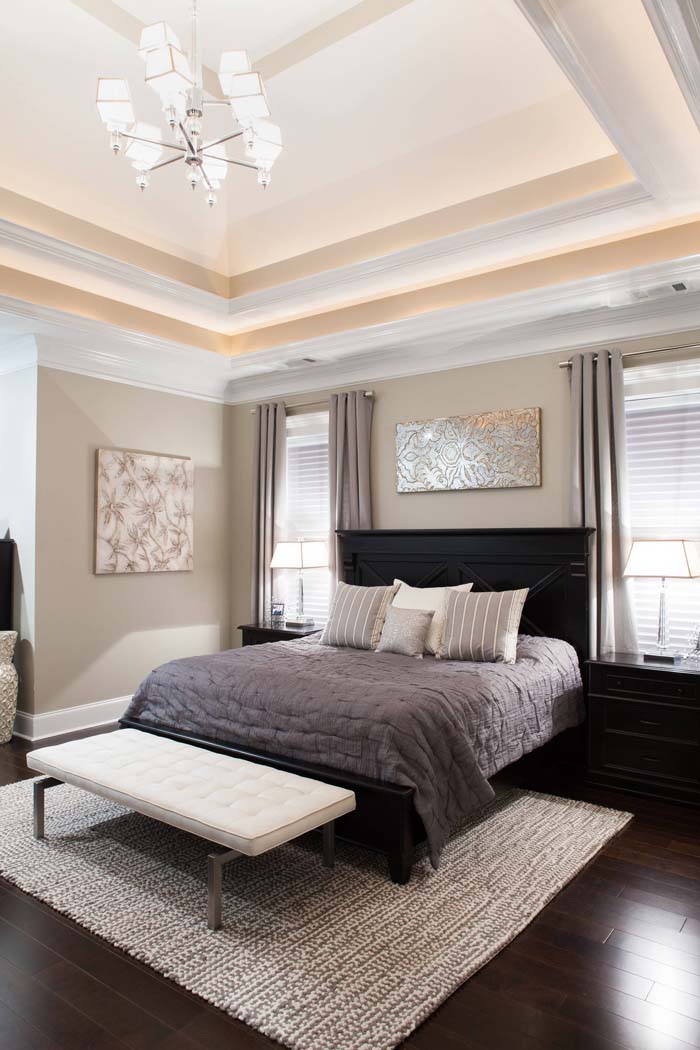 Pairing greige with gray creates just enough contrast to add interest while avoiding the trap of unintentionally making the room feel monochromatic.
The yellow undertones of the gray ceilings make the room feel welcoming.
via Andrew Sherman Photography
19. Brown and Light Blue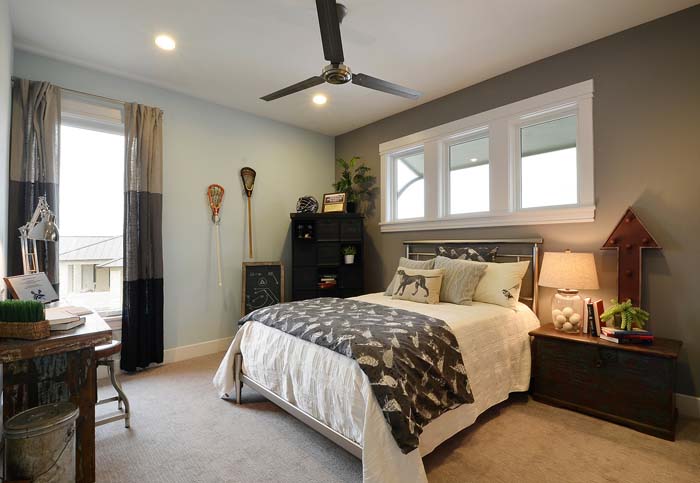 A medium shade of brown brings warmth to the room while the light blue allows the darker furniture to stand out.
20. Gray and Brown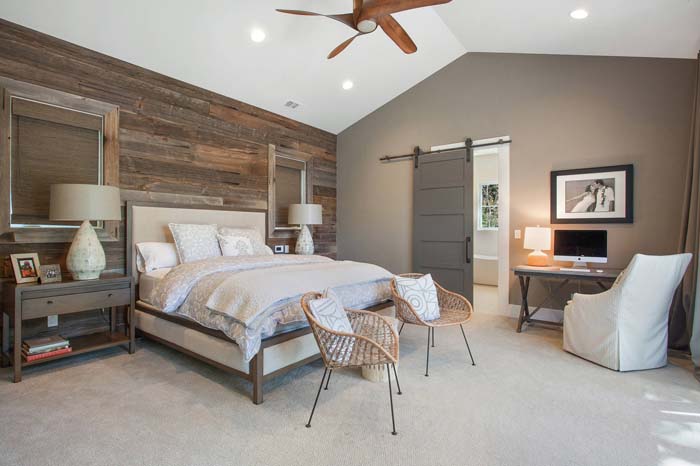 The beauty of using brown is it enables you to add interest and texture with wood. Wood is used as the secondary bedroom wall color.
This works exceptionally well with a modern rustic style interior design.
via LMK Interiors
21. Blue Nile Teal and Gray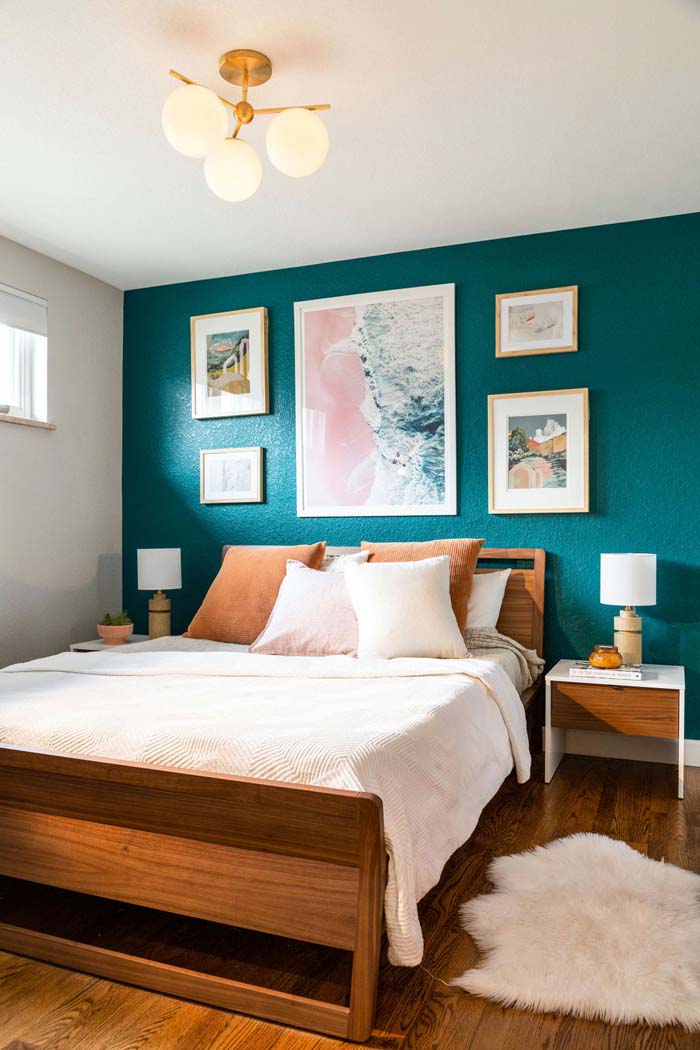 Blue Nile by Sherwin Williams is a teal blue. Teal has the radiance of royal blue, but has been mixed with green. The result is a gorgeous accent color that brings out the richness of wood furnishings.
One of the most attractive pairings you can create with teal is by using it with Earl Gray.
via TVL Creative
22. Gray and Brown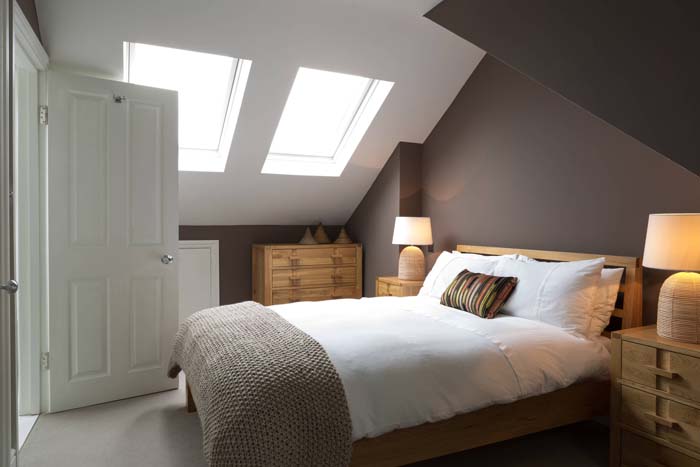 A load of natural light fills this room. The brown keeps the room feeling warm and masculine while the white keeps the ceiling from feeling like it's closing in.
23. Bright Green and Blue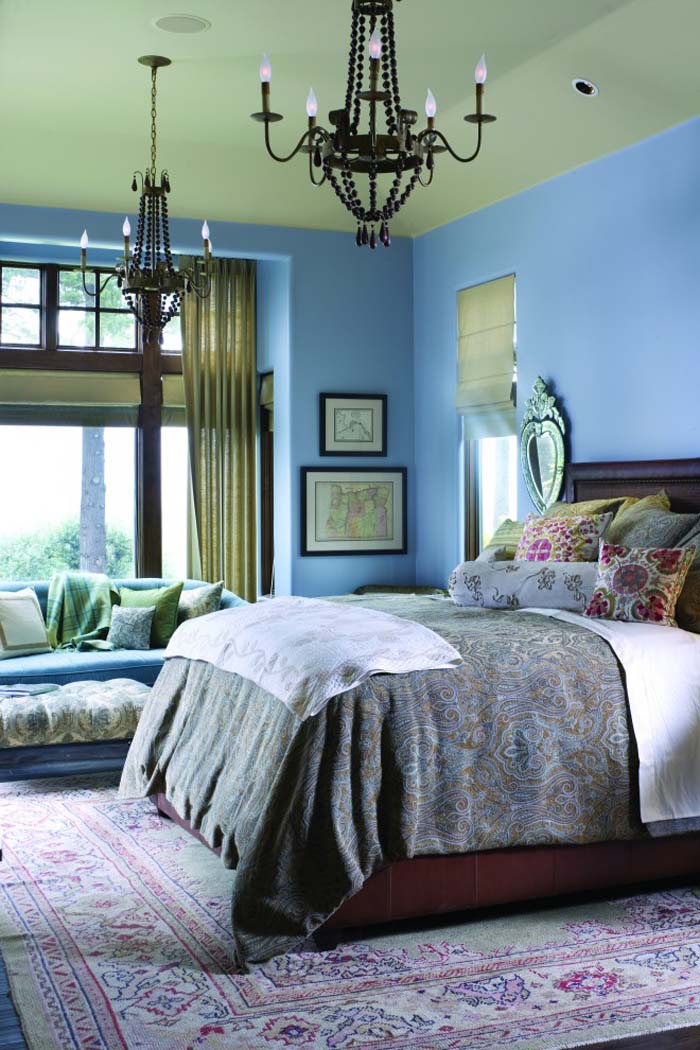 A French Country bedroom gets a contemporary boost with a bright green ceiling and walls painted periwinkle blue.
The black iron chandeliers really stand out against the two bright colors.
via Alan Mascord Design Associates
24. Blue-Green and Gray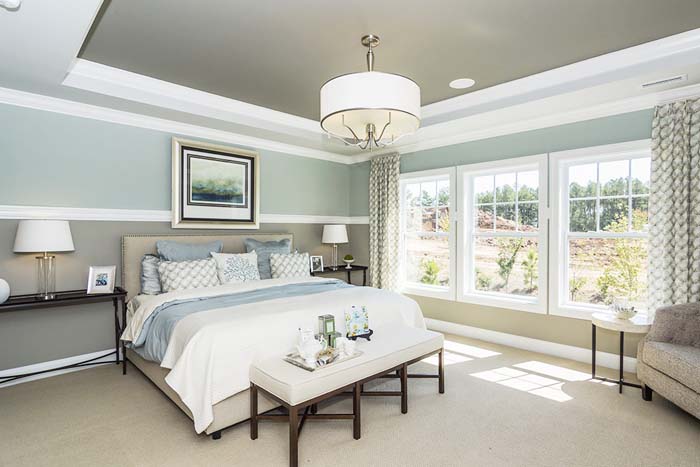 Sherwin Williams' Silvermist is used here as a light stripe against the darker gray.
Pick a gray with blue and green undertones to get the right color combination.
via M/I Homes
25. Gray and Beige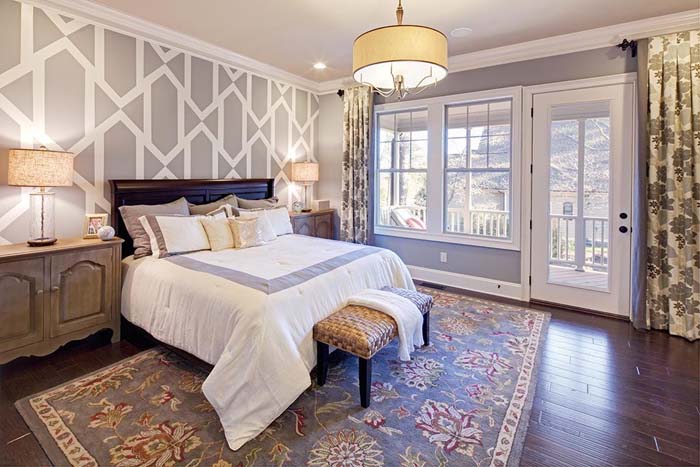 A gray geometric accent wall is matched up with solid color walls.
A lighter beige is used on the ceiling to add light to the room. If you'd like to try this, don't forget to match the undertones in the trim paint, too.
26. White and Blue Stripes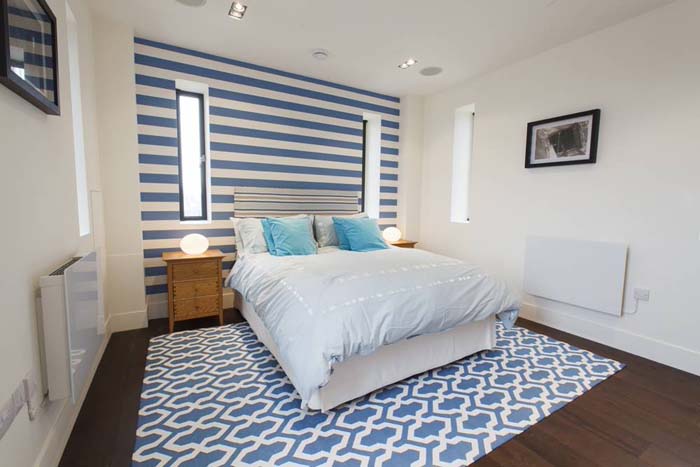 White with navy blue stripes create a fun accent wall in a white room.
We're not entirely sold on the turquoise accent pillows, but we applaud the willingness to step away from the ordinary using different shades of blue and mixing up patterns.
27. Lime Green and White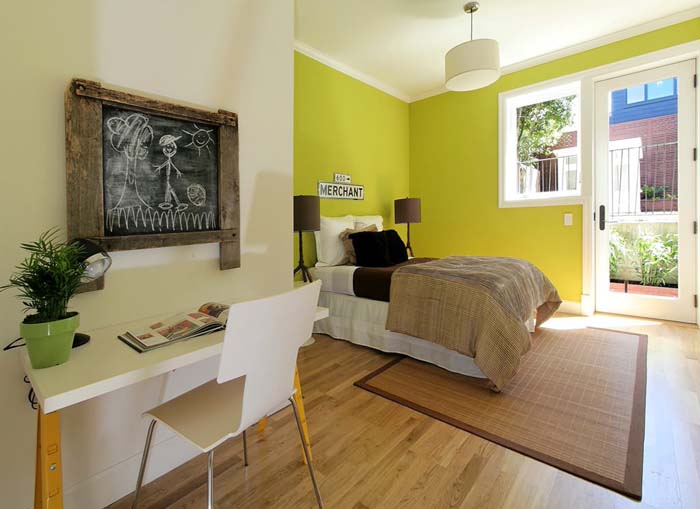 A lime green or chartreuse accent wall pairs well with any lighter shade of a neutral color.
The linen color wall and light wood furniture work with the sisal rug to keep a casual feel.
28. Burgundy and White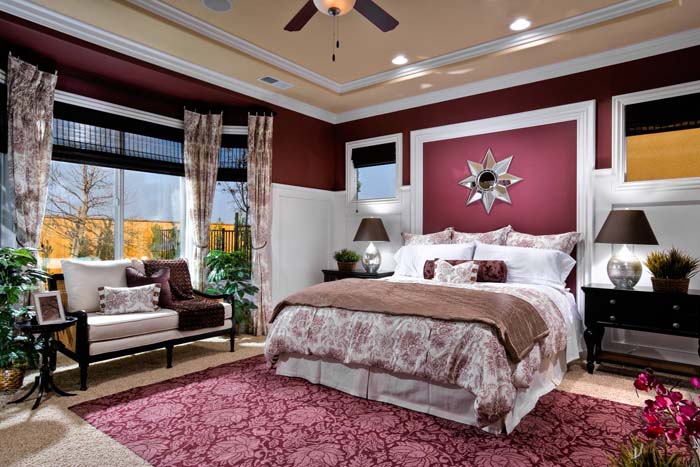 It may feel like a pairing that is too stark, but the comfort and warmth of burgundy cannot be overstated. It pops against the white trim and bottom color of the walls.
Burgundy is a color found in many traditional styles, so it won't look out of place with heavy, dark stained furniture.
via McCaffrey Homes