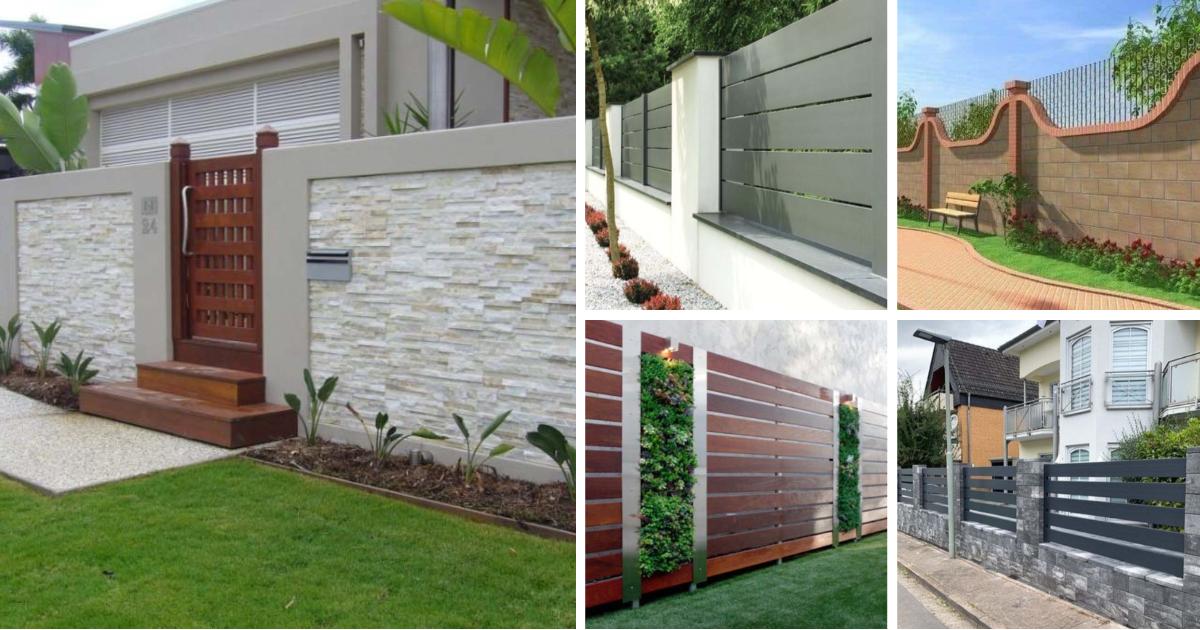 The facade of your property is an important part of its overall look and value. Its fence is not only a safety boundary but also a means to improve curb appeal.
Whether you plan to make a fence or you want to upgrade the existing one, with the next 30 Stunning Ideas for Walls and Fences you will surely elevate your home's curb appeal.
1. PVC Slats With Green Panels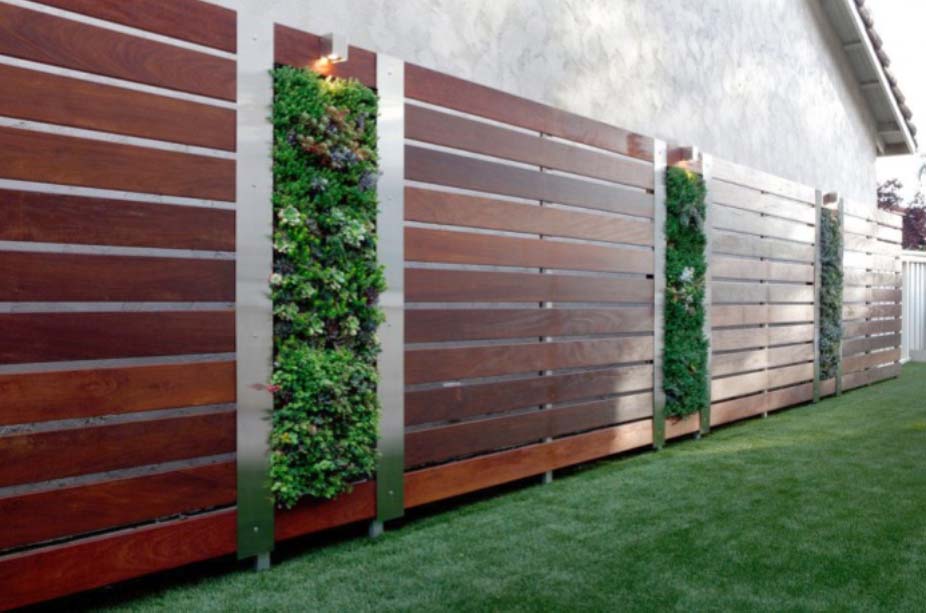 PVC panels are a fence solution becoming popular because of their easy installation and good durability. You can mount the slats yourself to the support structure and combine the fence panels with vertical gardens.
2. Boundary Fence Walls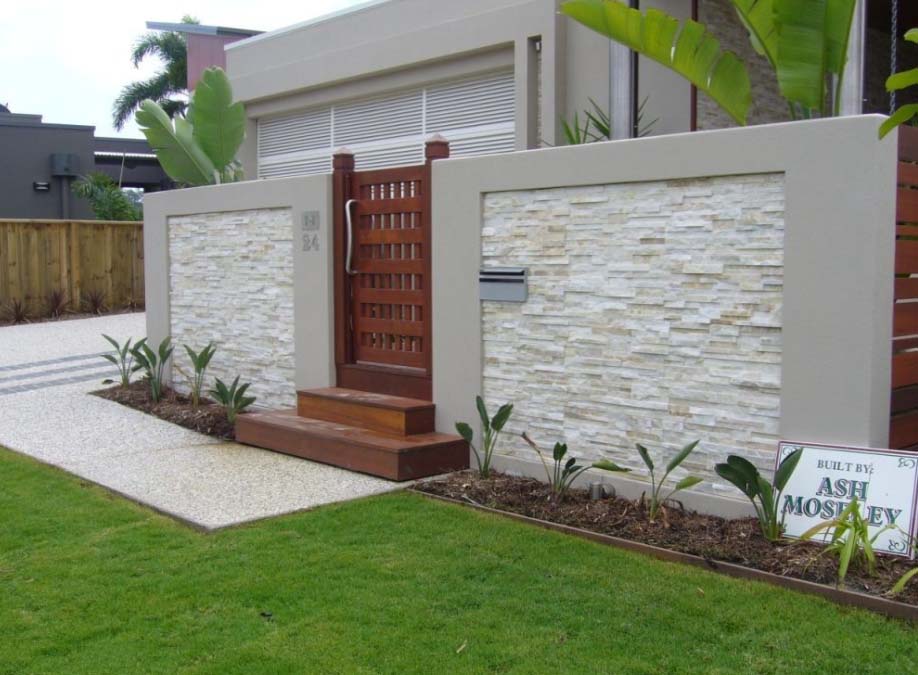 Fence walls can be made more attractive with panel treatments. The market offers panels mimicking wood, stone, marble and other textures. They give the plain wall a decorative look.
3. Stone Cladding Wall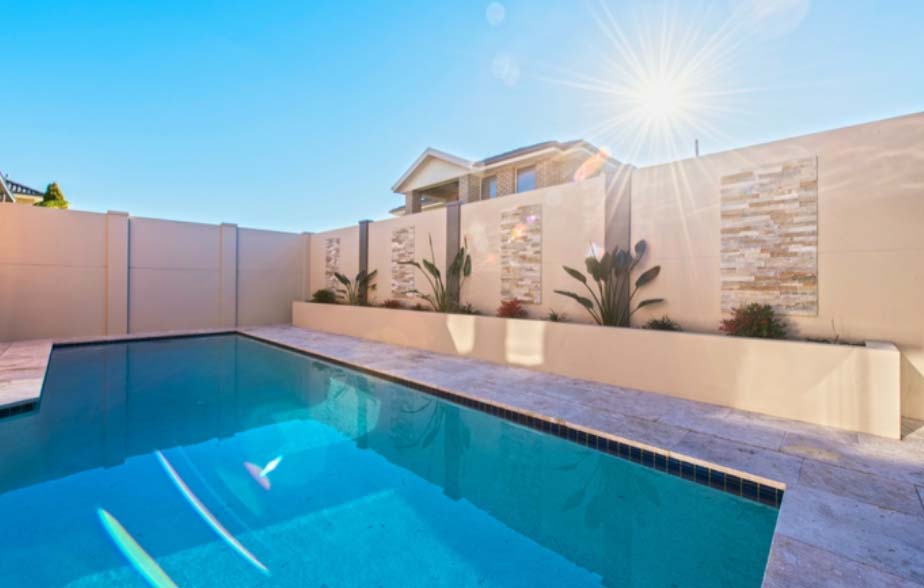 In this fence design, the plain walls are decorated with stone panels. They are glued to the surface with a special medium ensuring rigid fixing. You can use such panels to blend the fence walls with the existing landscape or to add an accent.
4. Black Horizontal Slat Fence Panels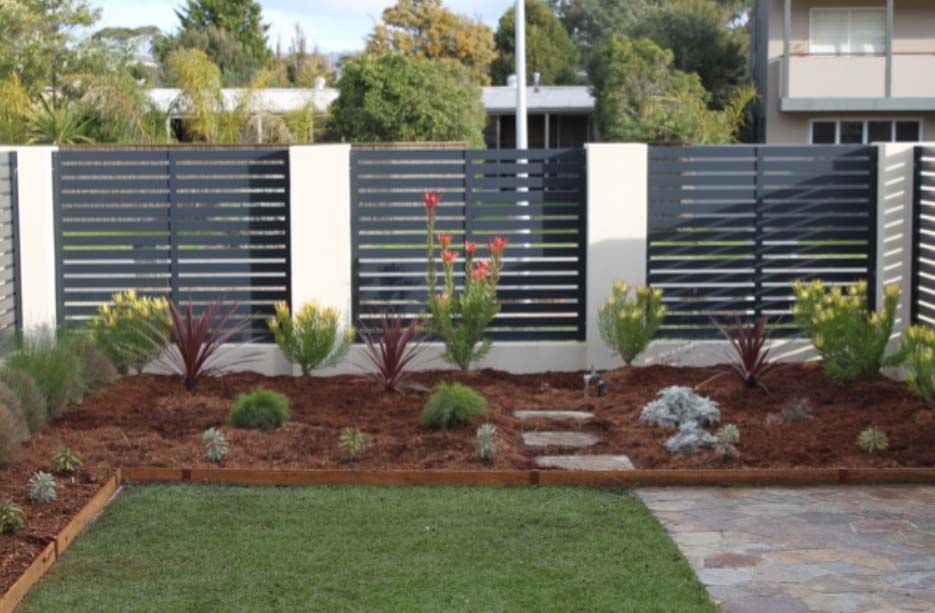 Looking for a modern design for a fence? These black panels are perfect to add fence supports. They let the light come through and at the same time improve the privacy level.
5. Fence With Glass Panels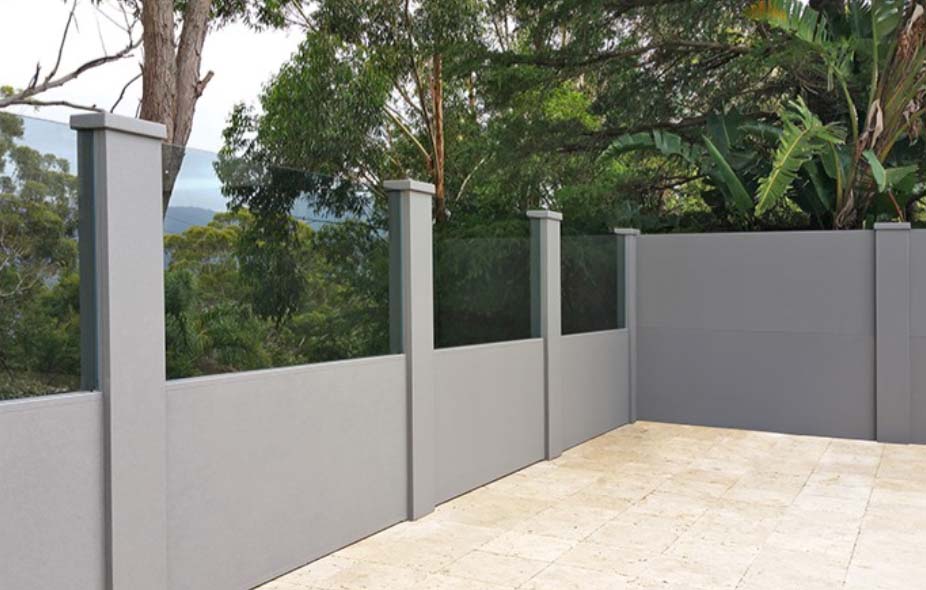 Glass panels also add a modern touch to the plain fence wall. Usually, they cover only part of the fence ensuring a good landscape view.
6. Laser Cut Fence Panels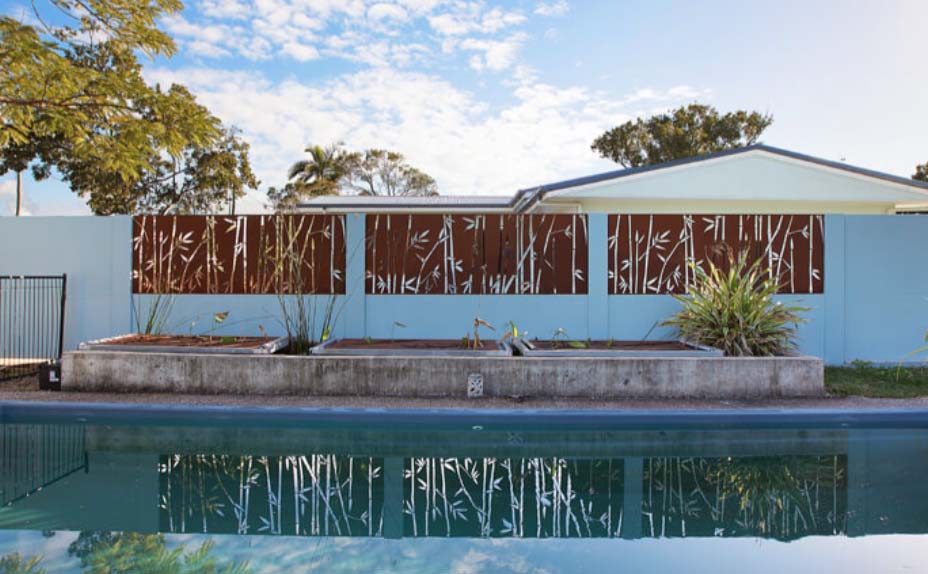 The laser-cut metal panels ensure a unique fence look and durability! They are made from thin sheets of carbon steel with prints of your wish. The laser cuts let the sun go through and reflect on the nearest surfaces.
In time the surface of the panels starts to rust to add a stylish rustic flair to the overall landscape.
7. Sand Stone Wall Idea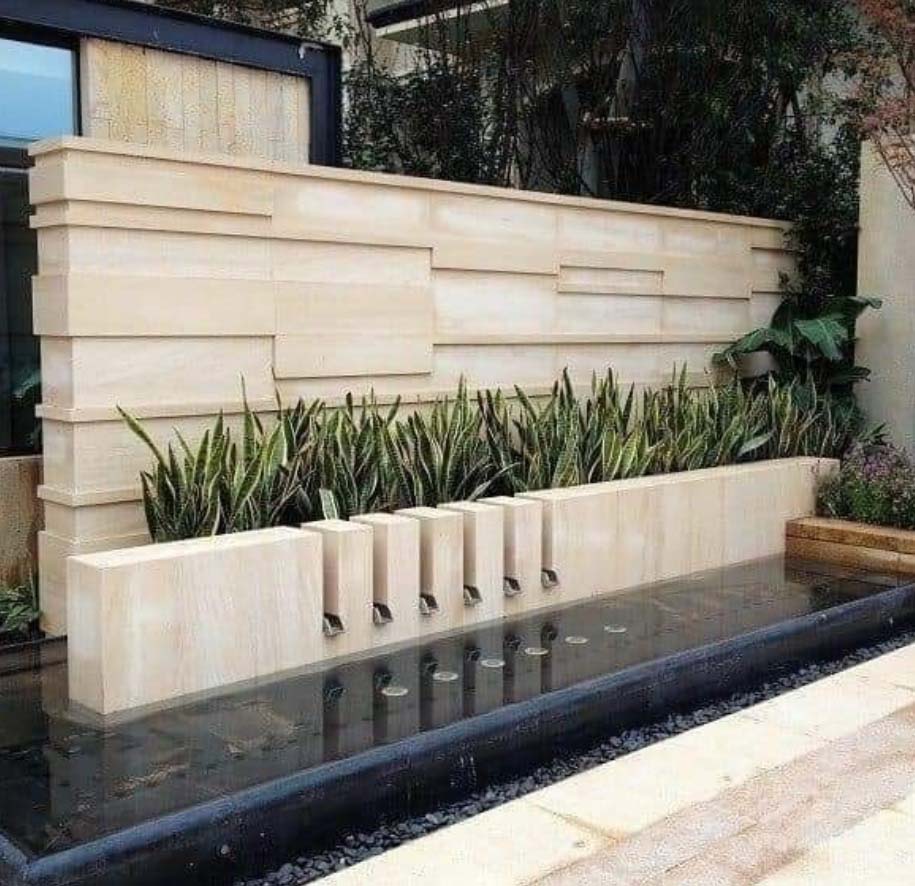 This is a modern outdoor wall idea combined with a garden bed and a water feature.
8. Sectional Concrete Fence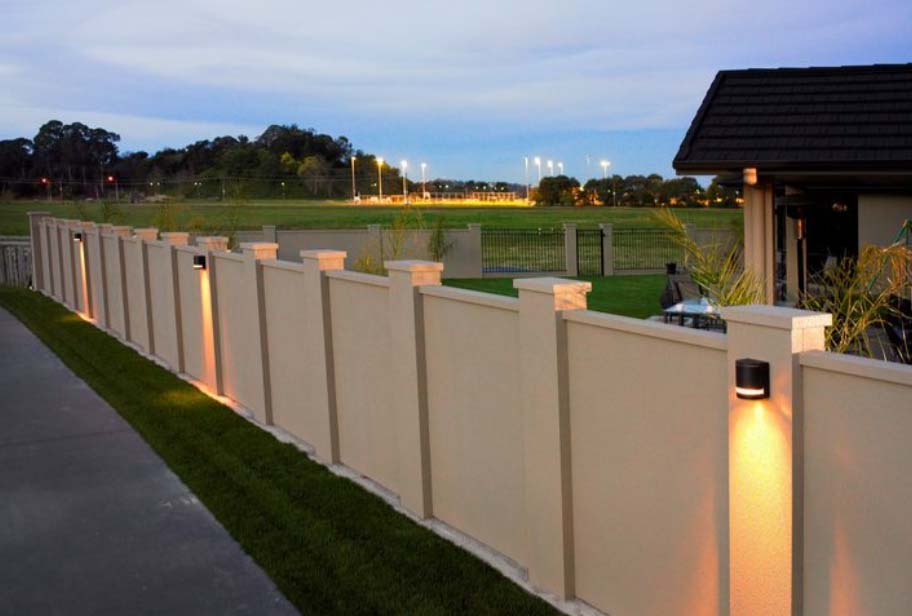 The sectional fence consists of a certain number of blocks assembled together with suitable hardware. People tend to prefer it more than other types of fences because of its easiness of installation, reasonable price and good overall look.
9. Modern Boundary Wall Design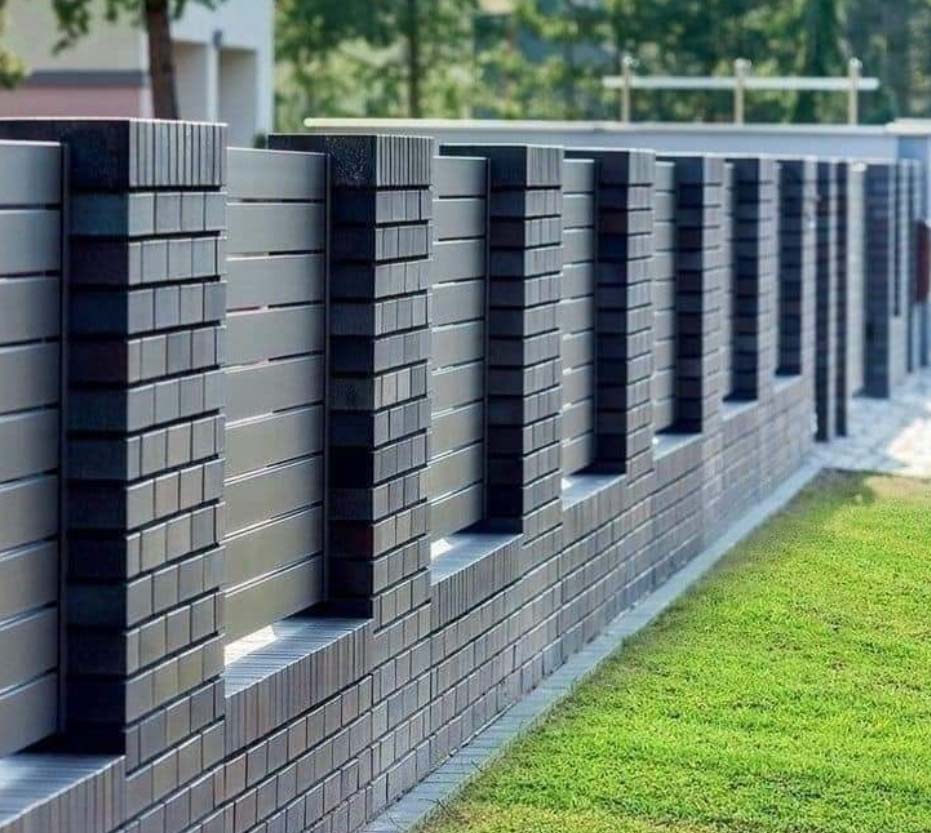 Although this fence may seem like built from bricks, actually it is made of compound concrete. The brick shape and graphite color have upgraded the mixture to make it look modern and elegant.
The panels are PVC slats in the same color which let light and at the same time keep privacy.
10. Modular Concrete Posts With Aluminum Fence Slats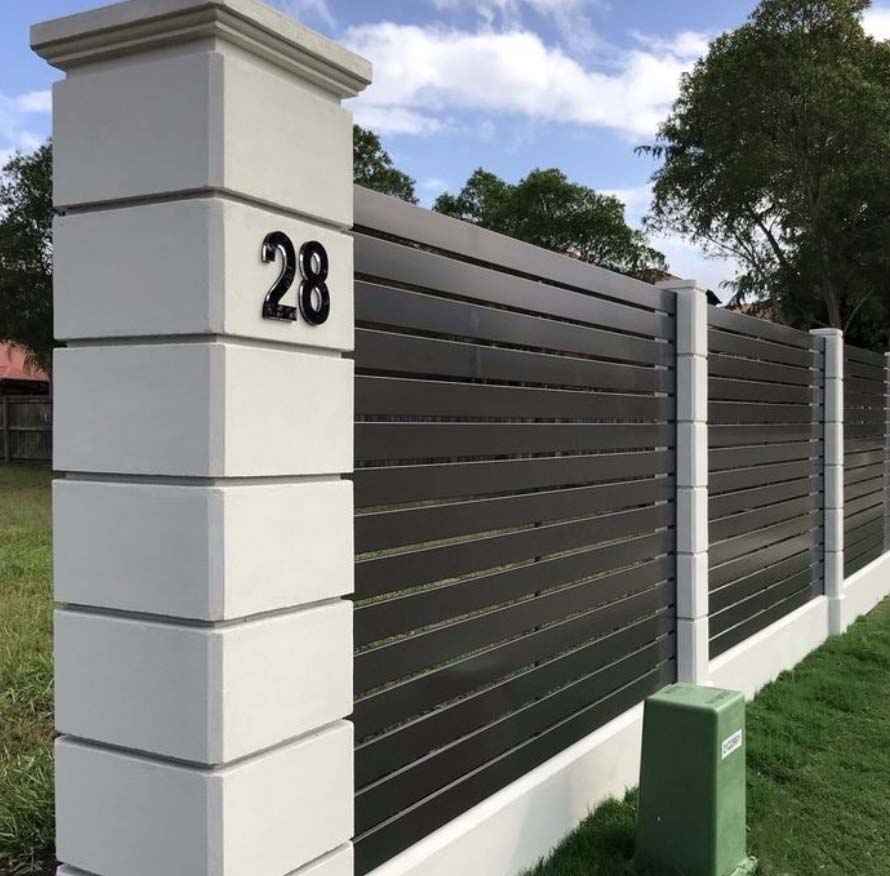 If you prefer the slat area to be bigger than the fence idea shown before, you can try this fence layout. Posts are made of concrete and are of such a size to keep the aluminum slats in place.
The aluminum sections are wide and tall featuring slats in horizontal position. The gap between the slats is small but enough to let air and light go through without ruining privacy.
11. Sectional Boundary Wall Idea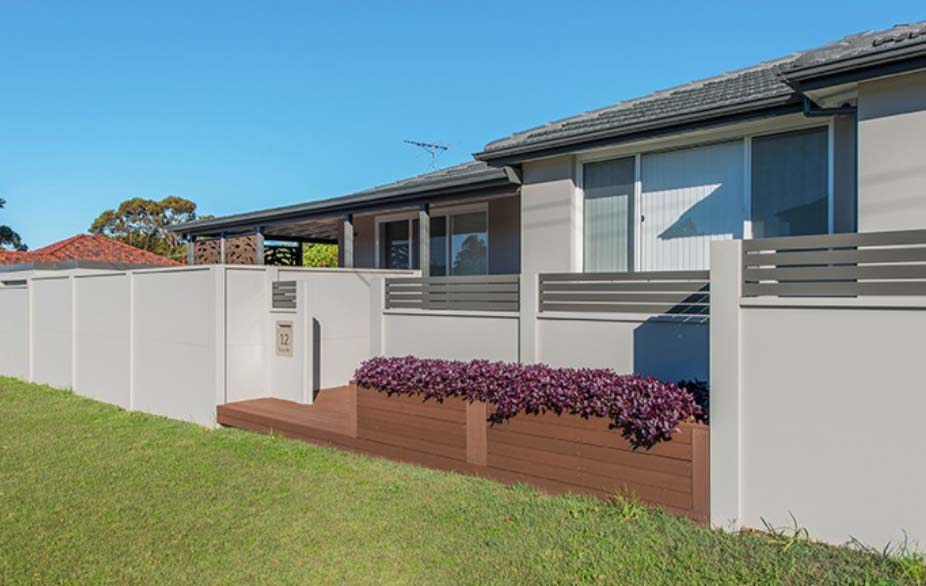 This is another idea of a sectional boundary wall. It consists of identical panels which are assembled with specific hardware easily.
The initial product you get is unpainted concrete sections which can be upgraded in the color and texture you wish.
12. Tall Boundary Wall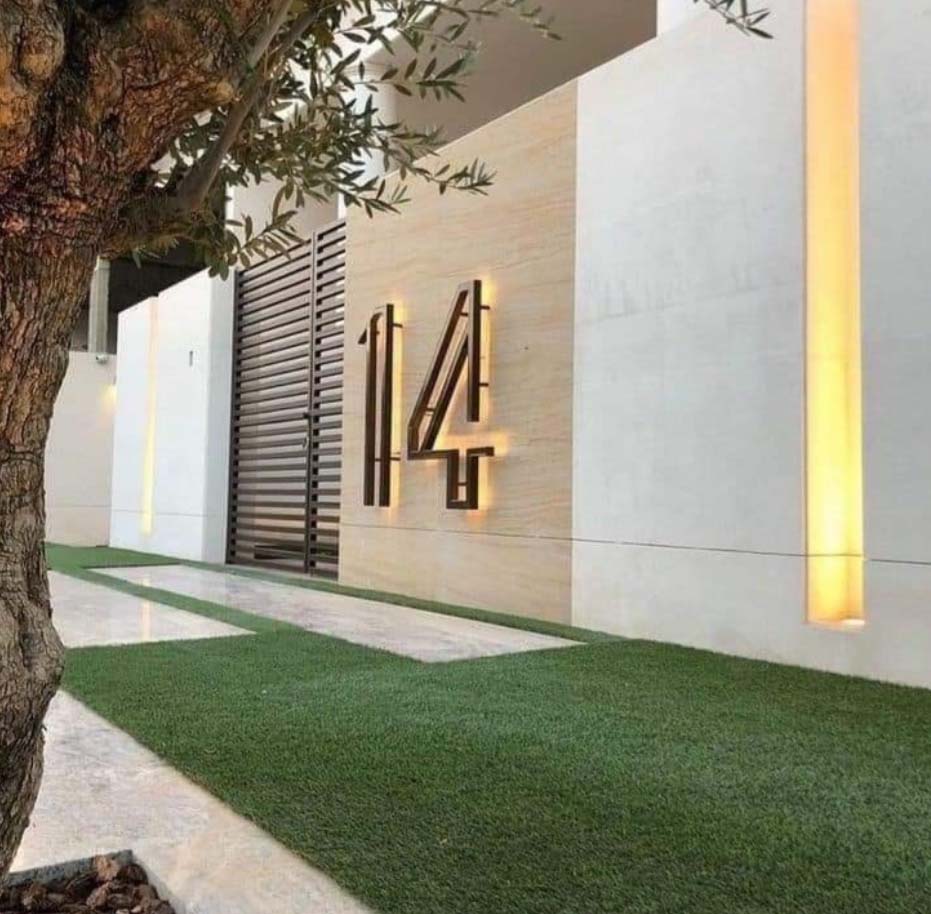 Tall boundary walls are usually needed around estates and are an important part of the overall look and mostly the security of the building.
This boundary wall coheres with the exterior of the building behind it, accentuating its number and giving a delicate hint of what is behind the walls.
13. Fence From Concrete Blocks And PVC Slats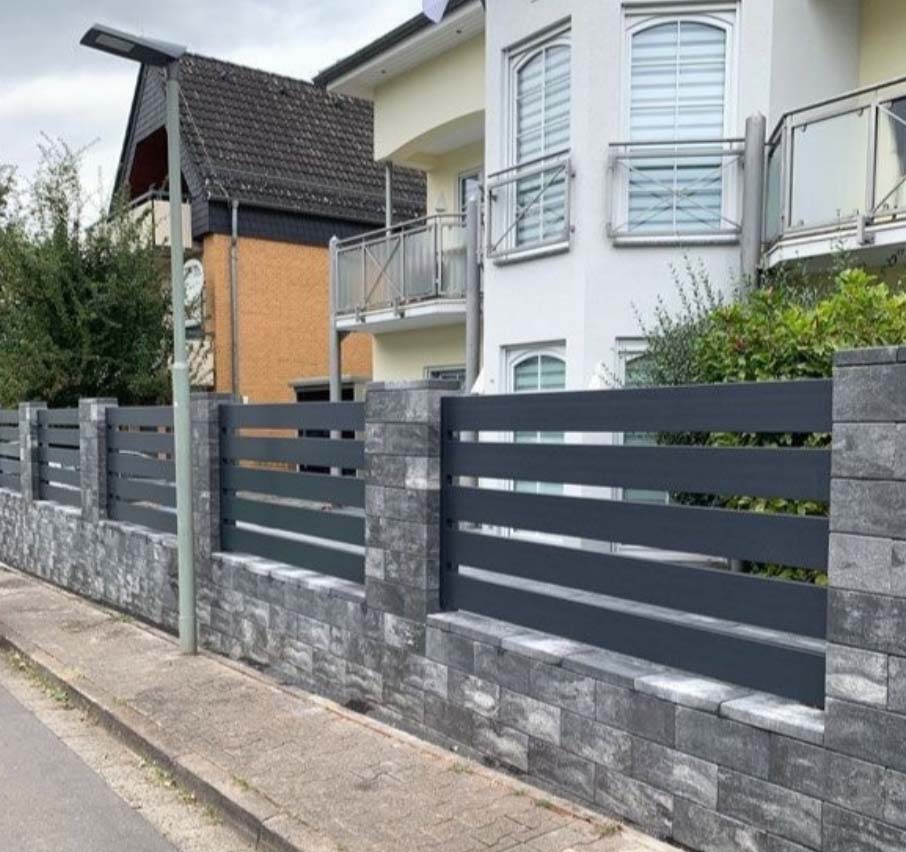 The basis and the posts of this fence are made from four-sided and two-sided concrete blocks.
The method for the production of the concrete gives the blocks a resemblance to stone.
14. Concrete And Iron Boundary Walls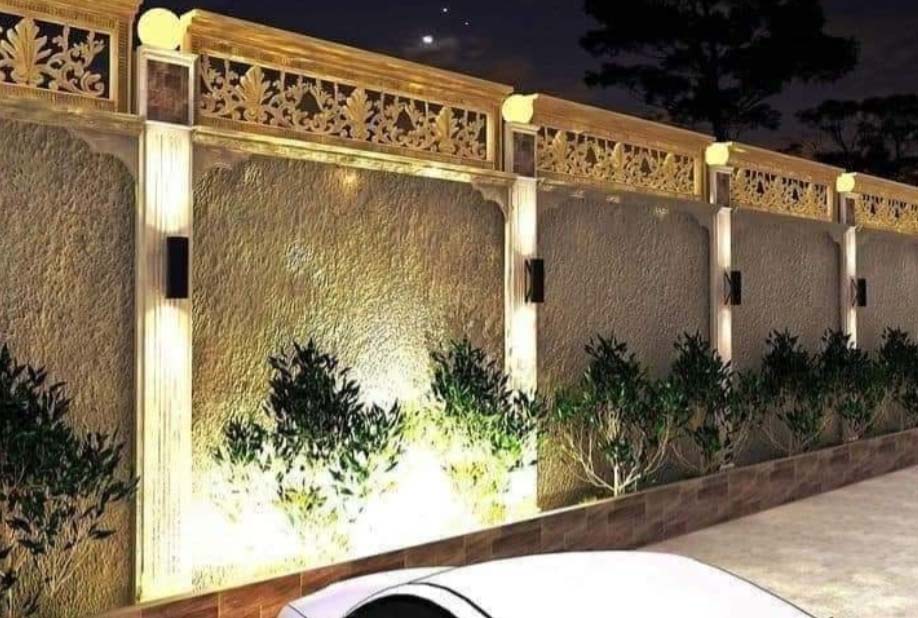 The textured concrete creates sections for easy installation of the fence. It continues with ornamented metal panels with a golden surface which finish the boundary wall and give it a character.
15. Concrete Blocks And Bricks Fence Design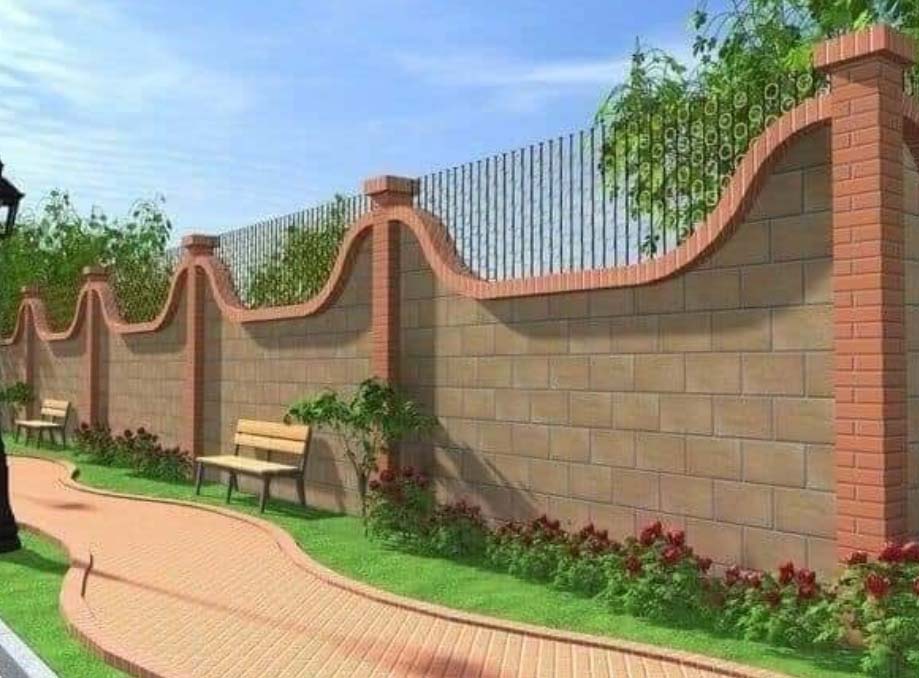 Are you looking for a more traditional fence look? The design idea here is perfect for English, cottage and traditional yards. It is made from concrete blocks assembled symmetrically and a brick frieze.
16. Wood And Stone Fence Idea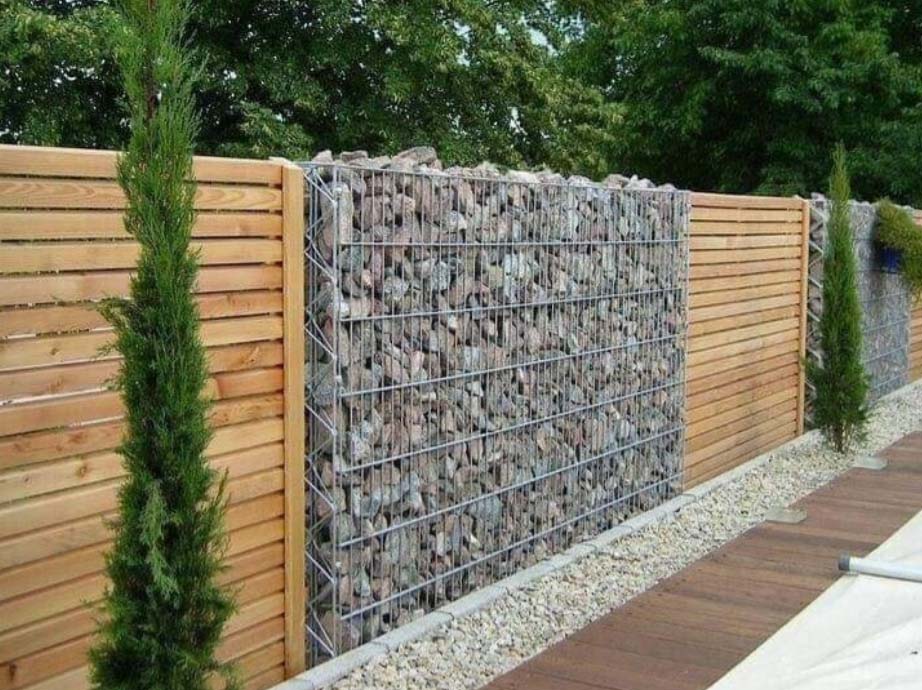 This is an eco-friendly fence design with a modern look. Gabions act like supports of the fence while the wooden panels are mostly decorative.
Take a look at the gravel edging in front of the garden. It is very important for prolonging the life of the wood.
17. Sectional Fence With Incorporated Stone And Aluminum Panels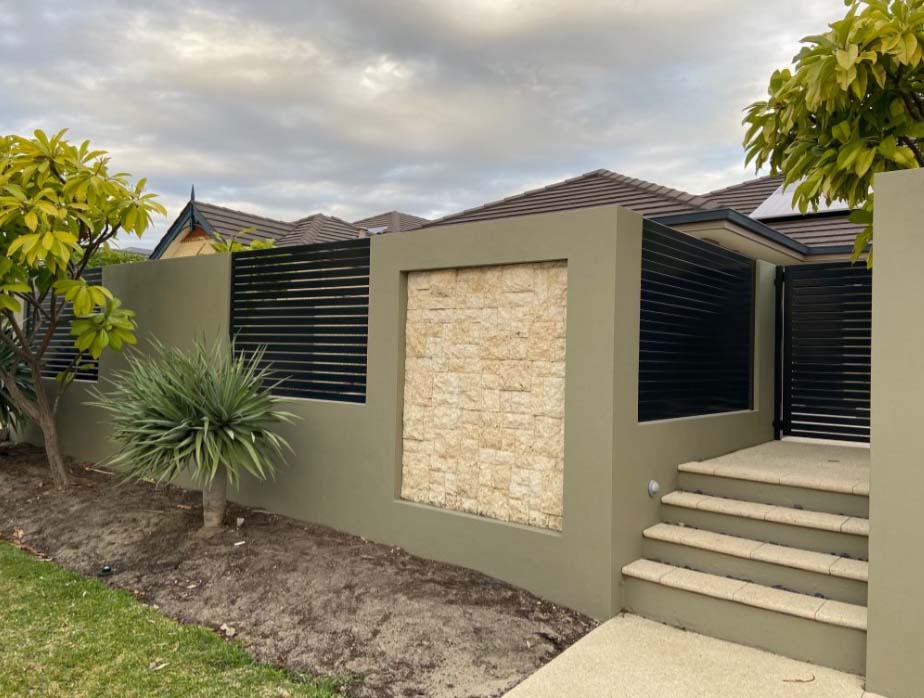 Here is an idea of how to mix rustic and modern and get a unique boundary wall. The incorporated stone panel coordinates with the sand-colored staircase leading to the front gate.
18. Modern Fence With Tiles And Aluminum Slats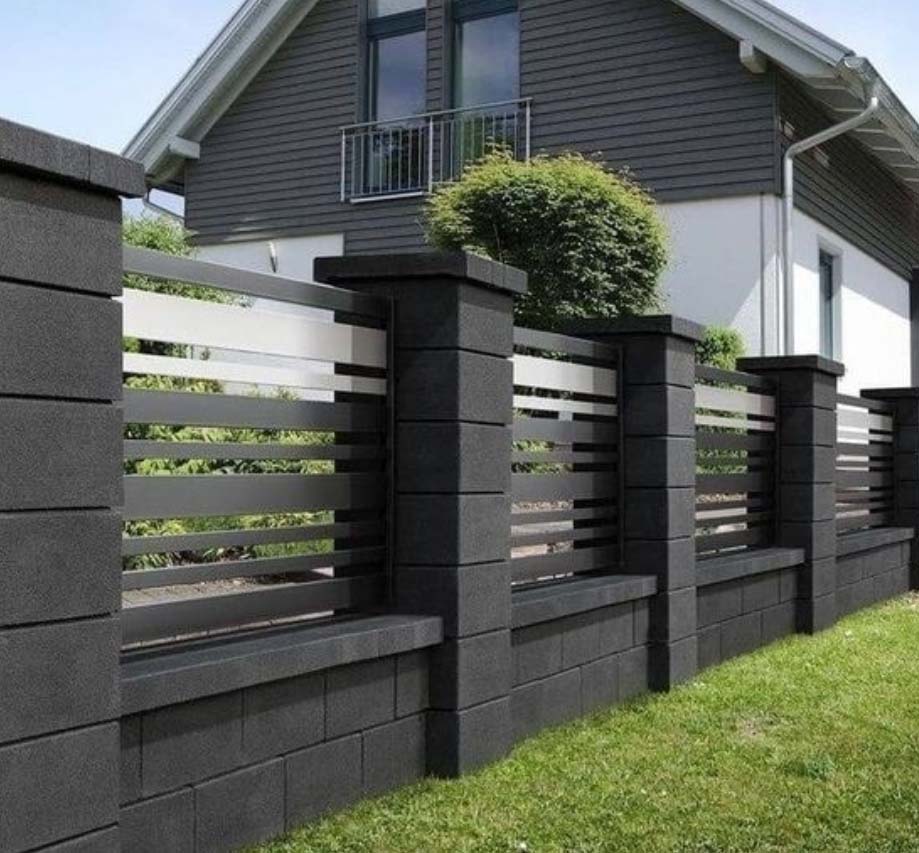 This fence is made from concrete blocks and aluminum slats which cohere with the color of the exterior siding. The harmony between these elements gives this property an elegant modern look.
19. Idea For Fence With Pillars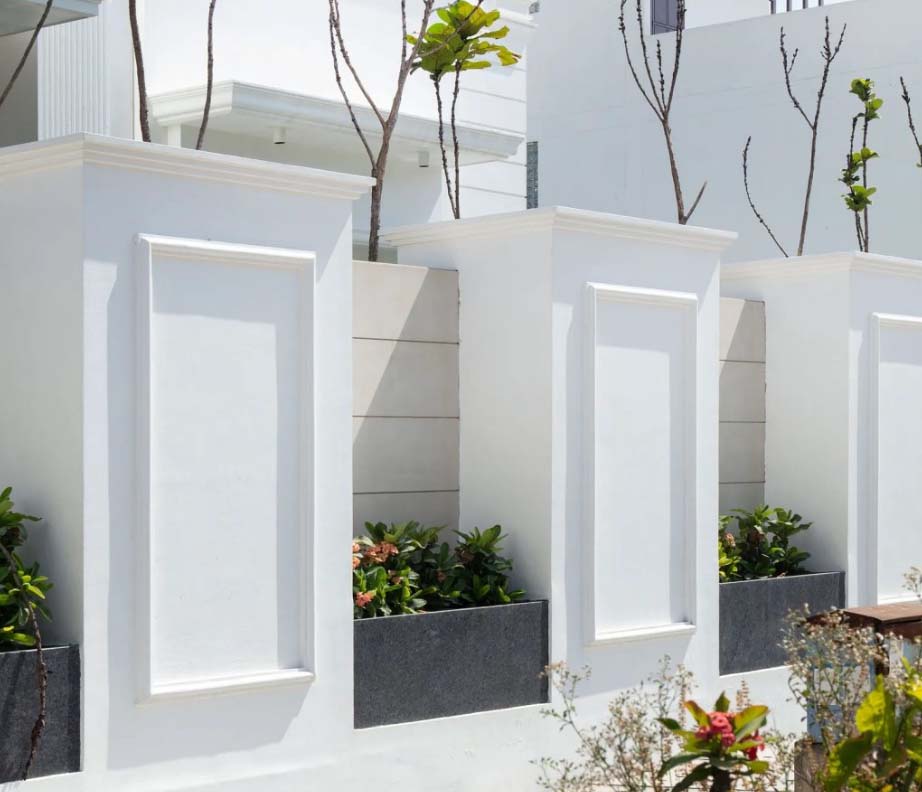 A fence built from pillars will improve the facade of your home and can be used to upgrade it with more decorations. As you can see here, the exposed shape of the pillars leaves a gap where a planter can be installed.
20. Concrete Pillars With Wide Slats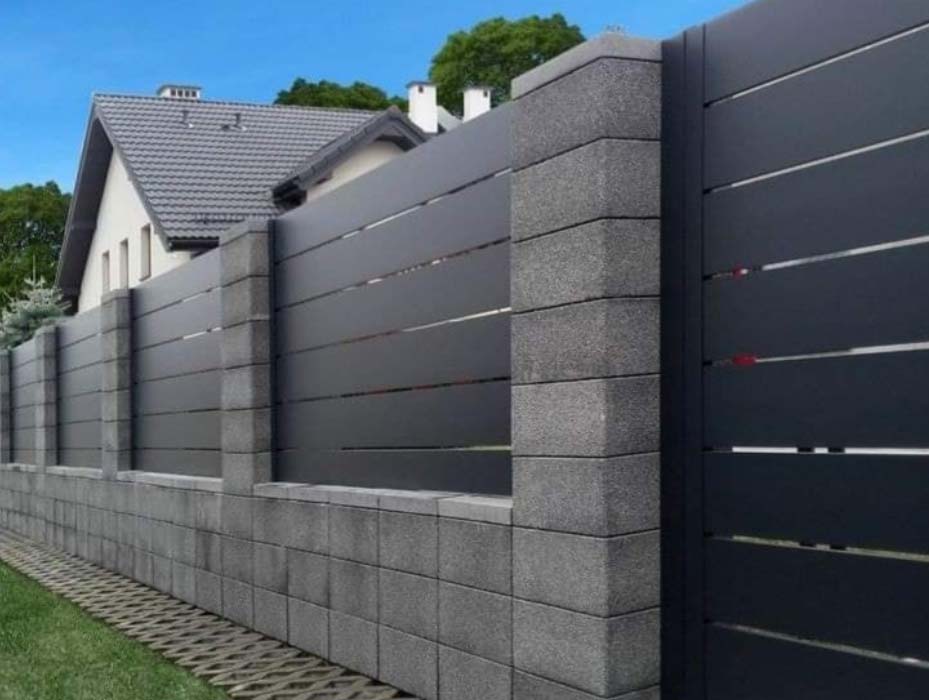 The manufacturers of concrete blocks give the opportunity to stain the concrete into a desired color. In this idea, the concrete is darker grey than its original hue to coordinate with the PVC slats and the roof of the building.
21. White Pillars With Grey Slat Sections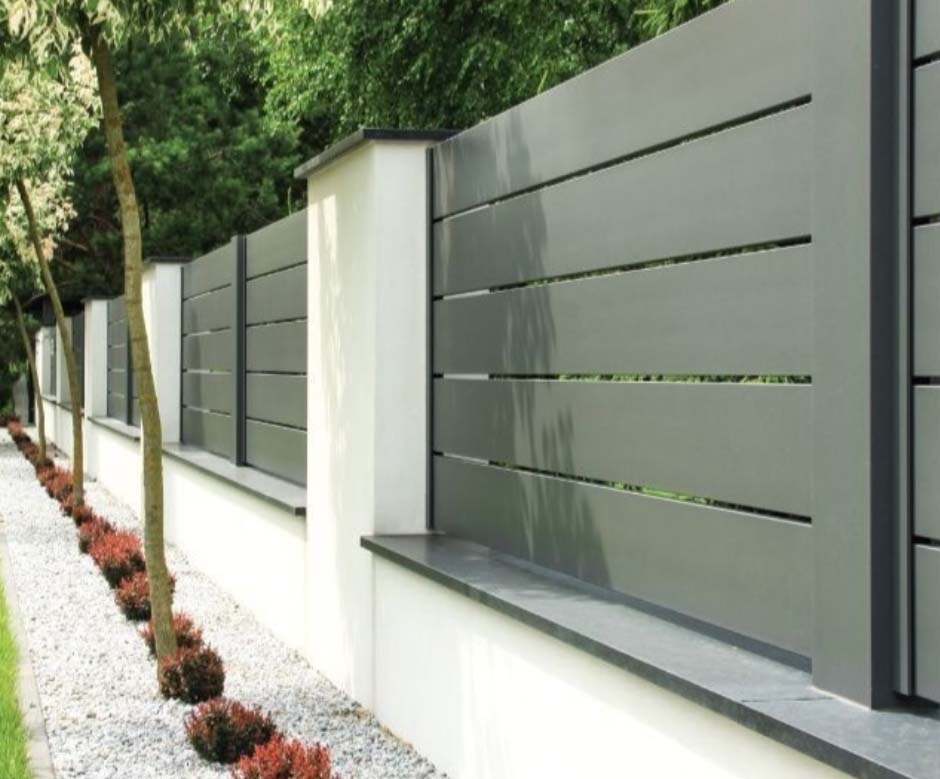 This combination of a basis and pillars from concrete and slat sections is one of the most popular ones because of its appealing look and good price.
You can choose the colors of the elements to make sure that they match the exterior of your home.
22. Mosaic Fence Design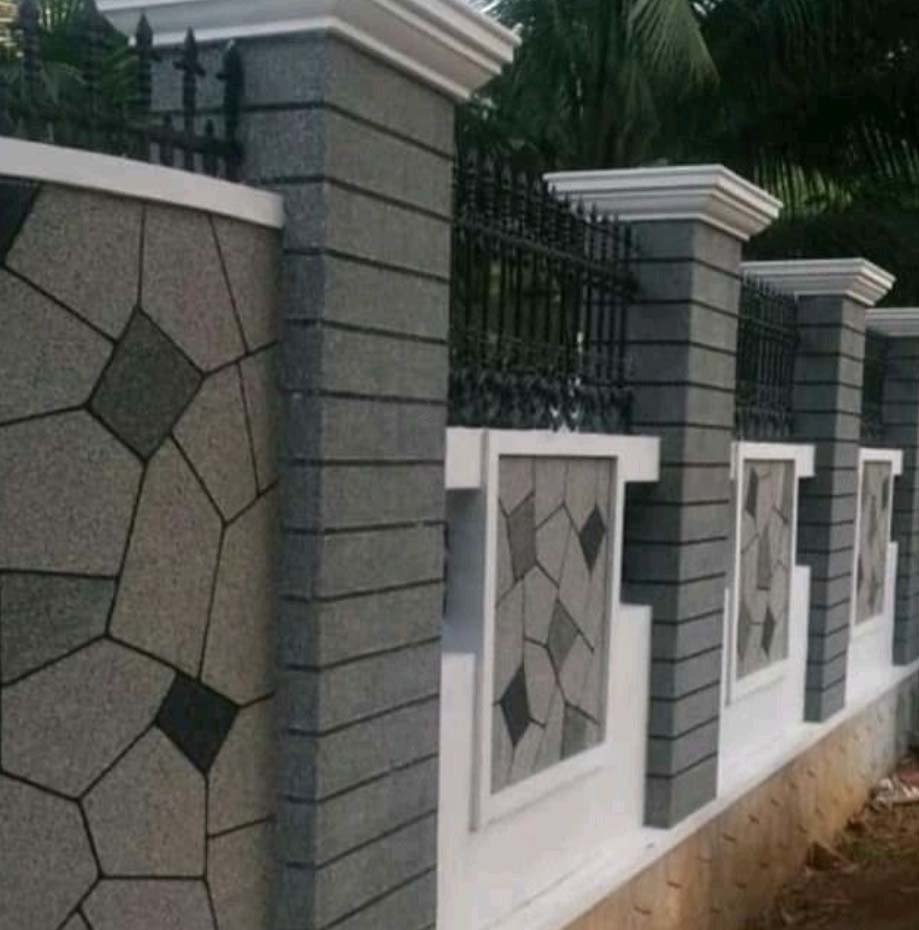 This fence type features panels with a mosaic made from stone tiles. Each panel is framed in white to stand out from the grey pillars.
23. Brick Fence Idea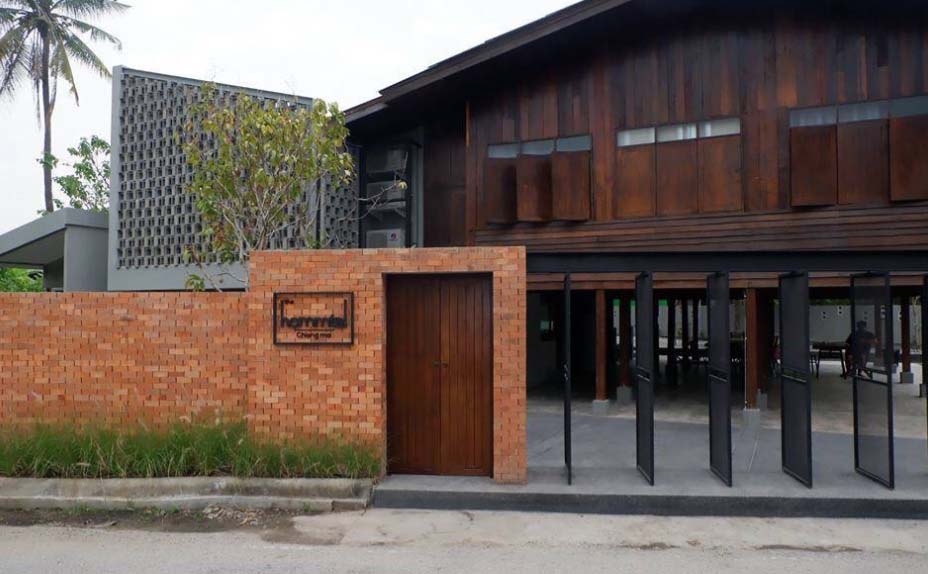 This solid fence from bricks outlines visually the limits of a hotel. The tight alignment of the bricks won't let the sight of any curious eyes which is an important characteristic of such a building.
24. Concrete Fence With Wooden Slats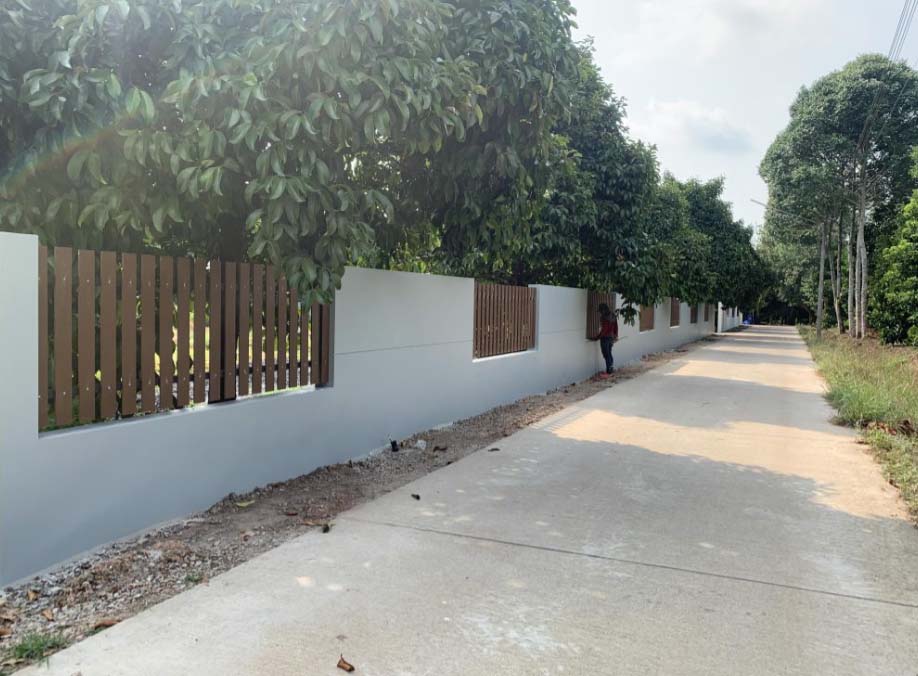 This fence design is good for larger yards like kindergartens or schools.
The solid sections from concrete ensure good boundaries while the slat sections make it possible to sneak to the yard.
25. Brick and Slat Fence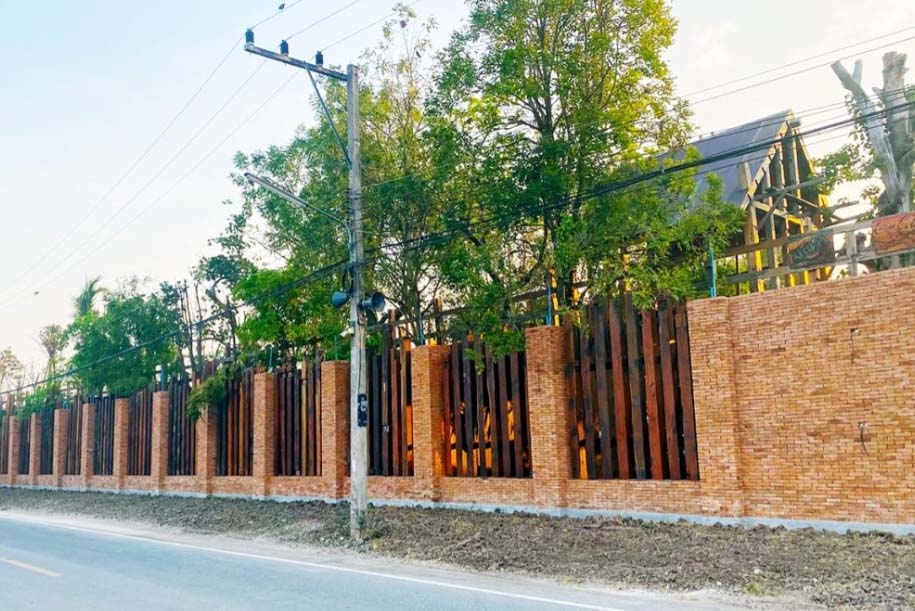 A fence suitable for schools and kindergartens can be also made from bricks in place of concrete. Here the sections with slats are taller but safe enough to protect.
26. Gabions And Aluminum Sections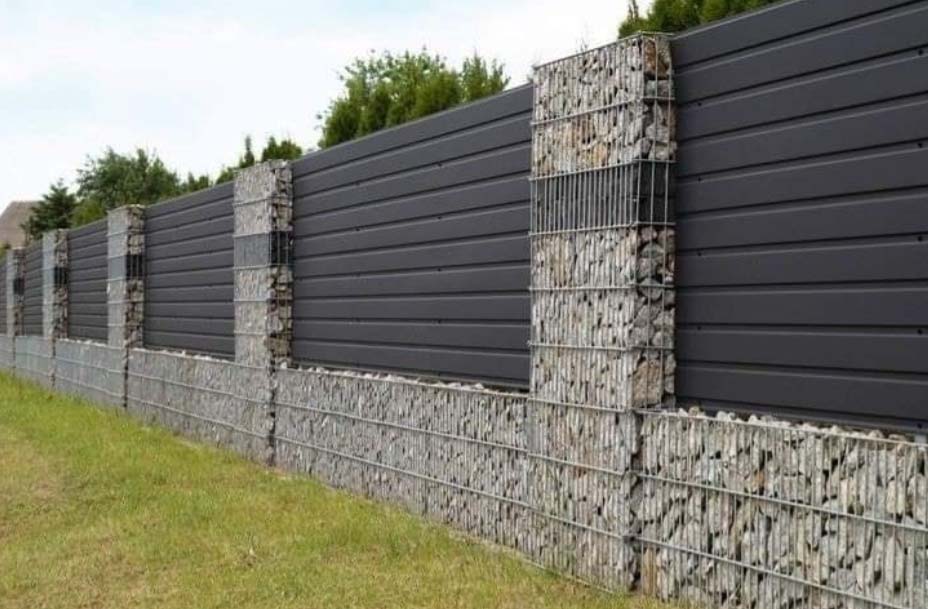 This is a solid fence idea which has a modern look. Thanks to the gabions and the aluminum sections you can take advantage of the rigidness and security of a solid fence but also enjoy a more contemporary look.
27. Concrete Sections With Stone Pillars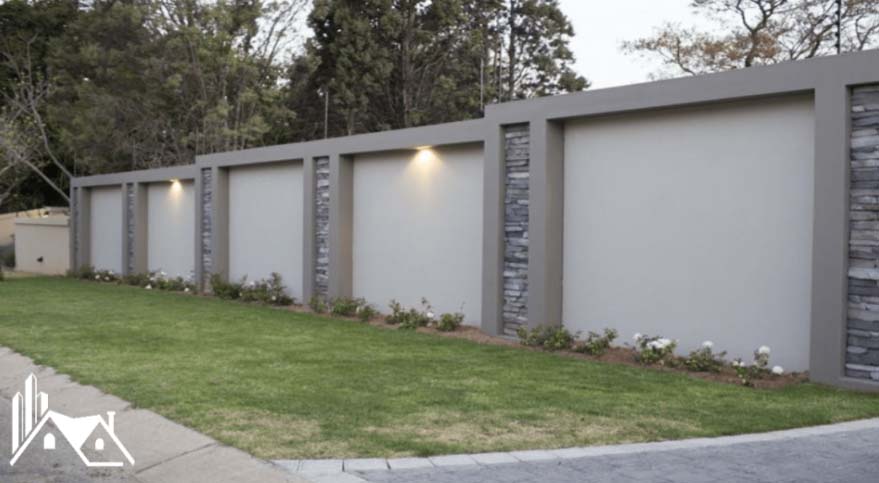 If you prefer the traditional concrete boundary wall but want to give it a more contemporary look, you can decorate it with stone panels within the pillars.
28. Laser-cut Panels On A Short Fence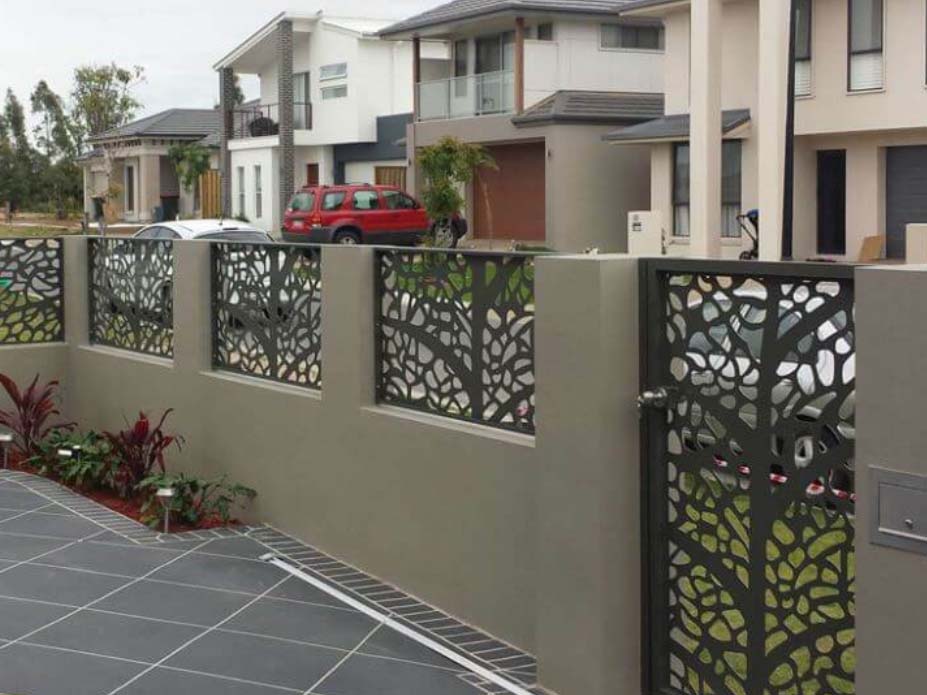 If the fence is more like a visual definition than a security and privacy means, you can try this fence idea. It features a short concrete basis and pillars decorated with laser-cut panels. The pattern of cutting is nature-inspired to blend with the exterior of this home.
29. Wave Pattern On A Laser-cut Panels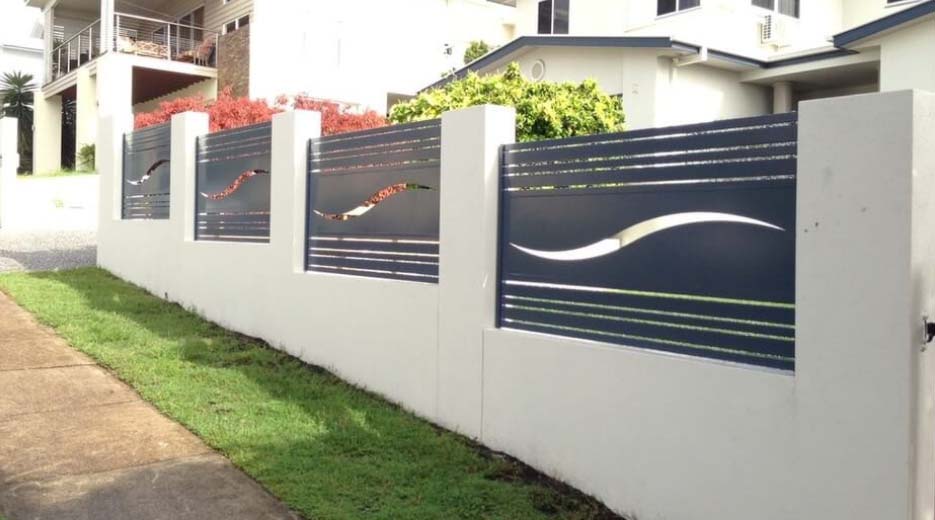 Laser-cutting is great because it can trace out whichever pattern you like. Panels with tree silhouettes, waves, bamboo, or animals are among the most popular ones.
30. Compound Sections With Stone Lined Pillars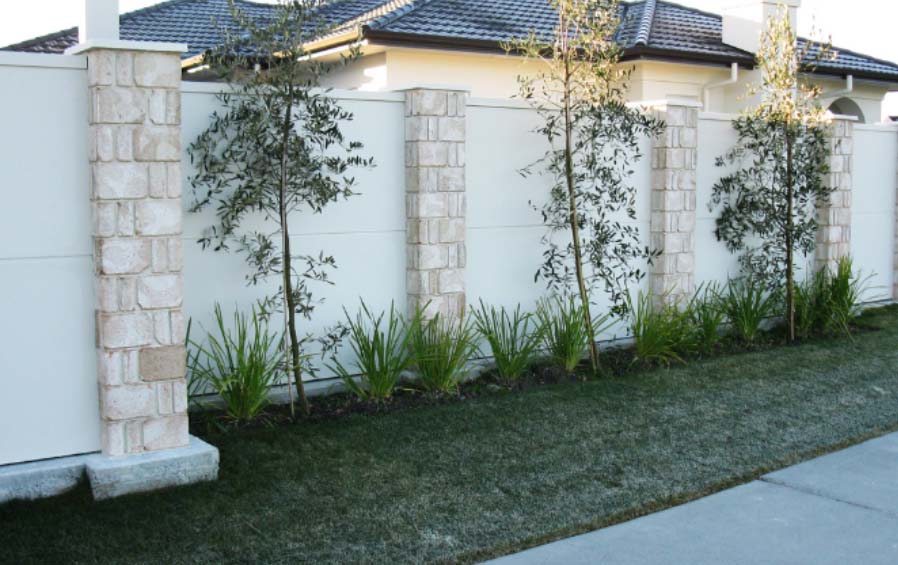 This is a budget-friendly fence idea. It features compound sections that can be easily installed and pillars with stone lining. The elements are in the light color palette to keep the look airy and let the greenery stand out.