Having a small bedroom shouldn't be considered a disadvantage. On the contrary, small spaces require less maintenance and can be as comfortable, cozy and functional as big rooms are.
As with any small space, the key to a convenient and stylish bedroom is space optimization and suitable and multifunctional decoration.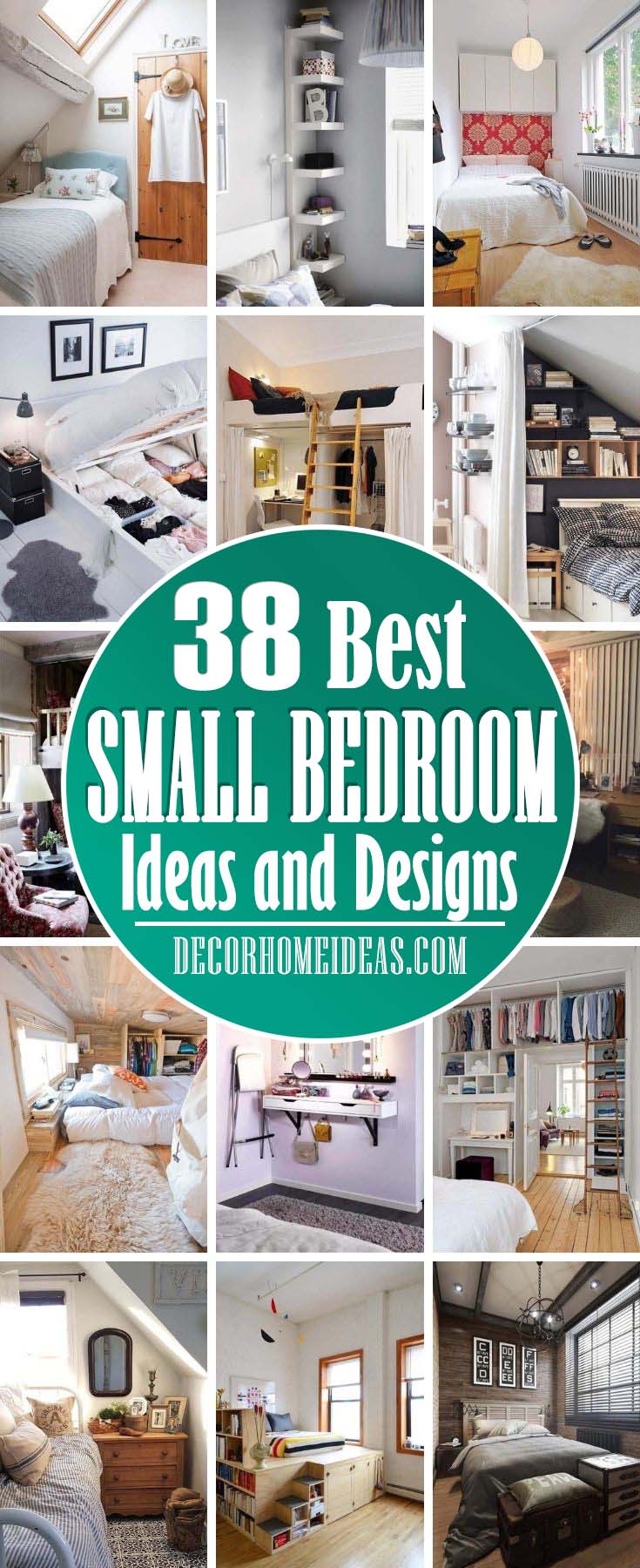 We are going to show you the best ideas and designs for small bedrooms which will give you inspiration and hints of how to plan, furnish and decorate your small private oasis.
1. A Bed Enclosed by Curtains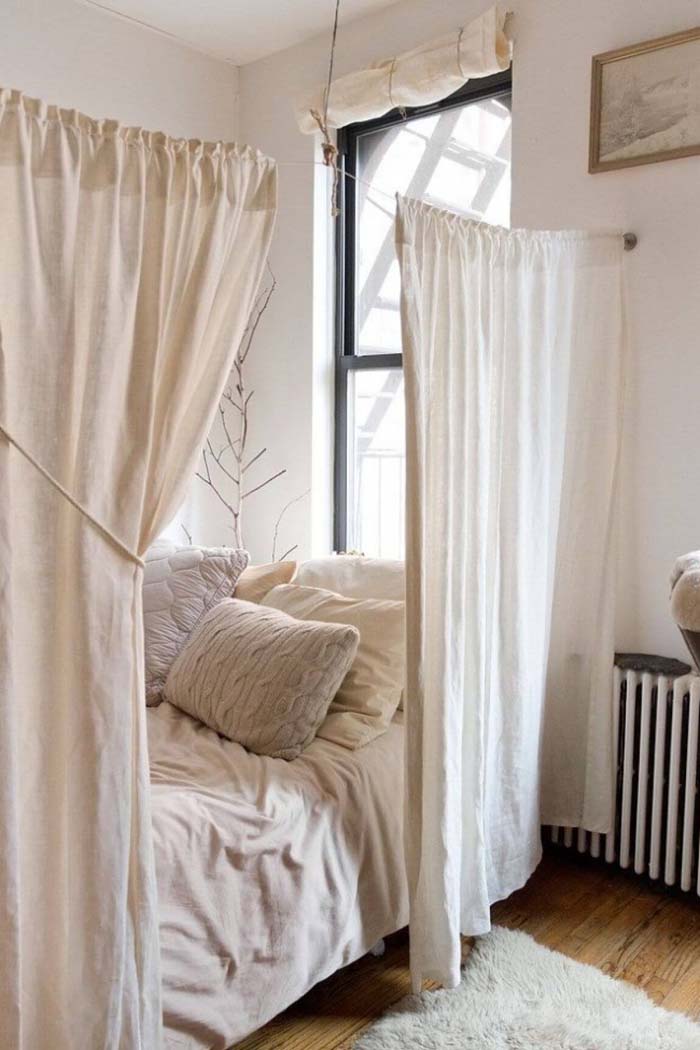 Differentiate the sleeping area from the rest of the bedroom with curtains. Whether thick or transparent, they will lift the privacy level and will add a romantic and cozy touch to the interior. This solution is very appropriate to divide a one-room apartment into living nooks.
via Homedit
2. A Bed Hidden Away by Shelves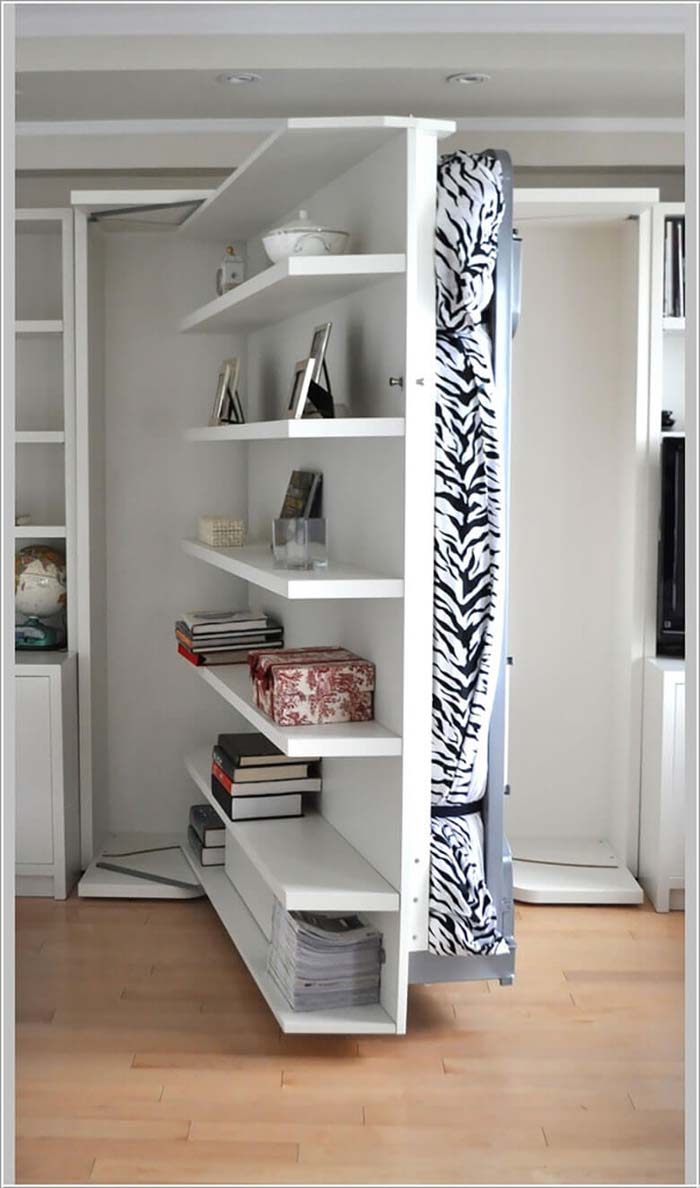 This is a modification to the well-known Murphy bed. Instead of falling down, the bed slides into a wall panel. Its backside becomes shelves for books and decoration during the day.
3. A Bed-Sized Room with a Few Shelves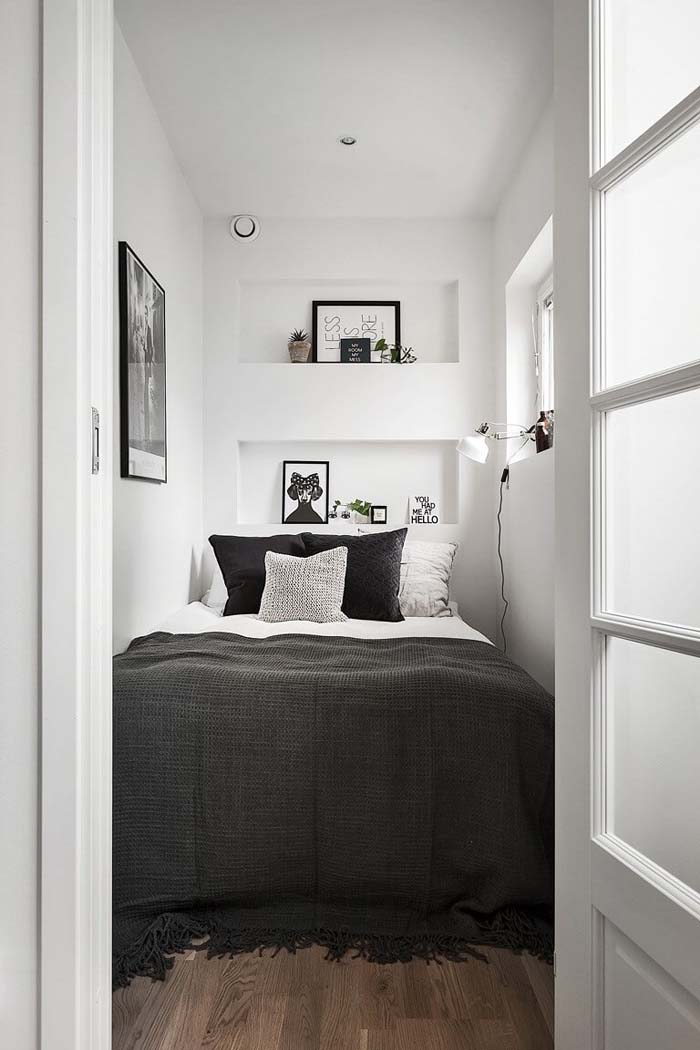 When the bedroom is of size to fit only a bed, you need to consider many aspects when decoration. Firstly, bet on the white color and use the vertical space to store and visually enlarge the room.
via The Nord Room
4. Bed with Storage Enclosed by Curtains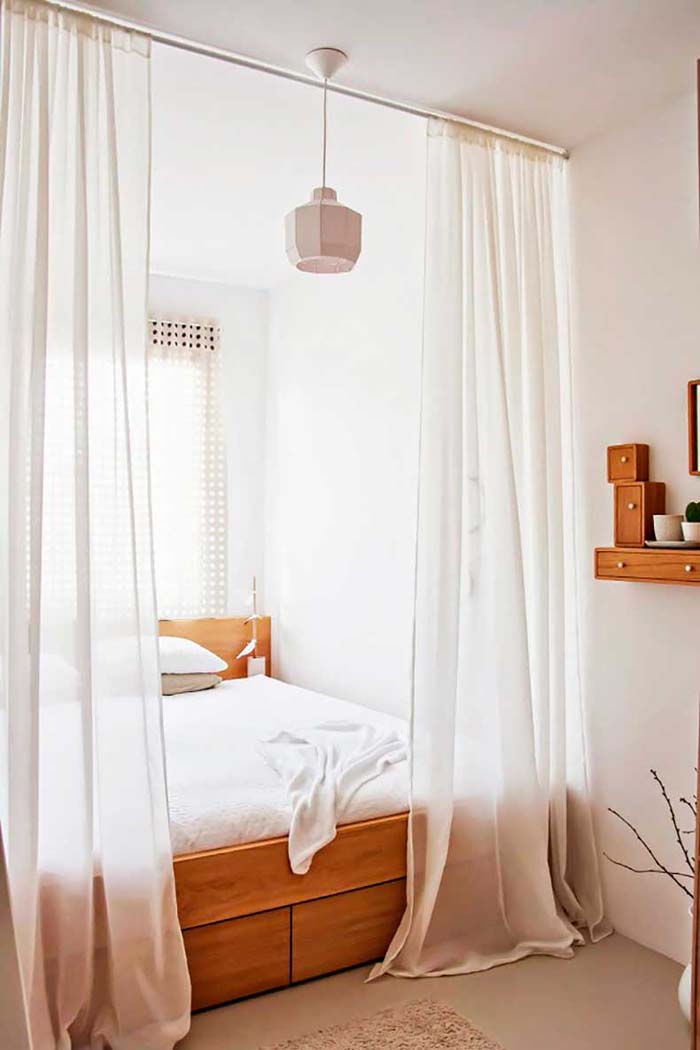 Add an additional storage area underneath the bed. It can be closed with the mattress area or drawers. Both ways you would be surprised to see how much seasonal clothes bed can accommodate.
via My Domaine
5. A Bright, Cozy Space with High Ceilings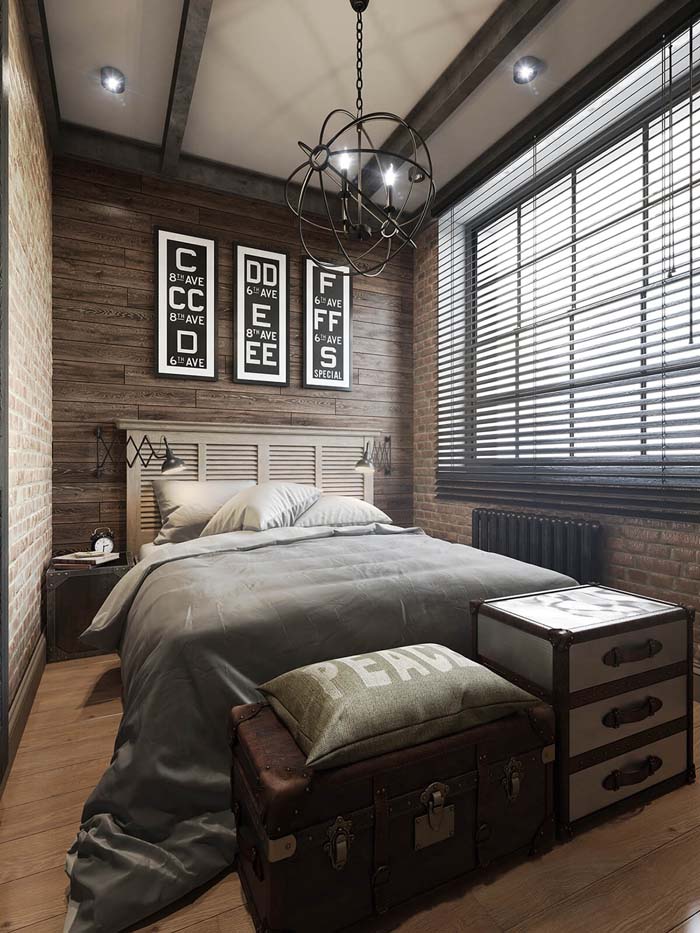 Good light is of great importance when it comes to small spaces. If you have large windows, get the most of them by choosing appropriate curtains or shutters that will stop the bright sun but not the light.
via Virlova Style
6. Built-in Nightstand with Soft Warm Lighting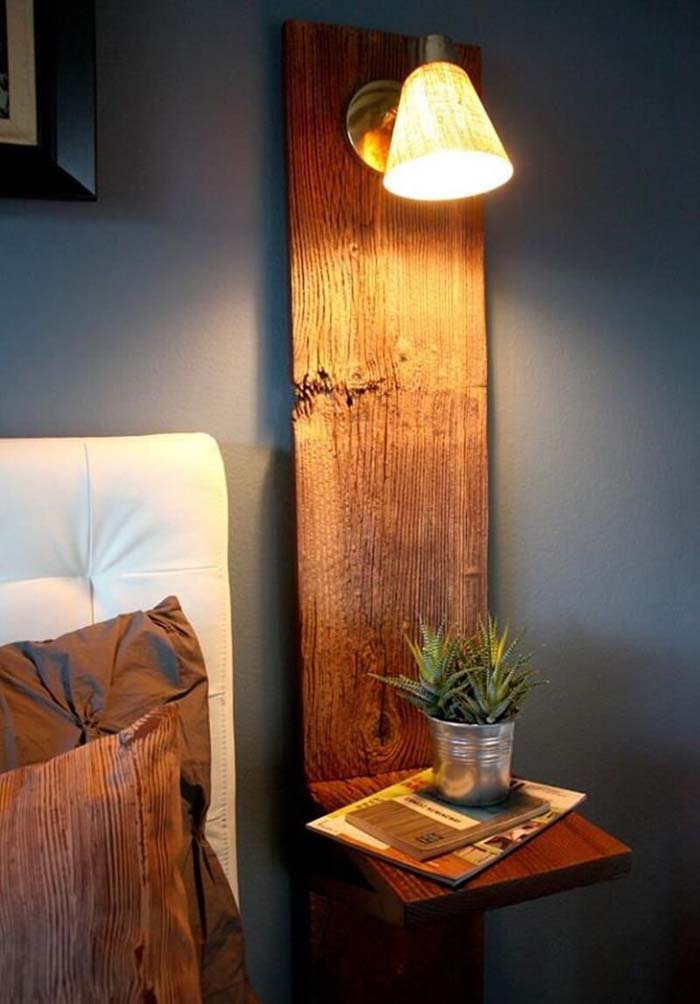 When you don't have any horizontal space left and yet you don't want to make any compromise with comfort and extras, think about how to utilize the vertical space of the walls.
A simple nightstand combines a shelf for a book and a light scone.
7. Bunk Beds with a Chair for Reading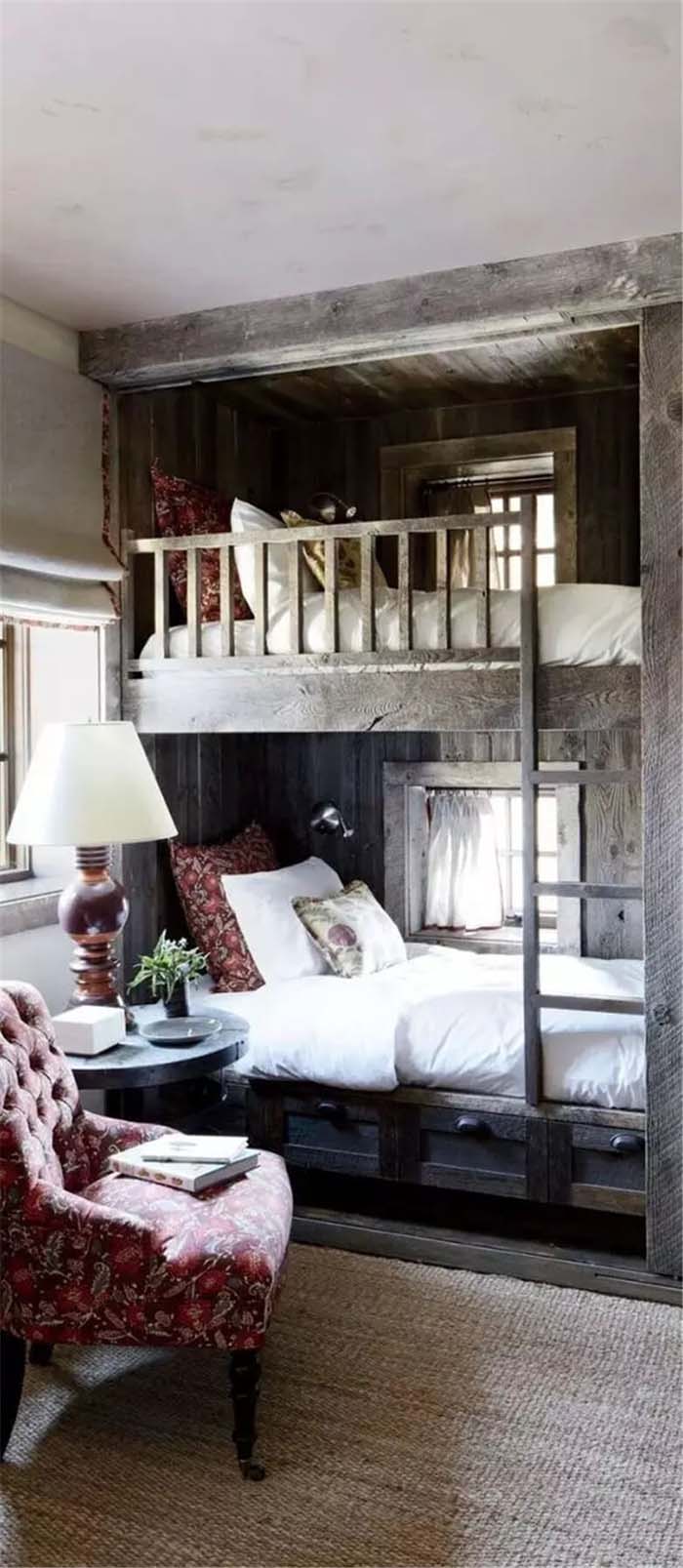 This cottage-style bedroom is a shared space for two kids or teenagers.
Since room space is small, bunk beds come to help to utilize the vertical line and thus leaving clearance for a table with a reading lamp and a comfortable chair.
via Liz Marie Blog
8. A Cabin-Style Loft that's Lacking Headspace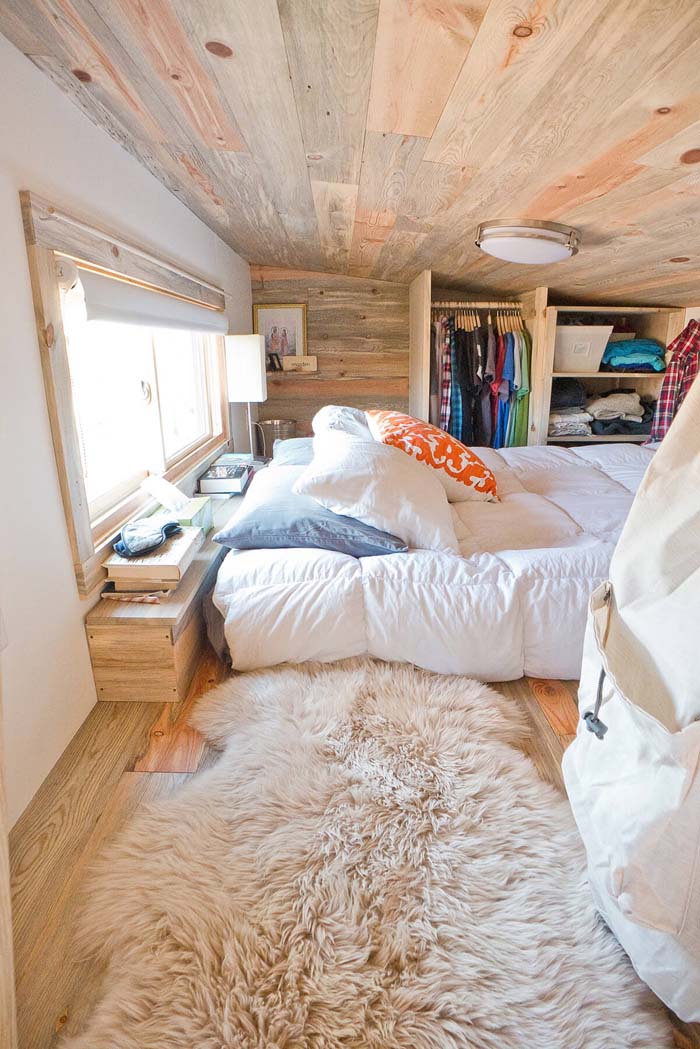 The attic spaces are very romantic and cozy. All that plus the inclined ceiling usually contributes to turning it into a bedroom.
Usually, attics require customized furniture that will follow the curve of the ceiling.
via IDesign Arch
9. A Comfortable Place to Stargaze at Night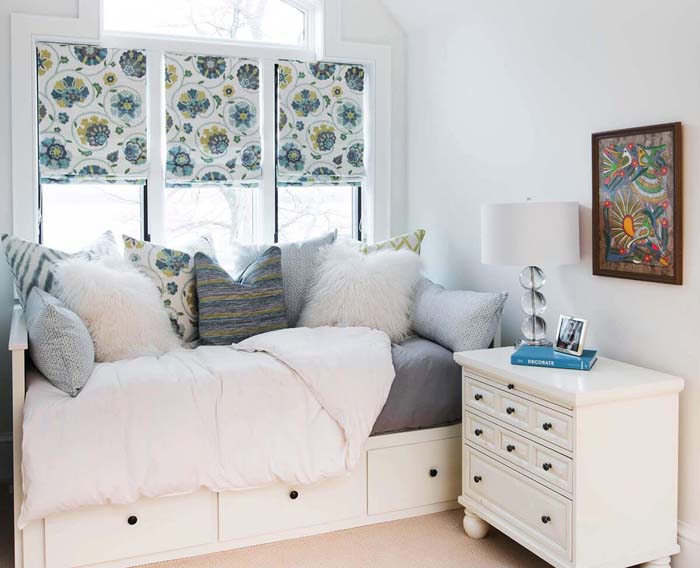 A bed next to the window becomes a favorite spot not only for sleeping and relaxing but also for spare time activities like reading a book or watching TV.
A trick to change the look of the sleeping feature into living room furniture is to add pillows that form the back of the sitting area.
10. A Comfy Bed with a Small Dresser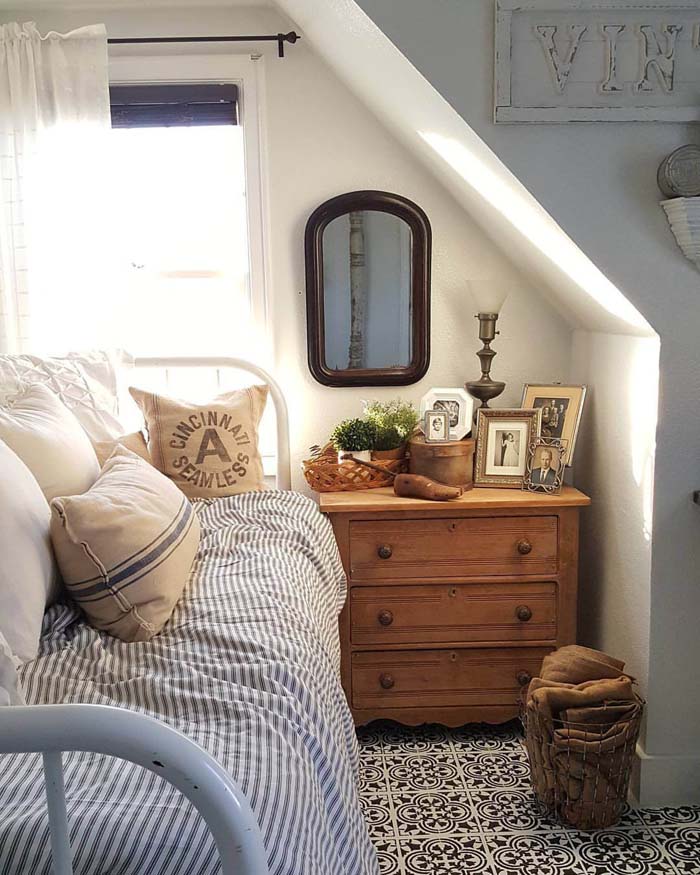 Use the corners for storage furniture. If you like the farmhouse design, combine a metal-framed bed with rustic wooden dressers.
They can be used to store clothes, accessories, make-up etc.
11. Corner Living with Lots of Pillows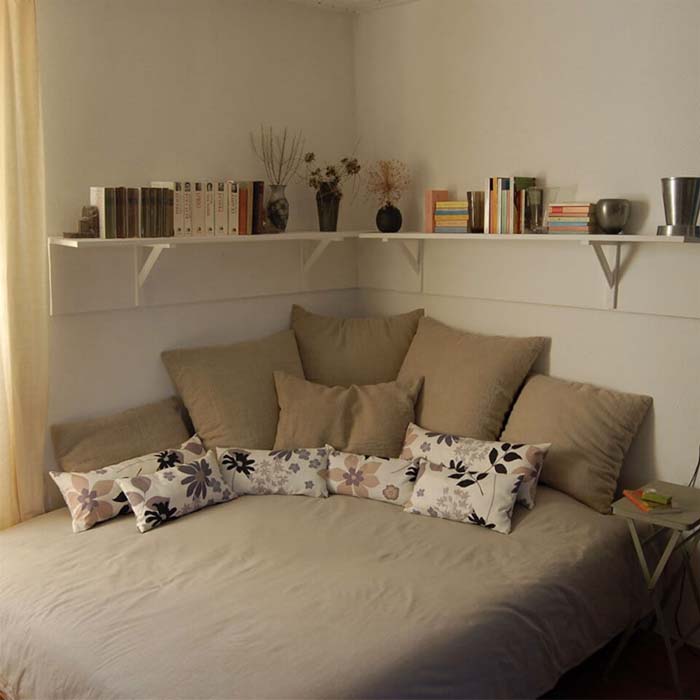 Position the bed next to the walls to leave as much free space as possible. Use the vertical space above for shelves to store books, decorations, reading lamps.
If you use the bedroom also as a living area, add pillows during the day to form a seating area.
12. A Corner Night Stand with Light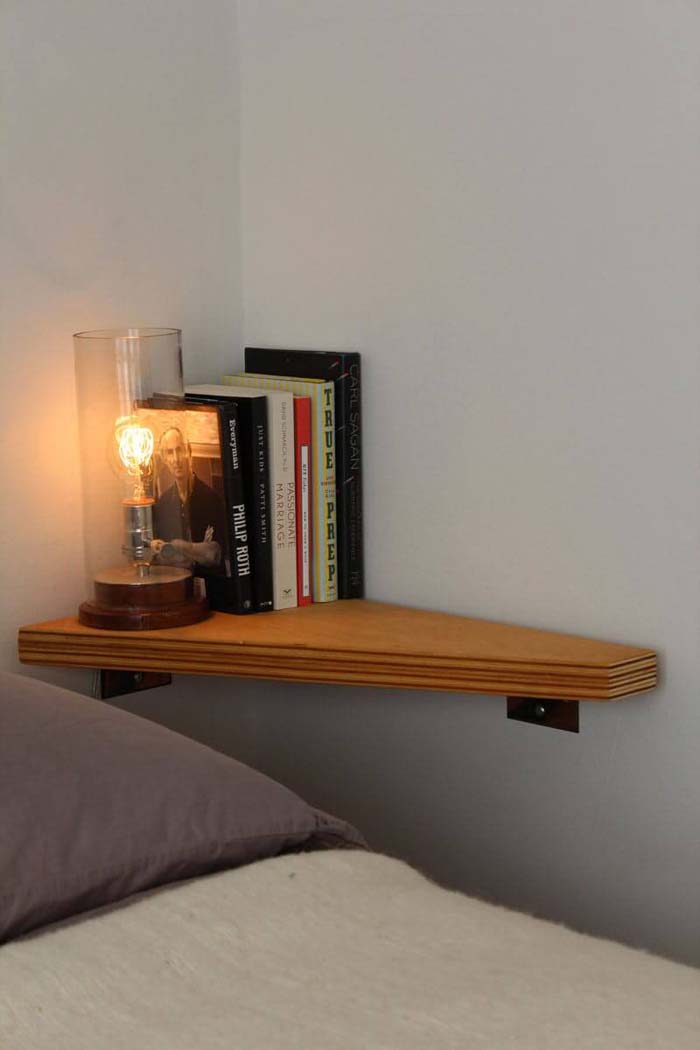 Consoles positioned at the corner above the bed seem to be very convenient when it comes to small bedroom furniture.
They provide just enough space to place a reading lamp, a few books and gentle decoration.
13. An Elevated Bed with Shelving and Storage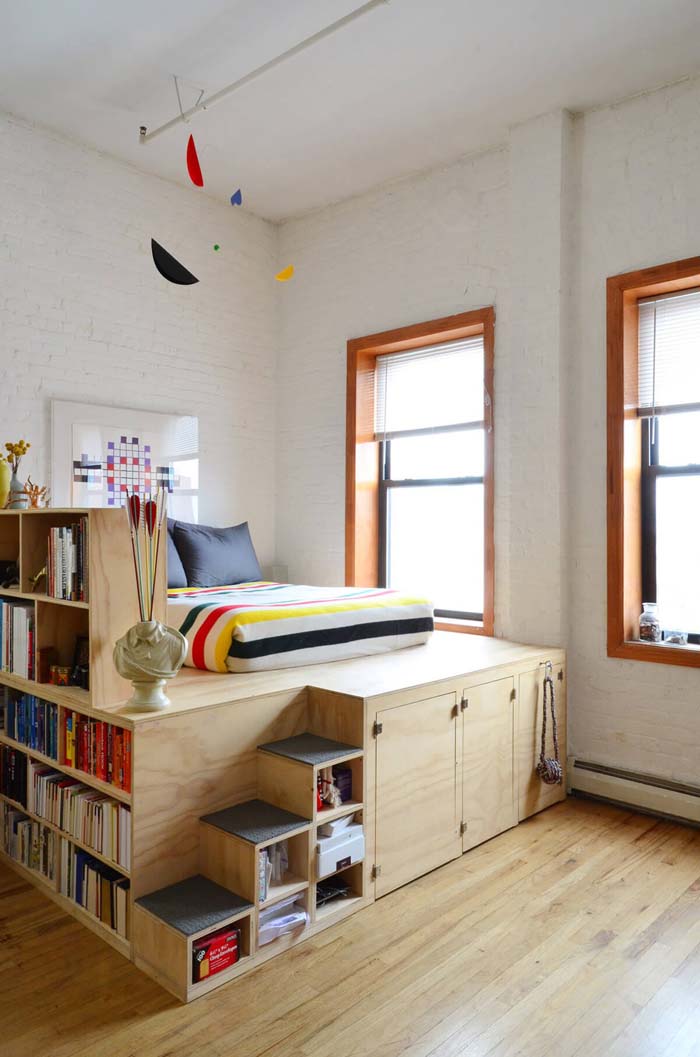 Drawers underneath the bed are a great idea.
The best idea though is to have a full storage system that will take up all of your stuff and will make the room look more organized and airy.
14. A Full Walk-in Closet Under Your Bed

Furnishing the small bedroom requires a lot of creativeness and non-standard ideas. This one is a masterclass example of a women's small bedroom where style, organization and comfort are at the top level.
The bed lies over a closet with shelves and hanger rods. For easier access to it, the bed can be lifted up via a push-up system.
15. Illuminated Canopy Overlooking the Soft Bed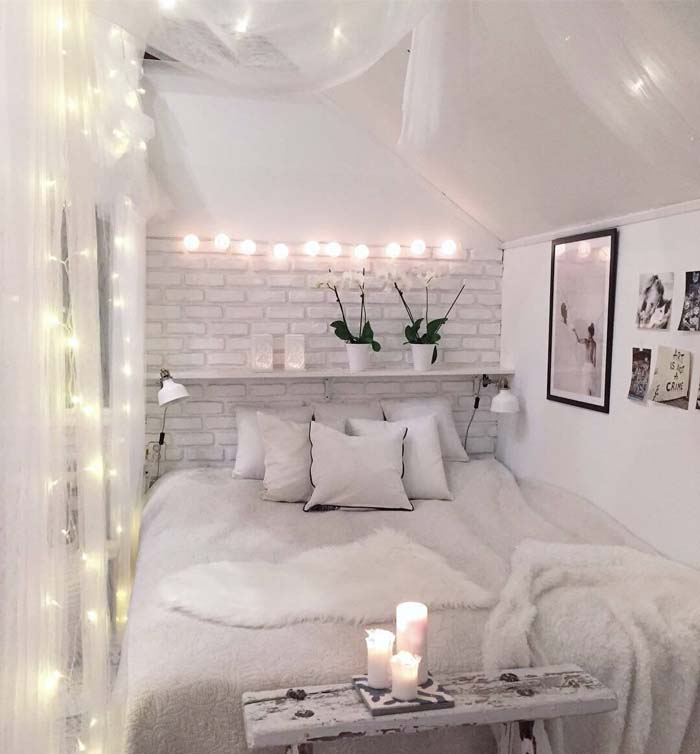 When natural light is not sufficient, you need to look for a way to make the small bedroom become more lit up. White color is preferable as it naturally reflects even the smallest amount of light.
Add fairy lights and LED candles to add a touch of magic and as an illumination source during the night.
via Tumblr
16. A Loft Staircase Full of Hidden Secrets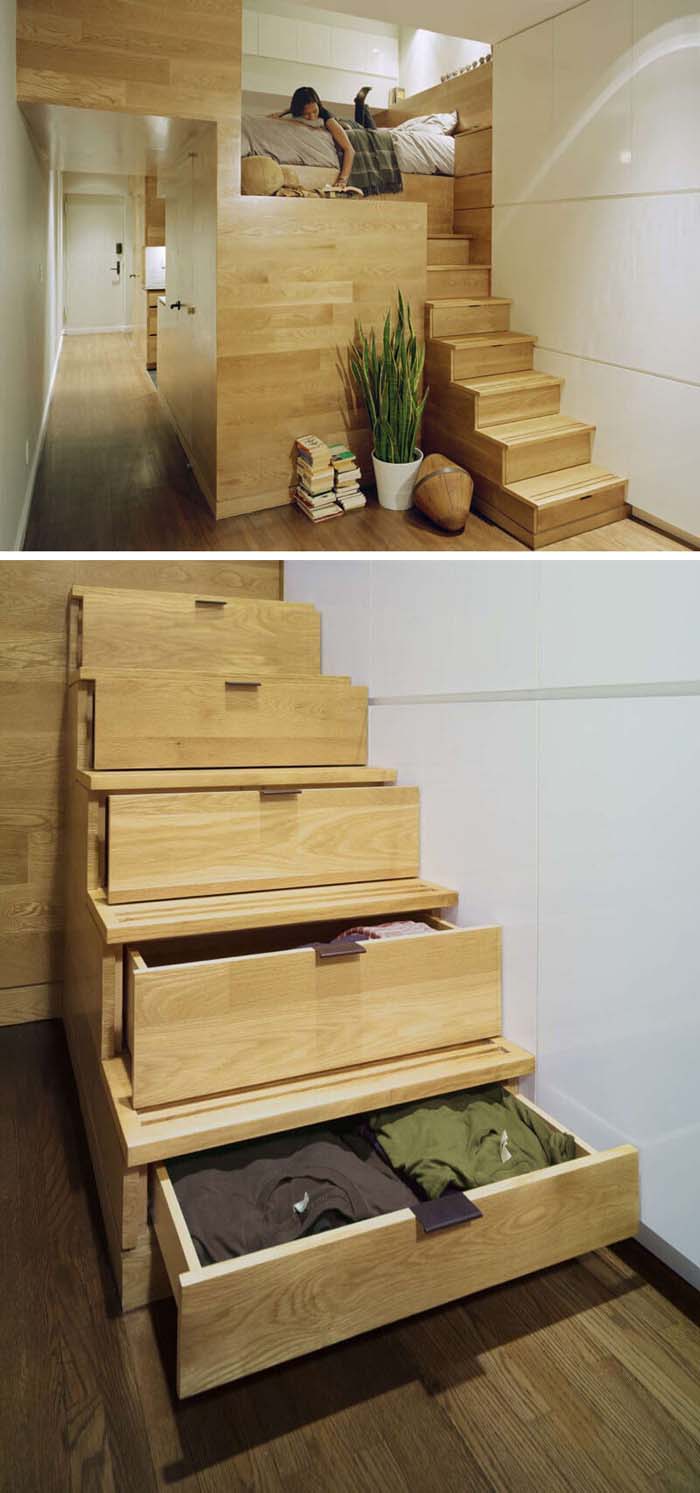 Live vertically! When floor space is limited, think about how to make a bedroom using vertical space.
If you don't have an attic, make a platform in the shape of a staircase and turn each step into a storage drawer.
17. Making the Most of an A-Frame Design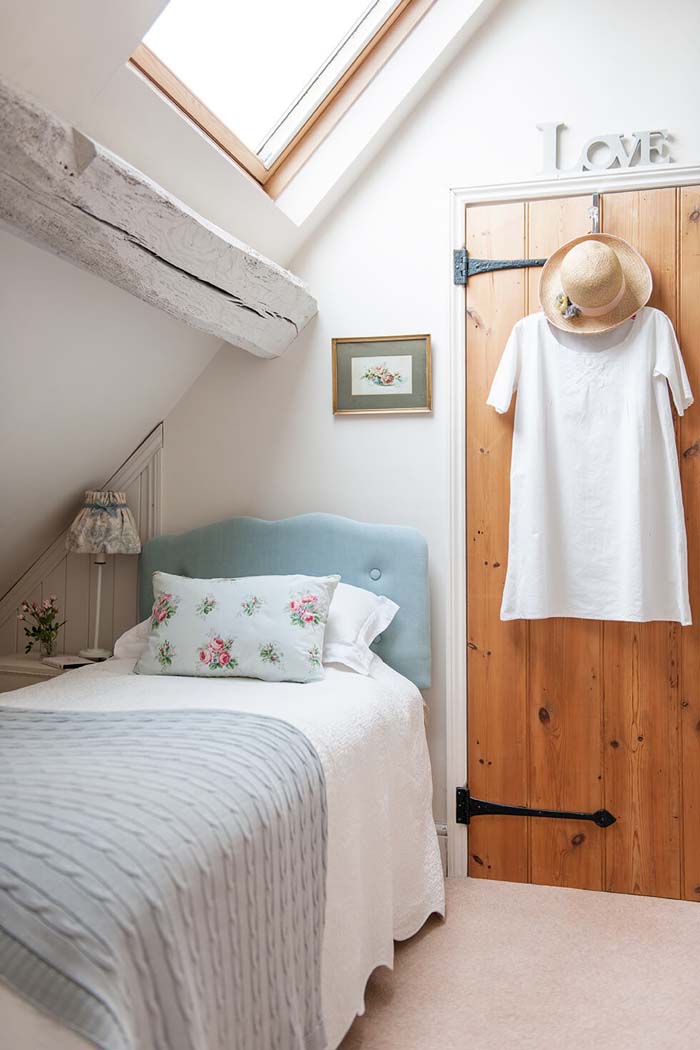 Even the smallest bedrooms can be very chic and comfortable.
Based in the attic, this one can accommodate a one-person bed and a nightstand following the line of the inclined ceiling.
18. A Movable Nightstand with Three Tiers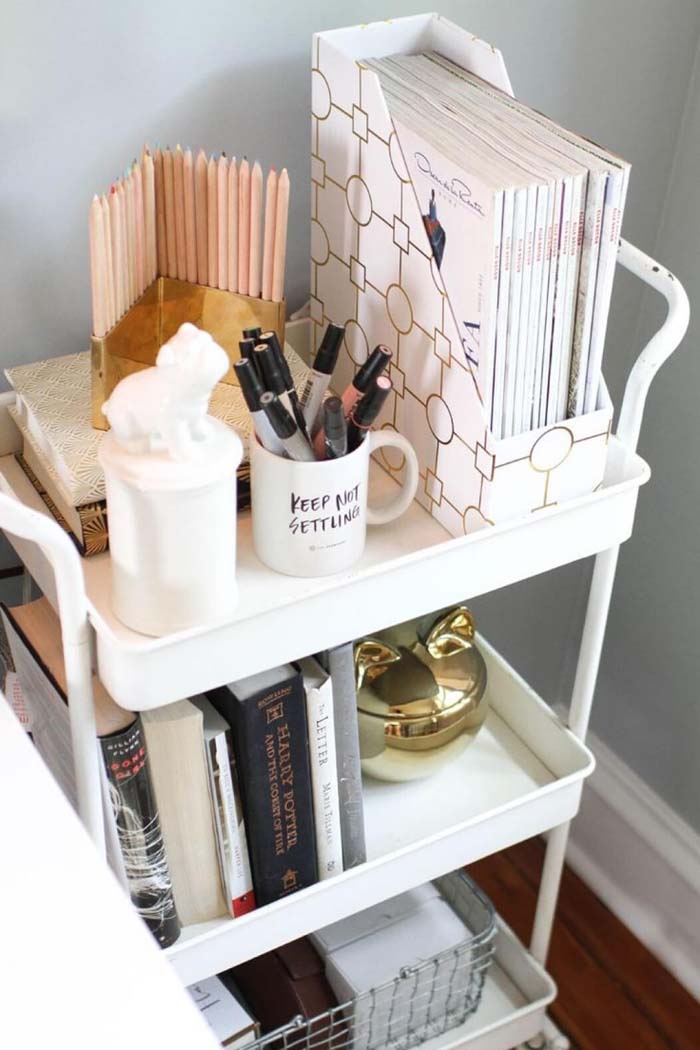 Remove all unnecessary and unpractical furniture and use others that take less space but accommodate more of your stuff.
19. A Murphy Bed with Ample Storage Space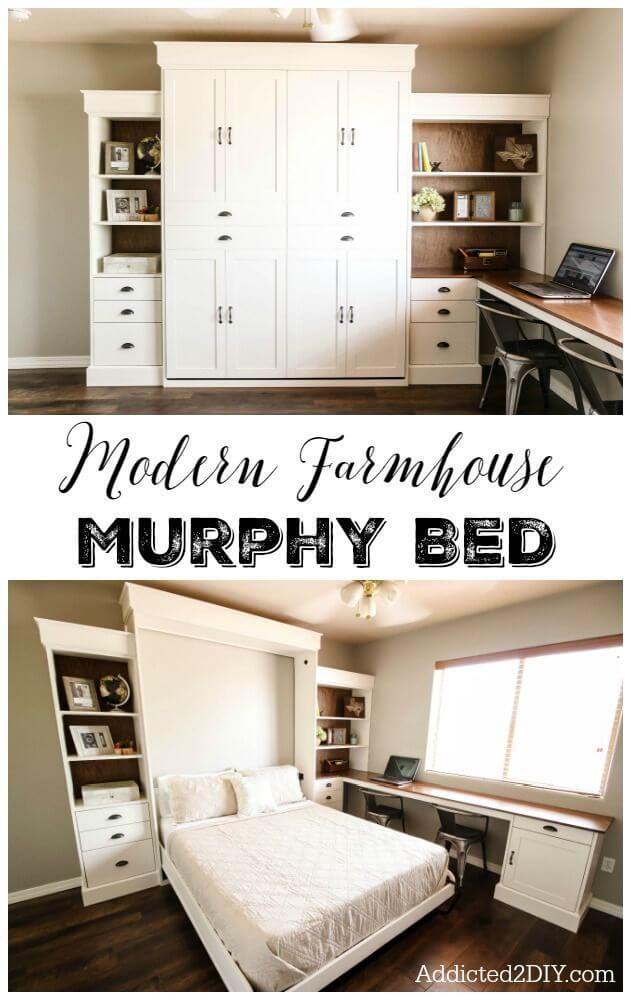 Murphy beds seem to be the standard choice when it comes to furnishing a small bedroom.
This one imitates wardrobe when unused. This decorative element cleverly blends the bed with the surrounding storage system.
via Addicted 2 DIY
20. A Platform Bed with Storage Below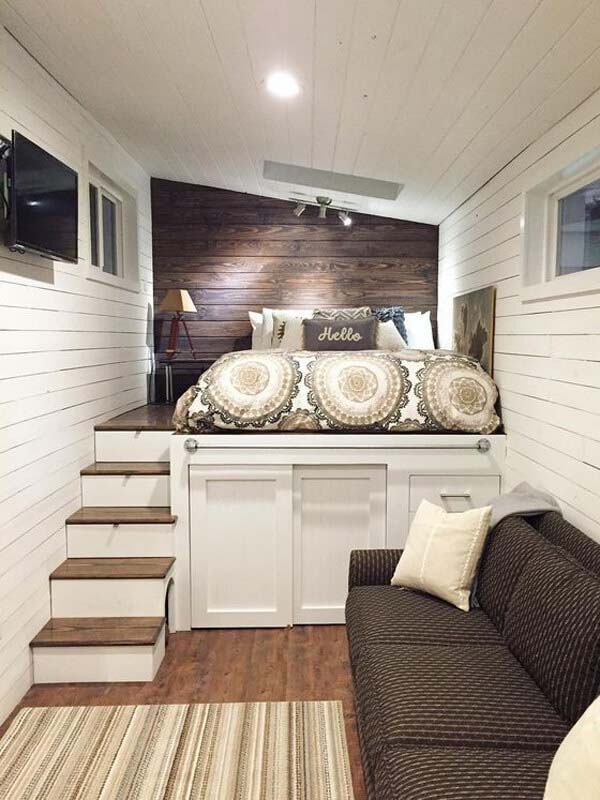 When you need to differentiate living nooks in your apartment, go for a platform bed. The footprint will be the same as if placing it on the ground.
The advantage of the elevation provides a vertical area underneath the bed for storage.
21. Plenty of Shelf Space Behind the Bed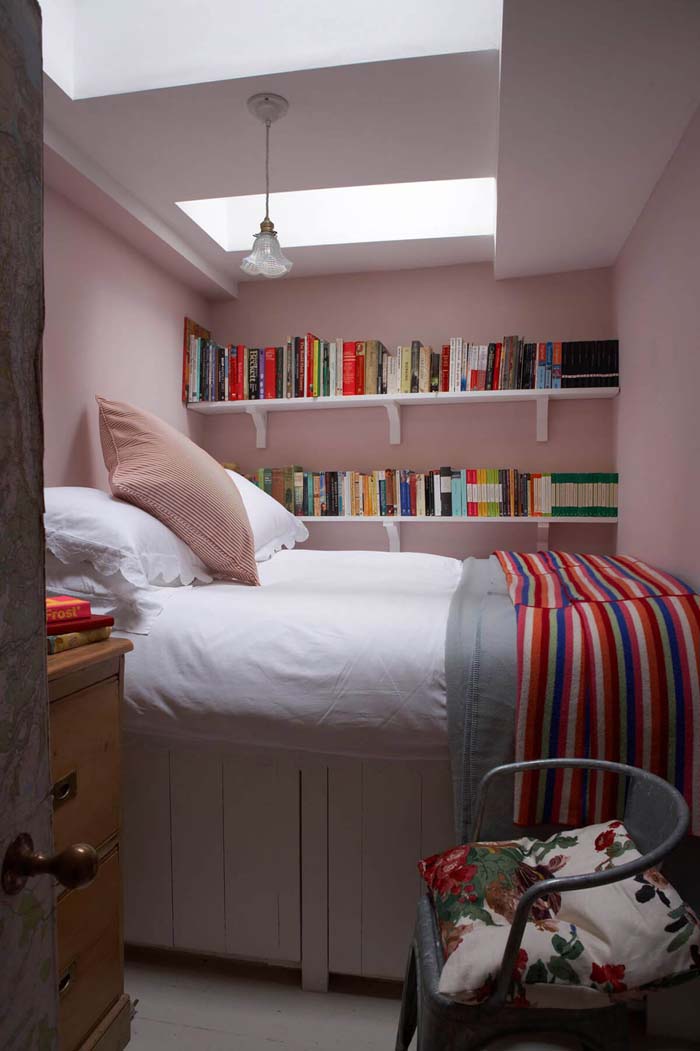 Add shelves on the walls when there isn't space for storage furniture. Choose between open consoles and closed cabinets.
22. A Raised Floor With Storage Galore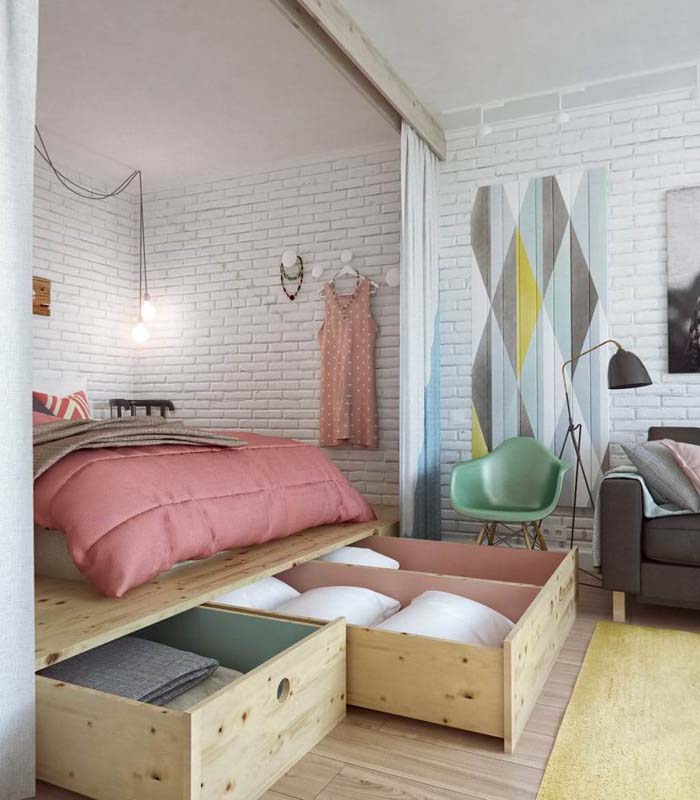 Be brave! Make a second partial floor and use the space beneath for storage. Make drawers that can be pulled out to ease access to the stored items.
The drawers will keep the stuff free of dust, more organized and will contribute to forming the second flooring as a finished level.
via Homedit
23. A Raised Loft with Bookshelves Below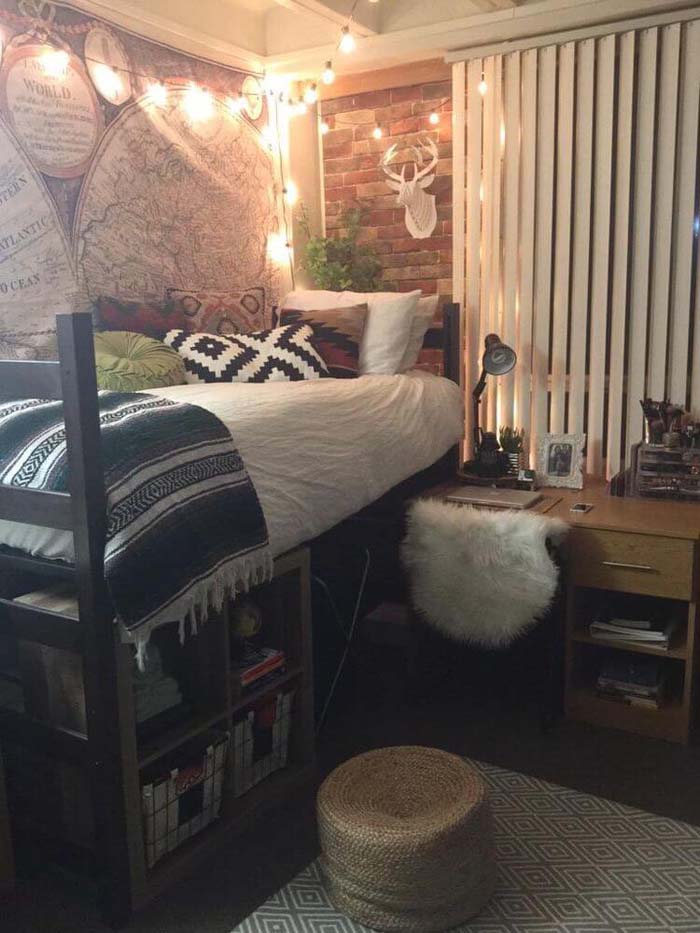 The vertical positioning of the bed doesn't have to be on a platform.
The structure can be of the open type as in the image above. Use baskets or boxes to organize your stuff and keep it free from dust.
via Society 19
24. Sleep Tight Amongst the Cabinets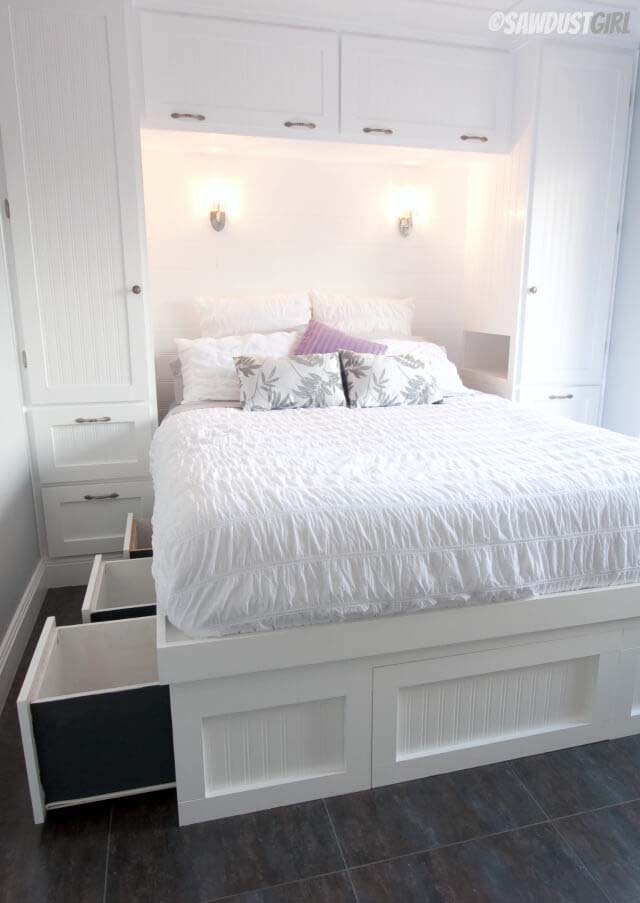 Change the limits of the standard space. The presence of a cabinet system in the shape of a U will not only increase the storage options.
It will create the illusion of a niche in the wall and thus naturally make the room look deeper and bigger.
25. Sleeping Space Hidden Away by Curtains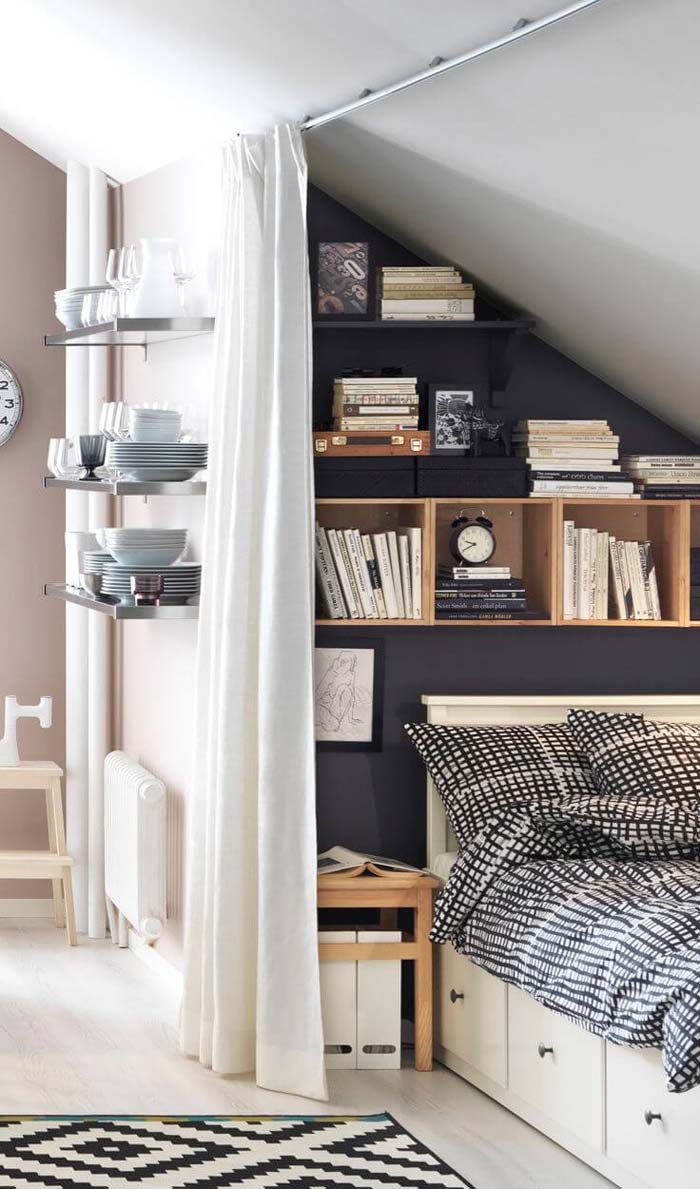 Differentiate the sleeping area from the rest of the living space with curtains.
They will quickly "close" the bed and form a bedroom where privacy and coziness exist.
via Homedit
26. Sliding Loft that Adjusts to Your Needs

The concept of this tiny space was to have an open spacious feeling.
Therefore the designers have smartly used the vertical space of a wall to create three transformation options- bedroom, living room and guest room with the help of rails for the top bed.
via Ana White
27. Small Bedroom Ideas with Splashes of Color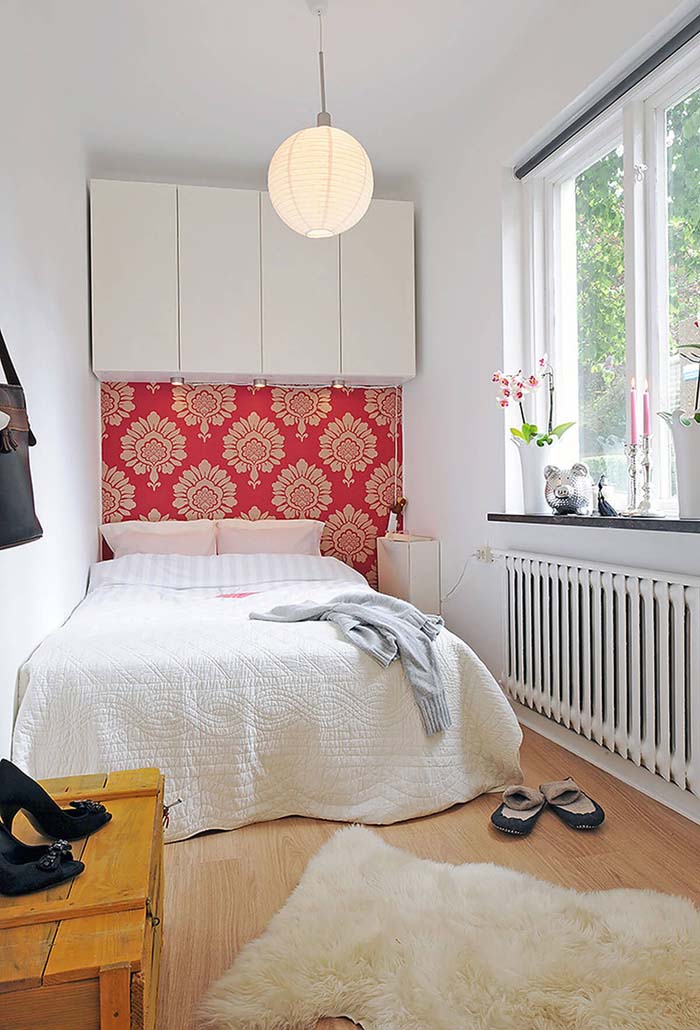 Only because the bedroom is tiny, doesn't mean that it has to be boring. Add a brave bright wallpaper on one of the walls. It will distract attention from the size of the room.
Don't forget to match the rest of the interior with the new bedroom accent.
via Decor 8 Blog
28. Small Bedroom Ideas with a Tall Bookshelf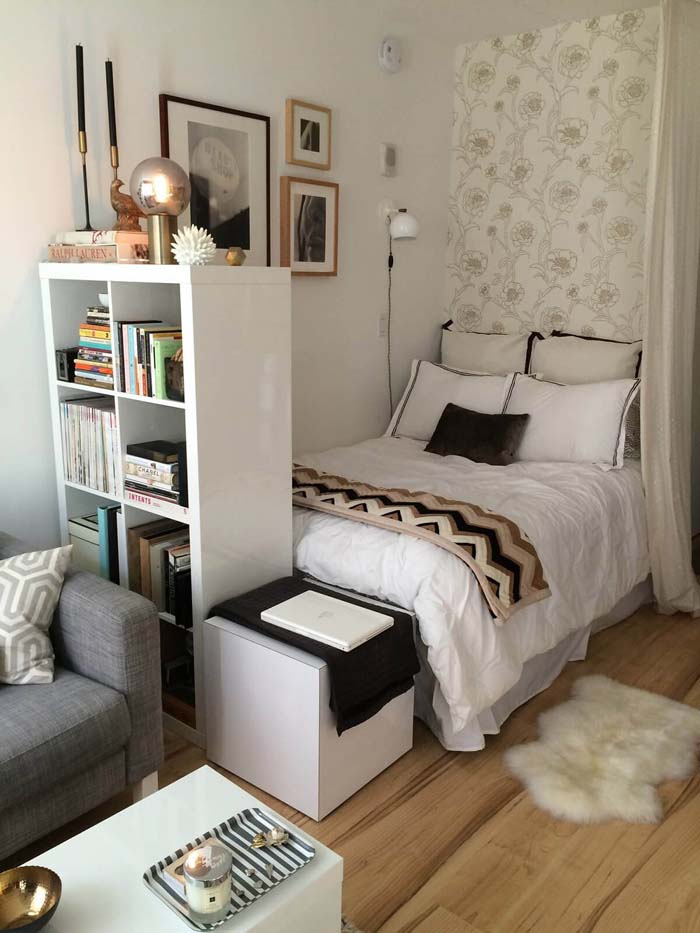 Large furniture is beautiful but it is also expensive and not always preferential when it comes to very small bedrooms. Instead, use tall bookshelves for storage and as a screen feature.
29. Small Bedroom Ideas for Tight Corners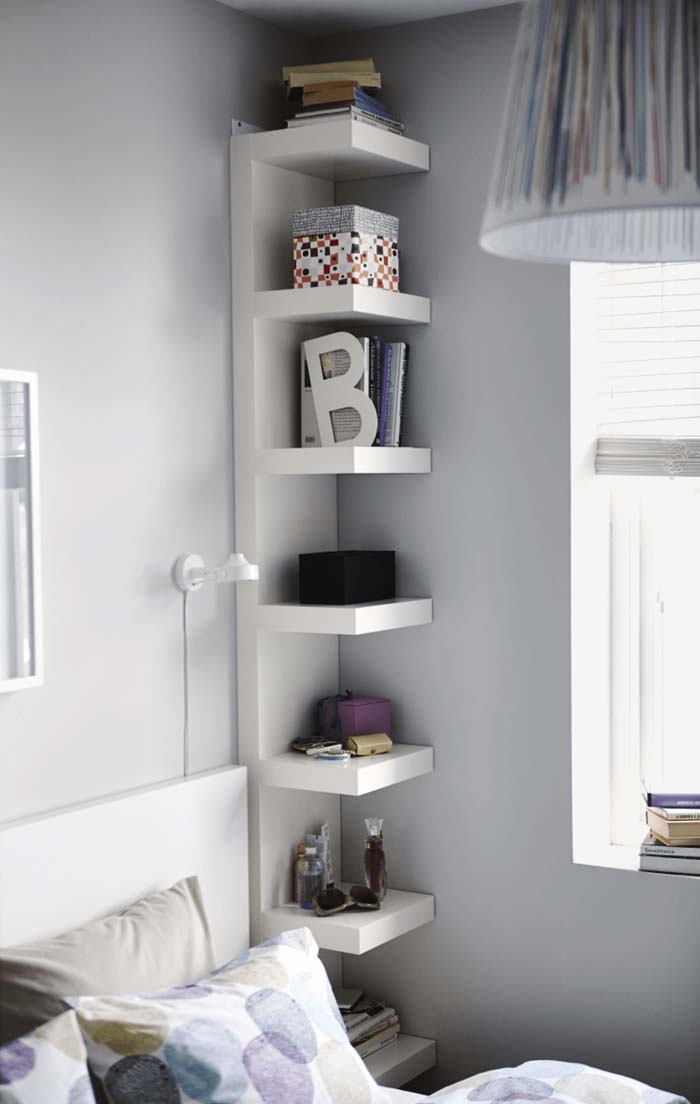 IKEA comes in help when looking for optimal organization of small spaces. This shelving unit is tight which makes it perfect for a night-stand alternative for a small bedroom.
Another advantage is the big number of shelves thanks to its height that provide enough storage places.
via IKEA
30. Soft Ruffled Bed Facing a Small Desk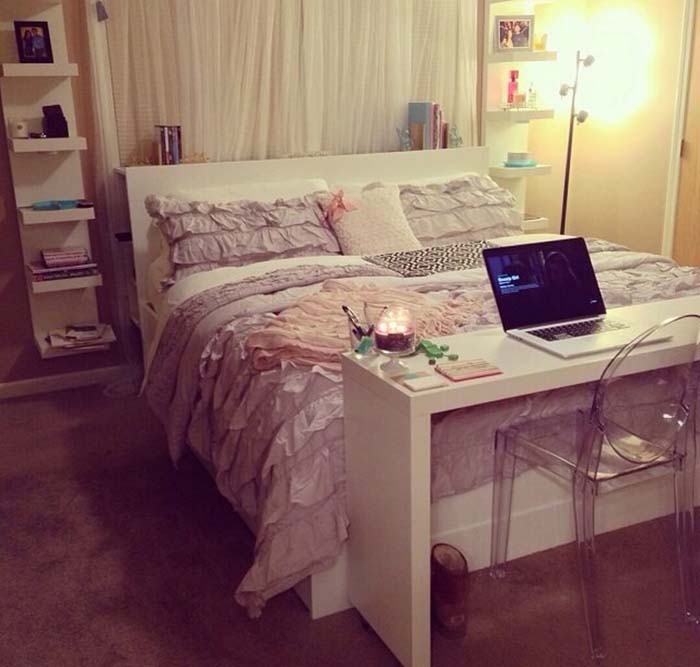 Small bedrooms can combine functional nooks. Very often bedrooms in small apartments are also used as offices. Place a small working desk close to the bed or next to a window.
31. Storage Space Underneath the Bed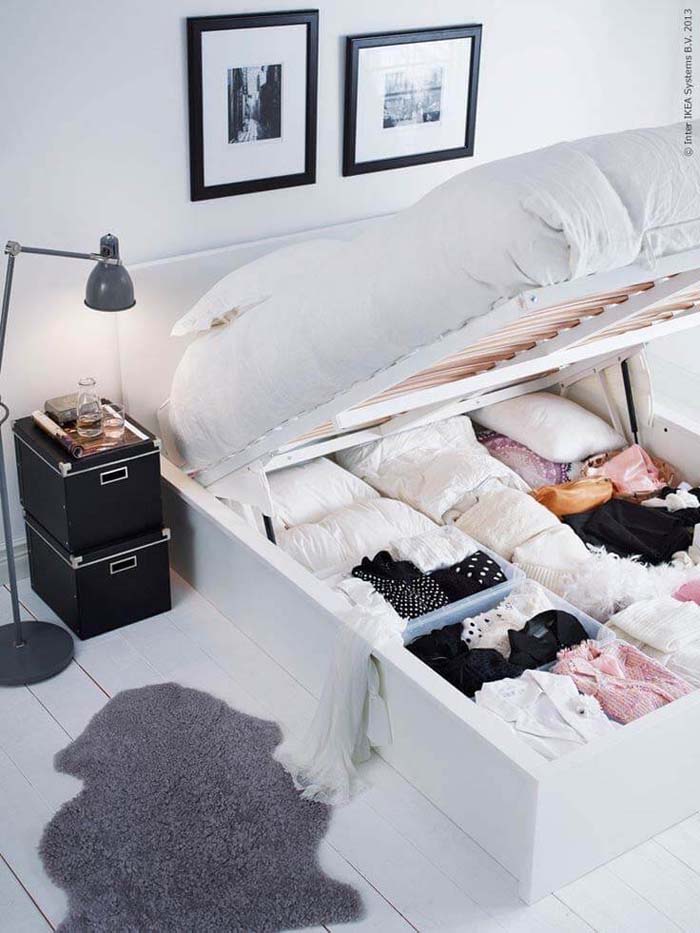 If your bedroom space is very limited and a drawer system underneath the bed is not an option, get a bed where the space beneath the mattress is used by lifting the mattress.
Add baskets, boxes and similar storage accessories to organize your stuff better.
via One Kind Design
32. Study Area and Closet Below a Loft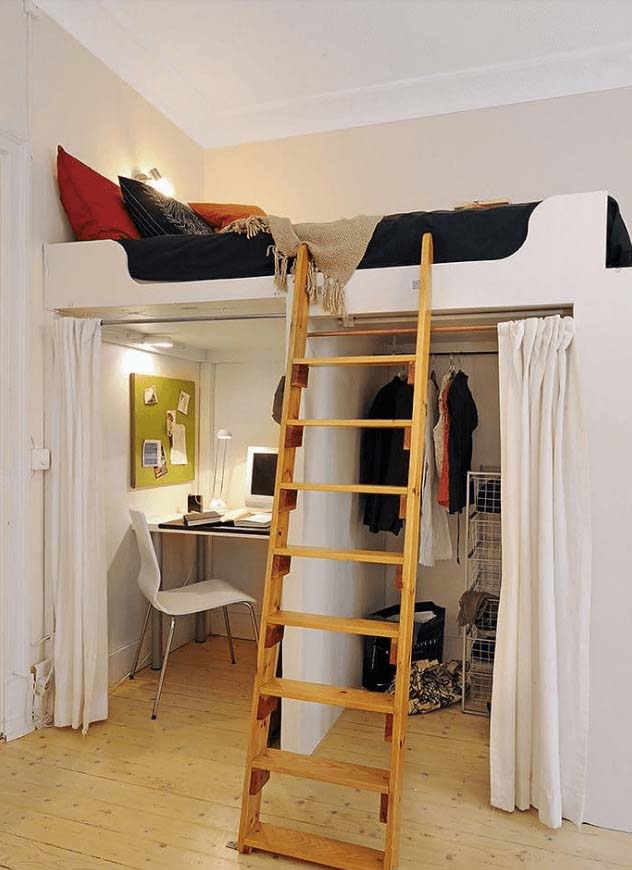 This is another example of a bedroom that combines multiple nooks.
The bed is lifted up high to leave horizontal and sufficient vertical space for a closet and studying area.
33. Under Bed Storage that's Easy to Reach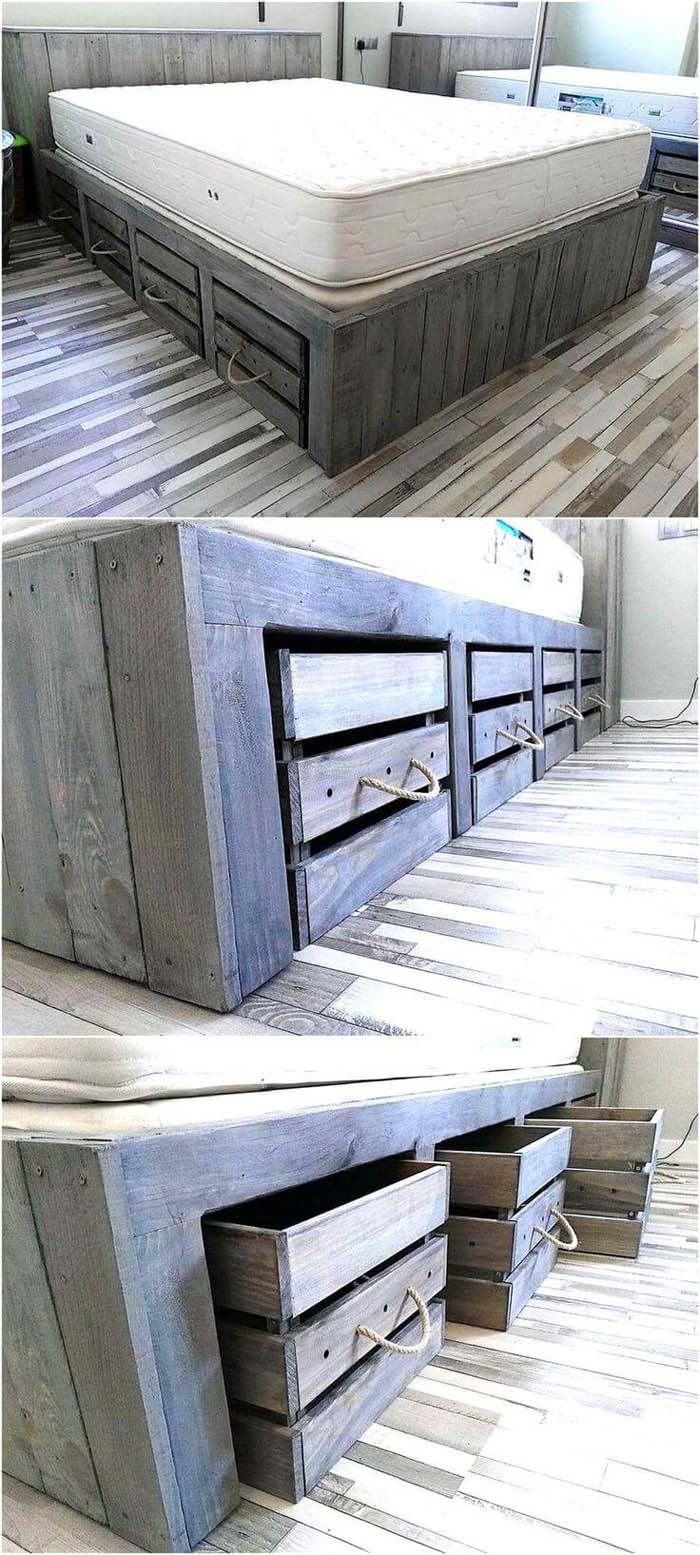 Use drawers underneath your bed which will give you easier access to your stuff.
This rustic version of a bed structure uses beautiful crates with rope pulls.
via Loretto Morel
34. A Vanity with Hooks, Drawers, and Lighting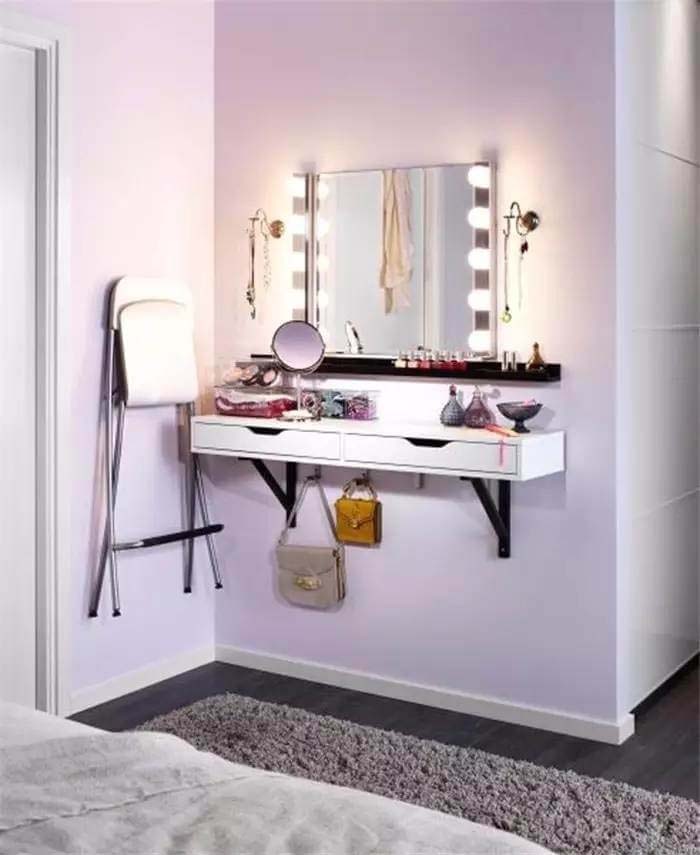 What is a woman's bedroom without a vanity? Well, if it is a small bedroom, the vanity must be practical and of small or no footprint.
This vanity version doesn't take up any space from the floor thanks to the suspended console wall attachment. The chair can also be hung to the wall when unused.
35. Wall of Shelves and Cabinets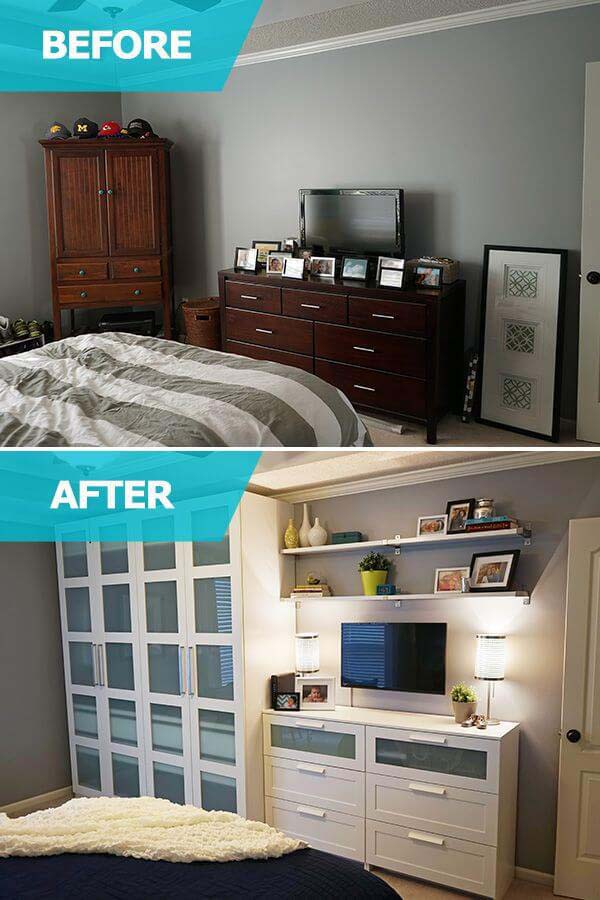 Instead of spreading storage furniture all around the bedroom, focus it onto one of the walls.
Stress on bright colors, multi-levels and clean lines to make space feel airier.
36. The Walls Become Your Closet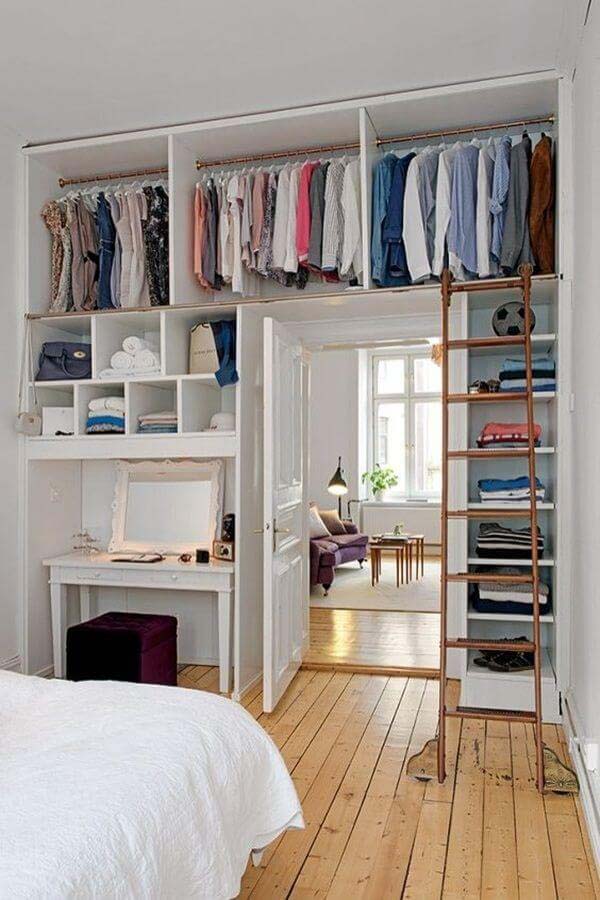 Utilize walls to store your clothes with built-in open cabinets. Use a ladder to access the top levels and also as a chic decoration of the room.
The same idea but with closed cabinets will also look fit well in the tiny space if in white or other pale colors.
via Iconscorner
37. Welcoming White Shelves and Green Plants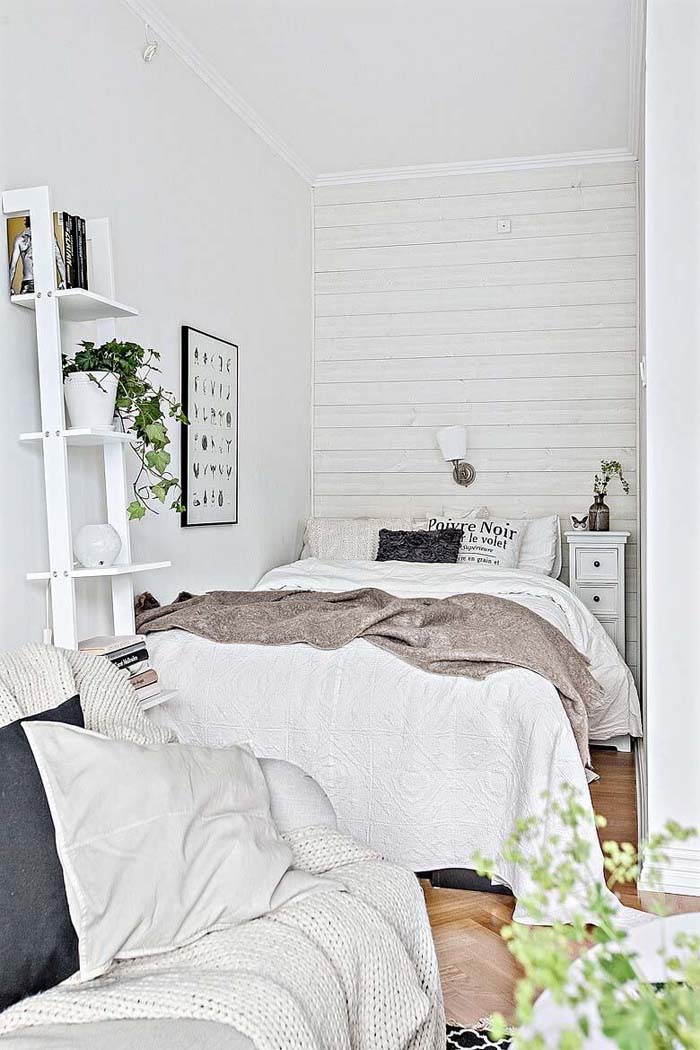 The ladder-like shelves are very trendy and also very suitable for small spaces. Their multifunctional application as storage and the decorative feature can act well also in a small bedroom.
In that particular case, the ladder shelving unit serves also as a divider between the spaces.
via One Kind Design