Everyone wants a bright, modern kitchen that instantly boosts the look and feel of their home.
Kitchen cabinets are a vital feature that can make or break a kitchen's overall design, and the hue of their paint is an essential factor in setting the mood.
Choosing just the perfect shades can quickly take your kitchen from dull and dated to inviting and on-trend.
Adding color to your kitchen can be fun and energizing, but with so many colors, it can take time to pick just one.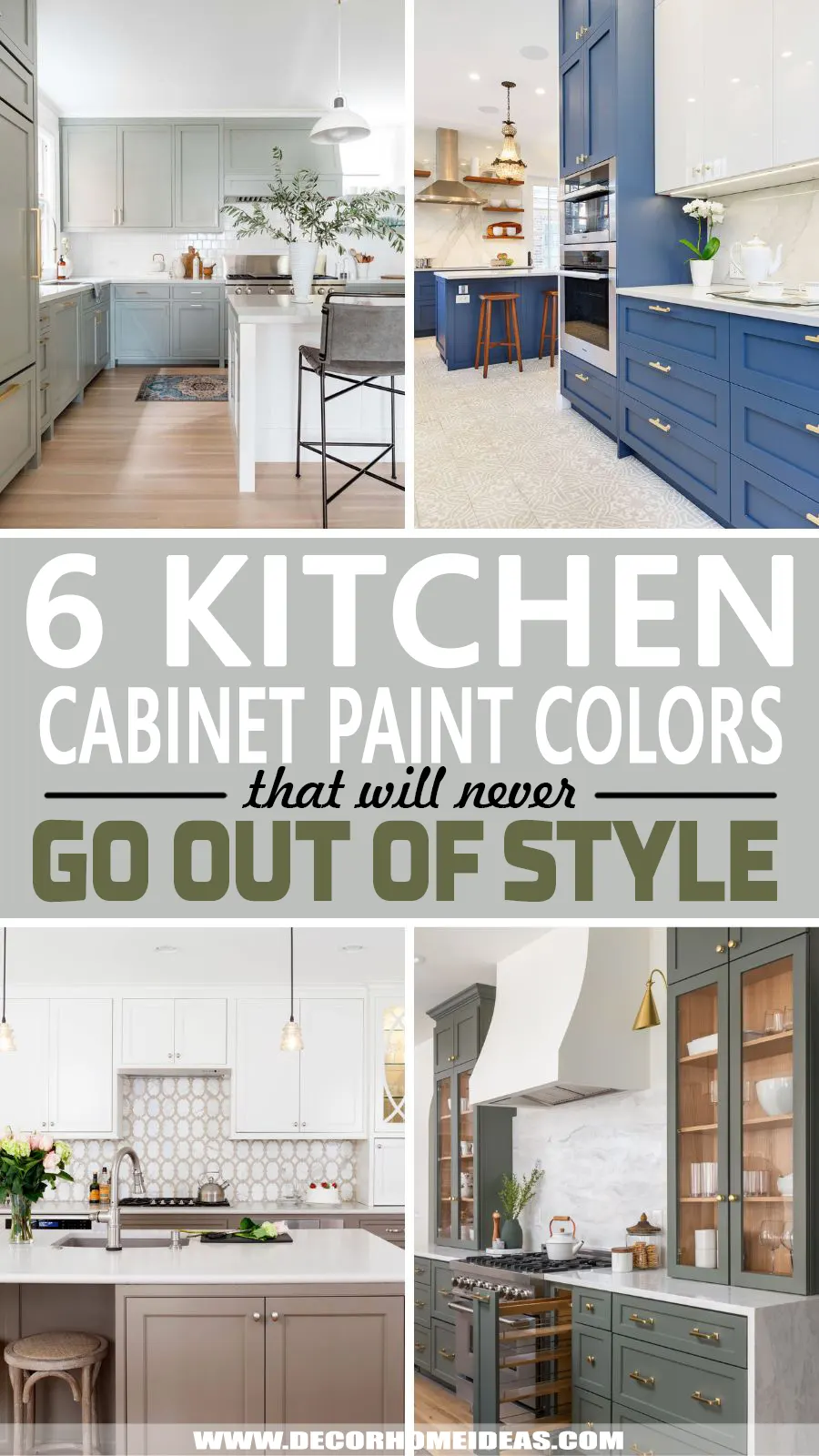 To help you find the perfect hue for your home, here are six beautiful colors that will help brighten and lighten any atmosphere for truly stunning results:
1. Pale Gray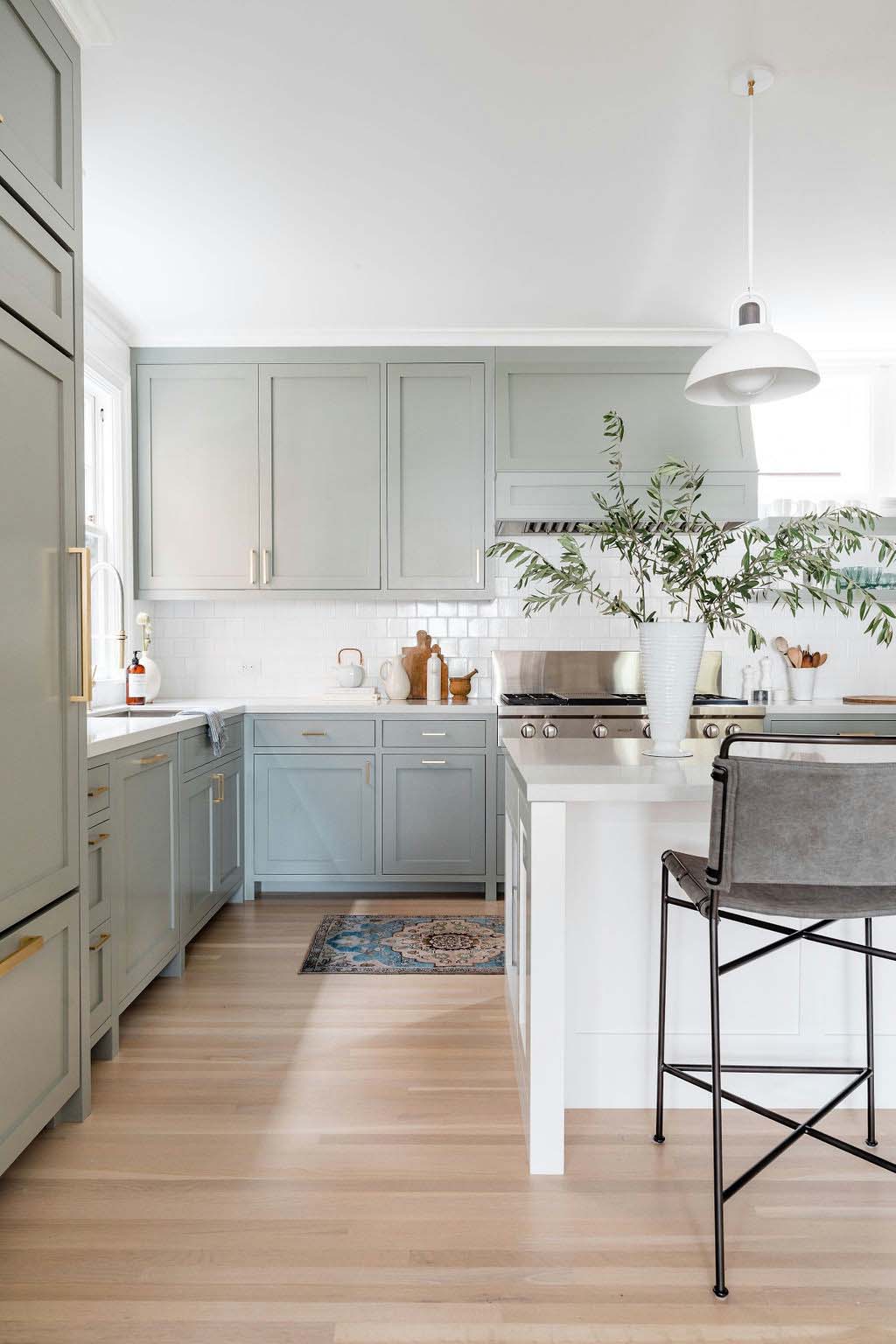 via FireClay Tile
Pale gray has been a popular choice for kitchen cabinets lately, adding subtle sophistication and a modern feel to the kitchen.
This color is flattering in any space, allowing you to create a chic, timeless aesthetic. With its delicate hue, pale gray is attractive yet not overwhelming; it can serve as an excellent backdrop for any other colors in the room.
Try pairing pale gray cabinets with white walls and natural wood floors for an elegant yet cozy look that adds depth and dimension to the space while keeping things simple and modern.
Pale gray also offers versatility and pairs well with different designs and colors.
For example, light-colored countertops can help maintain a bright atmosphere, while darker countertops provide an exciting contrast. In addition, mixing shades of pale gray enables you to create a unique atmosphere in your kitchen.
Whether your kitchen style leans towards modern minimalism or traditional style, pale gray cabinets can bring out the best. The tonal palette can create a pleasant atmosphere to cook and prepare meals while making your kitchen look comfortably welcoming home.
2. Green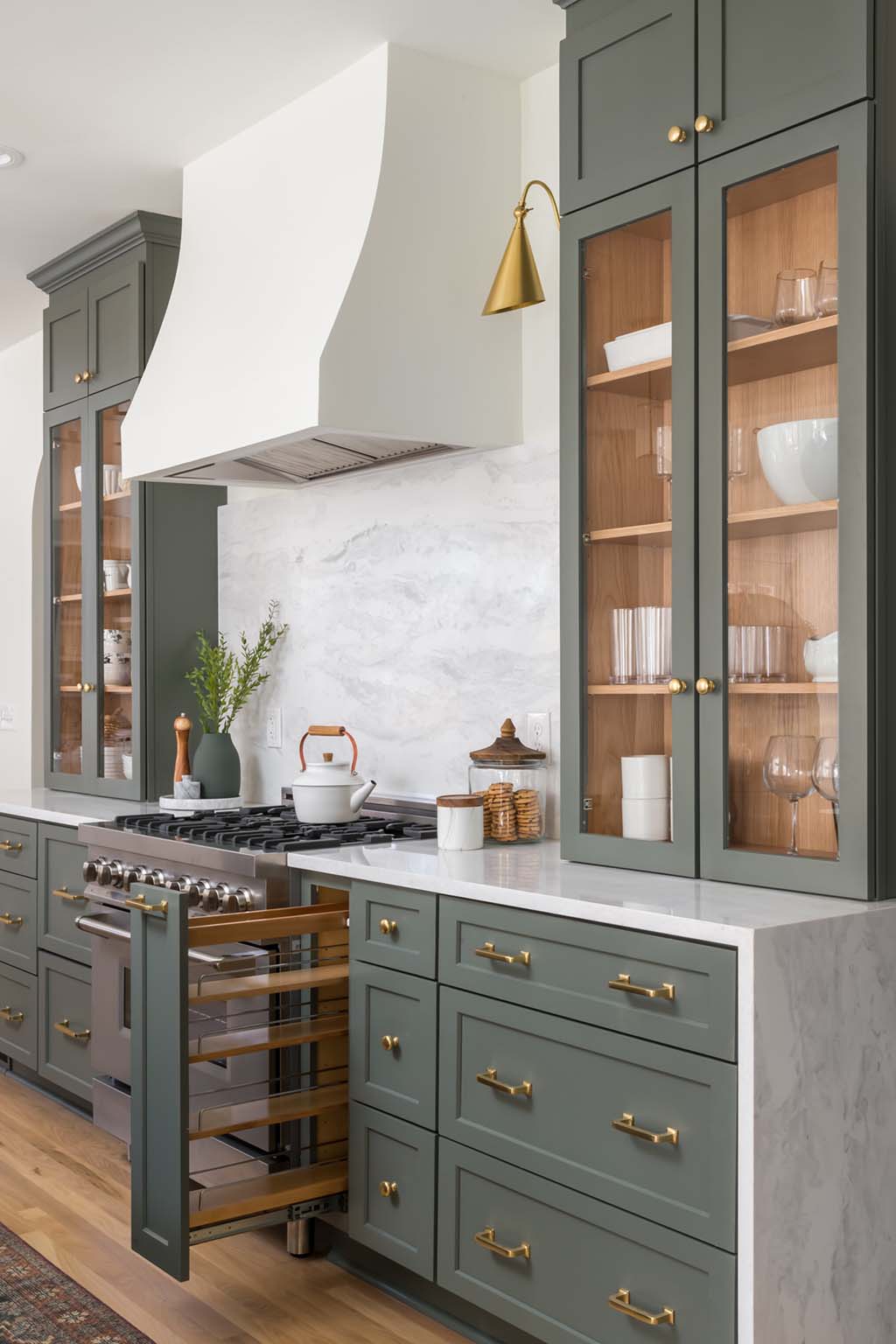 via Bradford Custom Homes & Remodeling
Green is a great color to use when painting kitchen cabinets. Its muted tones and natural vibes make it a popular choice for homeowners.
Whether you desire an accent wall or a complete reformation, green gives your cooking haven an on-trend feel while staying classic and timeless. 
Green adds a touch of brightness that can liven up the room but blend in with the other colors and textures. The splashes of color it provides can make an area stand out if used correctly.
Plus, it gives off an alluring glow further enhanced by subtle highlights that bring out deeper hues. With many depths and subtleties available, you can craft a look of sheer tranquility or radiant energy with the perfect combination of various shades.
Regardless of your taste, incorporating green kitchen cabinets into your interior design scheme will bring life to even the most mundane kitchens.
3. White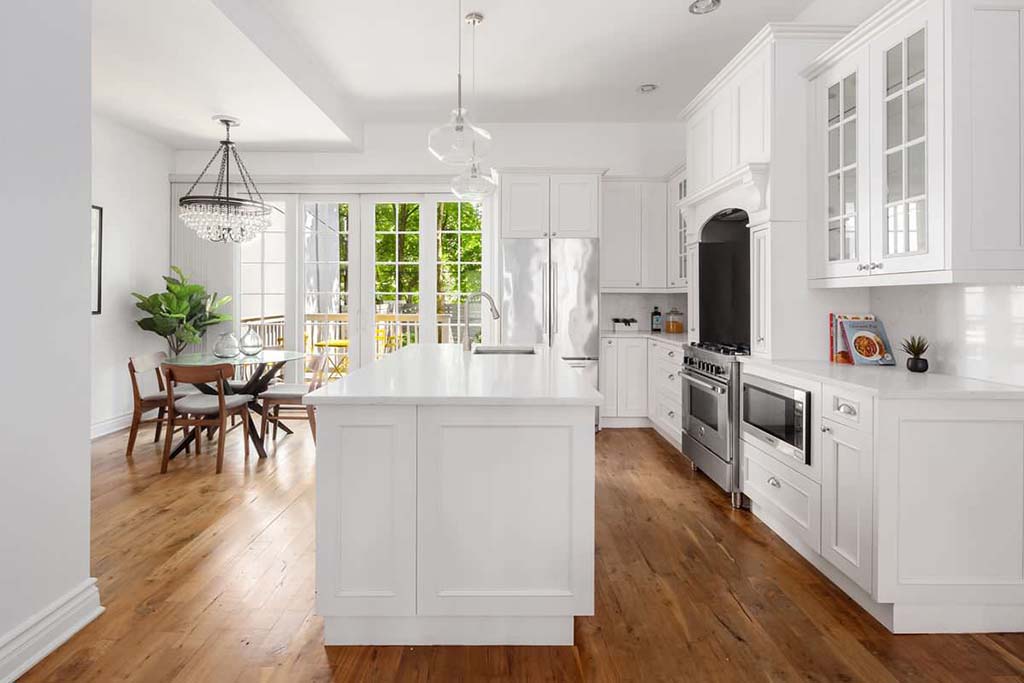 via Staged
White kitchen cabinets are a prevalent choice in home design due to their versatility and classic look.
Often chosen to create an atmosphere that feels welcoming, neutral, and simple; white endures as an old standby in kitchen color selections.
White allows maximum brightness to enter the room and for contrasting decor elements, such as accents and dark countertops, to stand out. 
The appeal of this timeless hue also lies in its ability to be mixed with different styles and interior aesthetics, allowing homeowners to update their space any time they want quickly.
Additionally, white cabinets reflect light efficiently, creating a feeling of openness no matter the size of the kitchen.
If you've been considering refreshing your kitchen or adding a touch of sophistication while creating a modern, airy atmosphere, white is an excellent paint color option.
4. Navy Blue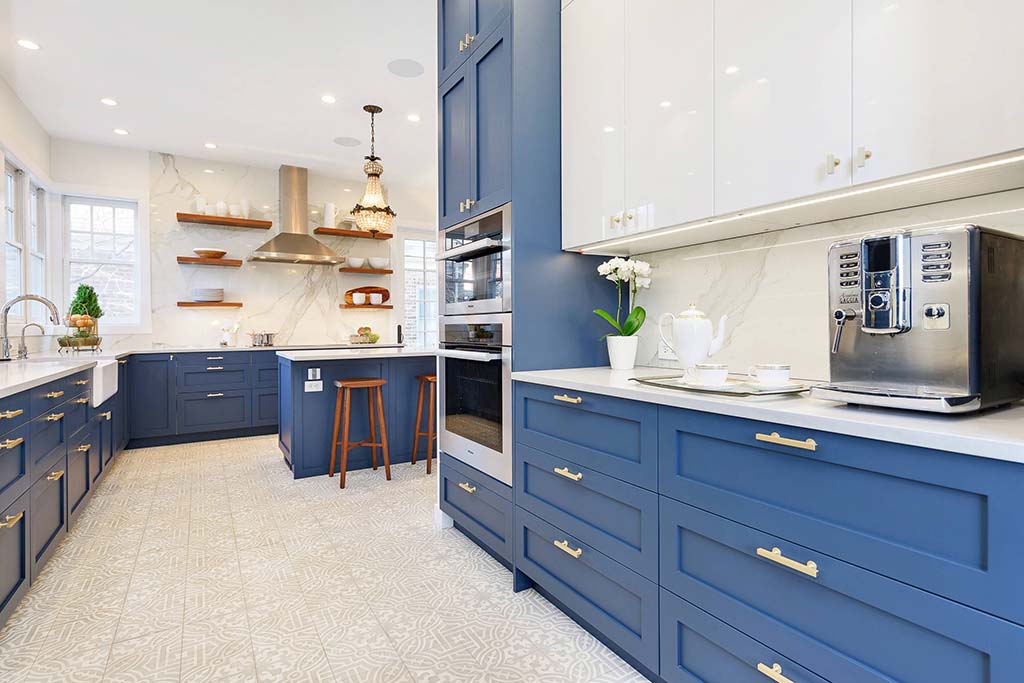 via SC Design
If you want to make your kitchen bolder, navy blue is an excellent choice. Navy blue can be a beautiful and dramatic palette.
It provides a sleek, modern look to any kitchen. It has the added benefit of being versatile enough to be used in many kitchen design styles, from traditional to contemporary.
The subtle sophistication of navy blue pairs perfectly with other neutrals, such as white or gray countertops or wall colors, evoking an unbeatable elegant ambiance. 
An excellent feature of navy blue is that it often provides the depth and contrast necessary for smaller kitchens without making them appear cluttered.
Using navy blue cabinet paint is the perfect way to revolutionize your kitchen into something never seen before.
5. Dark Gray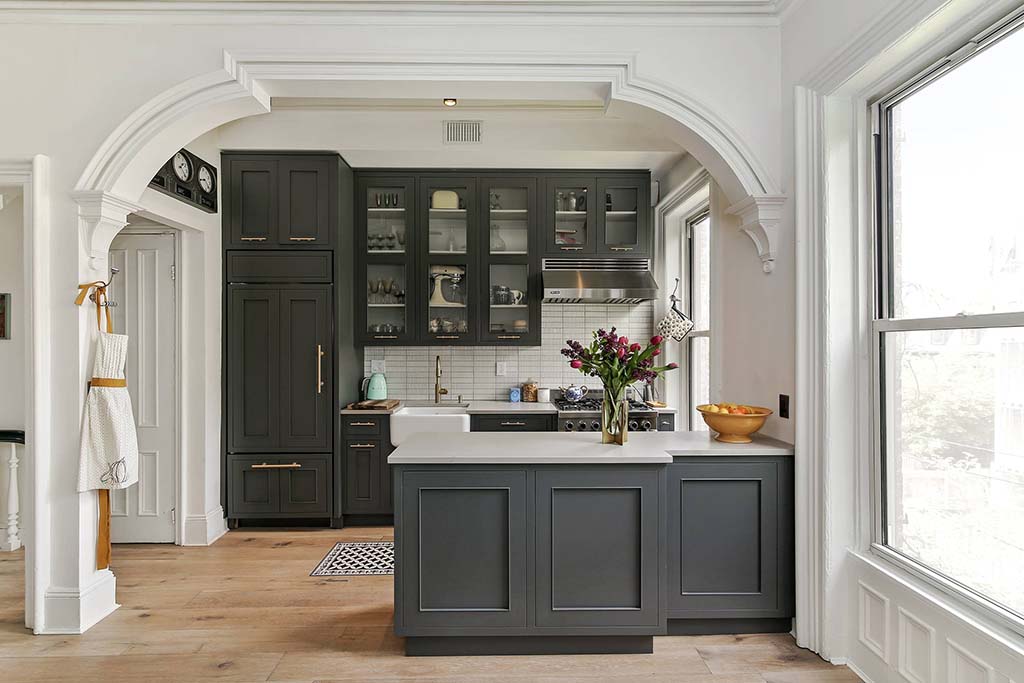 via Studio Geiger Architecture
When adding a dash of sophistication and drama to any kitchen, dark gray is an excellent cabinet paint color.
This classic neutral shade will beautifully accentuate other colors in the decor and reflect natural light while also making a bold declarative statement that adds luxury to impressive spaces. 
Choosing a dark shade like this gives actual depth to cabinetry that can effortlessly transition rooms into different periods as trends change.
In addition to its elegant aesthetic, this color is known for its longevity insofar as keeping it in good condition for years with minimum upkeep.
For those looking to make a bold statement, dark gray cabinets will make an impact without feeling overwhelming.
What better color than deep gray for immersing a kitchen space with warm tones and timeless charm?
6. Taupe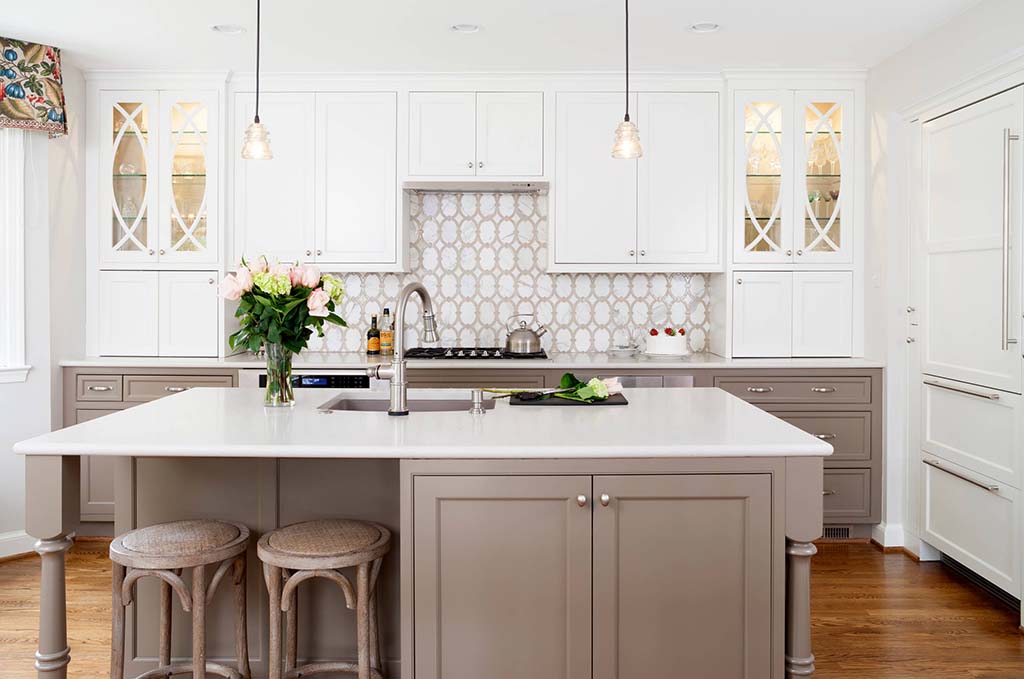 via Case Design
Adding a bit of warmth and earthiness to any space, taupe is quickly rising in popularity as a kitchen cabinet paint color.
Taupe is a great kitchen cabinet paint color if you want to add a muted, classic feel to your space. This color looks stunning when contrasted against white walls, white countertops, and silver appliances.
It's also perfect if you want to create an atmosphere of sophistication and luxury in the room without breaking the bank on expensive materials or fixtures.
The subtle hue of taupe is a lovely choice that won't overpower your other decor elements and can work in any kitchen style, from modern to traditional.
A bonus of this soft shade is that it can help blur outlines on woodworking features in your kitchen, creating a feeling of spaciousness and an open atmosphere.
For those looking for something organic yet elegant to bring personality to their kitchens, consider giving taupe a chance.
Whether you're going for something classic and timeless or something more vibrant and unique, these six cabinet paint colors will make your kitchen look chic and modern.
Not only are these colors stylish now—they'll remain trendy for years to come, so you don't have to worry about having outdated cabinets any time soon. So, choose one of these six hues for your next kitchen project. You won't regret it.