These 25 Christmas Crafts are a great way to start the crafting season. Some of them are perfect for beginners and kids, while others require specific skills.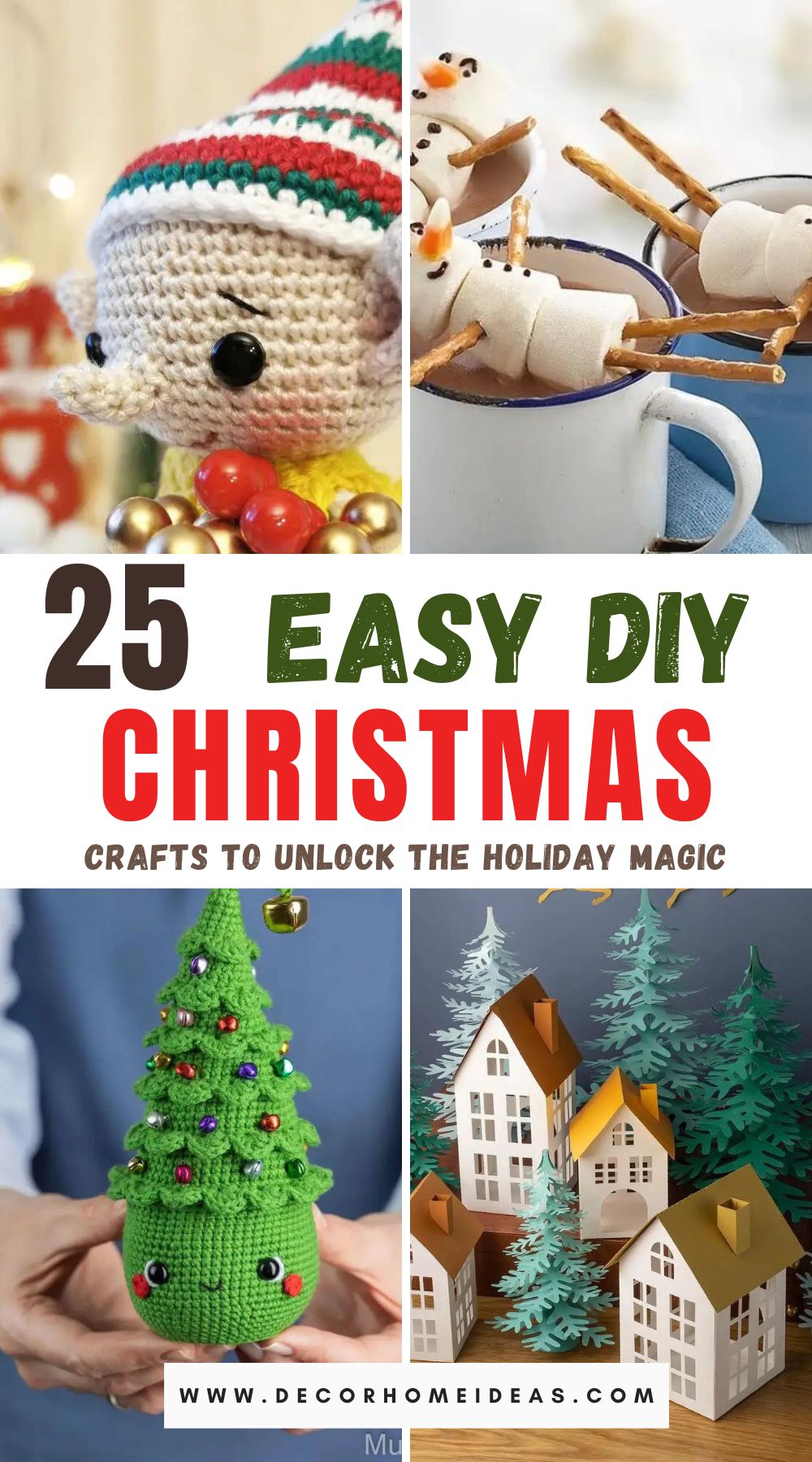 Get through all of them and pick up the craft that will make this Christmas more festive and special.
1. DIY Christmas Tree Ornament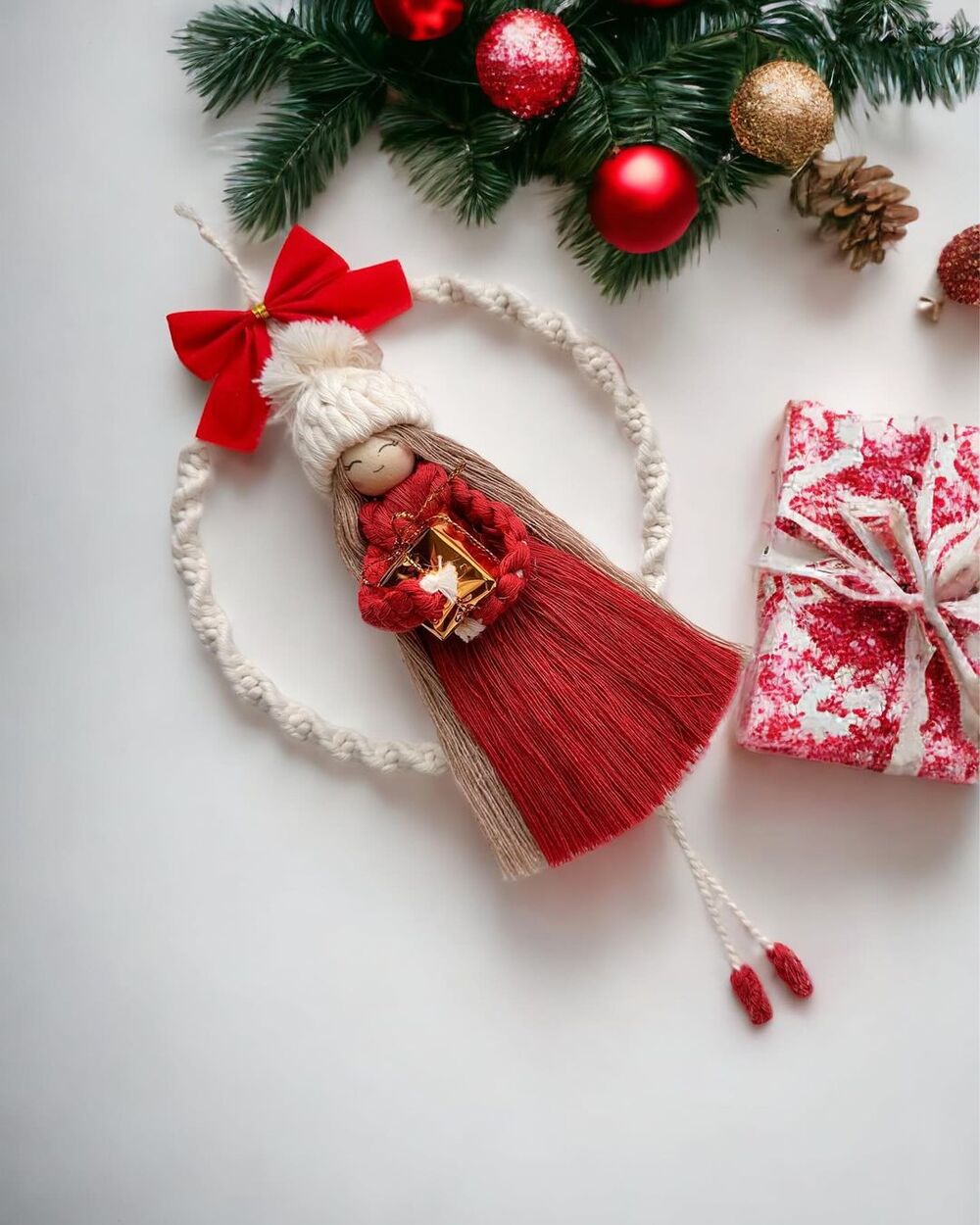 This Christmas ornament is so charming! To make it yourself, you need to have basic skills in crochet.
The supplies are red and white yarn, twine, a wooden bead, a small hoop that can be made by twisting a wire length into a circle, a small bow and a gift from the Dollar Tree.
2. Snowman Ornaments For The Christmas Tree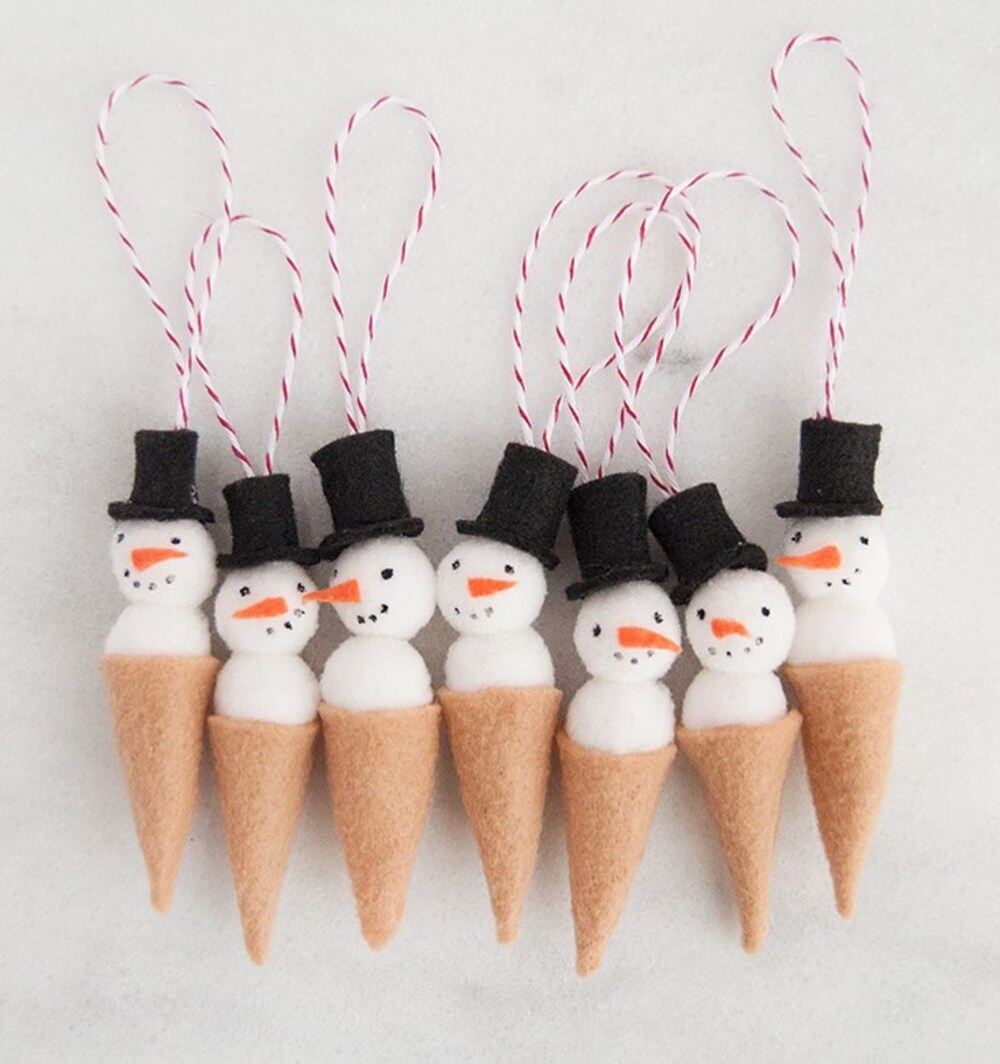 For these cute snowman decorations, you can get all of the supplies from Dollar Tree.
Glue the white balls with the hot glue gun, then drop a small hot glue dot in the felt funnel to fix the snowman. Highlight the eyes and the smile with a black marker.
Finish the ornament by gluing the carrot nose and cylinder hat made from felt.
3. DIY Embroidery To Use As Wall Hangings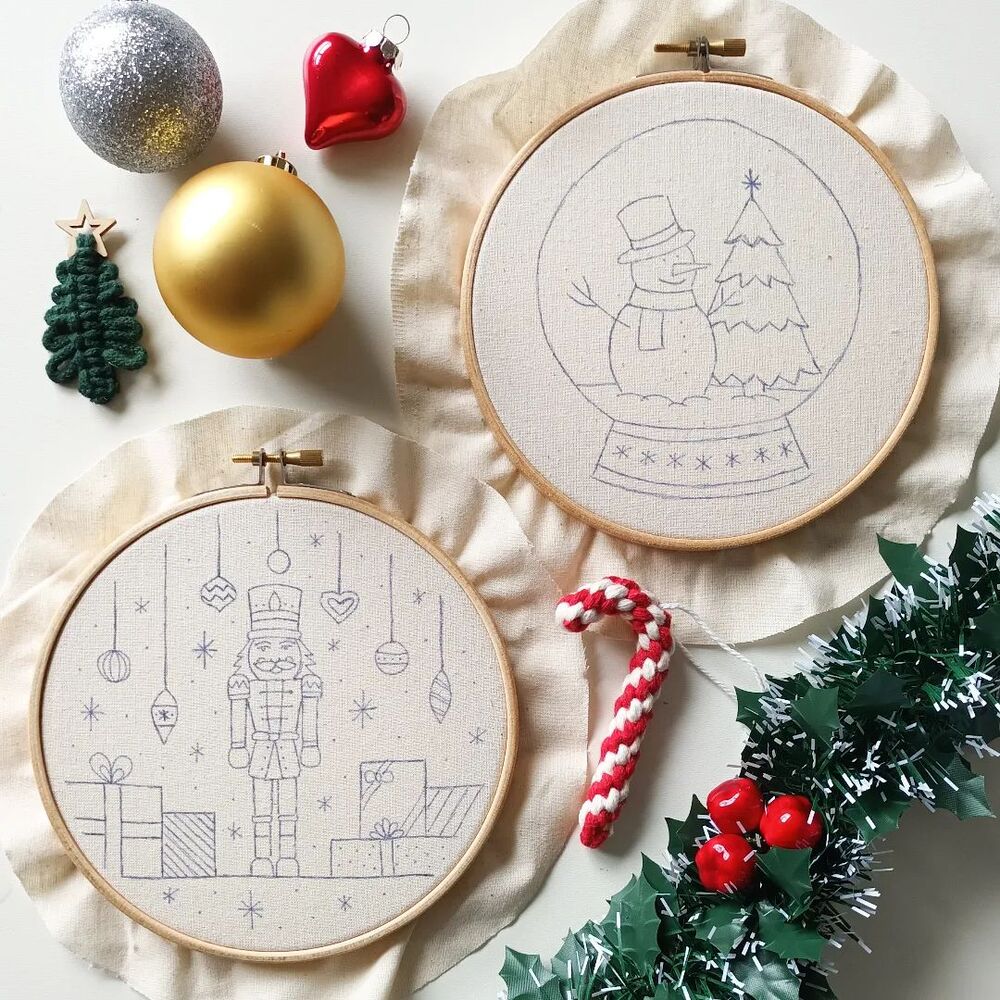 If you like embroideries, you will fall in love with this idea. They represent two famous Christmas fairytale pictures. When they are finished, you can hang them on the fireplace wall to make the ambiance more festive.
4. DIY Paper Ornaments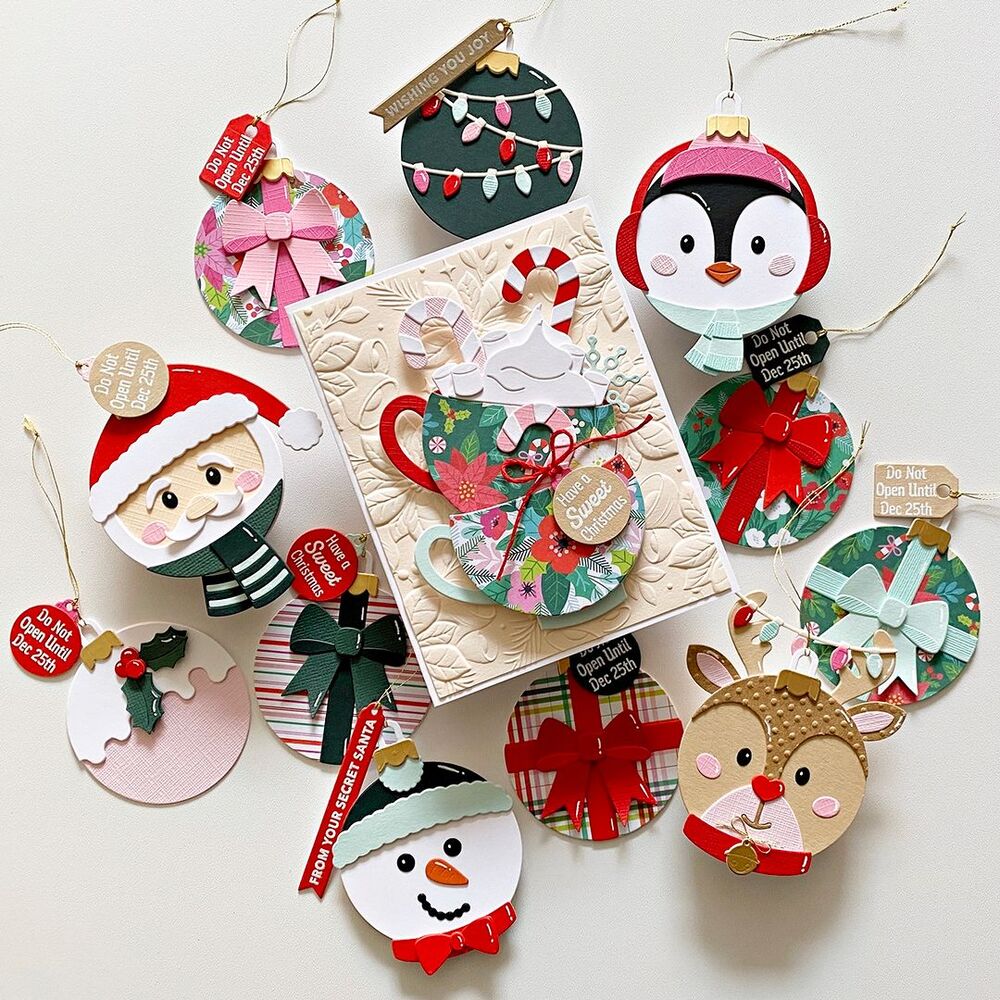 Paper crafts are always fun, so you can include your kids in the preparation process of this DIY ornament idea. Prepare different colors and textures of paper to achieve the layered finish of the ornaments and give them a more realistic look.
5. Easy Cut Paper Ornaments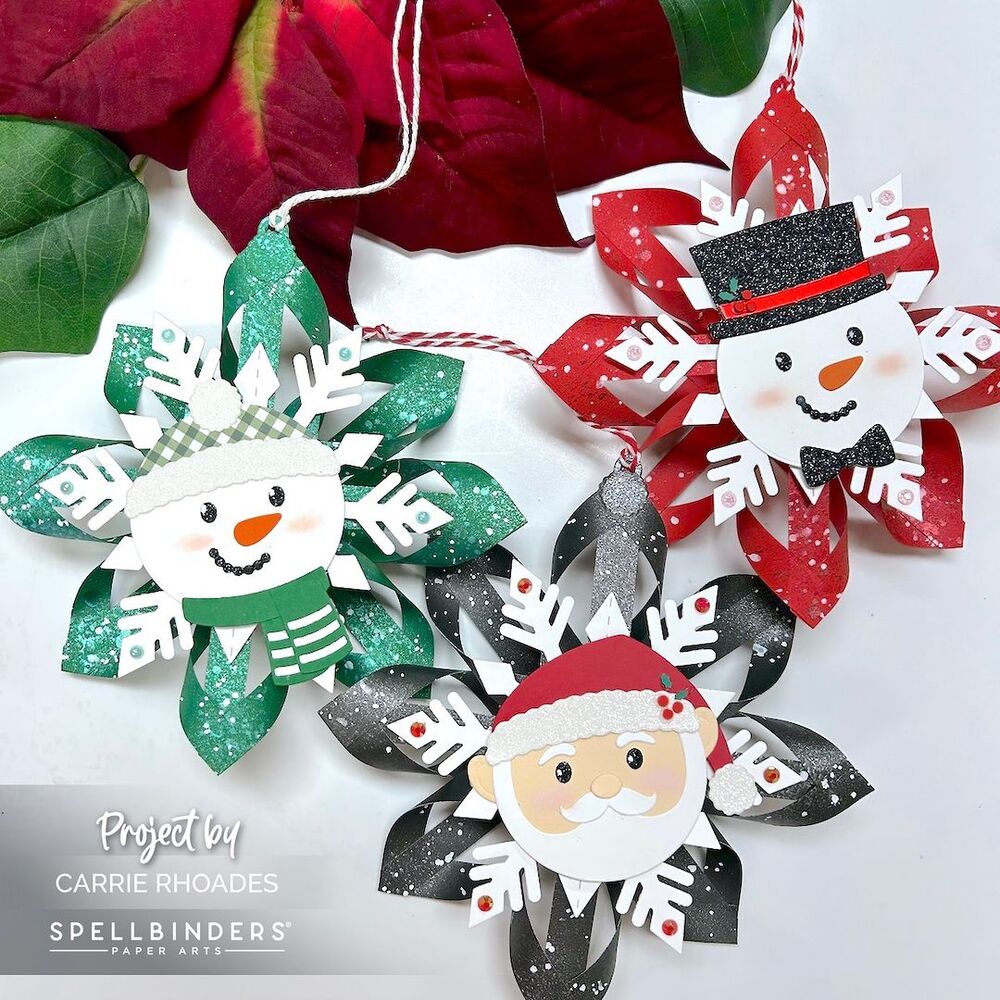 Another paper craft idea features cute Christmas symbols glued onto paper snowflakes. You may want to use a glittery paper finish for the snowflakes and some of the face parts.
6. Leafy Santas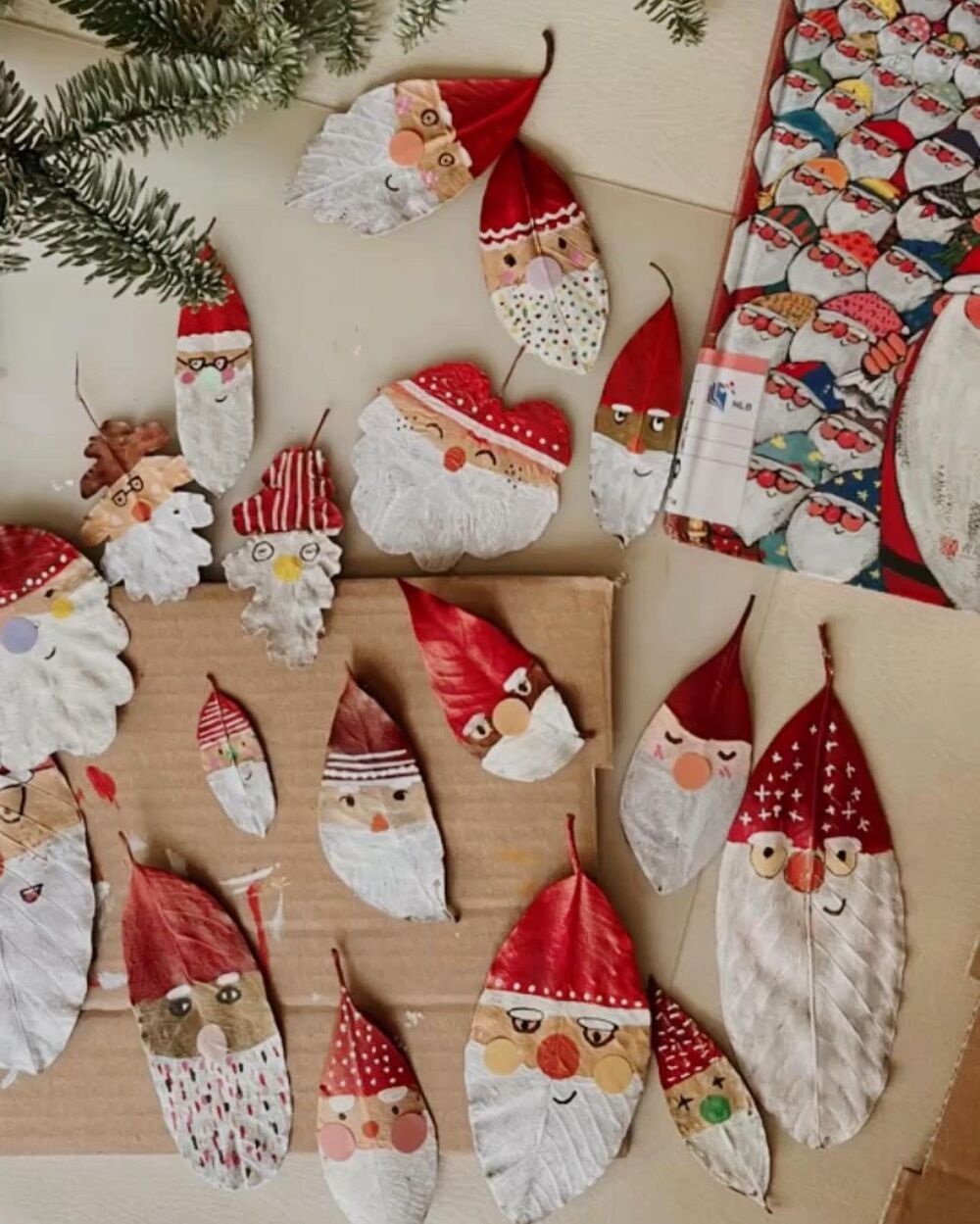 This Christmas ornament craft is perfect for toddlers because no cutting is required. Prepare white, red, brown and black paints, which will be needed to make the faces of Santas on tree leaves. They can also use paper elements to decorate the leaves.
7. Alternative Christmas Trees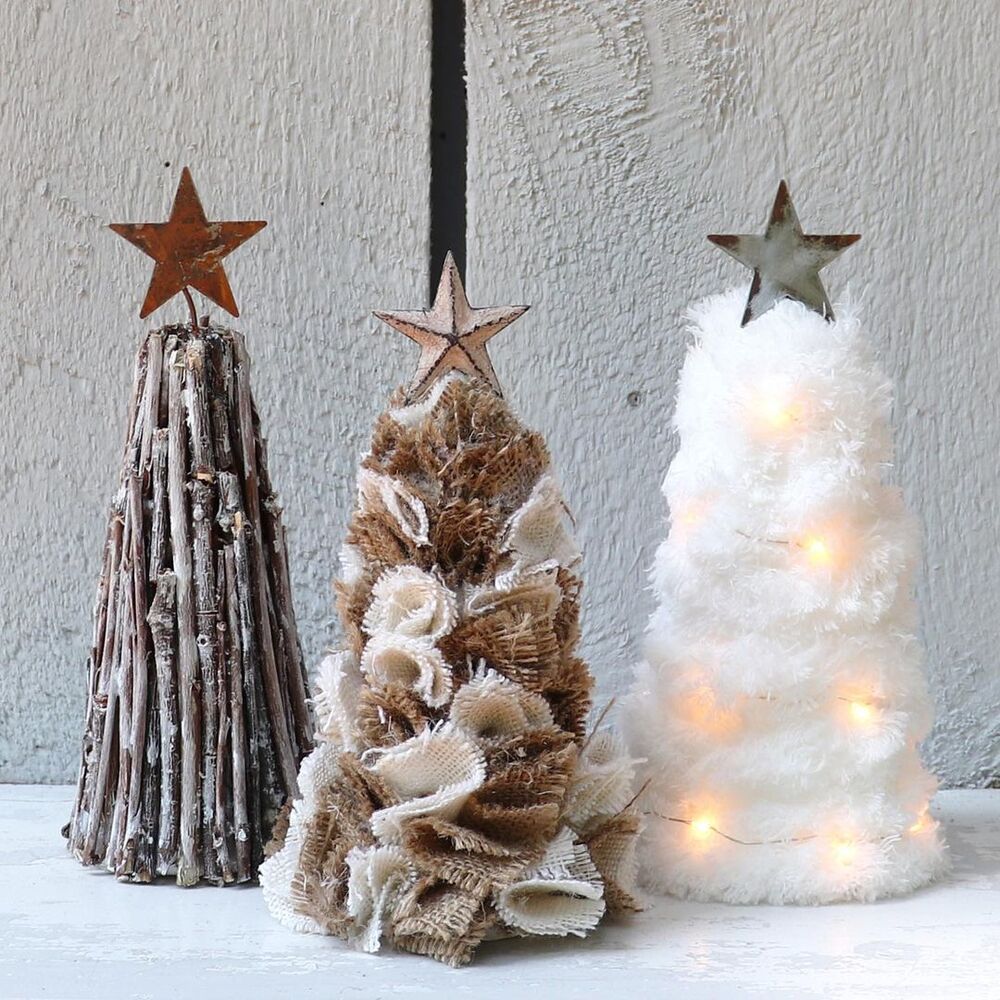 If you want to make your entire home festive, decorate it with Christmas trees made from different materials. This idea features trees made from twigs, burlap and fabric. The bases are cones from paper or cardstock.
The decoration is left simple to give the trees a rustic look.
8. Crocheted Christmas Tree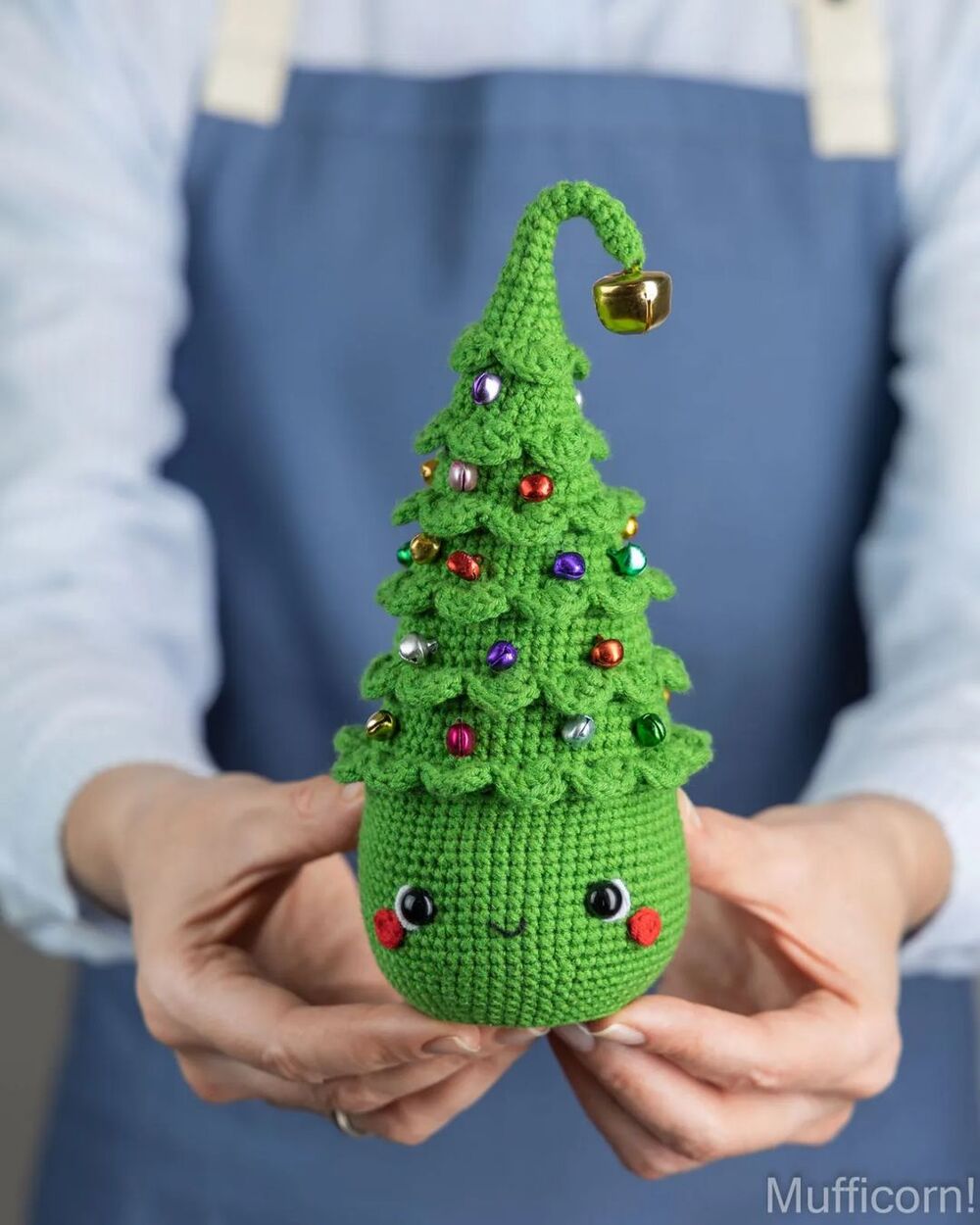 Is your hobby crocheting? Then, these cute Christmas trees will be a pleasure to do. The decoration is with jingle bells, buttons and small crocheted elements. The base of the tree should be filled with rice or sand to keep the crocheted figure straight.
9. Pine Trees From Paper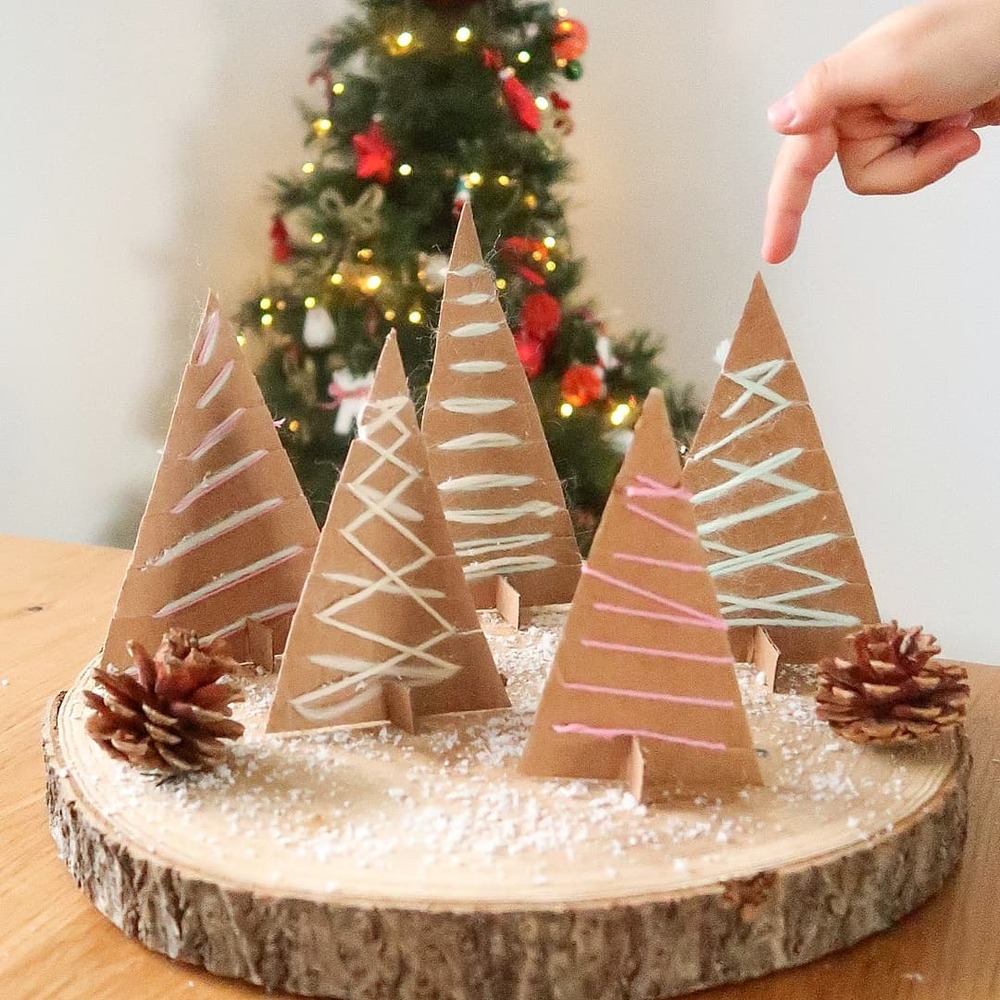 This rustic Christmas decoration resembles a woodland winter landscape on a small scale. The base is a slice of wood on which a few cardstock trees are glued. Each tree has a cardstock base to keep it straight. The trees are decorated with yarn to mimic garlands.
Add pinecones in the empty spaces and sprinkle Epsom salt as if there is snow.
10. Marshmallow Hot Cocoa Snowmen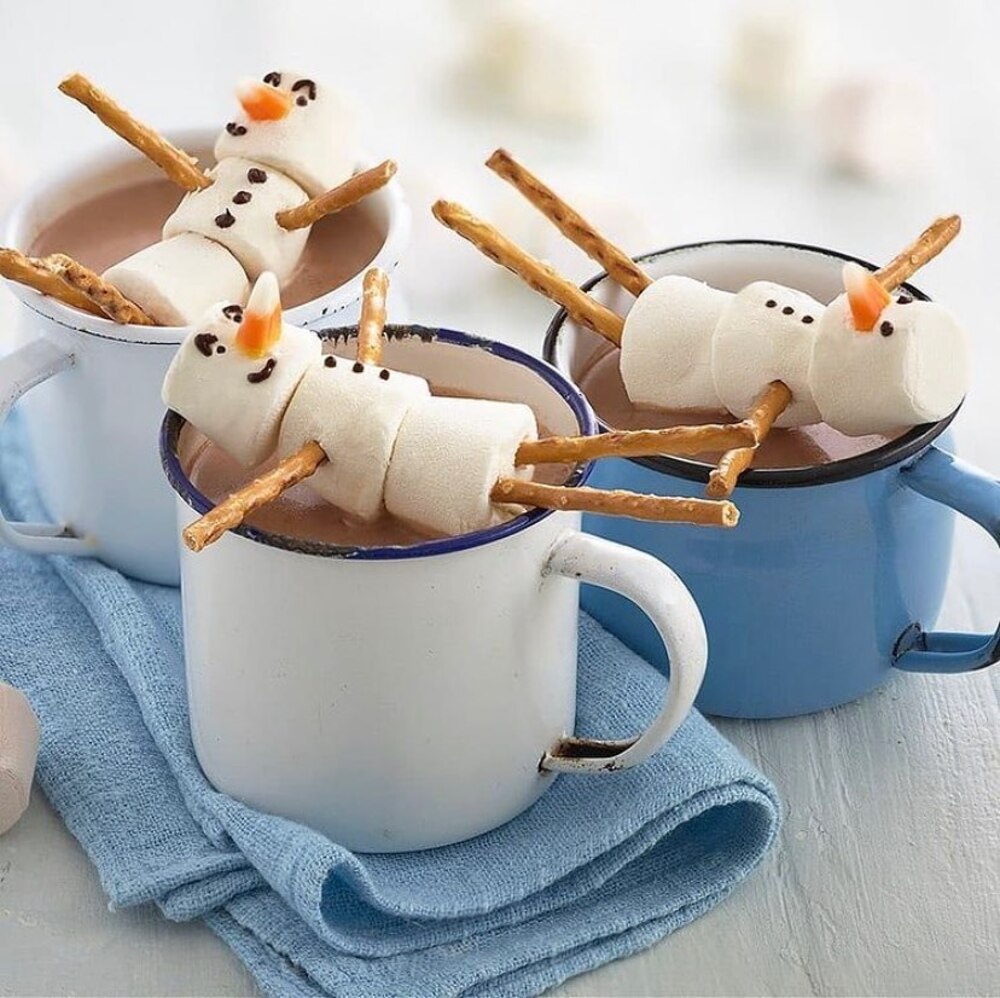 Make Christmas fun, jolly and memorable for your kids! Serve their hot cocoa with marshmallow snowmen stretched over the cups.
11. Crochet Bauble Idea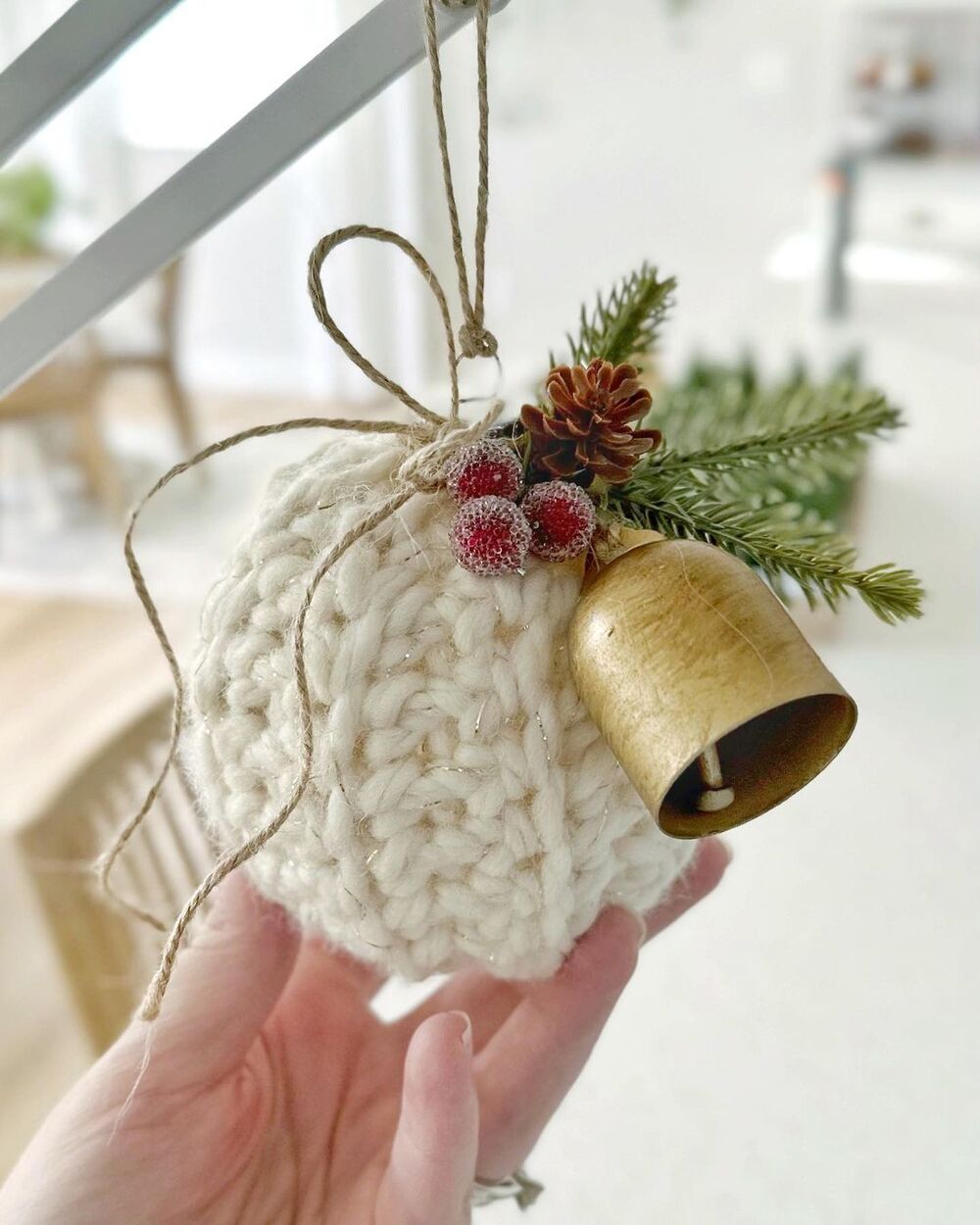 Another crochet idea for Christmas decoration features a lovely white bauble decorated with a small winter bouquet and a bell.
You can find free crochet patterns here.
12. Paper Wreath
Paper is a great material for crafts as it can be easily transformed into the desired shape. The variety of colors and textures additionally make the crafted elements realistic.
The wreath pieces in this idea are folded like origami to have a three-dimensional look which creates layers as if a traditional Christmas wreath.
13. Magical Christmas Village From Paper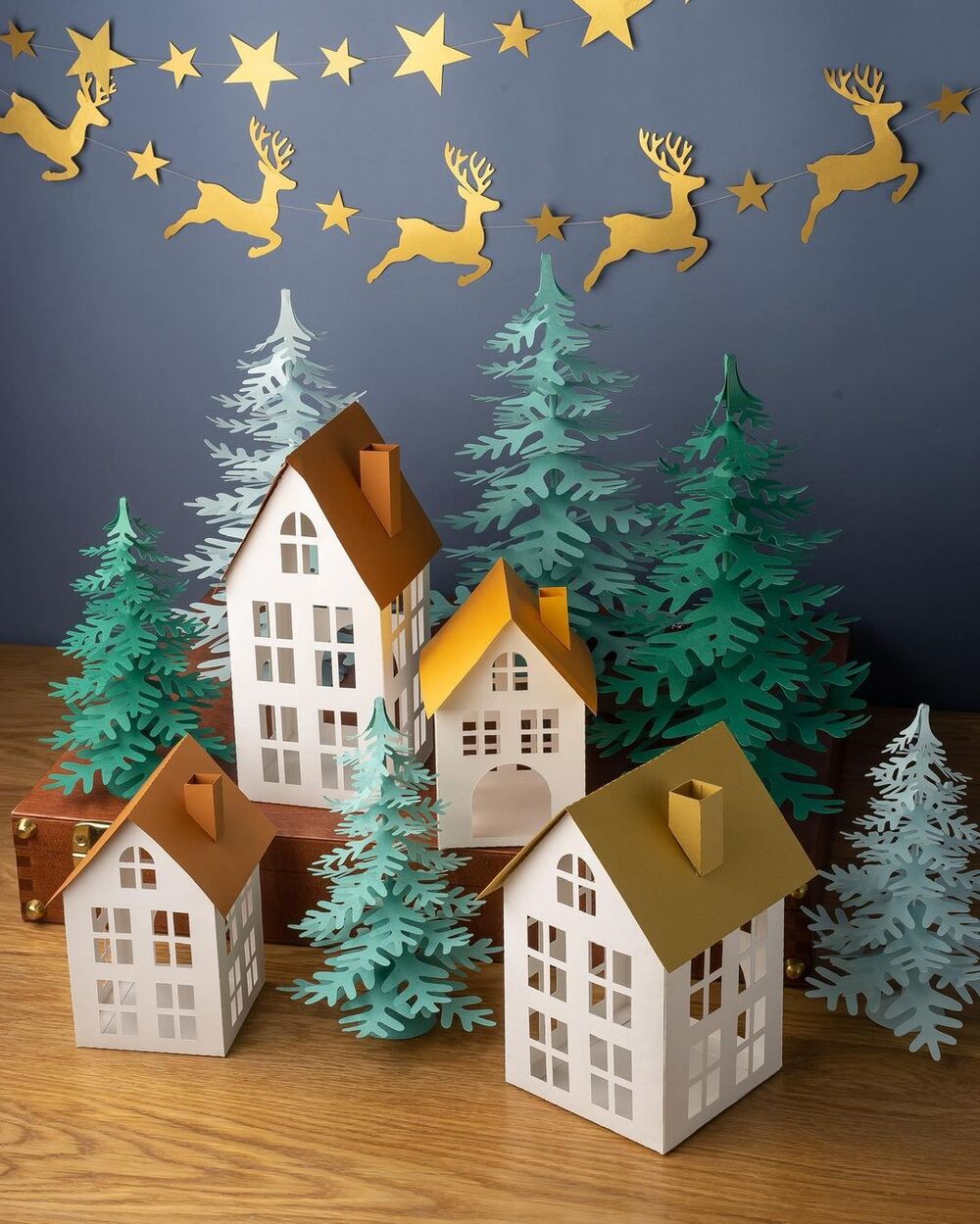 Paper houses surrounded by paper pine trees create a magical village awaiting Christmas. Houses are made from white and brown paper but you can craft them from any paper you like. For the trees, make sure to get different shades of green to be able to recreate a woodland look during winter.
Set the paper figures on a shelf and use flat supports to create a layered look.
14. Candy Cane Ornaments From Styrofoam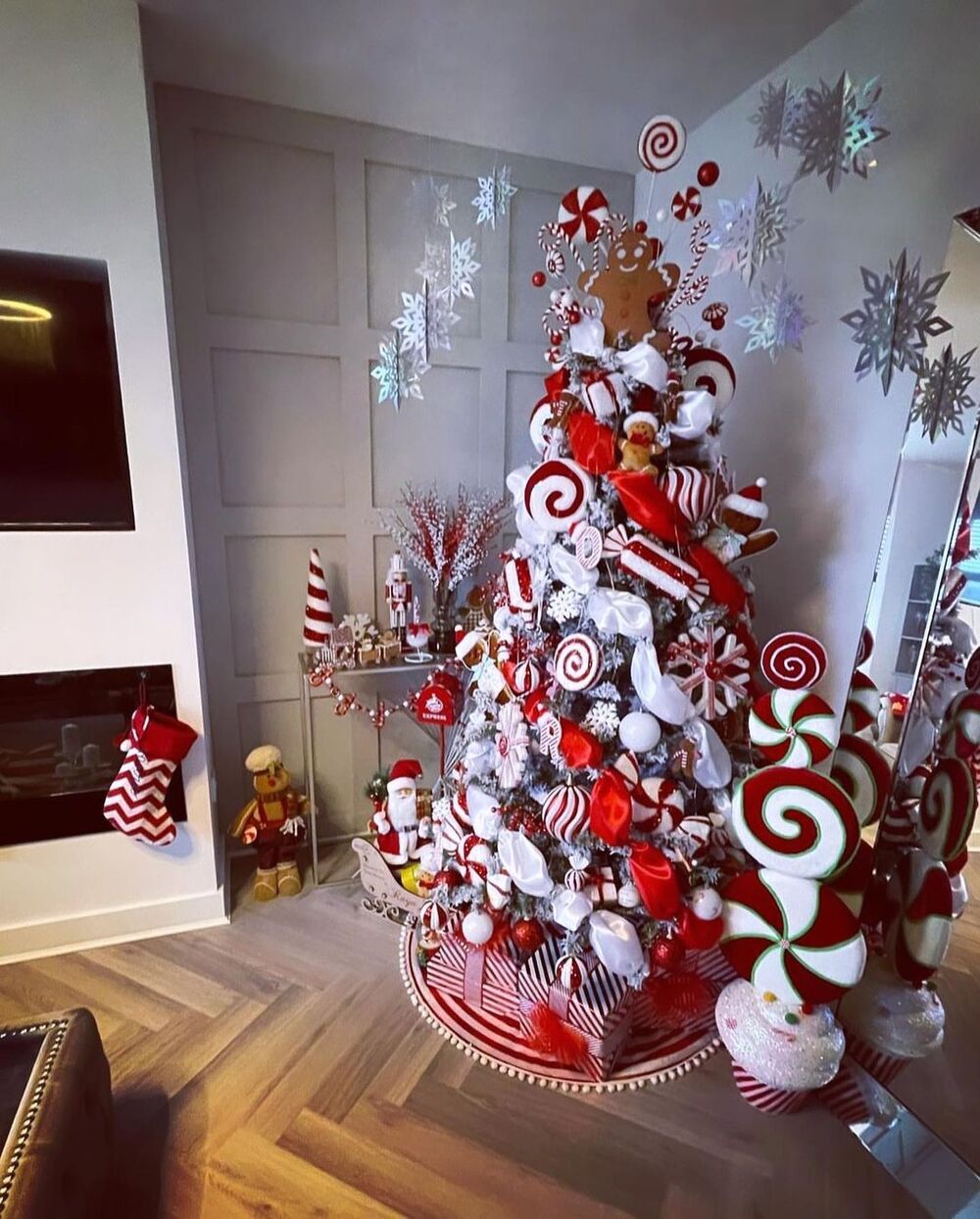 This is one of those Christmas interior pictures with a homey and cozy vibe thanks to the decoration. In this idea, the theme is peppermint as a symbol and candy cane as a color pattern.
If you want to make the Christmas tree look unforgettable, stick to a theme that will create interest.
15. Red And Gold Christmas Theme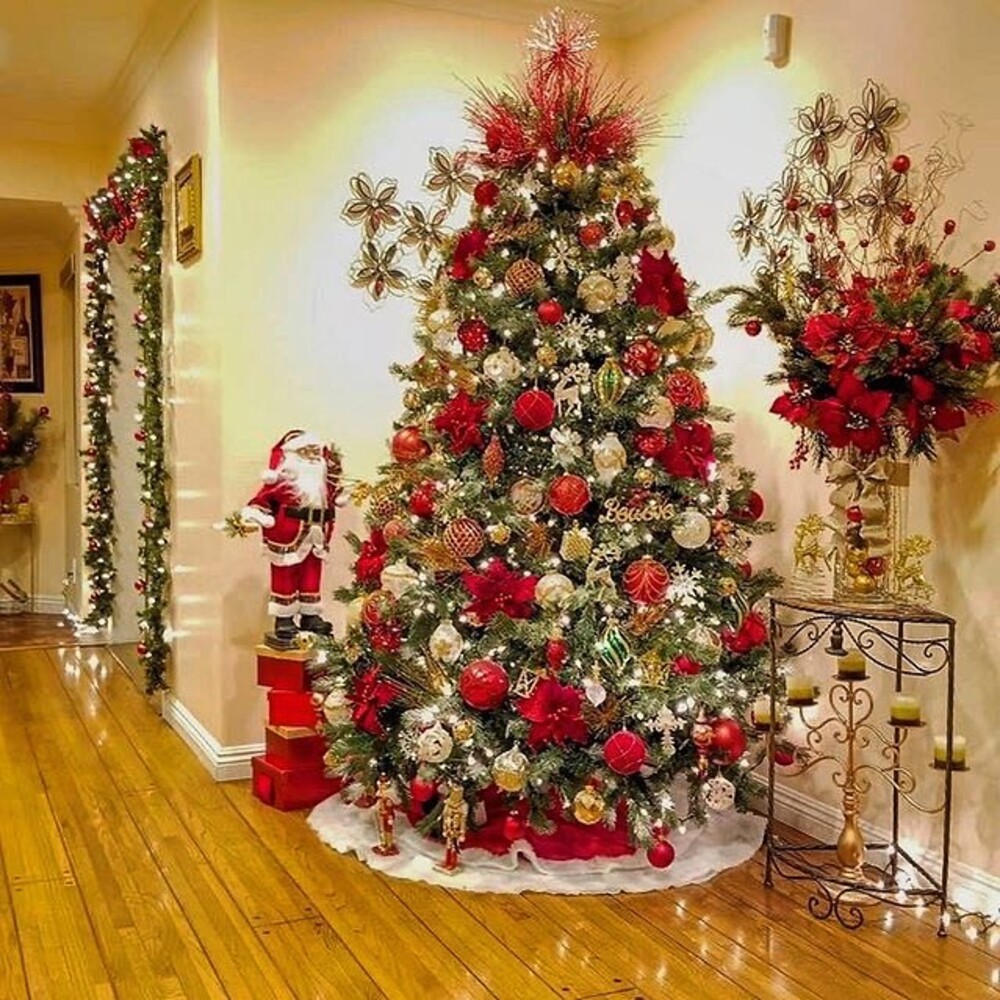 This is another Christmas decor idea that is based on a color pattern. Here, the traditional red and gold colors create a splendid, harmonious look.
16. Crocheted Creatures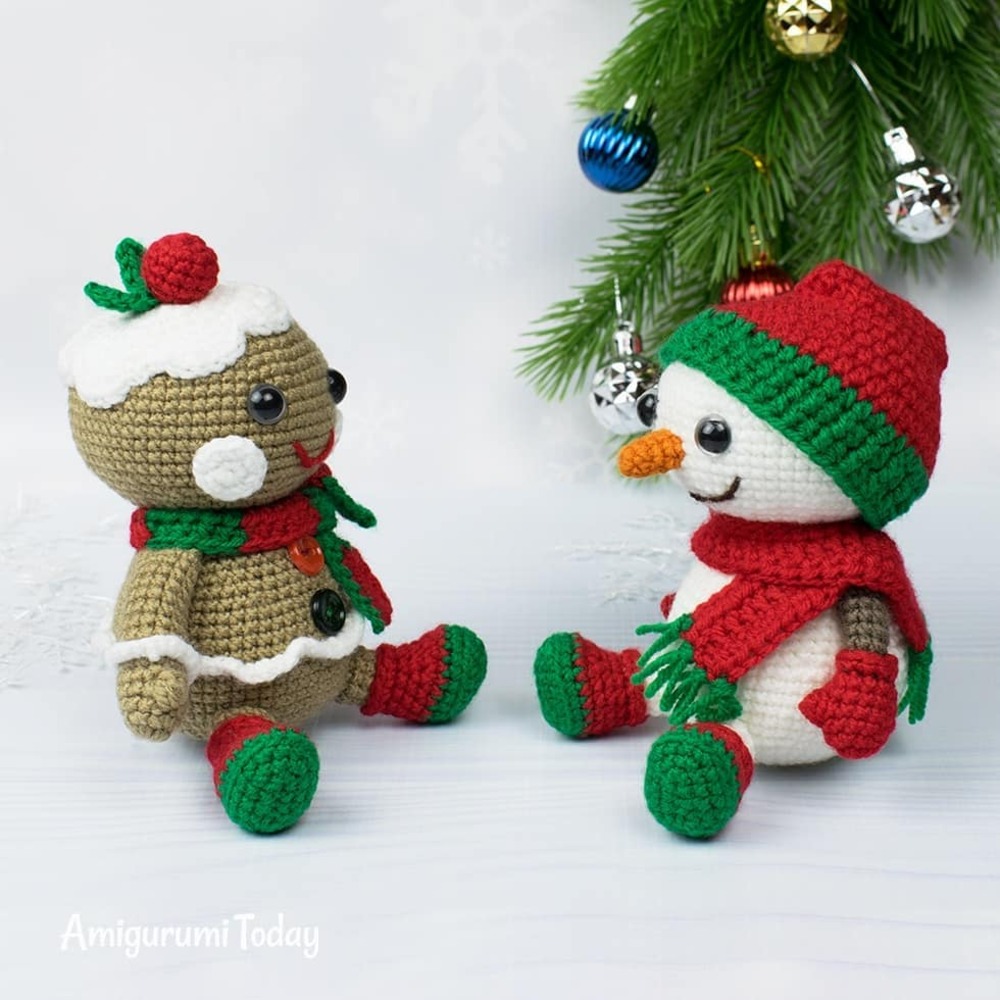 These cute small gingerbread man and snowman are perfect as gifts for Christmas. They will be easy for a person at an intermediate level in crocheting, but with the free patterns and explanations, a beginner may also try.
17. Personalized Paper Ornament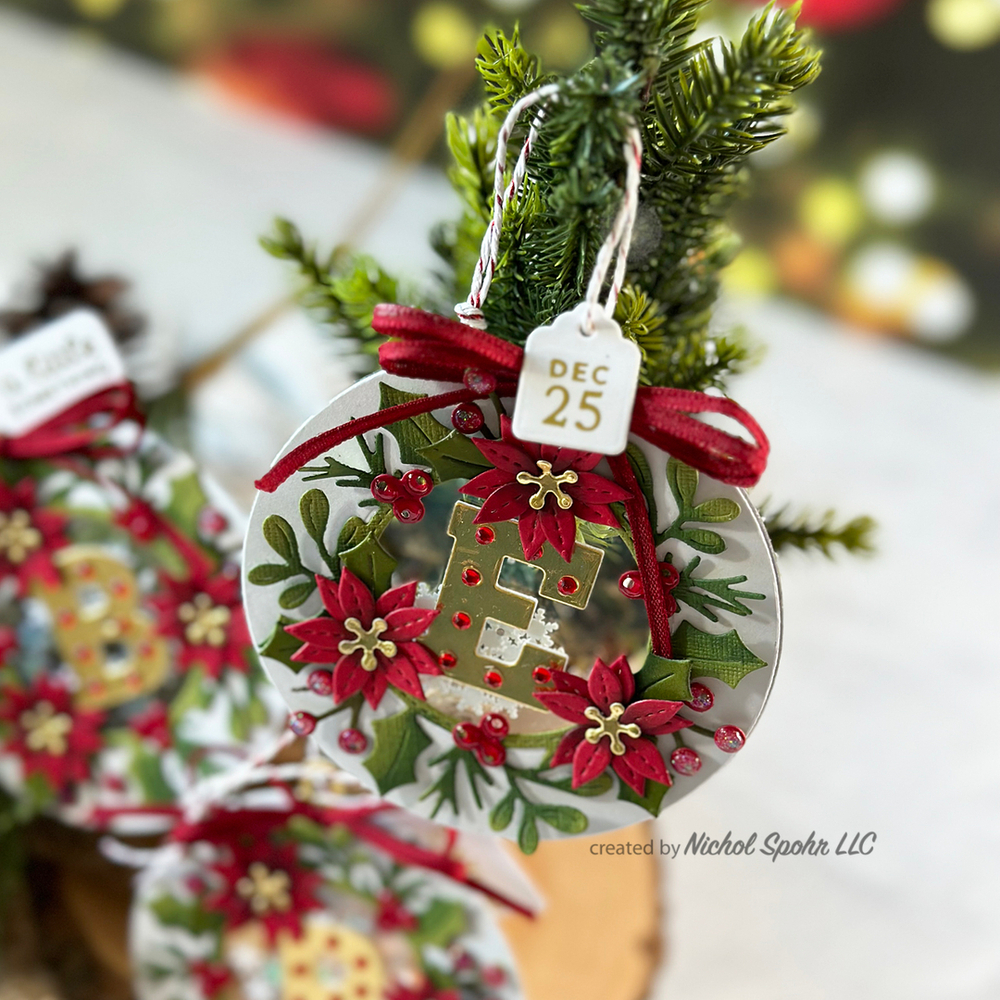 This personalized ornament is made from paper and leather elements. The basis is a mirror cardstock on which the personal initial is glued.
Ornaments are spread around the letter as if a wreath. While this ornament can also be repurposed into a gift, it will make the Christmas tree very festive by reflecting the light on the mirrored surface.
18. Snowman From Styrofoam Rings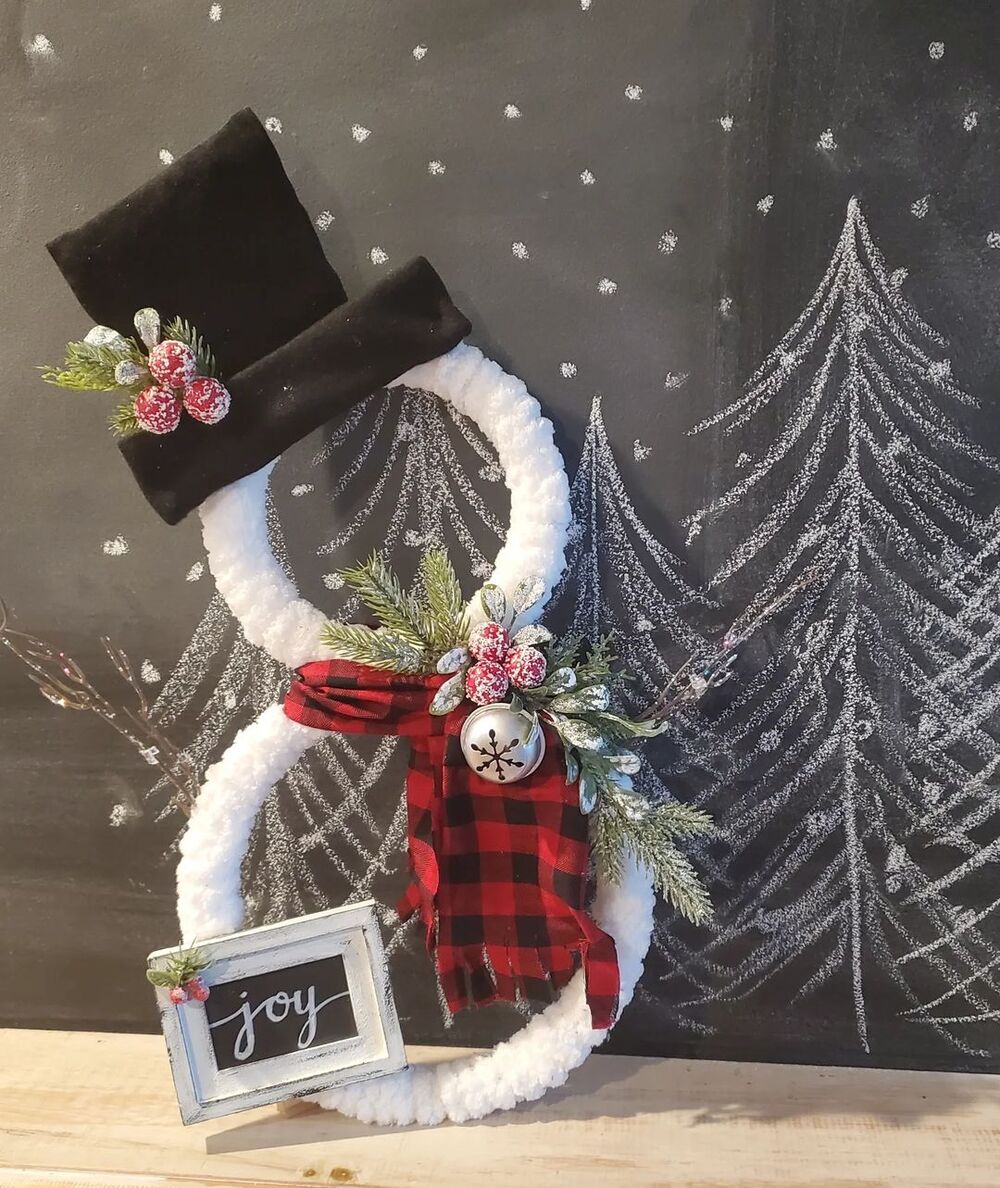 This snowman is very cute and it can be added to different places in the house to make its ambiance more festive. It is made from two styrofoam rings of different diameters, Dollar Tree decorations and a hat from black fabric.
A chalkboard frame is added to the front of the snowman to spread meaningful and special messages for the holiday. If you make more of this snowman, you can change the inscription on every frame.
19. Knitted Stockings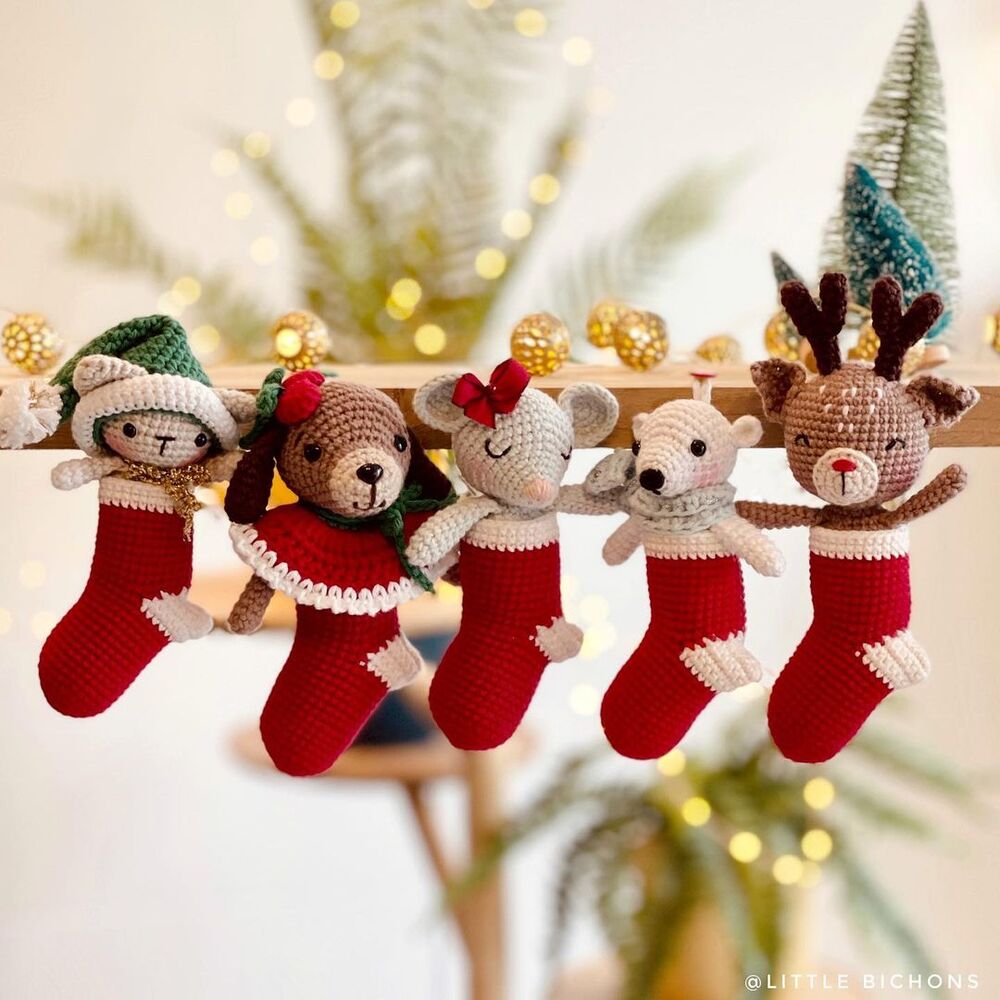 Another crochet idea features cute small stockings with animals related to winter holidays. They are displayed together on a wooden beam to create a cute Christmas interest.
You can put them on the mantel where traditional stockings are displayed using the crocheted hook at the back of each stocking.
20. Glitter Ornaments
Have you ever tried sculpting with foamiran? This foam is very easy to cut and manipulate in different shapes. These fantastic snowflake ornaments are made from glitter foam sheets. Twisting the edges back at the ends of each section gives the snowflakes the other colors without glitter.
21. Felt Christmas Tree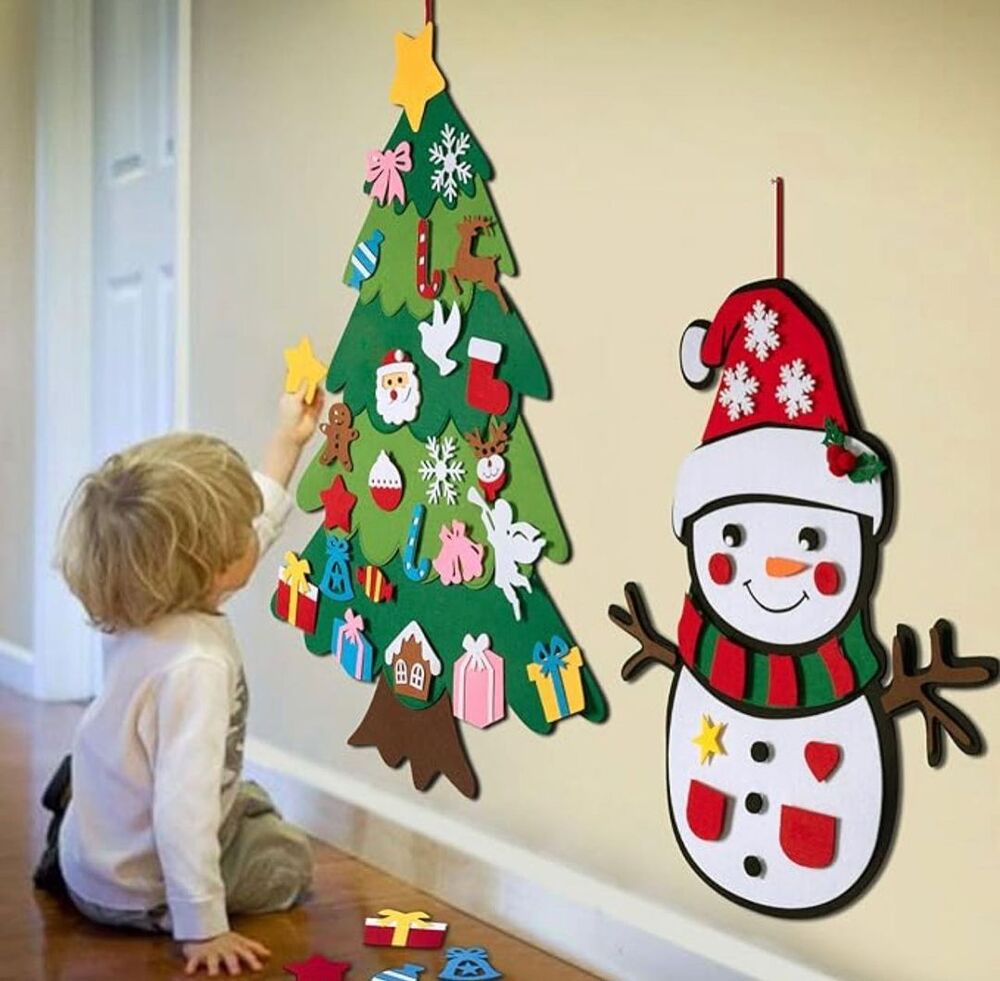 Get a felt Christmas tree for your toddlers to let them decorate it like grown-ups do. The tree comes in a set with ornaments with felt which can be easily attached to the tree basis.
22. Framed Christmas Tree Idea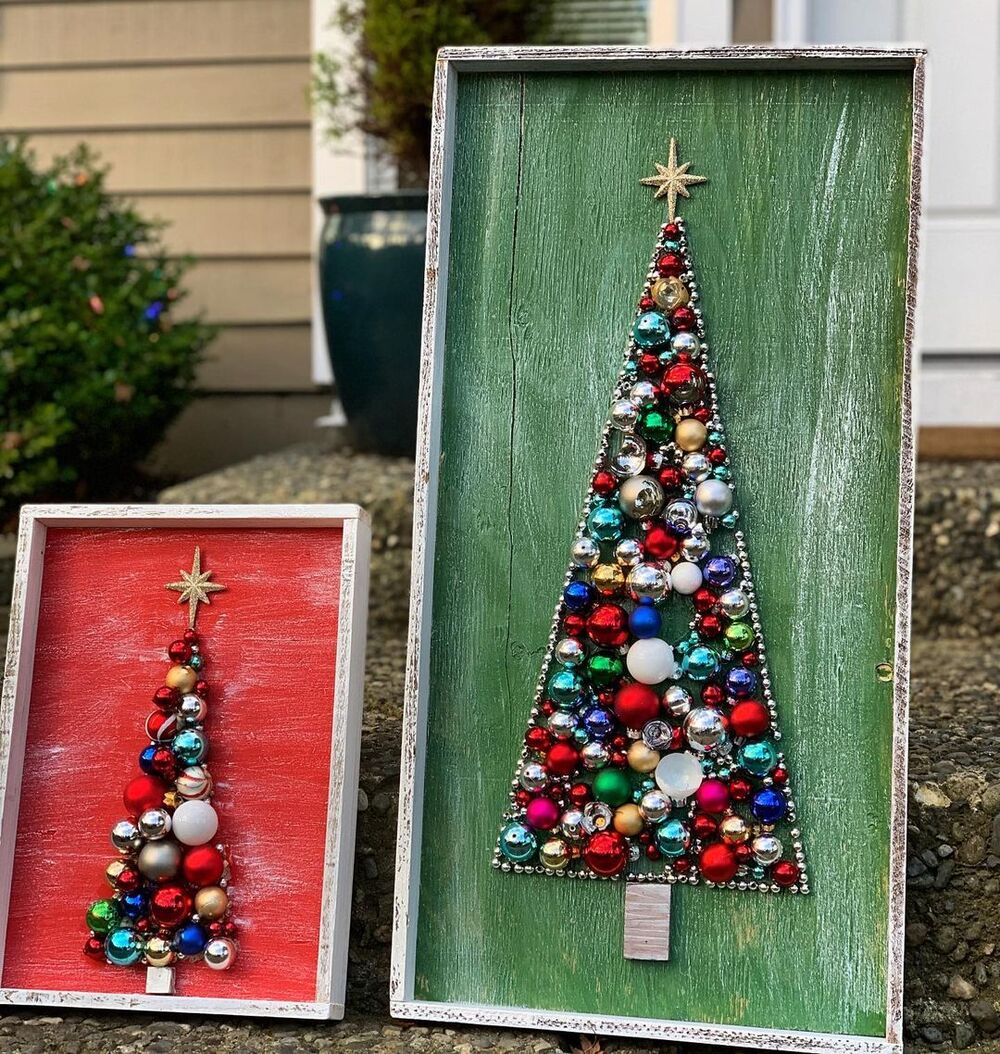 Another alternative way to make a Christmas tree decoration is to shape it out of Christmas tree ornaments. For that idea, you need a flat background to arrange the baubles in a tree shape.
Frame them with a bead garland and finish by gluing a small wooden piece sprayed with metallic paint at the bottom of the tree.
23. Decorated Garlands For The Staircase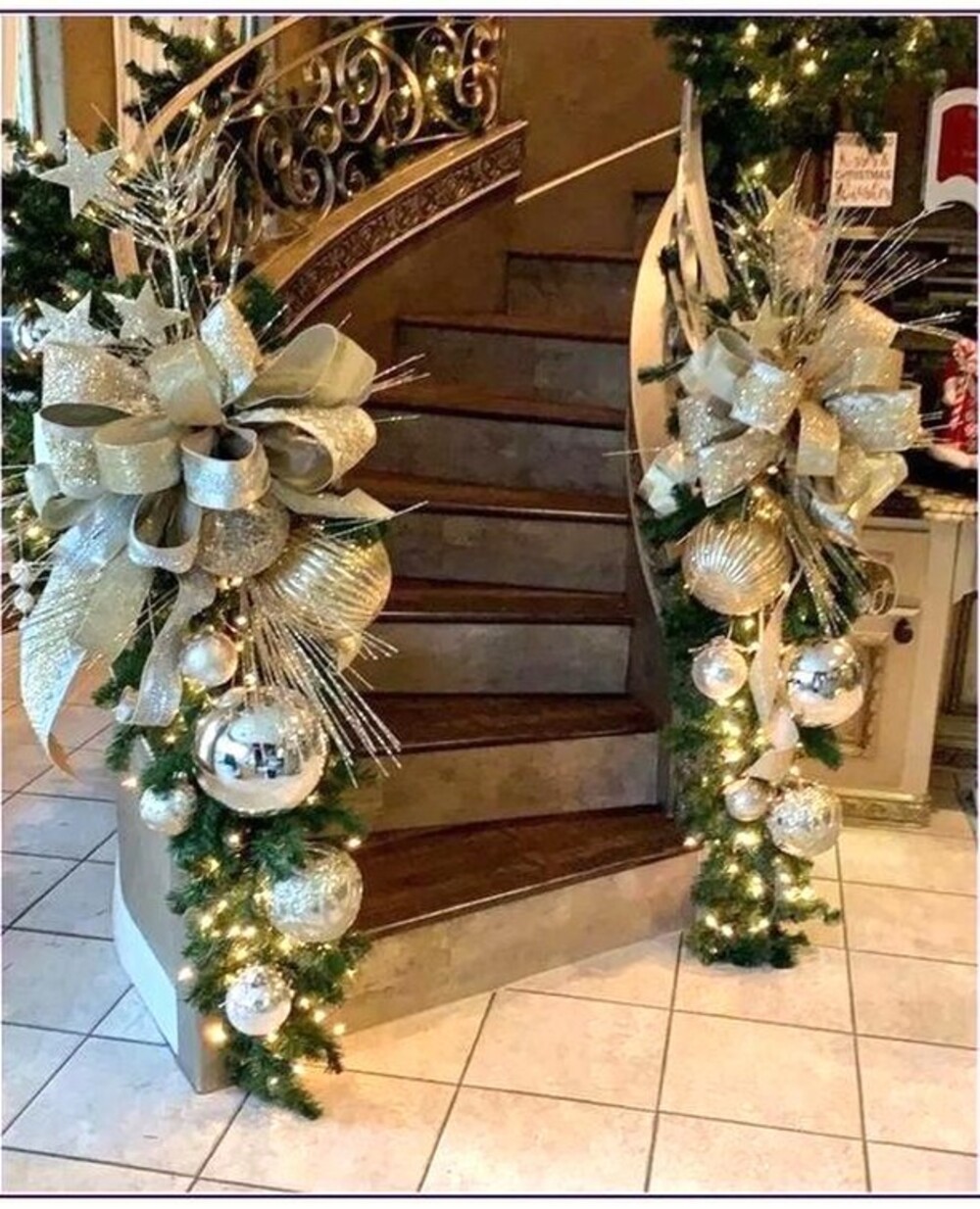 Decorate the hallway with Christmas ornaments to give it a special vibe for the holiday. That can be a simple bauble decoration on either side of the staircase railway or luxuriant garlands sparkling in the night.
The arrangement includes pine tree garlands, different sizes of silver and gold baubles, fairy lights and bows with glittery textures.
24. Customized Baubles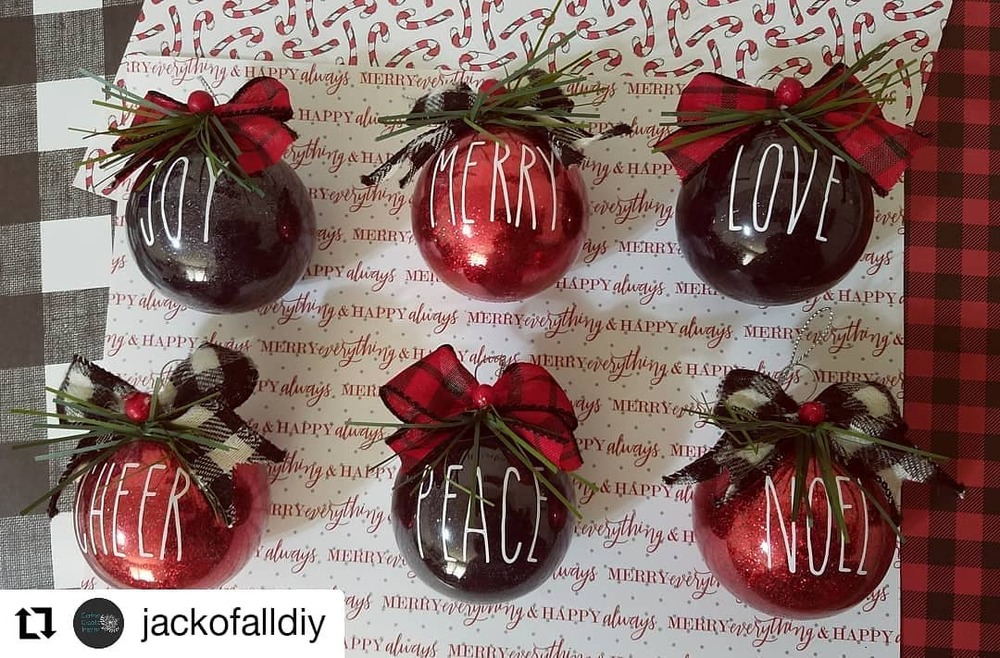 Personalizing the baubles with a meaningful word is an easy craft you can implement to upgrade already existing ornaments.
Get a puffy paint pen and draw the letters of the words. To give the baubles a totally new look, add a bow from buffalo plaid and a berry twig at the top.
25. Crochet Elf Idea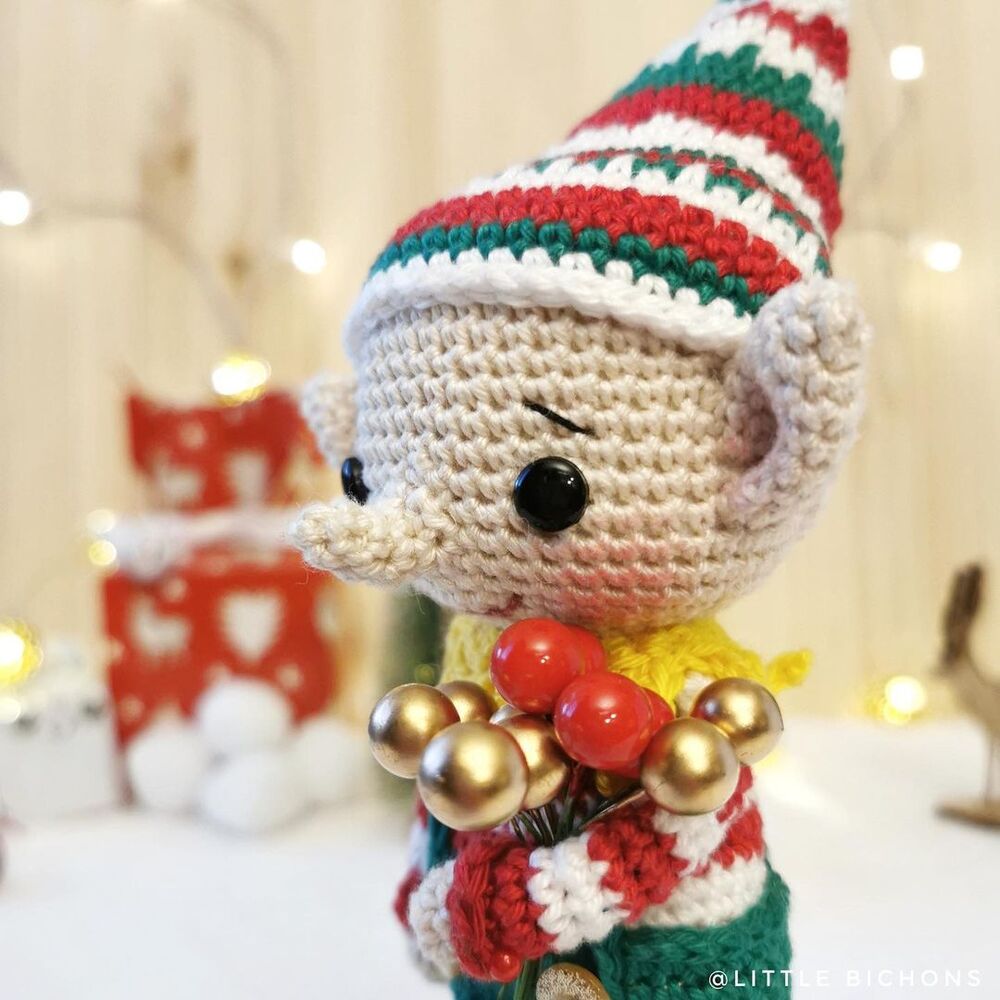 This cute elf holds a bouquet of berries in its hands while smiling. The crocheted pattern is part of a collection of free Christmas elf crochet patterns that you can see here.