Have you been looking for ways to make your basement more inviting? If you're adding remodeling or finishing an unfinished basement, don't overlook the staircase.
It's the first thing visitors will notice when heading downstairs, so it's important to make it functional and welcoming. We've collected some creative basement stairs ideas for transforming your basement stairs to enhance your home's decor.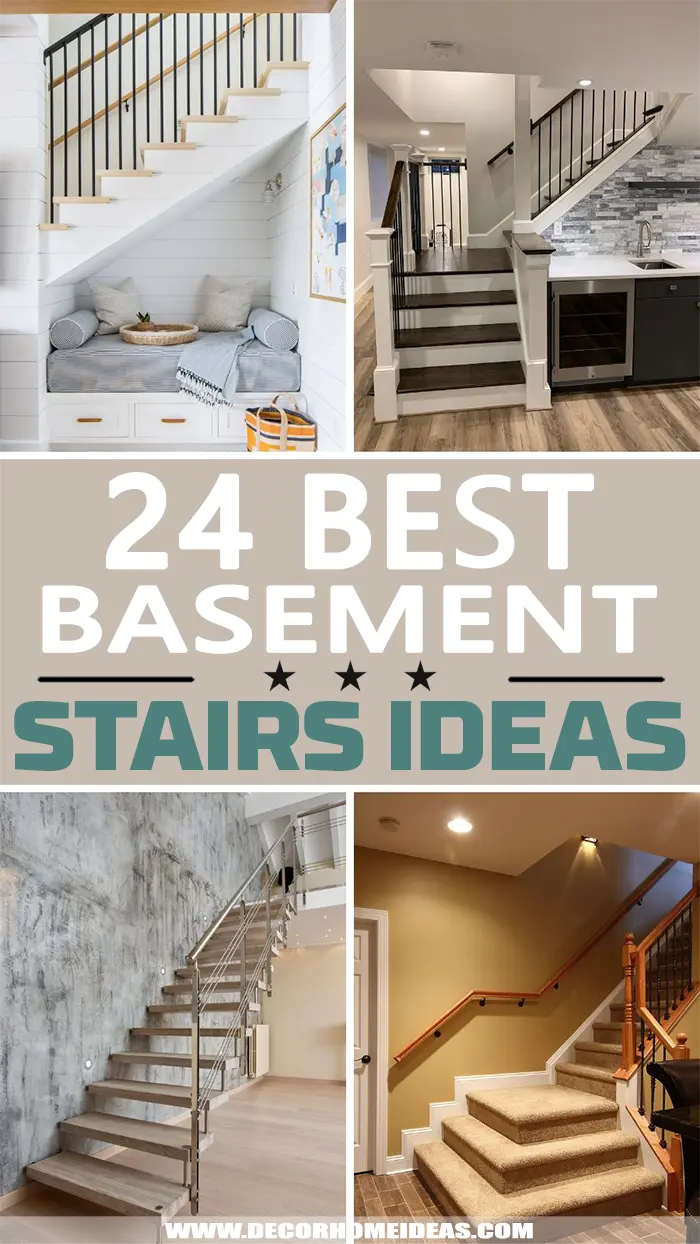 How do you make old basement stairs look good?
The most affordable way is by refinishing them. You can get this done using floor paint or stain. You can even paint patterns using painter's tape as a guide. If it's in your budget, a rug runner is more affordable than fully carpeted staircases.
What should I put on my basement steps?
It's up to you if you want carpet, wood, or any other type of decoration. Keep safety in mind. Make sure the tread isn't too slick. Thick carpeting may look nice, but you can easily lose your balance under that cushioning.
What do you do with space under the basement stairs?
We have plenty of suggestions below on ways to take advantage of the space under the basement steps. If it's high, you can create a hideout. If it's low, drawer storage is a popular way to go. Check out the basement staircase ideas below.
1. Create a Cool Hangout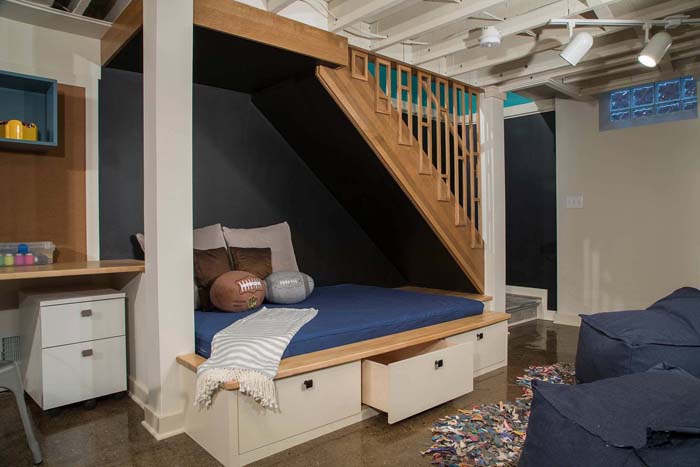 One of the simplest ways to decorate under the stairs of a basement/recreation area is to create a set of drawers for storage and add a platform with a cushion.
It's a nice way to take a break from homework and crafting. It also works as a quick little futon for sleepovers. Notice the standard balusters have been replaced with an interesting geometric design.
2. A Staircase That's Open and Bright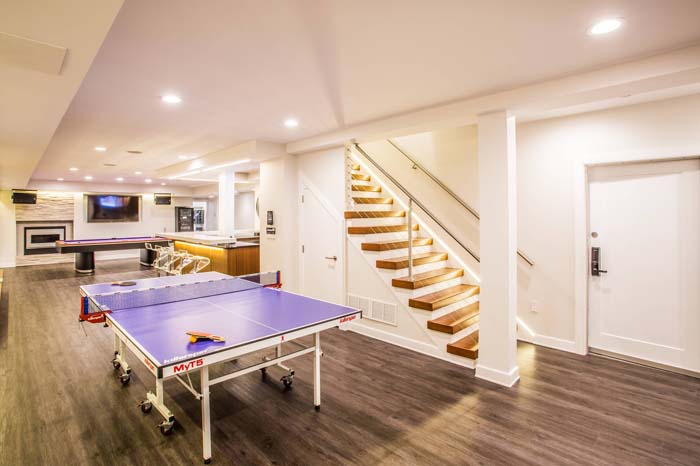 A place for all of those fun recreational tables ranks high on the list of family basement ideas.
A brightly colored, well-lit basement has a typical storage area underneath the stairs for all the accessories that go along with those games.
The stairs themselves are set in a modern style, with steel railing handrails and horizontal cable rail balusters.
3. Traditional Style with Carpet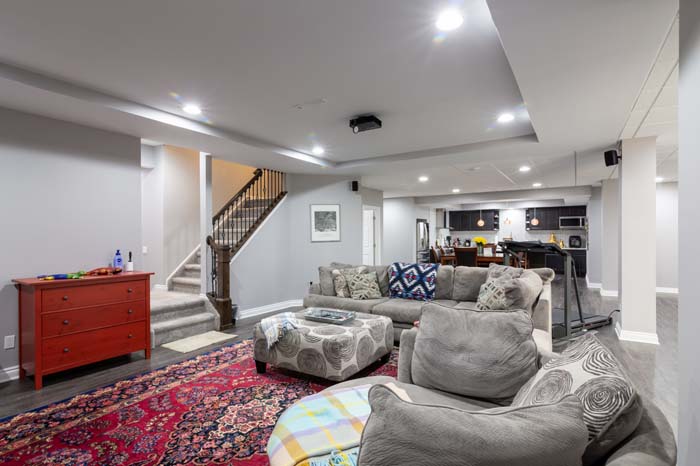 Decorate your staircase in keeping with your home decor.
This movie area, decorated with the gray furnishings and dark wood trim, is mimicked in the gray carpeted stairs with its dark wood handrail, balustrade, and wrought iron balusters.
4. Colorful Runner Rug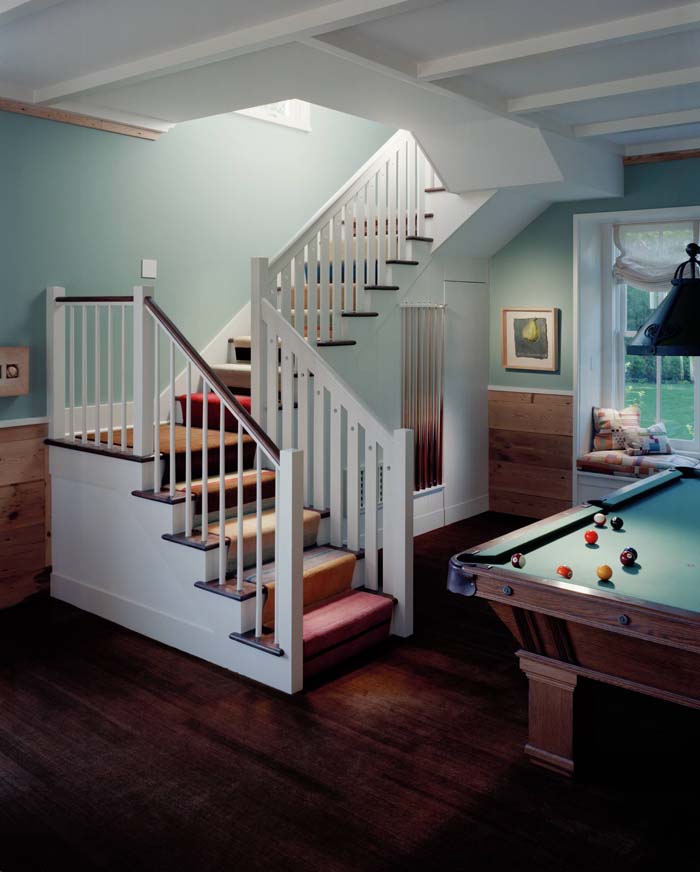 An easy way to add carpeting to your stairwell with the use of a runner rug and carpet stair rods.
This staircase has a landing to turn the corner, creating a more open space while avoiding power controls on the wall.
5. Paint the Steps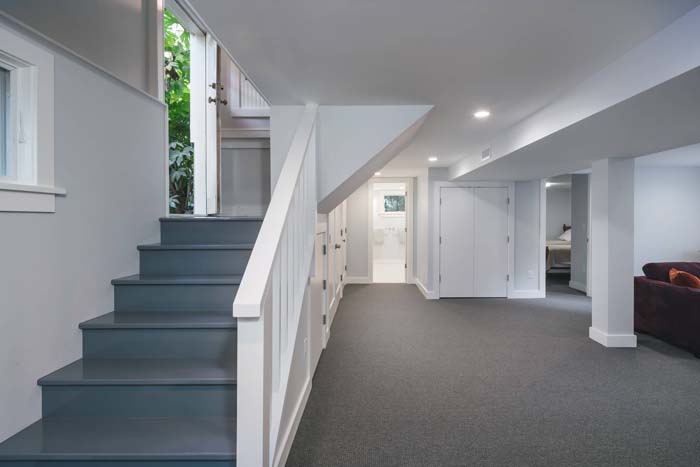 Painting an existing staircase is an affordable solution when trying to save money on a basement renovation. Slate gray steps are a subtle finish to a neutral palette in this living area.
You can find a floor paint from Sherwin Williams that will match any finished basement. Check in with a color swatch at the paint center at Home Depot to choose a great paint color.
6. Build a Custom Storage Unit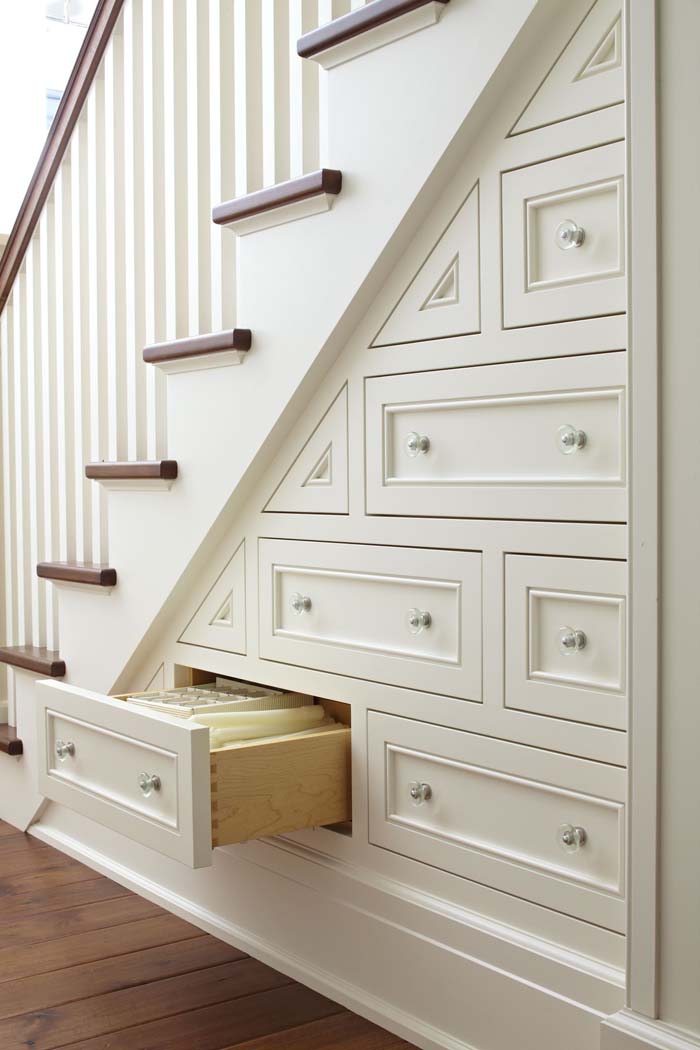 Here's a beautiful way to add extra storage behind the stairs. Custom built drawers are designed to match the home decor.
They're finished with inset panels and gorgeous acrylic drawer pulls.
7. Open Up the Landing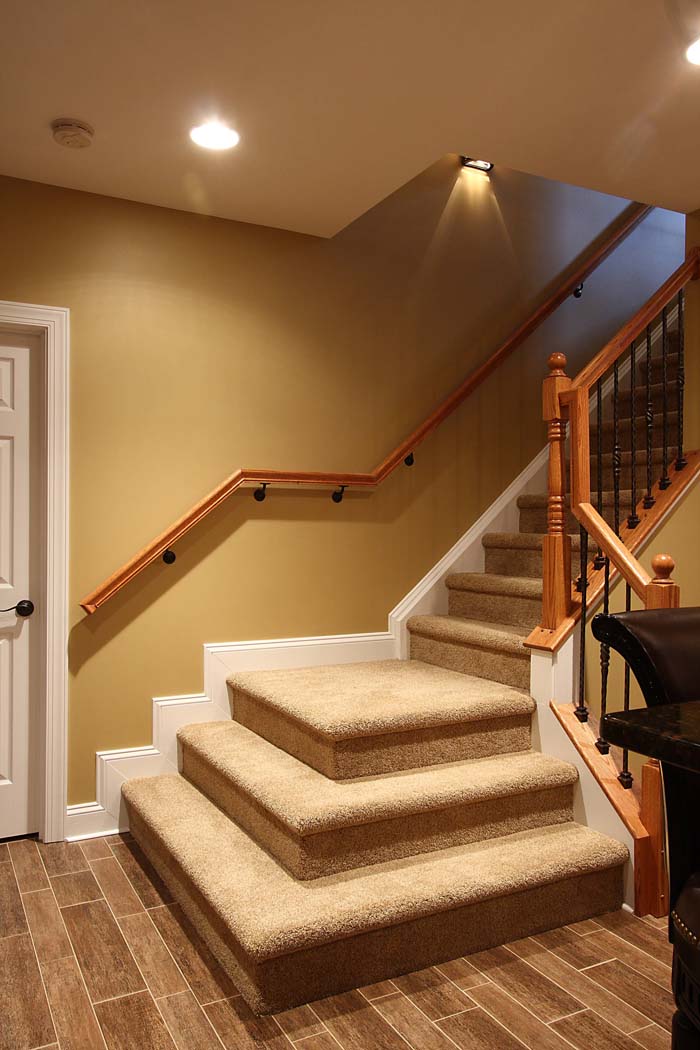 While it might not seem like a logical choice for stairs, this pyramid landing is an easy way to avoid issues with an awkward layout.
The baseboard has an overlay that's an interesting detail.
8. Modern Metal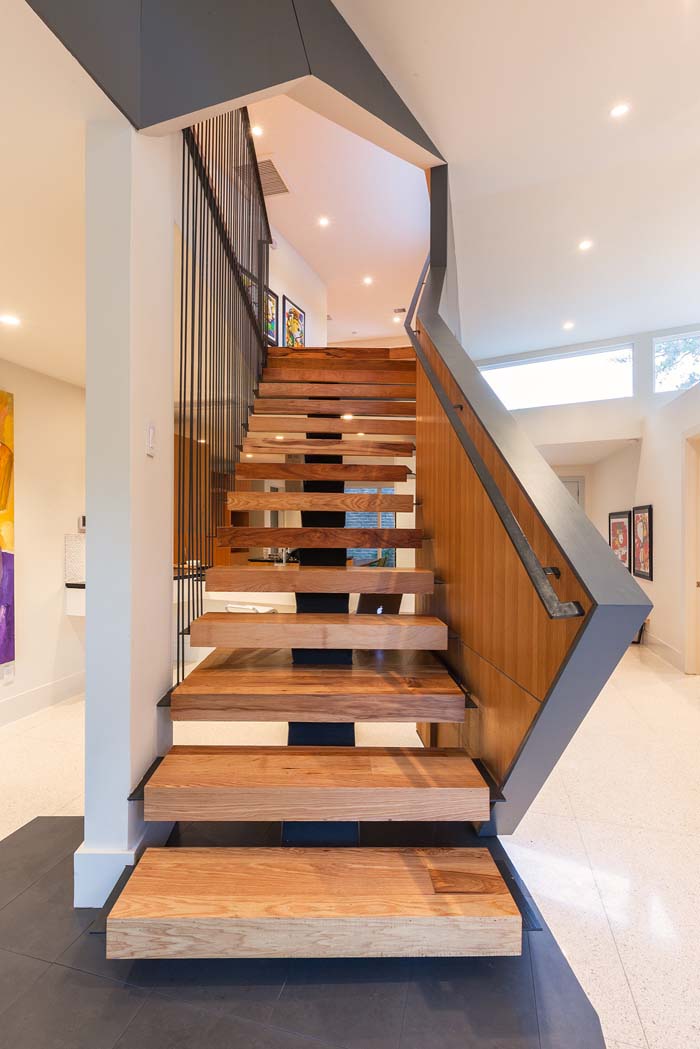 Vertical floating steps bring beautiful modern flair to this open staircase. The metal handrail follows the geometric shape of the side panels.
The metal balusters on the left open up the staircase, making the steps appear as if they are suspended from the rods.
9. Two-Tone Traditional Staircase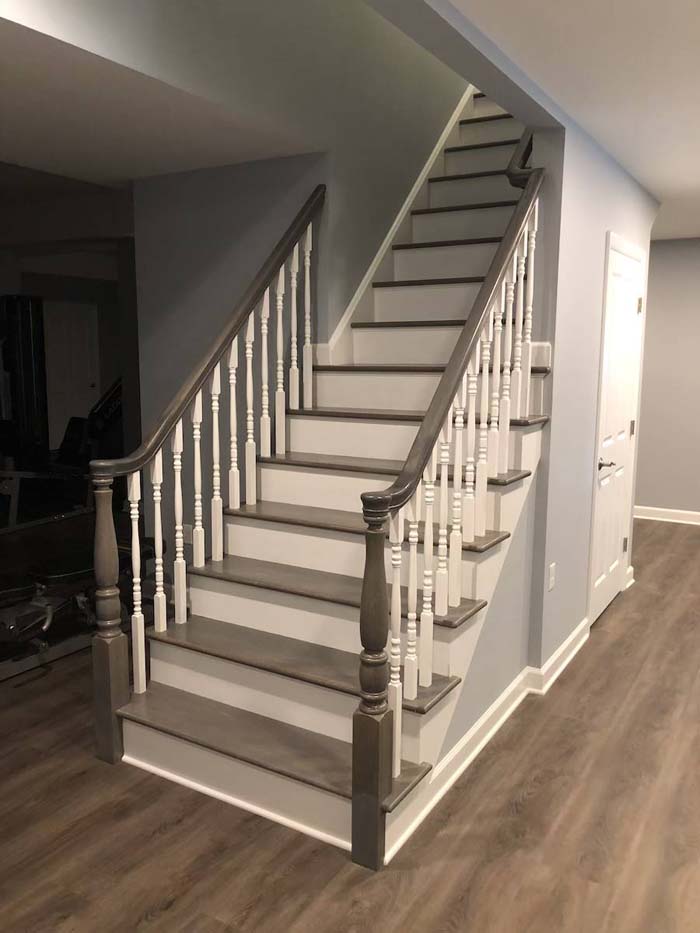 Balusters don't have to be straight. They can have more intricate carvings and at an affordable price. The paint scheme has been changed up a bit. The handrails and posts match the steps.
The balusters match the stair stringer and risers.
10. Well-Formed and Functional Wood Floating Steps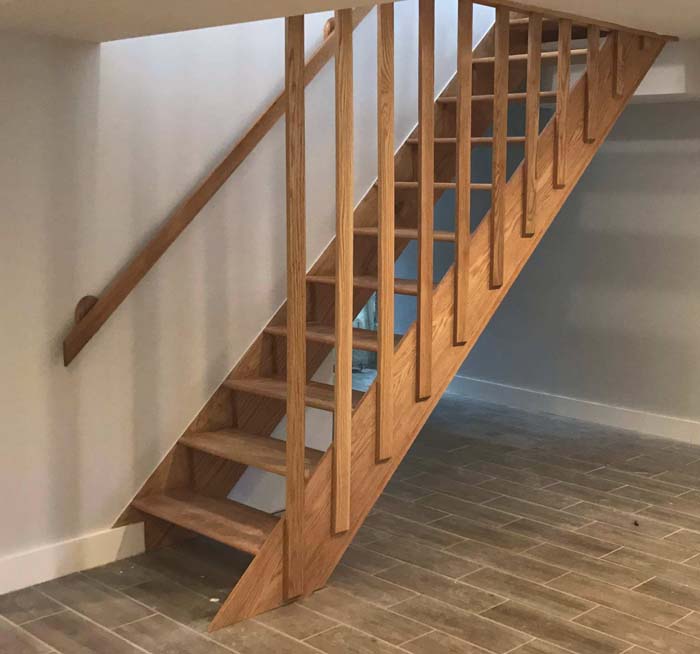 A very simple staircase, it looks sophisticated in its design. The steps and handrail are secured to the basement wall.
The straight, non-traditional balusters on the side create an interesting geometric pattern, leaving the space looking more open and accessible.
11. Rustic and Rugged Staircase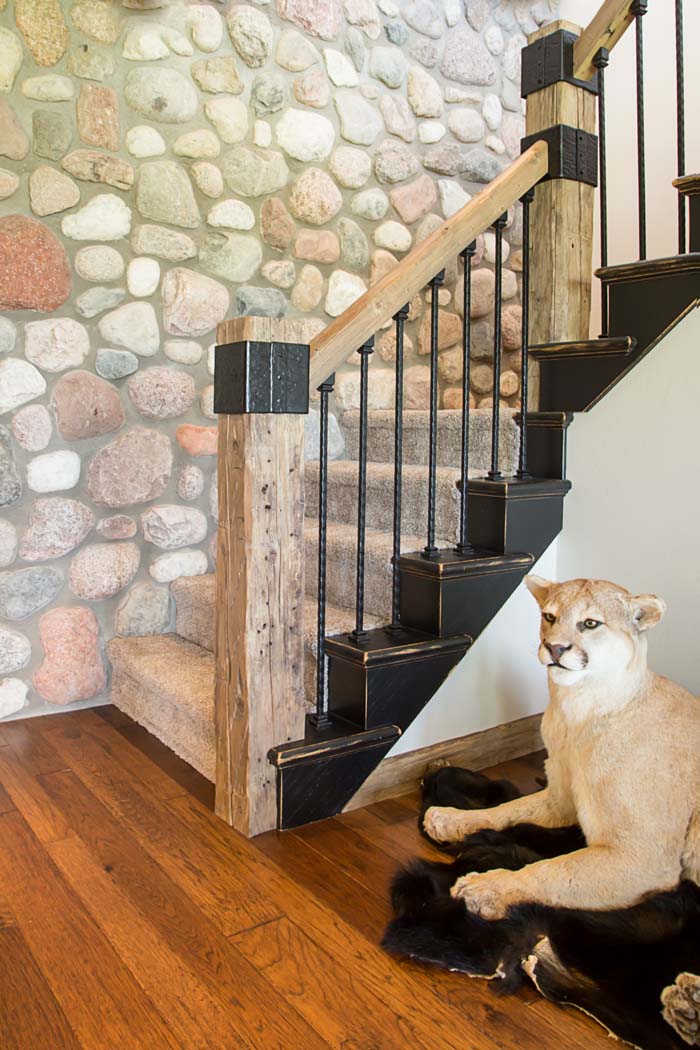 A rustic look is achieved through the use of a full stone wall finish and thicker, chunkier handrails, iron balusters, and distressed posts.
The stairs' textured carpet creates the look of concrete stairs.
via Bartow Builders
12. Add a Cabinet and Café Table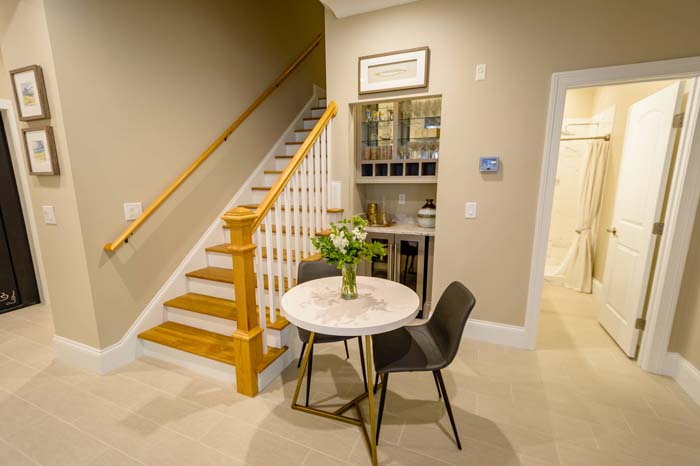 A traditional oak handrail stops abruptly and without symmetry. While this could be problematic trying to decorate this with traditional wall decor, the owners chose to embrace the area.
They created a built-in cabinet for glassware. The small table and chairs provide a place to relax and enjoy a cup of tea in the afternoon.
13. Winding Elegance with Gray Runner Rug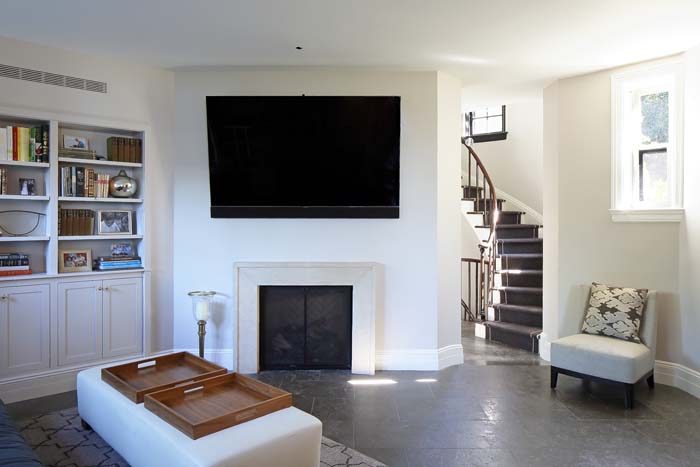 A dark gray stair runner rug makes it easy to create a secure tread around the curved staircase.
The handrail is thinner to enhance the curve and keep the eyes moving through to the entry to this living room.
via LKM Design
14. Fully Carpeted Curved Staircase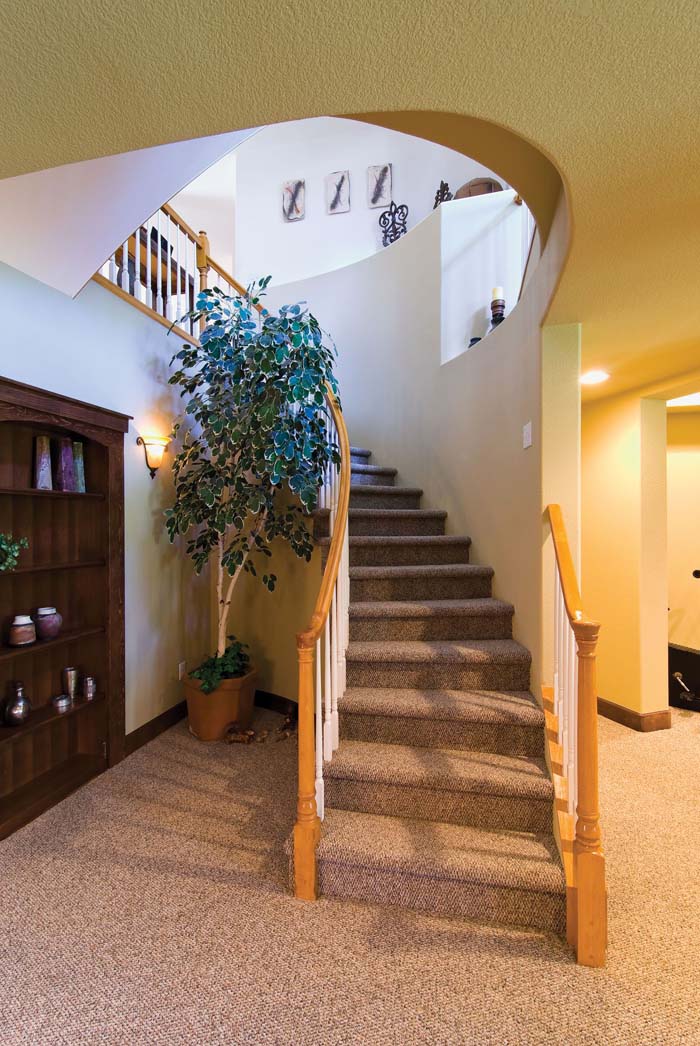 An elegant curved archway invites the visitor down past shelves of artifacts in this remodel. A large tree sits in an awkward corner, enhancing the height of the staircase.
Its leaves create interesting shadows and bring an organic touch to the space.
via FBC Remodel
15. Add a Charming Cottage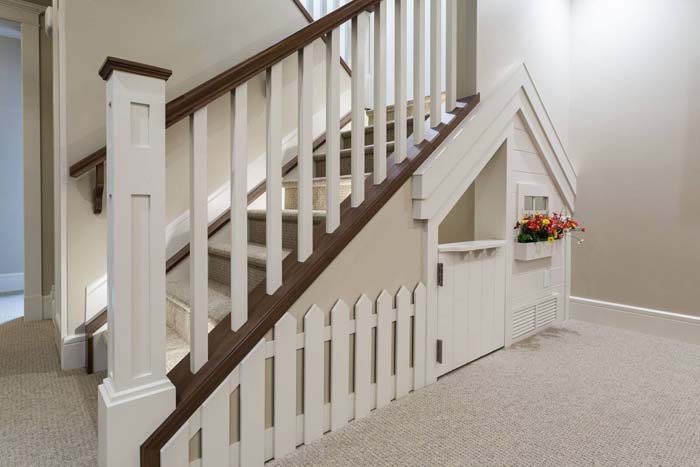 A tiny picket fence leads the way to a secret cottage under the stairs. It's complete with a swinging door and a flower box.
This is a great way to add a play area for kids or use it as a whimsical storage solution.
16. Build a Secret Getaway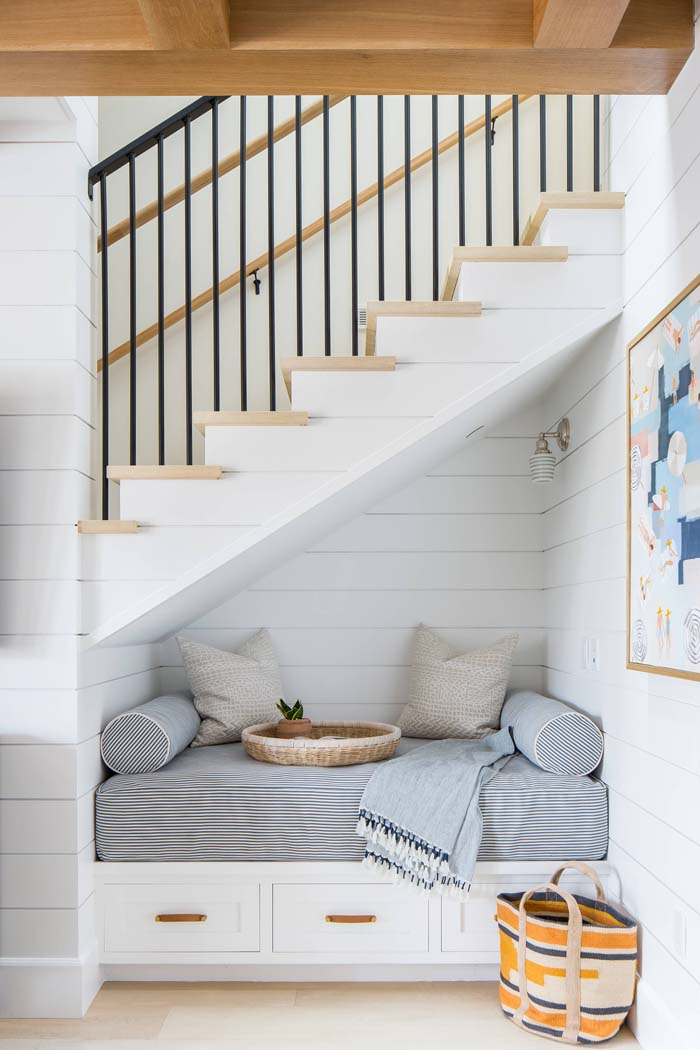 Why should your kids have all the fun playing under the stairs? This little nook was created with adults in mind. A thick cushion and bolster pillows create the perfect day bed.
There's plenty of storage underneath and a sconce installed for lighting makes it a great place for reading, needlework, or napping.
17. Shelving Under Stairwell You Can DIY in a Weekend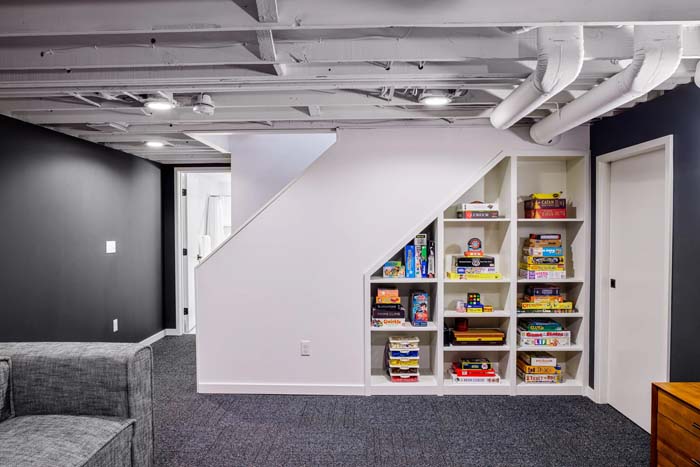 One of the simplest ways to take advantage of your staircase is by adding shelving underneath.
You don't even need to add doors to this DIY project. It keeps toys accessible and organized. The kids can always see where their next adventure awaits.
18. Modern and Organic Staircase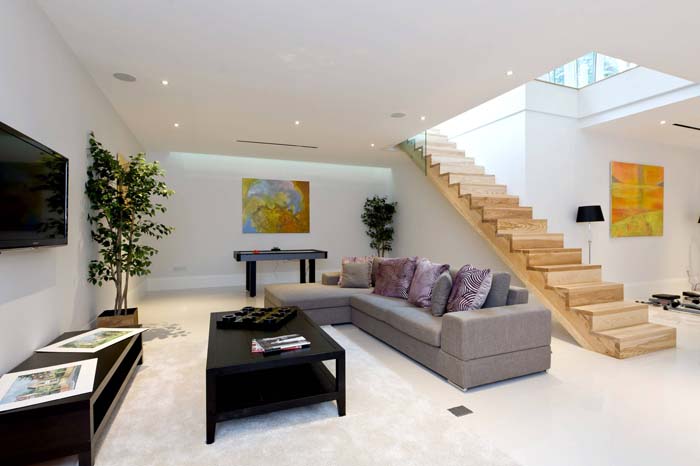 A modern home has a decidedly natural staircase. There are no handrails or balusters to be seen.
At the same time, choosing a completely hardwood structure and staining it using a natural finish brings an organic element to the room. You'll have to check with your local building codes to make sure that this type of design is allowed in your area.
19. Iron and Hardwood Staircase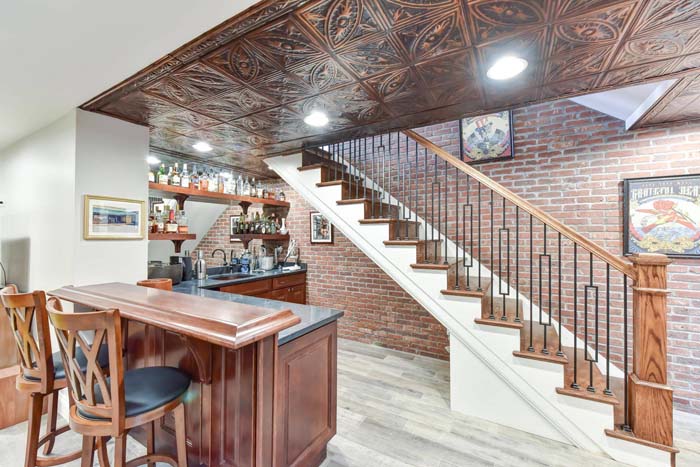 Wrought iron balusters, a wood grain handrail, steps, and stair riser lead to a speakeasy under the stairs. Underneath the tin ceiling, a full wet bar is hidden in plain sight.
20. Add Moldings to Your Stairwell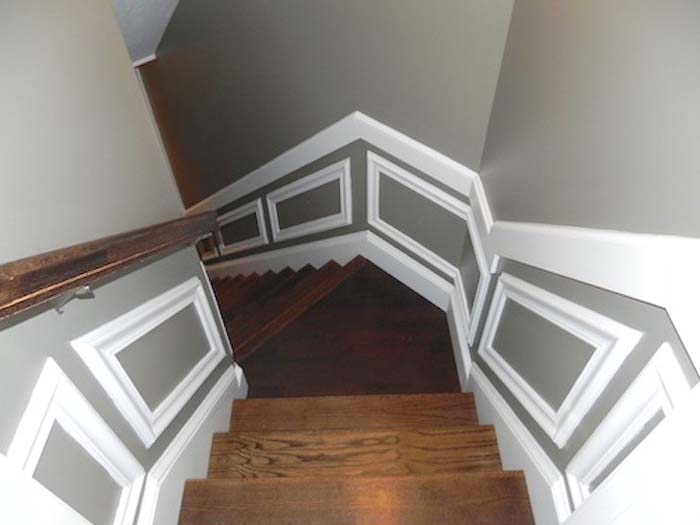 The staircase takes advantage of the irregularly shaped design by playing up the curves and bends with moldings trimmed in white.
The thickness of the moldings adds a playfulness to the space. This basement stair idea can be done with simple trim molding.
21. Industrial Modern Floating Staircase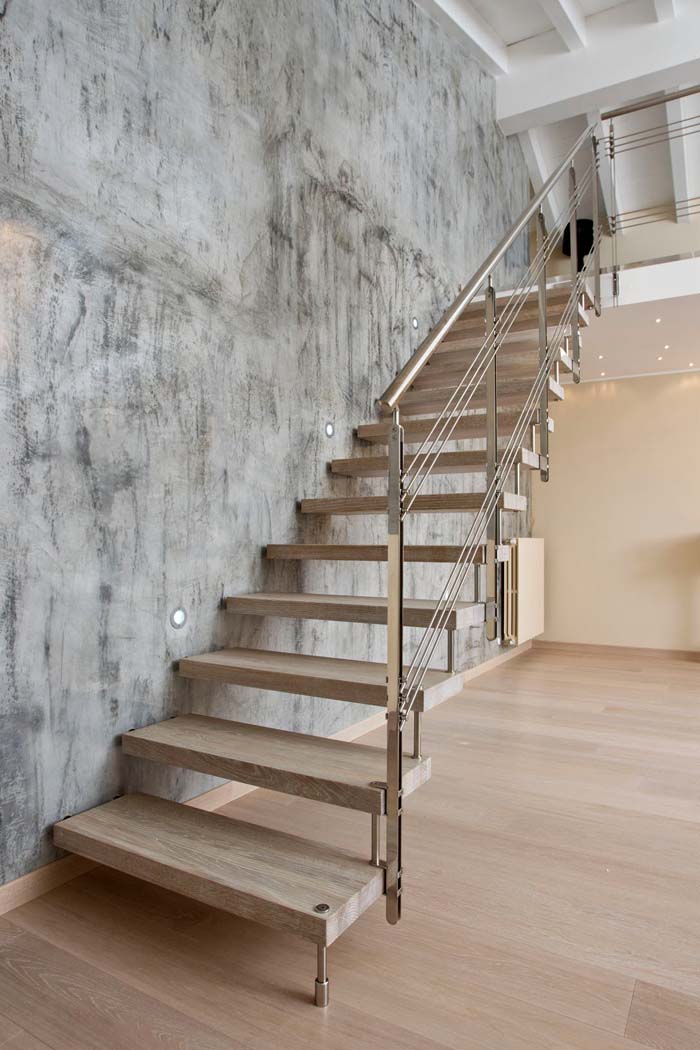 A modern and minimalist staircase is designed to add to the industrial flavor of the incredible feature wall in the background.
Even though each separate step is thicker than any normal wood stair, floating steps and a cable handrail kit keep the open staircase light and airy.
22. Modern Farmhouse Staircase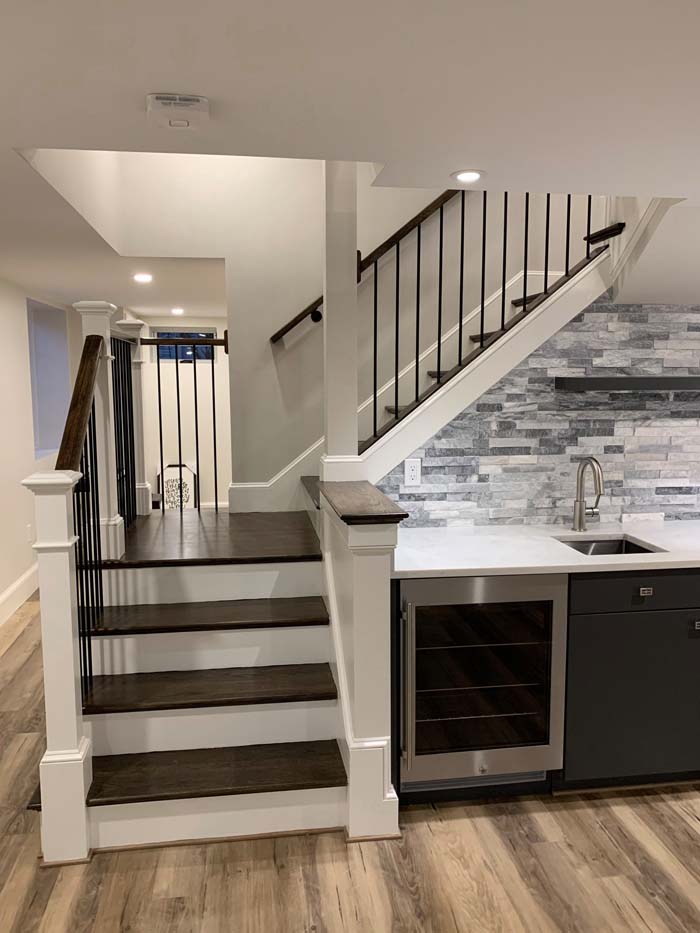 As with any home additions, the basement stairway should be designed to match the style of the rest of the home.
The black stained wood and cream colored post and risers fit right into this modern farmhouse staircase. The stairs and landing match the kitchen cabinets.
23. A Creative Playhouse Under the Stairs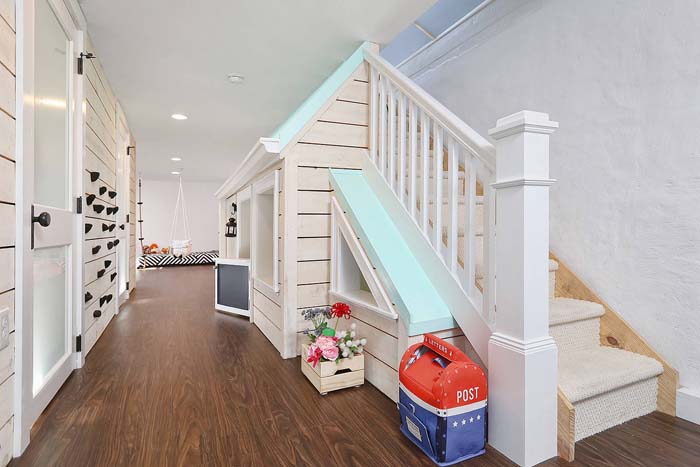 A full play house is the center of activity in this basement. We love the shiplap siding, mint roof, and even the little post box for special letters.
24. Simple and Modern Staircase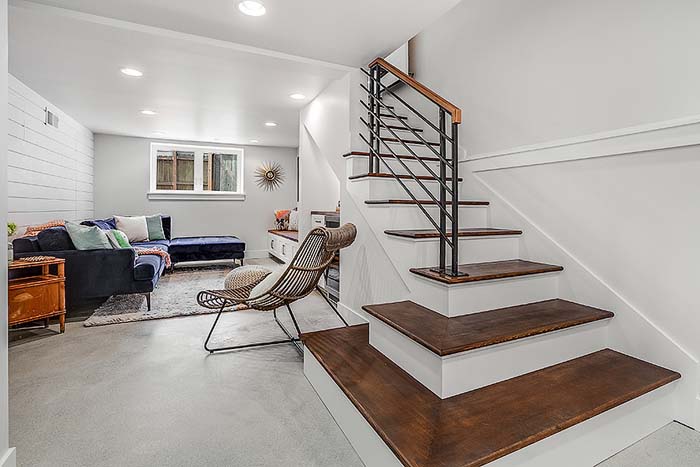 A horizontal metal baluster and handrail stop short of the bottom of the staircase. This is a great staircase idea when the stairs come up close to a wall. The extra-wide landing at the base makes it easy to bring furniture around the corner.
The basement floor is made of cement and looks fabulous. The right basement stairwell can turn any unfinished basement into a relaxing, good look hideout.