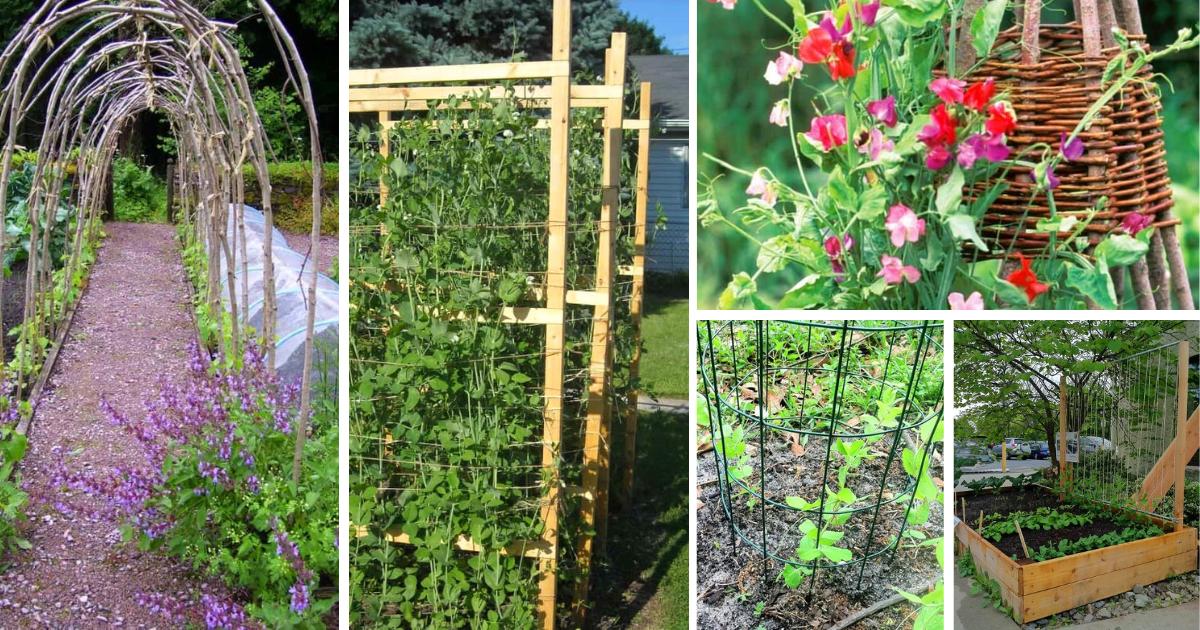 If you want to save space in your garden, consider growing peas vertically. Climbing peas usually have vines that can spiral out of control very quickly. Also, they are prone to pests, fungi, and diseases such as powdery mildew when left to sprawl along the ground.
A good way to avoid these problems is using a trellis. It's an easy, fun, and excellent way to add functionality and charm to your garden. In this article, we'll look at the 28 best DIY pea trellis ideas to grow your peas.
1. Let Your Plants Thrive with a Raised Garden Bed Trellis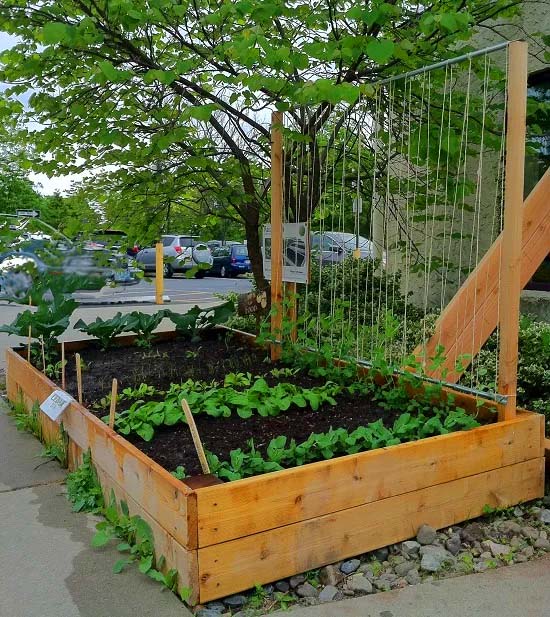 If you have a raised garden bed, you can modify it to make a sturdy trellis for cucumbers and peas. 
You'll need some DIY skills and supplies to complete the project, but it'll be worth all the effort in the end.
2. Enjoy Your Plants with Wire Fence Trellis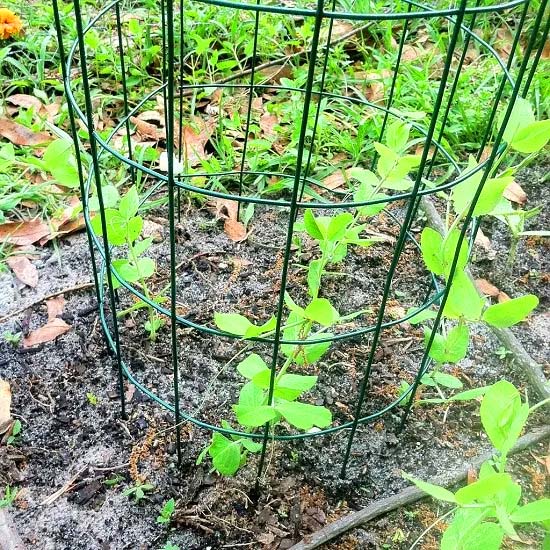 For this project, you'll require wire fencing with a height of at least 30 inches. Use zip ties to connect the sides of the wire fencing to each other.
This is an excellent pea trellis idea to add to your vegetable garden in a small area.
3. Upcycle Crutches into a Rustic Trellis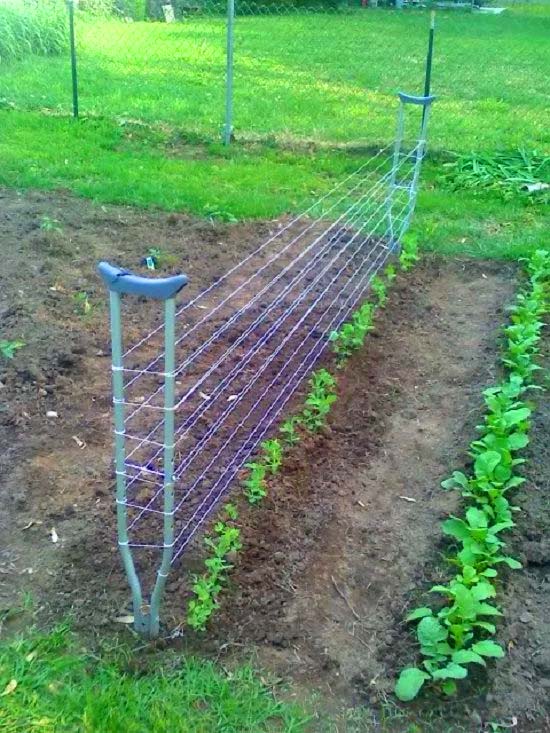 Don't throw away those used crutches! They can be upcycled into a great pea trellis for your vegetable garden.
It might initially seem whimsical, but it's actually a very clever idea.
4. Quick DIY Trellis Idea Using Chicken Wire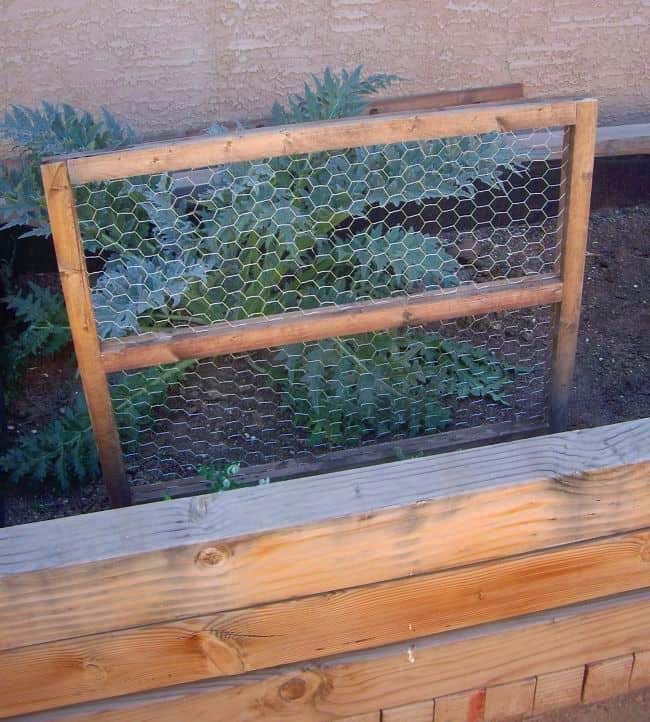 A chicken wire trellis is an effective and simple way to support climbing plants.
The gardening project is fairly simple, and you need only attach your chicken wire mesh to a frame or stakes to create a grid for your pea plant.
5. Transform Your Space with a Woven Bamboo Trellis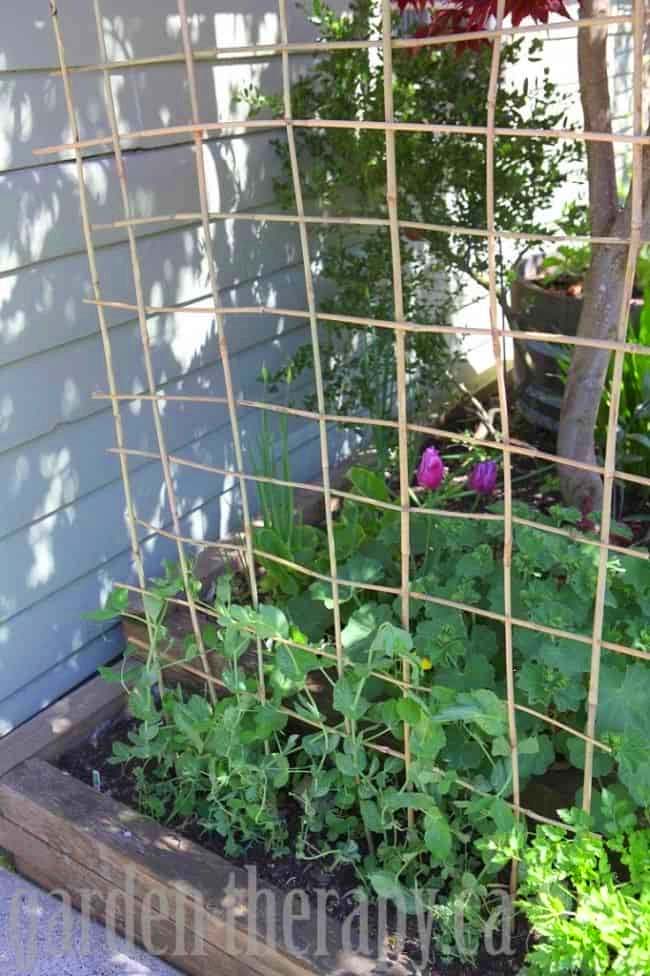 via Garden Therapy
Bamboo is an excellent option for supporting climbing plants such as peas and beans. Once you notice your pea seeds germinating, you should get ready to provide some support.
This well-built, sturdy trellis is made using bamboo sticks only. It's an excellent DIY pea trellis project for beginner gardeners since it doesn't require any tools.
6. Create a Rustic Trellis with Branches and Twine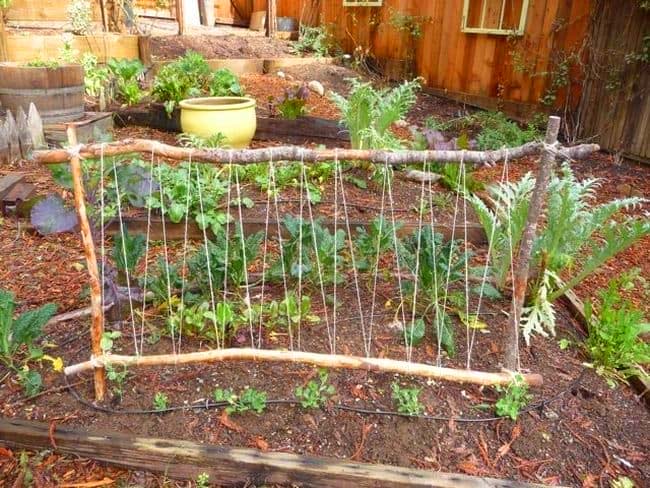 A garden trellis doesn't need to be very complicated, and this pea trellis idea is a great testament.
Find some branches and tie them together to form a rectangular structure. Use garden twine to connect the two horizontal branches, and viola! You have a trellis. I'm sure your plants will love the support!
7. Make Your Garden Stand Out with a Bicycle Wheel Trellis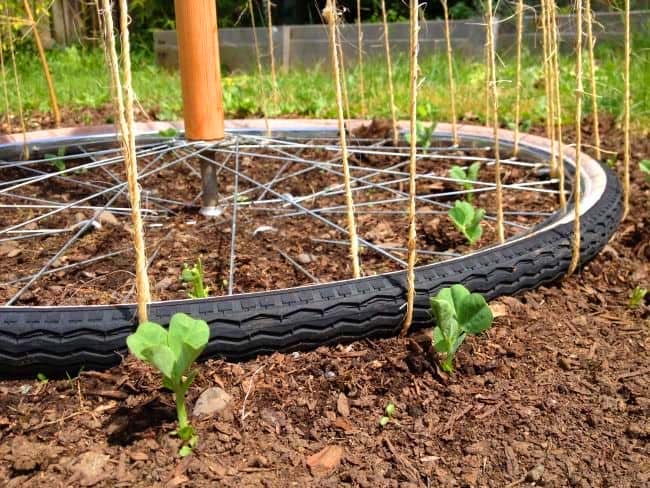 via From Sprout
This is a budget-friendly project that your vining plants will love. The bicycle wheel trellis is functional and visually appealing.
It will be a fantastic addition to your vegetable or flower garden.
8. Bring Farmhouse Charm with DIY Twig Trellis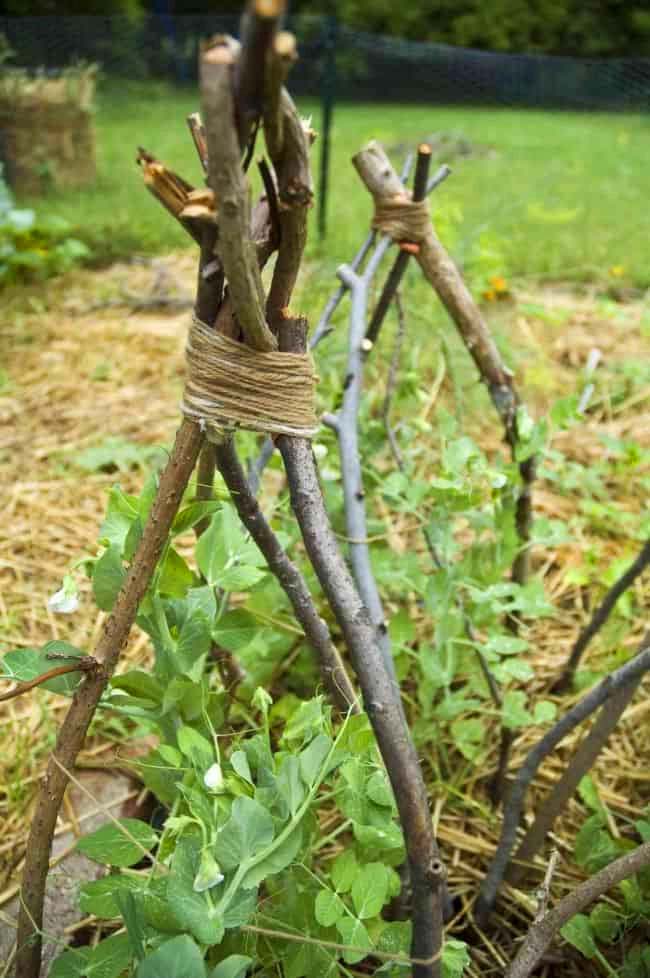 This DIY pea trellis idea involves tying some twigs with twine to make a teepee-like structure. 
The rustic twigs create an enchanting and natural feel to your garden.
9. Enhance Your Vegetable Garden with Branches and Twine Trellis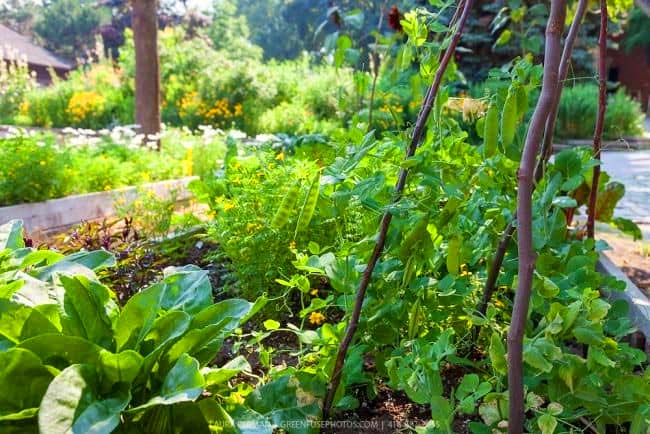 via Photoshelter
If you plan on growing sweet peas, this is a great idea.
You'll fall in love watching your plant's vines scramble up the cut saplings you've used, whether birch or poplar.
10. Elevate Your Garden with Jute Teepee Trellis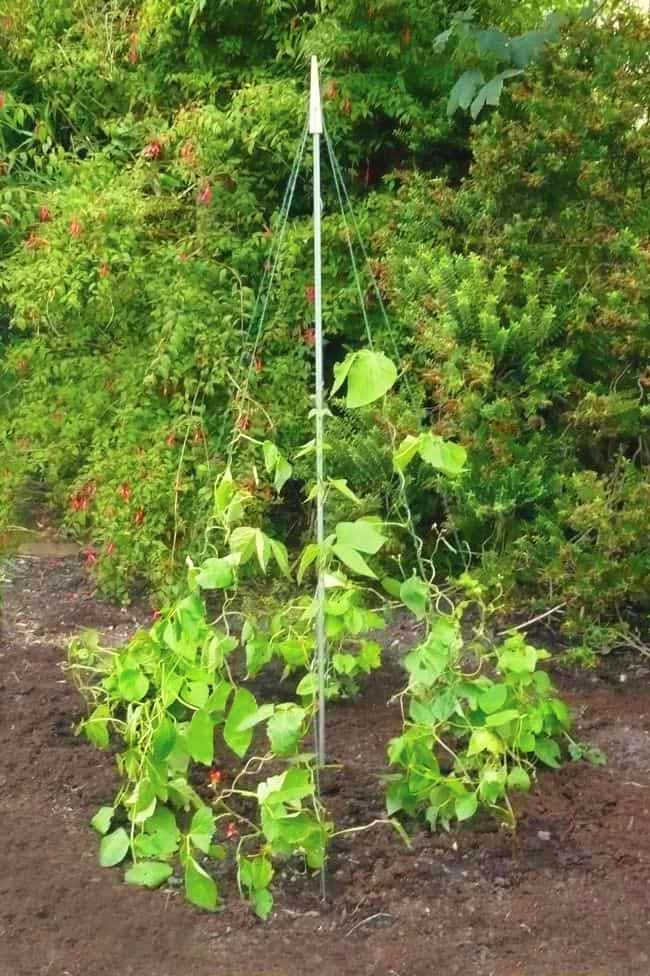 You can never go wrong with a teepee trellis when it comes to vining plants.
This version employs a single aluminum pole supported by jute to create a conical shape. Try this idea with your snow peas.
11. Embrace Minimalism with Vegetable Trellises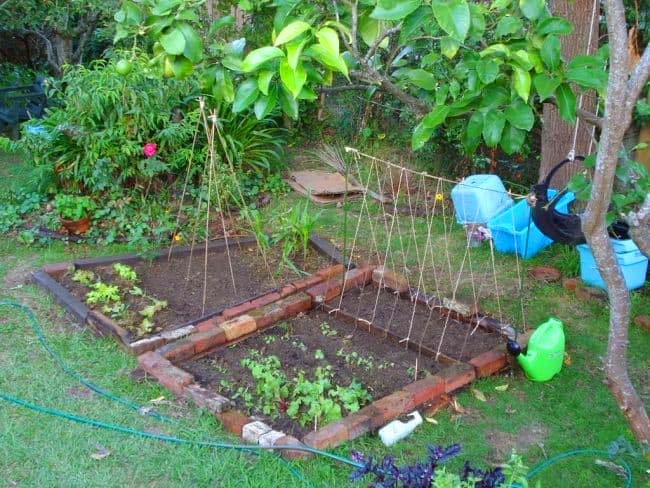 The simplicity of this pea trellis idea is what makes it unique. The small gardens have been adorned by a teepee trellis and a frame trellis, all using twine.
12. Add Texture and Definition with an Arched PVC Pipe Trellis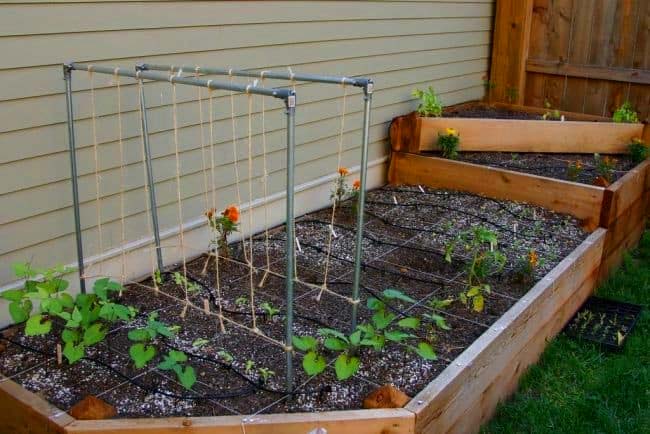 Peas are one of the best vining plants you can grow using vertical gardening. This project uses recycled PVC pipes to make an arched trellis.
This strong pea trellis will serve you for years since it uses durable metal pipes. You can use it to support heavy vining plants like mini melons and cucumbers. You'll also get double growing space and a beautiful trellis in your garden.
13. Adorn Your Planter with a Simple Teepee Trellis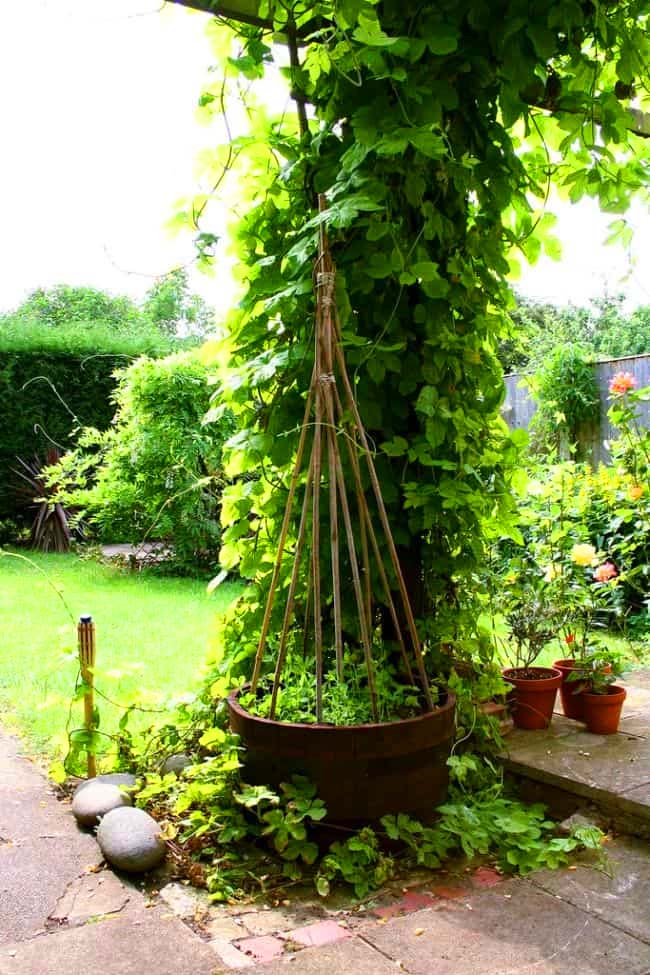 You can always grow your vining plants in pots if you have limited space. The pea trellis is made using bamboo poles tied together to form a teepee.
Placing the pot near a pillar with other vines creates a jungle look that'll amaze your guests.
14. Make an Enchanting Walkway with Arched Birch Trellis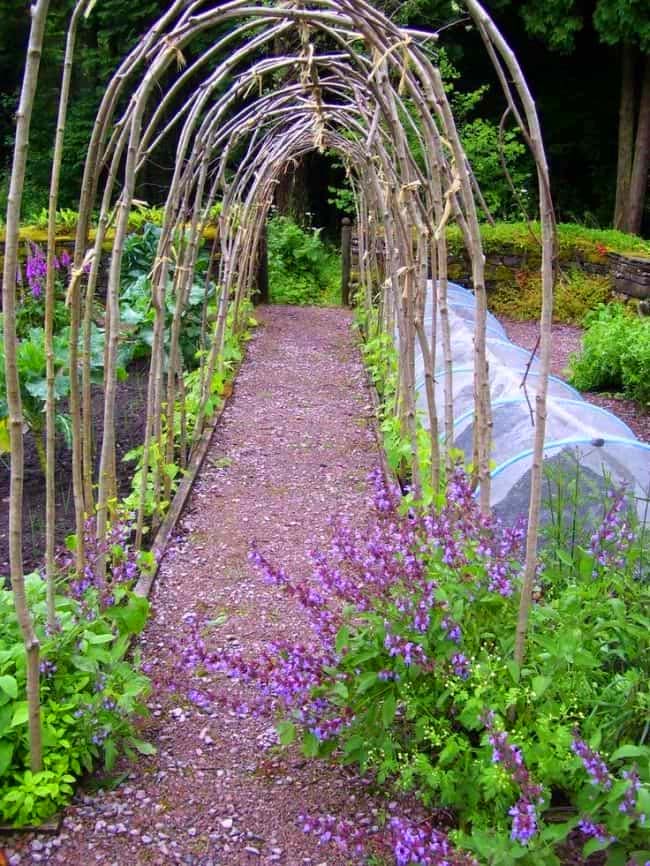 An arched entryway is the perfect way to add charm to your garden. The arch trellis is a classic popular design used for functionality and aesthetics.
These arched trellises create a tunnel that tempts you to walk through and traverse your garden with childlike awe. I recommend using soft branches like willow branches since they can bend easily. You can also use the arched trellis for gourds and beans.
15. Boost Your Curb Appeal with A-Frame Trellis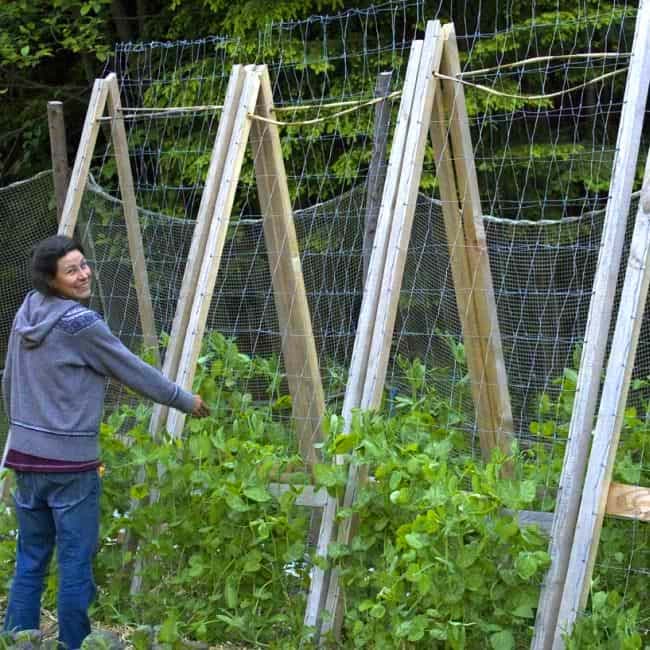 There are many clever adaptations for an A-frame trellis, such as using strings on the cucumber trellis or hardware panels on a tomato trellis.
This project uses long legs of untreated cedar to create a frame attached to another similar frame using hinges. A wire grid is then stapled onto the frames to complete the trellis.
16. Accentuate Your Pea Trellis with Hanging Planters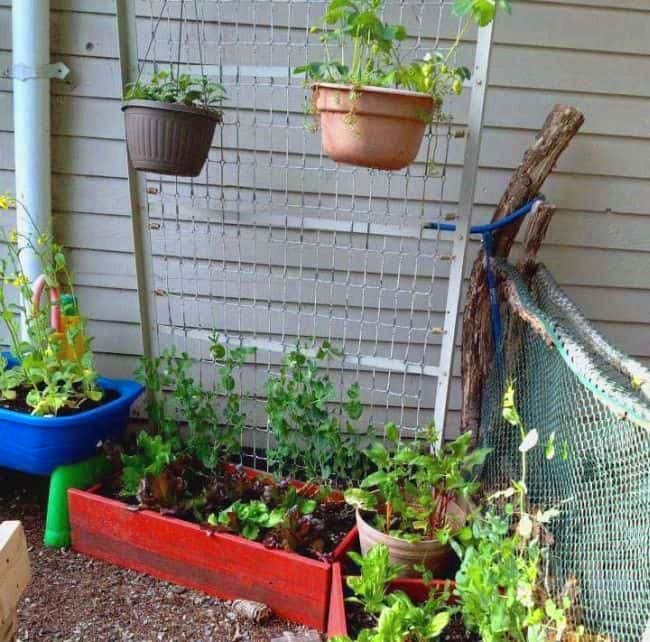 Wondering how to take your gardening to the next level? Combine your projects! This pea trellis acts as a support for vining plants in wooden planters and hanging planters.
The whole setup will collectively invigorate that dull wall of your house.
17. Turn a Ladder into a Simple Garden Trellis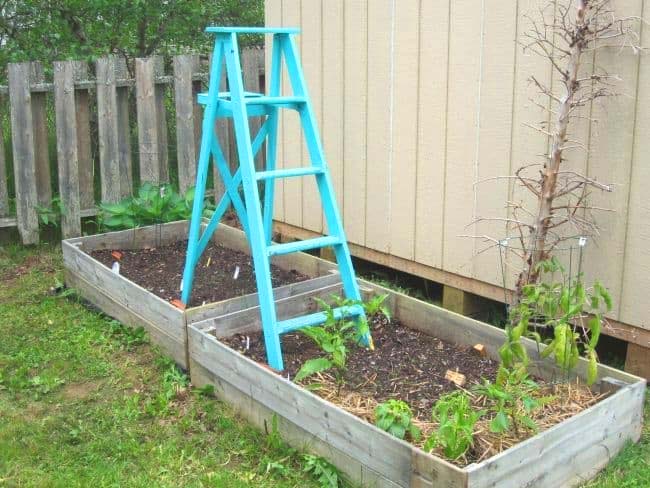 Repurpose an old ladder to make this amazing pea trellis. The trellis joins two small raised garden beds.
You can paint your ladder to add color and vibrancy to the whole look.
18. Add Glamour and Personality with Multiple Trellises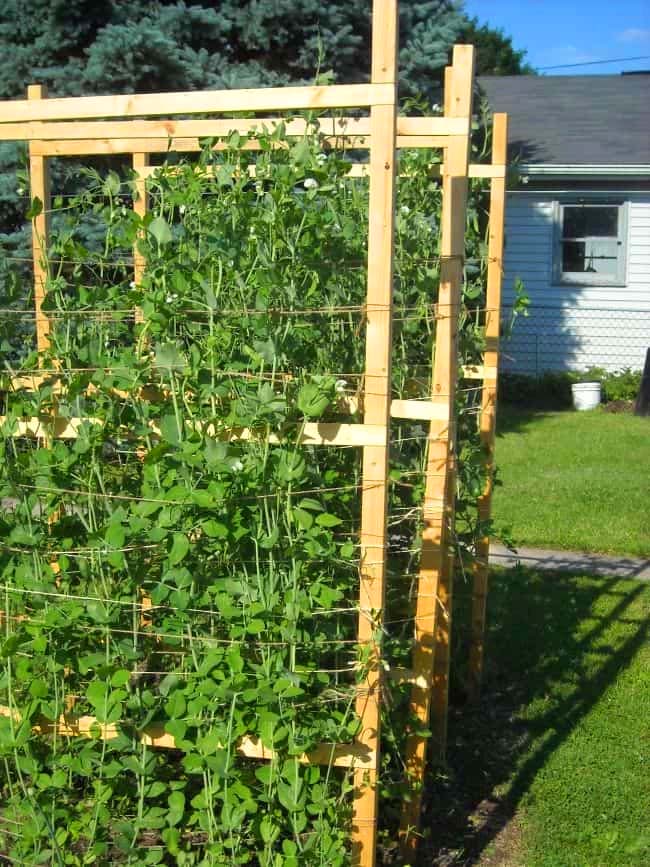 One pea trellis is great, but three are much better!
This gardening project uses wooden beams to create multiple frames. A grid is then made using twine to help your garden peas thrive.
19. Beautify Your Home with an Arched Pergola Trellis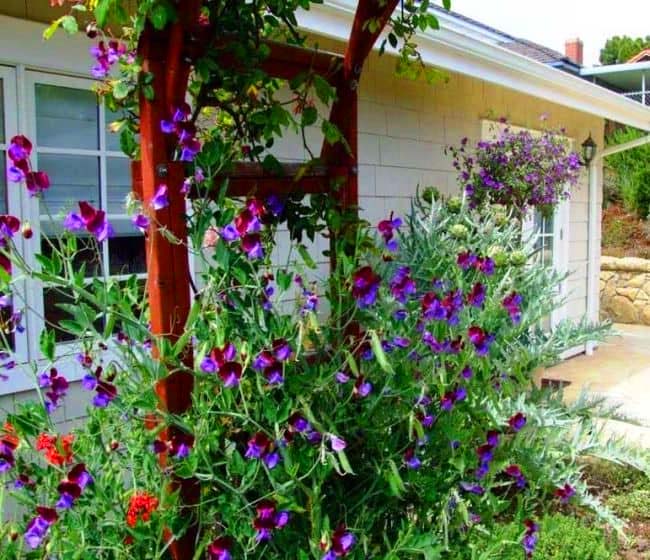 Arched pergolas are an excellent way to bring impact. They create cooling shade and define your outdoors while acting as a support structure for climbing plants.
Incorporate some crops and flowers, and you'll have a dramatic entryway!
20. Boost Your Curb Appeal with a DIY Peas Trellis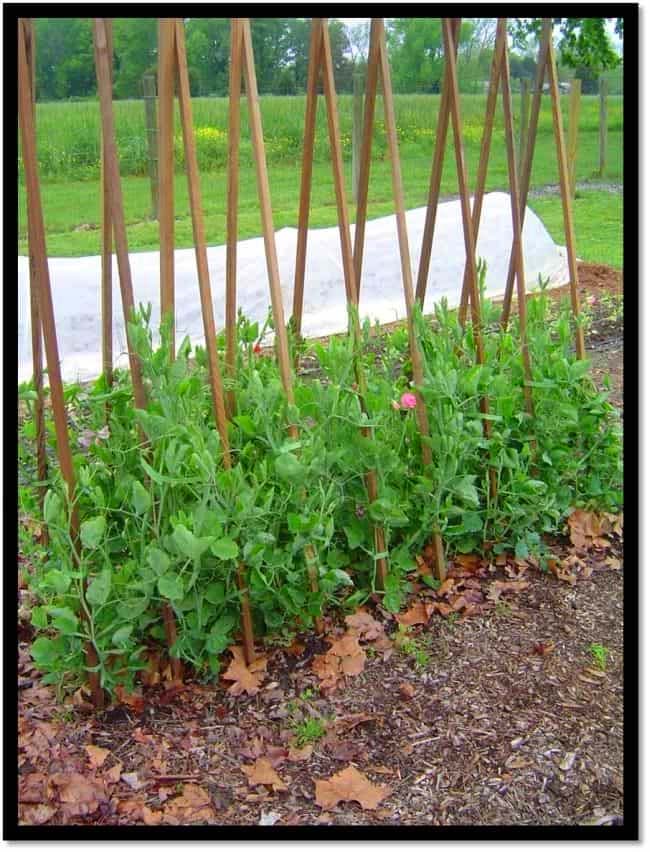 You can use this ornamental pea trellis to support your climbing plant from both sides. Find some wooden stakes and create a couple of A-frames adjacent to each other. As the vines grow, they'll entwine on the stakes and climb up easily.
Bamboo is another alternative you can use for this project.
21. Jazz Up Your Backyard with a Privacy Screen Trellis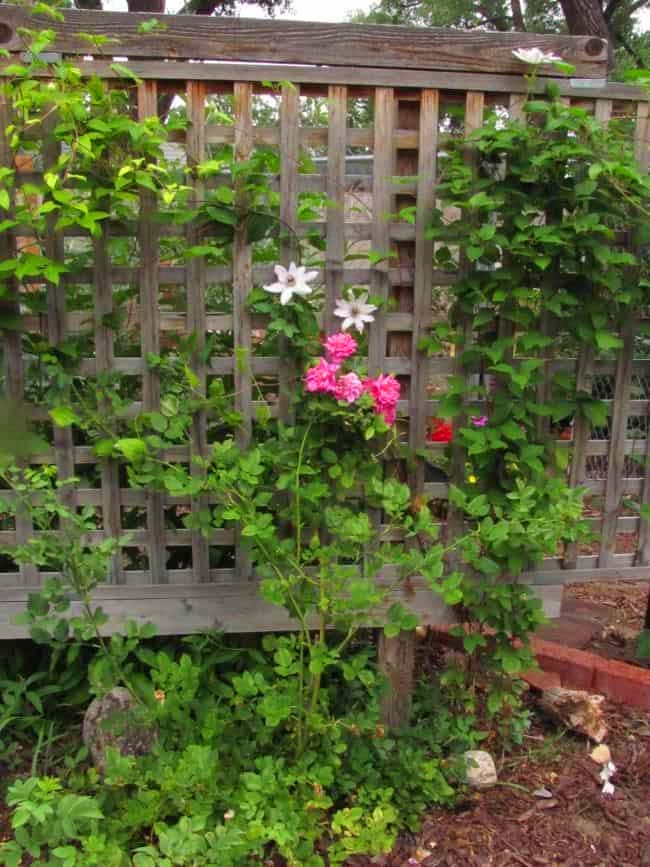 Instead of using a garden fence or a brick wall for your privacy screen, why not use a trellis? 
This trellis idea uses wooden pallet panels to support crops and flowering vines. It will make an astounding green backdrop for your vegetable garden.
22. Bring Rustic Charm with a Metal Headboard Trellis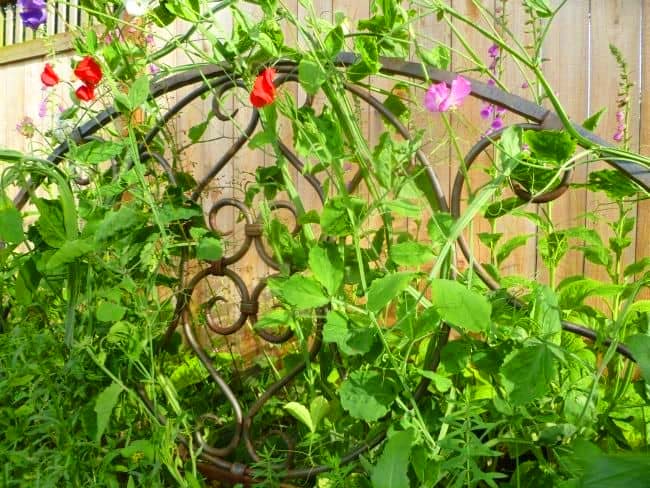 This is another upcycled trellis idea for your garden. A vintage metal headboard is placed next to a plain wall and embellished with vining flowers.
This is a great way to give your garden that Victorian feel and elegance.
23. Modify a Bicycle Frame into a Rustic Pea Trellis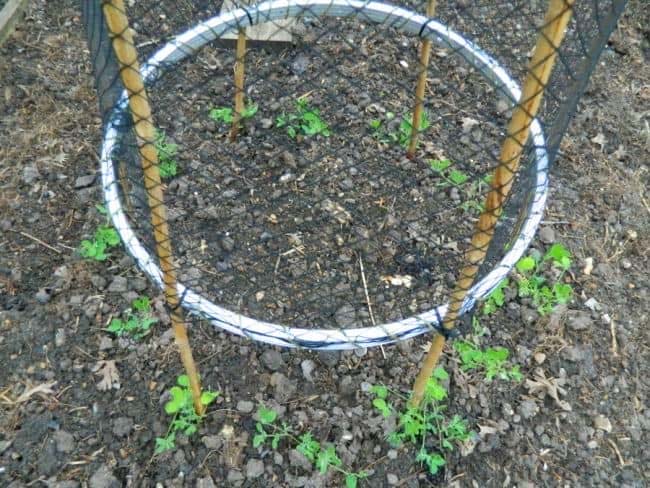 This DIY pea trellis idea utilizes a recycled bicycle wheel and a wire mesh to create a pea trellis.
Fix your wheel inside four anchored wooden stakes or poles. Once you are done, use netting and a wire mesh to swathe your entire layout from the outside.
24. Showcase Your Skills with Bicycle Rims Trellis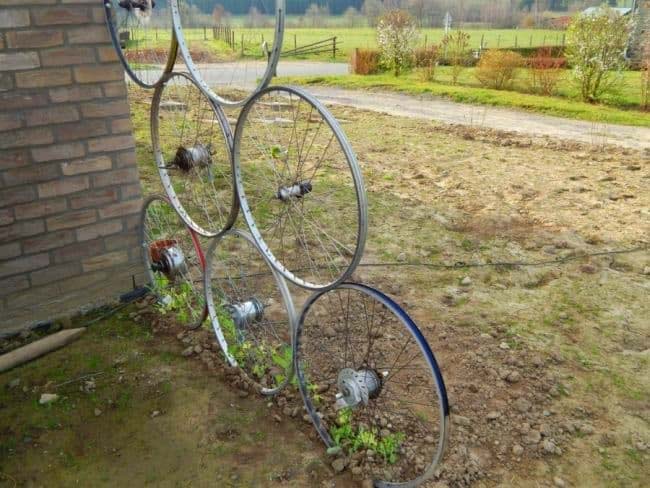 A garden trellis doesn't always have to be plain and simple. You can create an elegant artistic feature using a trellis idea.
This project uses stacked bicycle rims to create a whimsical trellis. You can easily find bicycle rims at yard sales for a cheap price.
25. Transform an Old Window into a Pea Trellis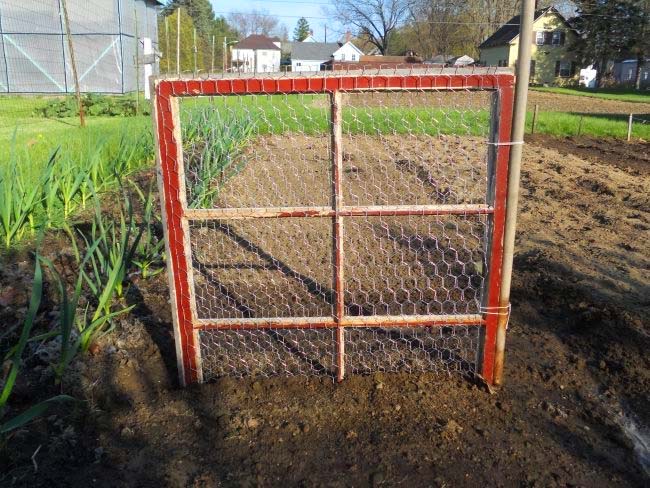 You can salvage an old window and create support for a climbing plant. 
You need only remove the glass panes and staple some chicken wire. The window trellis can also be used as a privacy screen.
26. Make a Pea Trellis with Recycled Baby Crib Rails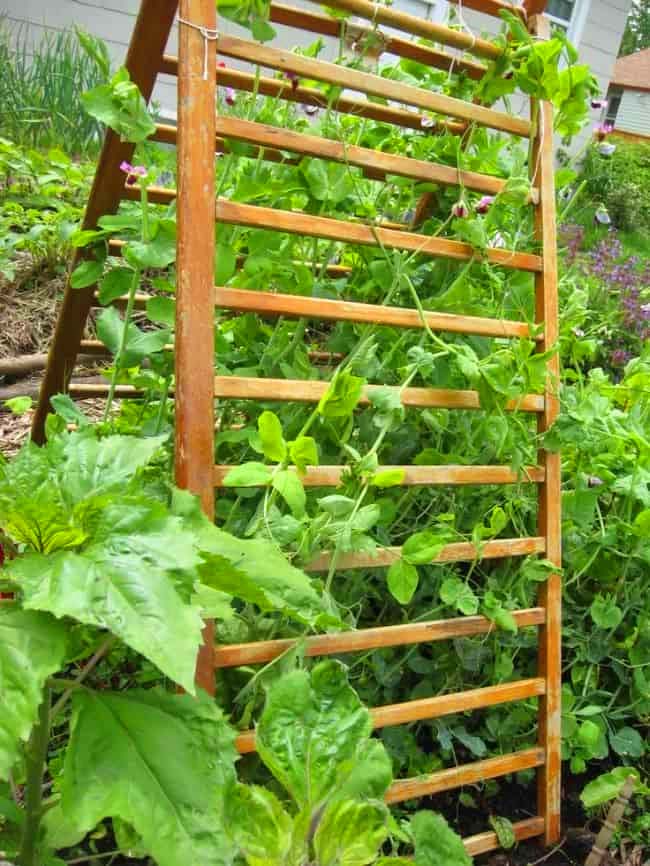 Old baby crib rails are also another upcycled trellis idea you can utilize.
The process is fairly simple. Place your baby crib rails in your garden and enjoy watching your garden peas grow.
27. Wood and Chicken Wire Pea Trellis on a Raised Garden Bed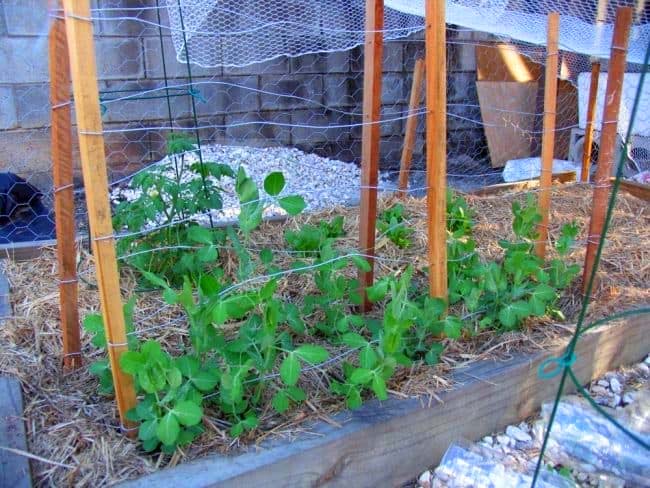 You can use wooden trellises to grow various plants, including peas, beans, cucumbers, and tomatoes.
This particular trellis uses wooden stakes anchored on a raised garden bed. Wrap chicken wire to the stakes to provide support to your climbing plants. You can also use wire mesh or single wire strings as alternatives.
28. Bring Lasting Charm with an Easy DIY Pea Trellis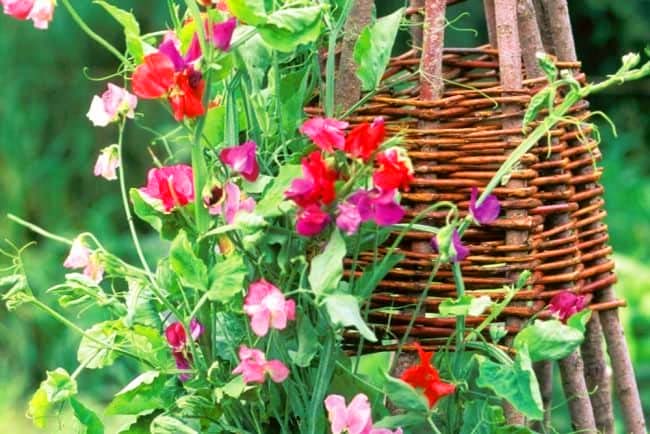 This project uses branches connected with sturdy wooden twine. The trellis is adorned by colorful pea blooms, and the whole structure evokes a natural feel.
You need only direct the pea vine tendrils and attach them to the trellis.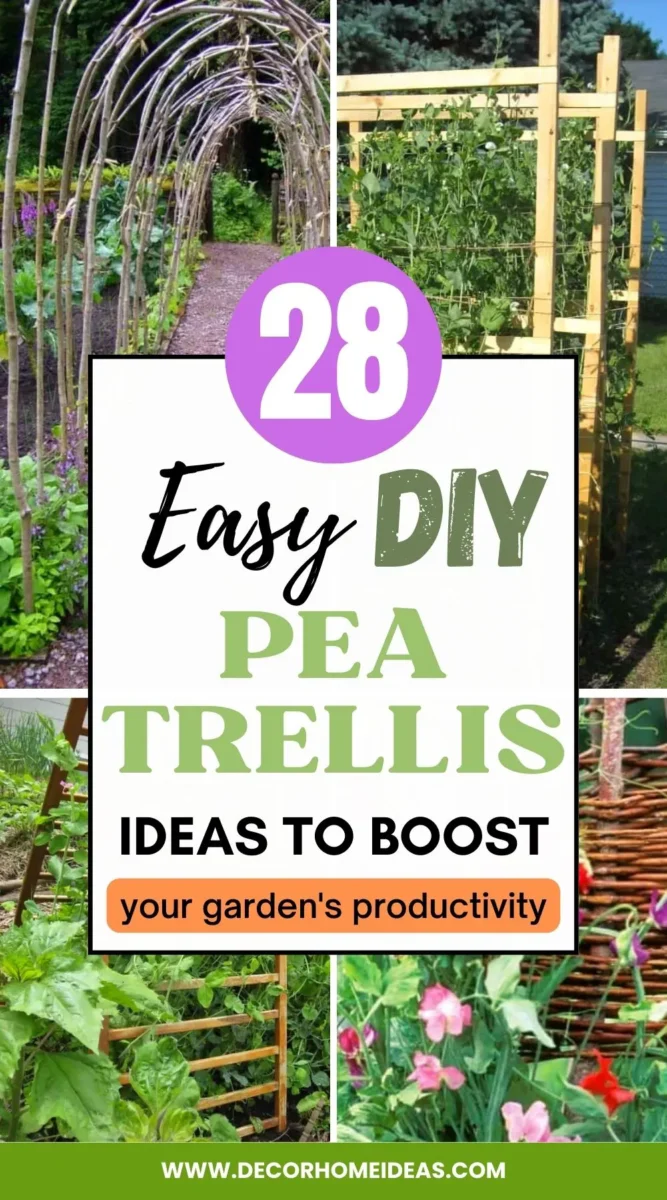 Frequently Asked Questions
What is the best trellis for peas to climb?
The best trellis for peas to climb is a sturdy one at least 6 feet tall. Peas are vining plants, so a trellis made of wood or metal is a good option, as it will be strong enough to support the weight of the peas. 
You can also use a fence or a wall as a trellis, but make sure that it is tall enough and sturdy enough to support the weight of the peas.
How do you make a simple pea trellis?
The A-frame design is one the easiest trellis you can build. You need only some wooden stakes or bamboo and tie them together using twine.
Final Remarks
We have reviewed DIY trellis ideas that you can make with readily available materials, making these solutions very economical.
So, go on ahead and choose one to support your fabulous growing pea vines.