Contemporary, sharp lines combined with ease and functionality. Nothing gives your bathroom a more individual look like than a concrete trough sink! It is an adjustable design option that adds a touch of style and class to any bathroom.
Moreover, this material gives your imagination a full freedom to use your creativity as it comes in a wide variety of sizes, colors, and shapes.

I will try to convince you with these 12 amazing concrete bathroom sink ideas. So let's get started!  🙂
1. Transform your Bathroom with a Unique Concrete Trough Sink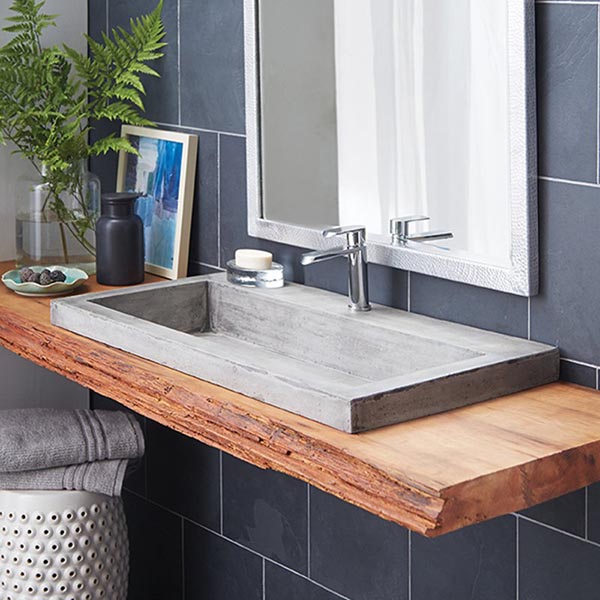 Learn more about the above sink: Here
Here is proof that it is time to change the way you think about your bath sink!
This beautiful light concrete trough sink would definitely become the centerpiece of your bathroom, completely capturing a flowing, cutting-edge aesthetic – with a distinct sensibility.
Thanks to the wooden element, it became one of my favorite concrete trough bathroom sink ideas!
2. Bring Farmhouse Charm with a Wooden Vanity Concrete Sink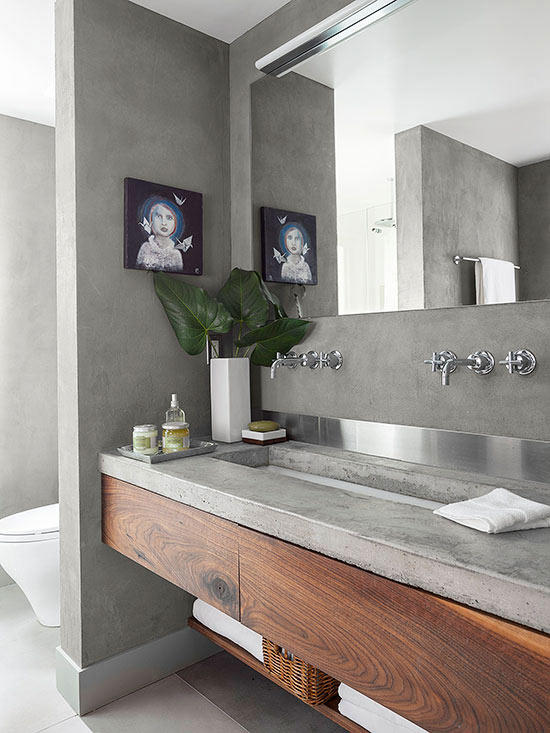 Photo:Credit
This is a classy, expensive looking wooden concrete vanity sink. Complement the modish vanity with a hand-plastered countertop made to imitate concrete.
Combine with some greenery for a smooth fuse of earthy and industrial.
3. Be Bold and Creative with Double Faucet Concrete Trough Sink

Photo:Credit
When I've shown this picture to a friend of mine, she was firm that this is one of the best concrete bathroom sinks she has ever seen! Ryen Duebber, the interior designer & architect behind this project, has created a handcrafted beauty, ideal for a more spacious bathroom – with plenty of room for family wash-ups.
4. Get Unmatched Aesthetic with Your Bathroom Concrete Sink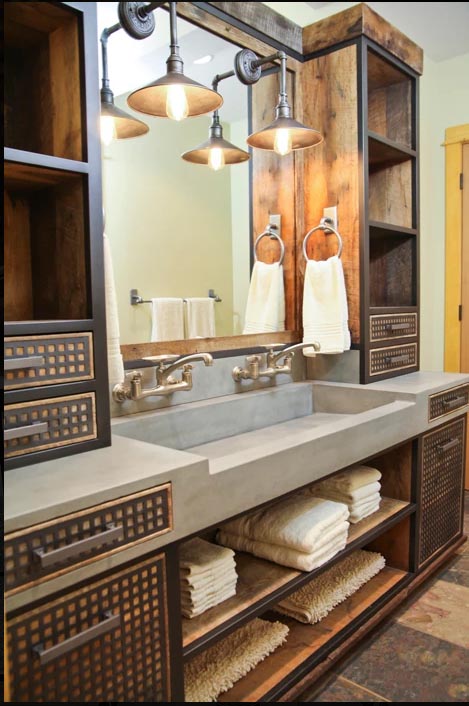 Photo:Credit
This cozy washroom interior brings a tranquil and neutral vibe that is warmed by natural wood accents.
The light color concrete sink keeps the interior cozy and airy. Love the industrial lighting!
5. Add Splendour to Your Home with a DIY Concrete Trough Sink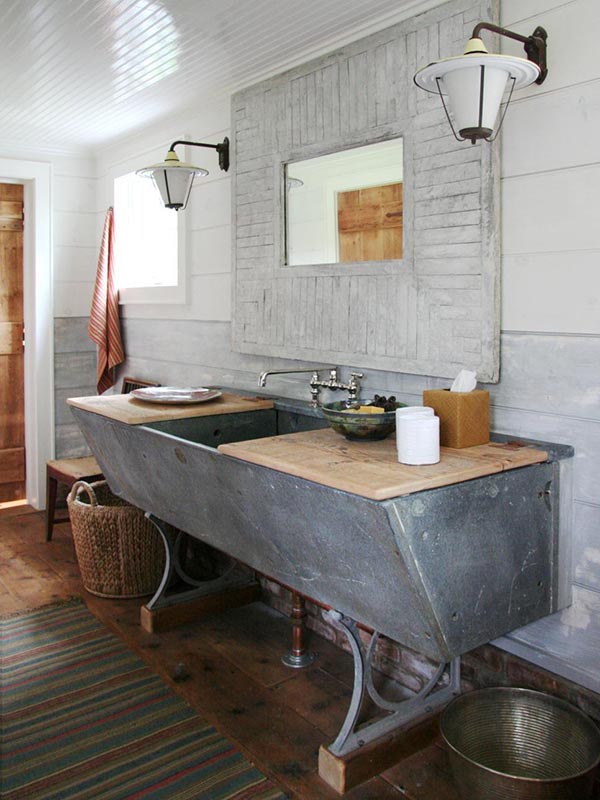 Photo:Credit
For those of you who love doing everything at home by their hand (and have some free time during the weekend), here is a thought – why don't you build a DIY concrete sink?
The material is a heat resistant, durable, and you can implement your own style in this project.
6. Maximize Space with a Small Concrete Farmhouse Sink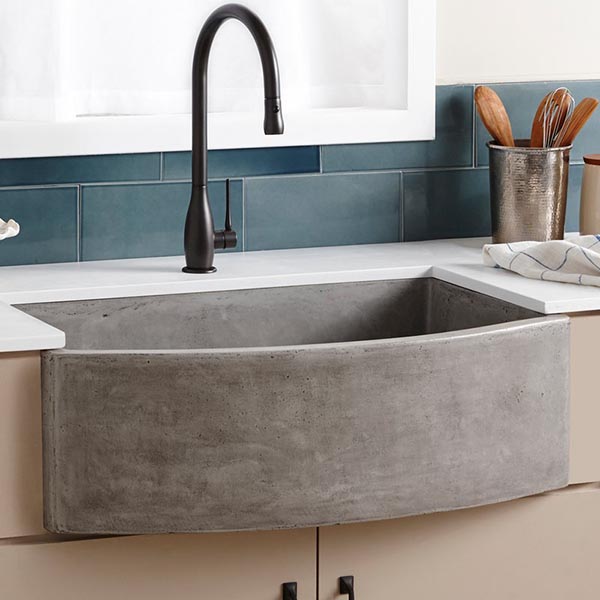 Learn more about the above sink: Here
Miniature but robust, this concrete trough bath sink is a deep, single bowl kitchen sink perfectly sized for a kitchenette in a guest house, a kitchen prep sink, or for the utility room.
7. Get a Contemporary Vibe with a Double Basin Concrete Sink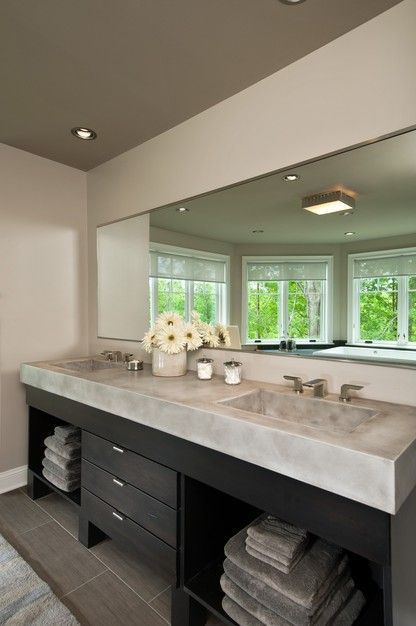 Photo:Credit
This solid double concrete bathroom sink vanity with copper faucets is definitely the focal point of the bathroom.
It is both practical and sculptural. Plus, it won't cost much!
8. Add Modern Industrial Style with Your Concrete Sink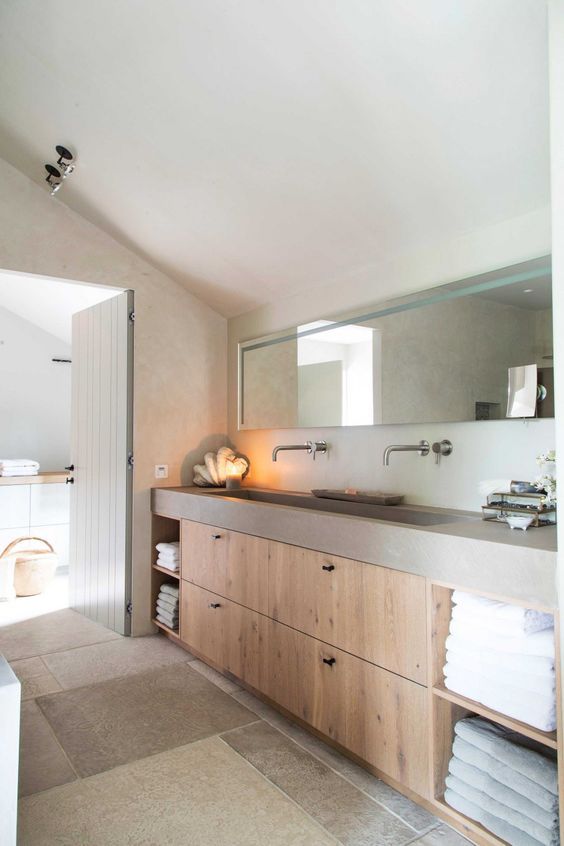 Photo:Credit
Thanks to the double concrete bath sink, the homeowners of this bathroom are enjoying a lovely mix of rustic vibe and a contemporary glamor.
Choosing between two styles that we like is not necessary, the best is to find a way to blend them.
9. Elevate Your Farmhouse Bathroom with a Brown Concrete Sink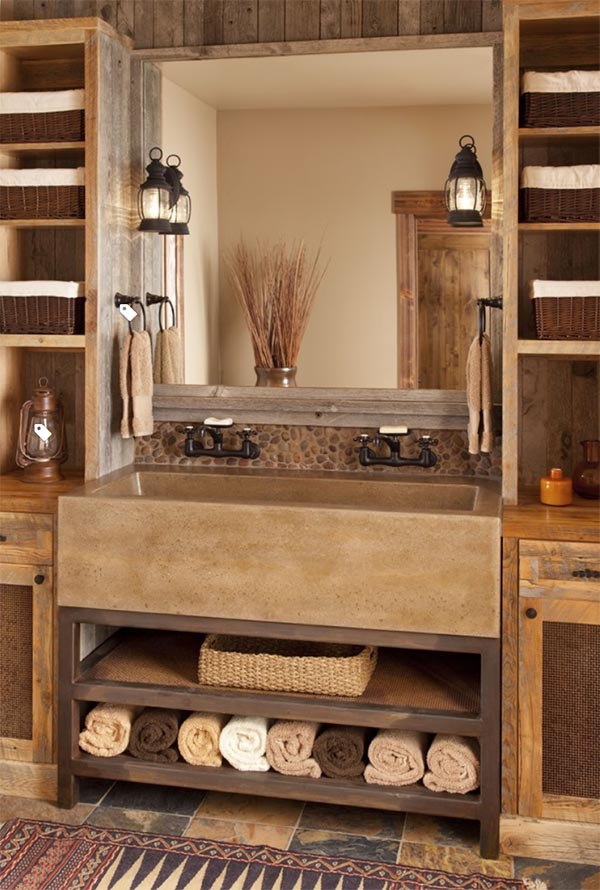 Photo:Credit
Some of you may think that the concrete material doesn't pair well with a rustic interior.
But that's totally incorrect! This light concrete trough bathroom sink with double vintage faucets is a proof.
10. Make a Lasting Impression with a Black Concrete Trough Sink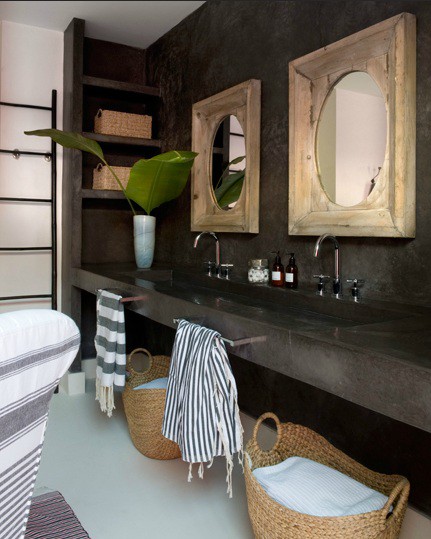 Photo:Credit
The peaceful vibe of this bathroom has been achieved by using appealing rustic wood mirrors on black stone walls over black stone floating vanity with concrete trough sink accented with modern gooseneck taps.
11. Create a Tranquil Atmosphere with a Concrete Trough Sink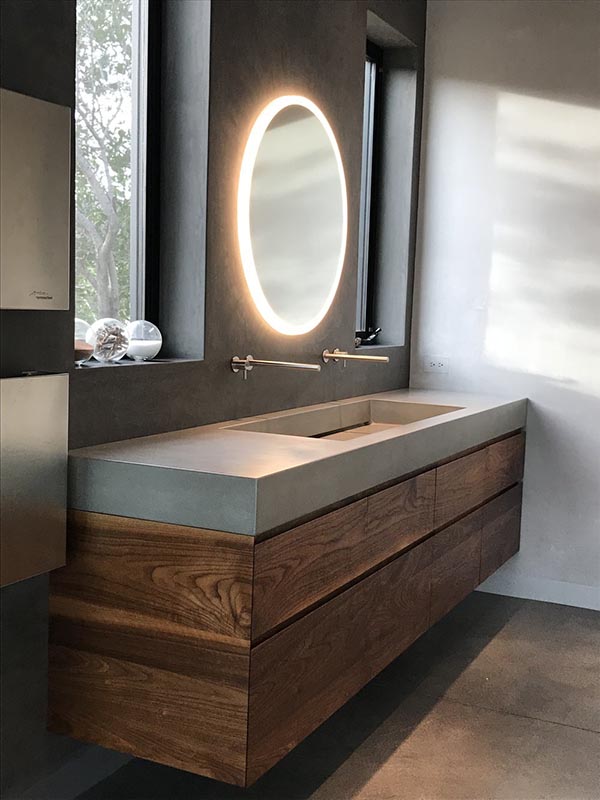 Photo:Credit
This concrete double sink is thoroughly handcrafted and finished with a series of coatings for a warmer look.
It gives the whole bathroom interior a more expensive, luxurious glimpse.
12. Step into Paradise with a Floating Concrete Trough Ramp Sink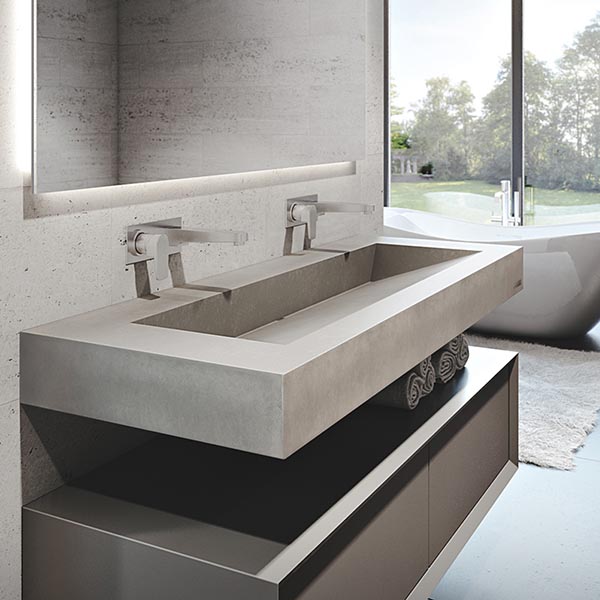 Photo:Credit
For those of you looking for some floating concrete bathroom sink ideas, I've decided to share this one!
This 60″ double faucet concrete sink is an equivalent of a style and sassy. It would rather pair with a spacious, modern bathroom interior.
💡 Many homeowners see the advantages of using concrete, especially when they want to remodel the bathroom by creating a customized sink or vanity.
If you are asking yourself why there are once again some of the benefits of choosing this material – adaptable, durable, affordable, personalized, maintained with minimum fuss.  🙂