Capable of transforming a mere space into your own personal sanctuary, decor is a crucial part of any residential property, but just how far are US citizens willing to go to transform their house into a home?
On average, the American household will spend $1880.67 per year on home decor, but according to our comprehensive study on consumer spending habits in the home improvement sector, some states contribute significantly more to this statistic than others.
Here, we'll be taking a look at the top and bottom 5 states regarding decor investment, taking into account factors such as investment per household, the number of designers per state and their salaries, and the percentage of income allocated to home improvement.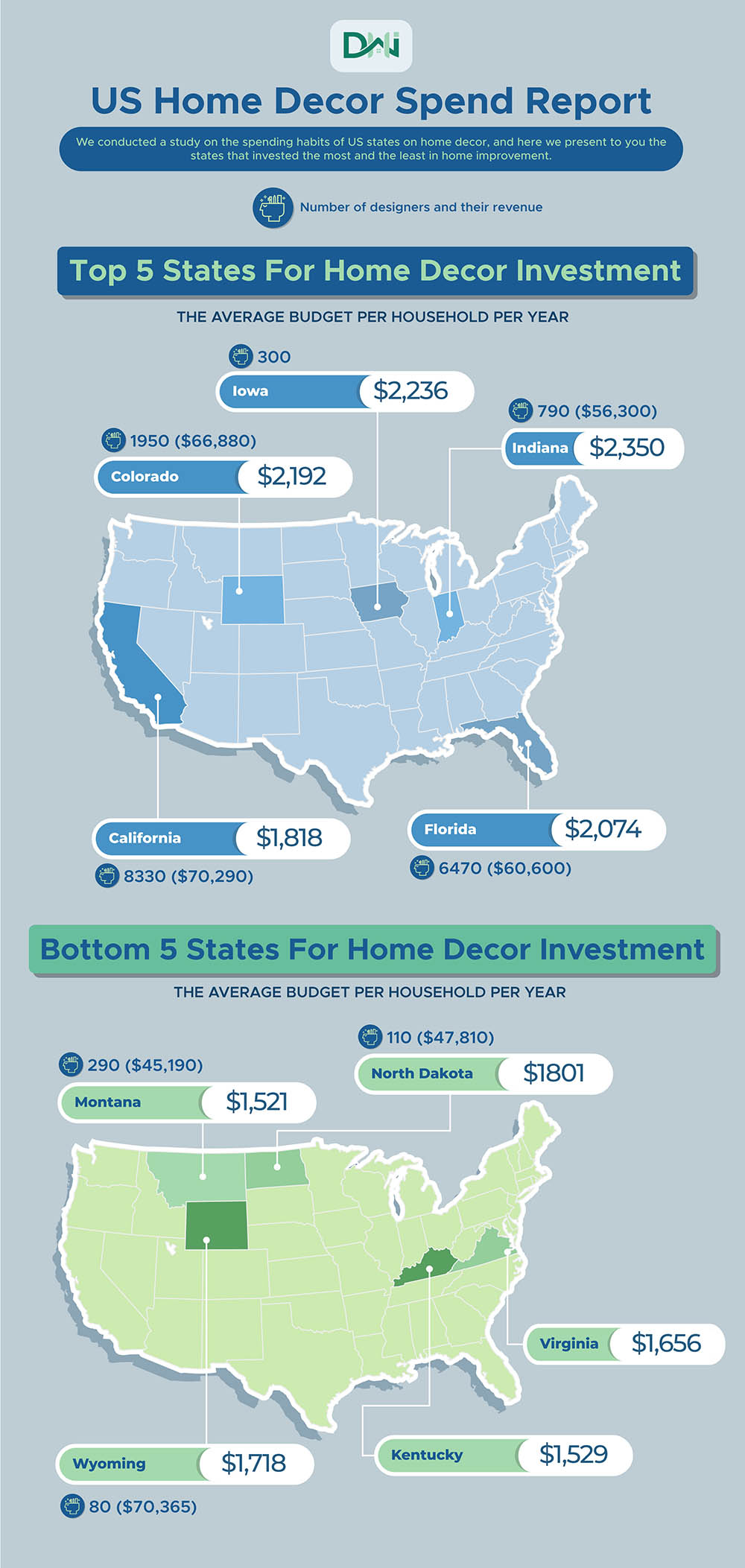 Top 5 States For Decor Investment
1. Florida
When it comes to financial investment, Florida isn't as dedicated to home improvement as a number of other states, but in terms of general investment, Florida residents are the most passionate about sprucing up their homes.
The average spend on decor per person in The Sunshine State is $823.28, and per household, $2,074.64, meaning Florida residents typically allocate around 2.49% of their salaries to home improvement, which sits pretty low on our index.
What gives Florida the edge in this ranking is the number of designers in-state (6470) and the fact they earn $60,600 per annum on average. Floridians are also quite partial to checking out home improvement tips online.
2. Indiana
Indiana residents are passionate home improvement investors, spending an average of $2,350 per household, a figure that's all the more significant considering the mean household income for The Hoosier State is a modest $76,984.
This equates to an average design budget of 3.05% of the Indiana resident's salary, which is the largest percentage in the nation. However, as the job market is full of opportunity and the cost of living is so reasonable in Indiana, people generally have more disposable income to funnel into home improvement. 
Surprisingly, though, Indiana is home to only 790 designers (not including self-employed designers), but, as they earn an average of $56,300 per annum, this state sits pretty low on the designer salary index, meaning home investors are likely getting a lot of bang for their buck.
3. California
Much like Florida, the average home improvement budget across California is comparatively quite low, at $721.51 per person and $1,818.21 per household — California residents allocate around 1.62% of their salaries to home improvement.
It's the 8330 designers in the state as well as their $70,290.00 salaries (6th highest in the US) that see The Golden State through to the third spot on our spend report. This is the most designers in any state!
Luckily for Californians, with a mean household income of $111,622, they can typically afford to pay designers their asking prices.
4. Colorado
Coloradans have no qualms about spending on decor, injecting an average of $869.95 per person and $2,192.27 per household into home improvement, which almost gives Indianans a run for their money. But with a mean household income of $100,933, Colorado residents fork out only 2.17% of their salaries on decor.
With 1950 in total, The Centennial State is also a little thin on its feet where designers are concerned, and the average designer salary is $66,880 a year, which might make residents a little hesitant to invest financially.
However, Google Trend search data surrounding searches for terms like "Property Brothers" and "Fixer upper" suggests that Coloradans are more passionate about home improvement than the general population of the US.
5. Iowa
Being that only Indiana outdoes Iowa with regard to household spending on home improvement ($2,236.75), it's clear that Iowa residents like to keep their abodes looking lovely. 
The Hawkeye State ranks joint third with Louisiana in terms of budget size when the mean household income of $80,316 is taken into account, with the average person spending around $887.6 on decor.
Designer salary is relatively average here, but as there are only 300 company-employed designers in Iowa, to say they're in demand would be an understatement.
Bottom 5 States For Decor Investment
1. Montana
Spending an average of only $603.59 per person, Montana residents are the least invested in home improvement in North America. 
The average budget per household is a frugal $1,521.05, so factoring in the mean Montana household income of $76,834, the average person allocates 1.97% of their salary to decor, which isn't the lowest in the nation but is still notably restrained.
So, does less demand in the home improvement sector mean fewer designers and lower designer salaries? Yep! There are only 290 designers in Montana, and the average salary sits around $45,190.
2. North Dakota
With a $706.47 per-person spend on decor, North Dakota residents like to keep things tight. This averages out to a budget of $1801.50 per household, meaning North Dakotans are spending about 2.1% of their $85,506 salaries on home improvement.
Once again, this means that business isn't quite booming for designers, of which there are only 110 in the state, with an average salary of $47,810.
3. Virginia
Virginia residents spend a modest $657.34 on decor on average, and households stick to a budget of around $1,656, meaning, of the $106,023 mean household income, people are allocating 1.56% of their salaries to home improvement — The second lowest in the nation after the District of Columbia.
4. Wyoming
The average budget for home improvement per person in Wyoming is $681.46, and for a household, $1,718. 
Considering the mean household income stands at $83,583, we can conclude that Wyoming residents spend about 2.05% of their salary on home improvement, significantly more than Virginia, but considering the average salary of the 80 designers in Wyoming sits around $70,365, it's no surprise.
5. Kentucky
Kentuckians only spend roughly $3.2 more on decor than Montanans, averaging $606.79 per person. Per household, this works out as $1,529, which accounts for 2.11% of the $72,318 mean household income.
Final Thoughts
There you have it — Florida is the state most invested in home improvement overall, while Indiana invests the most money in this sector.
Three of the states least invested in home improvement share a border, and the remaining two share a border as well, so there may well be a correlation between the topography or housing of these areas and the lack of interest in home decor, but that's another study entirely!