Let's bring nature to our homes with attractive wood decorations. In our collection of 56 Best Wooden Decoration Ideas For Your Home, you will be convinced of the variety of looks and wood supplies- from raw wood, scrap wood, reclaimed wooden pieces to pallet slats, wood logs and slices.
The aesthetic of the wood texture is irreplaceable and it is enough to charge your place with more warmth and coziness.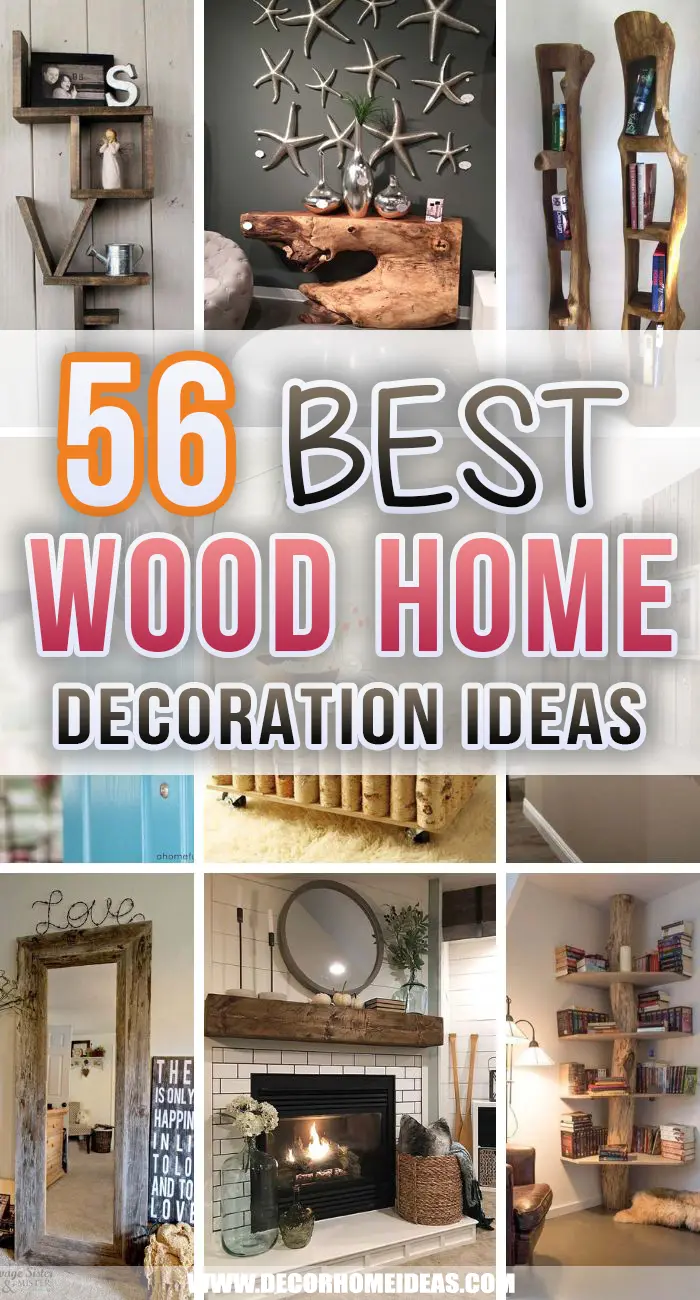 The best thing about wood is that it is a supply you can easily work with so if you are feeling inspired and have loved one of the ideas here, get ready for your DIY wood decoration project.
1. Corner Book Shelf Idea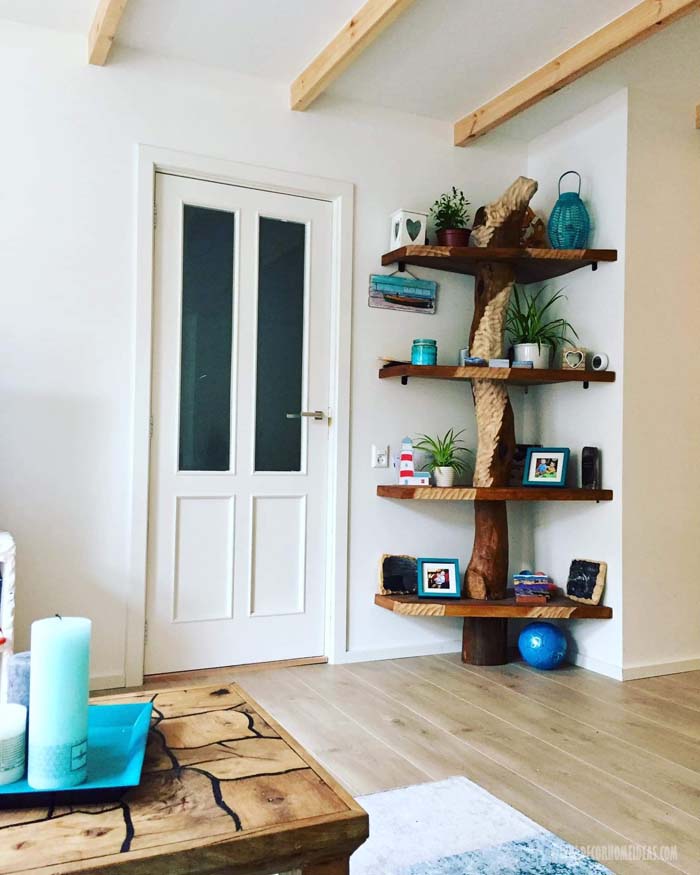 This artistic bookshelf idea will instantly give your living room loads of natural aesthetic and unique warmth.
Check the exhaustive tutorial below to do it yourself in less than 2 days!
via Decor Home Ideas
2. Wooden Plaques For Family Photos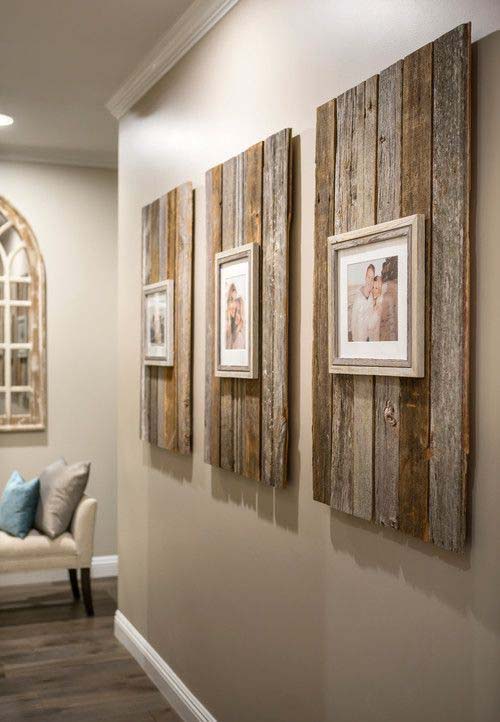 If you want to improve the focus on the special memory photos displayed in the hallway, hang them on rustic plaques.
Reclaimed boards or scrap wood are best for this idea because they will stand out with their weathered texture.
3. Corner Christmas Tree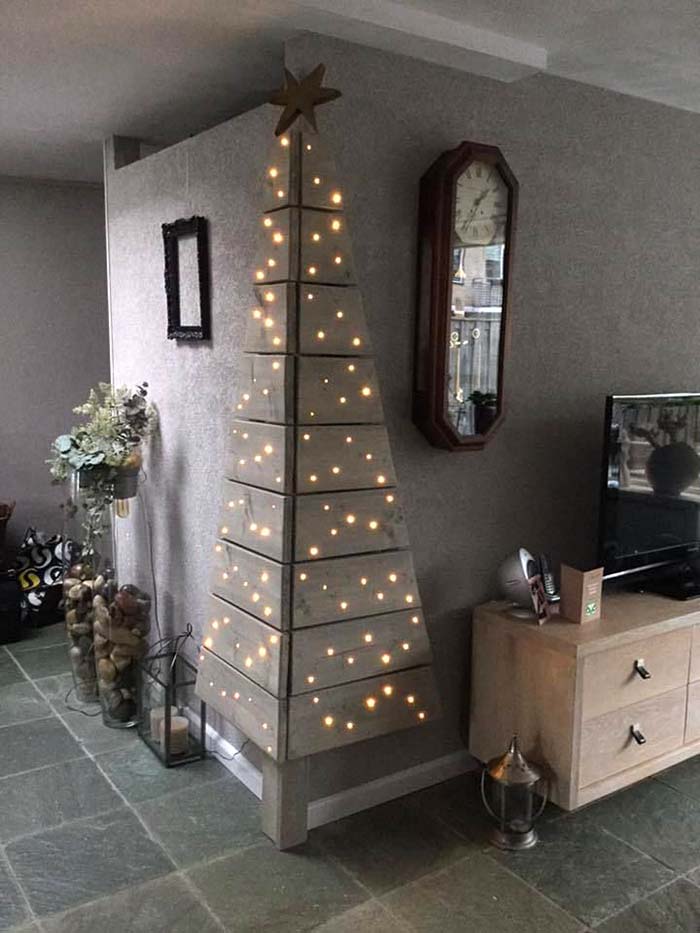 This alternative to the traditional Christmas tree is perfect for small spaces or for places in your home that need a seasonal decoration upgrade.
The tree was made from wooden boards cut to dimensions that create the elevated pine tree. No need to decorate it, there are built-in lights which give the tree the needed Christmas magic.
via Decor Home Ideas
4. Upgrade The Mirror Frame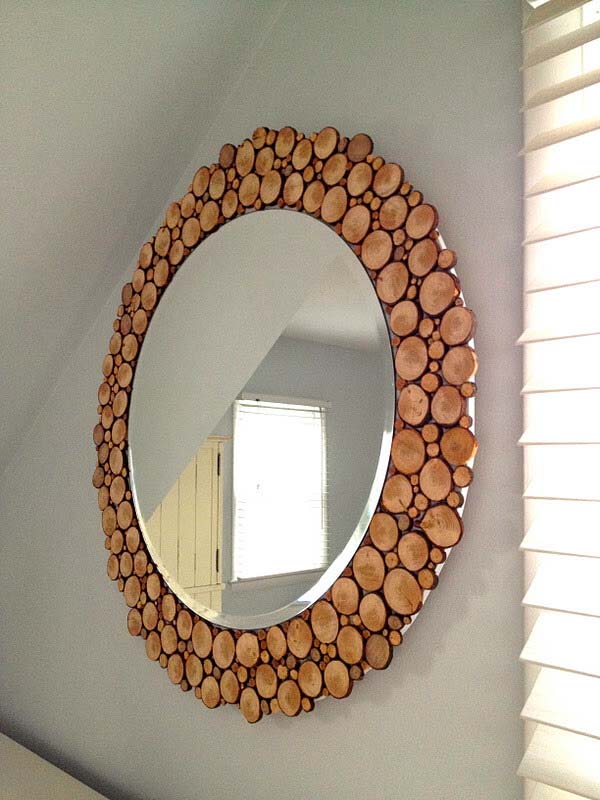 Any plain mirror can be given a unique boho rustic look by covering the frame with wood slices.
The combination between the sleek mirror surface and the natural wood creates a modern rustic design that can fit any existing interior décor.
via Jaime Costiglio
5. Framed Letter Art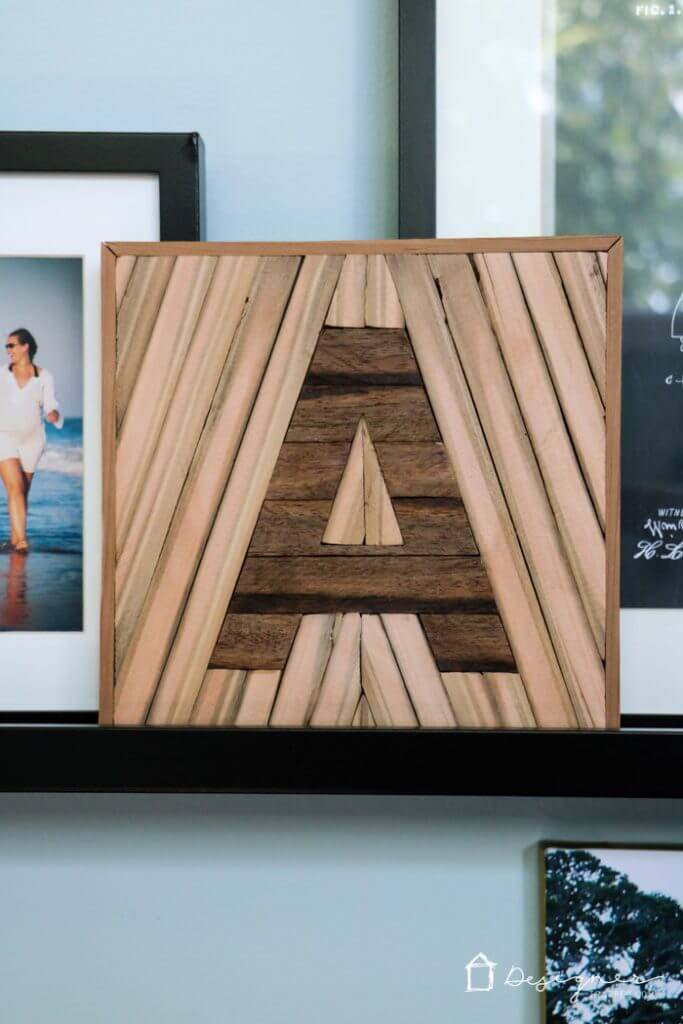 For this wood craft, you need wood slats and a frame to fit them in. The differentiation between the initial and the background happens with stain and wood slat alignment.
The final look of this initial art is perfect for adding character to a display of family photos.
via Designer Trapped
6. Wood Signs From Log Slices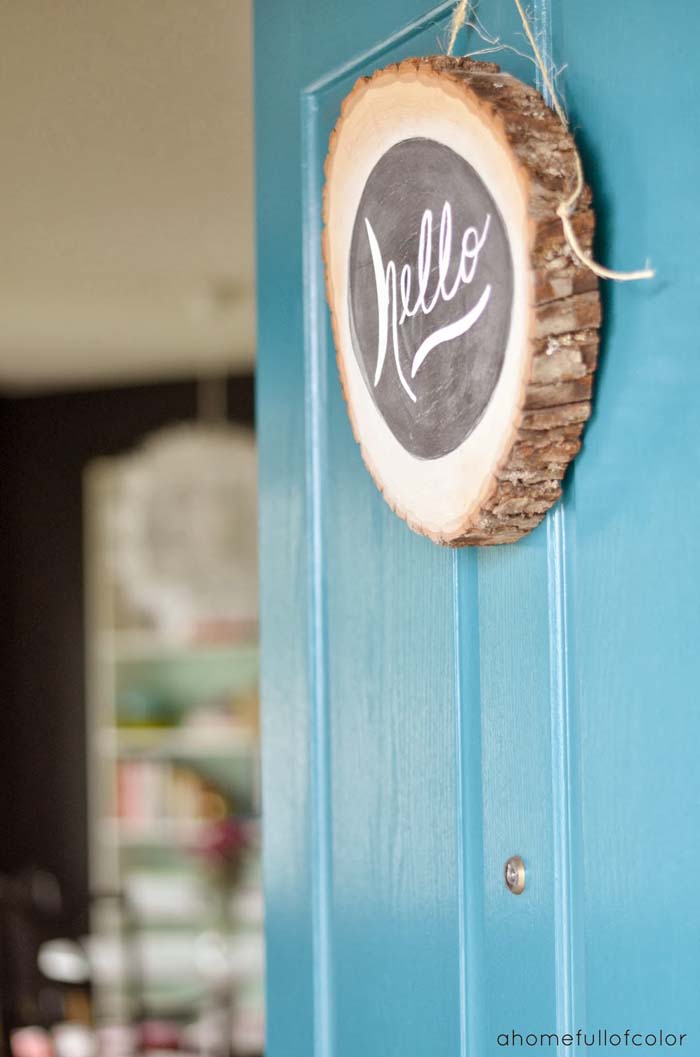 This wood sign idea will make the front door more attractive and welcoming. The best part of it is that this wood craft is easy, fun and doesn't require any money.
Simply paint the center of the log with black chalkboard paint, let it dry and add a welcoming word on it.
via SG Style
7. Pallet Wood Centerpiece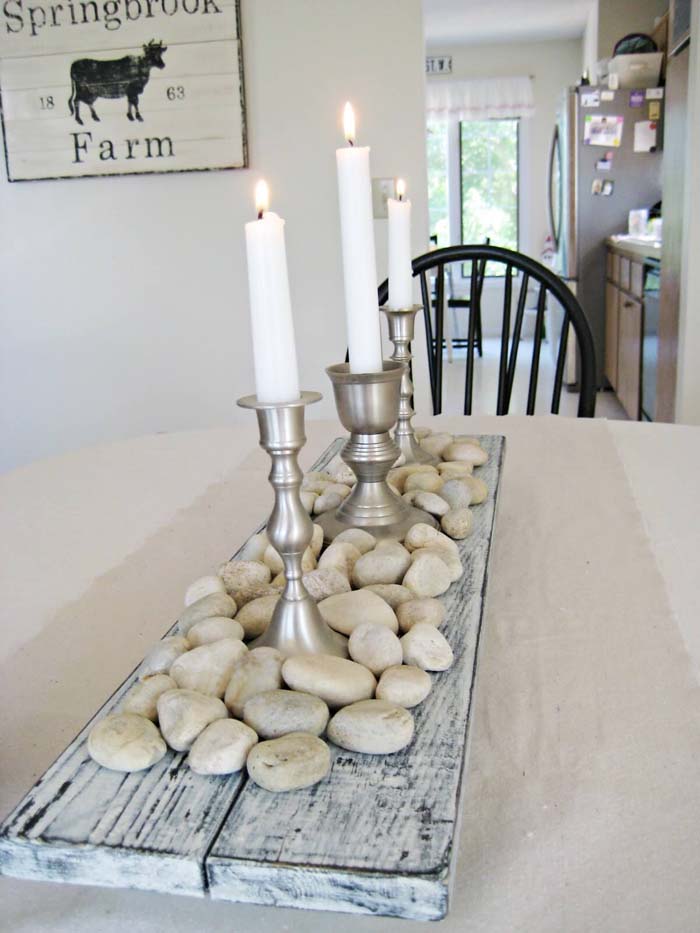 Update the living room look and atmosphere with a new centerpiece, inspired by nature. Two pallet wood slats or two reclaimed wood boards are enough to make the base.
For a universal and bright look paint the wood white and then distress areas with sandpaper.
You can use the base to place clear glass vases with seasonal flowers or go for an evergreen arrangement such as candles in combination with pebbles or river rocks.
via Happy at Home
8. Framed Nature Decorating Idea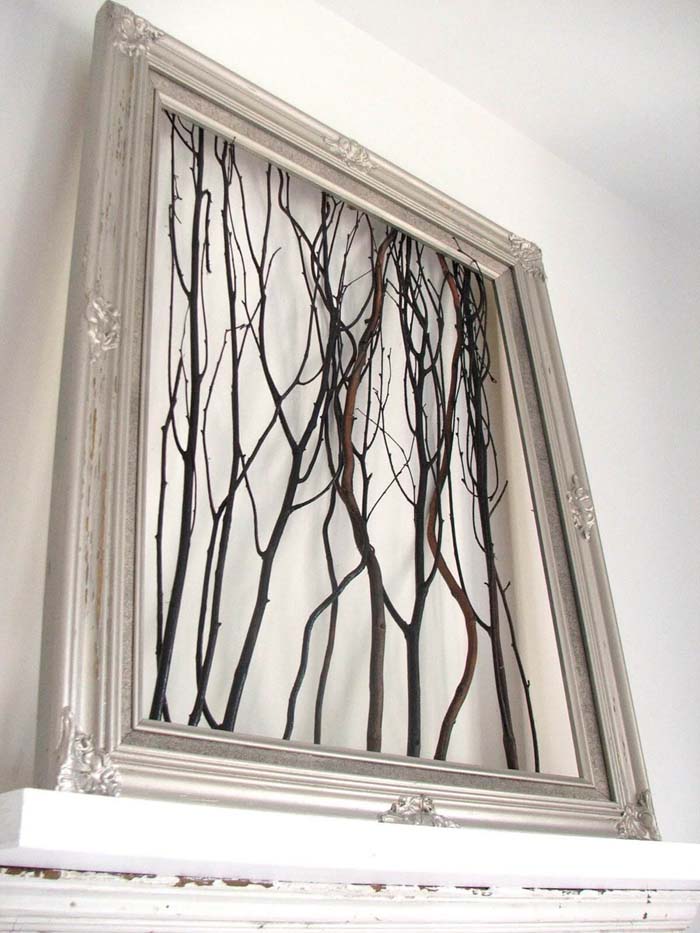 Branch crafts have become a popular rustic decoration.
You can include them in a vase arrangement, build a shelf unit from them or frame them to create unique wall art.
9. Reclaimed Wood Storage Shelf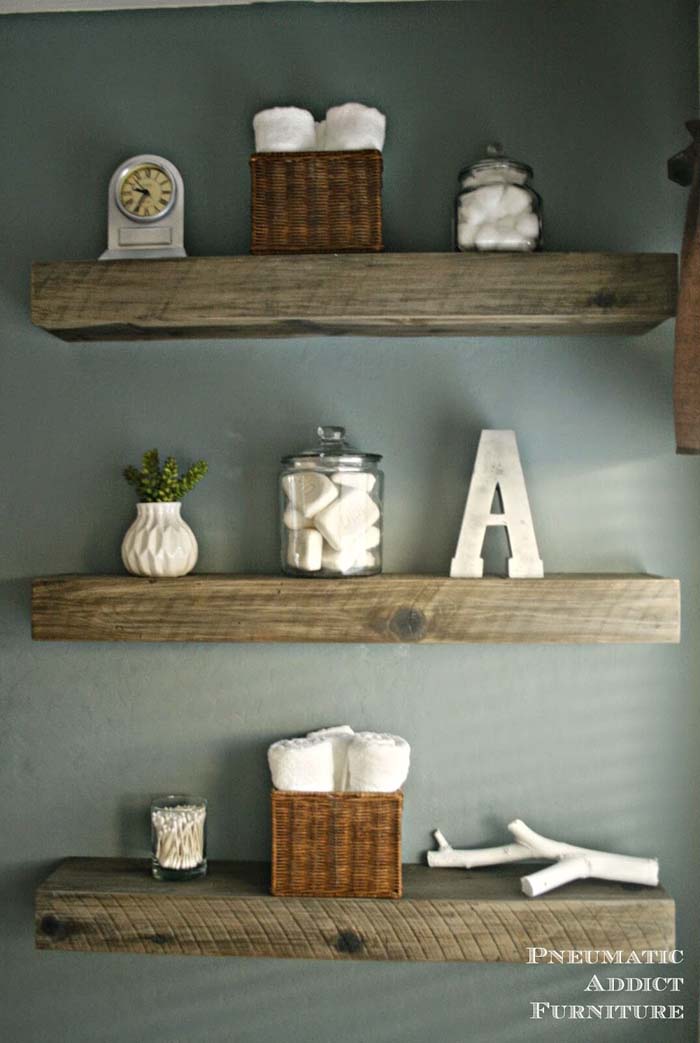 If your home is missing a touch of character or a homely look, use wooden decorations to add a pinch of coziness. This wooden decoration idea is both functional and appealing in look.
Three reclaimed beams or three pieces from a sleeper a sturdy enough to hang on a blank piece of wall and use for storage.
via Pneumatic Addict
10. Storage Ladder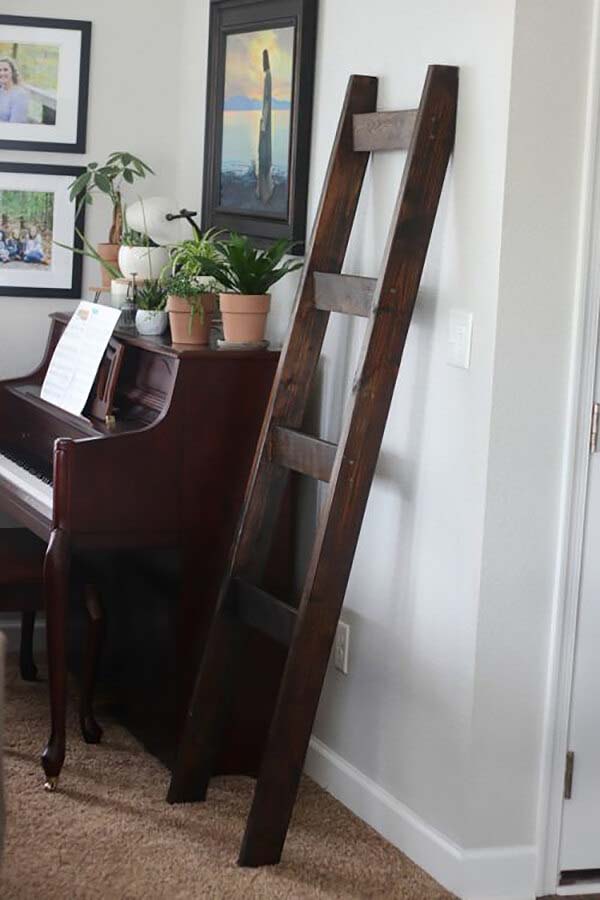 Ladders are great for storage in any space of your home. They can accommodate the blankets in the living room or the towels in the bathroom.
Be creative and use a weathered painter's tape as an extra storage unit. If you are looking for a traditional vision, smooth the wooden surface and apply a coat of stain.
via Glue Sticks
11. Meaningful Wooden Decoration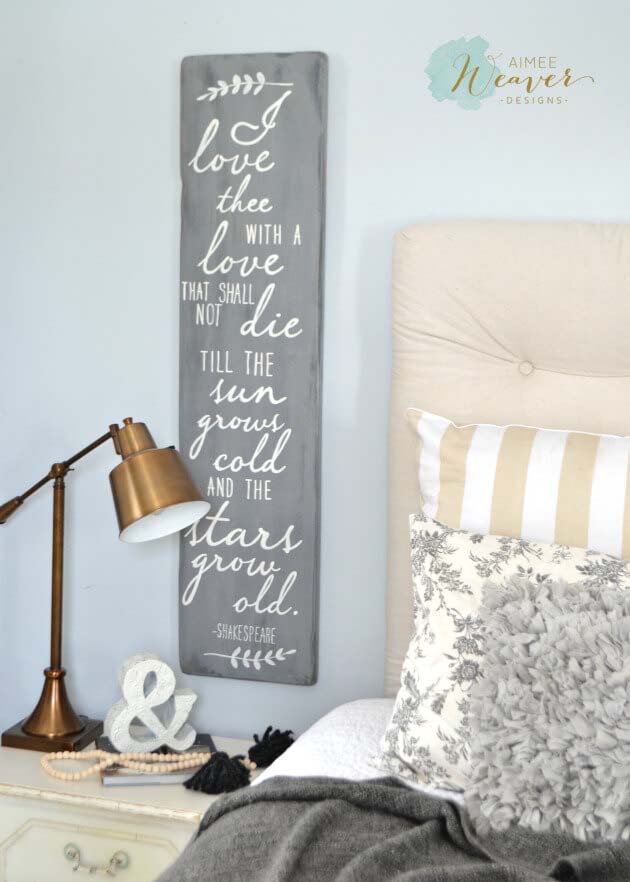 Hang a poetic quote from a Shakespeare poem in the master bedroom to emphasize the meaning of love for your couple.
The old English words and the evergreen truth behind this verse find a place on a piece of wood. The white letters and the curved font emphasize the delicacy and romance of the quote.
via Aimee Weaver
12. Rustic Lampshade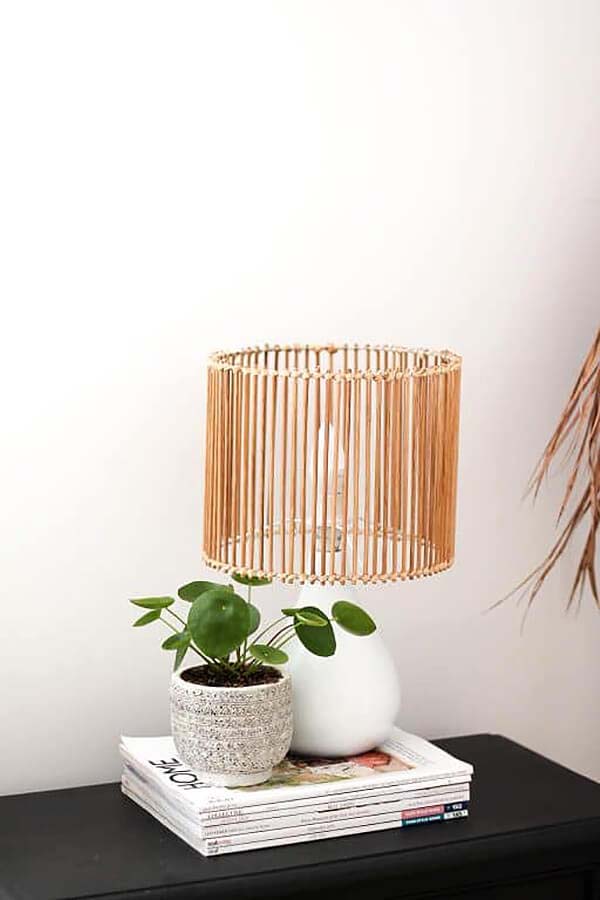 This reading lamp incorporates rustic and modern in one. The minimalist shape of the base is continued by a bamboo lampshade.
via Dossier Blog
13. Upcycled Bean Sack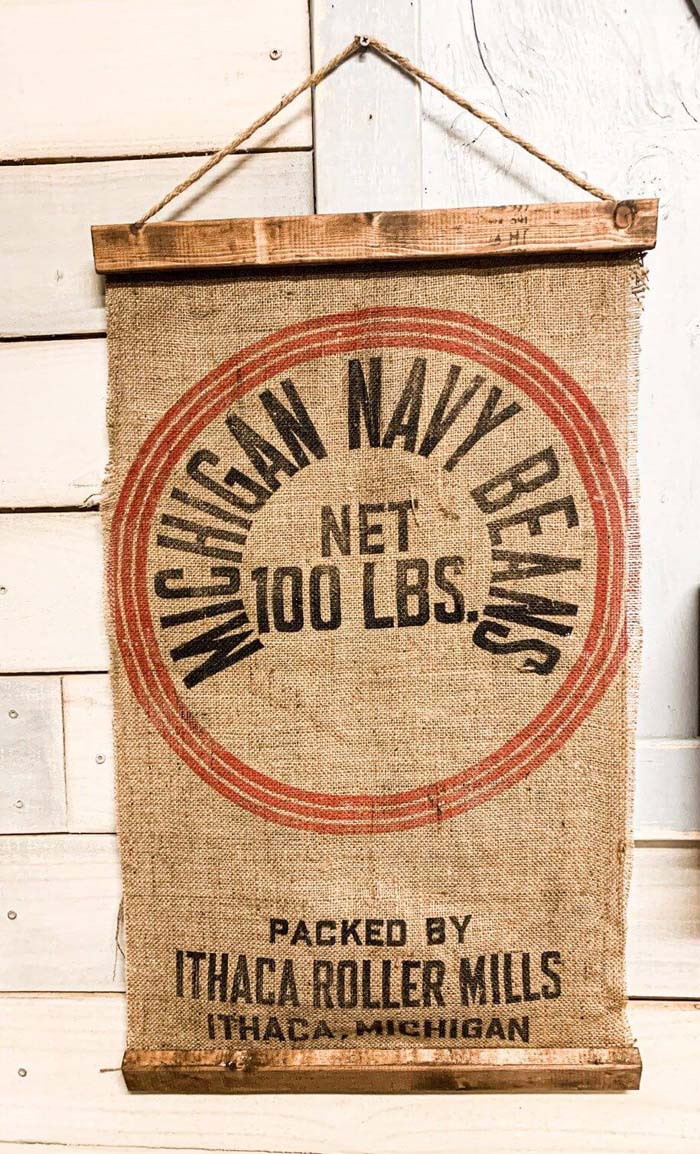 Repurpose a bean sack into a whimsy authentic wall décor. To stretch it so that the inscriptions are visible, add two wood slats to the ends.
Hang it on a shiplap wall to enhance the farmhouse flair in the room.
via Lizzy and Erin
14. Give The Wood A Floral Motif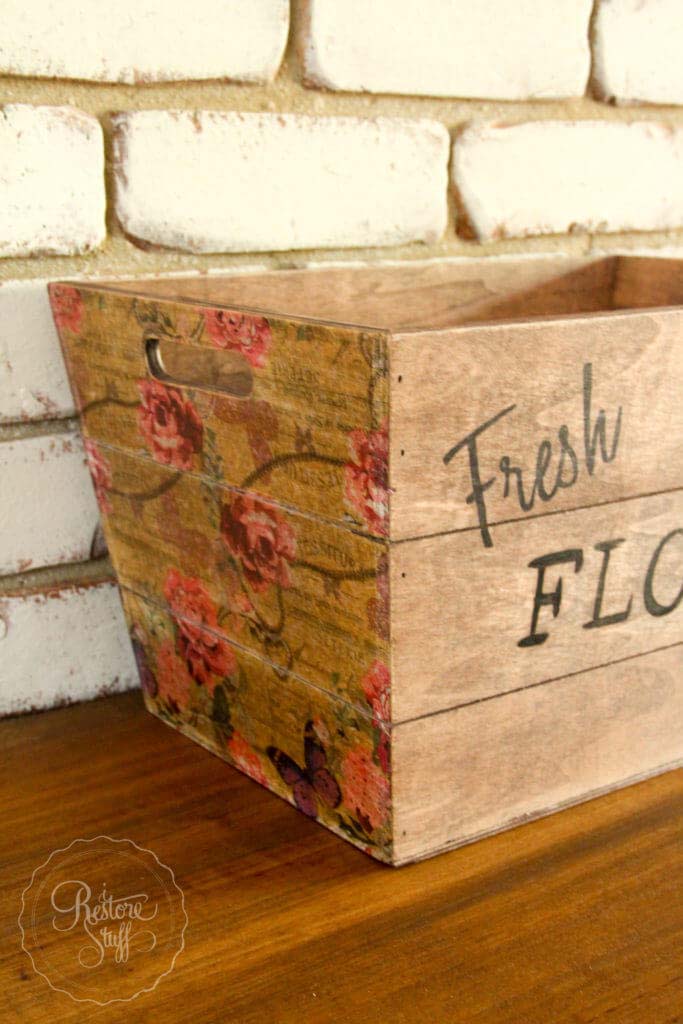 The decoupage is an easy and beautiful way to give a wood decoration a shabby chic flair.
When you choose the paper to do the decoupage with, match the background color of the sheet with the basic color of the wood to achieve a united overall look and give the paper an impregnated effect.
via I Restore Stuff
15. Wood Slats Vase Decoration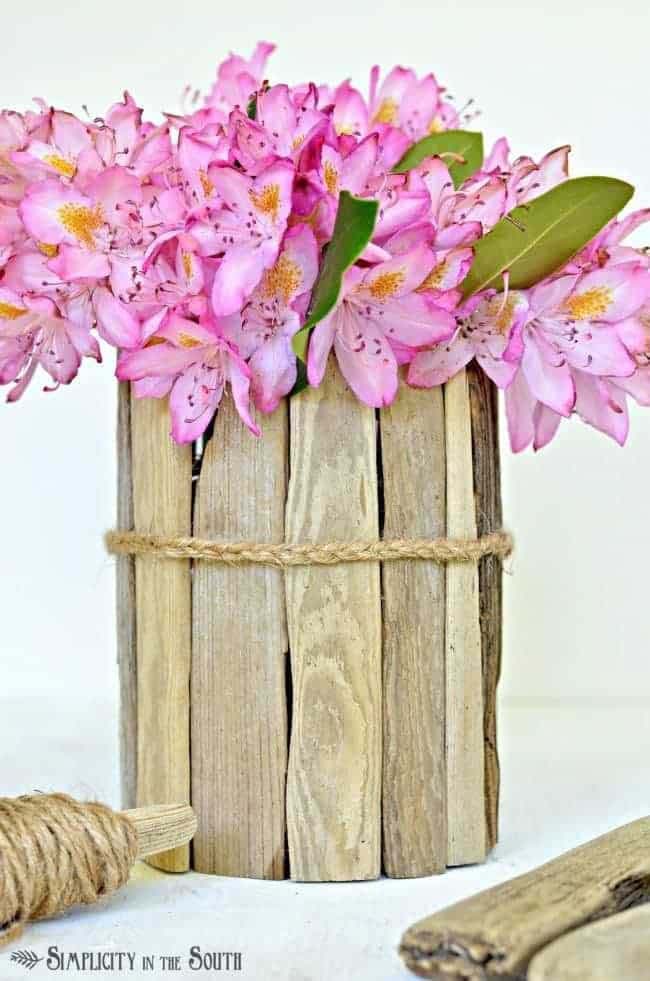 Any existing piece can be given a rustic look with some proper wood decoration. For example, a plain glass vase takes a bold new look by surrounding it with leftover timber pieces.
Tie them with a length of rope and end it with a bow.
16. Barn Wood Mirror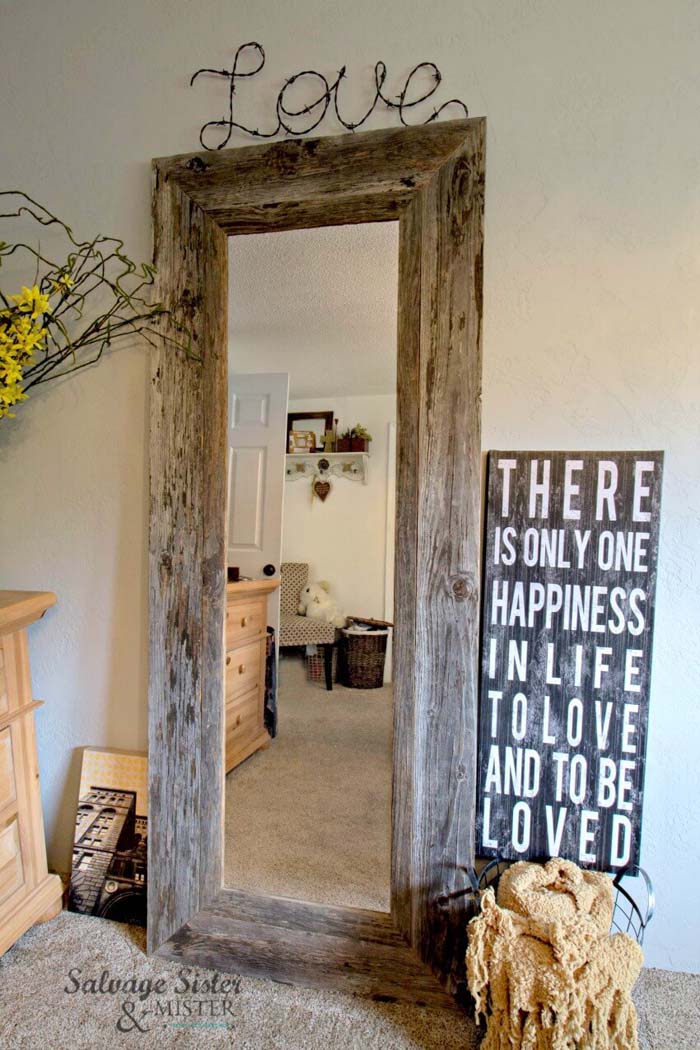 Have some barn wood planks left in the backyard? Use them to turn a head-to-toe mirror into the star of your home!
And while such a mirror could be very expensive at the stores, making it will cost you…nothing.
The transformation happens simply by adding a frame from weathered rustic beams to an existing mirror. Without any remodeling of the space, you would be enjoying a rustic accent wall.
17. Chevron Patterned Plaques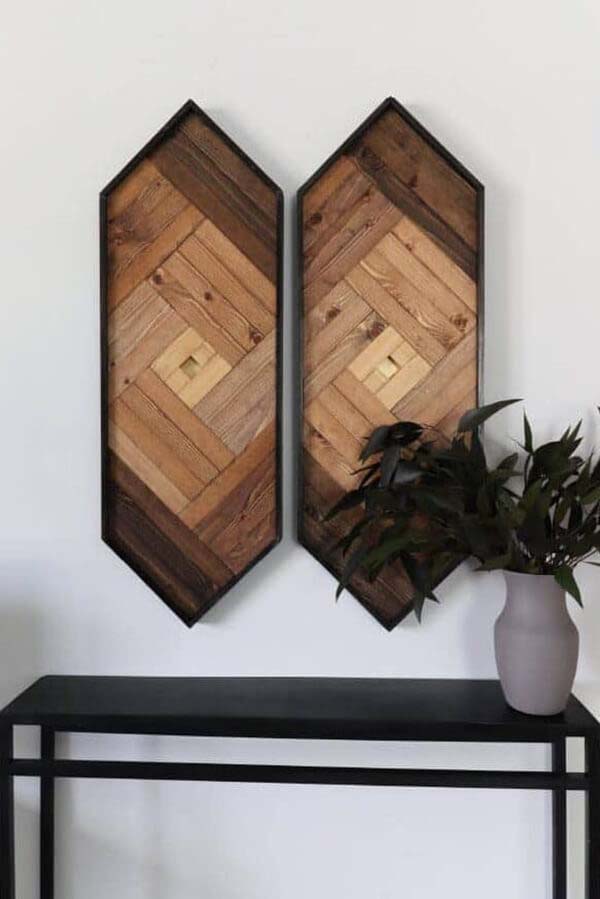 Plaques made from wood slats add amazing texture and character to a blank wall missing a personal touch.
The wood slats are arranged in a chevron pattern that creates additional interest. The plaques are fit in black metal frames which coordinate with the industrial side table below the wall art.
18. Magazine Holder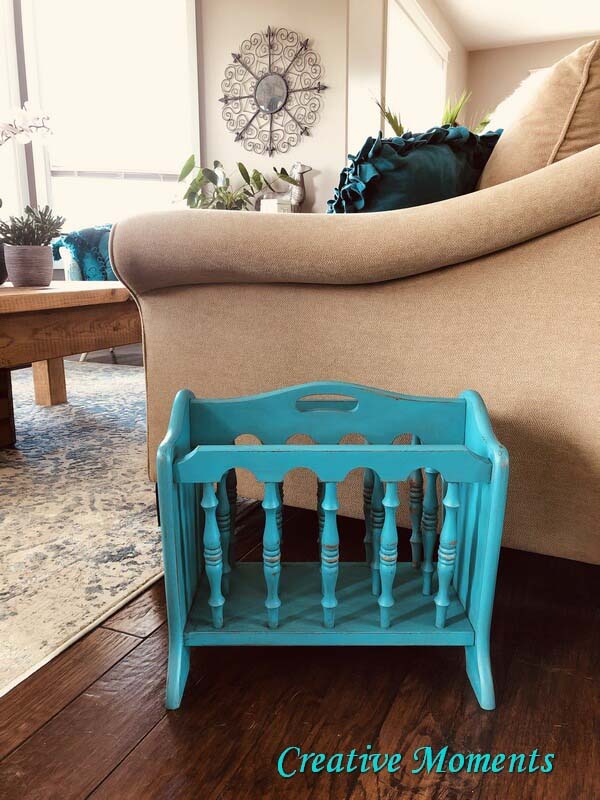 The old-fashioned magazine racks seem to be long gone in the history of interior design and this is a pity because they are so helpful.
If you have saved an old magazine rack in your garage or you have found one at the thrift store, don't miss this magazine rack restore idea.
The fresh coat of turquoise paint brings it to life and turns it into a focal point.
via Creative Moments
19. White Wooden Lanterns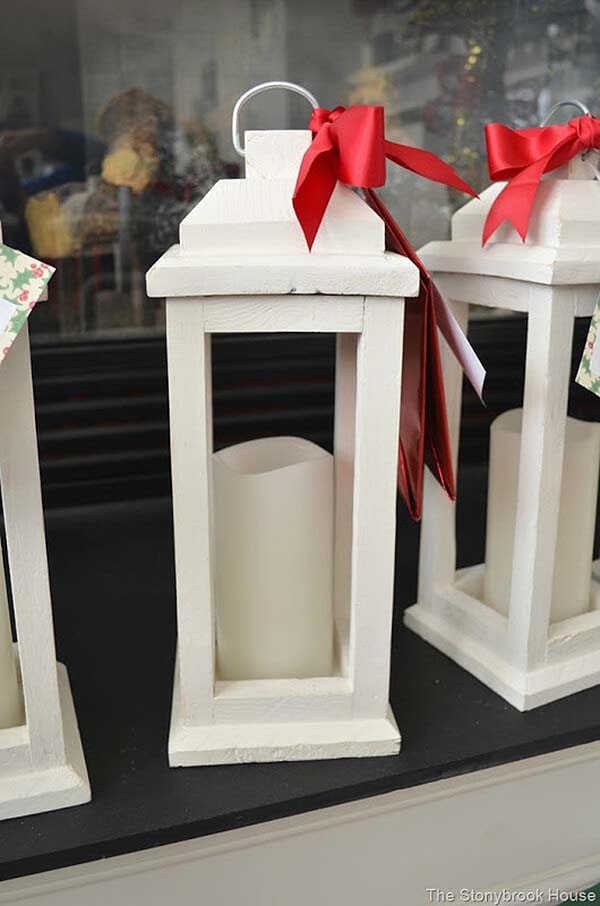 One of the easy and affordable decorating ideas to give an indoor or outdoor space a touch of warmth and coziness is to use candles or lanterns, or both.
This idea combines them in one wooden feature painted in creamy white to match any existing décor. Insert a LED candle into it and use it at night as an extra source of light or only as a modern rustic piece.
20. Turn Scrap Wood Into A Farmhouse Sign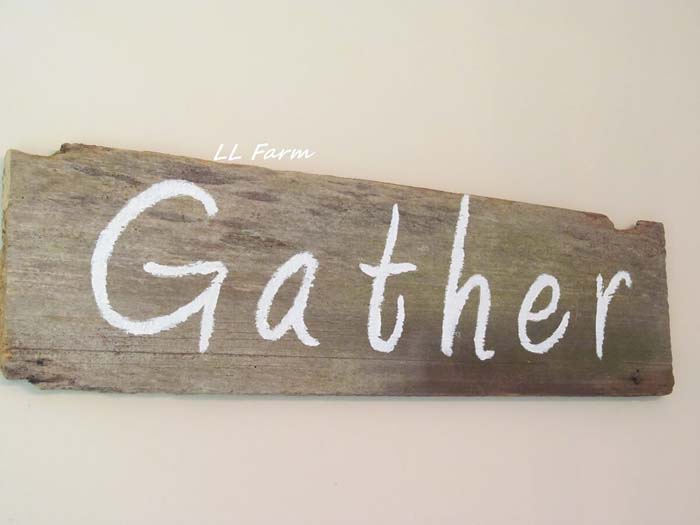 Wood signs are great for adding a personal touch and character to a space.
This wooden décor idea aims to spread more than just an authentic farmhouse look. It also aims to send an important message to the family with one simple word.
via LL Farm
21. Votive Candle Holder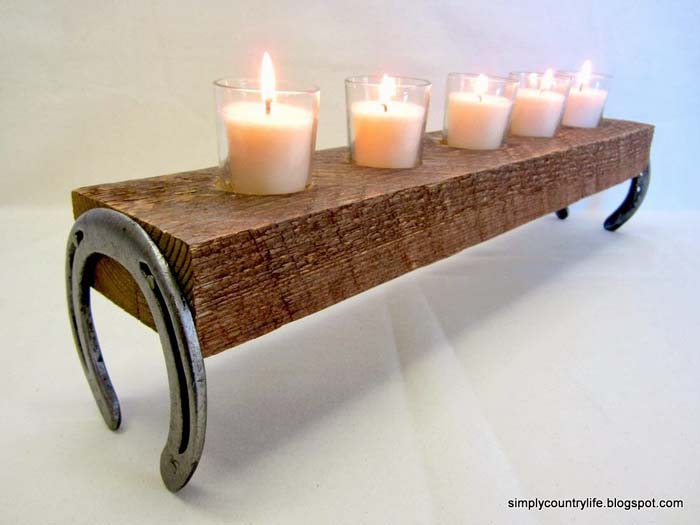 What a lovely rustic piece to display votive candles! The combination of solid wood and horseshoes make the piece perfect for a log cabin or for a wooden mantel.
22. Quilt Display With Barn Wood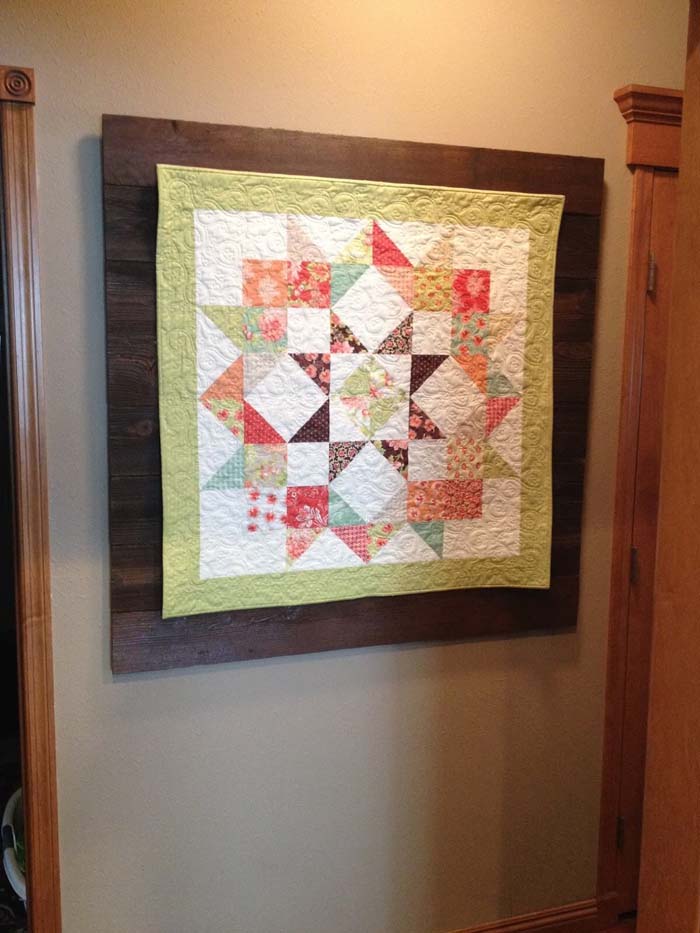 This is an interesting way to decorate a home with quilts. Stretch the piece on a wood base made from barn wood pieces.
Paint the wood a color that will coordinate with the color pattern of the quilt and will let it stand out.
23. Paint a Wooden Board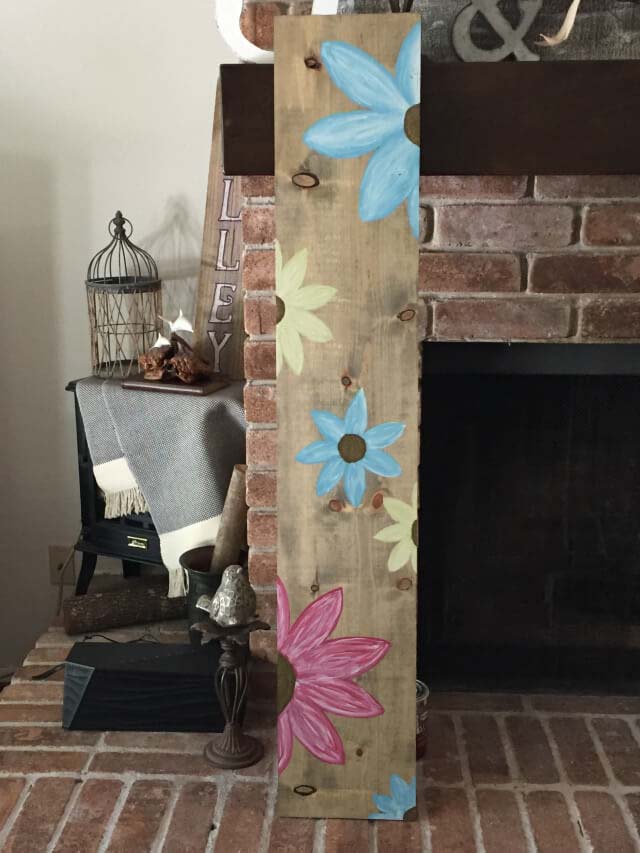 This wooden decoration idea is great for the warmer part of the year. The floral sign is hand-painted.
Add it to the porch or place it against the fireplace wall to prepare your home for the summer vibes and the lush surrounding nature.
24. Chalkboard And Wood Sign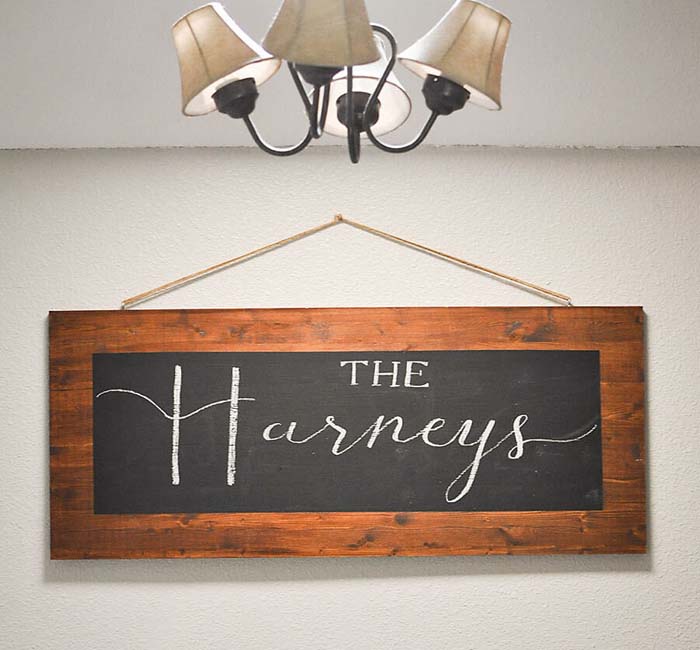 Such a sign design is a must-have wooden decoration. First, it adds so much texture with the dark stain of the wood and the dramatic black chalkboard section.
Secondly, it can be customized as you would wish- use it in the kitchen for a farmhouse market statement. In the living room, you can write a valuable statement for your family. Why not place it in the entryway or on the front door with your family name inscribed?
25. Painted Wall Sign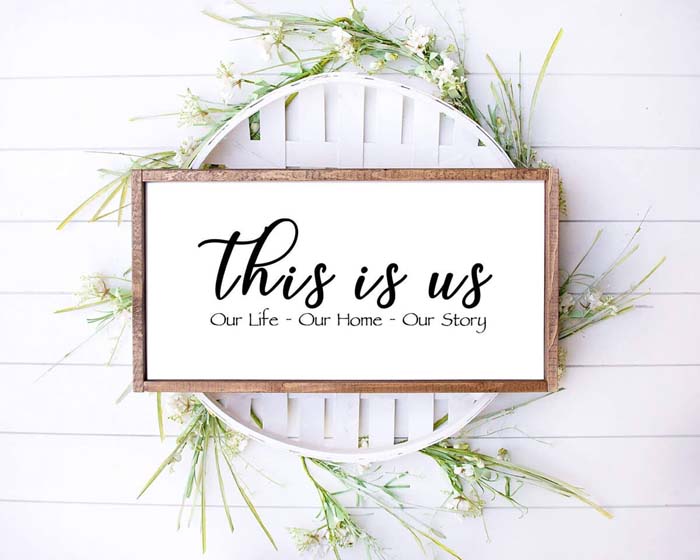 Two wooden pieces, a little bit of nature and a pinch of personality create this wonderful wall décor piece. The tobacco basket is painted white to serve as a textured base.
A delicate wreath surrounds it to add a pop of natural color. On the top of the basket, a personalized sign is centered to praise those that are important to us.
The predominant white color gives this art piece a modern farmhouse look which will give the indoor ambiance so much warmth and coziness.
26. Live Edge Room Divider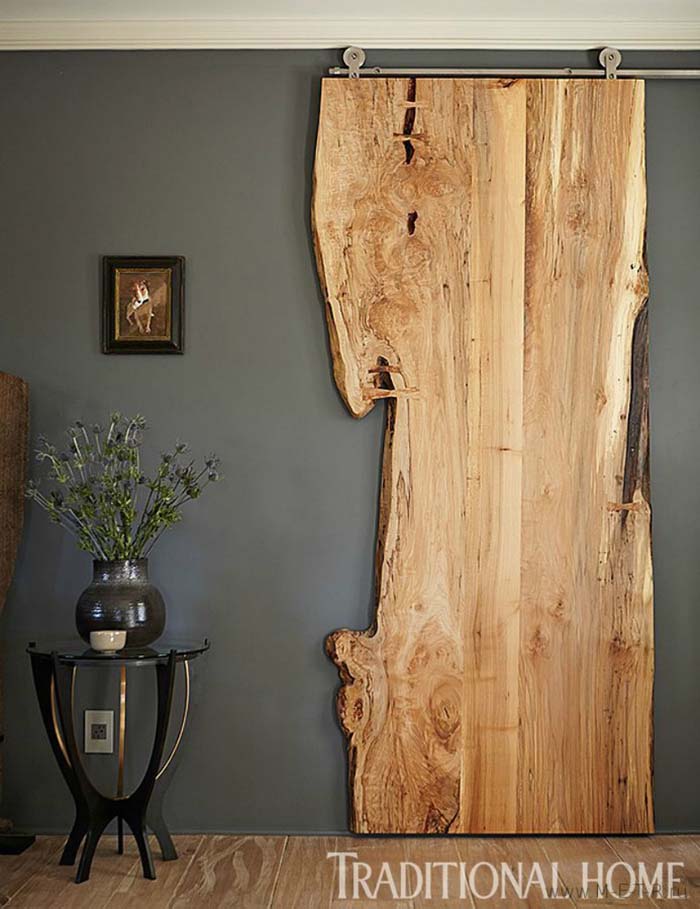 If you don't know the story behind this project, you would think that this is a giant slice cut from a tree. Well, actually, the final live edge look is achieved by joining planks together.
The perfect match requires some time and effort. The final result is a gorgeous sliding door that can replace any standard interior door.
The rough edges and the untreated surface turn the door into a bold statement that brings nature into your home.
via BHG
27. Driftwood Tea Candle Display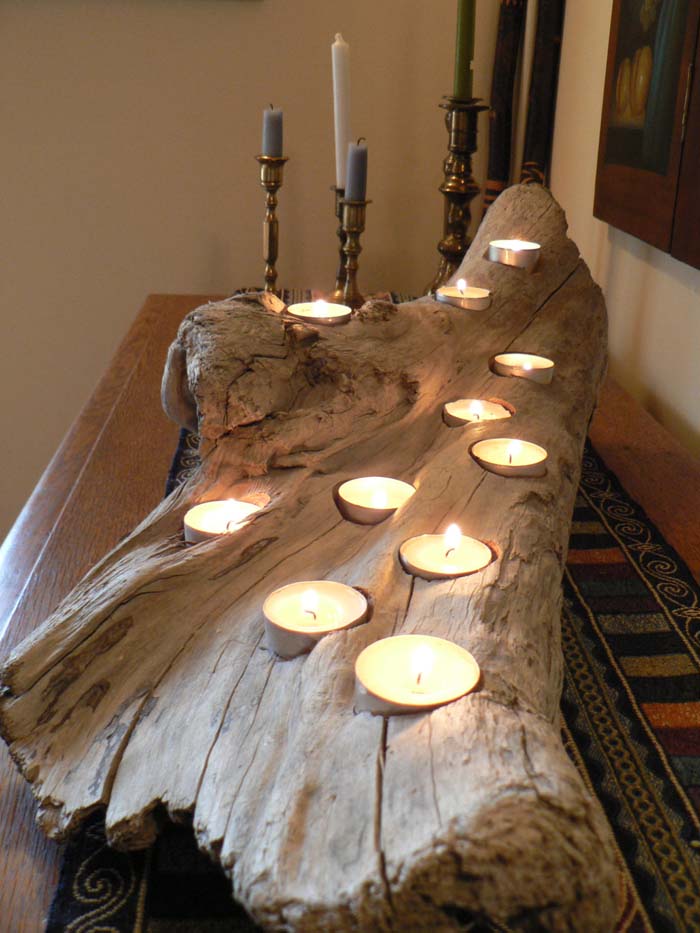 Driftwood is another natural state of the wood which can be successfully used in interior home design.
It can be added in its original look to a flat surface or it can be upgraded a bit with power tools to serve as a candle holder.

28. Table From Log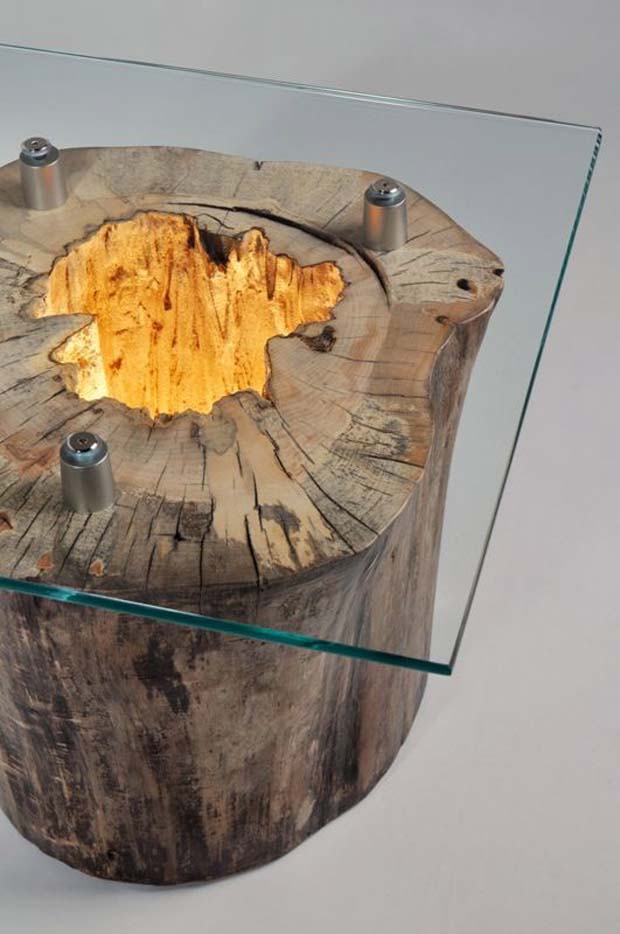 This is an interesting idea of nature-inspired furniture. A log with a hollow in the center is repurposed into a table by adding a square glass piece on top of it.
Added LED lamp to the bottom of it provides a nice night accent to the table.
29. Corner Bookcase With A Log And Plywood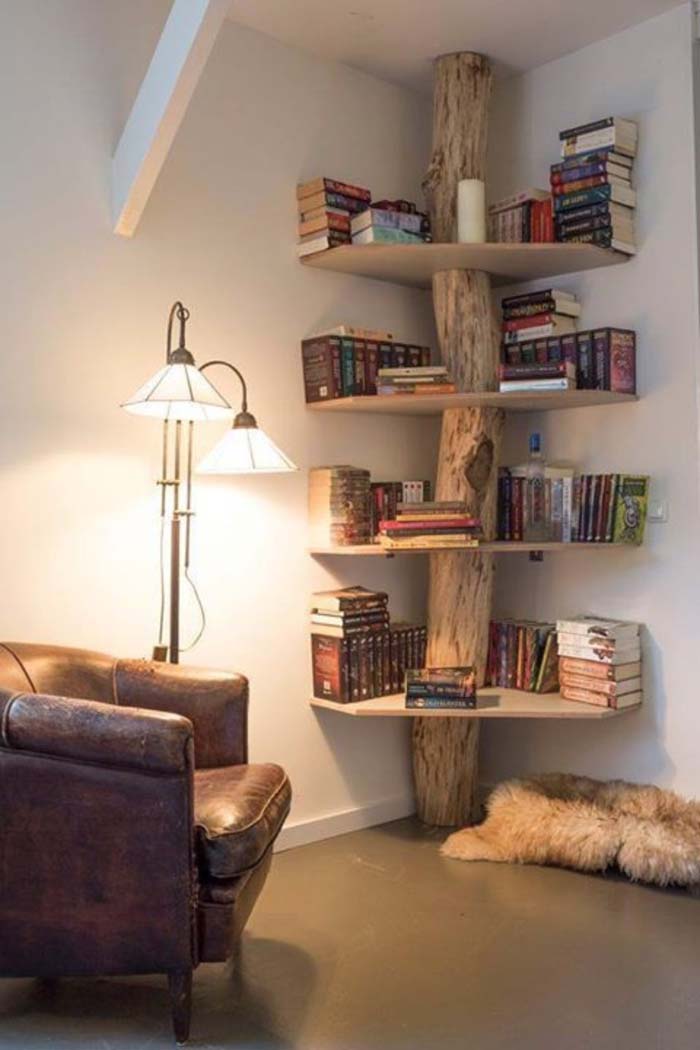 This nature-inspired bookcase is great for small spaces and will surely provide not only extra storage but also a unique nature-inspired accent to the room.
30. Tall Reclaimed Wood Mirror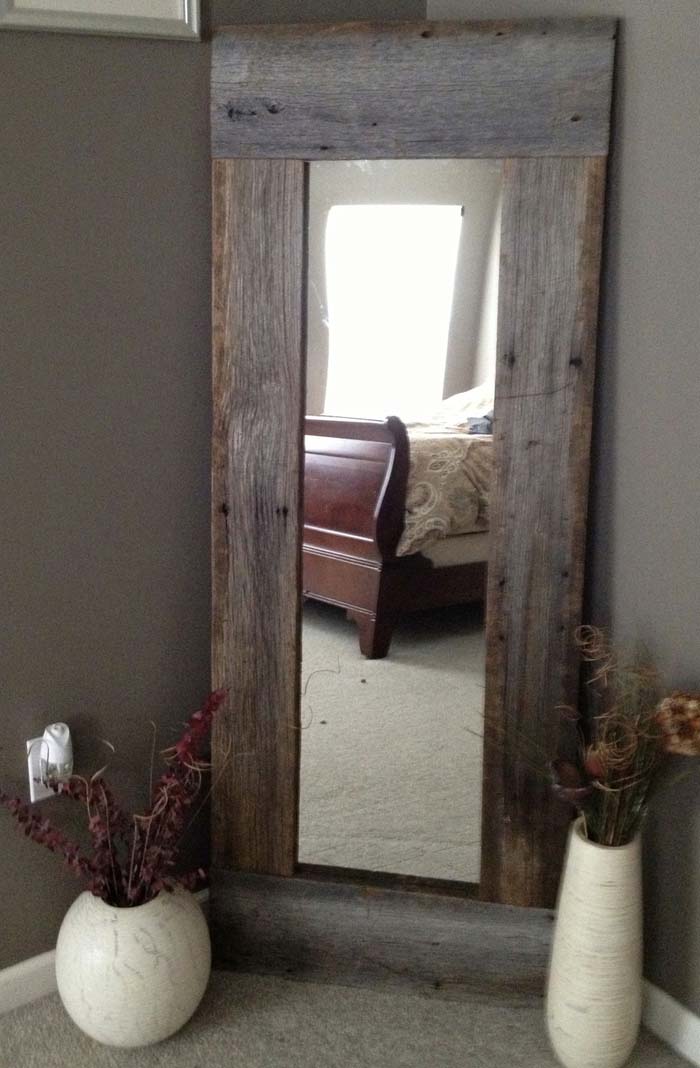 Scrap wood is great for wood crafts. It is free and possesses a unique texture.
Added to a tall mirror, the reclaimed wood instantly brings the country flair to the room the mirror is displayed.
31. Birch Wood Shelf Unit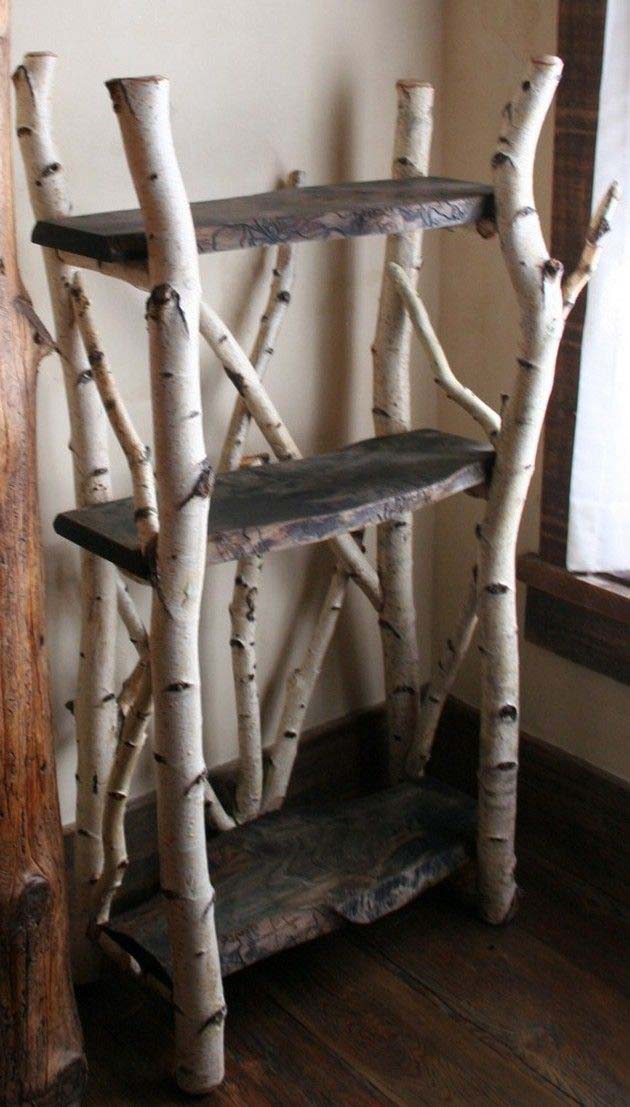 Create a small bookshelf in the corner of your reading nook. The materials used feature untreated wood pieces that give the rack a wild natural look.
Birch logs act as supports, while longitudinal log slices are used as shelves.
32. Vase Into A Wood Slice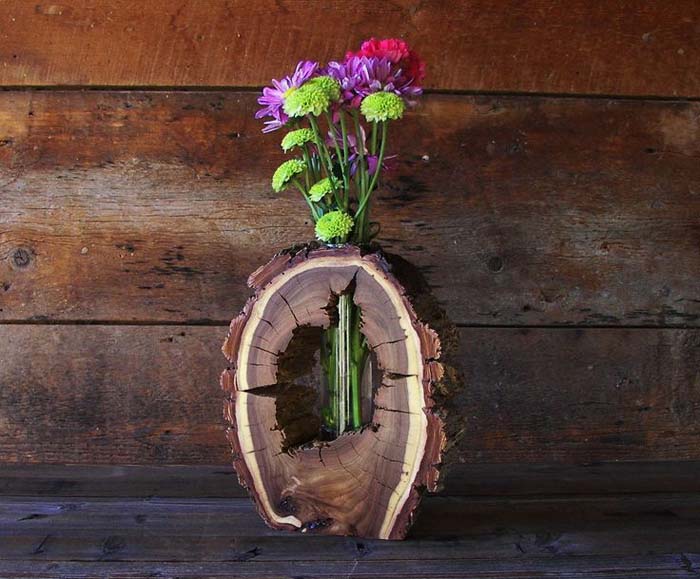 Isn't this arrangement lovely? The wooden decoration idea uses a wood slice with a hollow in the center which reveals the glass insert holding a bouquet of fresh flowers.
The vase is great to add a pop of color to a log cabin accent wall or to a home with more rustic touches.
33. Entryway Coat Rack With Wood Slices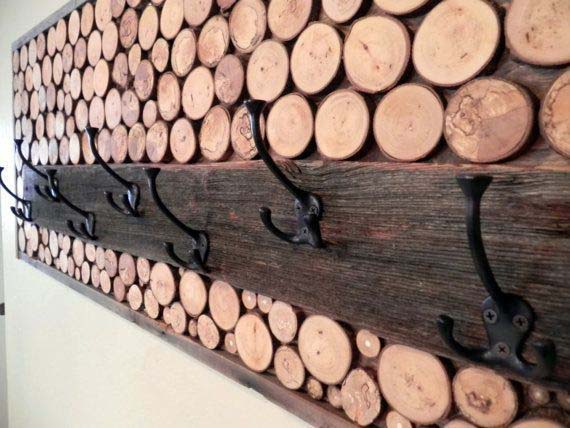 Similar to mirror frames with wood slices, any flat piece can be decorated with these authentic and textured pieces of wood.
All you need is a base to glue the slices on.
34. Nautical Farmhouse Lamp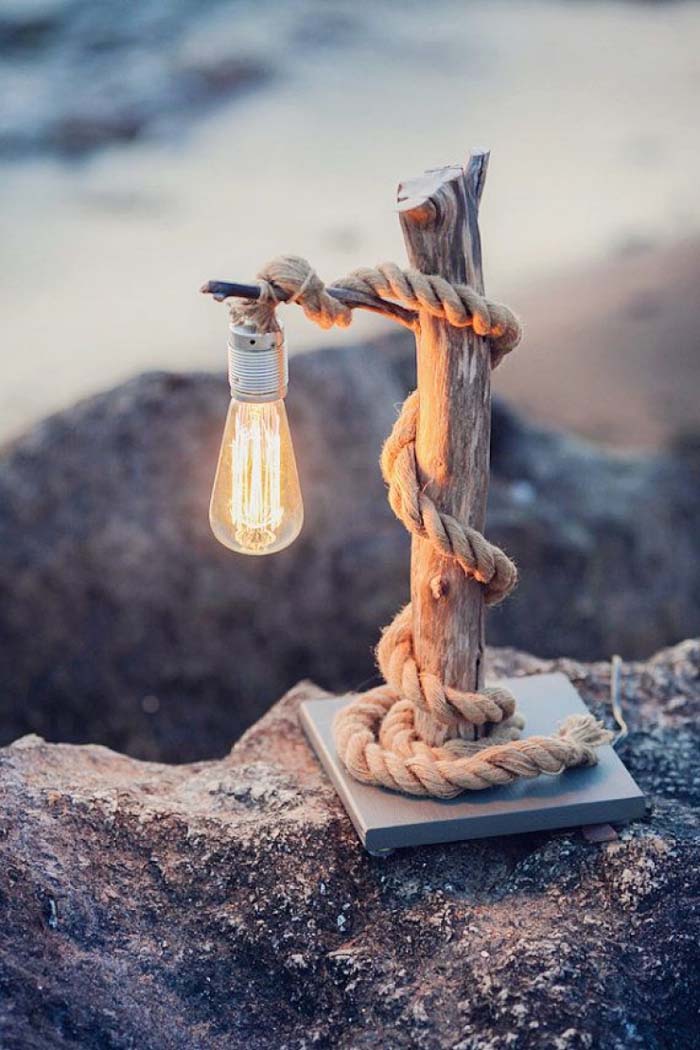 This handmade lamp combines nautical and farmhouse styles in one unique piece suitable for modern living room or bedroom decoration.
The thick rope anchors the ocean theme onto the natural piece of a branch fixed on a square board.
35. Letter Art With Sticks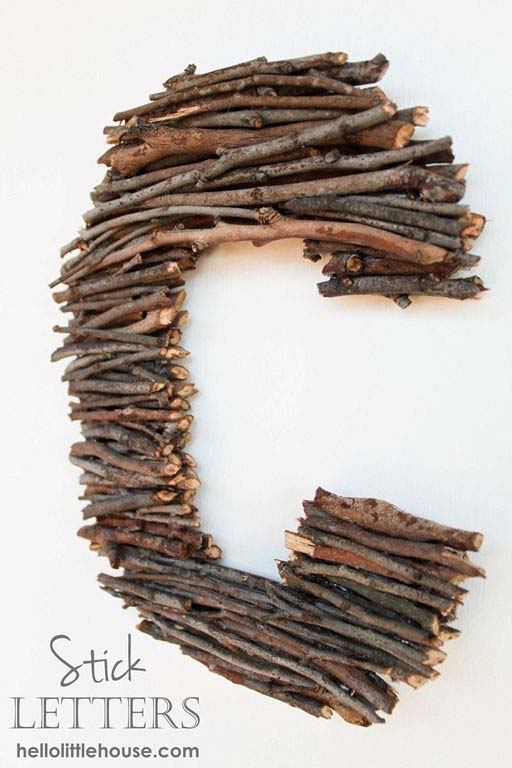 A simple DIY wooden decoration reveals the secrets to shaping a large initial with sticks. You need many twig pieces which have to be layered to cover the cardboard base.
Once you are happy with the thickness of the stick letter, trim the ends to shape it perfectly.
36. Slices Repurposed Into Coasters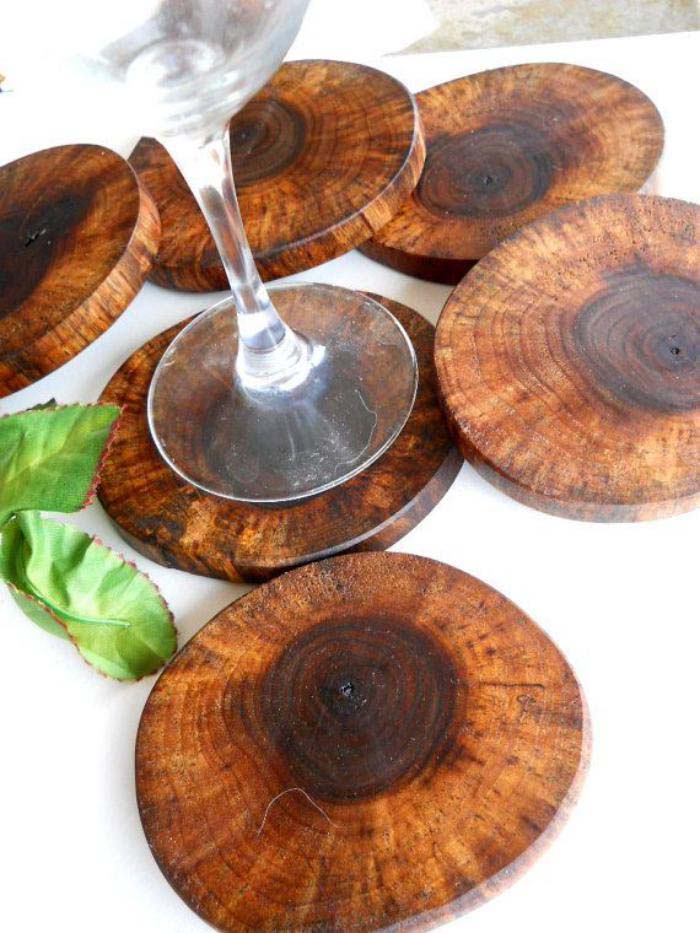 Smooth the surface of a wood slice to use it as a drink coaster.
Using of untreated wood on another surface leaves the possibility of resin stains, so it is best to apply a coat of transparent stain or a dark color in case the table you use them on is in a light color.
37. Drift Wood Light Fixture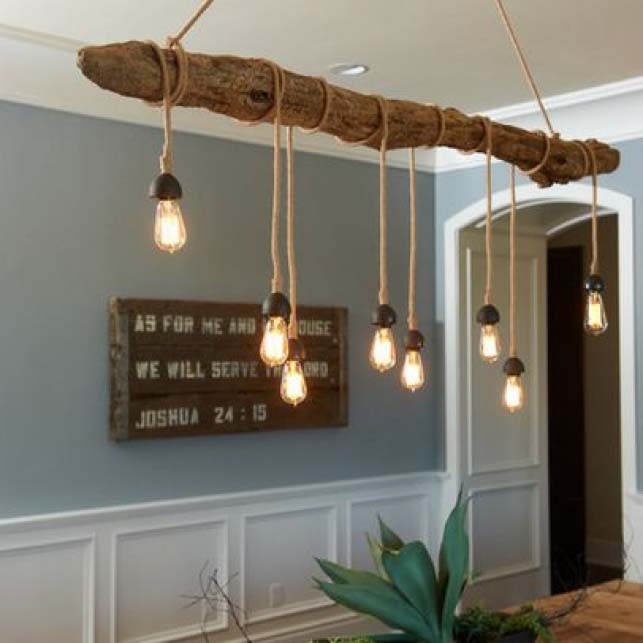 This light fixture idea is perfect for a kitchen source of light if placed right above the island.
It features a long piece of driftwood with many exposed bulbs dangling from it on ropes.
This wooden decoration will fit perfectly a traditional, farmhouse, or ocean-themed interior design.
38. A Chandelier From A Branch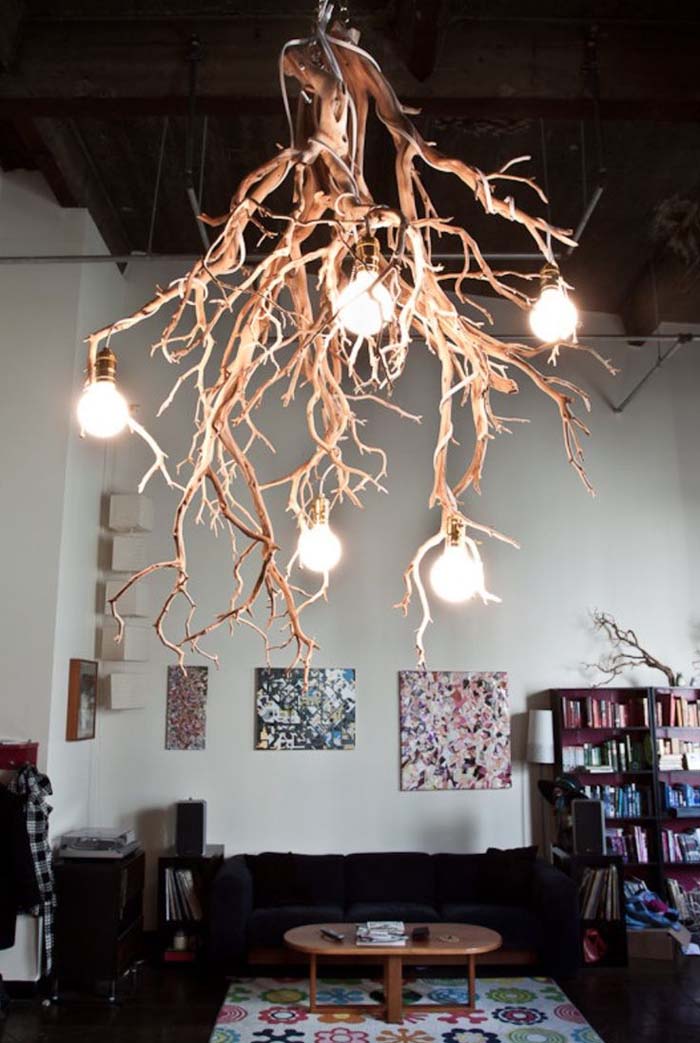 If you have such a light fixture, then you don't need to decorate the rest of the space at all! The vigorous sprigs of the branch create a whimsy natural accent.
The electrical wires with exposed bulbs wrap the sprigs to highlight the authentic piece of nature repurposed into a light fixture.
39. Live Edge Wooden Desk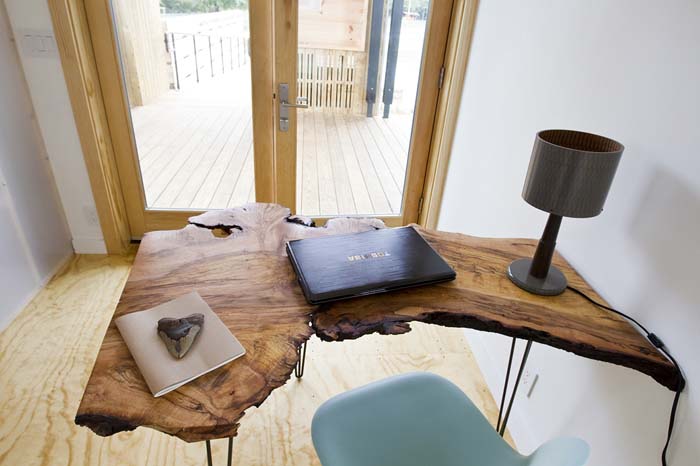 The live edge furniture has become very popular for minimalist and modern homes. The uneven edges and the vivid texture of the cut slice add texture and color to the neutral ambiance.
As you can see from this desk idea, the live edge is usually combined with metal supports that coordinate with the surrounding interior design.
via Bark House
40. A Mirror Enclosed By A Trunk Slice

This mirror is formed with two wood pieces running on either side of a tall mirror. This creates the illusion of a floating mirror. Its sleek and reflecting surface highlights the rough and untouched rustic appearance of the wood.
Such an elegant mirror is great for a focal point in the living room placed above the sofa or in a boho or modern bedroom, leaned against the wall opposite the door.
41. Rolling Coffee Table With Logs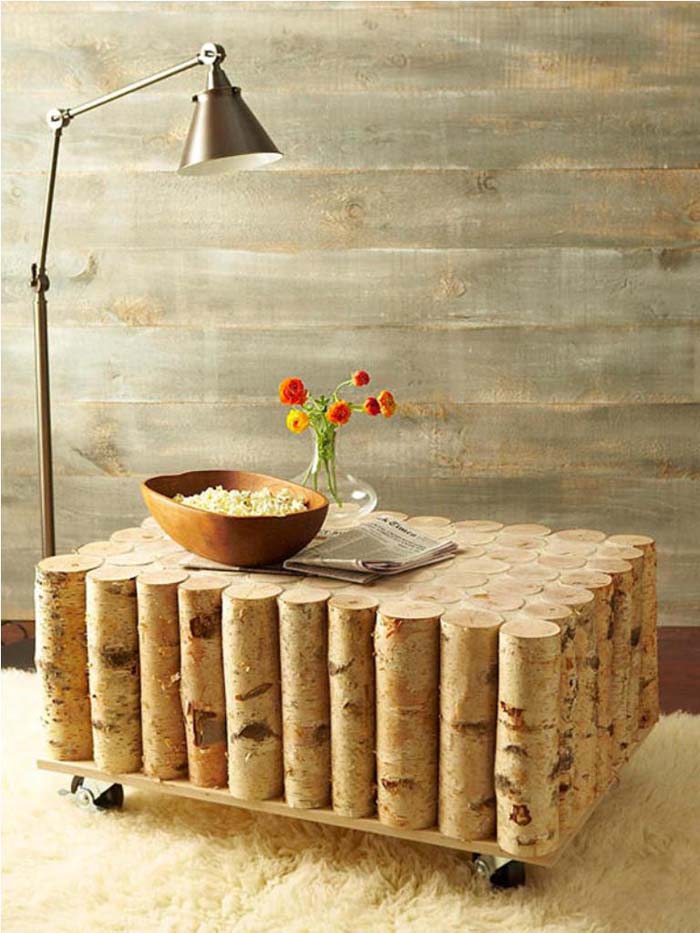 This compact coffee table can be moved to any spot of the room thanks to the casters screwed to its base.
Plenty of birch wood logs are cut at the same height to form the table itself and to create a dimensional texture of the sides and a useful flat top.
42. Log Votive Candle Holder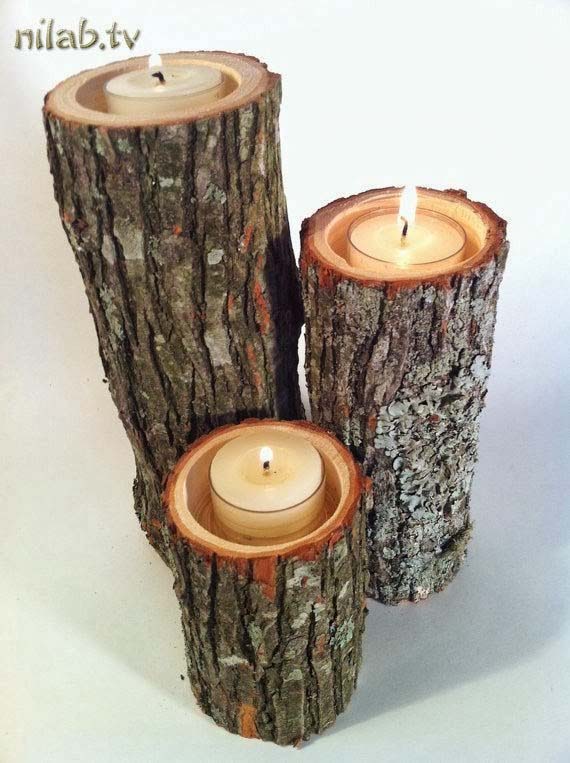 For this decor idea, you can use logs you already have or take a look in the forest for suitable pieces. To insert the votives in the logs, you need a power tool to hollow the top part of them.
Arrange the candle holders together to create a charming light feature with a natural look.
43. Wood Slab Clock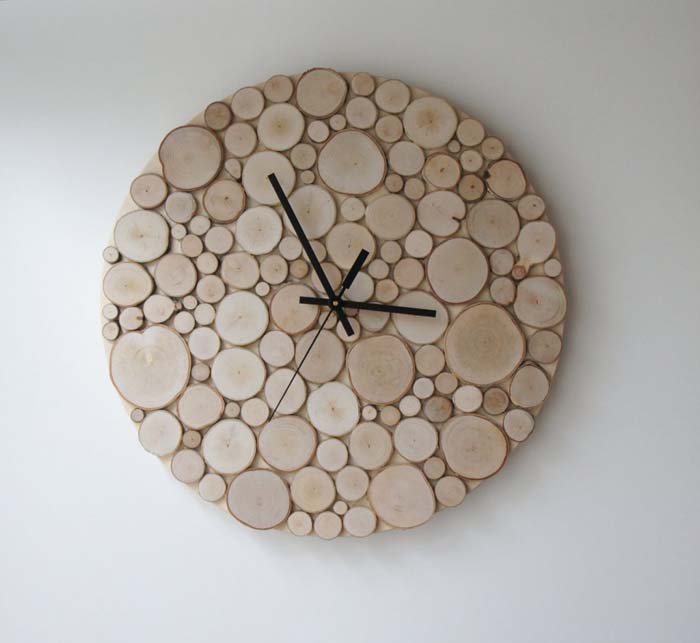 This clock is functional and unique. It features a wooden base covered with numerous wood slabs left in their original blonde color.
The lack of numbers and the clear design make this piece universal to any décor.
44. Side Table From A Log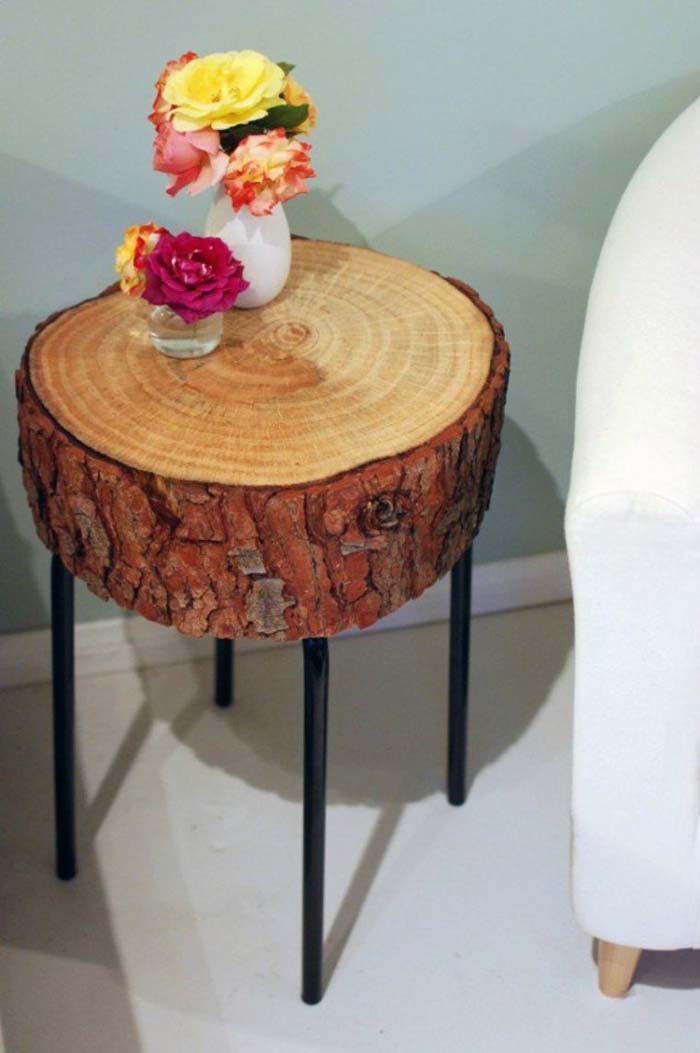 With this wooden decoration idea, we offer you to bring wood inside your home in its natural condition and shape.
Take a thicker slice of wood, coat it with a clear stain and add hairpin legs or plain metal legs to one of its sides. In no time, you will be enjoying your charming handmade side table.
via Designmag
45. Rustic Sink Top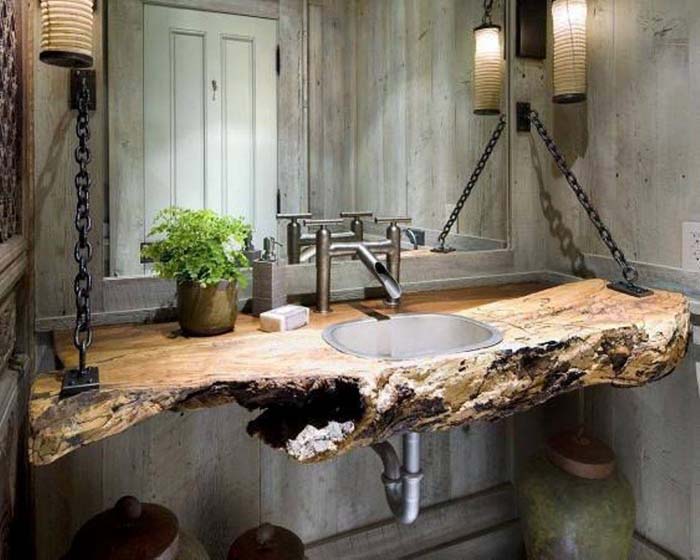 Who would think that a slice of a trunk, stain and suitable hardware can transform into a unique vanity top for the bathroom?
The stunning top is made from an oak tree which is known for its sturdiness. The metal chains used for rigid fixing contrast the warmth of the wood to create together a modern rustic focal point.
46. Mimic A Live Edge Headboard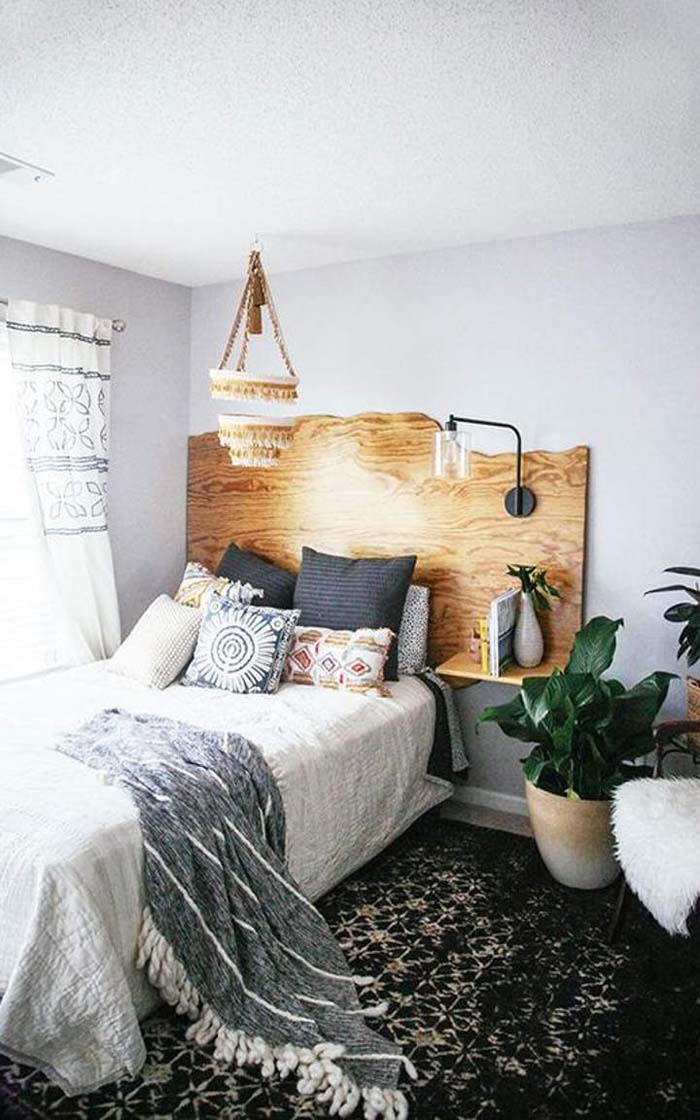 Live edge wooden pieces are quite expensive and difficult to find. Furthermore, they could be too heavy for a few of the home décor ideas.
This has led to alternative materials and methods that mimic the authentic live edge texture.
For this headboard, the DIY-ers have used a plywood board. The curves are achieved with a jigsaw and the natural wood surface with two stain colors.
47. Entryway Shelf Unit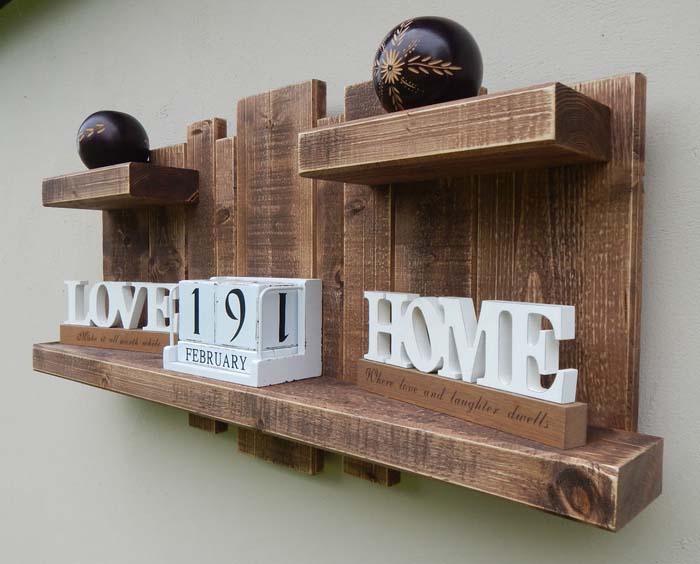 This small wooden decoration idea is of the perfect size for an entryway décor. It adds loads of character with its wooden texture and functionality by providing three flat surfaces for appealing decoration.
48. Birchwood Table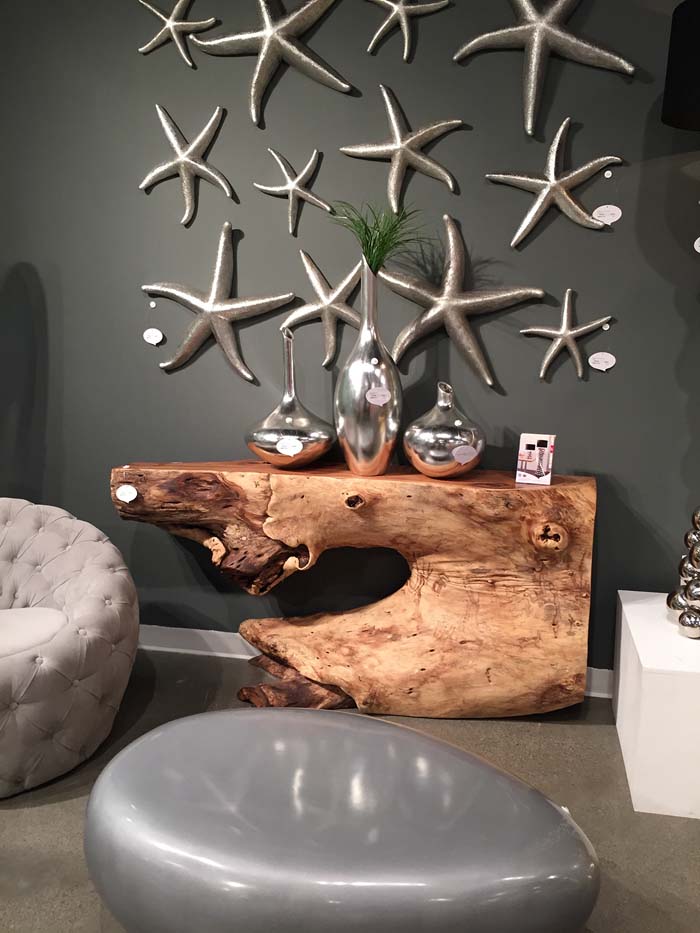 This design idea takes advantage of the natural shape of a fallen log. The bark has been taken down to enable treating of the wood so that it is domestic-friendly.
Both sides of it are given the perfect straight cut. One of them is used for fixing the table to the floor, and the other one as a display of metallic decorations.
49. Rustic Centerpiece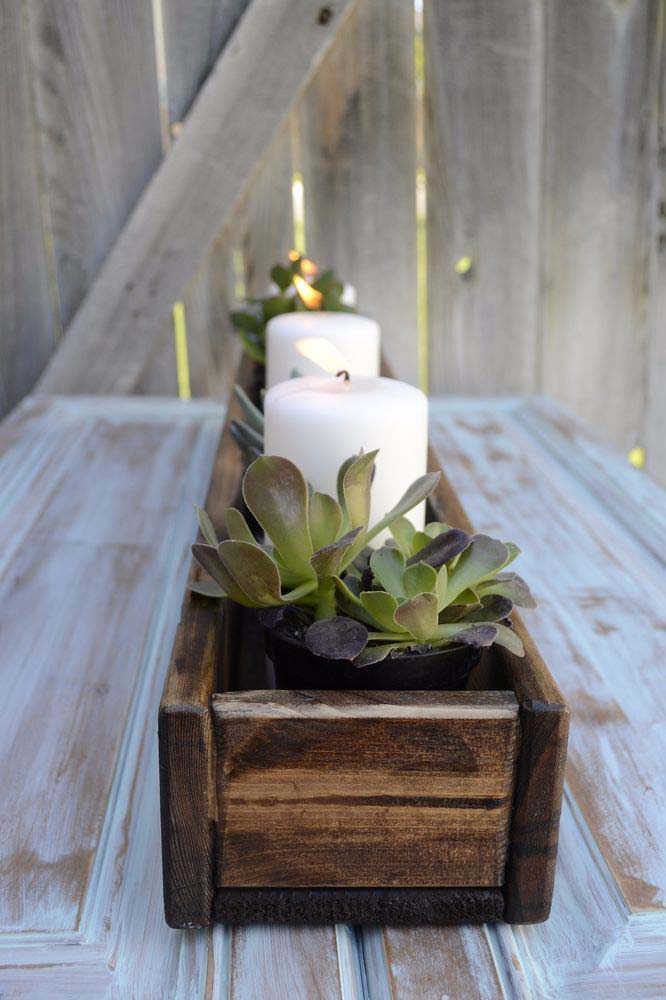 This is another easy and beautiful idea for home decoration made from wood. It functions as a table centerpiece in the shape of a long box.
50. Bookshelves From Tree Logs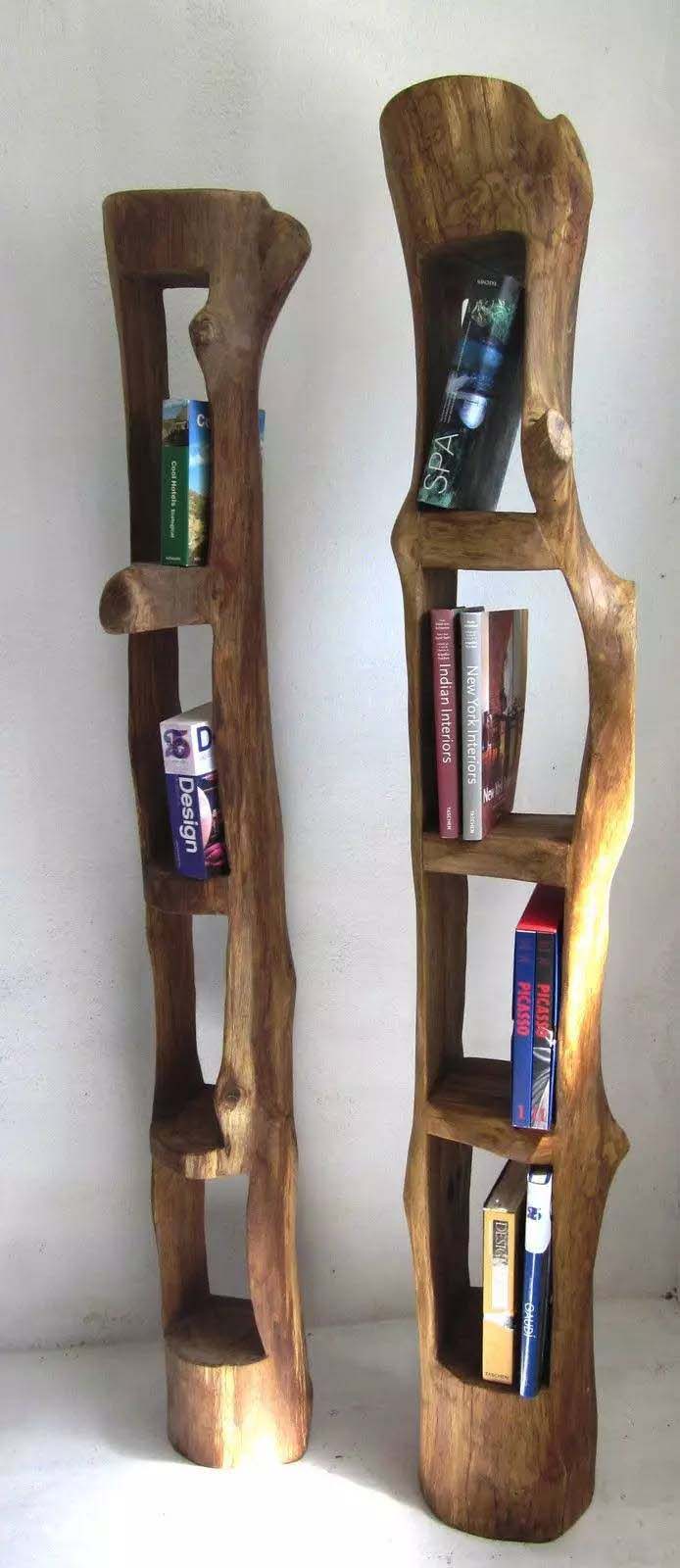 This idea is for woodworkers that can sculpt from tree logs. The shelves are cut directly into the logs. All surfaces are sanded smooth to be safely used in a domestic environment.
The shelf units can be used for holding decorations such as candles or small figures or as bookcases.
51. Vase On A Slab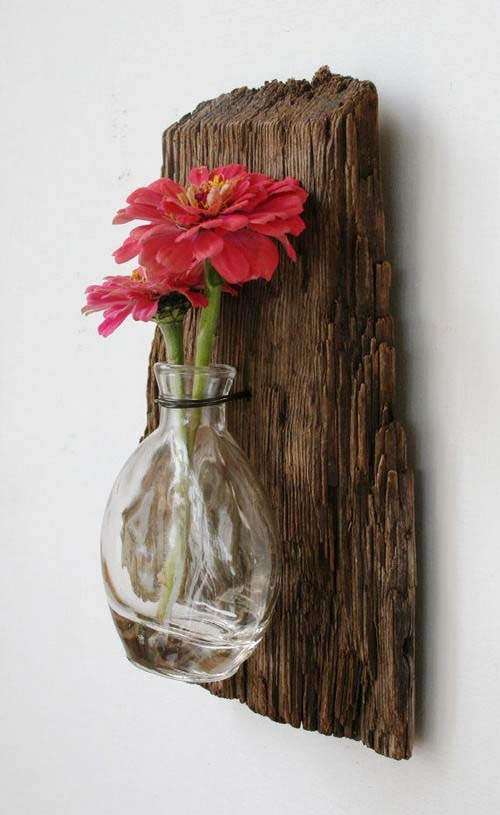 Select a piece of wood from the forest and turn it into a stand for a glass vase.
Do not treat the wood at all. Its weathered look and untreated texture are what give the wall art an artistic effect.
52. Live Edge Kitchen Shelves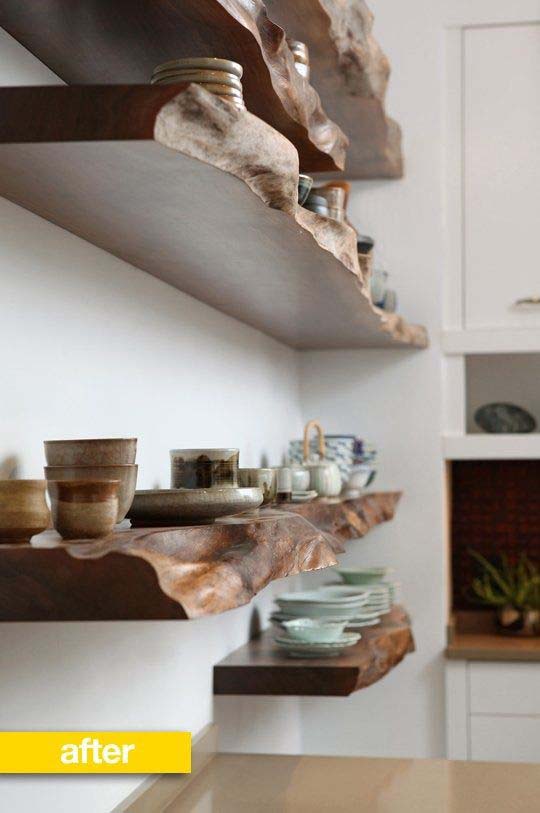 The kitchen shelves made from live edge wood create an eclectic and intense interior accent.
The curved edges enhance the rustic charm of the wood and are perfect as displays of handmade pottery.
53. Picture Frame From Sticks

Any existing picture frame can be transformed into a rustic wooden decoration with sticks. For this idea, you would need dry twigs, a picture frame, a hot glue gun and embellishments.
In this case, moss and faux flowers are used which coordinate with the natural look of the frame.
54. DIY Crate Wall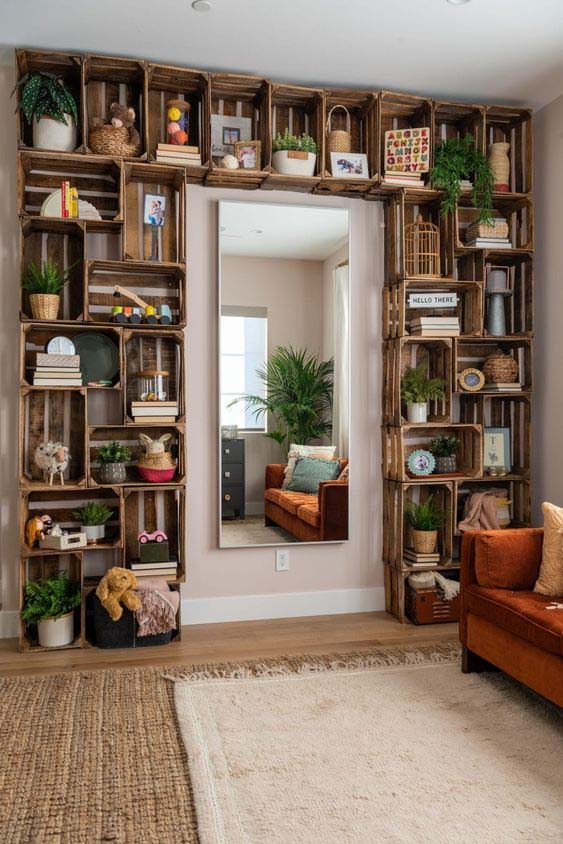 This storage unit is so beautiful and practical. Crates are positioned vertically on the entire wall with their bottoms screwed to the wall surface to create an irreplaceable storage unit.
A gap is left in the center of the wall to ensure the space does not feel overwhelmed and to insert a sleek decorative element.
55. Love Shelf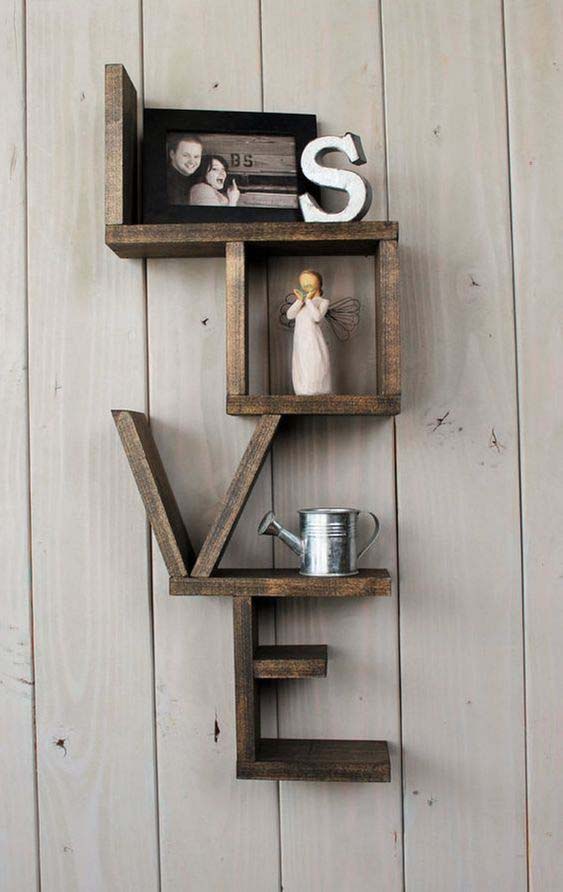 This is an amazing DIY wood decoration idea for which you need three or four wooden boards. They are cut into pieces which eventually form the word "LOVE".
Each horizontal plank acts as a tiny display for décor accents. The love shelf unit is compact so you can easily find a place for it in the entryway or in the bedroom.
56. DIY Rustic Mantel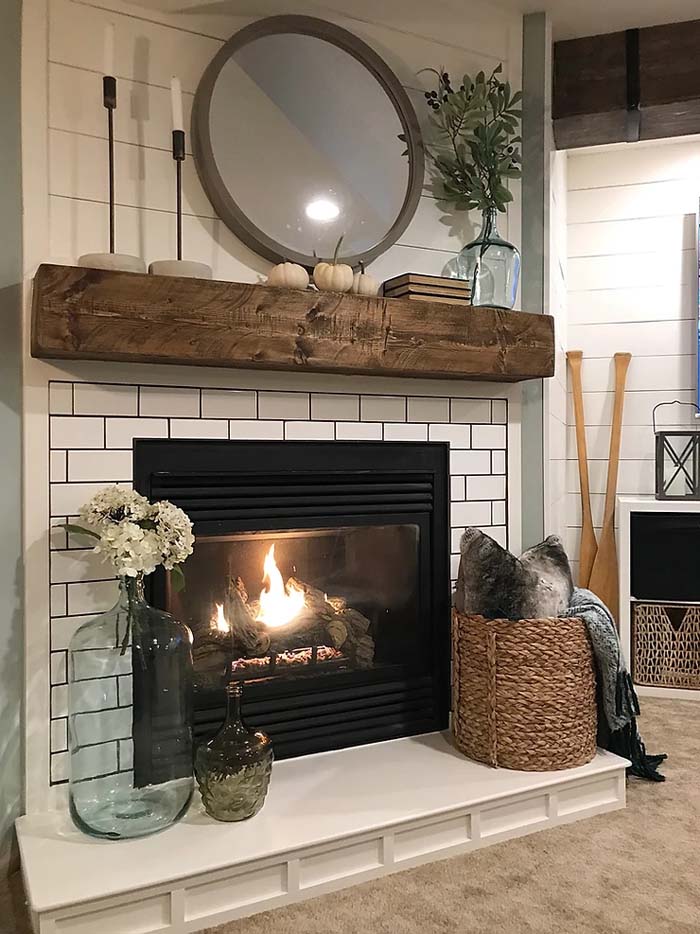 At first sight, you would think that this mantel was made from a solid piece of wood but actually it fakes it.
To mimic the finish, you need to get knotted pine boards and stain them well into the carvings.
via Blooming DIY-er