The Thanksgiving dinner is one of the most special ones. It gathers the family and closest friends together and spreads positivism around. This is the time of the year to be thankful and appreciative.
Setting the decor for this holy day is an important part of the preparation process. Thanksgiving is about home, family and friends and all the treasures in life and that should be reflected in the interior.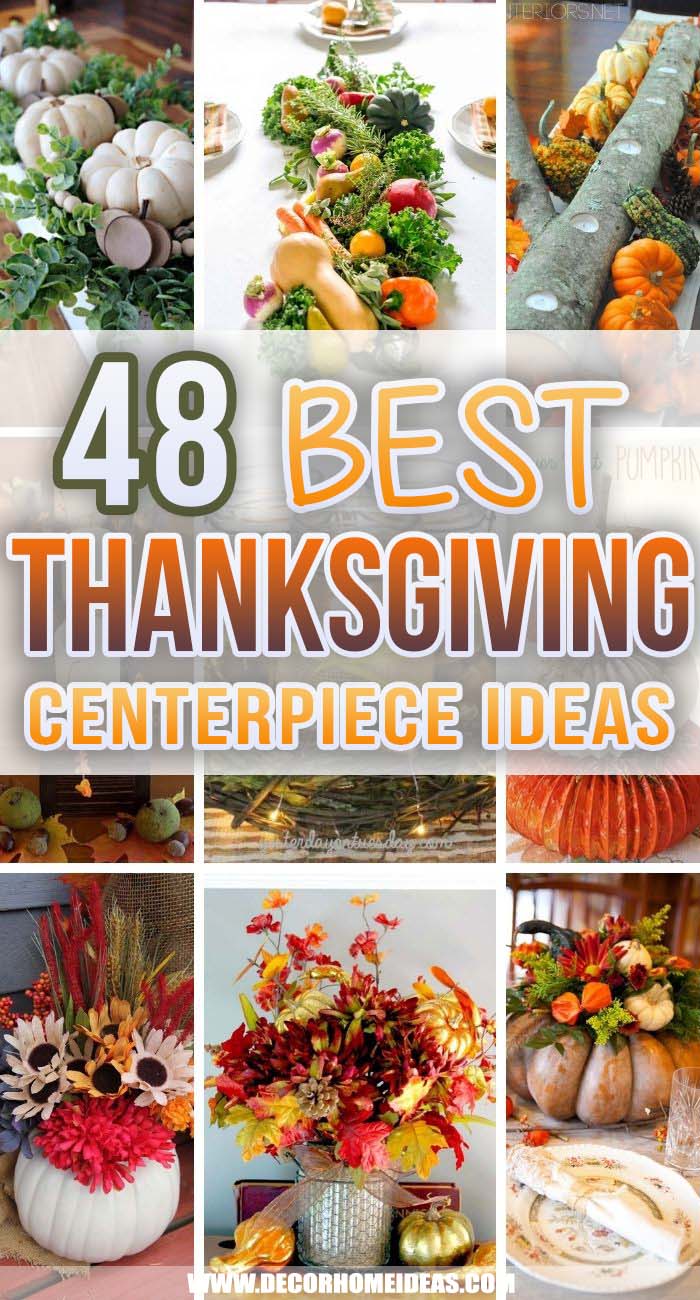 The dining table is always well-arranged and specially decorated. Are you ready with your beautiful Thanksgiving centerpiece? If you are not or you want to add a new tablescape decor, you shouldn't miss the best DIY Thanksgiving centerpieces.
Pieces from nature take a central play in most of the centerpieces. Pumpkins are given a new more attractive look. You can even find edible centerpieces! Are you already curious to find that piece of Thanksgiving decor that will make your dining table spectacular and welcoming?
1. Autumn Floral Arrangement and Metallic Accent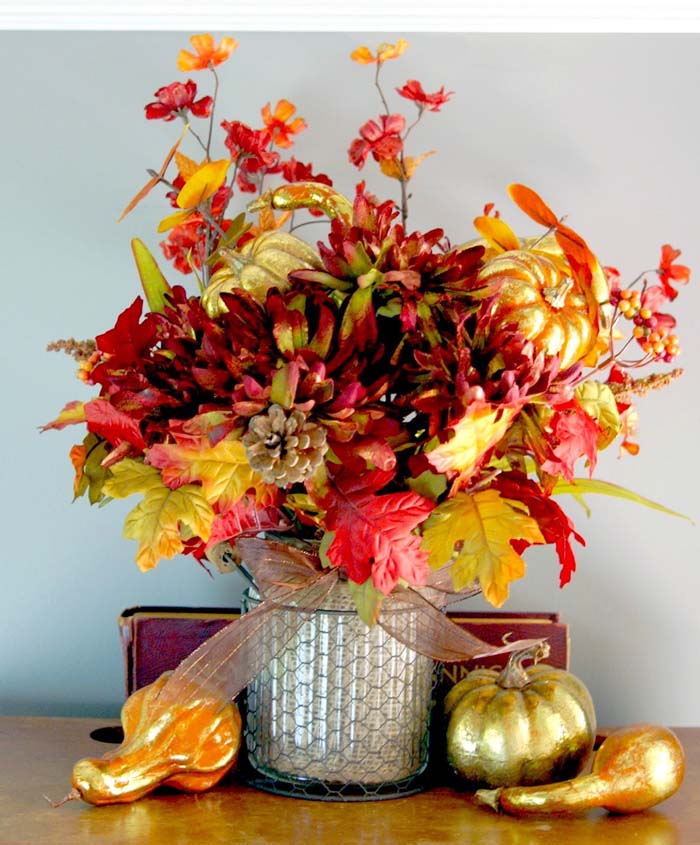 This is an amazing idea of a Thanksgiving floral centerpiece that creates a point of interest with the bright colors of the autumn leaves. The bouquet is inserted in vintage milk can repurposed into a vase for the special day.
All mini pumpkins and gourds added to the floral arrangement are given a sleek metallic finish with spray paint to let them add the traditional symbol of the autumn theme.
via The Scrap Shoppe
2. Spruce Up Your Thanksgiving Table with Veggies Runner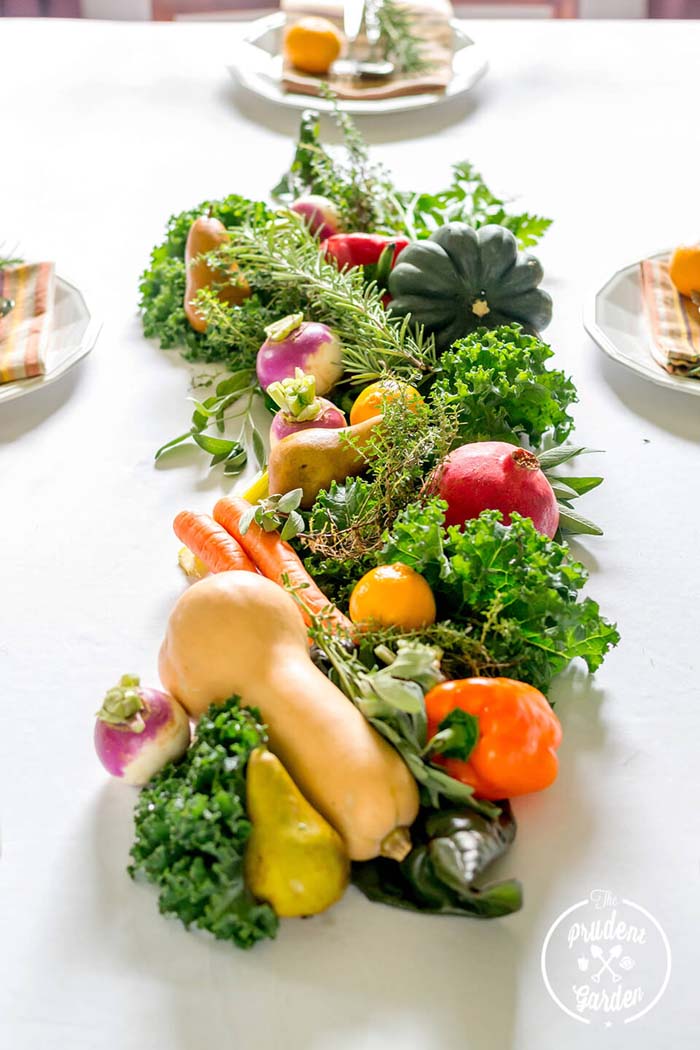 Make your centerpiece a practical and tasty addition to your Thanksgiving menu! This clever idea showcases a long dish on which edible vegetables are beautifully arranged and provided to give the dishes a fresh taste.
Lettice, pears, peppers, pumpkins, onions, turnips, rosemary, passion fruit mark the rich harvest in autumn and give the Thanksgiving table a uniquely colorful touch.
3. Make Thanksgiving Unforgettable with Floral Centerpiece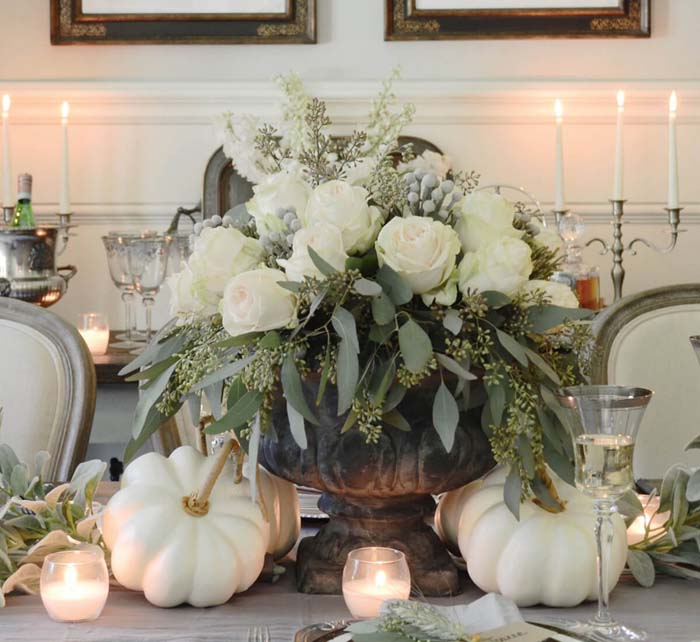 The focal point of your Thanksgiving tablescape centerpiece can be a floral arrangement. The live flower arrangement is placed in an antique urn which puts the natural piece on a pedestal and gives it additional interest.
The rich blooms of white roses peek out from lush eucalyptus foliage in the shape of a cascading green layer. The longer twigs at the back of the bouquet add white in another texture to give it a designer's finish.
White pumpkins, eucalyptus leaf garlands and glass candle holders help blend the urn in the traditional autumn theme.
4. Personalize Your Tablescape with a Pear Centerpiece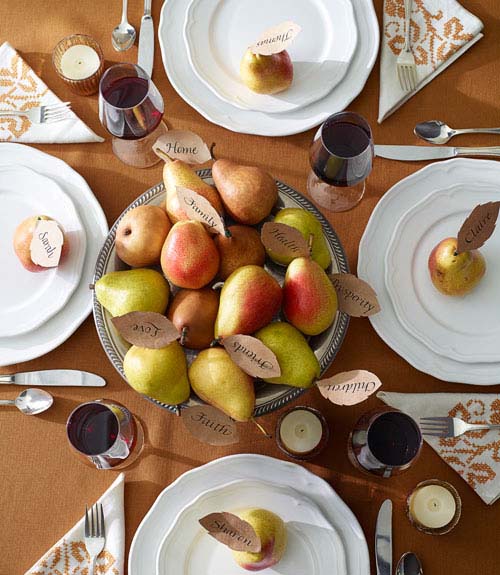 Give your beautiful Thanksgiving centerpiece a meaning! A bowl of pears is set in the center of the festive table to suggest tasty autumn fruits and to treat every person on the Thanksgiving table with a grateful statement.
The valuable and positive words are inscribed on pieces of paper shaped as pear leaves.
5. Add Dimension to with Moss and Pumpkin Wall Art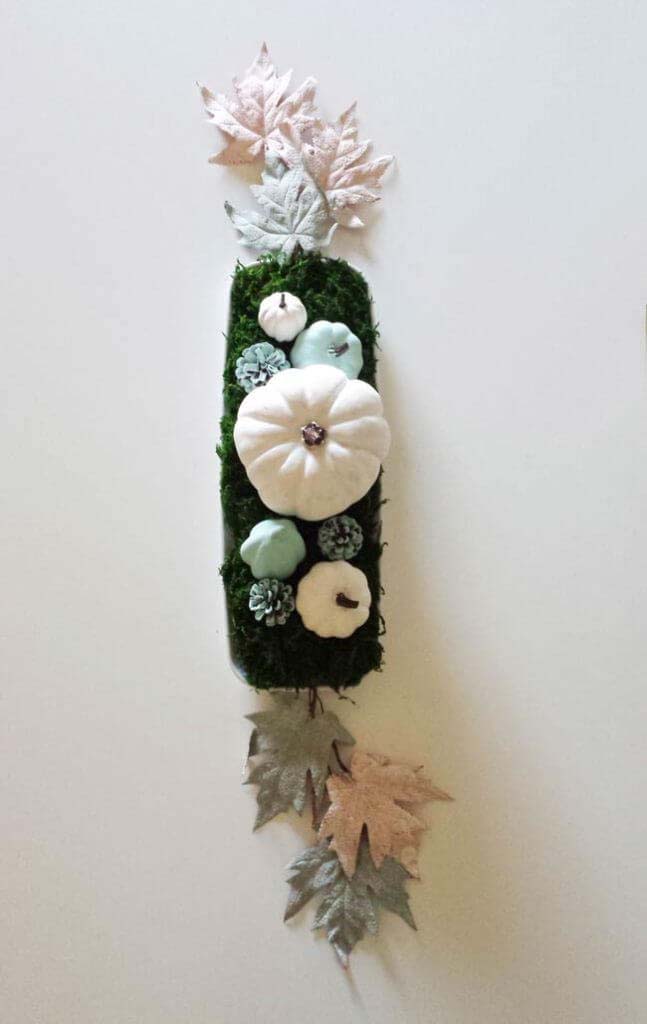 This centerpiece attracts with its natural look twisted through the prism of the modern style. Moss is a trendy material for decorating wall art, creating living walls or giving a focal point to a framed work.
Its deep green color adds depth to the arrangement and lets the pale-colored pumpkins and leaves stand out. They are very tiny, so are the pinecones next to them. A larger one stands in the center of the autumn-themed tablescape piece a focal point.
via Fancy Momma
6. Spread Good Messages with Candy Corn Centerpiece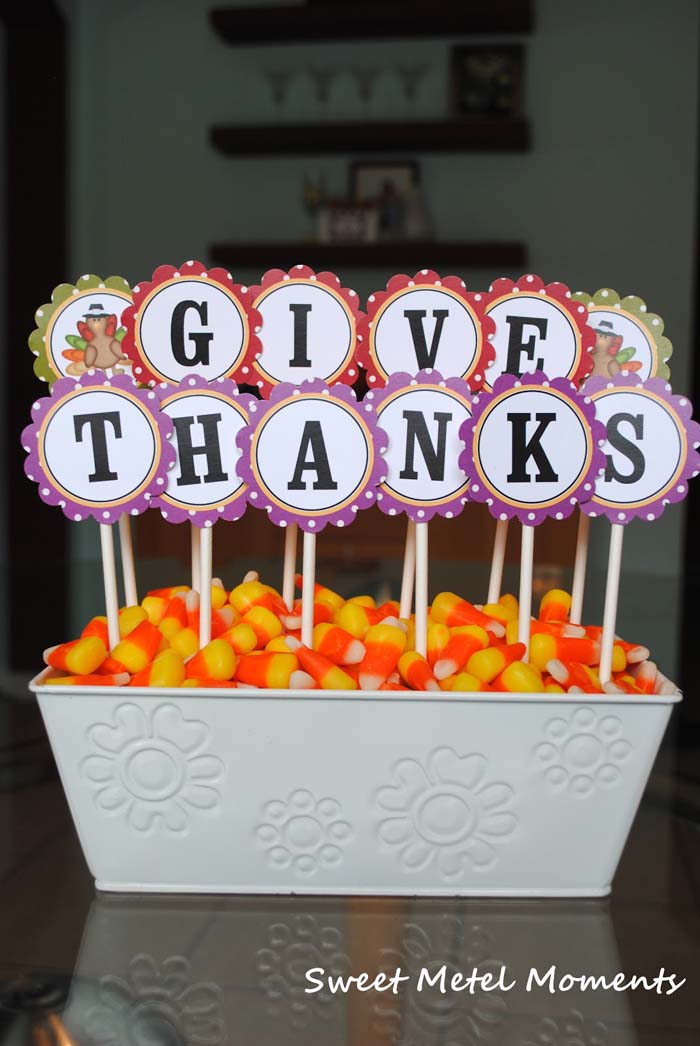 This Thanksgiving centerpiece idea aims to make the holiday special for the youngest ones. The colorful arrangement spreads the important message of the holiday and that ensures that the kids will read and remember it.
If you like this cheerful idea, prepare a good container to fill with candy corn. Print out the letter signs and glue them on straws.
7. Add a Pop of Color with a Floral Pumpkin Centerpiece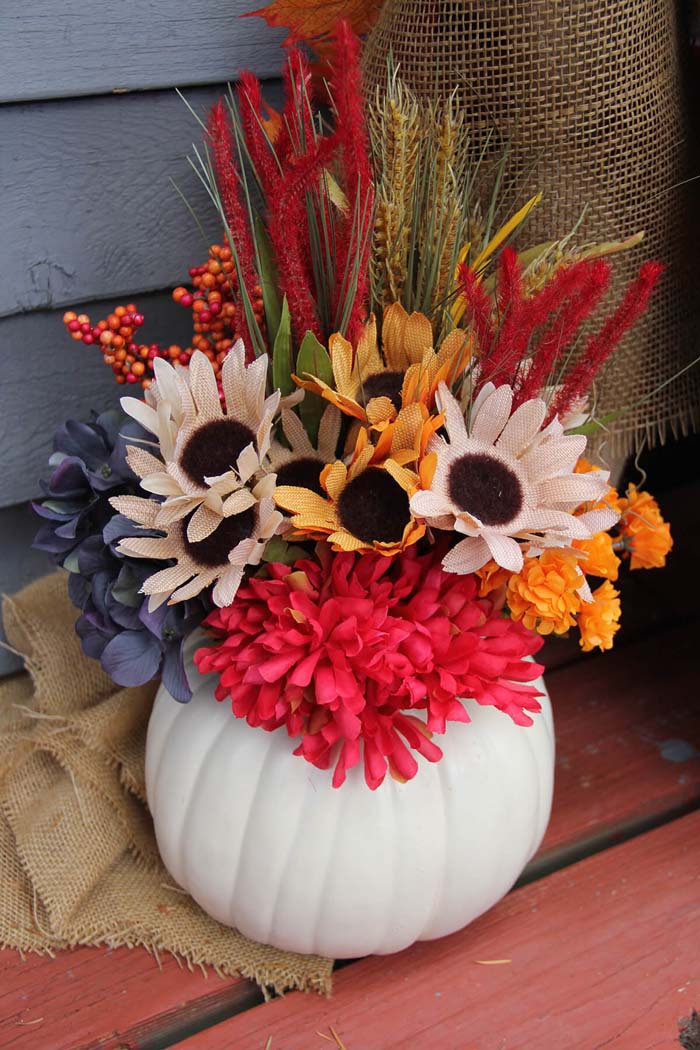 Looking for a simple and easy-to-make Thanksgiving centerpiece? Visit the local Dollar Tree and get a plastic pumpkin and faux flowers.
Spray paint the outer surface of the pumpkin to give it a nice chalky finish which reminds of the realistic texture of the pumpkins.
Create a bouquet of seasonal flowers like mums, daisies, sunflowers, berries. The white color of your vase lets combining various colors of blooms. Set on the Thanksgiving table on a burlap mat to let it stand out.
8. Add Glamour with Layered Hurricane Vase Candle Holder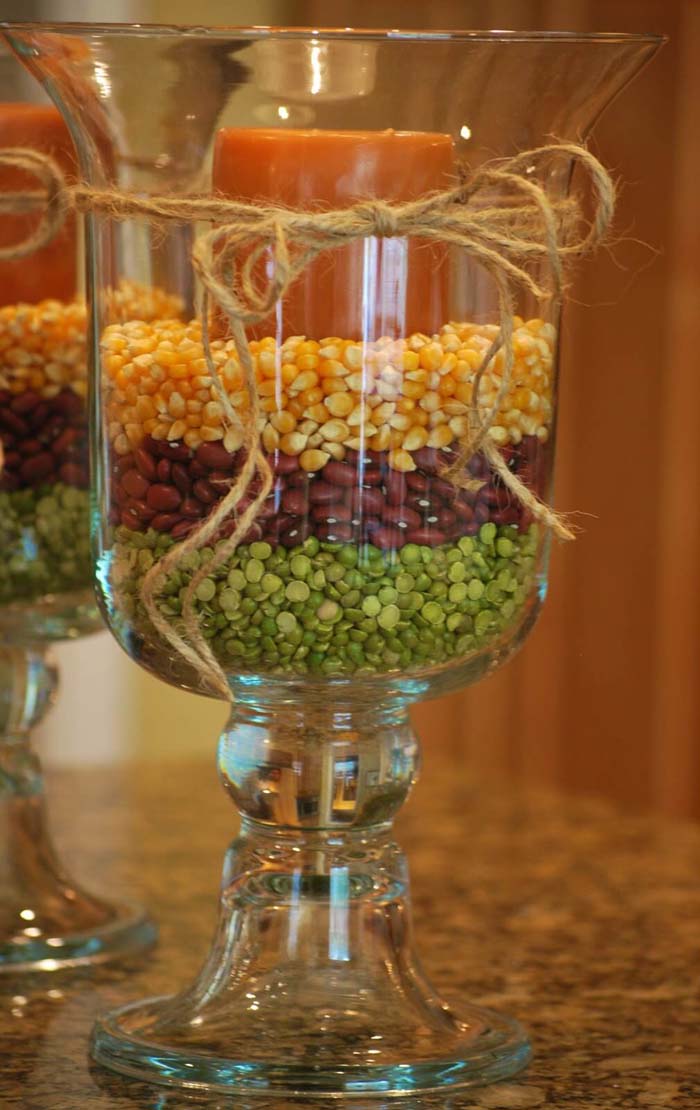 Use the texture and colors of food to create a unique centerpiece for this year's Thanksgiving tablescape. Pick up wine glasses and candles for this craft inspired by the hurricane vase idea.
Insert a candle in the center of the glass and start filling the inside of the glass with different types of beans and corn. Alternate the food ingredients to create layers of color and texture.
Finish your hurricane candle holder with a simple twine ribbon around the rim of the glass.
9. Make Tree Branch Centerpiece with Colorful Paper Leaves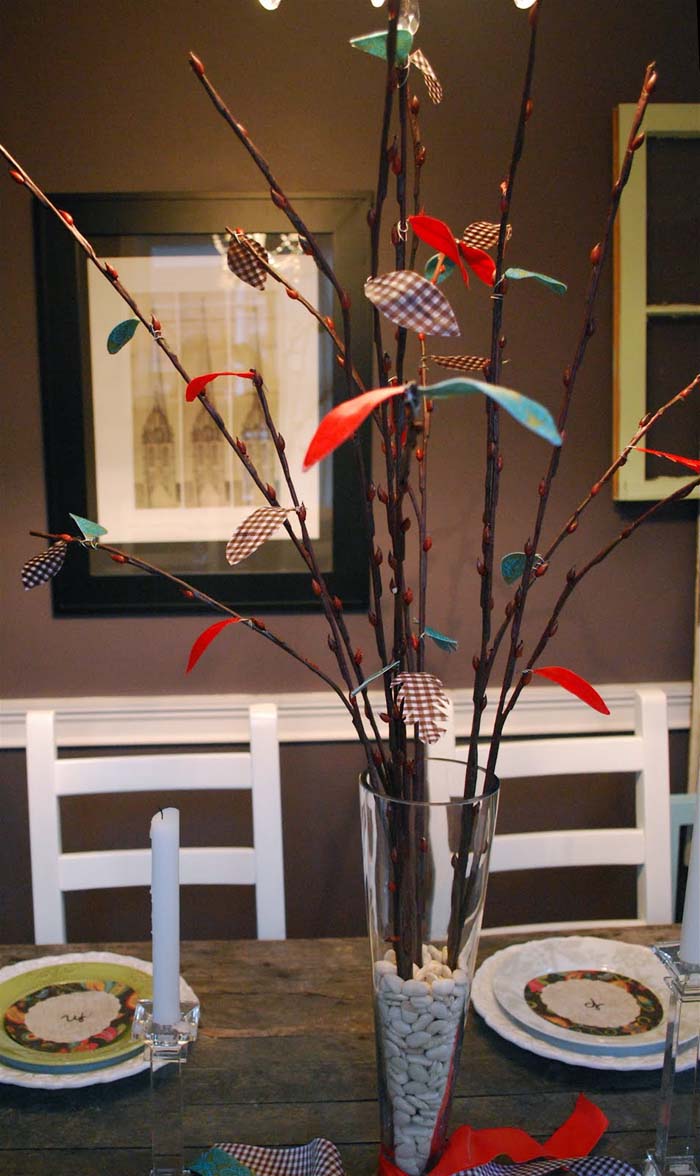 This DIY Thanksgiving centerpiece is good for tables that are not that large. It has a small footprint but creates a point of interest with its height and embellishments.
Real twigs with buds are inserted in a clear glass vase. To give them an attractive look, fabric leaves in various bright patterns are attached to the twigs.
The colors of the leaves are in the autumn palette that matches the table runner that sets the place for the centerpiece.
10. Festive Sparkle with Copper and Faux Plants Centerpiece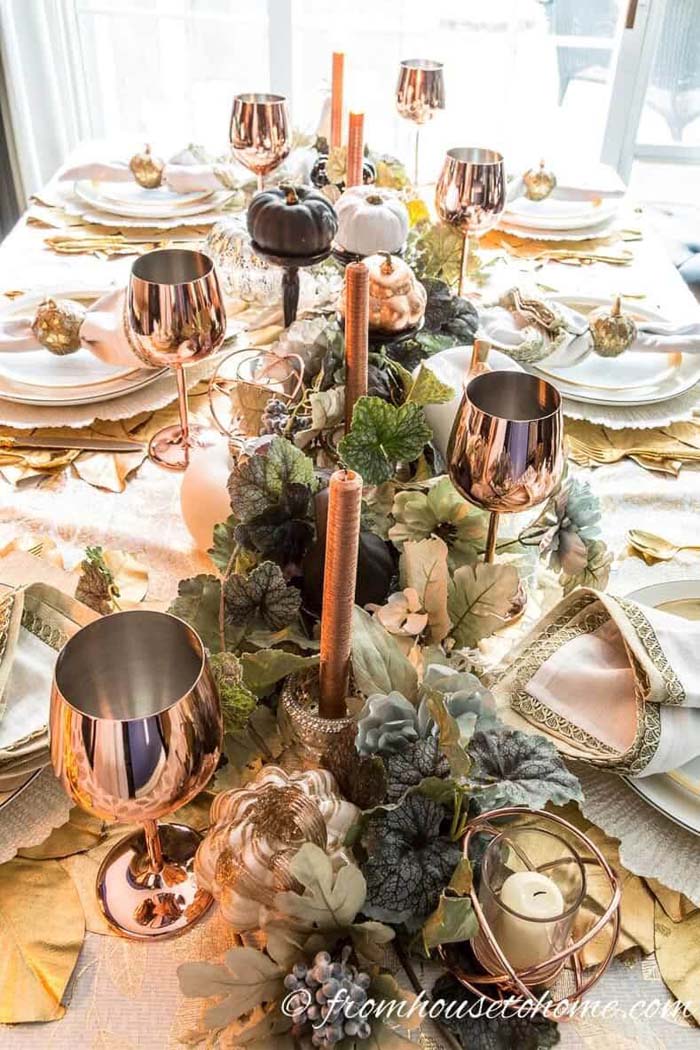 The sleek metallic finish of the copper glasses has been used as an accent for the festive dining table decor. Its warm color combines perfectly with the delicacy and color palette of autumn leaves and flowers.
Faux foliage and berries have been used to give the centerpiece visual thickness and volume. Pumpkins and candles create a point of interest standing over the nature-inspired backdrop.
11. Get Creative with a Fruit Kabob Turkey Pumpkin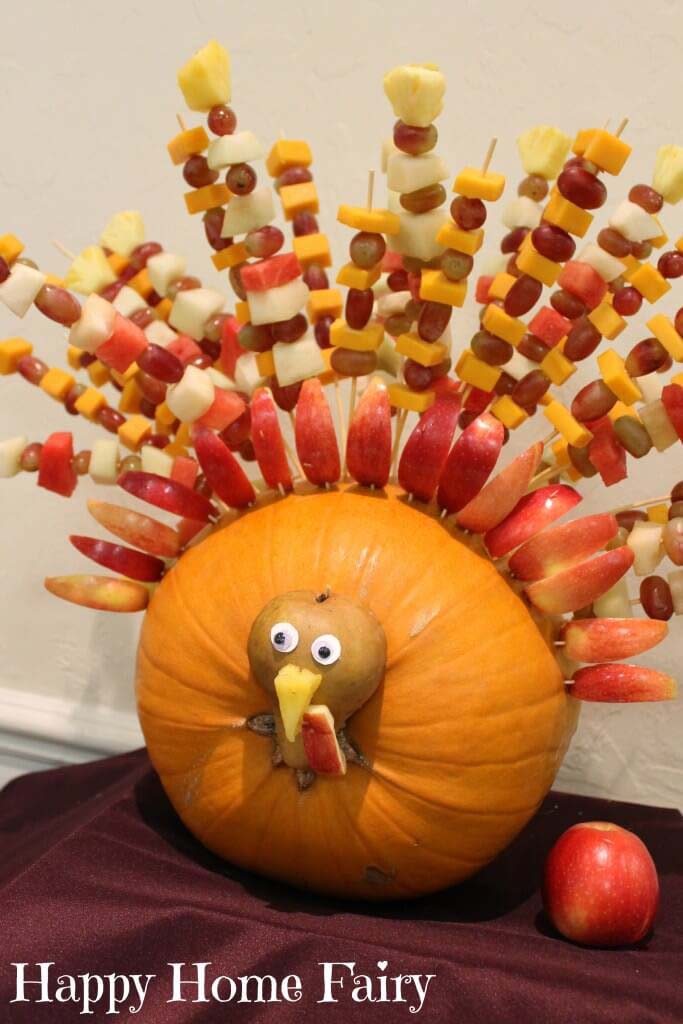 It is always very inspiring to see a centerpiece idea that also features a practical application. This turkey figure is a unique representation of the Thanksgiving motif that can delight not only the sight but also the mouth!
An orange pumpkin has become a stand for fruit and cheese kabobs arranged in the shape of a train. A half of a pear mimics the head of the bird curiously looking with its googly eyes.
This edible centerpiece idea could inspire your Halloween party decor as well but instead of a turkey, the kebab holder can be of a jack-o lantern face.
via Happy Home Fairy
12. Cozy Atmosphere with Earthy Colors and Blue Accents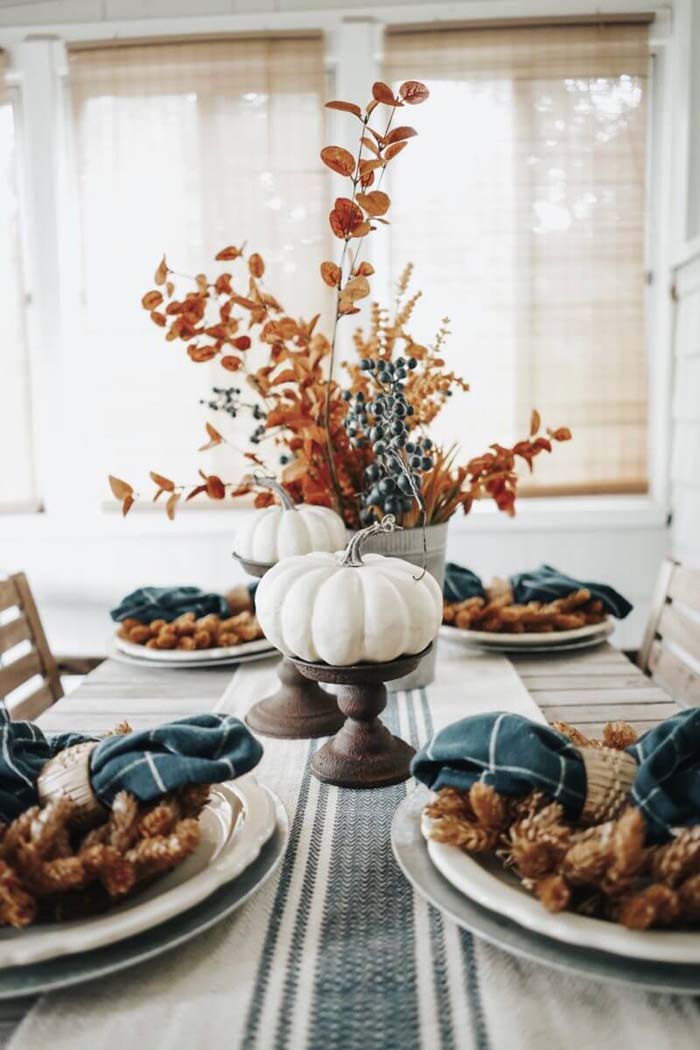 A combination of earthy colors can also create a cozy atmosphere as warm tones. Dark blue with orange tones backed up by white background create a stylish centerpiece for the dining table on the special holiday.
The bouquet of twigs and berries brings the beauty of nature in autumn inside your home. A set of two pumpkins lifted on pedestals adds the typical Thanksgiving accent in a rustic way.
via The February Fox
13. Special Touch with Antique Wood Tray Arrangements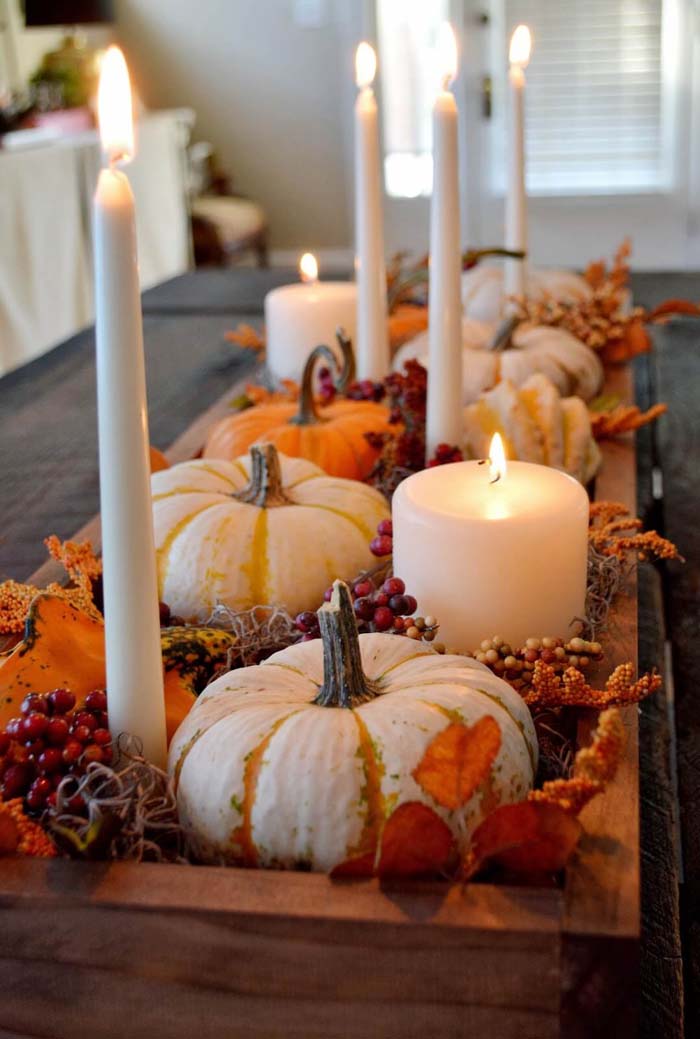 If you have a gorgeous wooden tray like a dough bowl or long drawer, you can use it as a holder of your centerpiece for Thanksgiving. Actually, the antique look of the container will also act as an accent.
Put mini pumpkins in it, align them in a zig-zag pattern and then start filling the gaps between them. These empty sections can be filled with leafy twigs, berry twigs, acorns. Alternating in size candles will enhance the holiness of the holiday and will give the arrangement height.
via 724 South House
14. Get Autumn Ambiance with Candle and Beans Display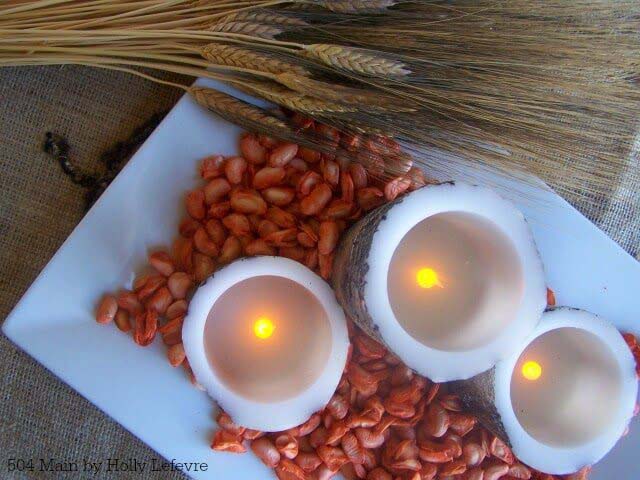 The outer texture of these LED candles mimics bark. Although they look quite attractive, they need some backup to be used as a Thanksgiving centerpiece.
To enhance the natural look and create an arrangement with a rural look, place them together on a white tray and fill its bottom with dark beans.
via 504 Main
15. Repurpose Home Decor with a Dough Bowl Centerpiece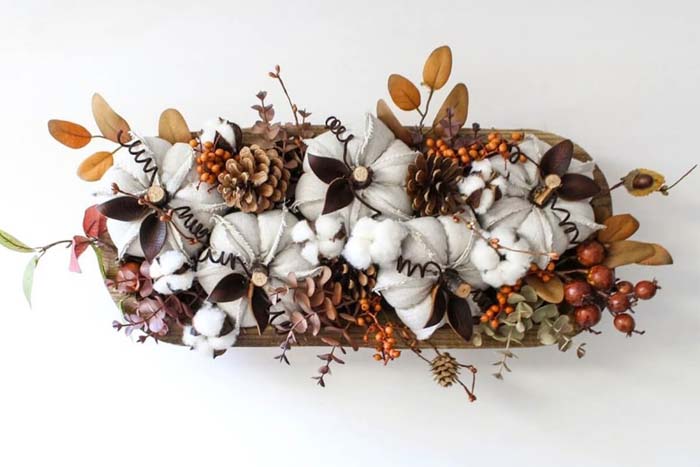 This is an amazing idea of how to repurpose the farmhouse dough bowl into your Thanksgiving dinner centerpiece. Tiny foam pumpkins are arranged in a zig-zag pattern along the length of the bowl.
The gaps between them are filled with small bouquets of leaf twigs, pinecones, berry twigs and here and there cotton buds.
The color combination is extremely appealing and elegant letting all pieces stand out on their own and yet create a harmonious arrangement together.
via D'Amore 1896
16. Impress with Pinecone and Pumpkin Centerpiece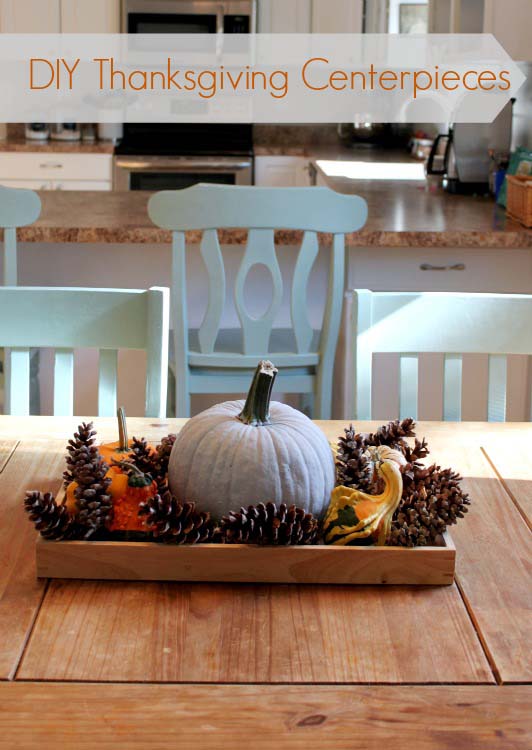 Another idea of a rustic Thanksgiving centerpiece proves that the wooden trays and boxes act best as centerpieces. This one is quite shallow and lets the held elements be in the focus.
The largest pumpkin is placed in the center, the smaller ones aside together with a gourd and many pinecones that fill the empty spots.
This nature-inspired tablescape easily puts the autumn theme in the decor with the calming color hues of fall.
17. Showcase Your Harvest with Rustic Candle Votives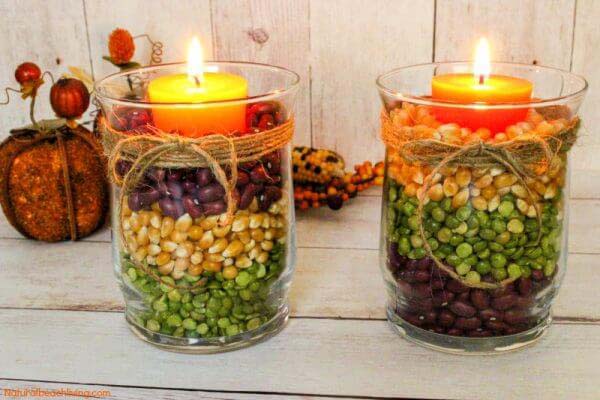 Inspired by the hurricane vase ideas, you can make candle holders embellished by colorful layers of food. This DIY is quick, easy and on a budget.
Get clear glasses or vases and start pouring the food ingredient inside them. Alternate black beans with peas and corn until half of the container is filled. Then place the candle of your choice inside and make one last layer that will keep it secured.
Add a piece of twine or a strip of burlap at the top of the glass to give the hurricane candle holders an elegant rustic finish.
18. Discover Timeless Beauty with Gourd and Willow Bough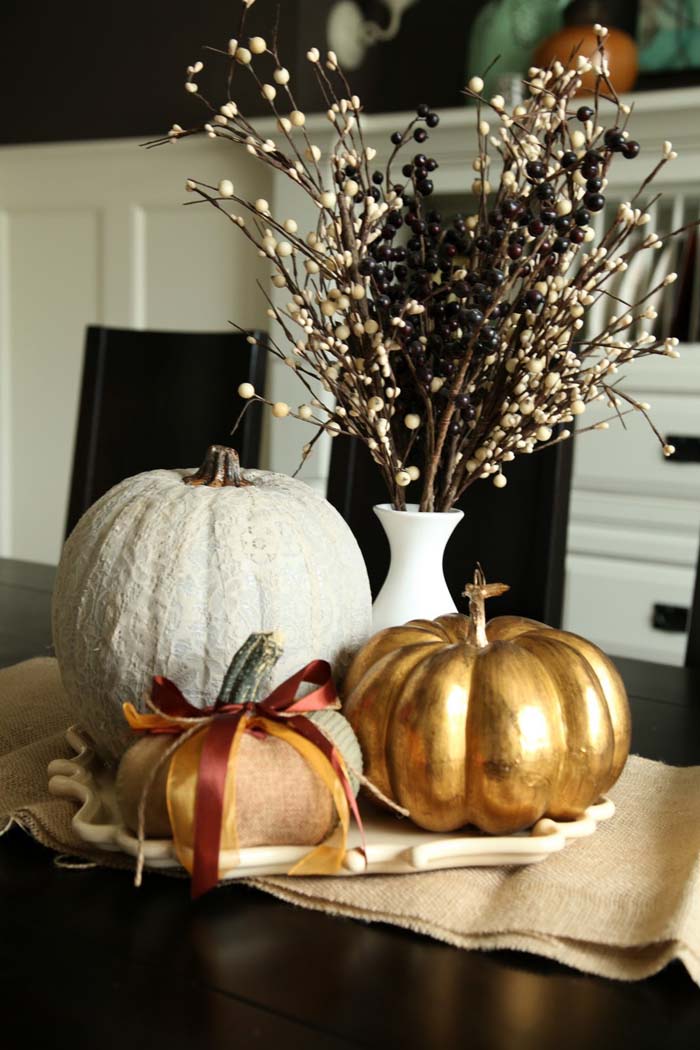 If you are looking for a way to give the traditional pumpkin a new and more attractive look, experiment with the textures.
This Thanksgiving centerpiece combines three pumpkin models- a plastic one given a glam finish with metallic spray paint, a fabric one made from pieces of knitted and burlap fabric and a real pumpkin embellished with lace.
You could never recognize the artificial ones thanks to the added real stems at the top.
via Vintage Pretty
19. Add Texture with a Faux Gourd Floral Arrangement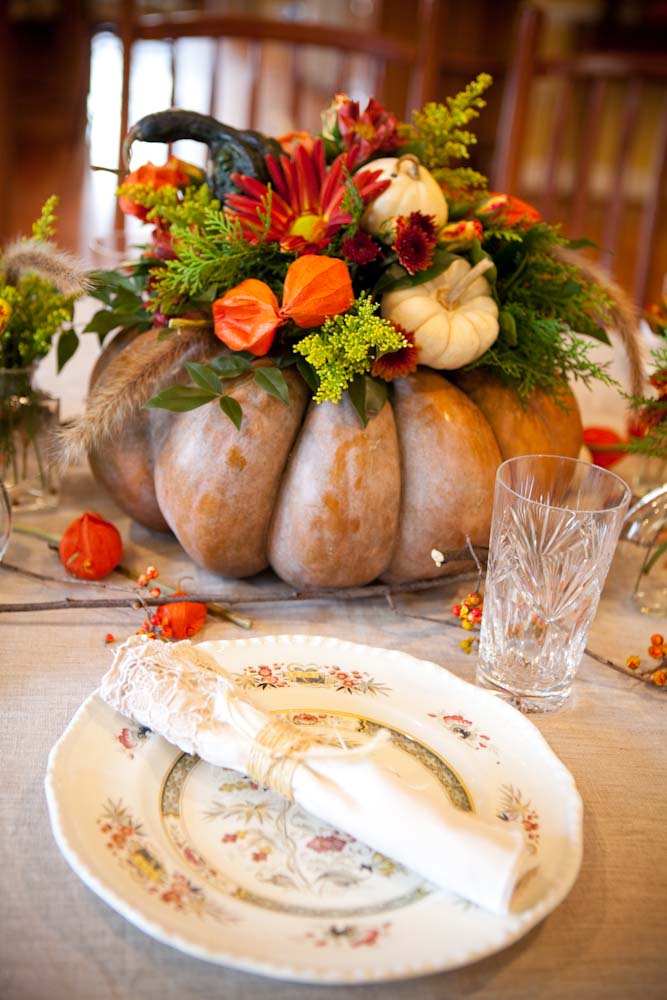 Another way to use the traditional pumpkin as an elegant dining table centerpiece is to give it a new application. Hollow the inside of the pumpkin, add floral foam and insert floral pieces of your choice.
Take advantage of the colors seen in nature at this time of the year to create a statement bouquet. Match evergreen pine twigs with tiny pumpkins, gerbera blooms with dark purple tiny gourds.
The vibrant colors will be the eye-catching element from your table that will set the autumn theme and will make the atmosphere warm and welcoming.
20. Upgrade Thanksgiving Tablescape with Faux Pumpkins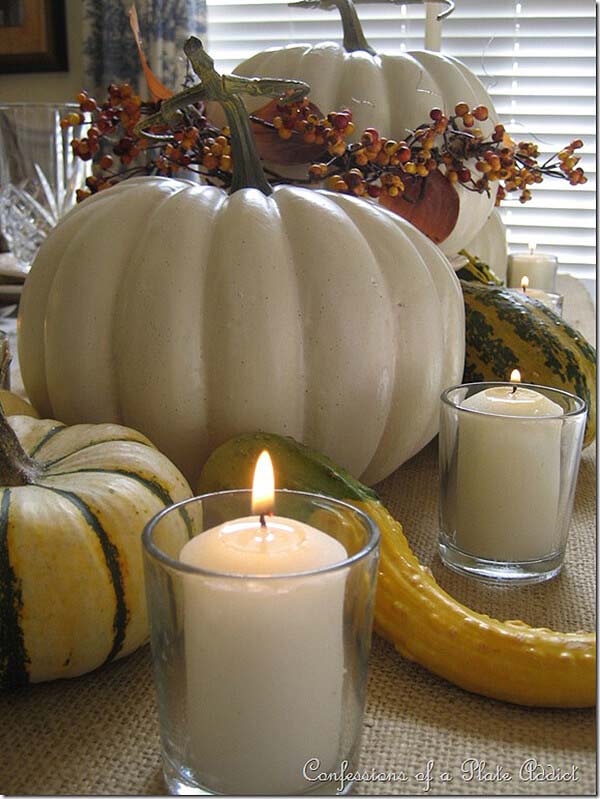 Pumpkins are the traditional autumn element that will never go out of style. If you are a traditionalist, you would like to include them in your Thanksgiving tablescape. But how can you make them look more eye-catching?
There are plenty of ways to give the pumpkins a new look- by painting them white, embellishing them with moss, surrounding them with interesting nature-inspired pieces like berries and foliage.
Add candles to make the centerpiece welcoming and use the light as an invitation to the table for your guests.
via Confession of a Plate Addict
21. Holiday Tablescape with Greetings Painted Pumpkins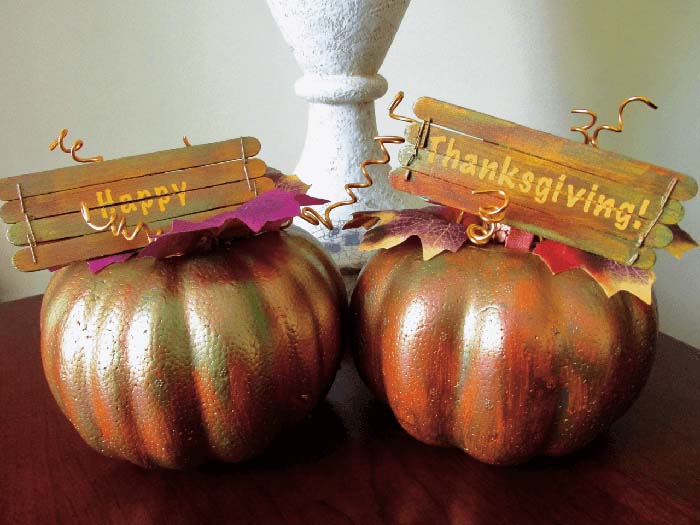 Add greetings to your holiday table in the Thanksgiving theme. The best way to display them is to insert the inscribed signs in pumpkins.
The autumn decor looks very appealing thanks to metallic spray paint. Faux leaves give the foam pumpkins a realistic touch and provide contrast for the fence-like greeting to stand out.
via Craft Klatch
22. Elevate Holiday Decor with Dryer Vent Pumpkin Topiary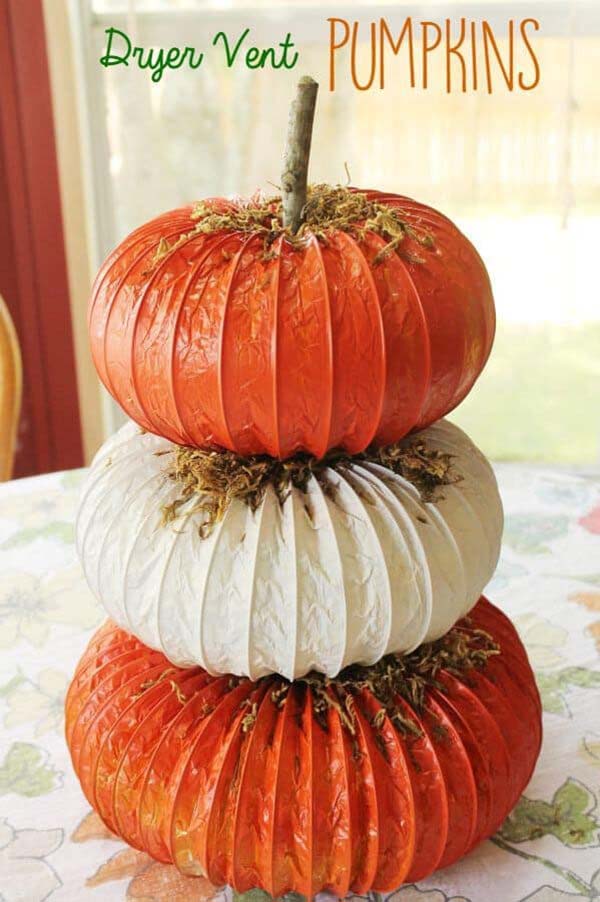 This interesting topiary could decorate your home from Halloween to Thanksgiving. The pumpkins are made from stretched pieces of dryer vent hose! Can you believe that? Well, the wire sections mimic perfectly the grooves of the real pumpkin.
The material of the hose can be easily painted with spray paints. Once it has dried, glue the ends together and stack your pumpkins with a sturdy stick.
Embellishing craft moss on the top of each pumpkin gives the topiary texture and a touch of realistic vision.
via This Mama Loves
23. Show Gratitude with Gilded Fruit and Block Centerpiece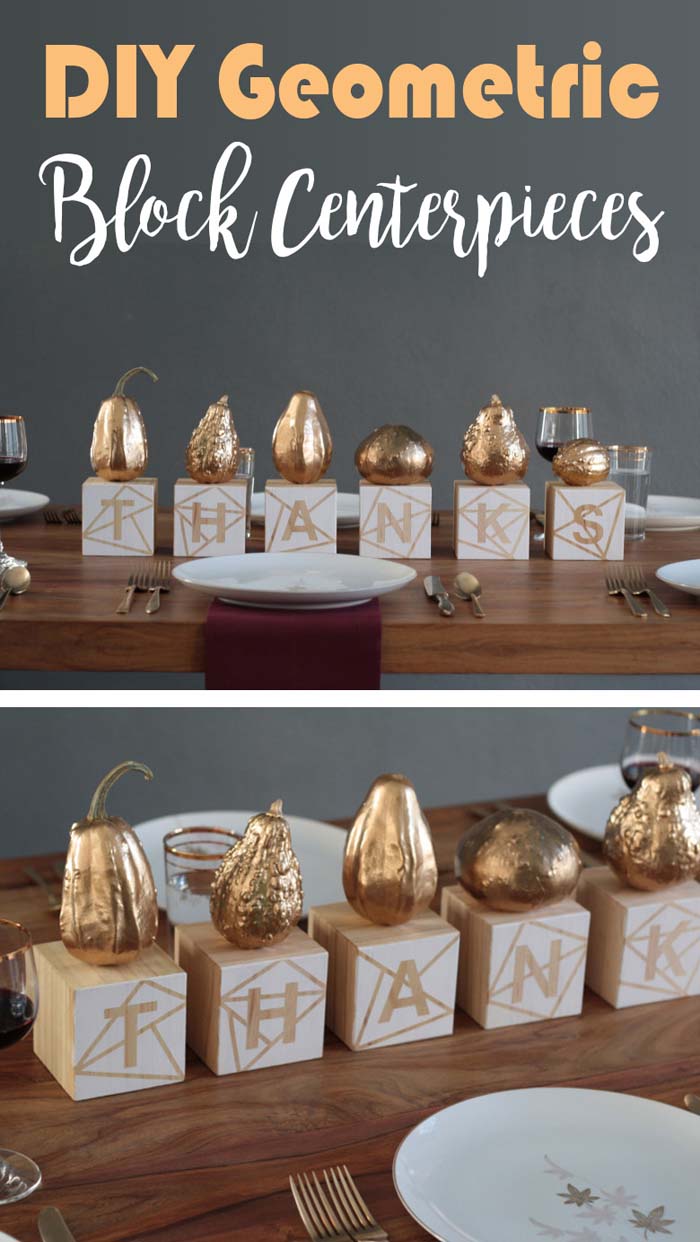 This is a DIY Thanksgiving centerpiece idea you can use for years to come. It features a set of wooden blocks arranged in a row to spell the mantra of Thanksgiving and also acting as pedestals for beautiful metallic gourds.
The tutorial below shows exactly how to make this word art. You can customize the accent colors aiming to match them with your tableware or table runner.
24. Bring Simple Elegance with Moss and Pumpkin Topiary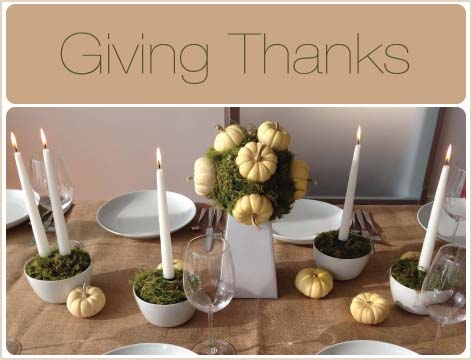 This gorgeous centerpiece idea balances traditional elements of autumn with modern pieces. The elegance comes from the white containers used to hold the multipiece centerpiece.
Green moss coats the top of the candle holders and the topiary ball. Tiny ivory pumpkins peek out the styrofoam ball to give it texture and a point of seasonal interest.
25. Wow Guests with Gourd and Wild Berries Table Setting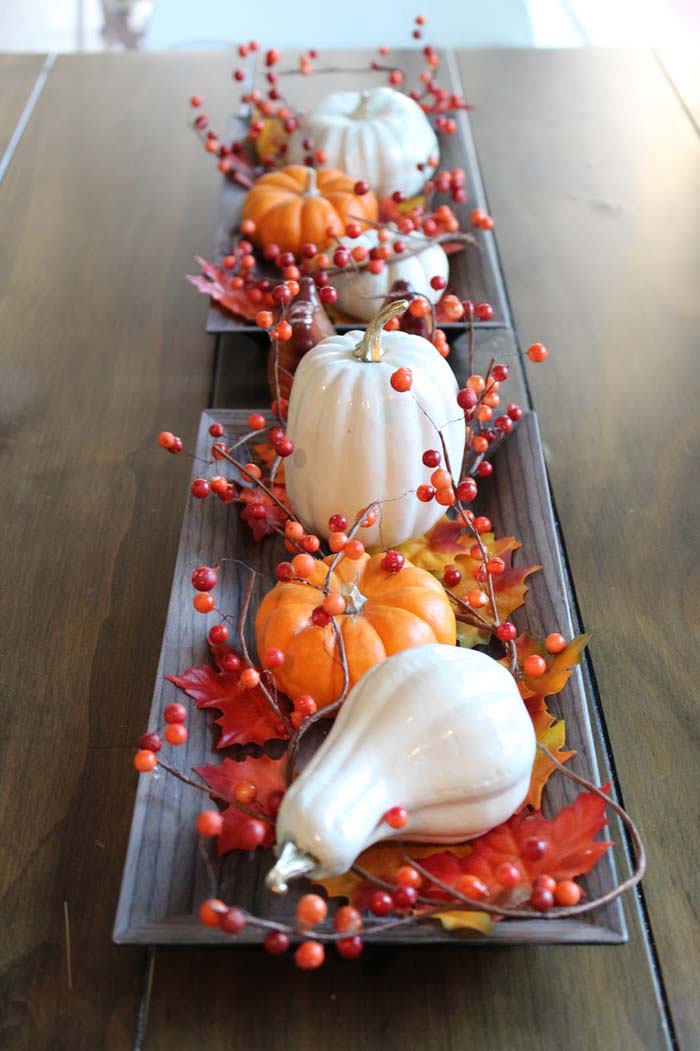 Having a large table to decorate could be challenging, especially if you are missing time to prepare. Don't worry, here is a way to save the day. Your centerpiece can consist of two parts as long as they are identical to create a continuous look.
Two wooden dishes anchor the autumn arrangement in a rustic way. Faux garlands with berries and leaves set the backdrop of artificial pumpkins and gourds. To hide the plastic material they are made from, each piece is nicely and evenly spray-painted.
26. Farmhouse Charm with Mason Jar Votive Holder Crate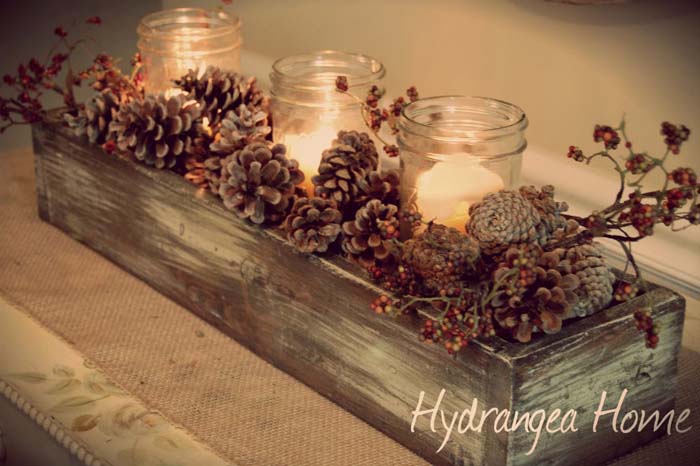 This easy Thanksgiving centerpiece can be made with items you already have on hand. Mason jars, pillar candles and pinecones.
Get a wooden box from your flower stand or repurpose a drawer if you are looking to create the same farmhouse effect. The burlap table runner enhances the rustic feel of this tablescape and gives the centerpiece a good backdrop to stand out.
27. Boost Family Gatherings with Mini-Gourd Candlesticks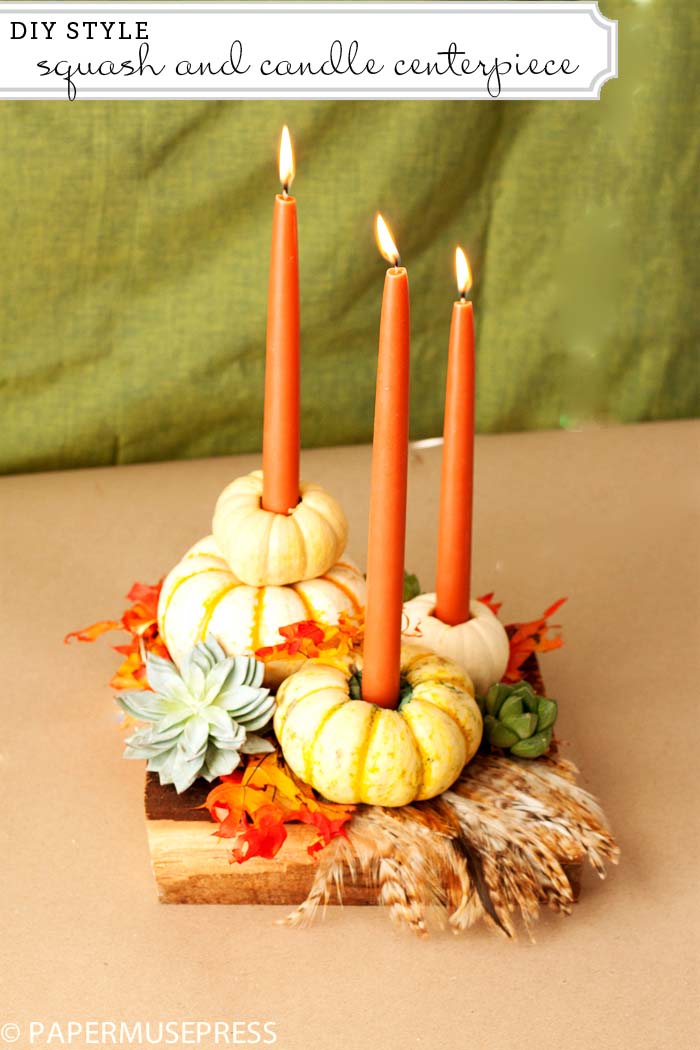 The holiday table will look very homely and inviting with this autumn-themed centerpiece. A solid piece of wood sets the base for the DIY candle holders.
The tiny gourds are turned into candle holders by hollowing a hole in the center of each. By stacking two or three gourds together you can elevate the holder and give the arrangement further point of interest. Fill the empty spaces of the wooden base with succulents, feathers, grains, leaves.
28. Turn Ordinary Containers into Word Art Centerpiece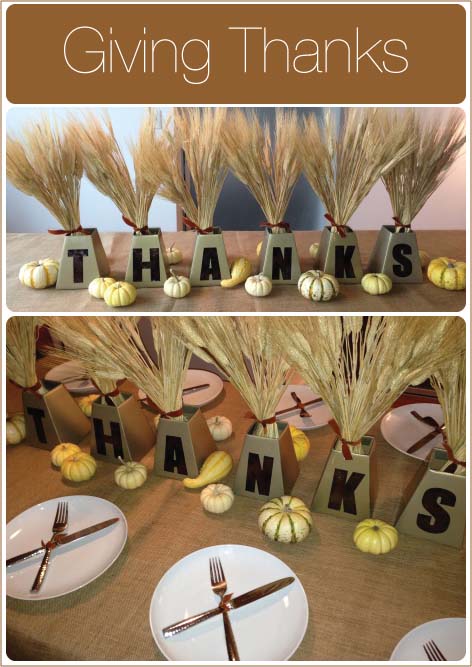 Repurpose a word art into your Thanksgiving table centerpiece. You can easily make it starting with choosing 6 identical containers. That can be Mason jars, wine bottles, small metal buckets, metal vases, etc.
Apply vinyl letters on the surfaces and you are ready with the most difficult part of the craft. To prepare the bouquets, gather wheat stems. For each bouquet, you need to take off the leaves and the weeds. Tie the bunch with a cute ribbon that matches the autumn concept and insert in the container.
via Choose To Thrive
29. Add Splendour with a Rustic Wood Table Runner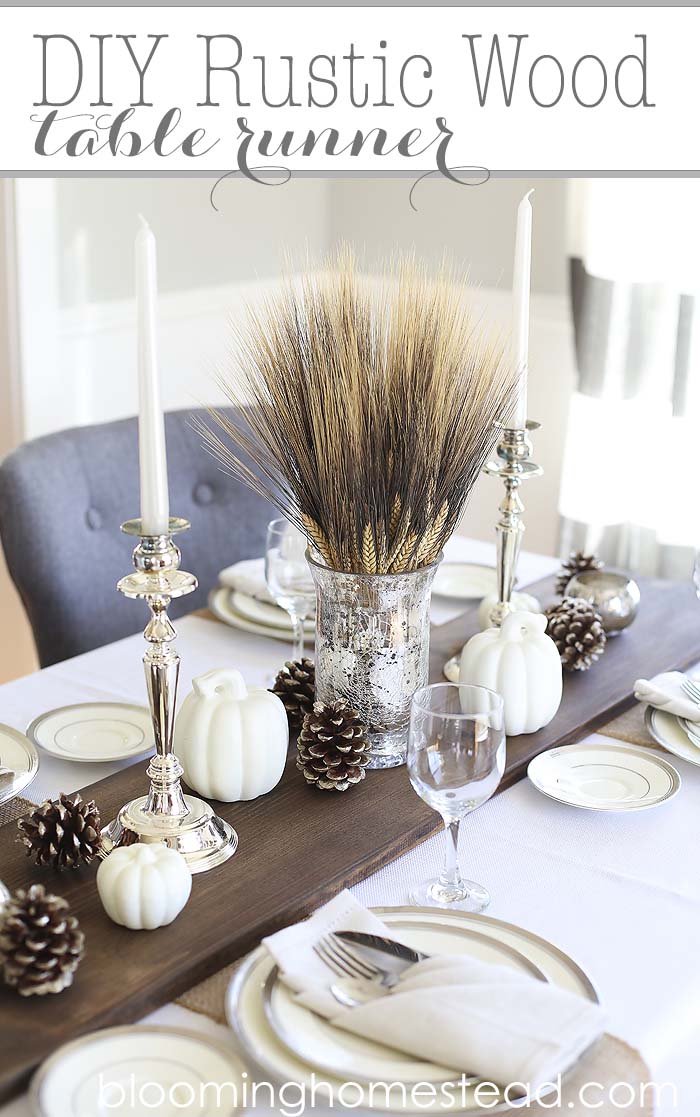 Make your Thanksgiving centerpiece in the shape of a table runner! Indeed, this DIY rustic wood table runner sets the base for the natural decor and creates a beautiful statement piece.
You can use it all year long simply by changing the embellishments on it. For Thanksgiving, that could be gourds and tiny pumpkins alternating with pinecones and candlesticks.
30. Light Up Outdoors with Mason Jar Wreath Centerpiece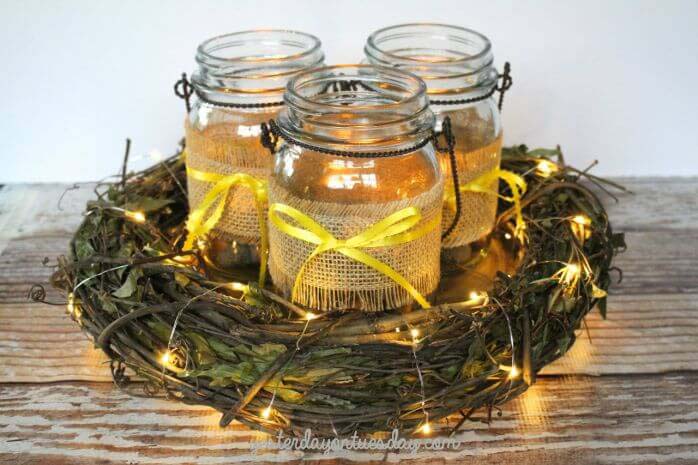 This is an interesting centerpiece idea that can be also used outdoors. Mason jars are set in the focus of this DIY tablescape decor.
The group of jars sits in the center of a grapevine wreath. The embellishment of both components is rustic- leaves for the wreath and burlap strips for the jars.
Added string of lights around the wreath gives the arrangement a warm look. You can place fairy lights inside the jars as well or instead use a candle as a light source.
The tied-up centerpiece succeeds in giving the festive atmosphere a surprising outdoor feel.
31. Make a Statement with a Bountiful Crate Centerpiece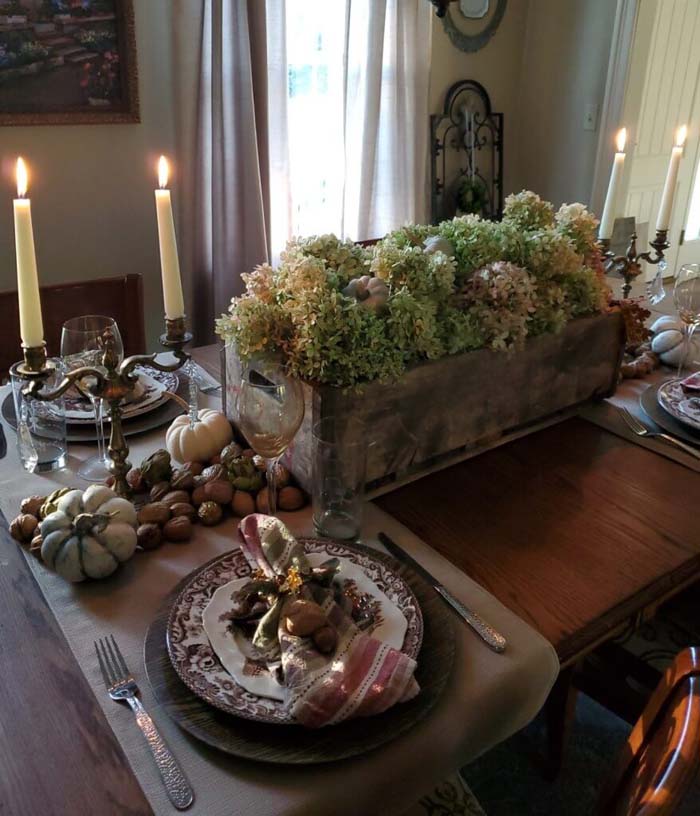 The focal point of this centerpiece is the amazing tall wooden box filled with delicate hydrangea blooms. Since the table is longer than the box, the author makes an interesting continuation of the centerpiece at both ends of the box. Rows from walnuts, pumpkins and acorns feel like flowing out of the box.
They set the autumn theme clearly and give the floral arrangement and the dining table a rural touch of interest.
32. Upcycle Wine Glasses into Woodland Fall Centerpiece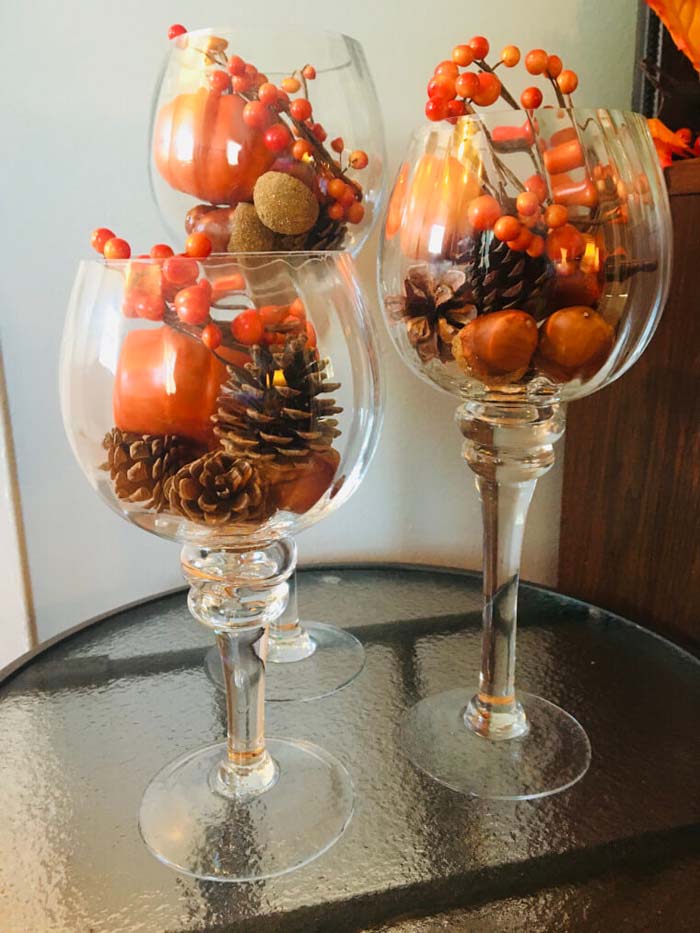 Repurpose your beautiful wine glasses into decor holders to bring a point of interest to your special occasion tablescape.
This is a simple and very quick DIY project that can be customized to your taste. Collect pieces from the woods like pinecones, leaves, small stones, acorns, berry twigs and arrange them in the glasses.
You can add a ribbon to the stool of every glass or leave them simpler so that the contained arrangement acts as a focal point.
via Pastel Jezebel
33. Add a Rugged Appeal with Painted Mason Jar Crate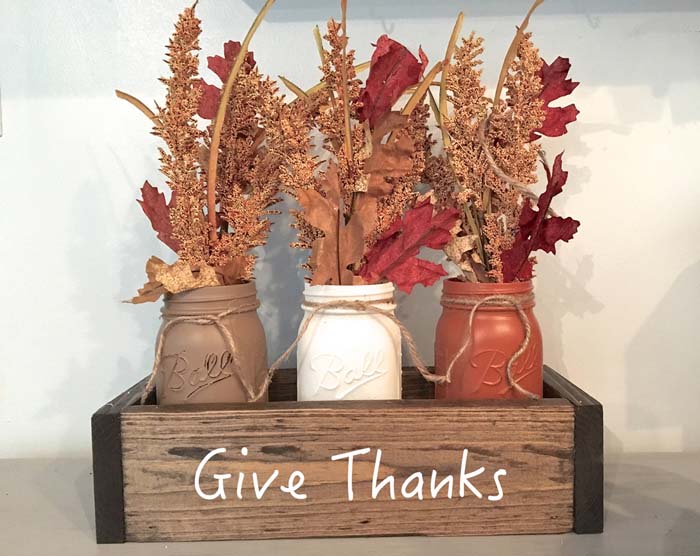 Mason jars come to help with a beautiful statement piece that can be added to the Thanksgiving tablescape. Three jars act as vases holding leaves and twigs colored by the autumn touch.
The clear glass of the jars is transformed to a fall concept with chalk paints. For enhanced decor effect, the three of them are placed together in a wooden box. A large hand-written motivating statement is displayed at the front side of the box to mark the meaning of the holy day.

34. Be Bold and Creative with Floral Burlap Mason Jar Sign

This rustic centerpiece collects Mason jars, burlap flowers and sentimental statements in one. Only the blooms of the faux flower sprays are needed for this DIY Thanksgiving centerpiece idea.
The goal is to form a bouquet of a round shape that can hold the printed word sign. That easily happens with a tiny Styrofoam ball wrapped with fabric in a close color to the blooms ones.
35. Add Nature with Pumpkin and Eucalyptus Table Runner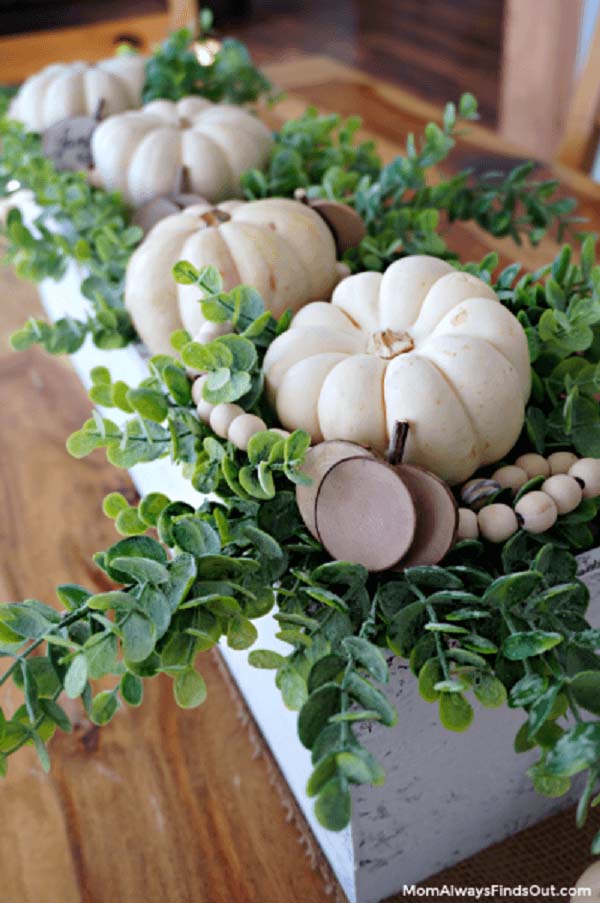 When you make your fall centerpiece in a wooden box, you can stake it on two or three decor elements only. That will give the piece an elegant look, especially when the interior is not that neutral.
White pumpkins are placed over thick green foliage from faux eucalyptus leaves. Wooden bead necklaces frame the centerpiece at the ends and enhance the rustic vibe.
The finish of the wooden box continues the rustic theme with its distressed paint.
36. Customize Fall Table Wooden Decor with a Chalkboard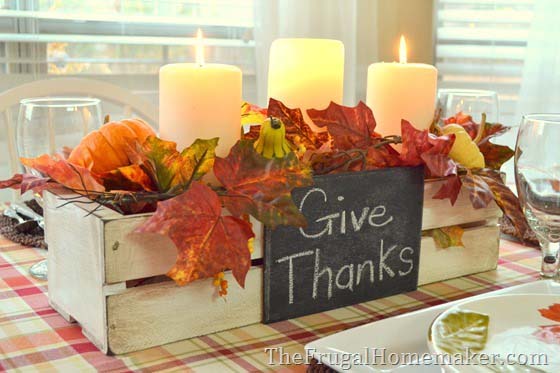 Crates are also perfect as fall centerpieces. Since they are quite deep, you may want to fill the bottom with floral foam or other type filling to let the decoration be visible and stand tall.
Arrange pillar candles in a stair-like alignment and then start filling the empty spots. Use faux leaf garlands, pinecone twigs, eucalyptus foliage, berry twigs- any autumn pieces from nature.
37. Stun with Style with a Rustic Candle and Pumpkin Box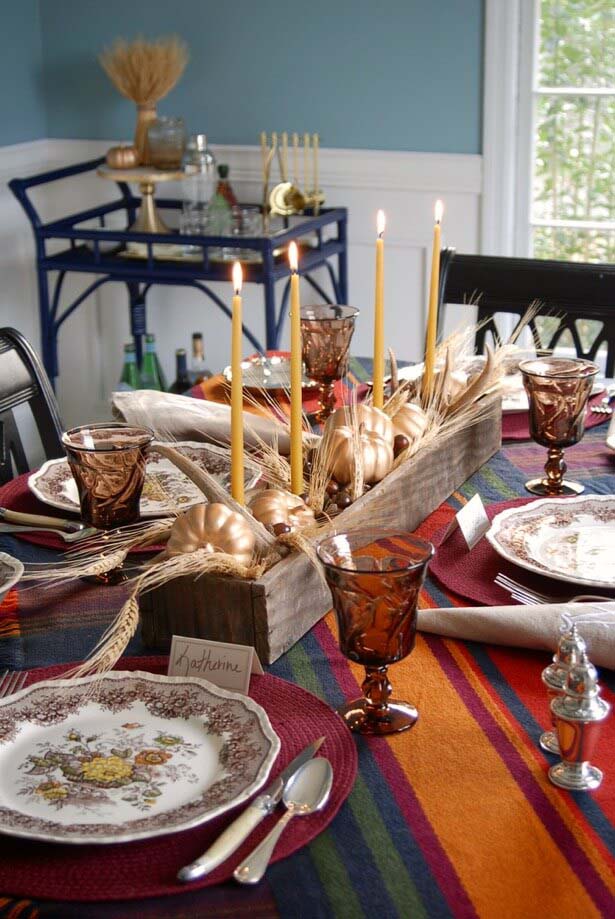 Thanksgiving is holy and the candles feel more than suitable for part of the festive dining table decor. They are inserted in between different autumn items collected in one wooden box.
Acorns, metallic sprayed tiny pumpkins, grains create a magical tableware centerpiece that warms up the atmosphere for the holiday.
via Pender and Peony
38. Embrace Minimalism with a Pumpkin Tablescape Display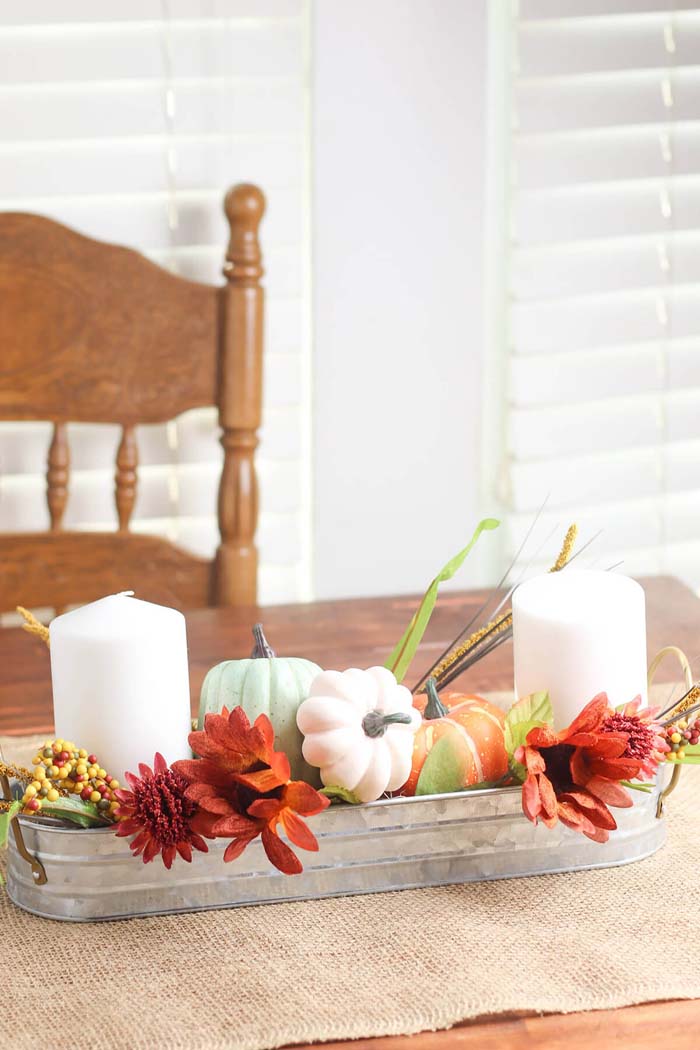 If you want to make sure that your Thanksgiving dining table is welcoming and reveling the homely spirit of your house and family, use a vintage-inspired centerpiece to decorate it.
This one combines faux pieces emphasizing the autumn harvest placed in a long galvanized container. Added candles enhance the holy vibe and aim to gather the people closer on this day.
39. Indulge in the Lavish Look of Floral Golden Pumpkins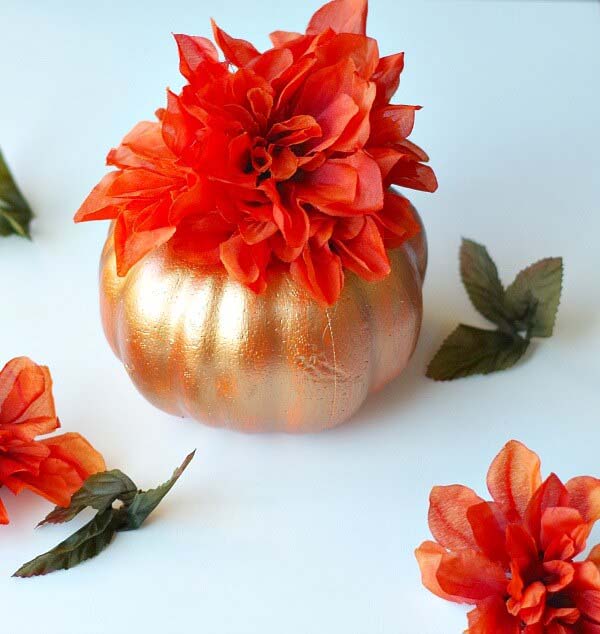 This faux pumpkin decor idea could be used as part of your Thanksgiving table centerpiece or as a piece of decor to add in front of every dish set.
It is a simple DIY idea that won't take much of your time and budget. Foam pumpkins easily change their color with spray paint. You can choose the color to match your interior or stake to a color that will create a point of interest.
The golden spray paint does the latter with the sleek finish it gives the pumpkin. The faux bloom inserted in the center of it makes an excellent embellishment of this traditional autumn symbol and gives it an elegant touch.
40. Beautiful Contrast with Stained Wood Box Centerpiece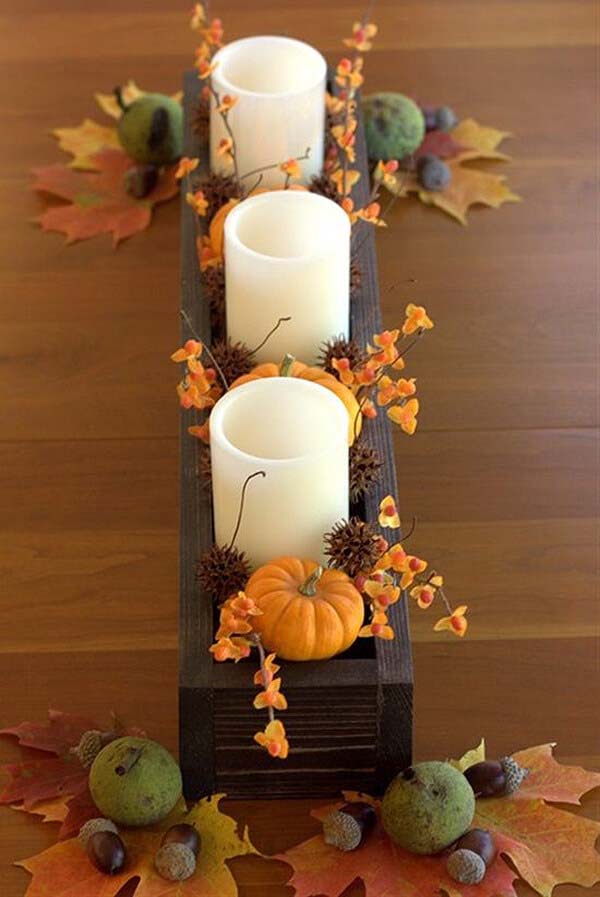 Simpler centerpiece arrangements can also be eye-catching. All you need is a container of color that creates a contrast and collection of seasonal decor.
The autumn elements that usually get in the decor arrangements are pumpkins, colorful fall leaves, acorns. Place LED candles in the box and fill the gaps with the seasonal embellishments.
This fall centerpiece holder is a good solution for all-year-long centerpiece decor if you just change the content with seasonal decor.
via Sweet Pea
41. Unparalleled Beauty with a Floral Table Arrangement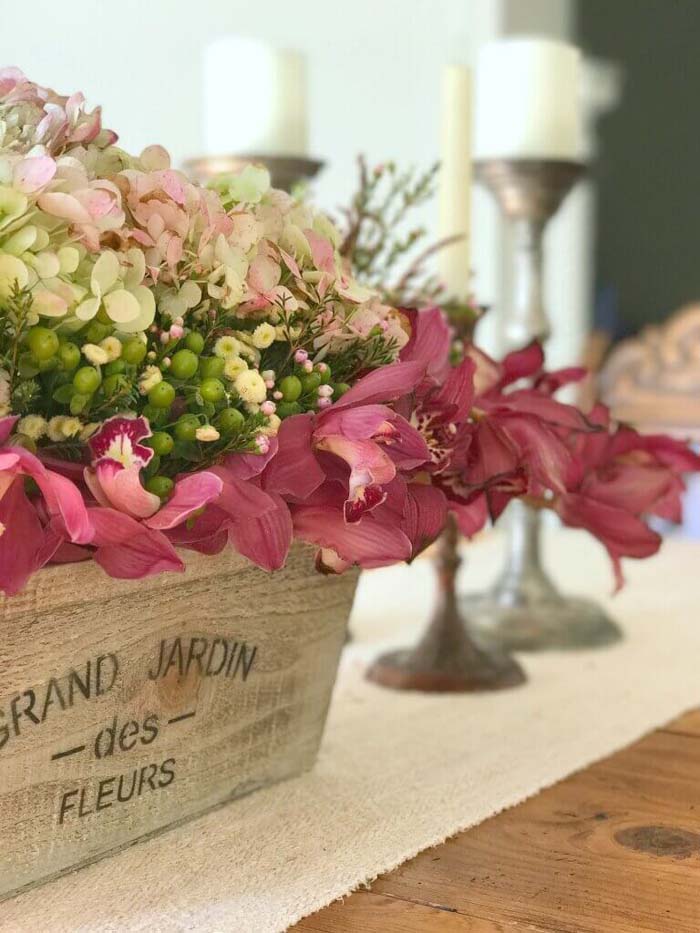 According to decor specialists' advice, the low and long arrangement that splays out from the sides is most suitable for a long and large table.
Its size becomes a challenge when special occasion decor is considered. This Thanksgiving tablescape idea features a beautiful and long floral arrangement with real blooms.
via My Soulful Home
42. Make Dining Table Stand Out with a Candle Centerpiece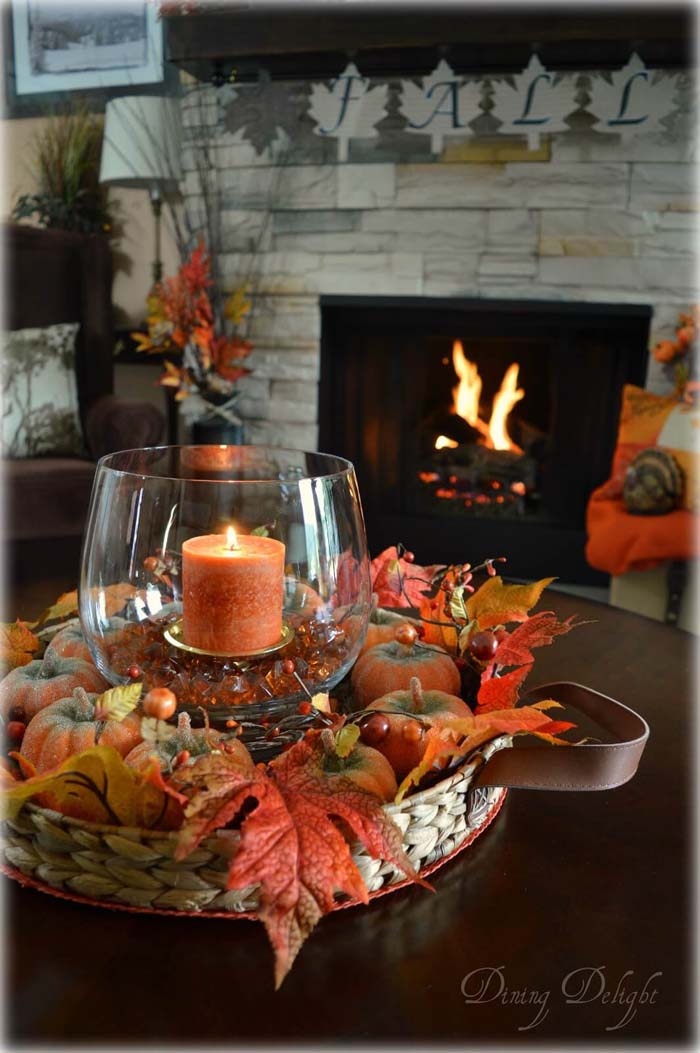 If you have a similar woven tray, use it as a holder of your dining table candle centerpiece. The right decorative items are tiny pumpkins, faux leafy garland, berry twigs and a candle.
Placing the candle in the center will create a focal point of the centerpiece, especially if it is lifted on a pedestal like a glass.
Surround the candle holder placing the pumpkins and the leaves symmetrically to get an elegant look.
via Dining Delight
43. Vintage Charm with Cornucopia Autumn Centerpiece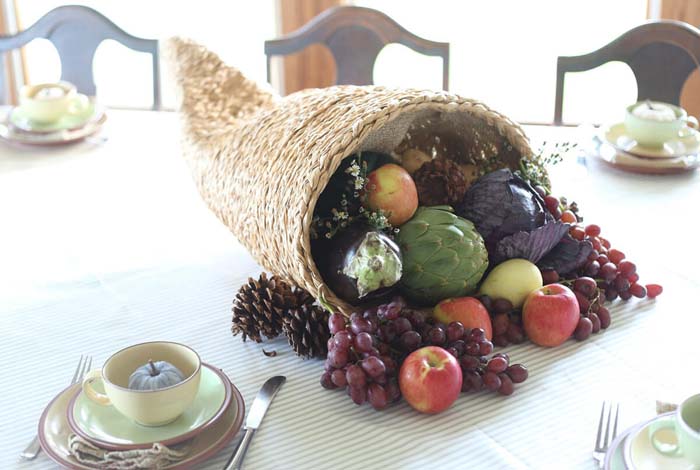 Do you like this cornucopia? It is fantastic and quite large. You can make it even larger following the step-by-step tutorial.
A piece of chickenwire, masking tape and jute cord let you create your own unique cornucopia that will make the Thanksgiving table personalized and special.
Fill the inside with decorative items or why not edible fruits and vegetables? This centerpiece will be the topic of your holiday gathering!
44. Give Table Natural Look with Log Votive Holder Runner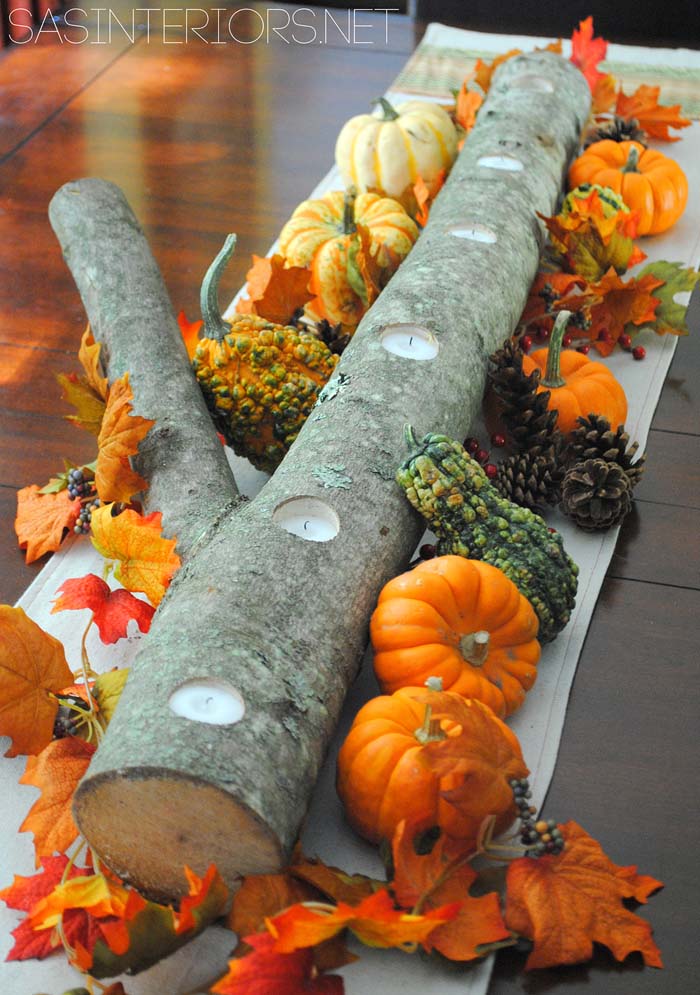 Want to make a statement piece for your dining room on Thanksgiving day? Surely, this long branch piece will be the eye-catcher not only because of its size but because of its function and application.
When you take a closer look at it, you will see tea candles sitting in holes specially made for them. The branch sits on a white table runner that distinguishes the candle centerpiece and sets the perfect backdrop for the entire arrangement.
Orange pumpkins, dark berries, gourds, pinecones and autumn leaves alternate to create two rows of nature gifts that go along the sides of the candle holder.
via Jenna Burger
45. Add Intrigue to a Tablescape with Multi-Colored Decor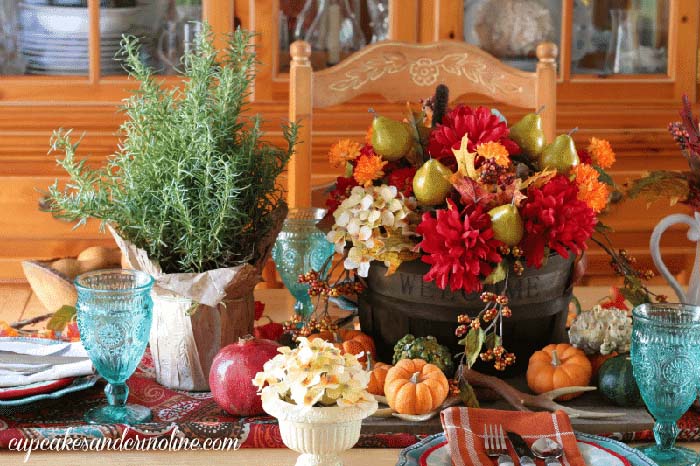 Isn't that the most cheerful table centerpiece? The colorful arrangement, the blue glass accents and the natural touches will instantly make the table inviting and predisposing positive talks.
The table runner is also an interesting choice. The author hasn't escaped from the color combination to use only one toned runner but has decided to set a vibrant and bright basis for the centerpiece.
via The How To Home
46. Enhance Holidays with a Wooden Stair Candle Holder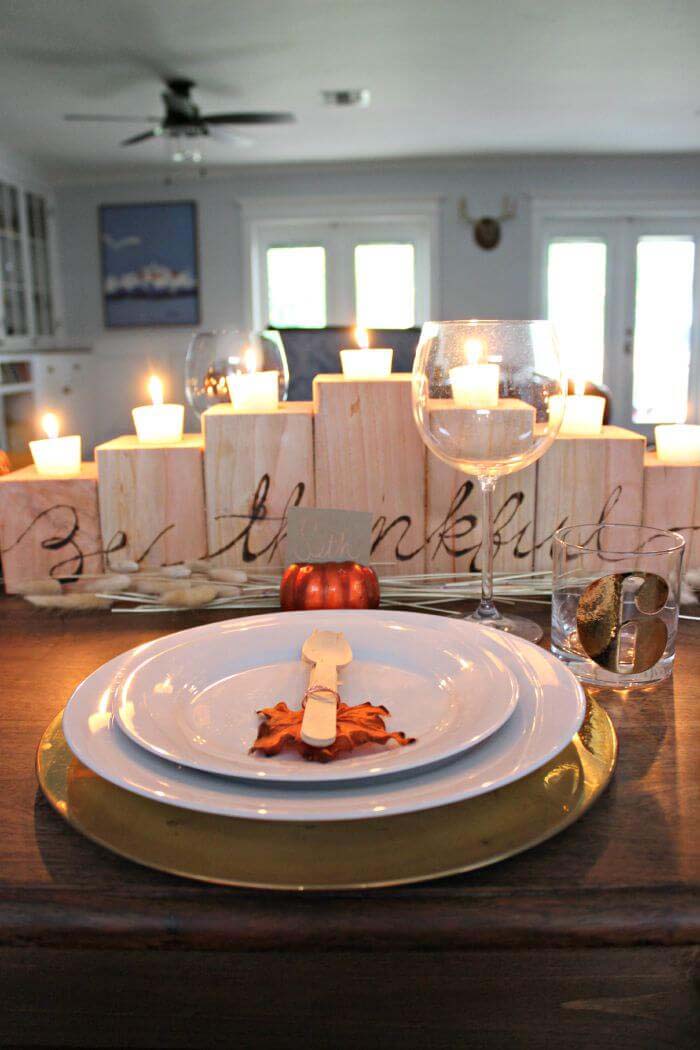 When candles are used in a decor arrangement, they succeed in bringing coziness and welcomeness to the atmosphere.
That makes them the perfect piece to add to your Thanksgiving dining table. This DIY idea features a way to include them in a centerpiece that sends positiveness.
Blocks arranged in a stair-like pattern offer a clear wooden surface where an inspiring inscription related to the holiday is revealed.
It can be inscribed on either side so that all people around the table read and appreciate it.