Grey is probably the most universal color when it comes to interior design application, probably because it anchors more character compared with the white color and mostly because it suits both females and males.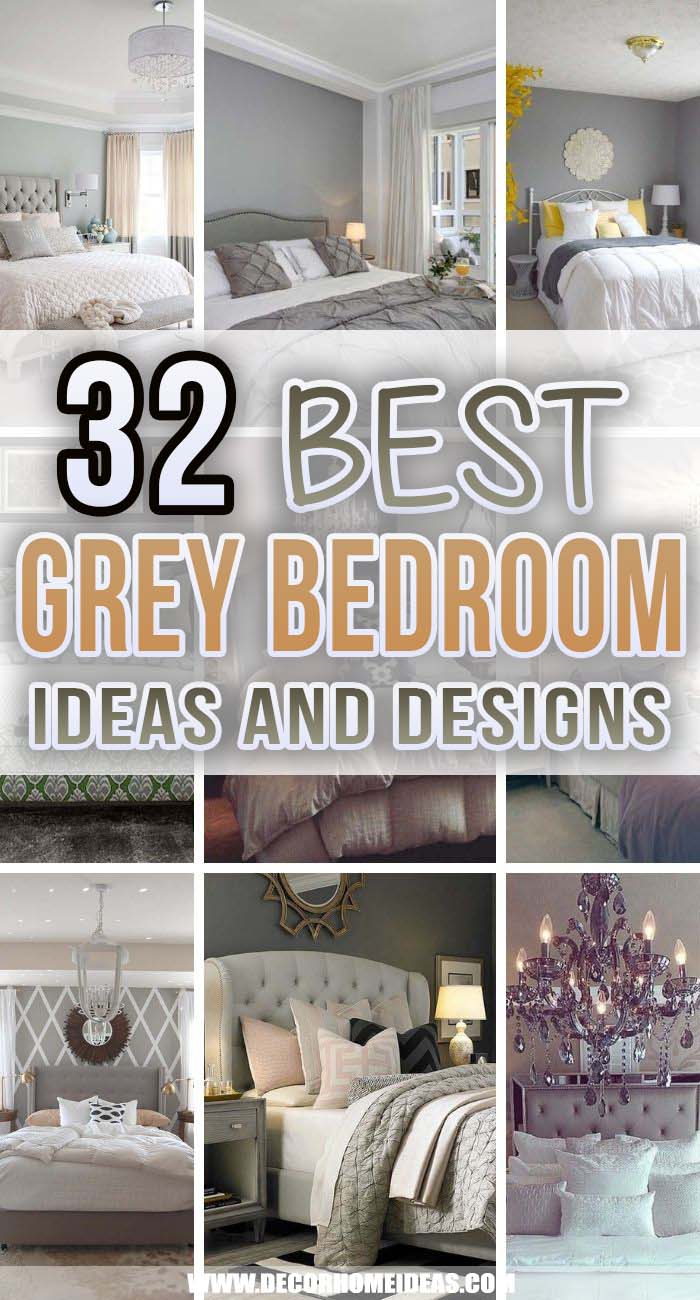 The balancing grey color is great for a backdrop for all interior styles. If you use it in your bedroom, you are given numerous options to experiment with a variety of patterns, textures and accents.
The most attractive 32 best grey bedrooms ideas and designs are here for you to explore the delicacy the grey color adds to the sleeping room and the sophistication it gives to the overall interior.
1. Blend Shades of Grey With Black Accents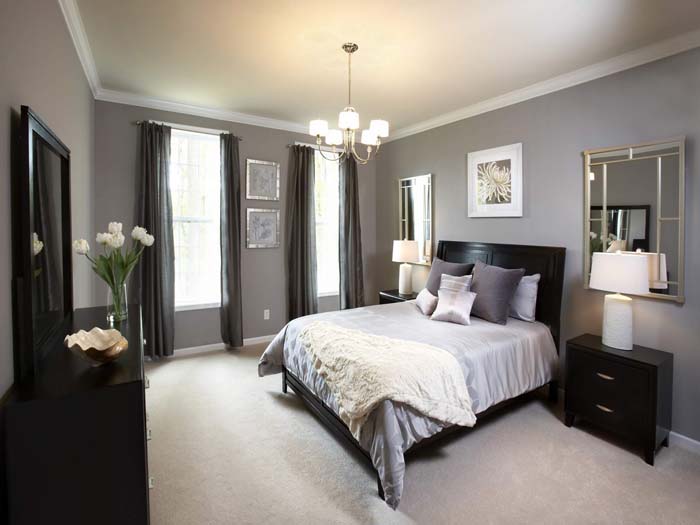 A classical combination of grey shades, black and golden metal finishes of the accent. The general look of this inviting bedroom is traditional but yet offering luxury and sophistication.
2. Glamorous Grey Chandelier and Mirror Accents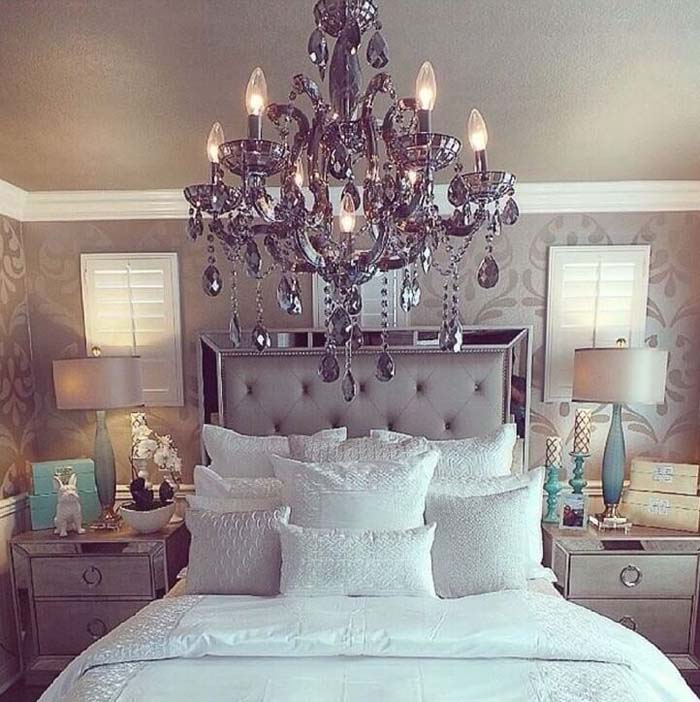 Grey is given a glamorous look with glittery textures seen on the wallpaper, the chandelier and the nightstands.
They anchor a taste for personalized luxury which makes the bedroom a special place for relaxation.
3. Matte Grey Accents Set Vintage Vibe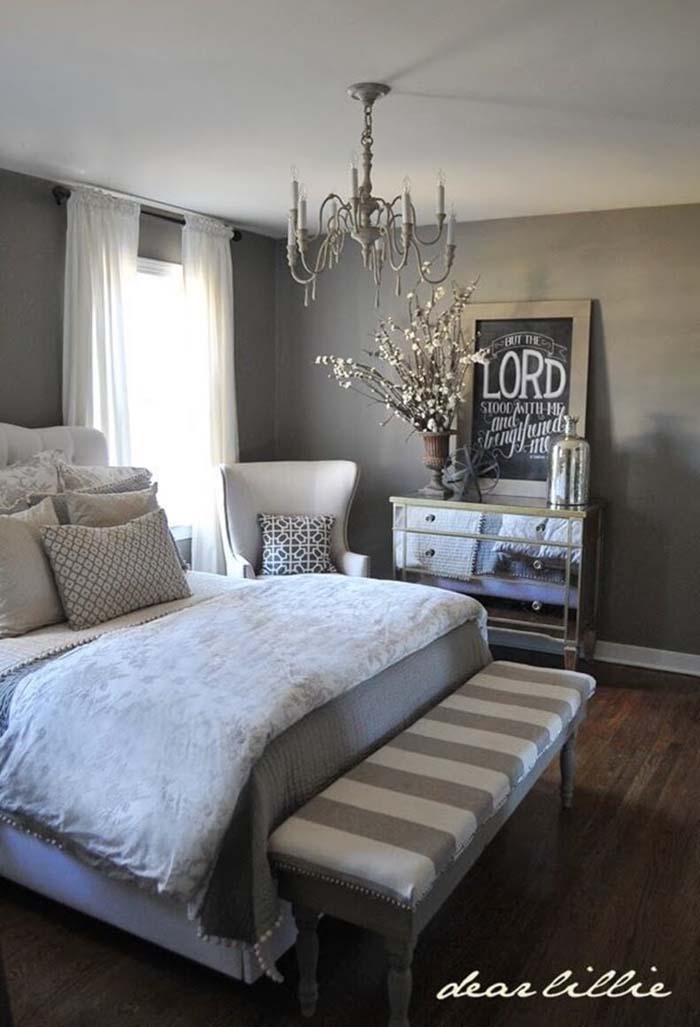 In this cozy grey bedroom design we see how well contemporary grey collaborates with the farmhouse creamy color.
The colder hue of the grey applied on the walls balances the retro feel the beige color brings to the room to create together a modern farmhouse bedroom that offers comfort and privacy.
via Dear Lillie
4. Muted Dark Grey Palette Grounds Stately Bedroom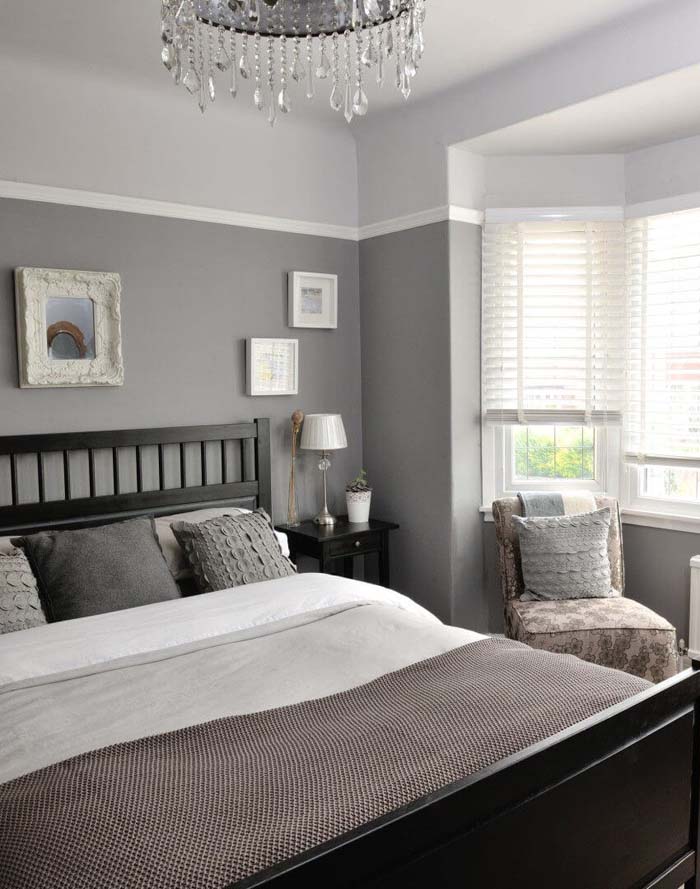 If you like keeping the interior of the bedroom clean and cozy, this doesn't mean that it should be lacking interest and style.
Use two shades of grey on the wall to give the room dimension. Use the lighter hue on the top part of the wall and the darker- on the lower to make sure that airiness is not affected.
5. Blue & Grey Accents Add Subtle Color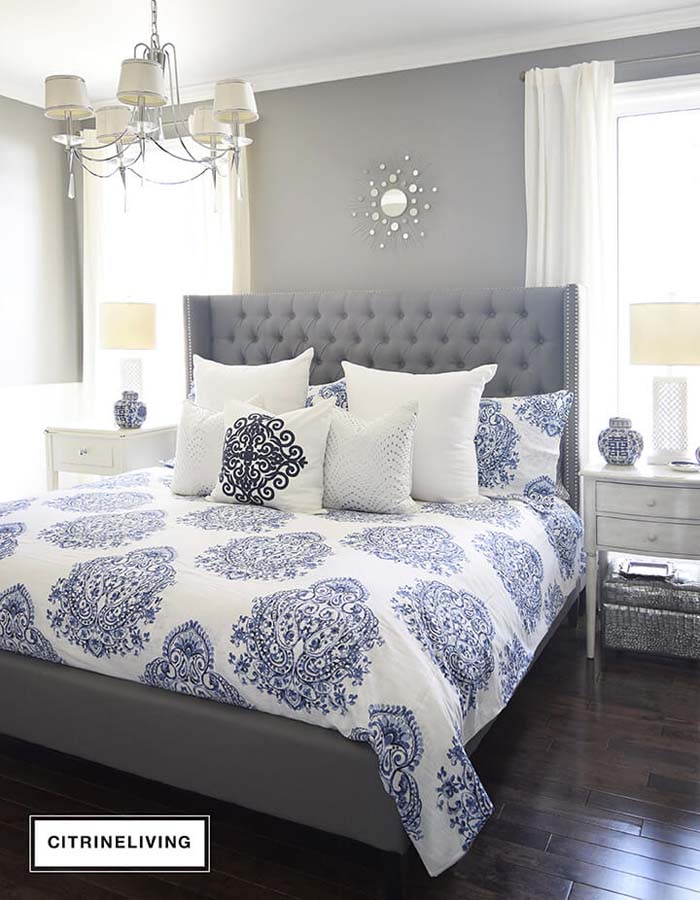 The grey bedroom background easily embraces brighter colors such as white and blue. They can be incorporated in the furniture or be used as temporary accents when used through the bed linen set.
This idea is very attractive for people who like to experiment with the interior look with no involvement of any drastic makeovers.
6. Golden Yellow Accents Warm a Grey Palette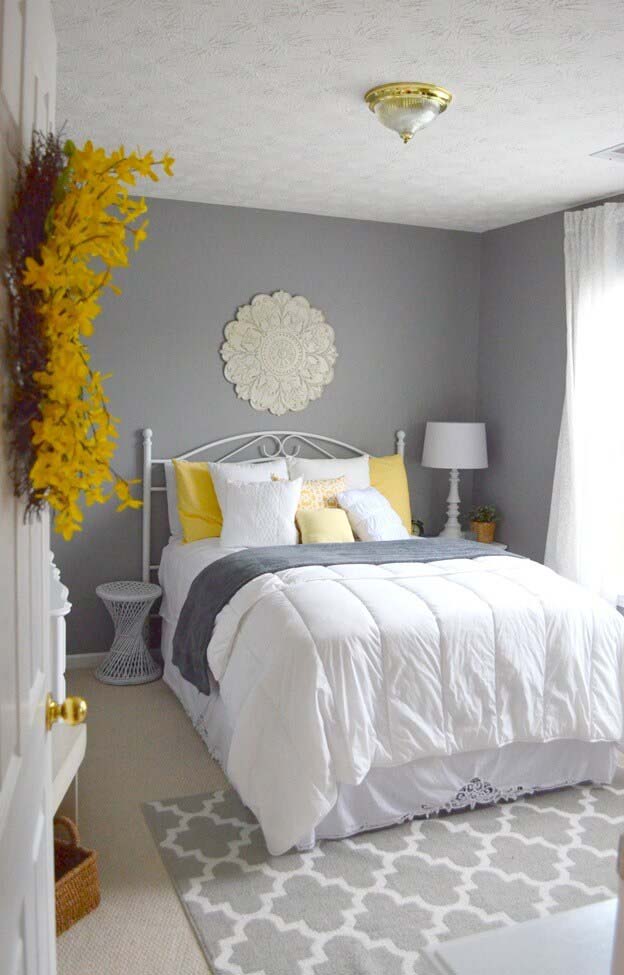 This light grey bedroom inspires with its airiness and coziness anchored also by the rustic textures included in the home decor.
Yellow color is added as a bright accent to give the neutral and relaxing atmosphere a touch of cheer and sun.
7. Quatrefoil Rug & Toile Bedding Bring French Style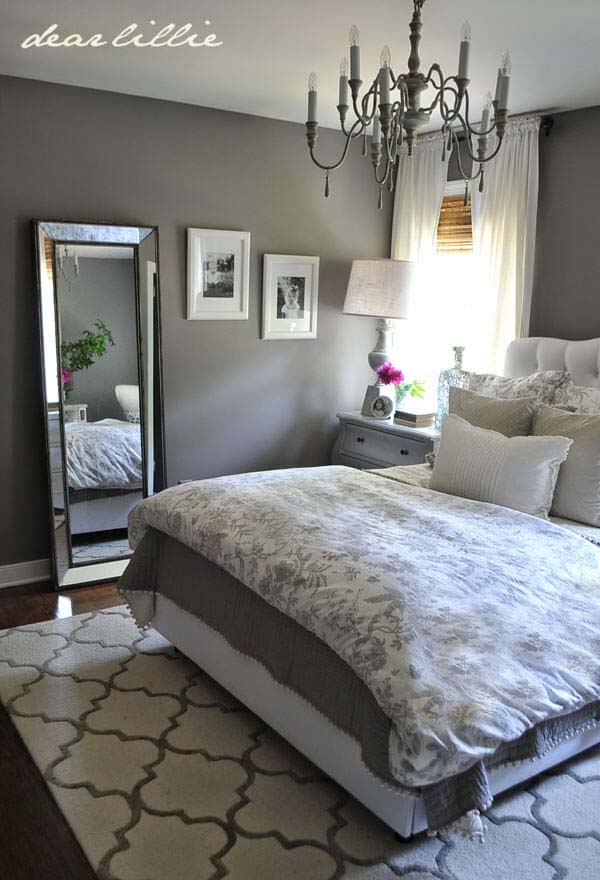 The combination of grey and white in the bedroom is probably one of the most traditional ones. Bothccolors are known to be neutral but when they act in collaboration their look totally changes.
Alternating them with the layers of furniture and elements in the bedroom, give the interior dimension and interest.
via Dear Lillie
8. Green Accents Pop Against Grey Furniture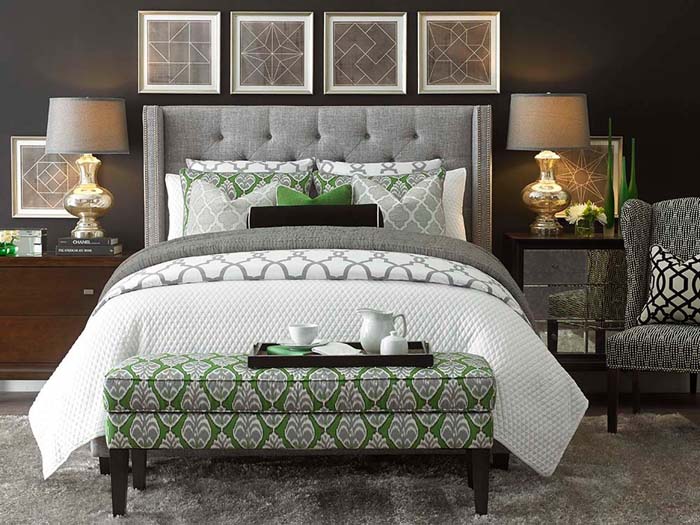 Dark grey walls set a dramatic background for lighter bedroom elements that please the eyes.
White, green and black prints and white bed linen unite the soft textures on and around the bed and give this master bedroom a personalized look.
9. Farmhouse Bedroom Has Calming Grey Background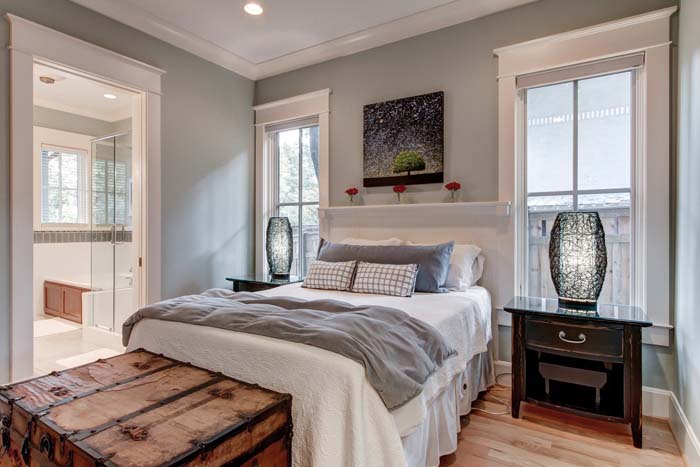 The light grey color is more welcoming and relaxed compared to the darker hue.
Combined with white door and window cases, it enhances the brightness of the room and provides a soft backdrop for interesting light fixture designs and storage furniture with a crafty look.
10. Tie All Bedroom Elements Together With Grey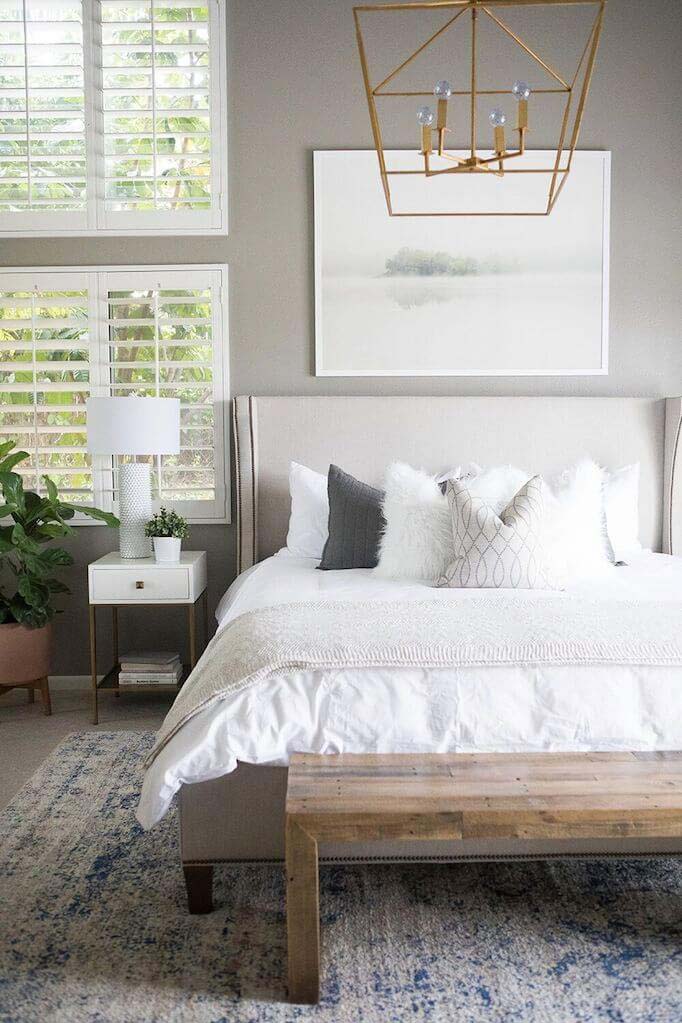 This textured shade of grey color provides a muted and mellow interior where you can add various kinds of furniture to showcase your design style.
Untreated wood combined with metal and sleek accents adds interest in a beautiful Scandi-country way.
via Becki Owens
11. Bedroom Gets Feminine Touch With Pink Accents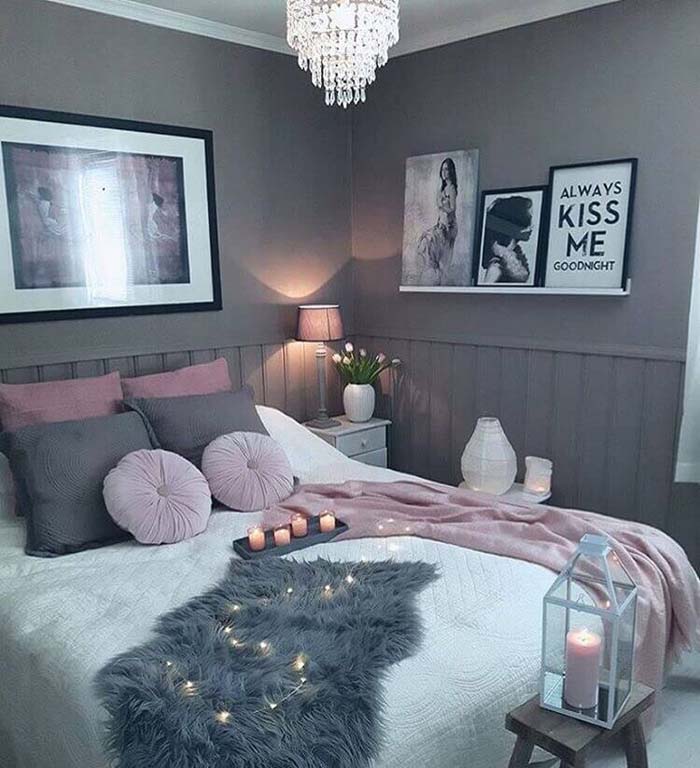 Blush pink and grey is such an amazing combo suitable for a girl's bedroom.
Add plush textures, white bed linen and accents with a metallic finish like gold, brass or silver which pair perfectly with the color combination.
12. Bold Gray Stripes Make Dramatic Statement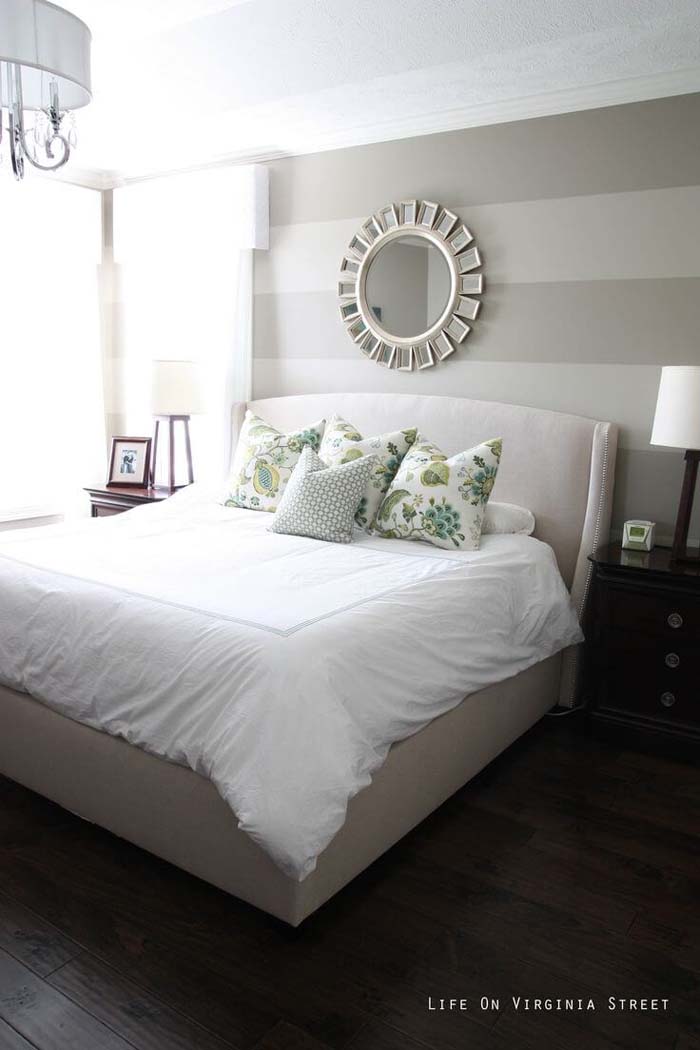 Make the bedroom feel inviting by combining pale grey with other neutral colors such as beige and white.
They will create a layered look that can be enhanced by the patterns of the key room elements. Smoother greys are perfect for bedrooms where we want to implement the cozy and private feel.
13. Contemporary Bedroom With Patterns and Pastels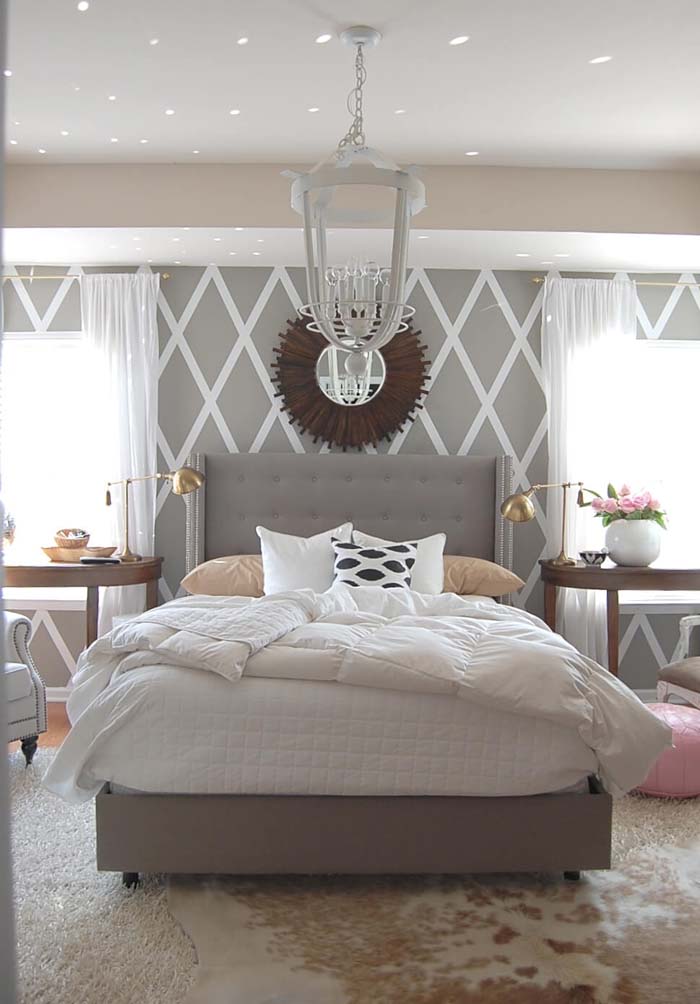 Create an accent wall in your bedroom without affecting the welcoming and cozy vibe of the room. For e gentle color scheme, try grey background with white stripes forming a geometrical shape.
Rhombs, prisms, and hexagons look contemporary and can make the general look fancier.
Go for pastel different shades for the rest elements of the room to create a balanced general look.
14. Grey Accents Bring Depth to Neutral Palette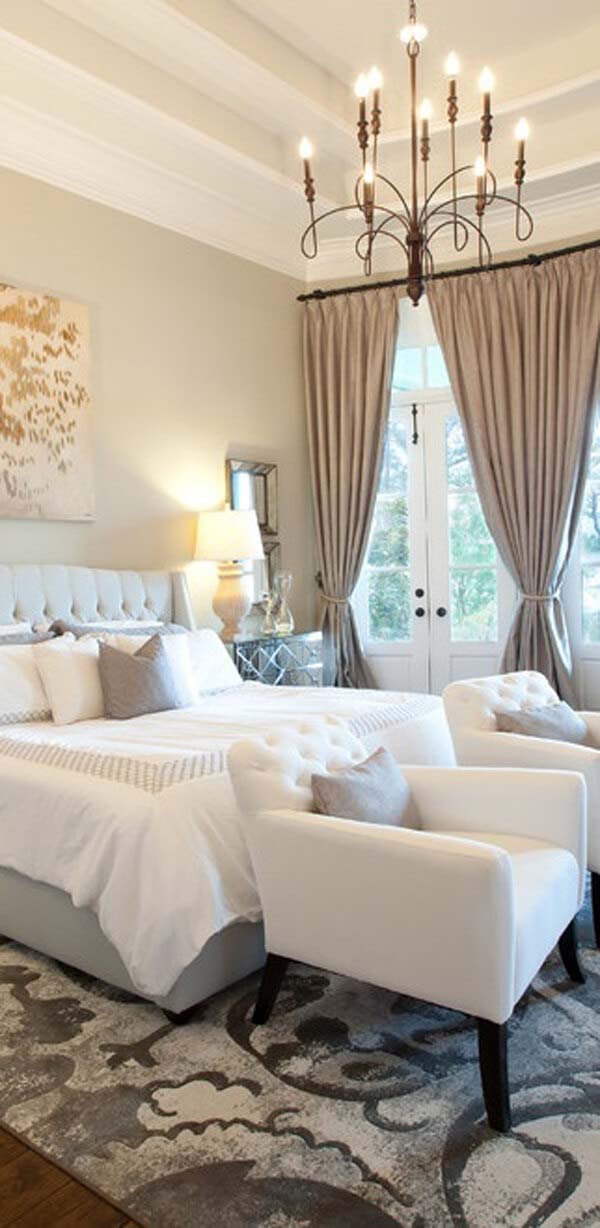 Pick up the right grey shade for your walls to create your private oasis. This seems easy as we speak but actually, it requires far more time than you can imagine.
The best look of your space will require checking a lot of samples of grey for the walls to see how they work with the rest of the interior. Light grey is always a good choice when we speak about the bedroom design because it enhances the openness of the room and combines perfectly with white luxe furnishings and comforting textiles.
15. Grey Walls Let Beige Accents Shine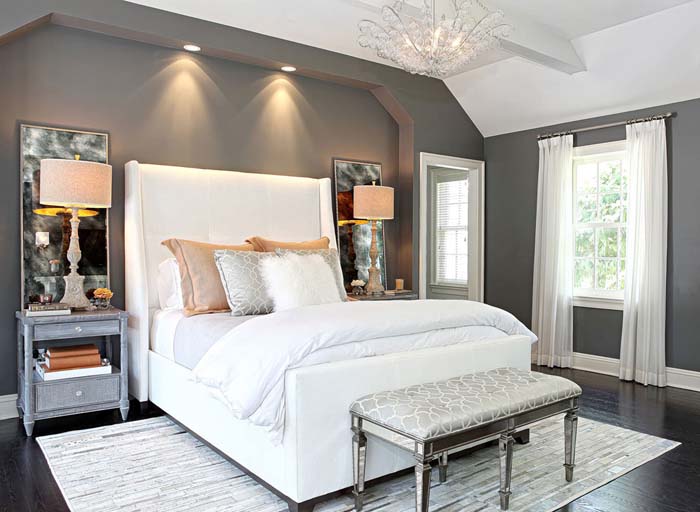 This is another example of how well grey works with the neutral but warm beige color.
The creamy color can be implemented on the accents of the bedroom to dramatically imply a feel of warmth and coziness which grey cannot achieve on its own.
16. Grey Bedrooms Bring out the Warmth in Wood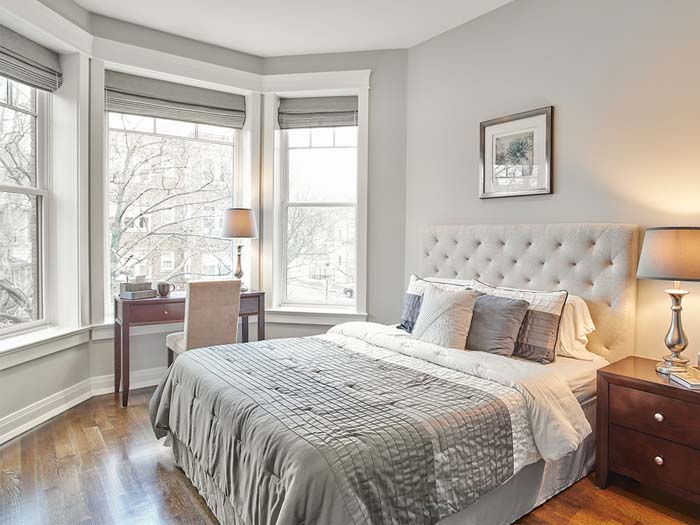 The design of this bedroom could be called modern rustic because of the layers of grey combined with wooden textures.
The light grey complements the existing airiness of the bedroom ensured by the number of wide windows letting sunlight go through.
This feel is continued down the floor with the flooring wooden panels that add lovely texture and warmth together with an appealing contrast with the grey scheme.
via Space Architects + Planners
17. Add Depth With Patterns and Textured Textiles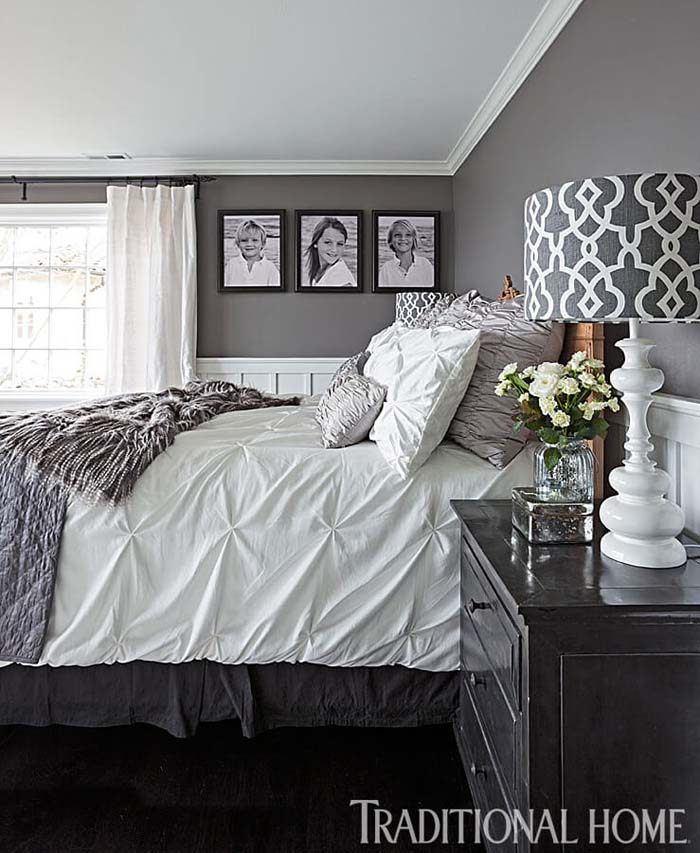 Make a bedroom feel inviting with layers of grey that mix perfectly together and with other neutrals as accents.
Tints of white enhance the depth of the deeper grey and turn the space into an embracing private oasis for relaxing.
via BHG
18. Feminine Touches Soften Large Grey Bedroom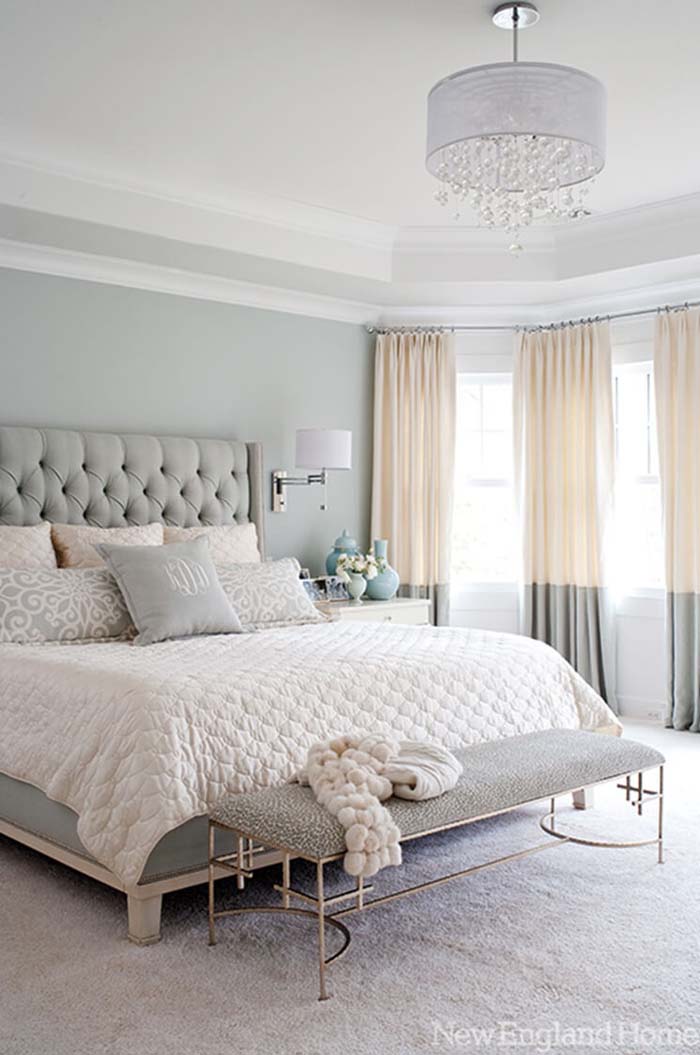 This is a representation of a feminine bedroom of a grown-up. The elegant style implemented by the combination of light grey and milky pink turns this room into an airy and inviting space.
Elements with metallic and plush textures feel luxurious and add a personal touch.
via New England Home
19. Small Bedroom Feels Bold With Grey Wall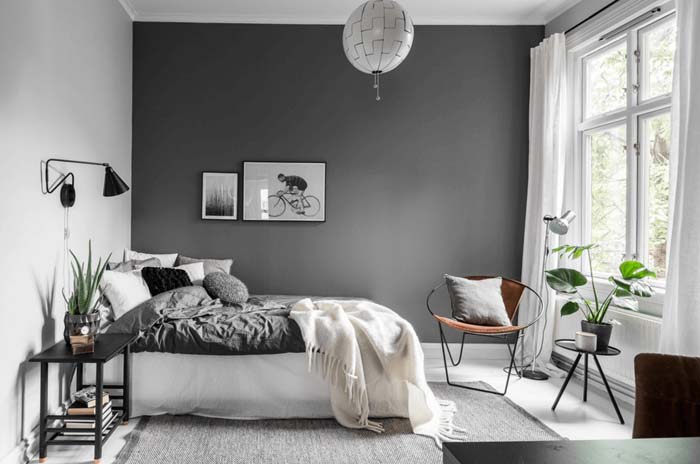 Combine grey with minimal furniture for an appealingly modern look.
One wall painted in deeper grey gives the small bedroom depth. It is very important that the remaining walls are painted with other neutral light colors such as white to make the general look harmonious and the feel- airy.
The sleek color combination requires simplicity and is taken to the minimum furniture.
Basic pieces such as a modern armchair, and one or two side tables are enough to provide space for all items related to the comfort in the bedroom.
20.  Contemporary Bedroom With Dark Grey Accents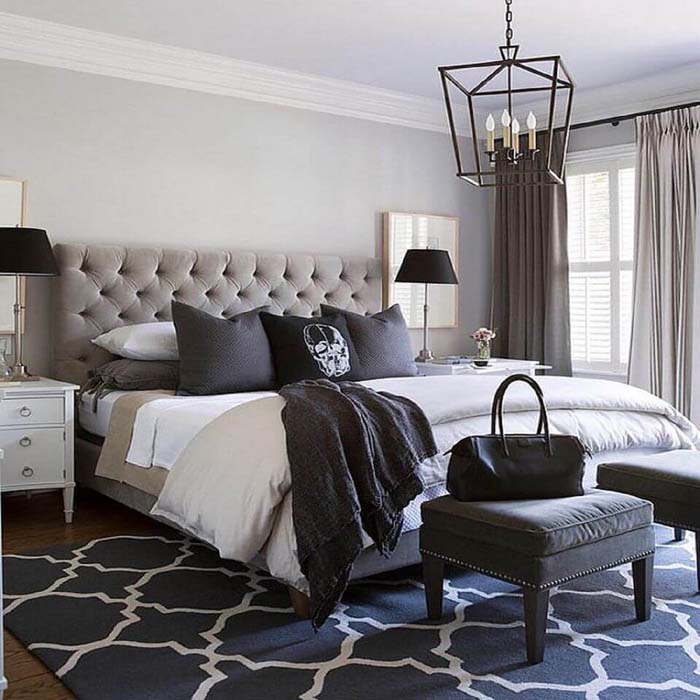 If you prefer to give your bedroom a cooler and contemporary feel, this grey bedroom design idea is perfect for you.
Shades of grey create layers together with other neutral colors seen in the fabrics in the room. Velvet stools and curtains combined with the plush headboard balance the coolness.
via Citrine Living
21. Accents & Textiles Change Style of Grey Bedroom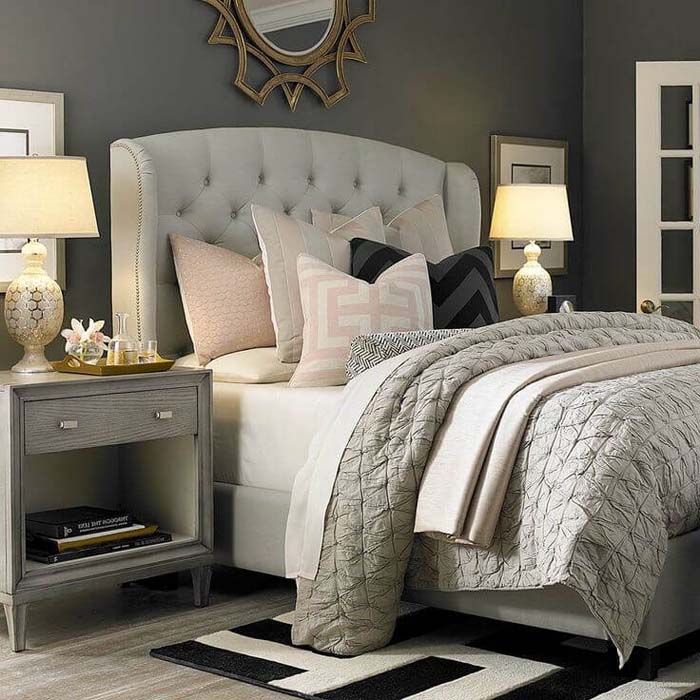 Grey is an appealing choice for a bedroom background, especially in its dark tones. They also work fantastically as a contrast to neutral lighter colors and geometric patterns.
Add pops of beige, pink and white with the accessories using also different geometric shapes to implement them for a layered and interesting general look.
via Ashlina Kaposta
22. Overstuffed Comforter Balances out Dark Grey Wall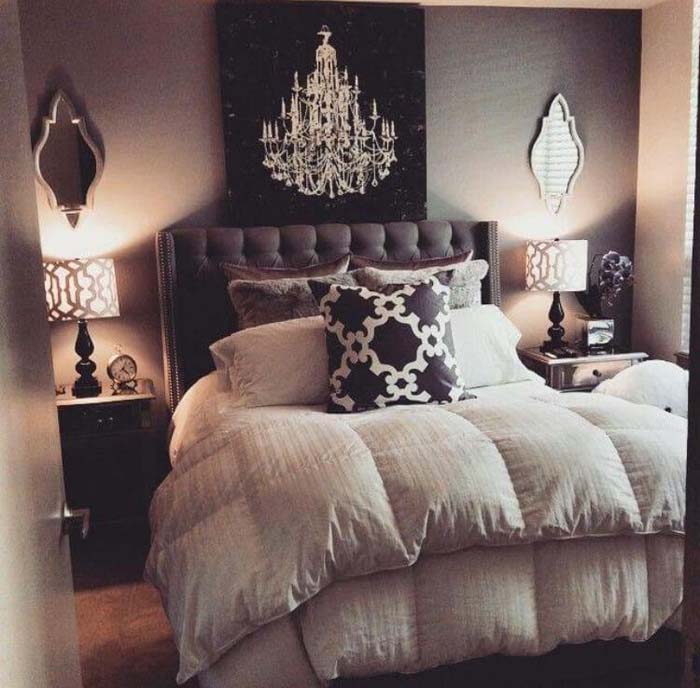 Make the simple grey bedroom look smarter with a charcoal velvet headboard and geometrical accents.
Layer the bed with light in color linen and add pillows in rows for added depth. Use a contrasting fabric pattern for the pillow in front to add texture and interest.
23. Clean Lines Bring Scandi Style to Grey Bedroom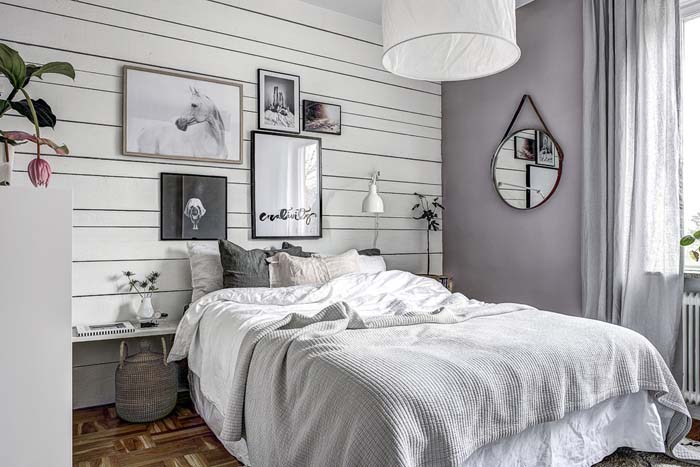 The shiplap wood paneling painted in white clean shade provides an amazing backdrop for the adjacent light grey walls. The panels add a rustic style without aging the interior look.
Elegance is enhanced with the reading lamp in a modern design, geometric clean shapes of the framed art above the bed kept in cool neutral colors.
Light grey curtains enhance the private feel in the room without pushing away the soft natural light.
via Loft Stockholm
24. Grey Bedroom and Porch Exude Contemporary Style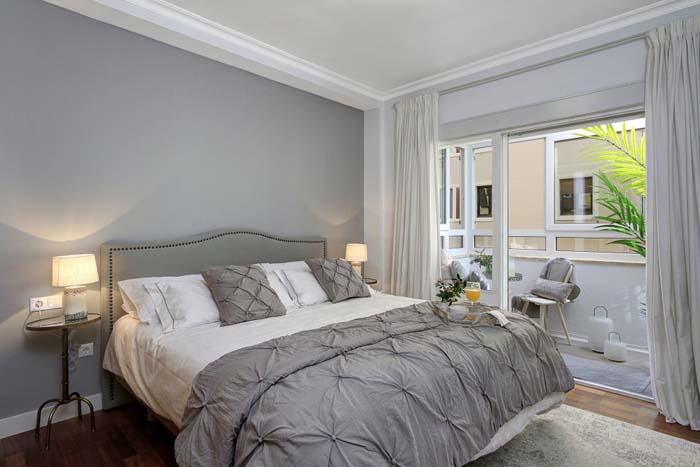 The traditional grey bedroom impresses with its elegant style and moderate furnishing. Every item in the room is well chosen to match the color combination and to let the room feel airy.
Different shades of grey are combined with white which creates contrast and dimension in this calm atmosphere.
via Decora and Vende
25. Grey Bedroom Blends Styles and Breaks Rules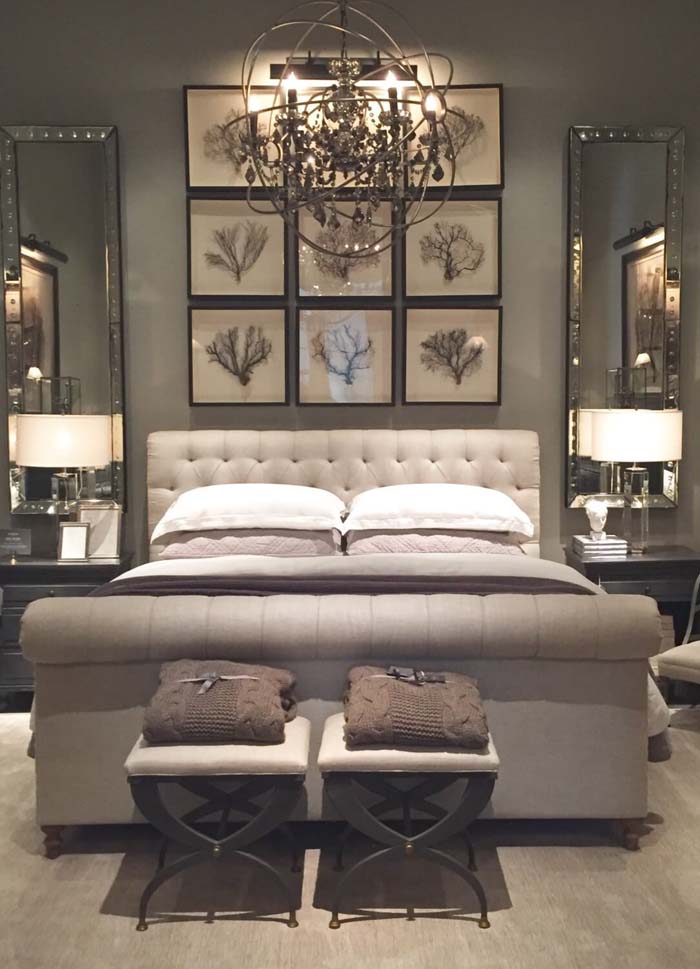 Some interior designers forbid the usage of mirrors in the bedrooms but in this case, we admit that mirrors are what gives this room a point of interest and sophistication.
They are placed at the bedsides to create a visual illusion for deeper and taller walls and to reflect the light from the reading lamps.
Framed glass panels create a collage of nature-inspired art right above the headboard to continue the reflecting texture of the accents decorating the bed wall and to create a united general look.
via Starfish Cottage
26. Lavender Accents Bring Femininity to Grey Foundation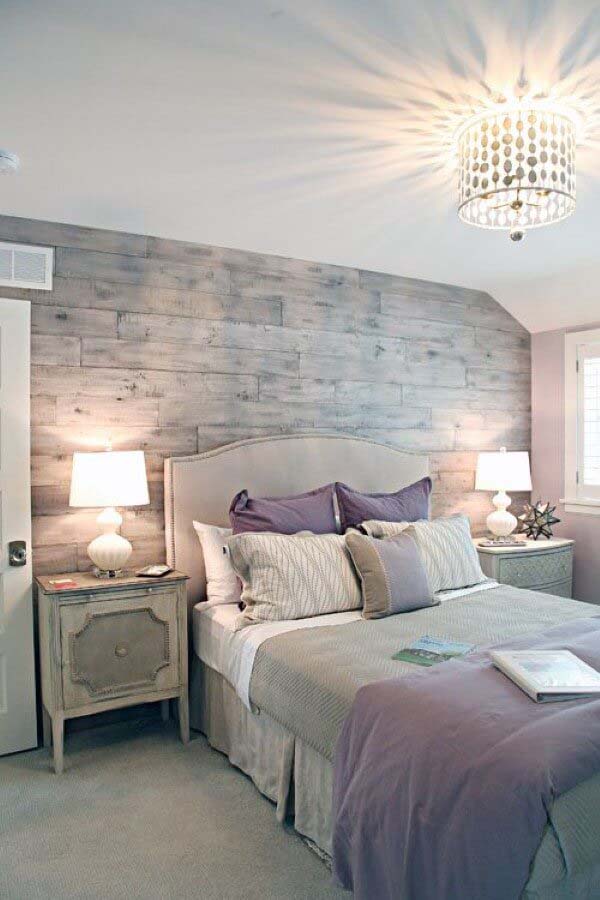 The grey tones of the bedroom easily embrace soft feminine accent colors such as pink and lilac. Purple is one of the colors known to be very appropriate for bedrooms because of its calming character.
Add it to your grey bedroom with fabric pieces such as pillows and throws.
27. Soft Textiles Work With Modern Bedroom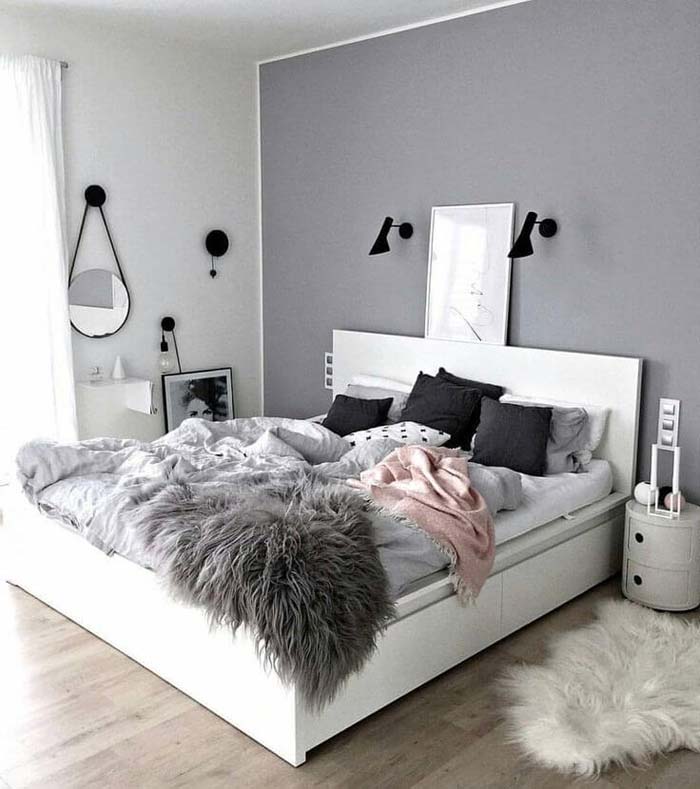 If you prefer a modern look of your bedroom but yet want to anchor your personal taste for luxury, create layers with grey.
Use different textures from the floor to the ceiling to give the bedroom dimension and to define it as a room with specially customized home decor.
28. Grey Walls Anchor Transitional Modern Farmhouse Bedroom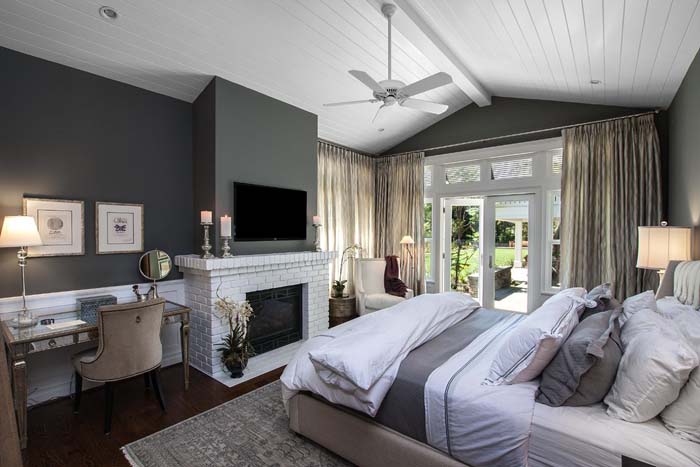 Choosing the home decor of shared spaces can be actually called the greatest challenge when it comes to interior design. You need to look for elements to unite the nooks and yet let them look and feel differentiated.
When this challenge is taken down to a large room incorporating a home office and a bedroom, we suggest applying grey as a background color. It is suitable for both applications.
Painting all walls in this color will create a put-together look and will let you experiment with the furnishing.
via Zieba Builders
29. Grey Bedroom Suite Embraces Vintage Look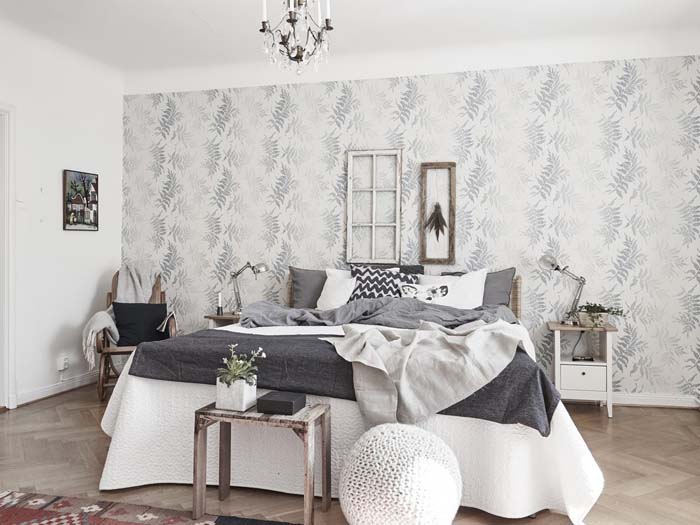 Relaxing or sleeping in this bedroom will make you feel like you are on a break regardless of the day of the week.
What gives this room the calming and get-away vibe is the gorgeous nature-inspired wallpaper. The leafy print reveals another way to decorate a bedroom with grey which is very personalized and interesting.
Pair the wallpaper with rustic furnishing and decoration to enhance the cozy and welcoming vibe.
via Intro
30. Neutral Tones Bring Warmth to Grey Bedroom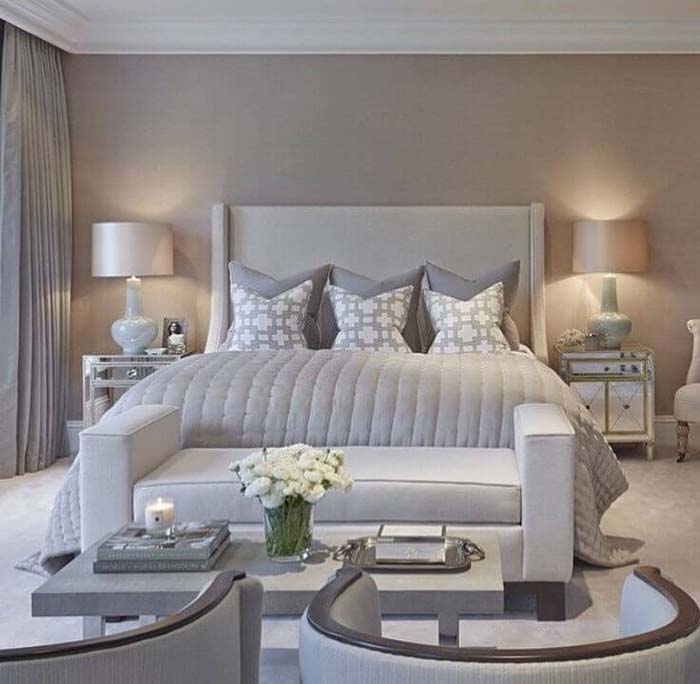 Grey adds so much calmness to the bedroom and that makes it so popular in the interior decor the last few years.
The nuance seen here is neither dark, nor pale grey. It feels quite warm and modern and able to accommodate any interior style.