When it comes to finding the perfect gift for your handsome man, there are so many options.
From handmade to purchased, the market is wide. There is something heartfelt about a handmade card deck or handmade shaving kit.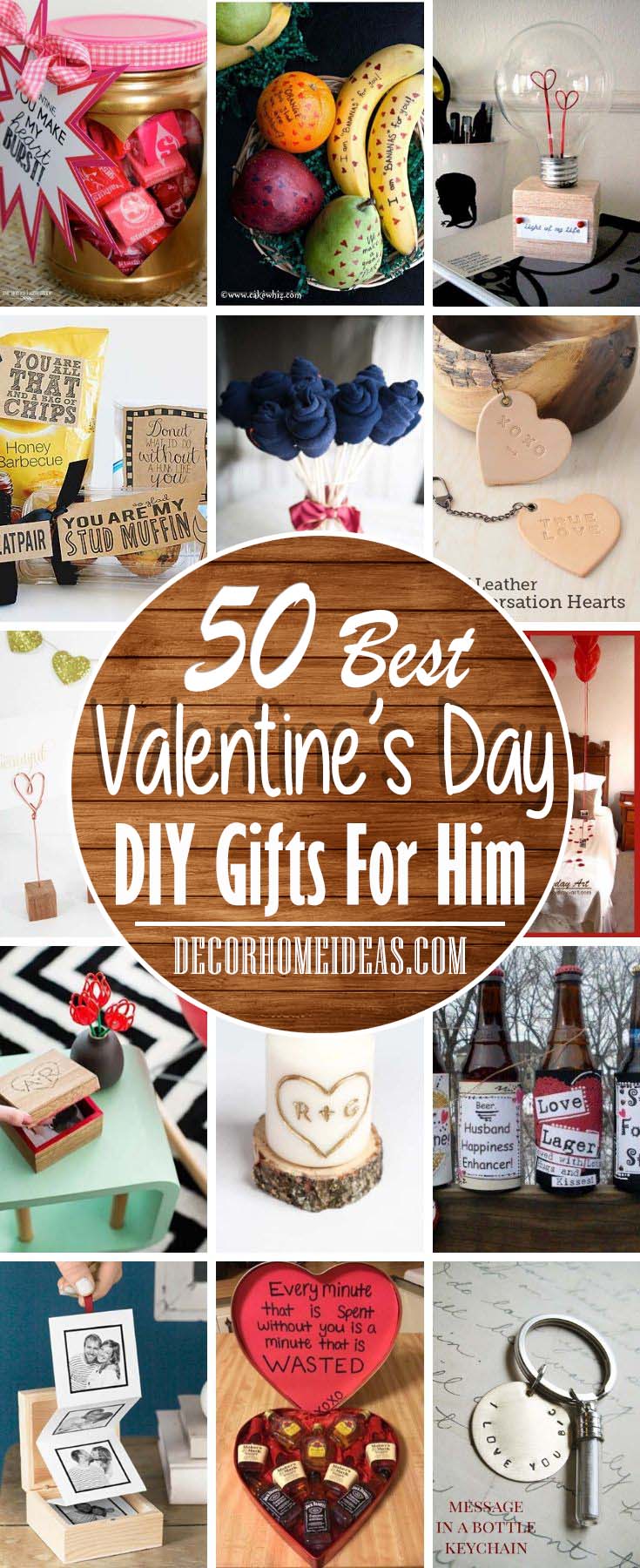 But there is also a convenience about a store purchased gift. Try one of these ideas when looking for a great gift for your love.
Don't miss also: 50 Best Valentine's Day Gifts For Her
1. Show Your Love with a Handmade Card Deck

This handmade card deck shows the 52 things you love about your beau. Come up with original things to love and list them on a card deck.
via Visual Heart Creative Studio
2. Add Flair to His Bachelor Pad with Homemade Wall Decor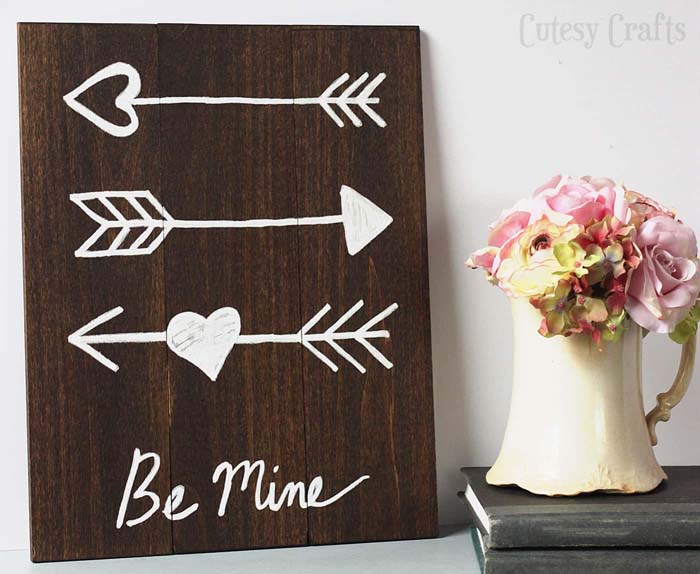 To add some woman flair to his bachelor pad try this homemade wall decor. Painted with cupid's arrows and a cute saying 'be mine.'
via DIY Candy
3. Create a Delicious Snack Gift for Your Man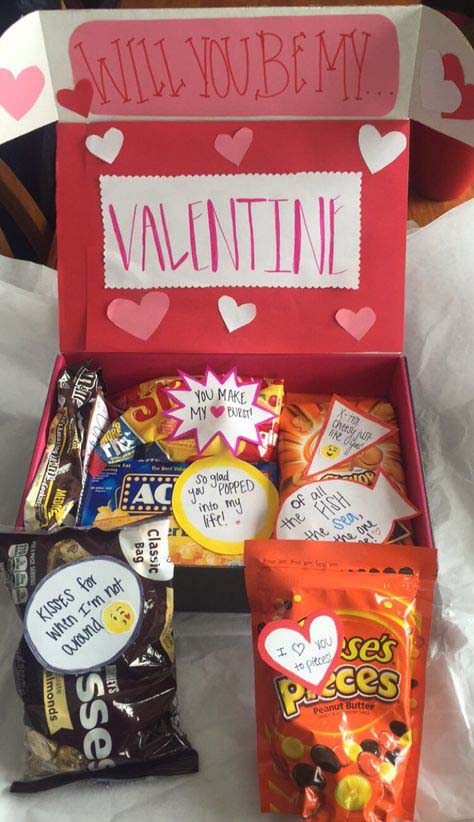 Every man loves delicious snacks. Make your man this adorable snack box with cute sayings on the box and each snack.
4. Express Your Feelings with a Candy Bar Card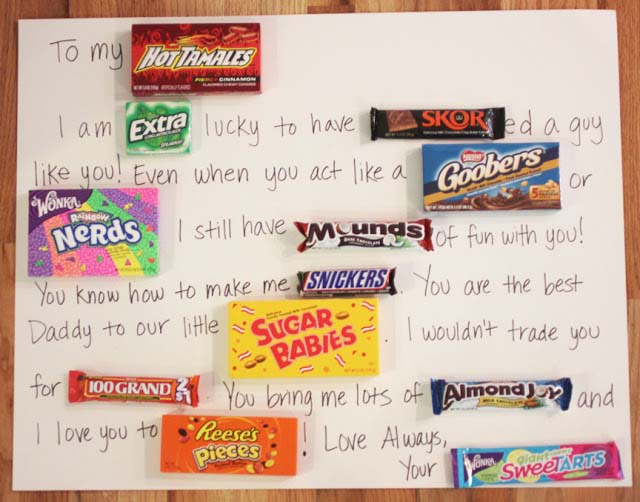 A candy bar card requires nice handwriting. Using candy bar words you can construct a cardboard saying with each candy bar.
via Repeat Crafterme
5. Make Heart-Shaped Photo Holders with Copper Wire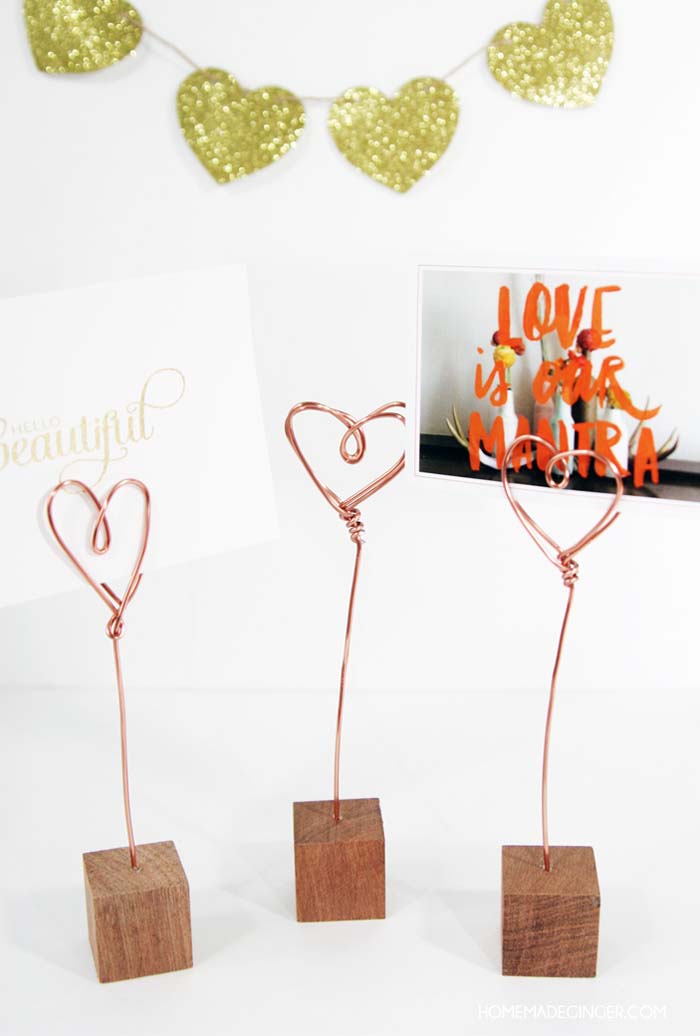 By using blocks as the base and copper wire bent in a heart shape, you can make these cute photo holders.
via Homemade Ginger
6. Valentine's Beer Gift Idea for Your Loved One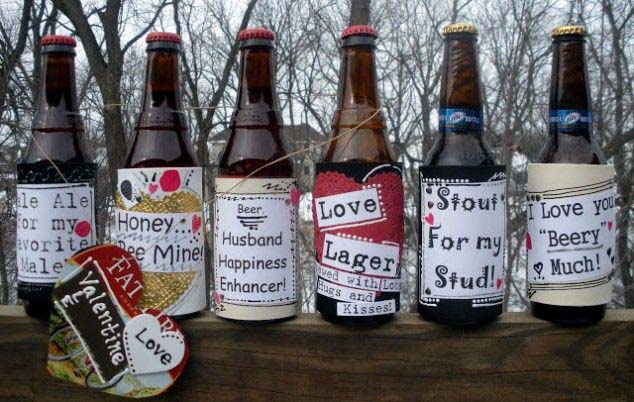 For your boyfriend or husband that enjoys a beer now and then, get them this beer bottle gift. Cover the bottles with cute Valentine's sayings.
7. Bring Fun to Your Relationship with a Date Night Jar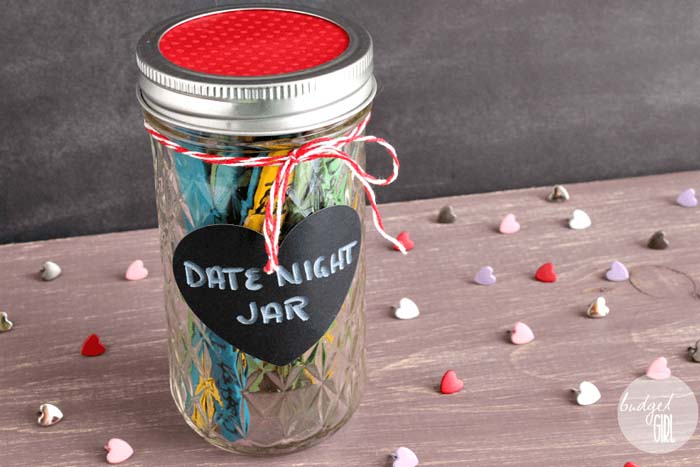 Use a mason jar and put different date nights in it. Then when you are bored and looking for an activity, you can choose a date night idea.
8. Create a Special Gift with Personalized Candle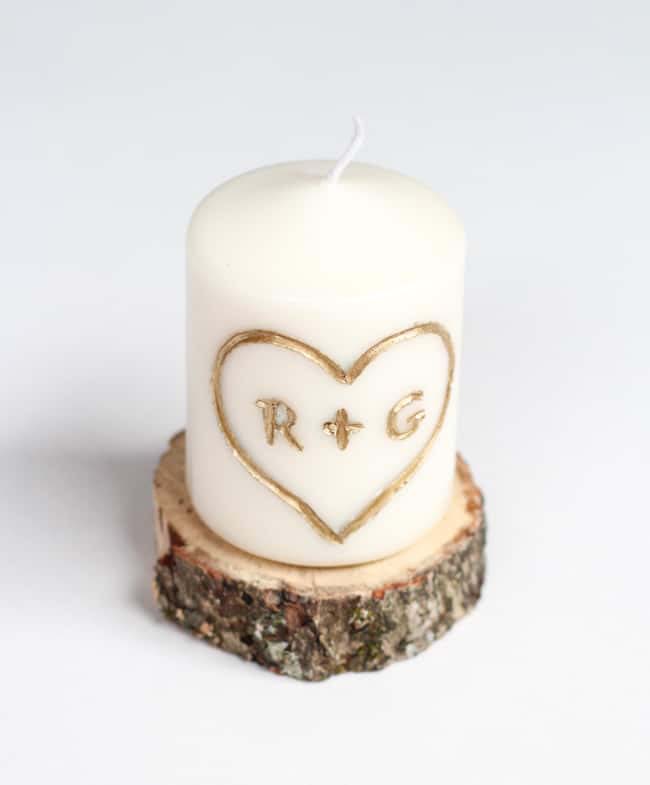 Get a candle and carve your initials in it. Paint the carving with gold paint and put on a disk of tree limb for a classic manly gift.
via Hello Glow
9. Decorate Your Coffee Mugs with a Sharpie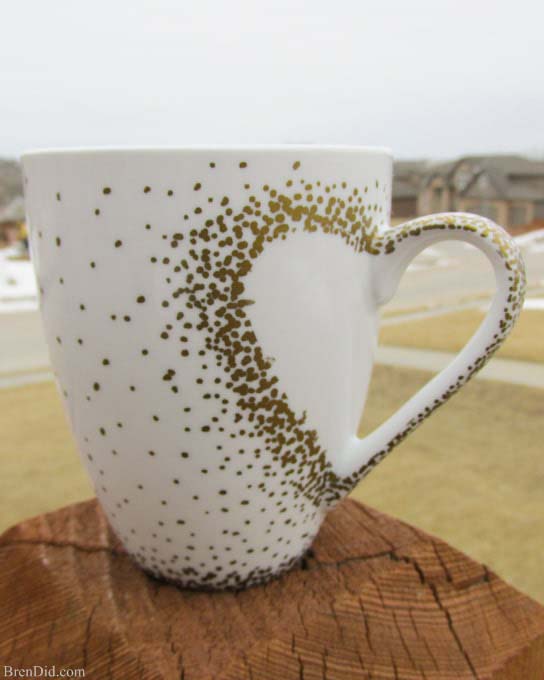 For a simple DIY gift, decorate a white coffee mug with a sharpie. Bake it to make the marker stick forever.
via Bren Did
10. Make a Distressed Photo Block with Canvas and Photos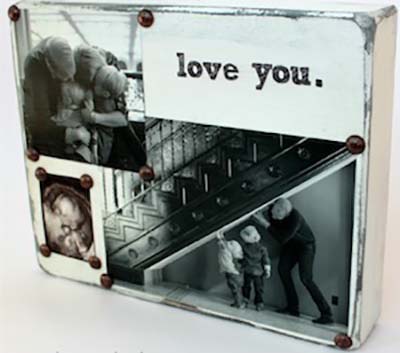 By using a canvas and your favorite photos, you can create a distressed photo block.
11. DIY Valentine's Day Coasters with Tree Limbs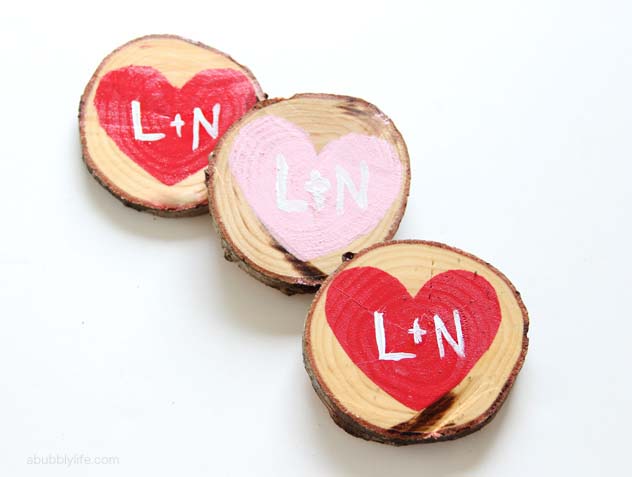 Tree limbs cut into disks are the perfect coasters. To give them a Valentine's look, paint with pink paint and hearts.
via A Bubbly Life
12. Craft a Leather Heart Keyring for Your Husband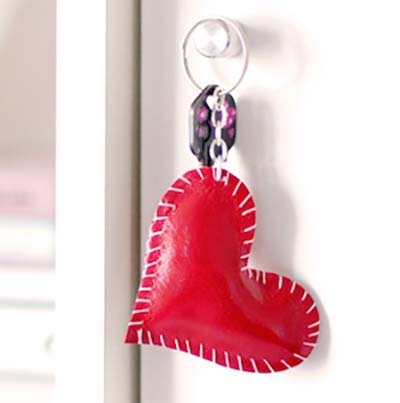 Leather hearts are simple to make by weaving two hearts together with stuffing in the middle. Add the keyring for a heart reminder of your love on your husband's keys.
via Love Meagan
13. Make a Personalized Leather Heart Keyring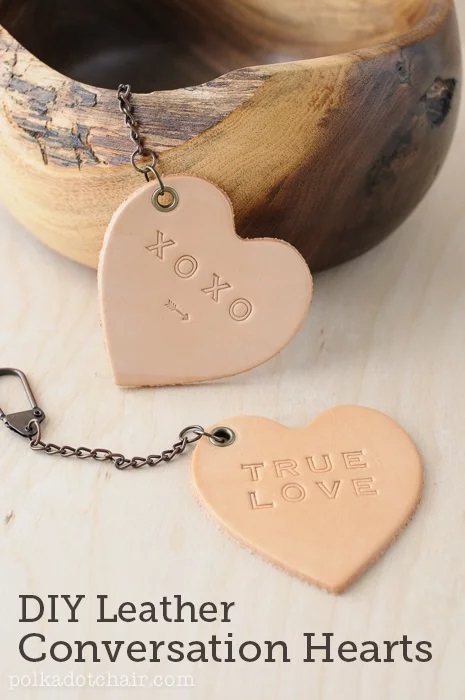 For a classic heart keyring, make these thin leather hearts with initials. Then add the chain and key ring.
via Polka Dot Chair
14. Create a Unique and Sexy Gift with Lipstick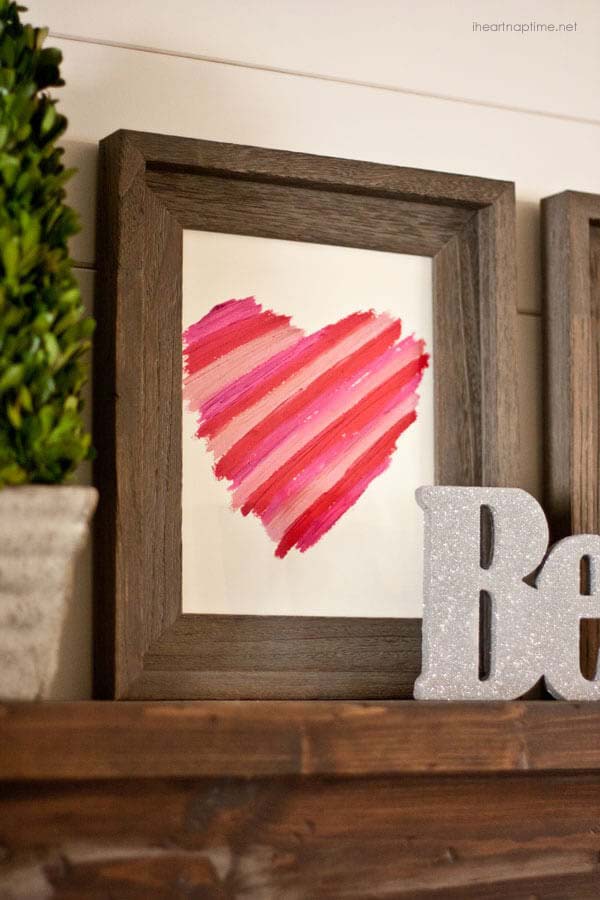 You can use lipstick on a canvas to make a pink heart. Then frame and hang it in your boyfriend's house. It is a romantic and sexy gift.
via I Heart Nap Time
15. Make a Map-Themed Mug with 'LOVE' at the End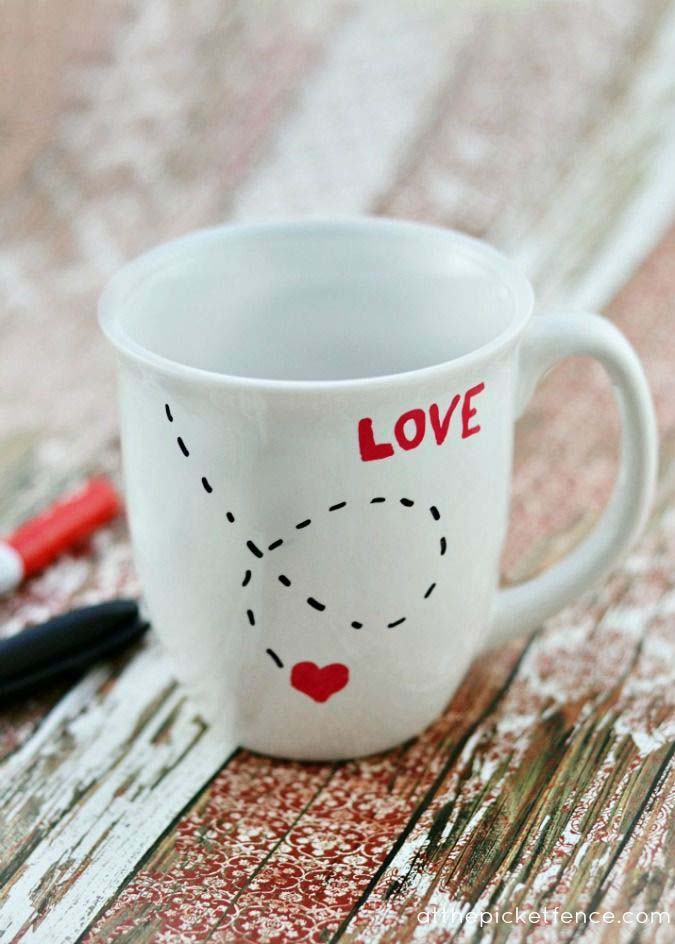 Color a white mug with black sharpie and make it look like a map. But at the end of the trail have LOVE.
16. Surprise Loved One with a Message in Bottle Keychain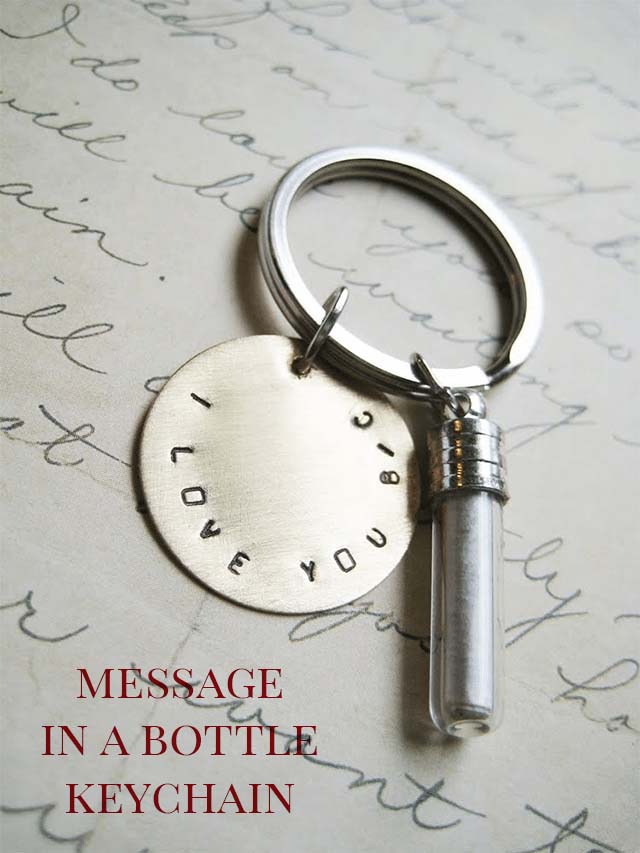 For a romantic and long-lasting gift, give this message in a bottle keychain. Then put an adorable message inside.
17. Personalize Your Carved Tree Stump Candle Holders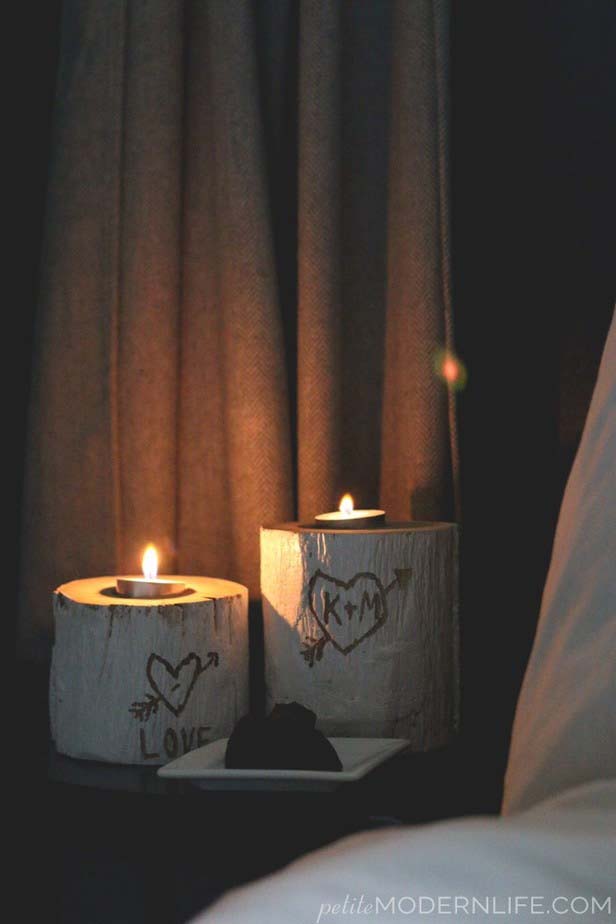 To add a splash of romance to your relationship, try these tree stump candle holders with your initials carved on the outside.
18. Celebrate Your Favorite Memories in an Explosion Box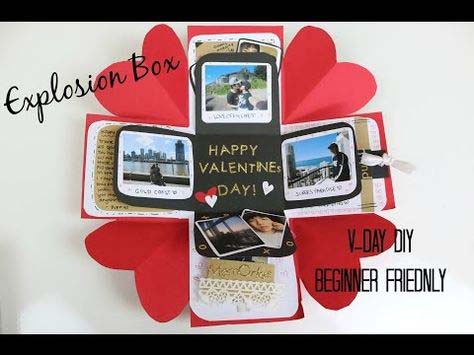 An explosion box is great for remembering the good times. On each side of the box put a favorite memory. Then design it so when the box opens it opens flat and you can see all the memories.
via Youtube
19. Show Your Love with a Memory Box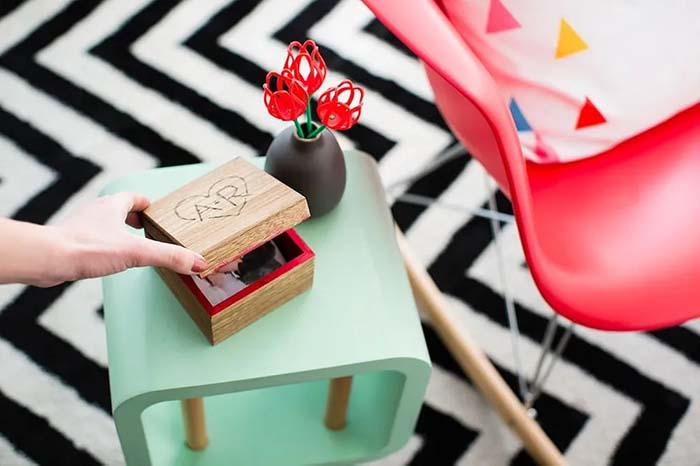 Purchase your beau a memory box. On the inside put your favorite memories.
via Brit Co
20. Illuminate Your Family Memories with Family Luminaries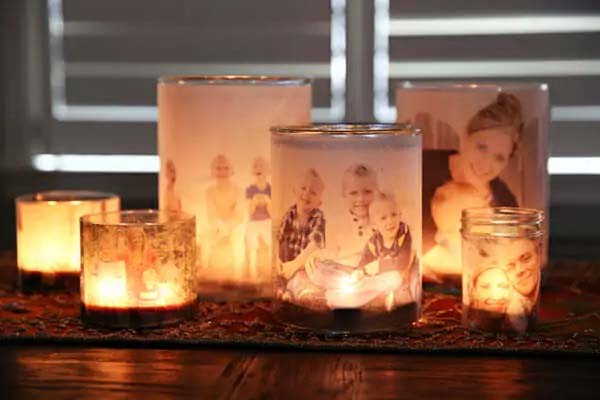 Family luminaries are the perfect way to look back on all that you have built with your love. They glow and encompass all the good memories and important things in life.
via Our Best Bites
21. Make an Enchanting Candle with a Heart-Shaped Can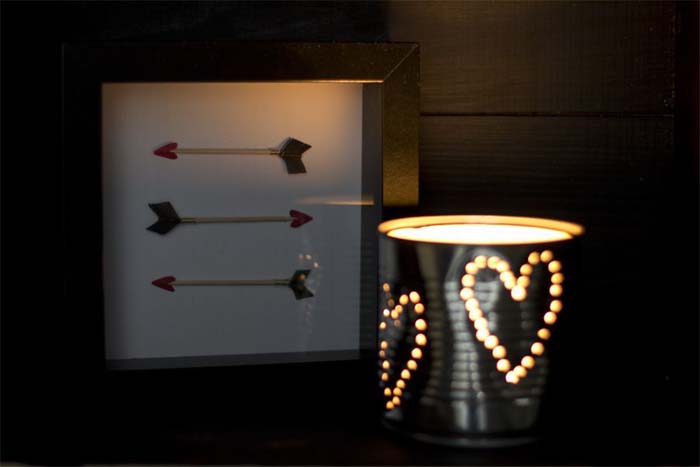 For a DIY candle try washing a can then poke holes in the shape of a heart on it. Put a candle inside so that you can see the glowing through the holes.
via Look what I made
22. Give a Personalized Valentine Gift with Photo Coasters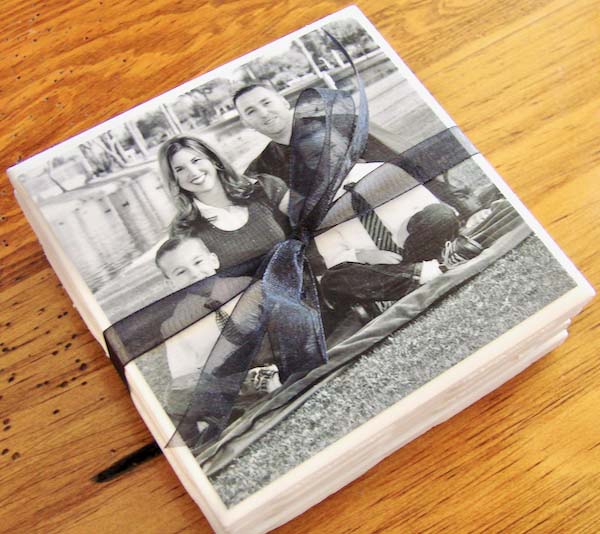 Photo coasters are a good Valentine gift because you will be able to see every day all the wonderful memories.
via The Frugal Girls
23. Sweet Gummy Bear Gift for a Loved One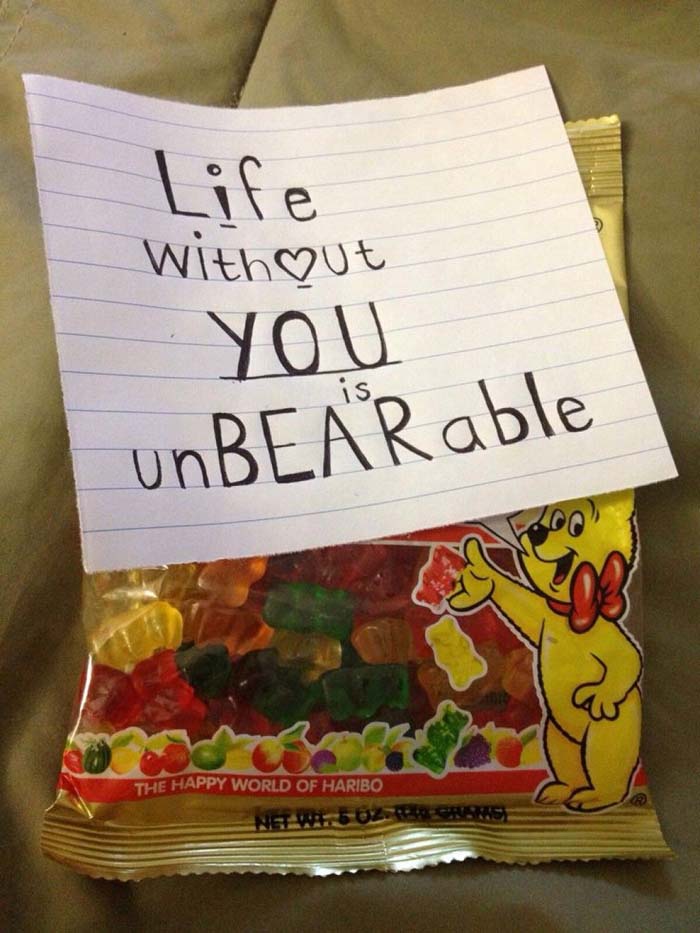 For a simple gift get a bag of delicious gummy bears. Then put a note that says 'life without you is unBEARable.'
24. Treat Your Man to a Heart Tin of Shooters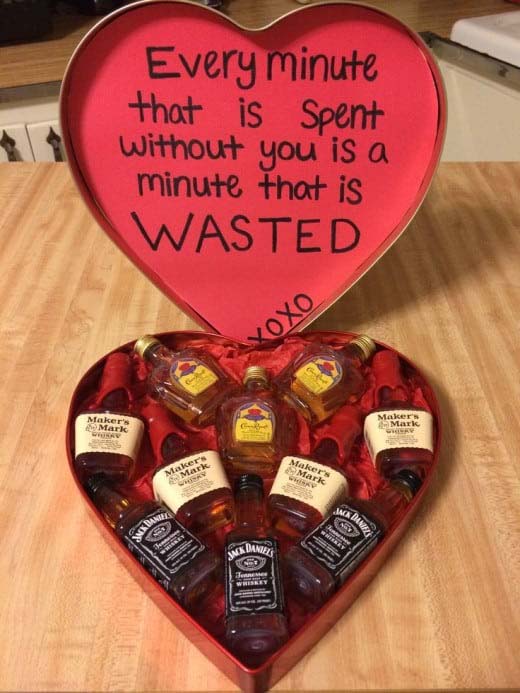 For your man that enjoys liquor, try this heart tin filled with shooters.
25. Cherish Memories of Love with Blocks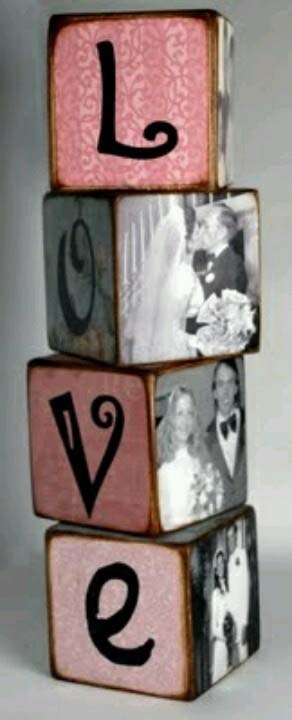 These blocks have the letters LOVE on one side and memories of you and your love on the other sides of the block. Then can be stacked and used for looking back on memories
via Stories by Me
26. Express Your Love with a Personalized Picture Frame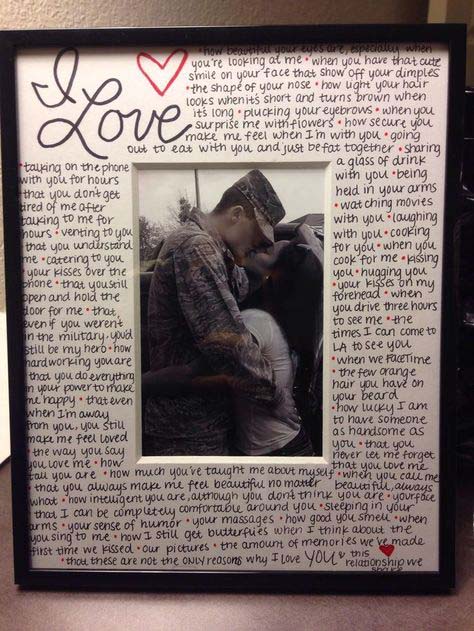 This gift is a picture frame with a note. It is a very personal way to tell your love that you love them.
27. Gift a Lasting Memory with Personalized Candle Holders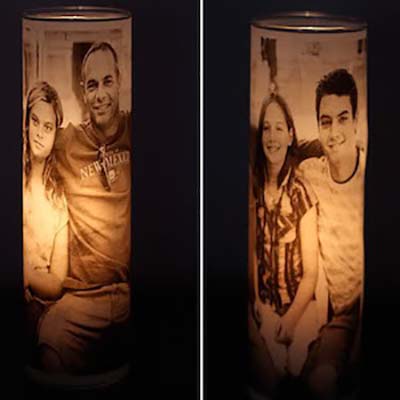 Did you know that you can get personalized candle holders? They come with personal pictures that you can give to your boyfriend or husband.
28. Get Your Man a Personalized Valentine's Day Clock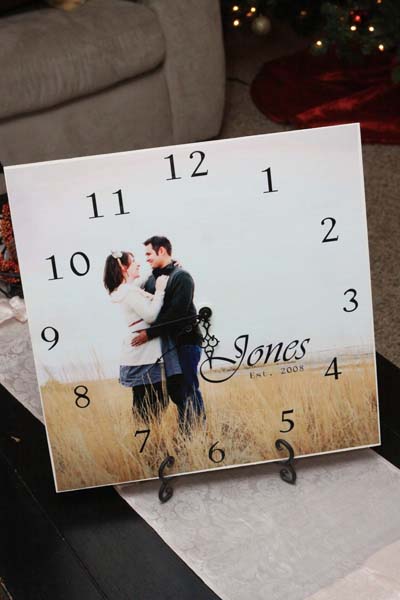 Everyone needs a new clock. So this Valentine's day get your man a clock with a personalized picture.
via Rosy Red Buttons
29. Personalized Wood Picture Boxes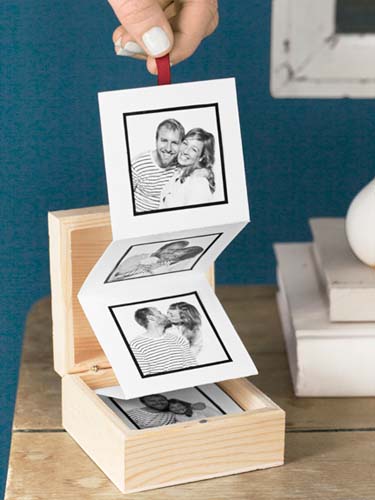 These adorable wood boxes are filled with personal pictures. By the pull of a tab you can see many different photos.
via The Diy Village
30. Snack Gifts for the Man in Your Life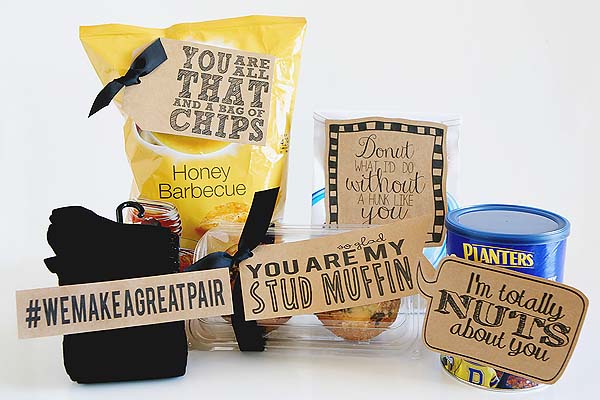 For a quick and easy gift try these snacks with adorable sayings. Every man enjoys snacks.
via Eighteen 25
31. Show Your Love with a Sticky Notes Heart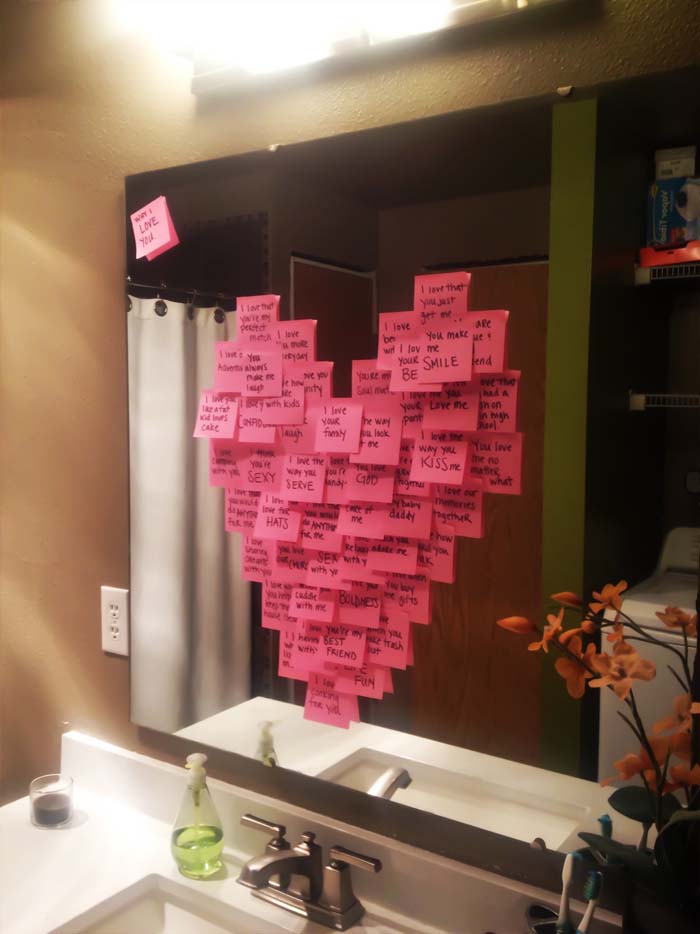 The morning you leave for work on Valentine's day, leave a heart shape of sticky notes with cute sayings and reasons you love him.
via Tumblr
32. Make a Heartwarming Gift of Scratch Hearts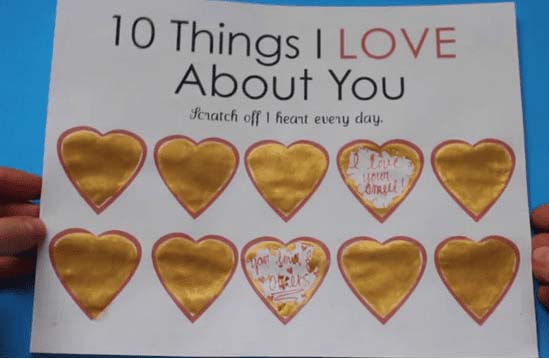 A long-lasting gift is a page full of scratch hearts. Then scratch each heart on a different day. Behind you have written reasons you love your husband.
via Youtube
33. Create an Unconventional Gift Idea with Sock Bouquets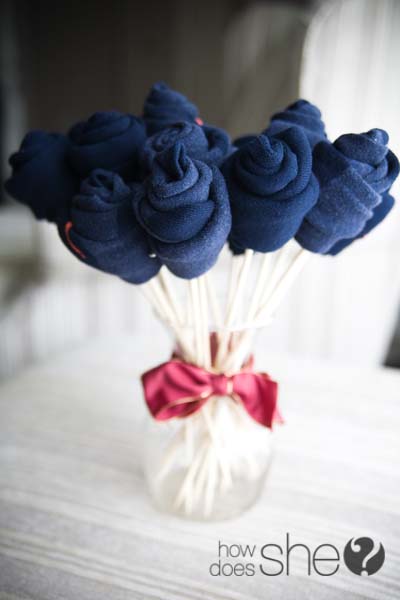 A more conventional and functional gift is a bouquet of flowers. But instead of the flowers have socks!
via How Does She
34. Make a Heart on a Canvas with Nails and Strings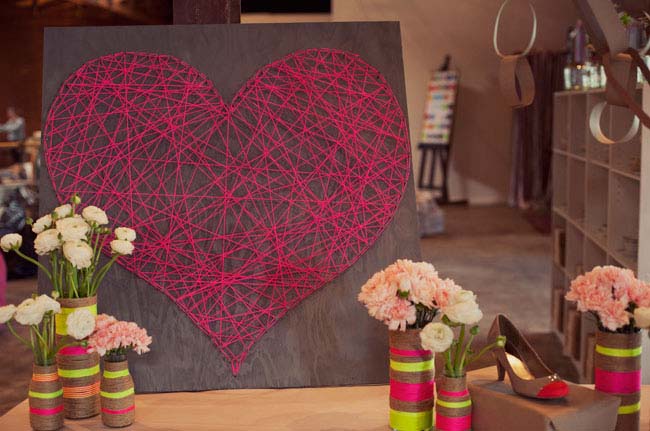 You can put nails in a canvas in the shape of a heart, but then you can run strings around the nails to make the heart shape more obvious.
35. Upcycle Light Bulbs with Copper Wire Hearts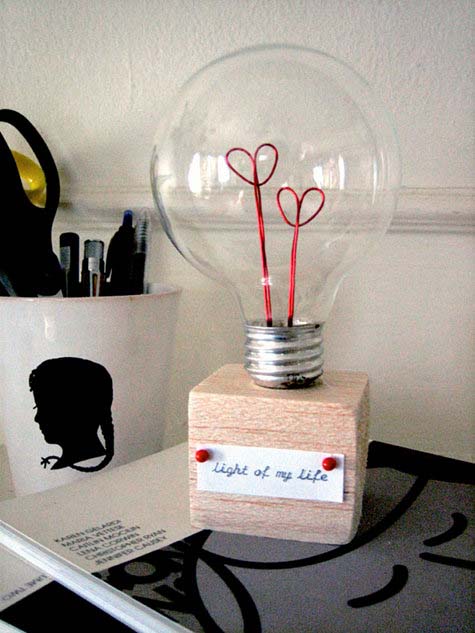 Re use an old lightbulb by putting copper wire hearts inside.
via Design Sponge
36. Turn a Vintage Picture Frame Into a Valentine's Day Gift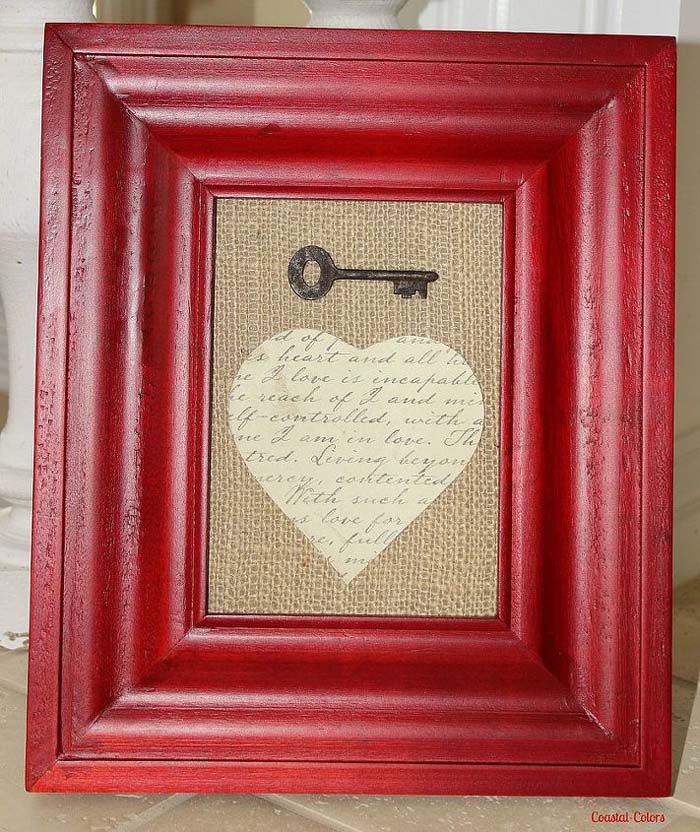 Take a vintage picture frame and paint it Valentine pink, then put a key and cute saying inside.
via Hometalk
37. Hang Photos with Balloons and Rose Petals for Valentine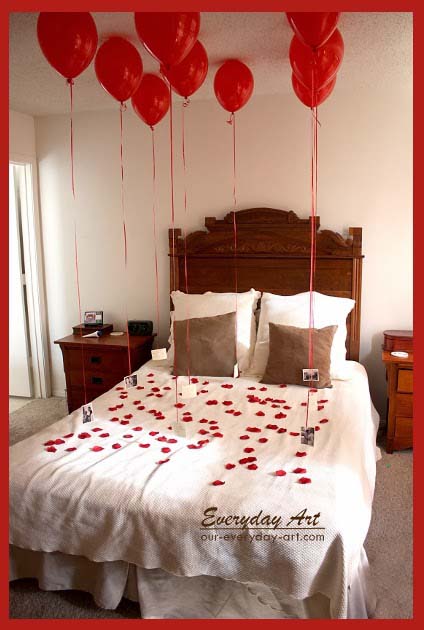 Attach photos to red balloons. Then hang them over your bed with rose petals. This is a romantic beginning to your Valentine's evening.
via Our Everyday Art
38. Make Sweet and Healthy Fruit Sayings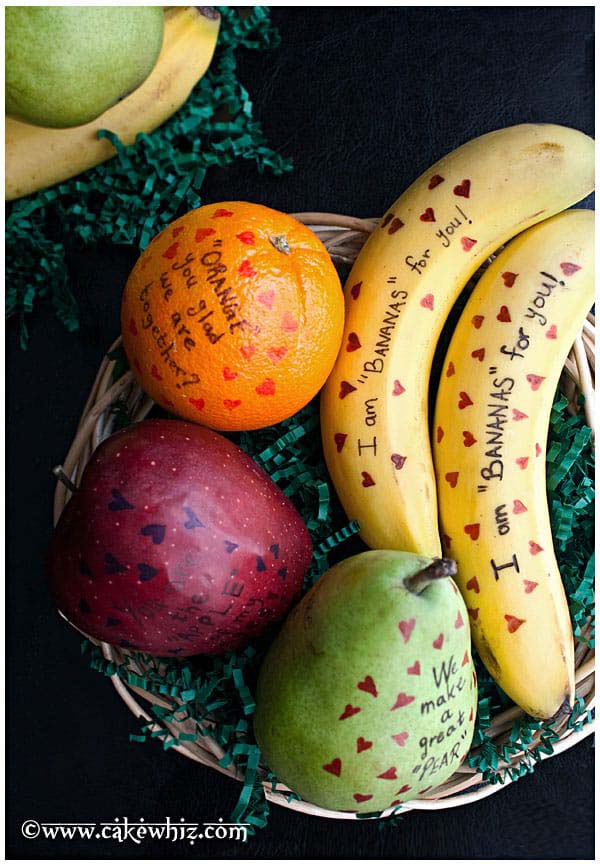 For your healthy man, add cute sayings to fruit with skin. Bananas and oranges are perfect for this.
via Cake Whiz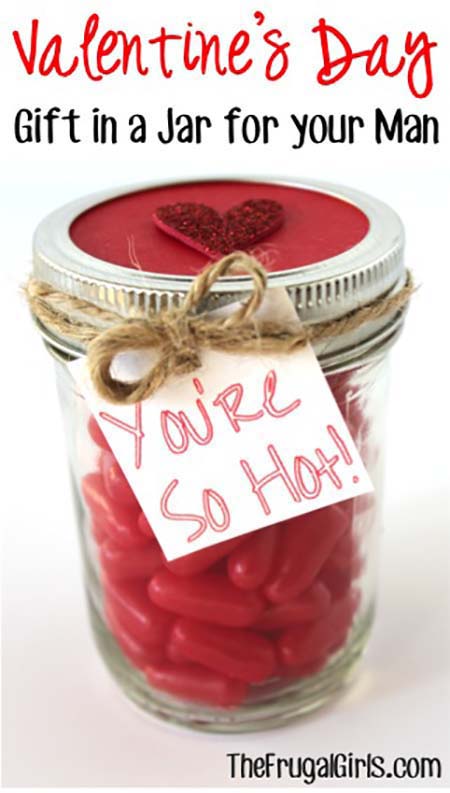 A mason jar gift is easy. You can fill it with red hots and put the saying 'your hot' on the outside.
via The Frugal Girls
40. Express Love With Custom Coffee Mugs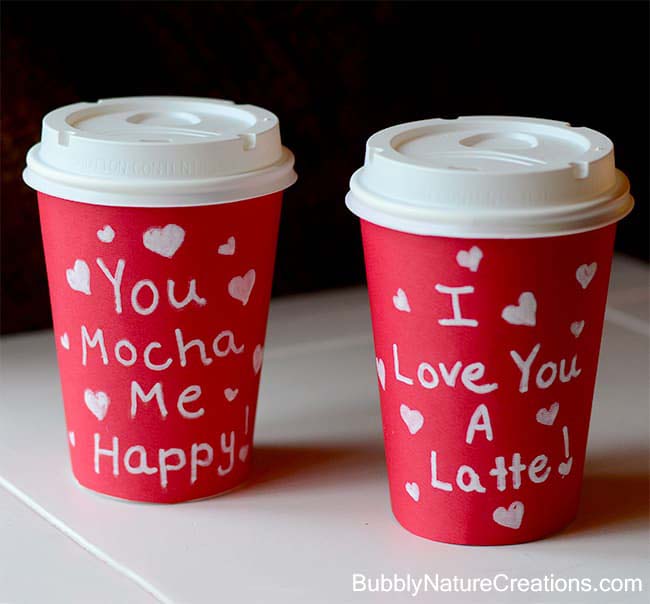 A coffee-loving guy will love these personalized coffee mugs. Put a cute saying 'I love you a latte' on the outside.
41. Festive Mason Jar of Chocolate Kisses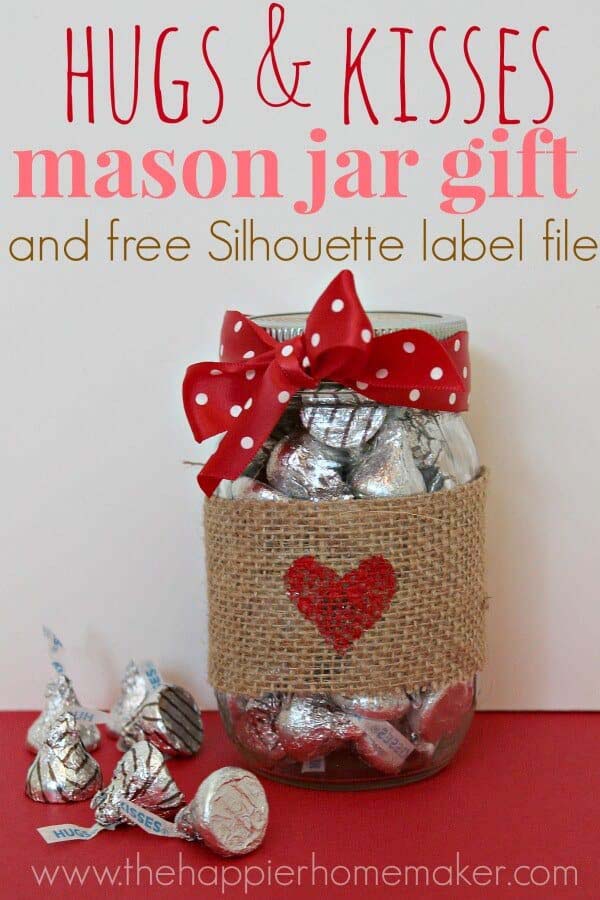 Fill a mason jar with chocolate kisses. Then put burlap with a painted heart around the outside.
42. Show Your Love with a Mason Jar of Reese's Pieces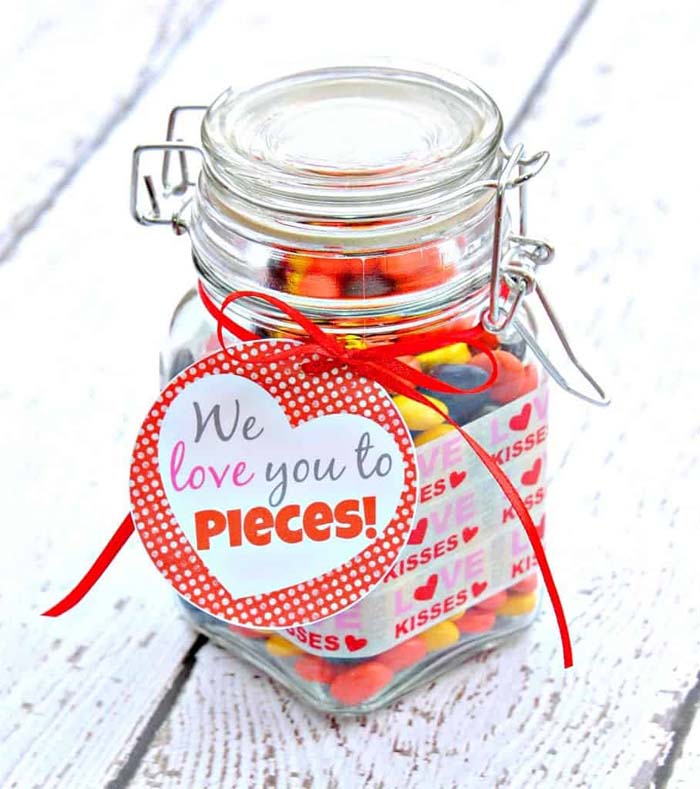 A mason jar with Reese's pieces is the perfect base for the saying 'I love you to pieces.'
43. Create a Valentine Heart out of Tree Limbs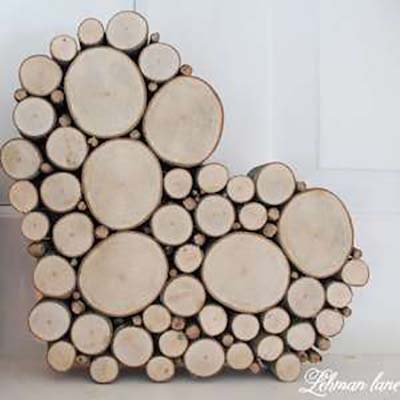 Using an assortment of sized tree limbs make a heart shape for great Valentine decor.
via Lehman Lane
44. Decorate with a Starbursts Mason Jar for Valentine's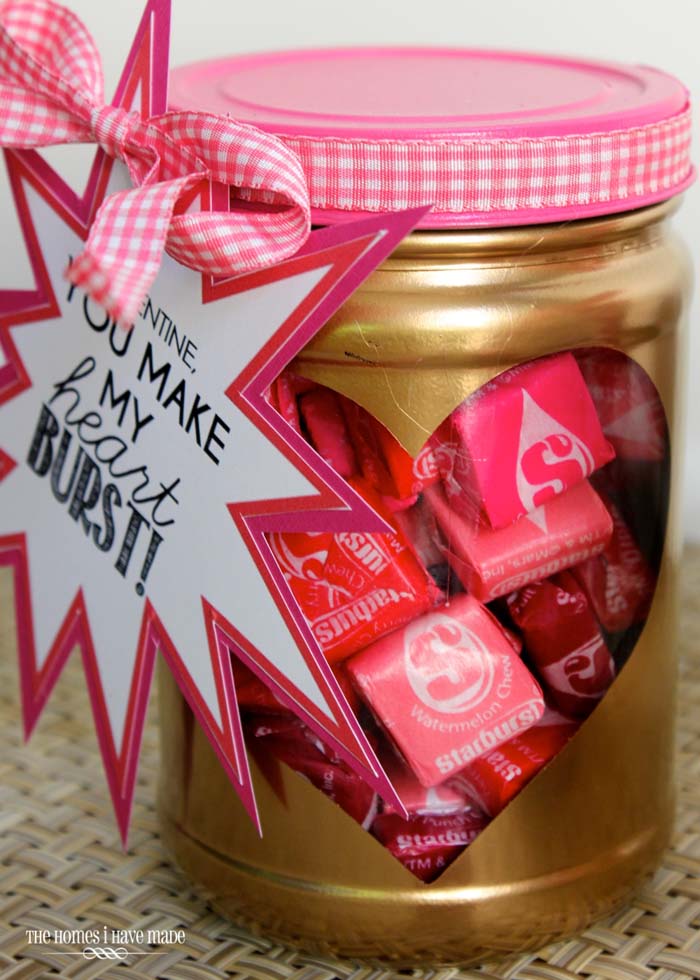 Fill a mason jar with starbursts then add the saying 'you make my heart burst.'
45. Carve a Heart and initials in a Tree for a Romantic Gift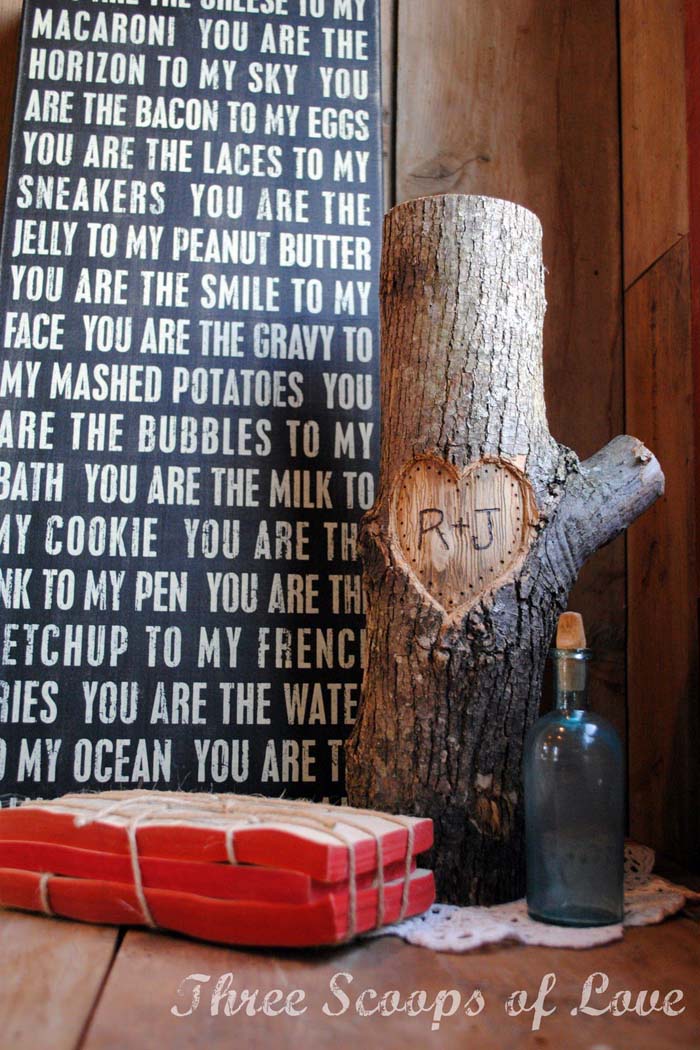 A romantic gift is a tree with a heart carved. In the heart put your initials.