Decorating for the holidays is exciting and fun.
With Valentine's Day around the corner, it is time to start planning your Valentine's decor.
Many of these decor ideas are made from simple things you can find around your home.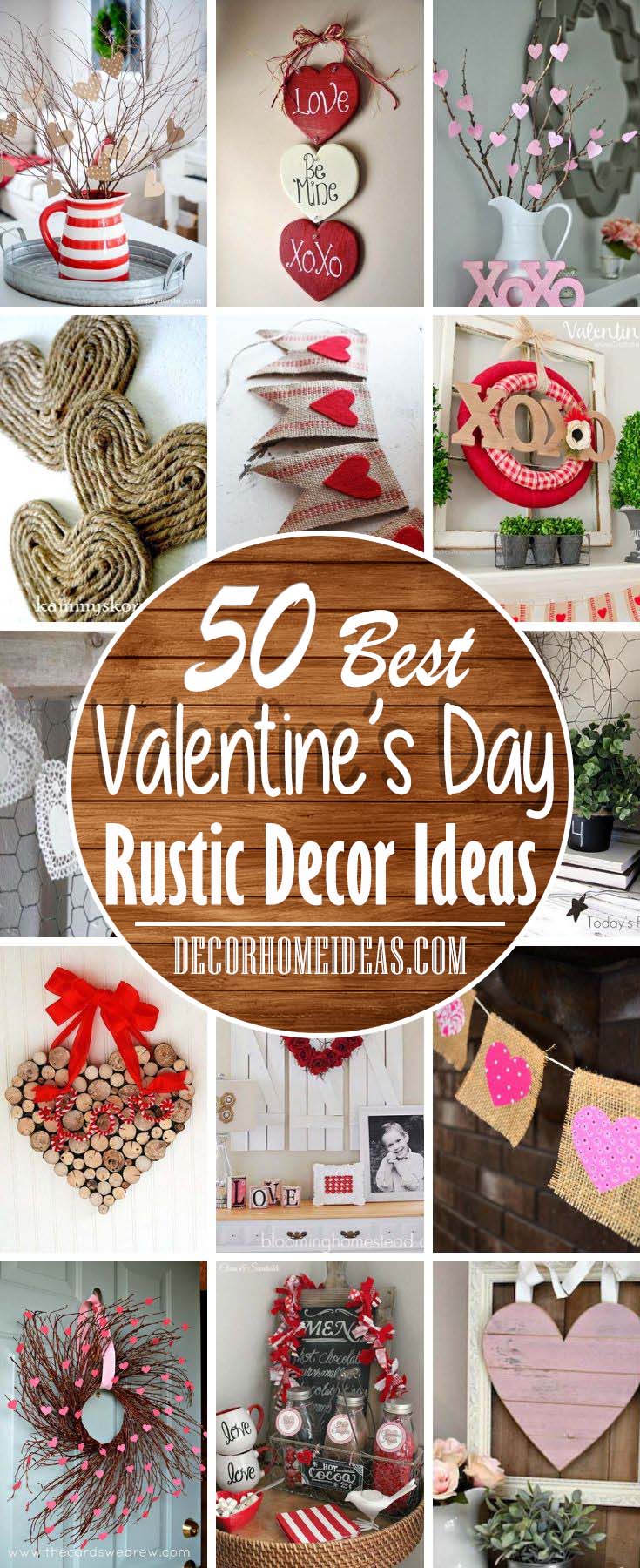 You can also find some of these things in nature. Wooden sticks, stumps and pine cones add a natural touch to Valentine's decor.
Roses and flowers are classic for Valentine's Day and are found in many of these decor ideas. Try these homemade and store-bought Valentine decor ideas.
1. Craft a Rustic DIY Heart Shaped Wall Art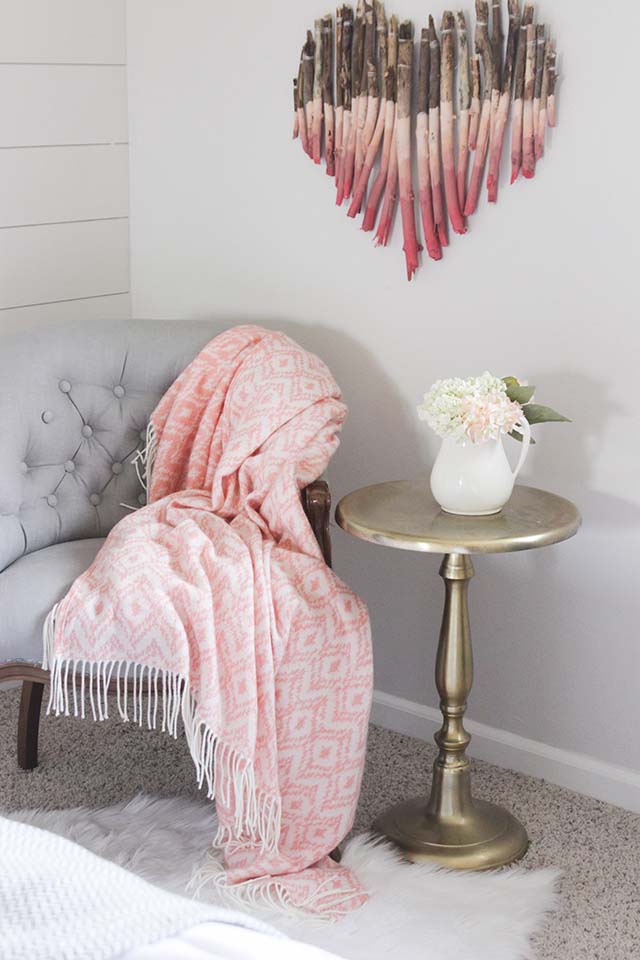 Using different sized sticks and branches, make a heart shape on the wall. Paint pink for an extra touch.
2. Create a Vintage Valentine Decor with Burlap and Wood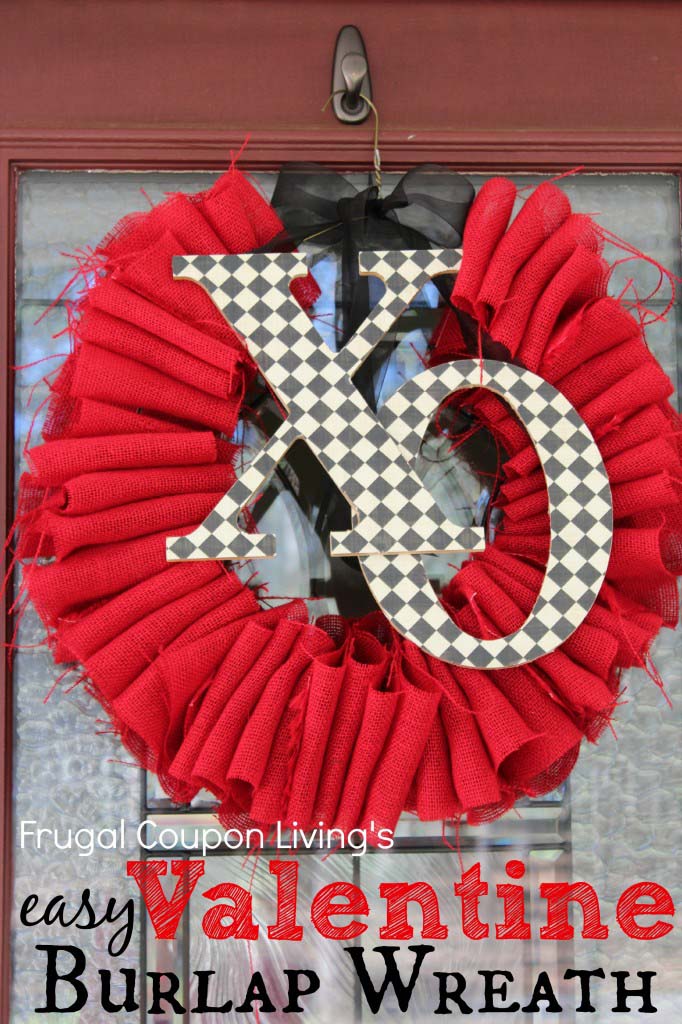 For a vintage Valentine decor, use pink burlap to make a heart. Then attach wooden X's and O's.
3. Assemble a Decorative Heart Hanger with Sticks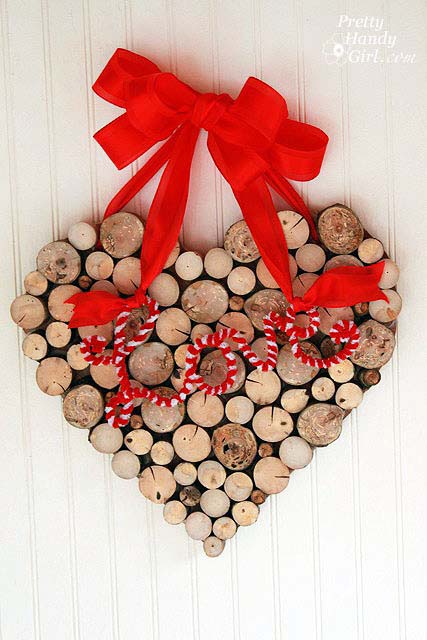 Use different radius sticks to glue together into a heart shape. Attach to a hanger with red ribbon.
4. Make a DIY Pink Heart Burlap Banner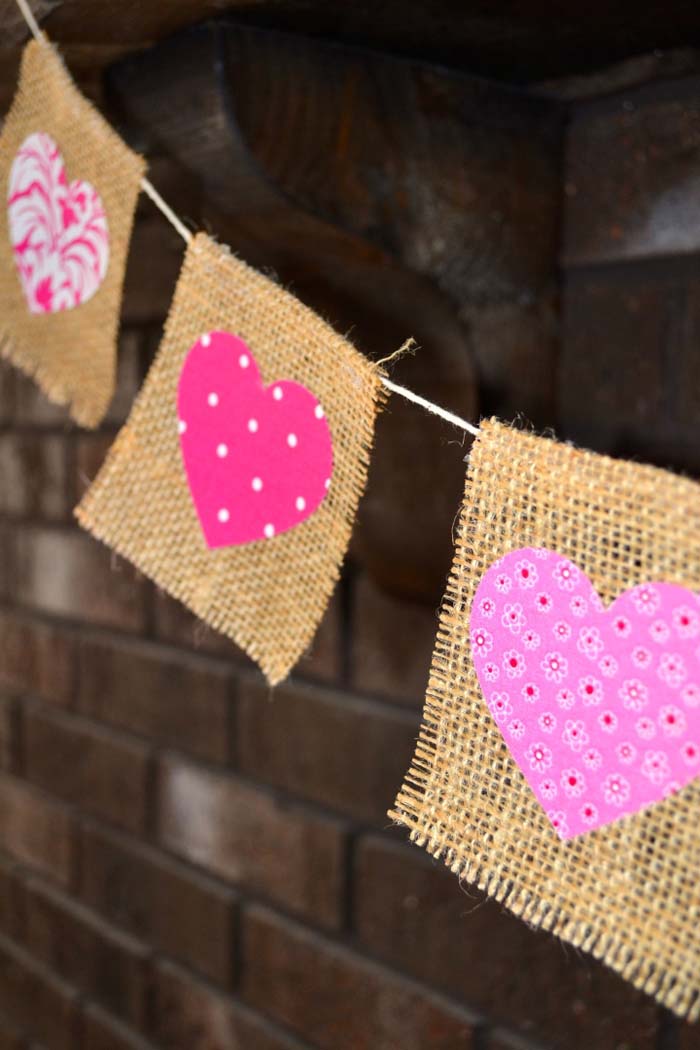 Burlap is the perfect base for pink hearts. And then hang from a string for a burlap banner.
via Typically Simple
5. Create Rustic Cupid Arrows for Valentine's Day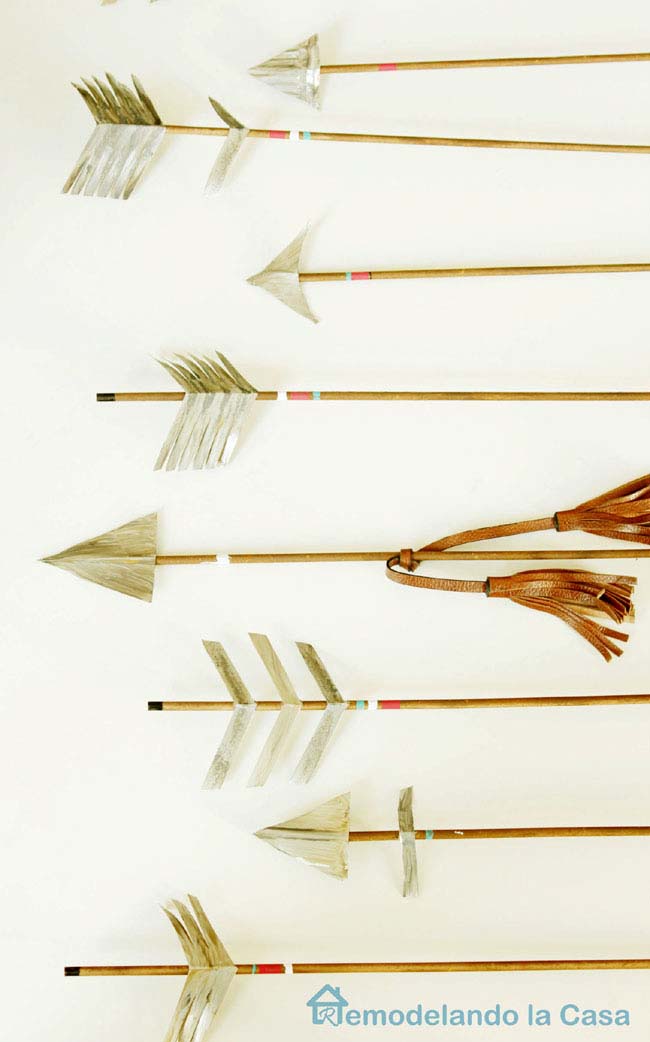 Create rustic cupid arrows from sticks and feathers. They are the perfect wall hanging for Valentine's season.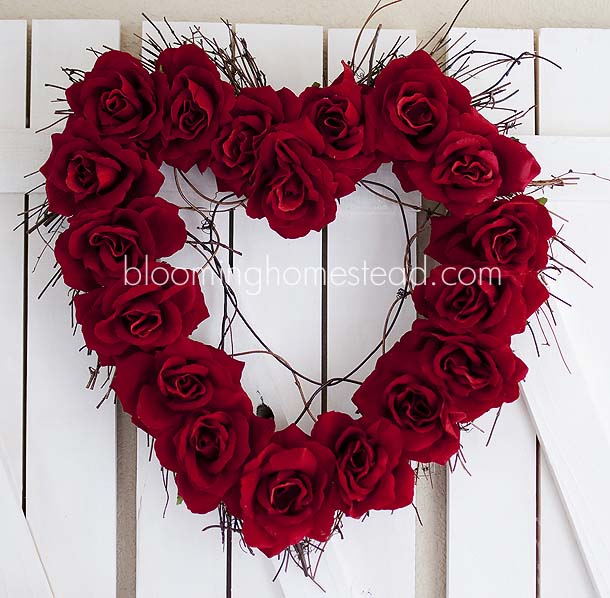 Make a wreath from red roses. Then hang it from your front door. Everyone who arrives will know that Valentines is celebrated.
7. Create a Festive Valentine's Day Wreath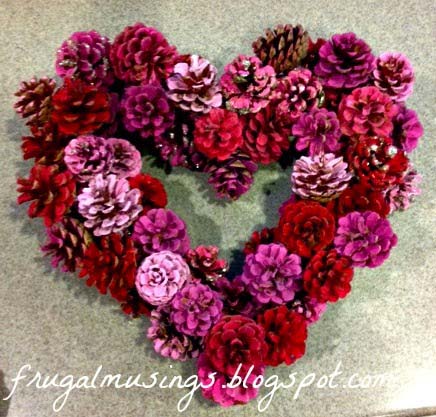 Pine cones are the perfect painting project. Then you can arrange into a heart shape hanging for your decor.
via Frugal Musings
8. Frame a Loved Letter for Your Loved One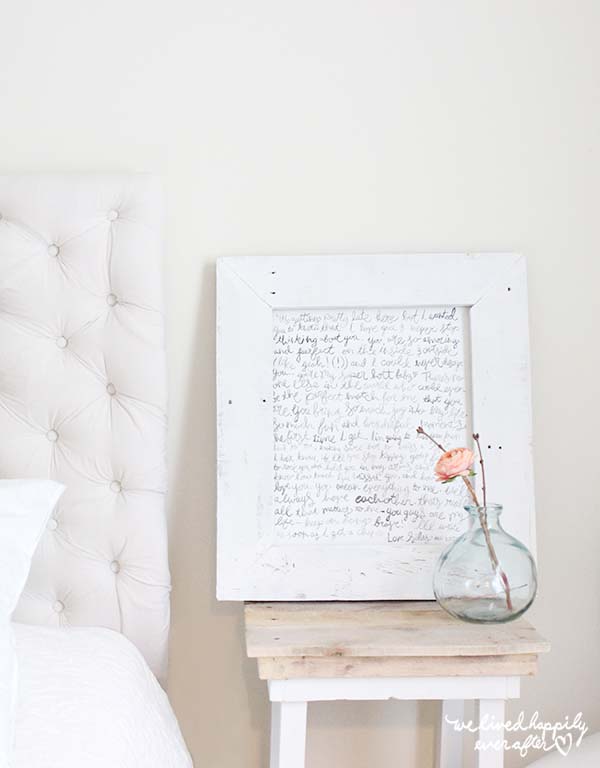 Using a vintage picture frame and a white personal note, you can create beautiful decor or a gift.
via We Lived Happily Ever After
9. Creative and Affordable Valentine's Day Decorations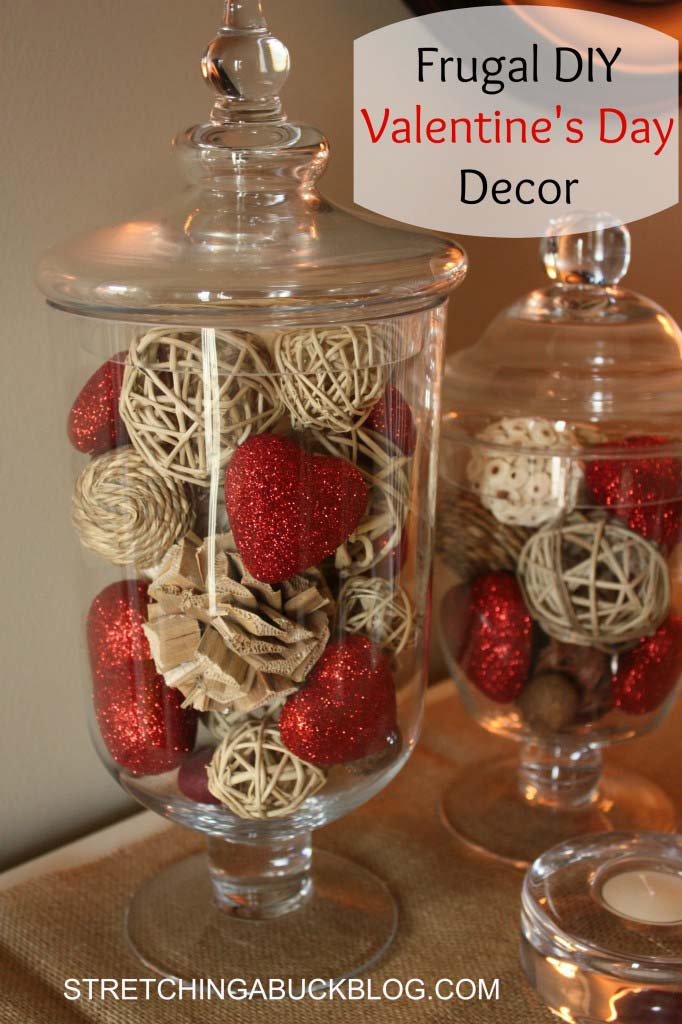 For Valentine's day decorations on a budget, try this clear jar filled with red and pink ribbon and potpourri.
10. Create a Valentine's Banner with Red Cardstock Hearts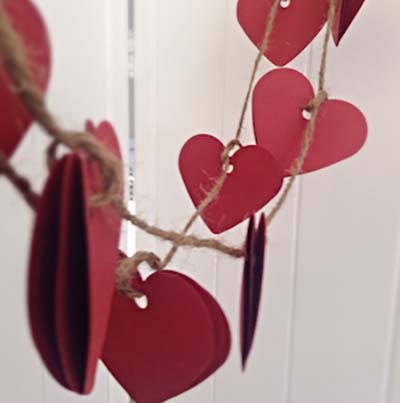 Use red cardstock cut into hearts and strung together for Valentine's banners.
11. Craft Valentine Decorations with White Heart Doilies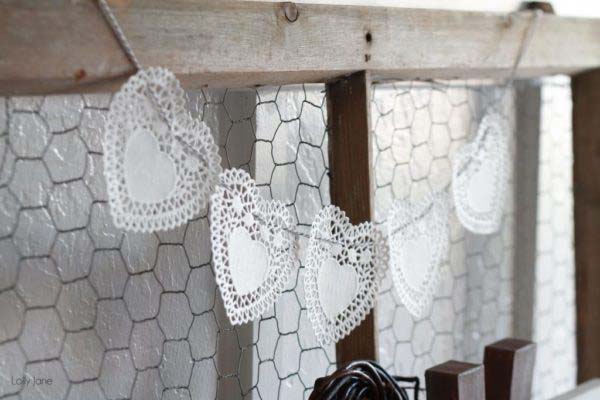 String together white heart doilies for a classic and simple Valentine decorations.
via Lolly Jane
12. Make Creative Valentine Door Hangers with Mason Jars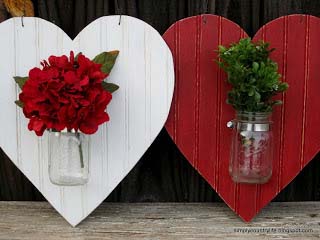 For a door hanger that screams Valentine, make these heart-shaped wood Valentines with mason jars attached.
13. Craft a Rustic Valentine Wreath with Pink Hearts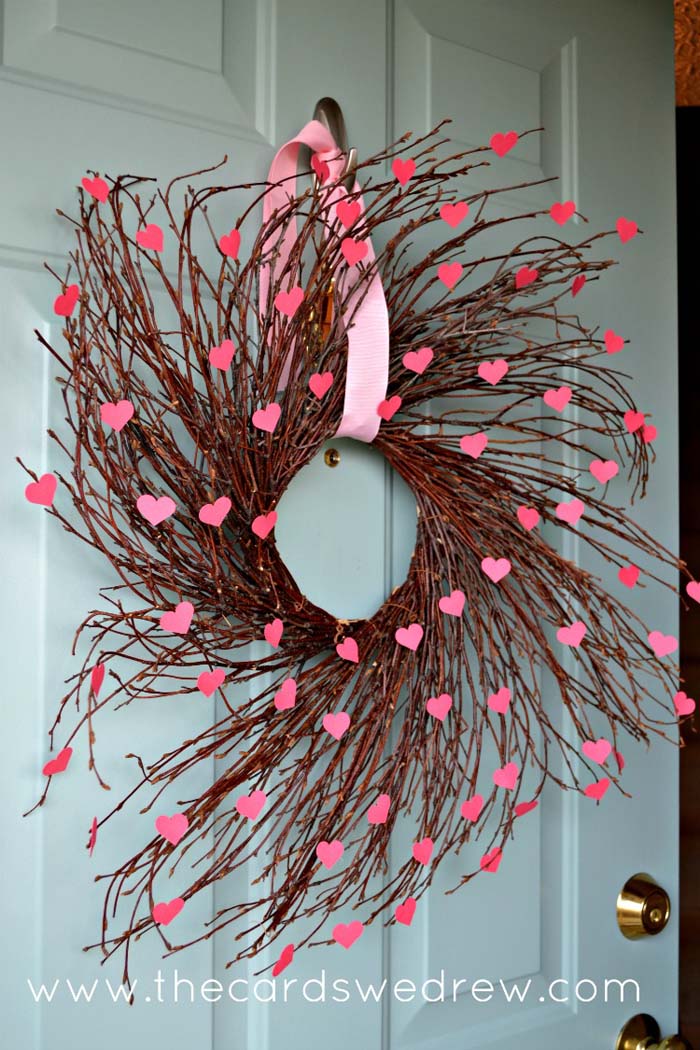 Attach pink hearts to a circular wreath. Then it turns a classic wreath into a Valentine wreath.
14. Decorate Your Wall with Burlap Hearts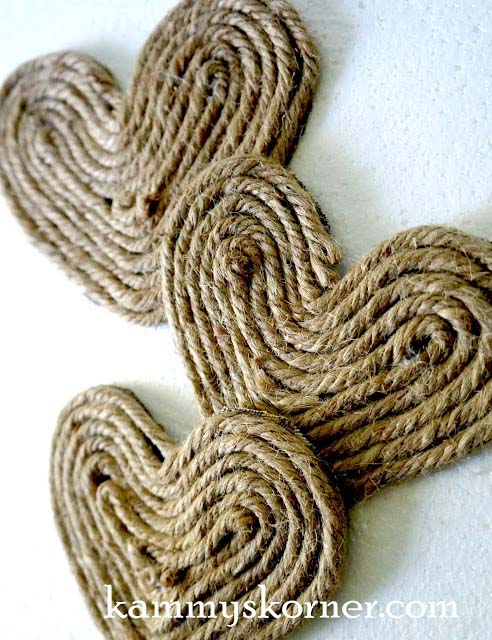 Using thick burlap string, you can bend circles into hearts. Then glue to hold shape.
via Kammy's Korner
15. Create Vintage Valentine Decor with a Rustic Key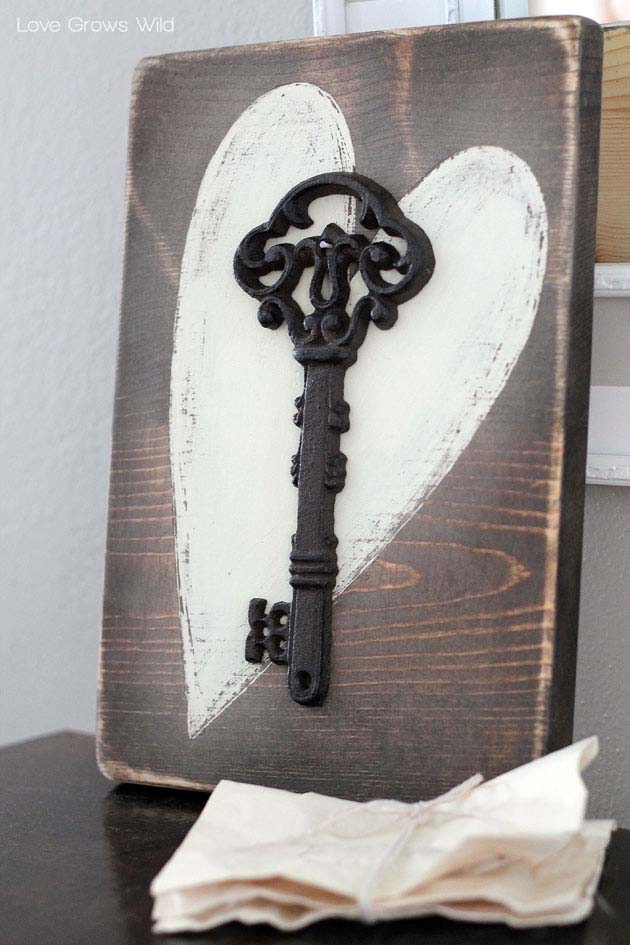 For rustic decor, take this classic wood board and paint a white heart on the outside.
via Love Grows Wild
16. Vibrant Burlap Bow and Embellished "LOVE" Door Hanger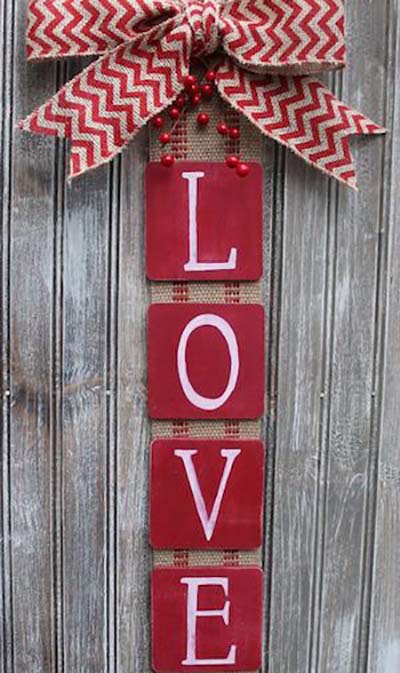 This door hanger has a large burlap bow on the front. Then hanging down is the word LOVE.
17. Festive Valentine's Wreath with Grapevine and Hearts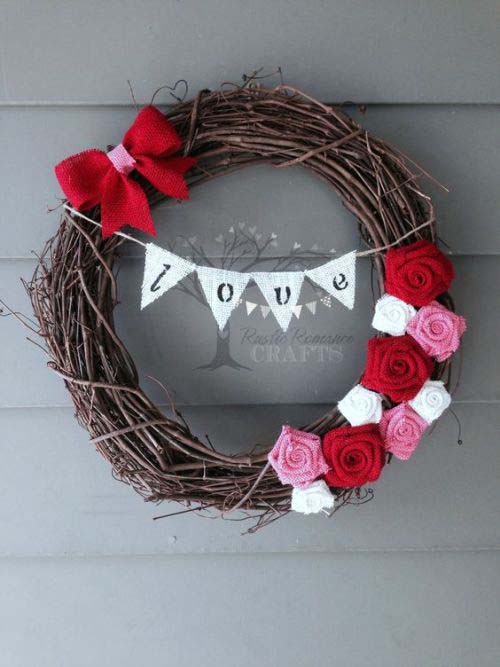 Grapevine is the perfect wreath making material. Then you can add hearts and red LOVE sign to finish the Valentine look.
18. Unique Love Letters for Your Mantel Display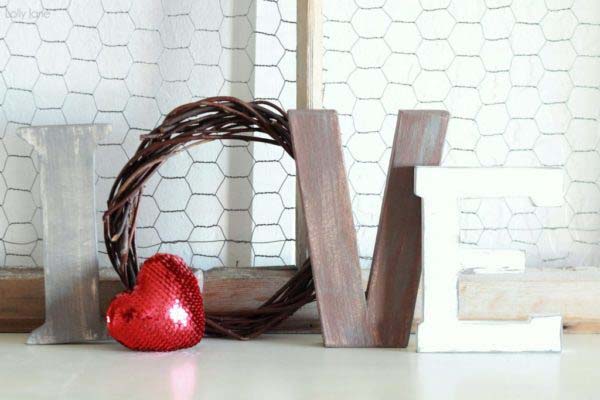 For a mantel look, try these LOVE letters made from wood and grapevine.
via Lolly Jane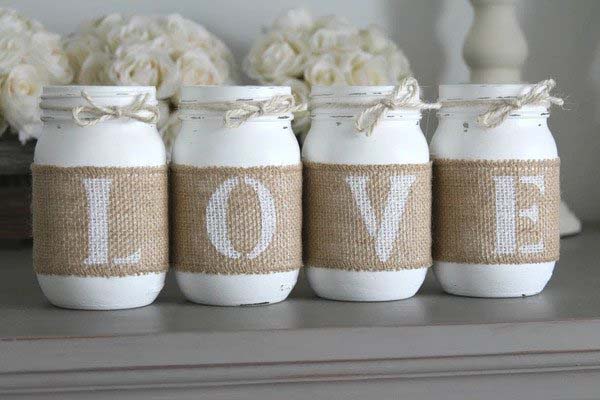 Paint mason jars white. Then wrap with burlap. On the burlap, paint the letters LOVE.
20. Make a Neutral DIY Valentine's Day Mantel Decor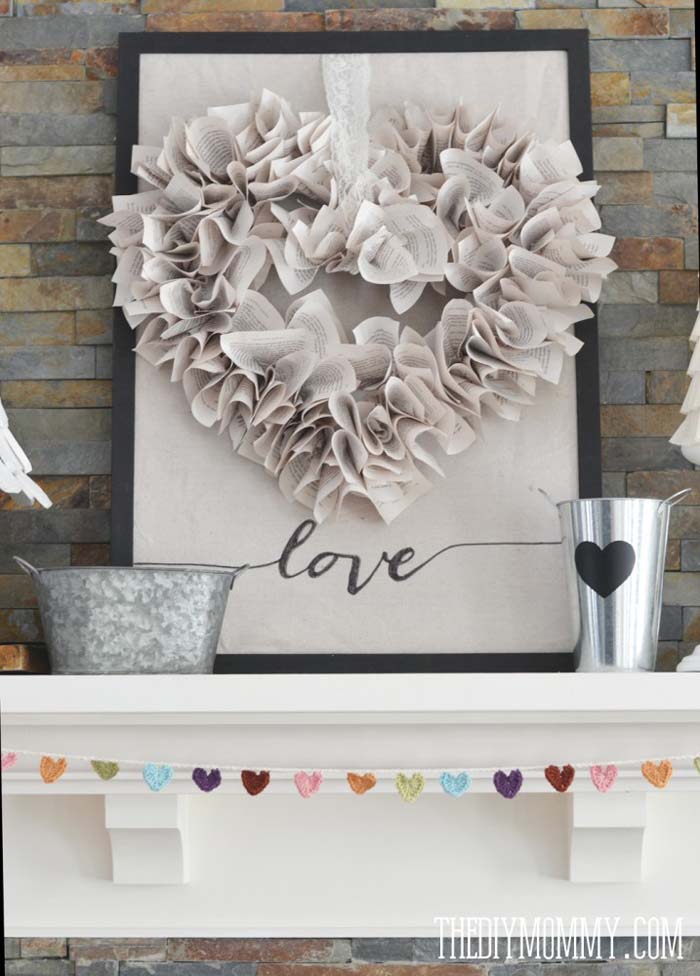 Using vintage paper, you can make a heart shape. Then hang with ribbon. It is a classic Valentine's day decor.
via The DIY Mommy
21. Create Vintage Decor with Pallet Wood Hearts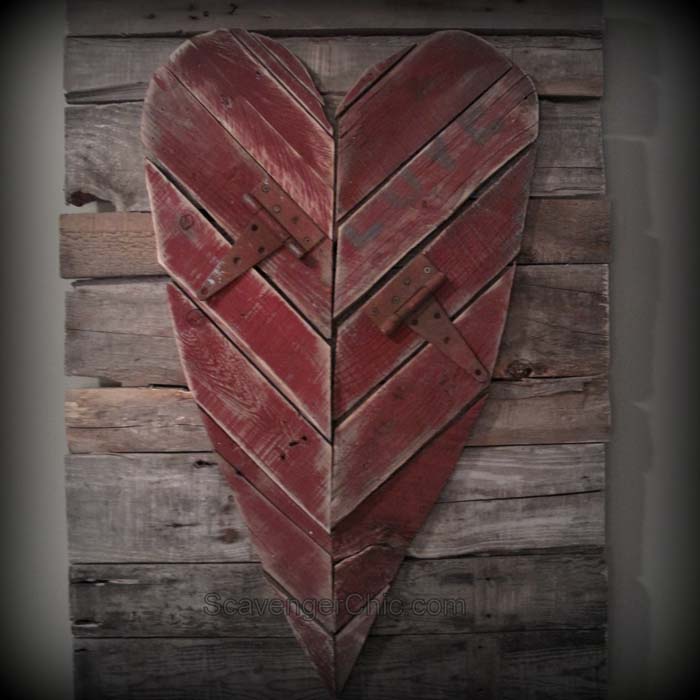 Pallet wood is perfect for making vintage decor. You can cut pieces of wood into a heart shape. Finish and hang in your home.
via Scavenger Chic
22. Make Rustic Cupid's Arrows with Twig and Felt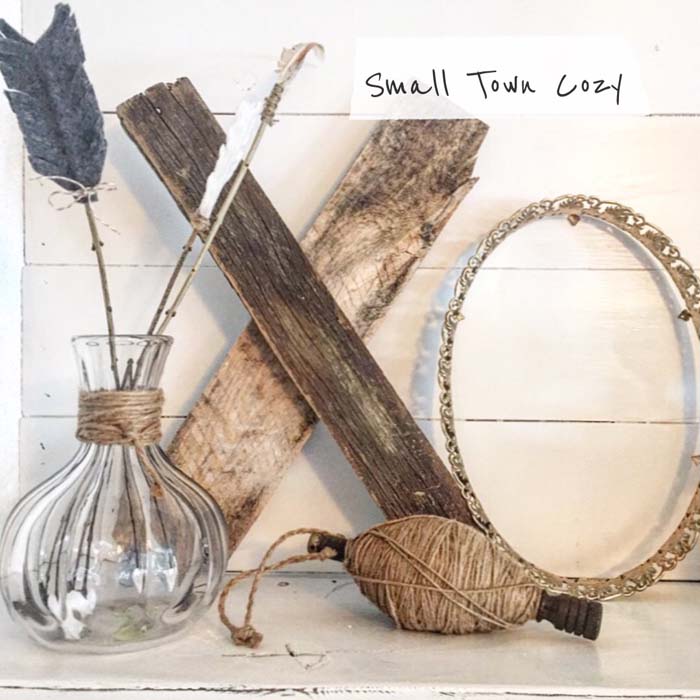 For a rustic look, try these cupid's arrows. They are made from twigs and felt for the fletching.
via Small Town Cozy
23. Combine Two Valentine Wreaths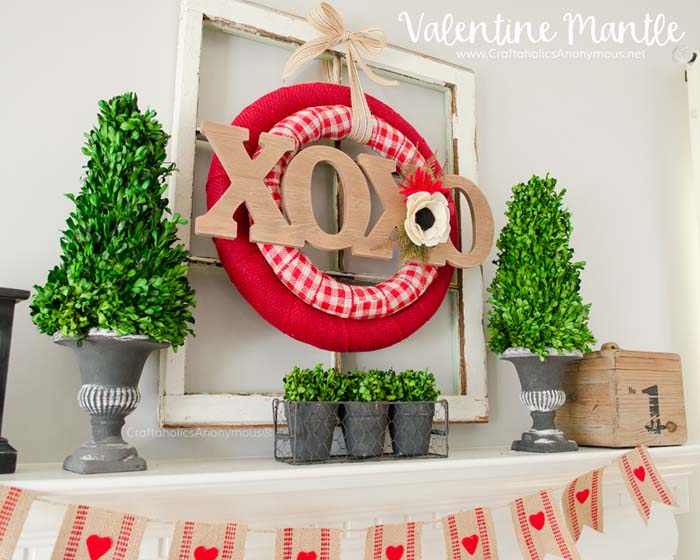 Take a foam circle and wrap it with red and pink fabric. Then hang with ribbon.
24. Create Customized Cardboard Hearts for Decor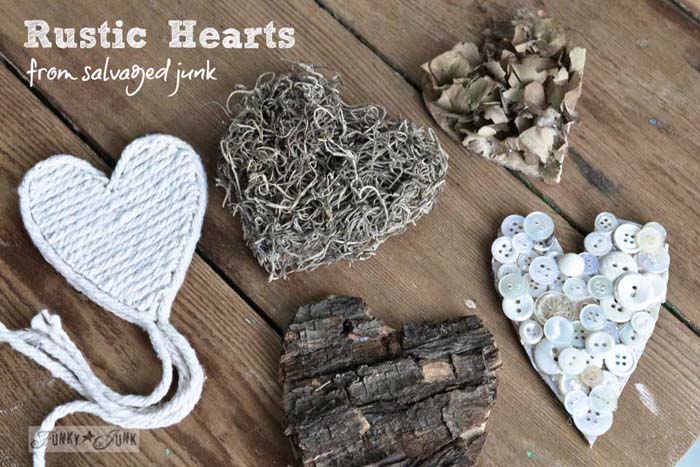 For perfect heart decor, make these small cardboard hearts then glue on your favorite decor. They can be customized with ribbon, string or buttons.
25. Make a Hanging Heart Decoration with Wood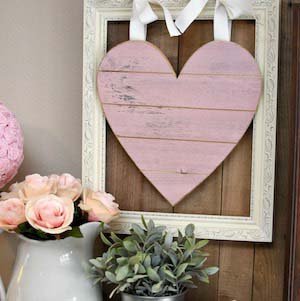 Using wood, you can make a heart shape. Then attach it together and hang with ribbon. This is great for hanging from a mantel or door.
26. Decorate Your Mantel With a Red Heart Burlap Banner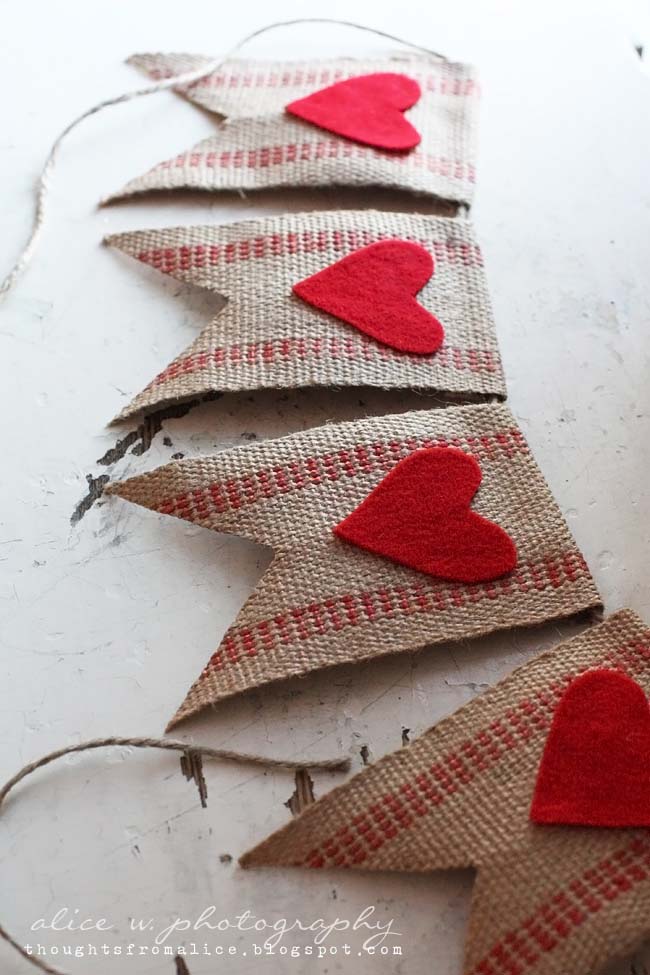 For a simple banner, use burlap with painted red hearts and hang from a string across your mantel.
27. Create a Rustic Heart-Shaped Decoration with Twigs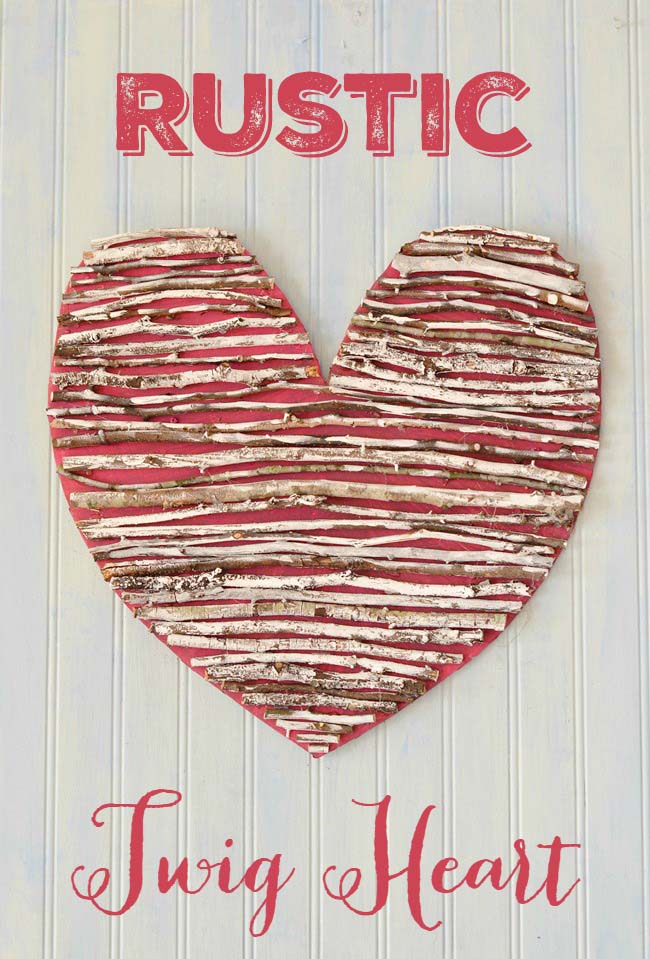 Use a heart-shaped piece of cardstock and glue on different shaped and sized twigs. It is a simple piece of decor that looks expensive.
28. Make a Custom Valentine's Mantel with Burlap and Paint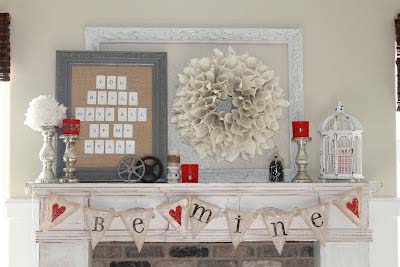 You know those triangular banners you can get for birthdays or other holidays. Purchase a burlap one and paint the 'be mine' letters on.
29. Decorate a Red Pitcher for Valentine's Day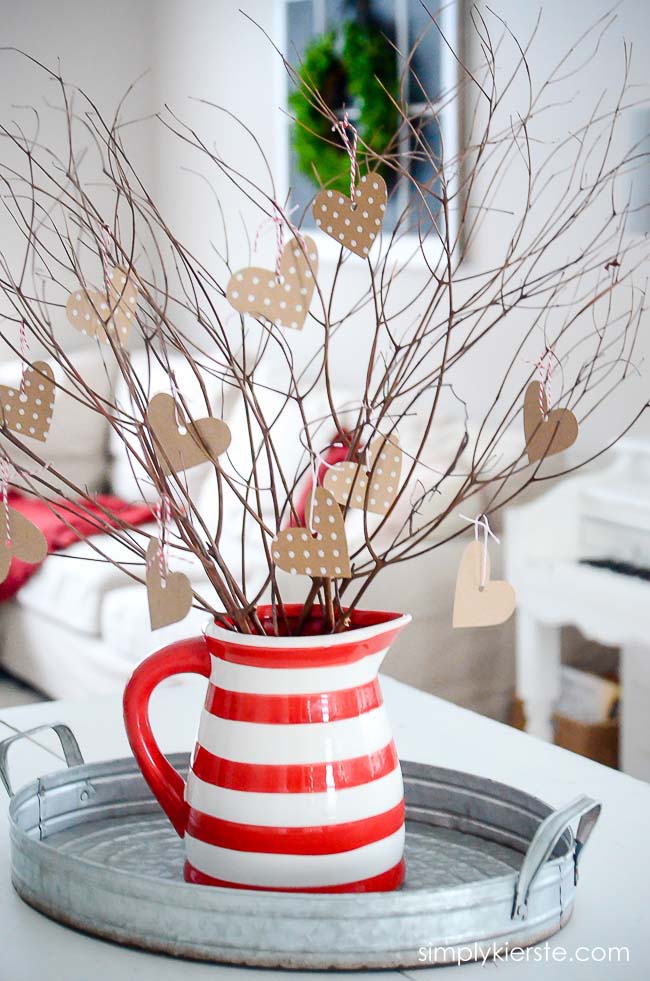 A red pitcher can be filled with a thin twig tree and decorated with hearts for Valentine's day.
via Simply Kierste
30. DIY Vintage Heart Candle Decor for Valentine's Day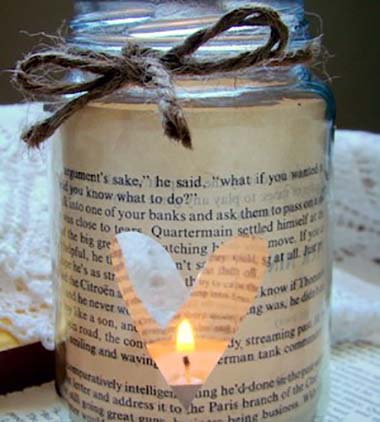 For a classic look, glue vintage paper on the outside of a candle. But cut a heart out of the paper, so the light shines through in a heart shape. It's a nice dollar store Valentine decoration idea.
31. Valentine's Day Hot Cocoa and Coffee Station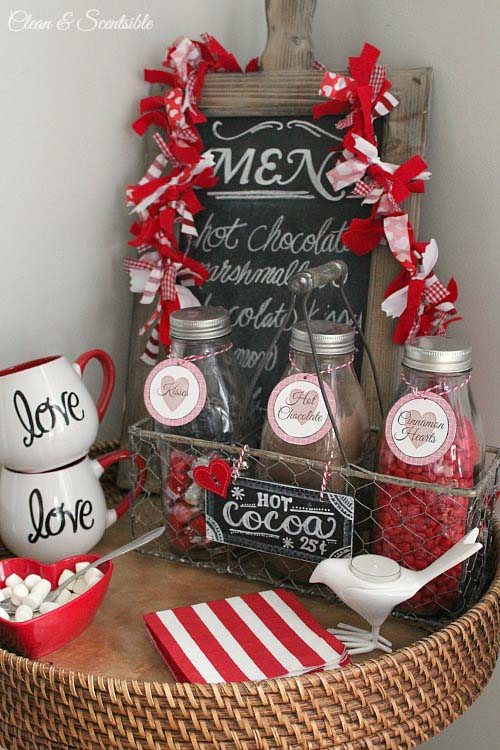 A hot cocoa or coffee station is easy to decorate with Valentine's colors and is a wonderful sight on Valentine's morning.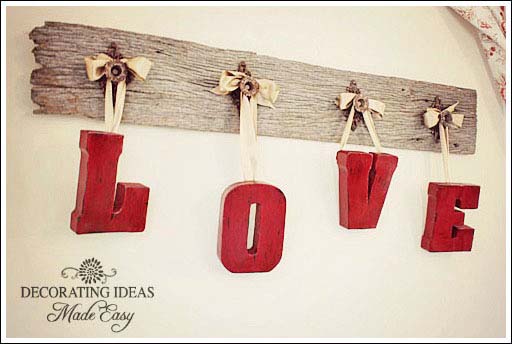 Use a rustic piece of pallet wood to hang the wooden LOVE letters. Use a gold ribbon to complete the look.
33. Create a Rustic Valentine Mantel Display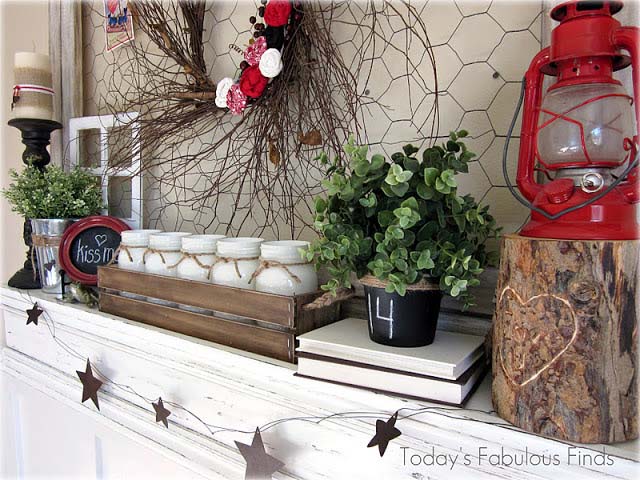 For a complete mantel look use a box filled with white painted jars. Then add a Valentine grapevine wreath. Finish the look with rustic wooden stumps with your initials engraved.
34. Red Mantel with Heart Plates and Grapevine Tree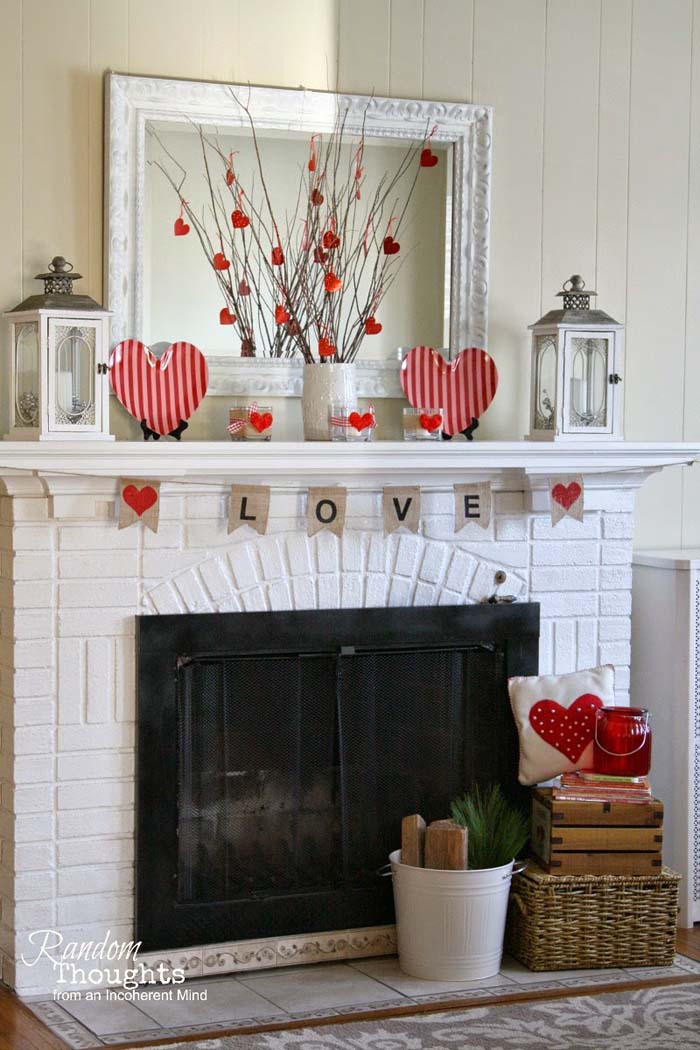 A red more mantel look can be completed with red heart-shaped plates and a grapevine tree decorated with red hearts.
35. Glue Sticks in a Heart Shape on Canvas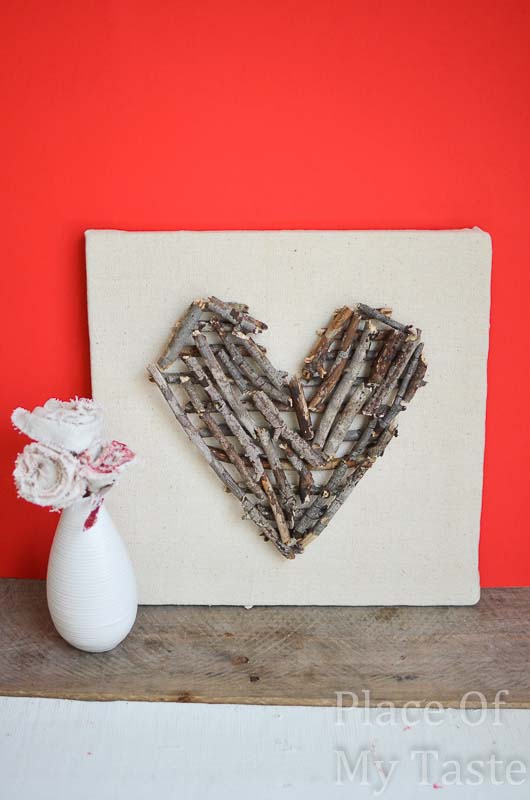 Gluing small sticks in a heart shape on canvas is perfect for Valentine's decor.
36. Make a Heart-Shape String Art Design for Valentine's Day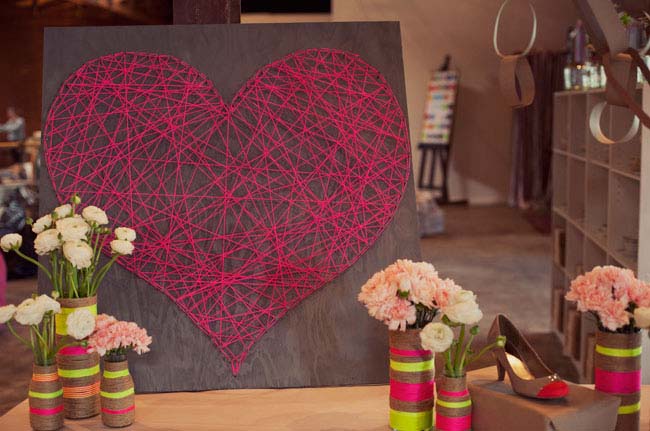 String art is a simple DIY decor idea for any holiday. To complete the Valentine's day look make your string art heart-shaped.
37. Valentines' Candles with Burlap Rope and Felt Hearts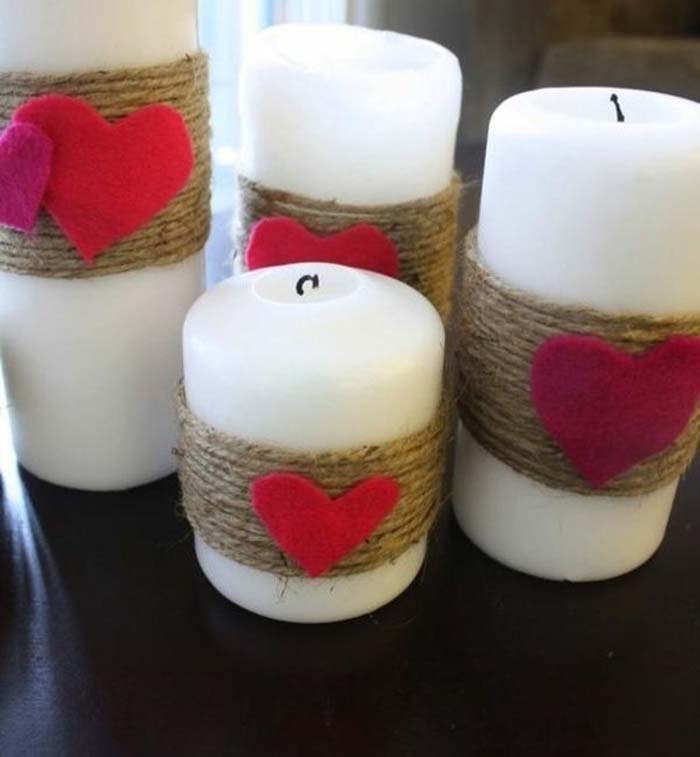 To turn classic white candles into Valentines' candles, wrap with burlap rope and felt hearts.
38. Craft a Grapevine Tree with Cardstock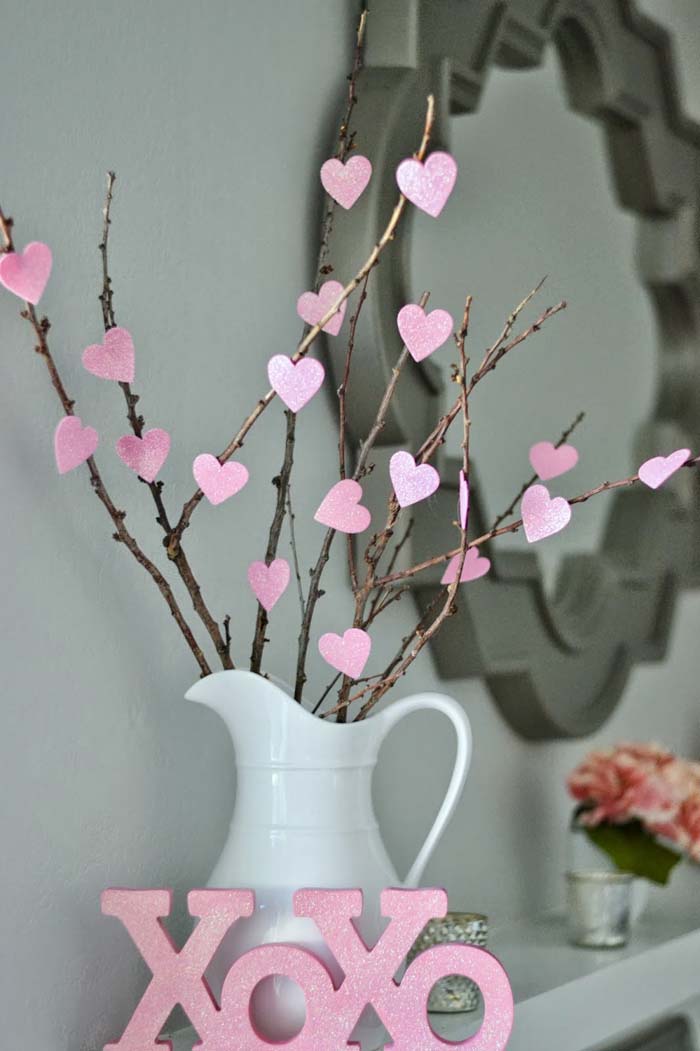 Use grapevine in a white jar to make a tree shape. Then decorate the tree with heart-shaped cardstock.
via Money Hip Mamas
39. Create a Heart Valentine Tree with Twigs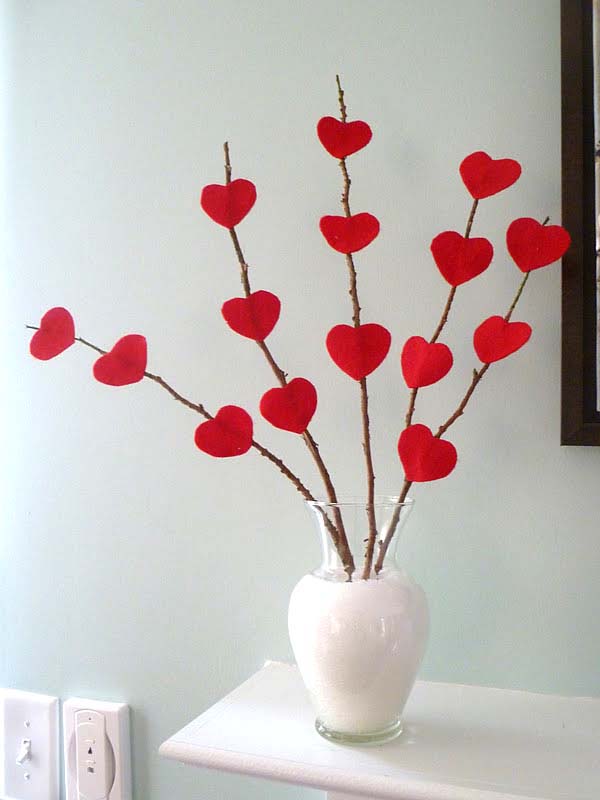 Five or six twigs can be put into a jar and decorated with red hearts. It completes a heart Valentine tree.
40. Decorate Mason Jars for Valentine's Day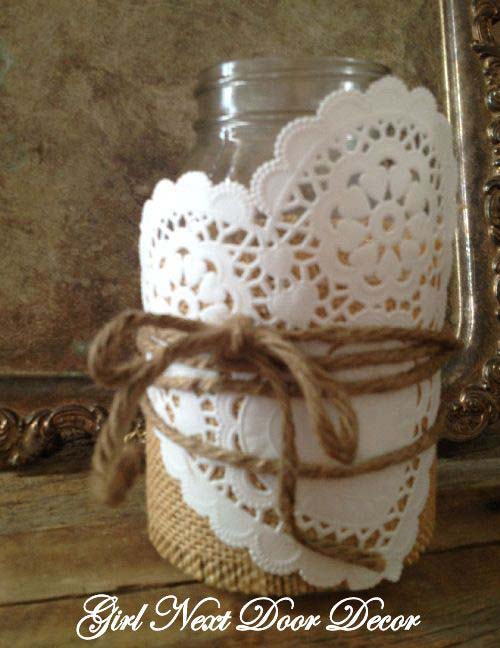 Decorate a mason jar with a Valentine's look by using white heart-shaped doilies and burlap.
41. Handcrafted White Burlap Ribbon with Red Felt Hearts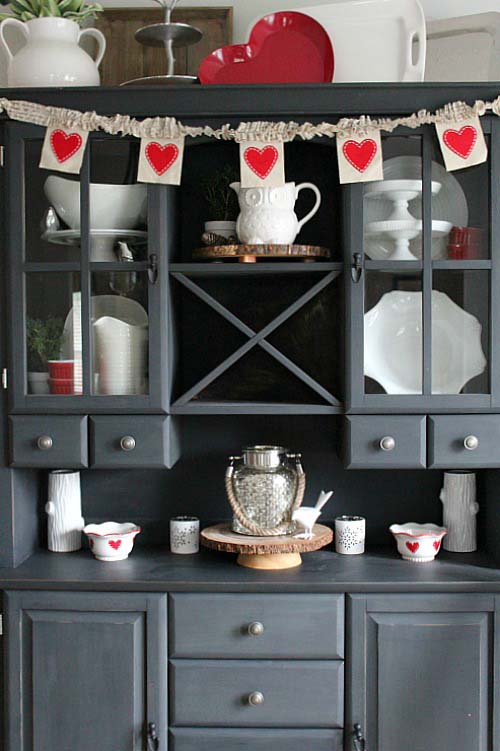 A perfect white burlap ribbon can be made with white fabric squares and red felt hearts.
42. Craft a Valentine's Wreath with Grapevine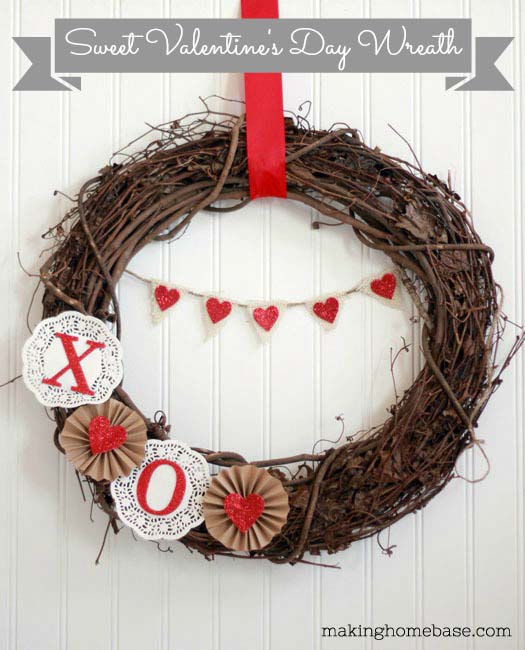 Make a wreath out of grapevine. Make the wreath Valentines by adding white dollies and the XOXO letters.
via Making Home Base
43. Valentine Wall Hanging with Paint and Heart Shapes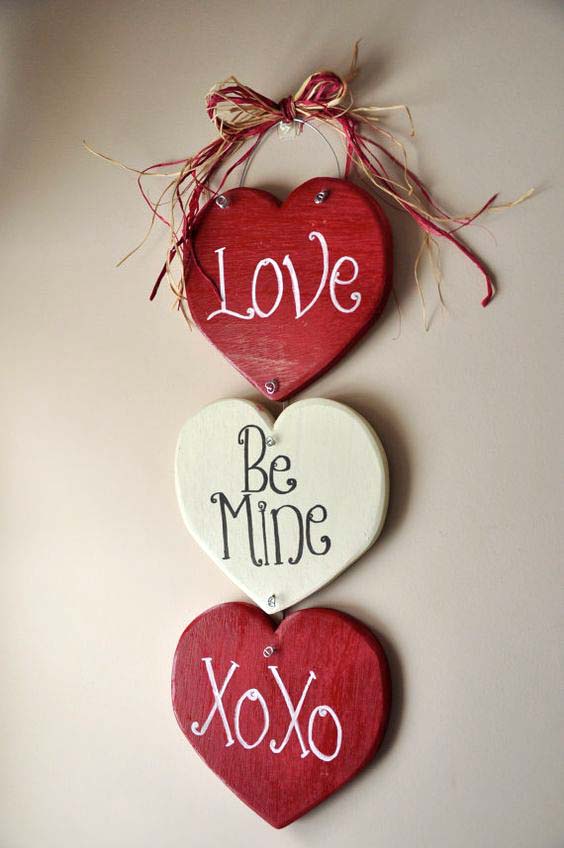 Using heart shapes and red paint, you can paint different Valentine's sayings. Then attach them all together for a Valentine wall hanging.
44. Make DIY Window Decor with LOVE Letters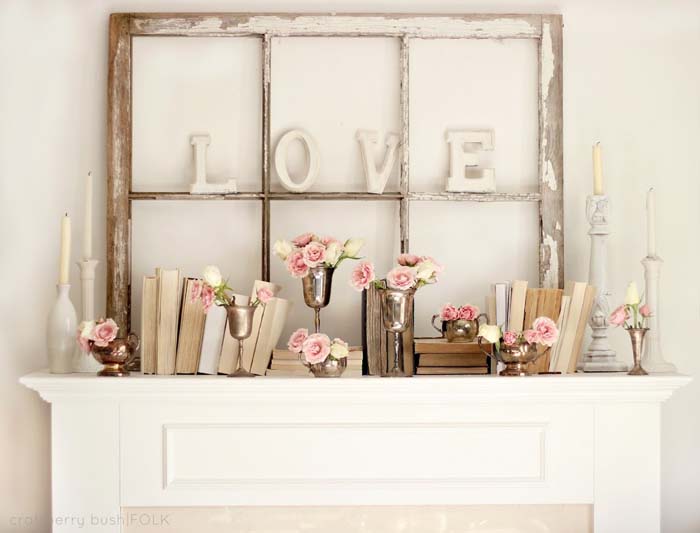 Using a vintage window and white paint, you can distress the window. Then put the wooden LOVE letters inside.
via Craftberry Bush
45. Make Valentine Decor with a Red Heart on Classic Wood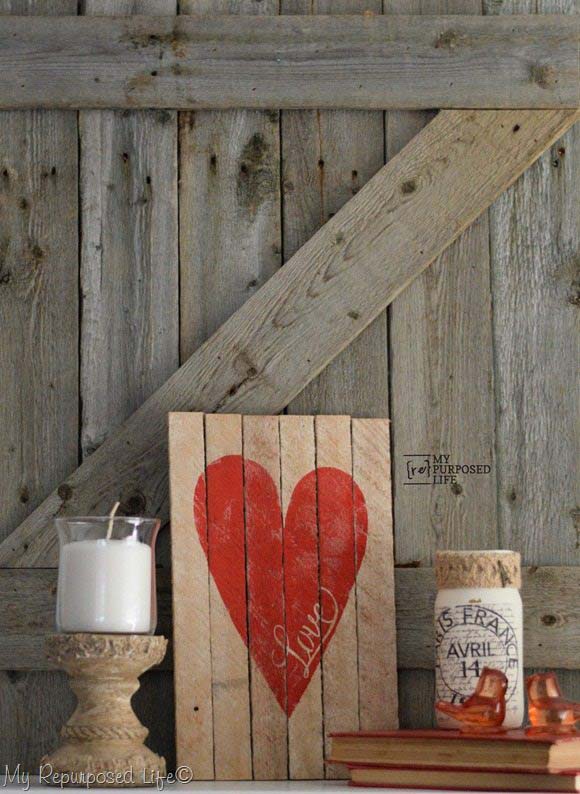 Classic wood can be finished. Then paint a red heart on it. It is a simple Valentine decor piece.
46. Write a Red LOVE Sign on Pallet Wood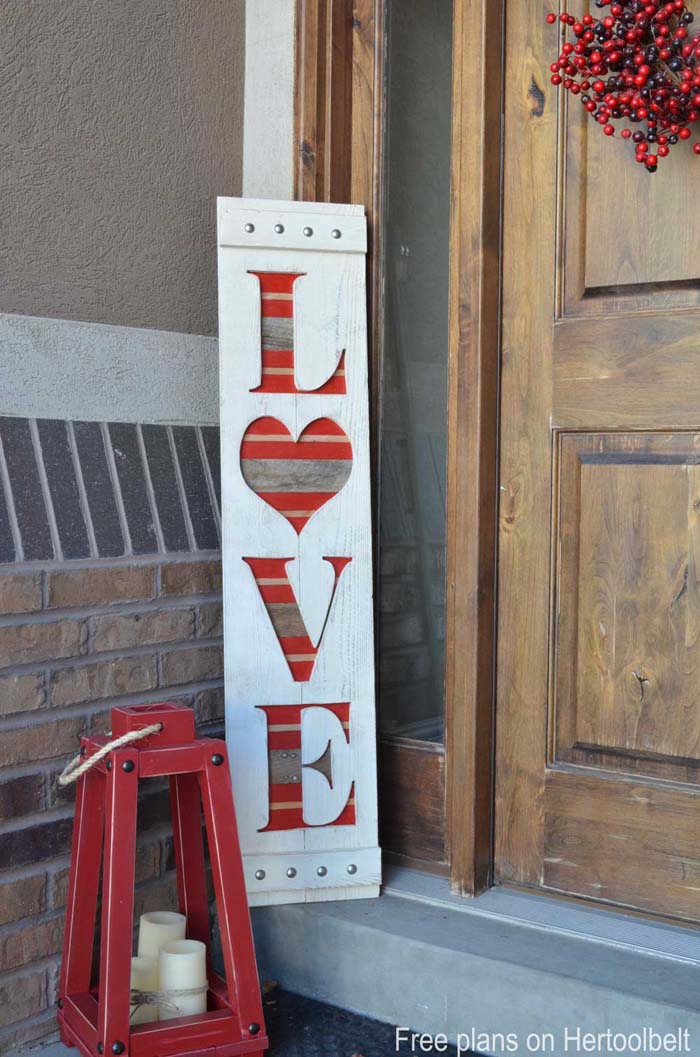 Paint striped red LOVE on the side of a piece of pallet wood. The wood looks even nicer white.
via Her Tool Belt
47. Distressed Wood X Shape with Red Hearts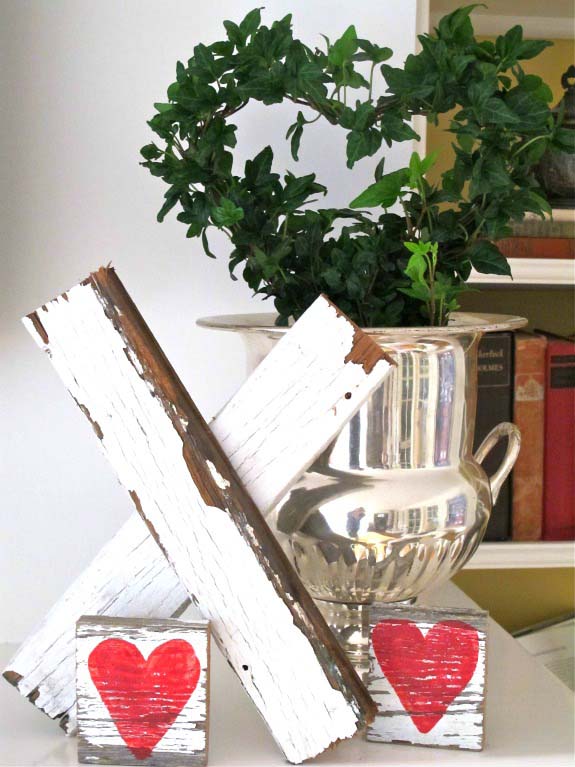 Distressed wood can simply be put in an X shape. Then add small blocks with red hearts to finish the look.
via My Soulful Home
48. Make a Custom Tree Heart Decor with Name Initials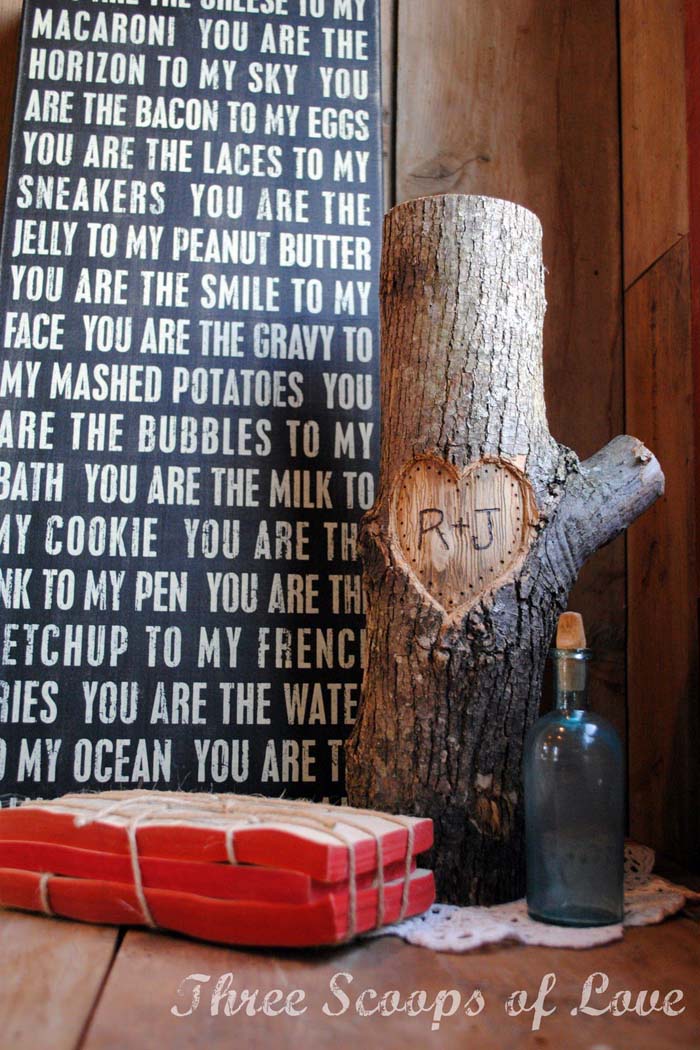 For a larger piece of Valentine decor try this tree stump with a heart carved in it. For a more personalized look, try scraping your initials in it.