Mulching is a fantastic solution for a lot of problems in your garden. Besides providing moisture for plants, it's a weed control expert.
If your yard looks a little drab, consider using red mulch to brighten up the landscape. Red mulch landscaping ideas bring added dimension to your home.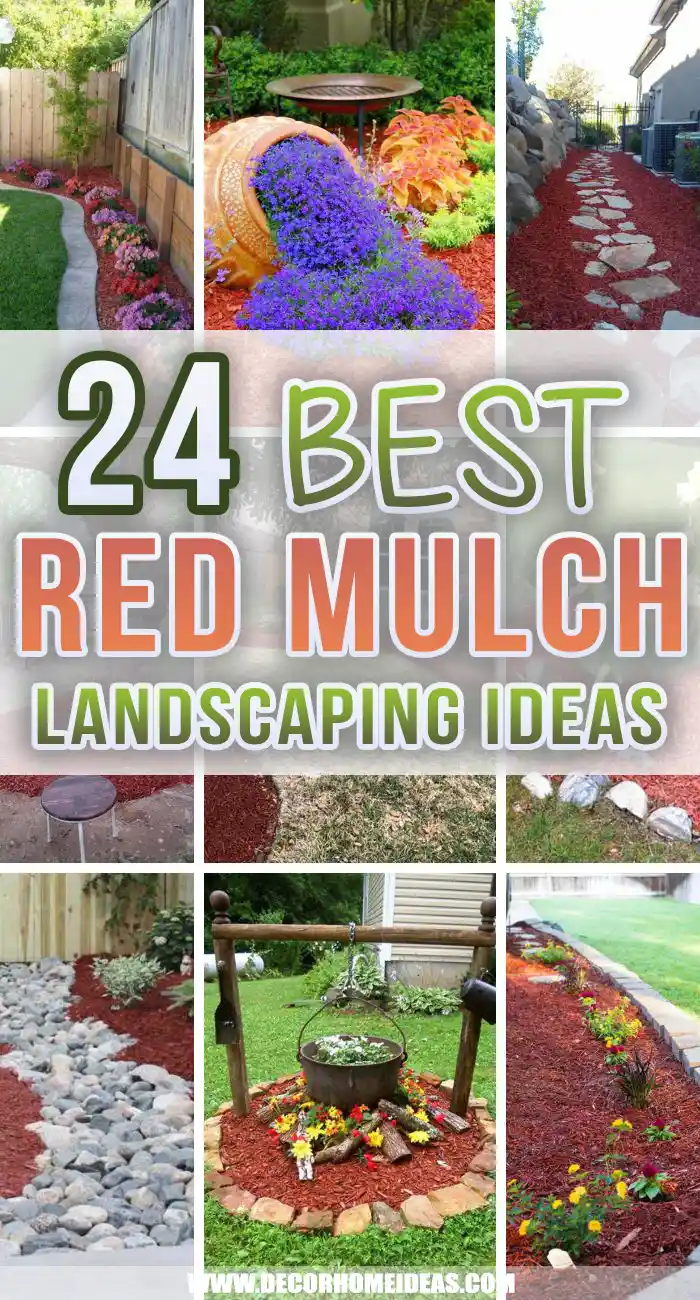 There are so many reasons you can use mulch in your garden. Basically, it's like a topcoat that holds your garden together. It holds onto water, which lowers your water bill. It reduces erosion and, as it deteriorates; it provides nutrients for the soil.
Mulch comes in three basic colors; brown, black, and red. Of course, black and red are not natural colors. Dyes are added for varying aesthetic properties. Red is a vibrant color and we've collected twenty-four red mulch landscaping ideas to show you what's possible in your garden. 
You can choose from different types of wood mulch, too. Pine bark mulch and cedar mulch are two excellent choices.
If you're concerned about your larger plants getting enough moisture, consider using shredded rubber mulch. Rubber mulch allows water to pass straight through to the ground.
What goes with red mulch? Red mulch is great for flower beds with a lot of gold tones. It also works with terra cotta.
Why do people buy red mulch? People use it in rock gardens and when they want to brighten up plants that seem to fade into the soil.
Is red mulch out of style? Not really. It depends on what type of garden you have and what you're trying to achieve. Not only does red mulch stand on its own, it can be blended with brown mulch to achieve a deep shade of brown.
Fading mulch doesn't have to mean buying more bags. Liquid mulch dye will make your mulch look like new. It's safe to use around kids and pets but keep them away from it before the dye has dried. Wet down any brick or wood prior to spraying the dye. 
As time goes on, we see more people experimenting with red mulch landscape ideas. Keep reading to see what they're doing.
1. Red Mulch on a Sloped Yard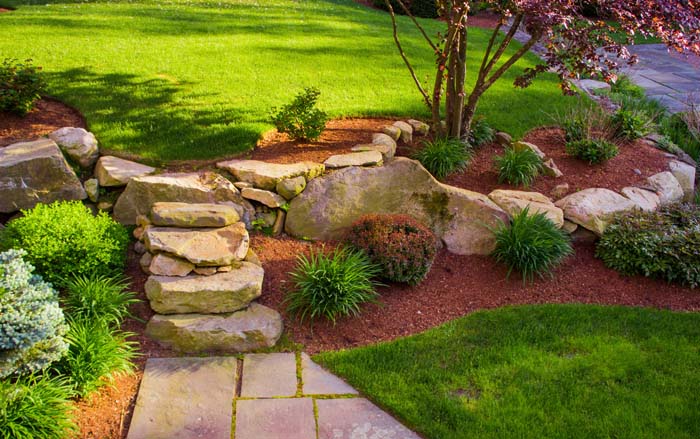 Mulch works to slow down erosion on a sloped landscape. The red mulch here acts as a nice framing for the larger stone steps and stone fence.
2. Brighten Dull Corners Around Your House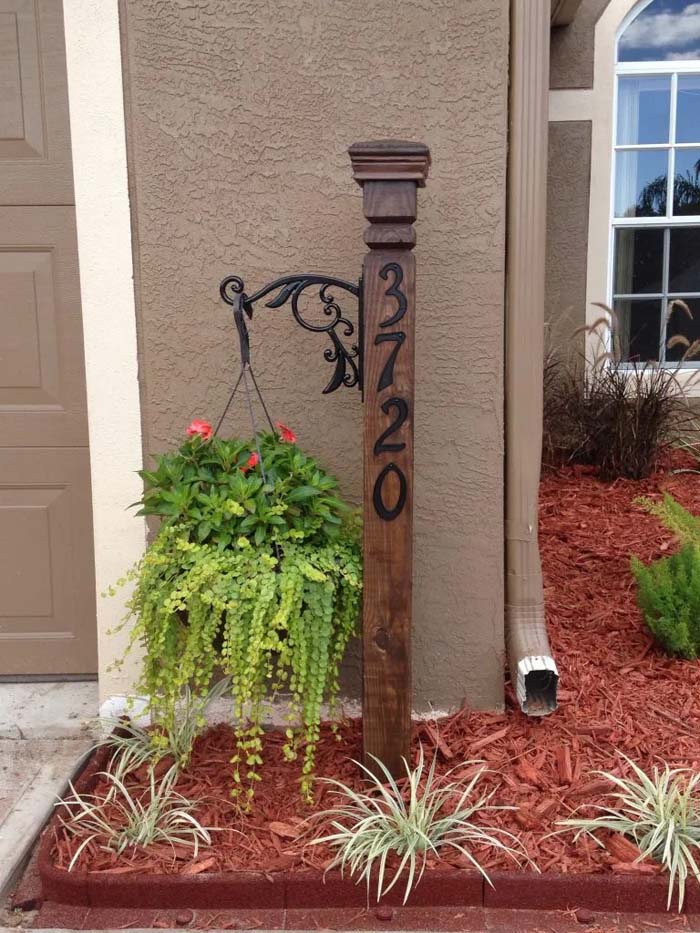 Red mulch accents the red undertones in the brown paint of the house.
It will absorb a lot of the water from the gutter runoff. Using a natural wood mulch will hold moisture for the garden bed.
via Shanty 2 Chic
3. Red Mulch Flower Bed Garden Bed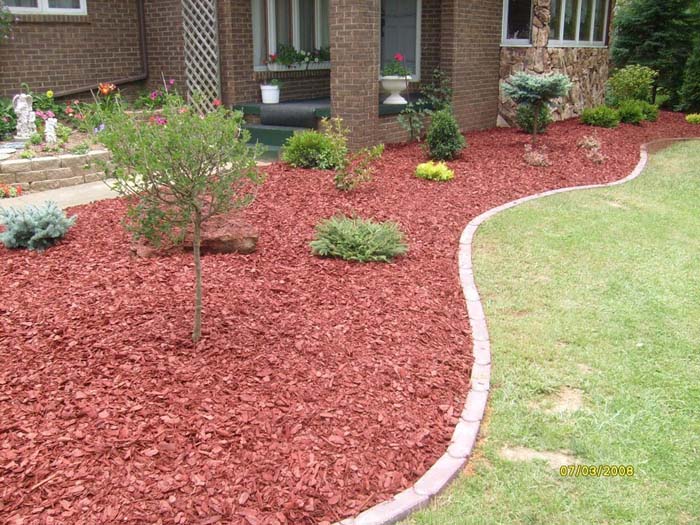 Think about using mulch as a separating element in your landscape. The red mulch works against works to complement the brown brick of the house.
Black mulch could be too dramatic and brown mulch would simply wash out the color.
4. Use as Backdrop for Low Garden Bed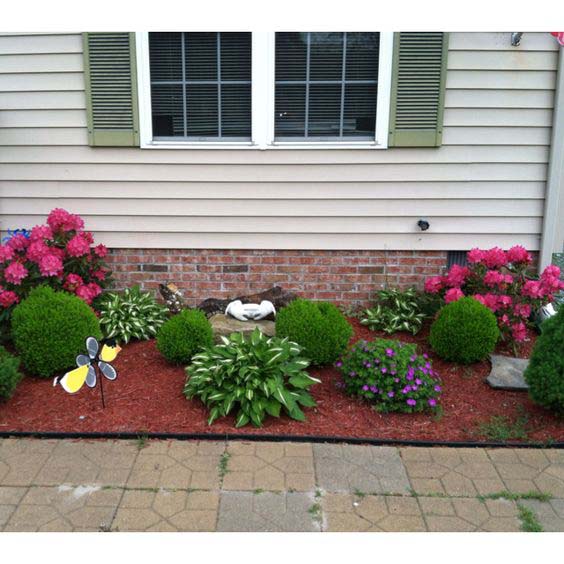 A red mulch bed with smaller particles works in a low garden bed between red brick and cement stamped pavers.
It brings moisture and nutrients to the new shrubs and groundcover. It will also slow down weed growth.
5. Substitute Red Mulch for Gravel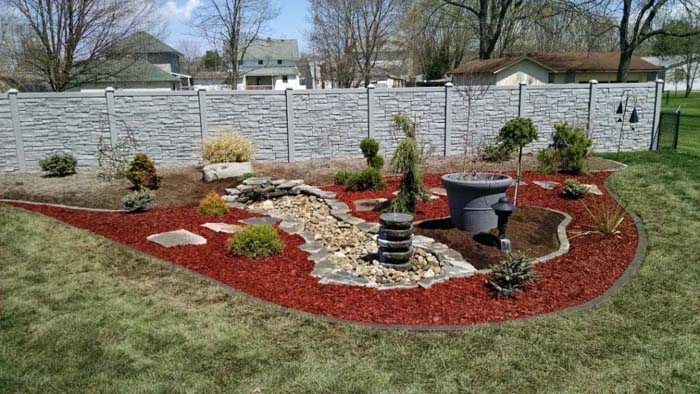 Red mulch works as its own decorative element in landscaping.
24 Beautiful Red Mulch Landscaping Ideas video:
Look how this landscape scene shows off its unique elements like it's telling a story. if black mulch was used, it would be more dramatic, but the gray fountains and larger planters would fade into the scene.
6. Create Separation Between Grass and Steps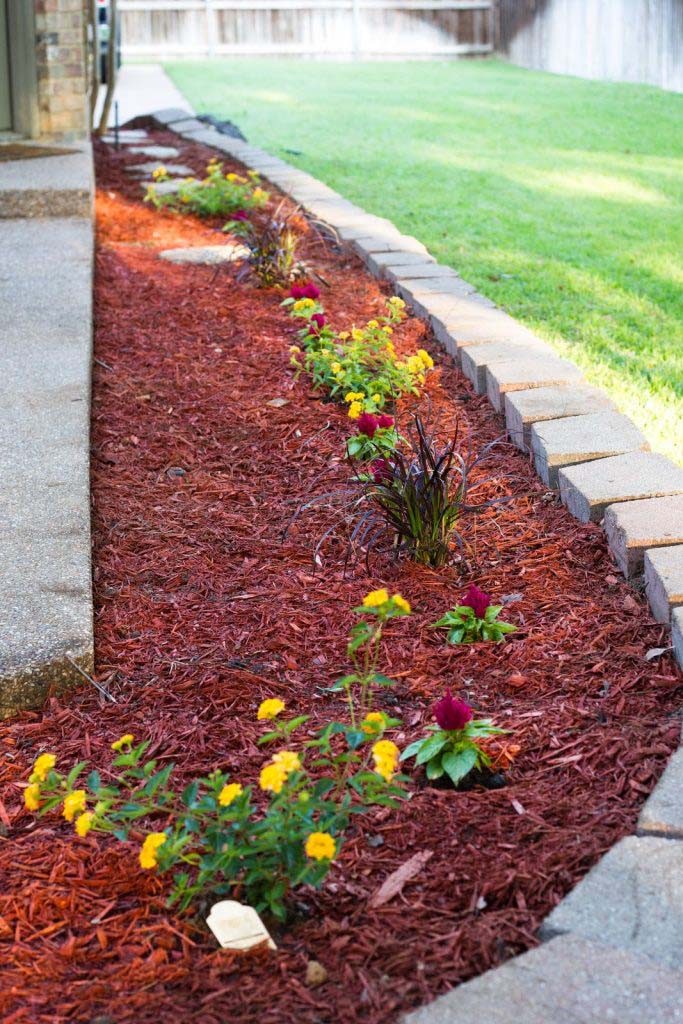 A mulch bed with beautiful yellow flowers creates an aesthetically pleasing separation between the grass and the driveway.
You can also use this red mulch landscape idea to create separation between the lawn and concrete stairs. It acts almost like a caution sign, reminding guests to watch their steps.
via Downtown Blabby
7. Red Mulch Lets Your Flowers Glow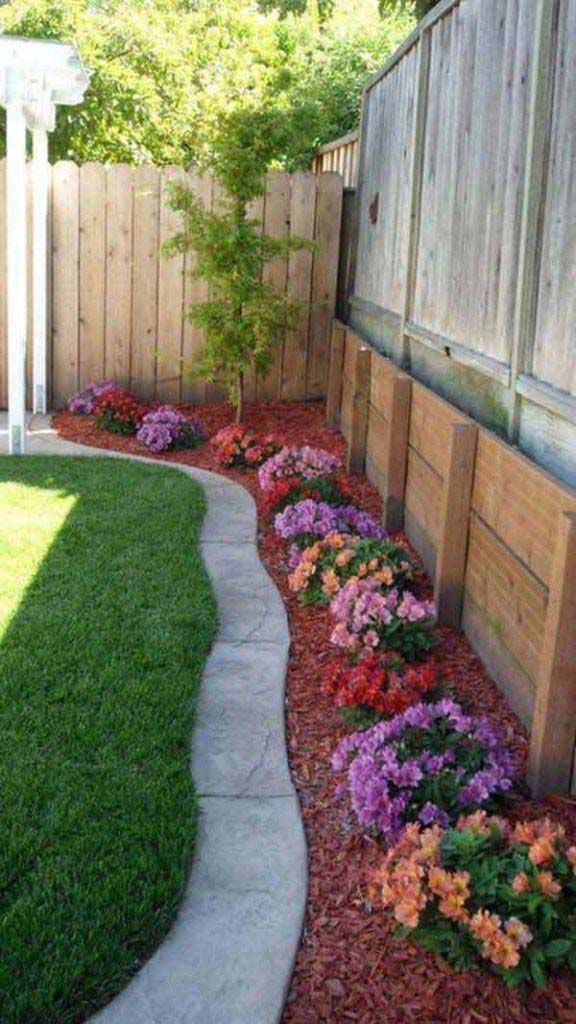 The brightness of red mulch is tempered with brown mulch. Its yellow undertones work well with the backdrop of a low wood and fence. You can work a bed like this with any type of bark mulch.
Black mulch would have a different effect, especially with the wide stamped cement edging.
8. Create Unusual Garden Beds With Red Mulch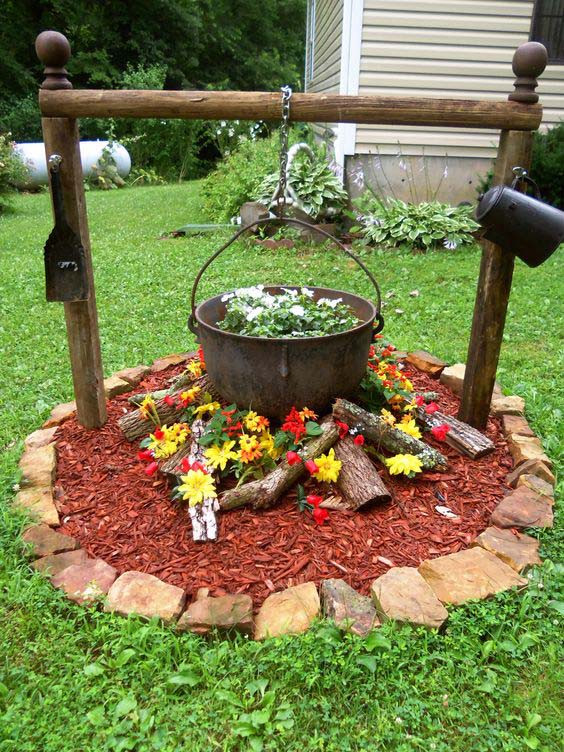 This flower bed is set up to look like a cook's station as part of a wagon train caravan. The cauldron is set in the center, with large stones around the perimeter creating the fire pit.
The red mulch bed works well to create the idea of burning embers.
via The Whoot
9. Raised Garden Bed With Red and Brown Mulch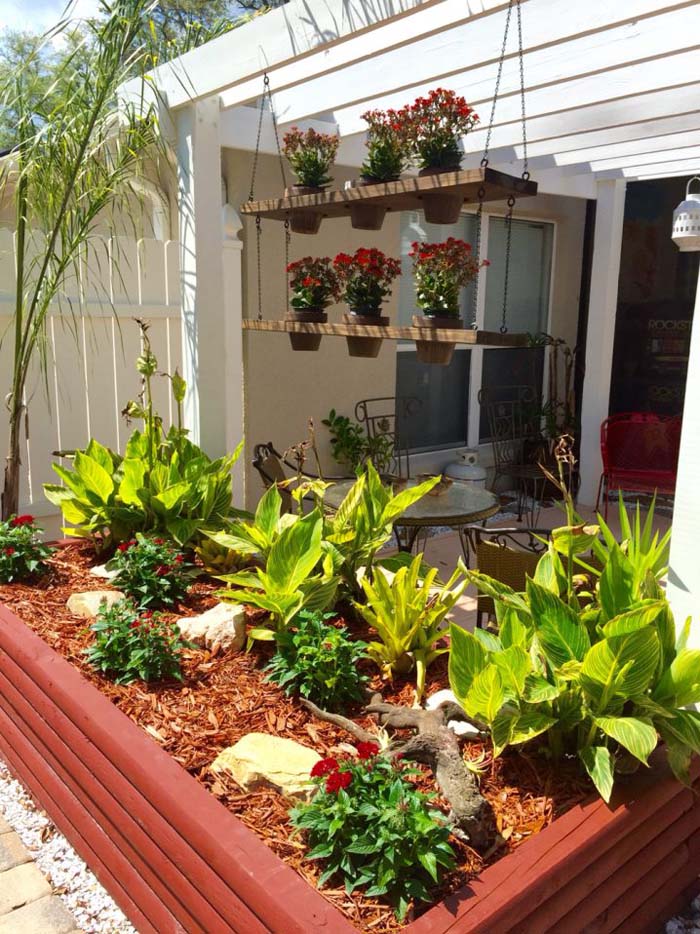 Combine red and brown mulch to bring a deeper brown color to your landscape.
This red raised garden bed works with the yellow hues in the antique white door and home.
10. Spread Red Mulch Around a Tree Trunk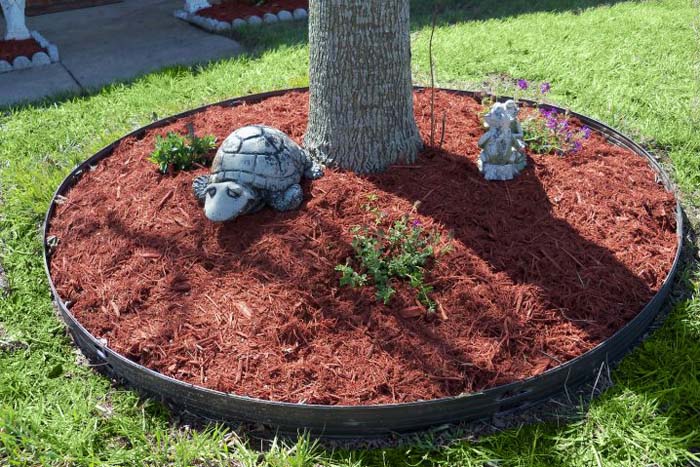 A small garden area was added around a tree trunk.
The wood mulch will hold water for the tree and prevent any mishaps with exposed roots.
11. Red Mulch in a Dry Riverbed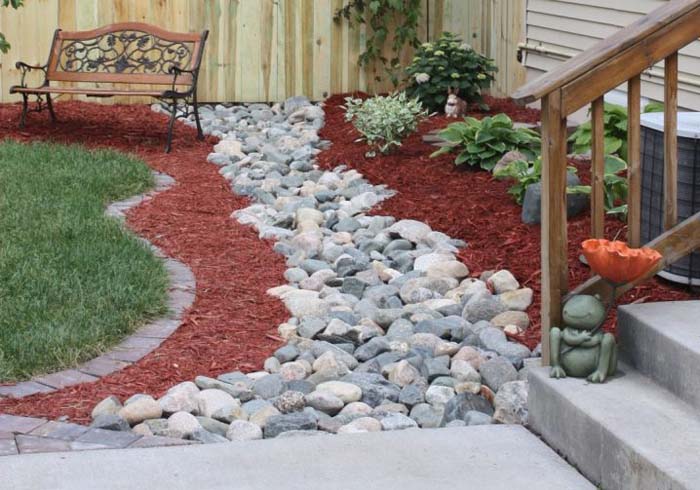 The dry riverbed works not only as a decorative part of the landscape, it also functions as a method for collecting water runoff.
It will hold moisture for the groundcover and the bulbs growing in the background.
12. Use Red Mulch in Your Hardscape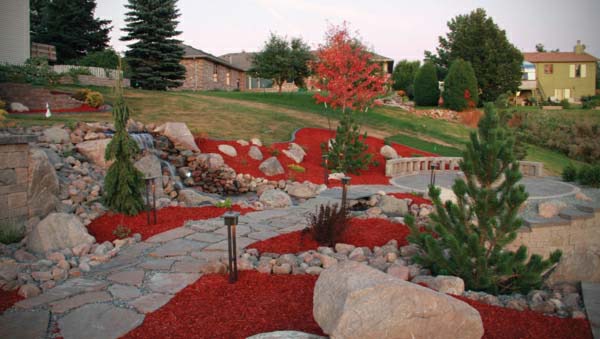 Red mulch works well in this Xeriscape on a slope. It prevents erosion and is a good substitute when you want the look of red clay.
Don't use mulch nuggets on hills. Their weight will bring them down and contribute to erosion instead of preventing it.
13. Red Mulch in Garden With Rock Edging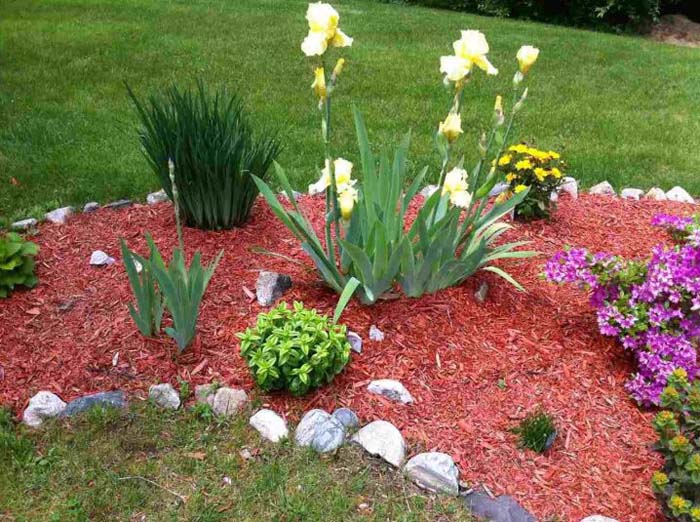 Red mulch can be used in any kind of garden setting. We can see how the flowers and green foliage stand out against the red background.
It creates a distinct barrier between the lawn and the garden.
14. Red Mulch Brings out Colors in Terracotta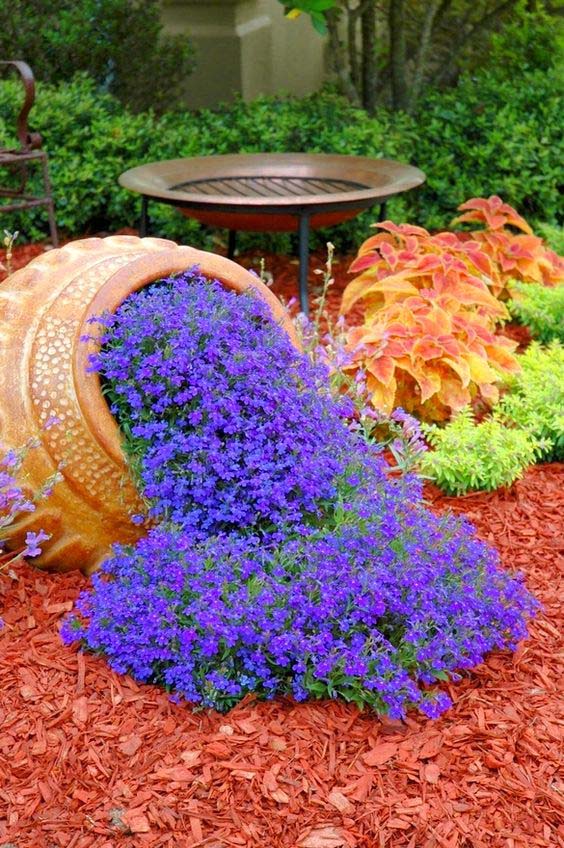 The flowers pouring from this container get an extra pop of color because of the red mulch. Using black mulch or brown mulch would have a muddy look.
Terracotta and red mulch is always a good pairing.
via Interior Holic
15. Use Red Mulch as a Walkway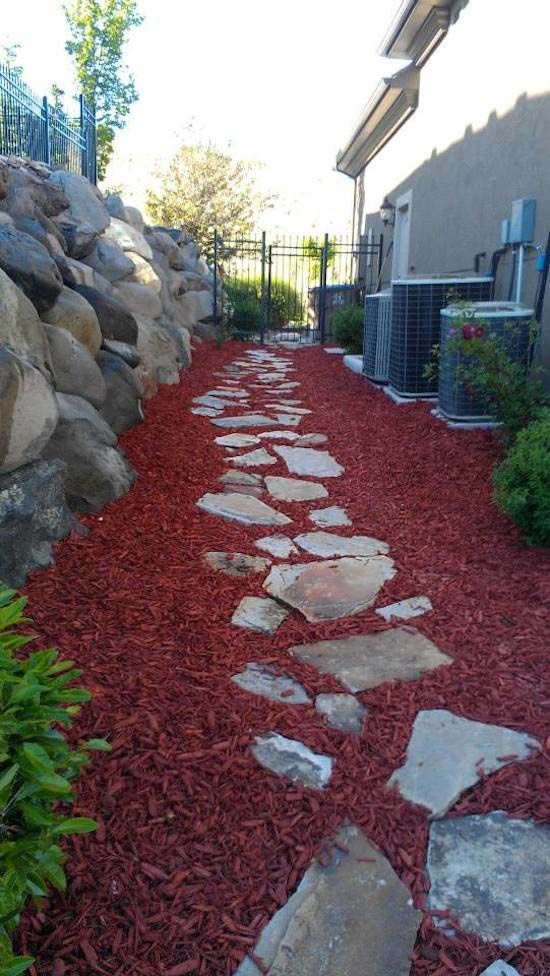 Here's an effective way to lower the maintenance of this building. Using red mulch is a cost saving measure. There's no lawn to mow, and it secures the pavers. Gravel can be hazardous around machinery. 
Depending on how quickly a path clears of rain runoff, you may want to think about using shredded rubber mulch in your landscape. You'll see less puddling as the water runs straight through the mulch.
16. Quick Garden Bed Project With Red Mulch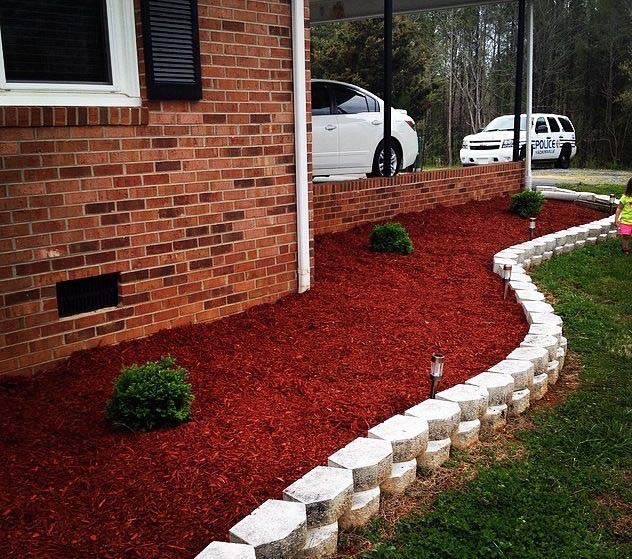 This is a project that can be done over a weekend. Build a garden bed using precast bricks from your home improvement store. Lay down a weed barrier cloth. Drop some soil at the base and add a few shrubs. Top it off with red mulch and add some inexpensive solar lights.
The easy part here is that only the edging needs to be on level ground. Mulching means you don't have to be precise as you just fill in until it's level on top.
17. Red Mulch in a Center Garden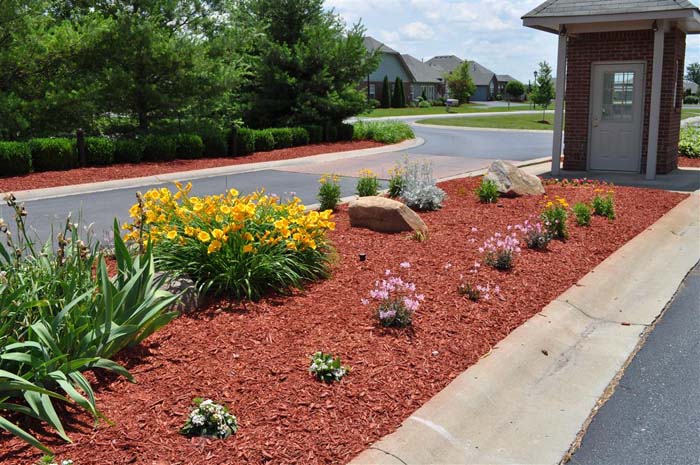 The red mulch here shows how vibrant it looks against black asphalt. The yellow flowers pop in the garden bed.
Most areas like this use red rubber mulch because it keeps its color for most of the season.
via McCarty Mulch
18. Use Red Mulch in a Raised Garden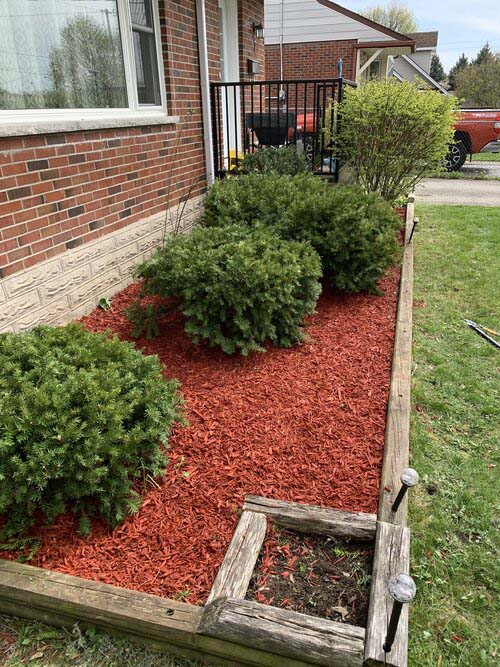 A small raised garden uses railroad ties for its edging. The red mulch and gray coloring of the wood complement the brick house. Mulching holds water for the shrubs as they fill in.
via Brothers LPM
19. Cover Roots Around a Tree Trunk With Red Mulch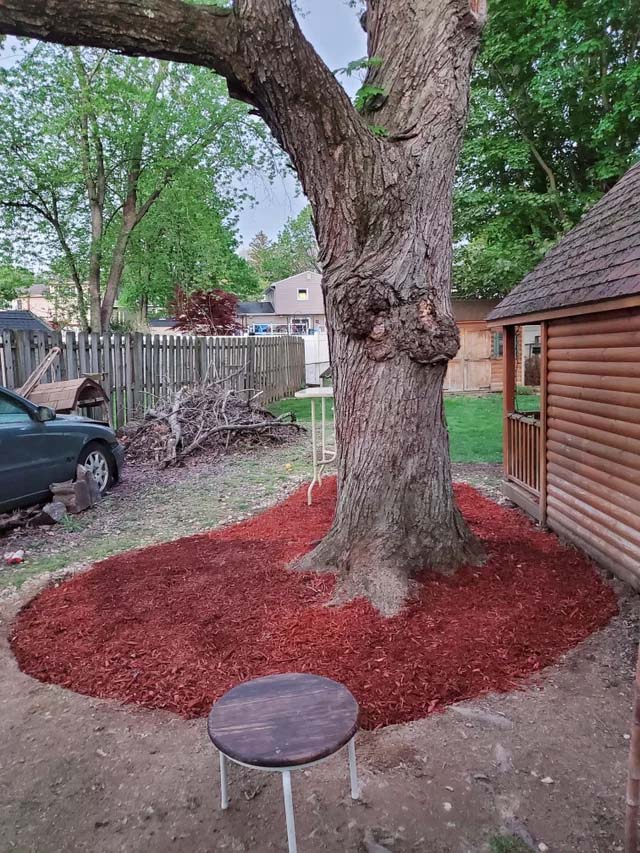 Older trees will always start showing their root systems. It's easy to cover them with mulch.
The red mulch chosen here works against the cabin's brown color.
via Reddit
20. Bring More Color to Your Landscape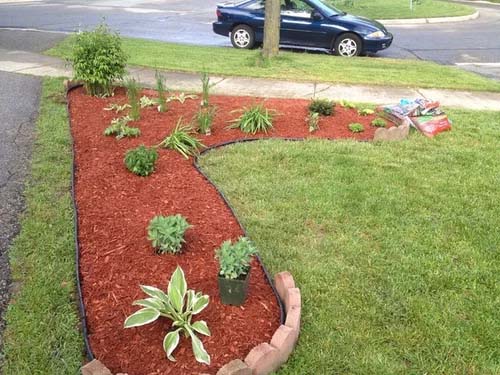 This green ground cover would be lost against a black mulch. Red mulch helps it stand out until it can flourish on its own. The mulch will provide nutrients as it decays.
via Houzz
21. Red Mulch Creates a Colorful Path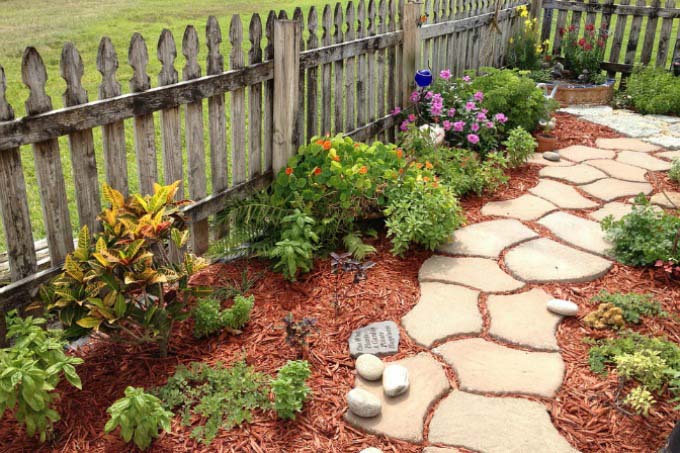 Red mulch works well against this picket fence. It helps the colors pop and brings out the yellow hues in the pavers.
22. Use Red Mulch on Garden's Retaining Wall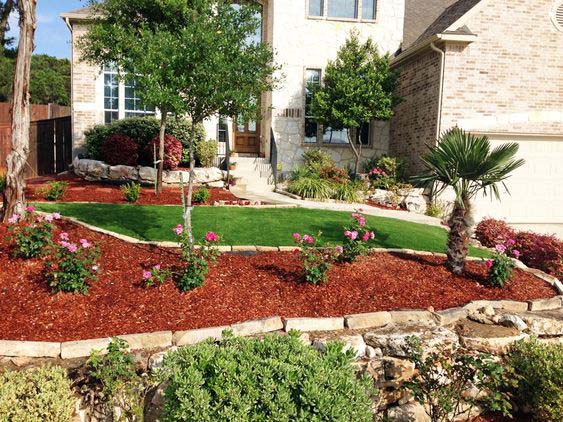 Many garden flowers don't have long blooming seasons. In hot climates, red mulch keeps the color going along the top of this lawn.
23. Red Mulch Landscape Ideas Add Curb Appeal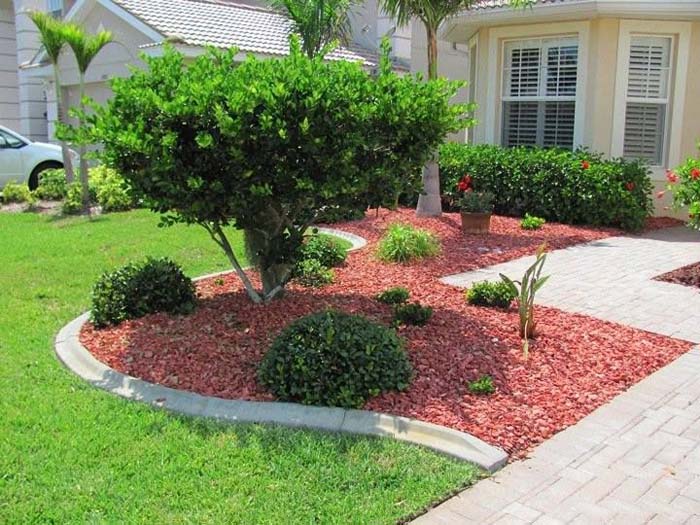 Yellow undertones in red mulch bring out the green in the foliage. It also works with the yellow home. The landscape slopes towards the street.
By using poured cement edging and mulch, any runoff will be contained and stored for the thirty bushes.
24. Red Mulch With Brown Brick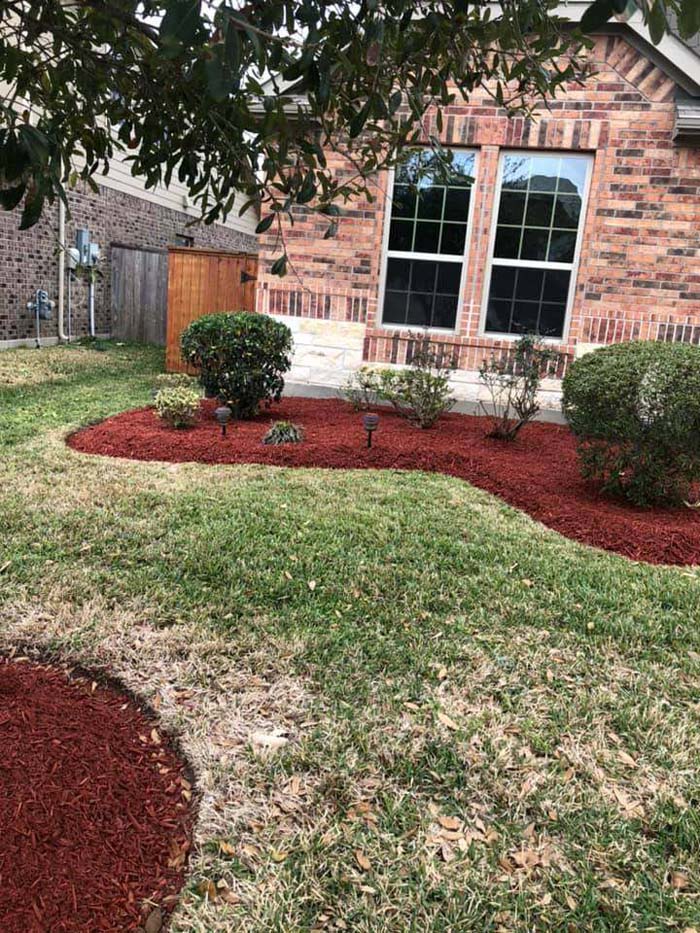 A brick home uses deep red mulch to bring out the red in the brick and to let the plants stand out in the front garden.