Are you planning to repaint the outside of your house tan or beige? Picking the right combination of exterior house colors can be challenging.
We've put together a collection of tan house color schemes to help you narrow down your decision on which trims and color palettes are right for your home.
Tan is a versatile neutral color, making it an ideal starting point for a variety of exterior home styles.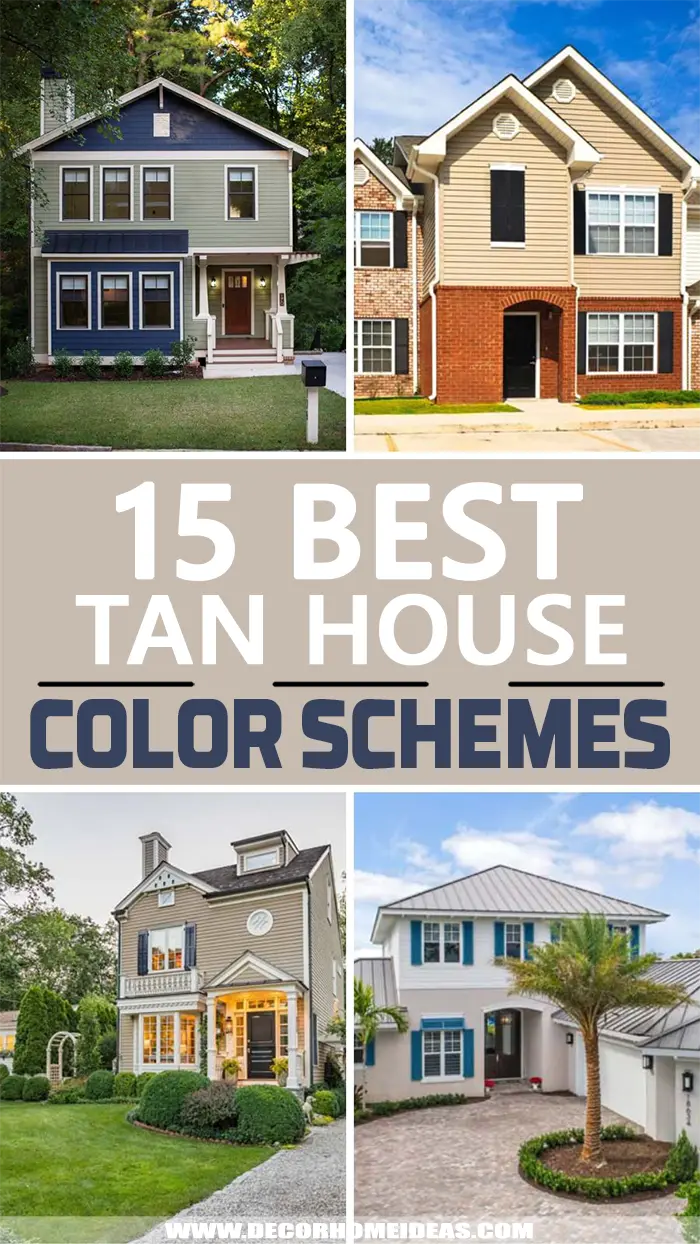 What colors go well with a tan house?
While not as versatile as a gray house, a tan house allows you to choose from a range of bright and subtle colors. It also isn't as stark as a white house.
To bring out the warmth in rich earthy tones, paint trim colors such as light grey, deep red, burnt orange, mustard yellow, and sage green. For a more bold statement around windows and doors, opt for navy blue or hunter green for a modern look.
What is a good accent color with tan?
 When choosing the right trim color for a tan house, you have some excellent options. A bold accent color will really make the home stand out and create an inviting atmosphere.
Navy Blue. Choosing navy blue will add an air of distinction to the exterior look. Navy blue also brings in some contrast, as well as creates a luxurious feel for the property. 
Black or Charcoal Gray. These two are good choices when you want to keep things subtle and neutral but still have a touch of contrast with your tan-colored walls. 
Cream or Off-white. These two accent colors are unexpected, yet classic. Try adding cream or off-white colored accents that can bring in warmth and lightness all at once. These colors pair very nicely with most shades of tan, regardless of whether it's more yellow or brown toned.
What colors go with beige houses?
When deciding on trim colors that go with a beige house, there are a few options to consider. First, it's important to consider the style, primary interior paint color, and overall look of the home. Is your home decor style more modern or traditional?
Darker colors such as black and navy blue can provide an elegant contrast against a lighter beige color and can add an updated look to an otherwise plain old house. For those who want something brighter, shades of white like cream or ivory can create a minimalistic yet chic look. 
Light blues and greens also work well with beige homes as they create bright pops of color while still maintaining a classic feel. This is particularly useful if you'd like to make the trim stand out from the rest of the house in order to highlight features such as window frames or doorways.
Many people often confuse the difference between tan and beige. Taking a closer look, there are distinct characteristics that set them apart and it's all about the undertone.
Tan is a warm color with yellow undertones. It's derived from the combination of brown, black and white pigments, which give it a slightly muted appearance.
Beige has pink or red undertones which makes it appear much brighter than tan.
1. Forest Green, Tan, and White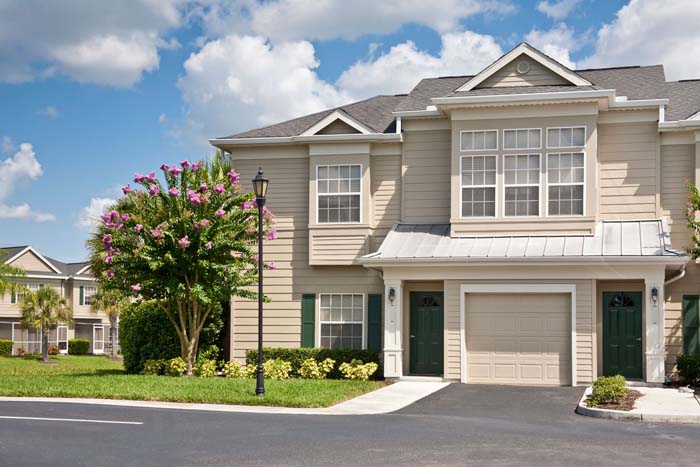 Accent colors can bring out the best in a home or make it look dull and lifeless.
The forest green doors and window shutters contrast with yellow undertones of the home's tan siding, making it pop.
2. Bungalow Brown and White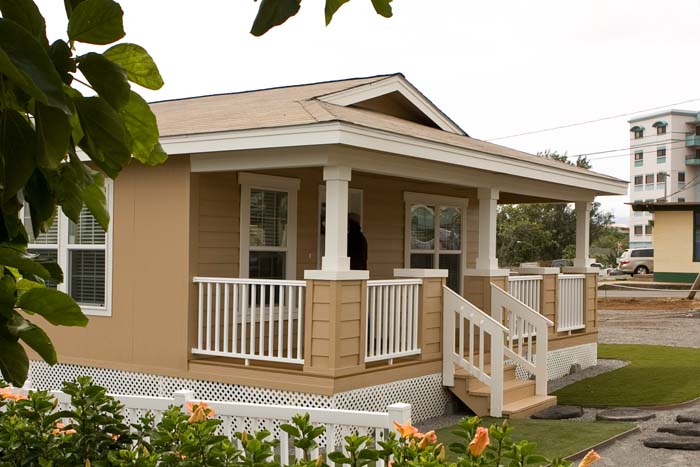 A deeper tan color is a warm contrast to the pure white trim and skirting.
The light brown roof brings up the tone so it doesn't start to feel heavy. It's a great example of how to implement a two-tone color scheme.
via Fabmac Homes
3. Black and Painted Brick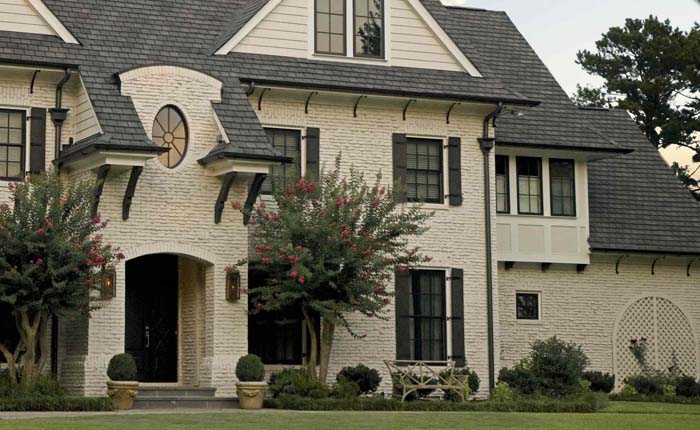 Painting brick is much easier than it was twenty years ago. This opens up opportunities to introduce a modern color scheme to an old house. A traditional home with heavy Tudor influences has a more modern look by using tan and black.
Sherwin Williams Universal khaki is a solid choice to replicate this beige color. Cotswold by Benjamin Moore is another paint color that works here.
4. Tan, Basic Black, and White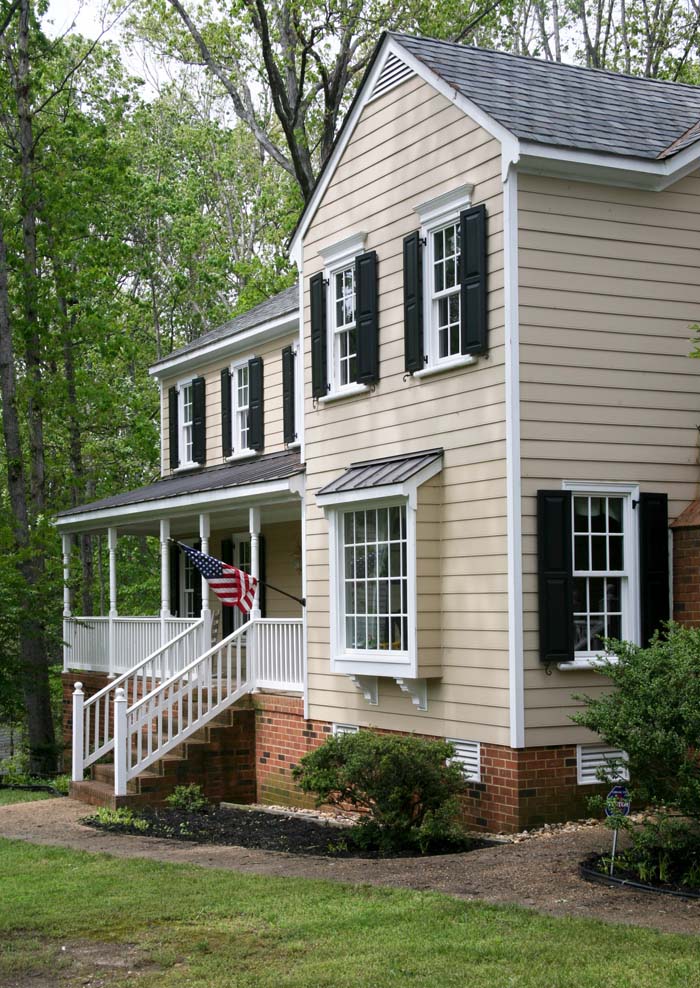 White trim and black window shutters will make any exterior paint color stand out.
The light shade of tan sits on a layer of reddish brown bricks. The brick color makes the tan body color pop even more.
5. Tan and White on Mediterranean Style Home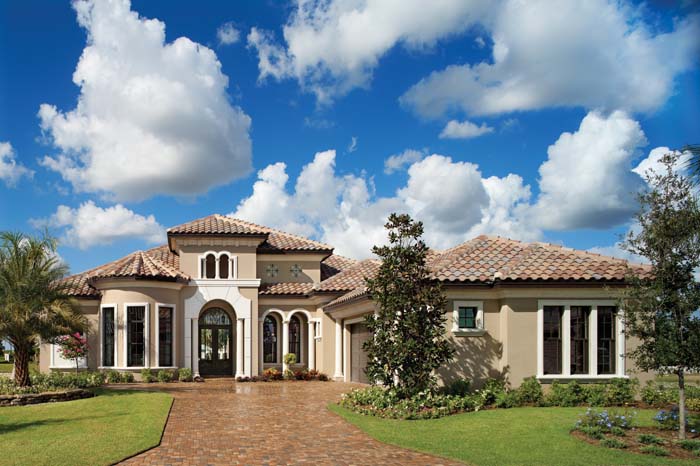 The earthy browns of the tan siding work well with the terracotta roof tiles and reddish brown driveway.
Taller green trees and a green lawn bring out the  yellow undertones of the Mediterranean style home's exterior paint color scheme.
via AR Homes
6. Brown, Black, and Tan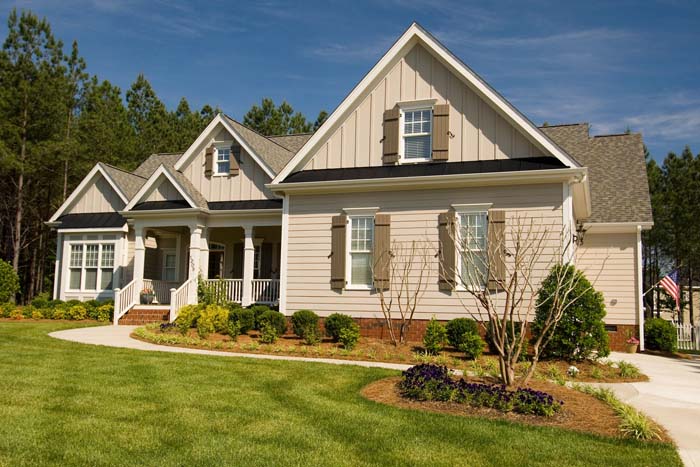 This house uses various tan tones to give it a rich appearance. The basic beige house color is complemented with awnings in dark brown, light brown shutters and top roof, brown brick skirting, and brown mulch.
White trim defines the sections while connecting the top floor to the bottom.
7. Mix Tan and White, Trim in Blue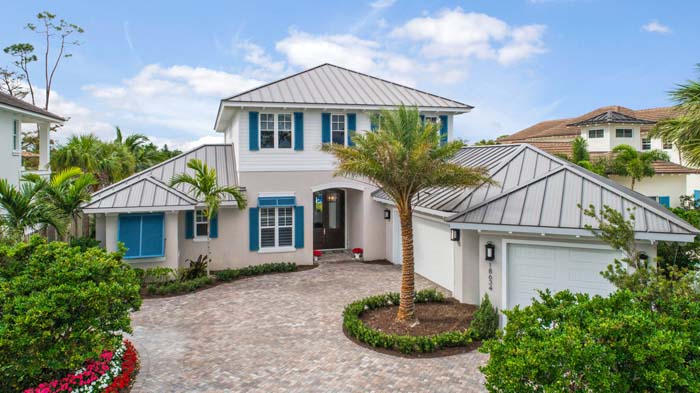 Painting the entire house beige would have made the second floor look awkward. The solution was to paint it white. The white paint color matches the garage doors.
A coastal blue trim on the window shutters not only adds character to the house, it unifies the top and bottom floors.
via PB Built
8. Navy Blue and Sage Green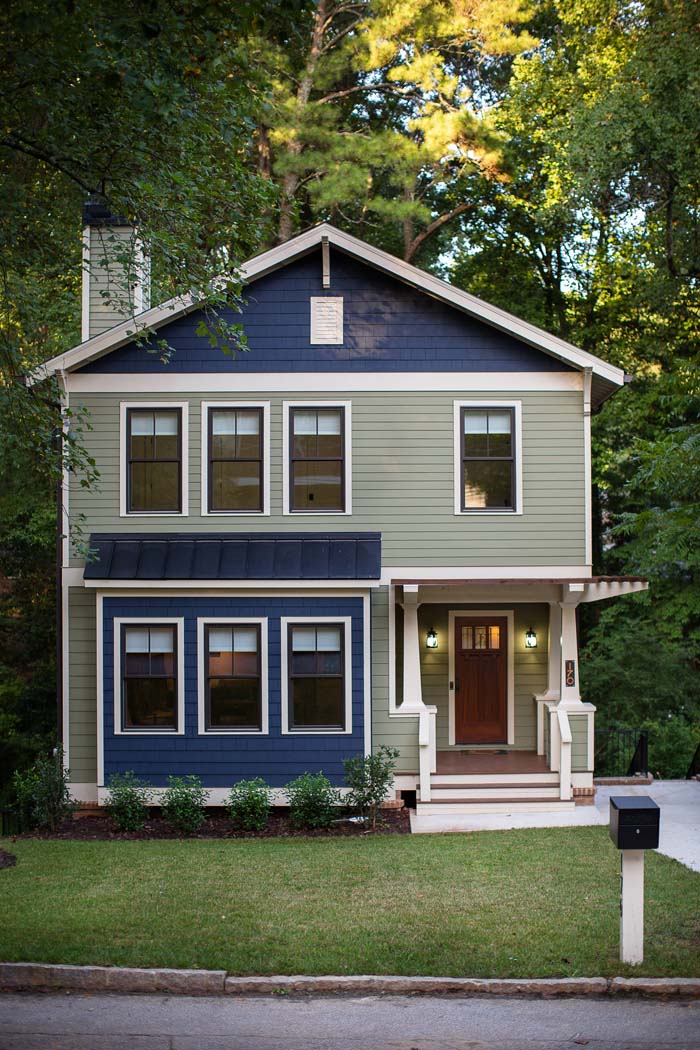 The foundation of this home is its simple geometric architectural design. Its simplicity paves the way for using a bold color scheme and dark colors.
Navy blue blocks stand out against the sage green siding. The undertones in the tan paint bring cohesion. The undertones of the dark brown porch and wood stain door color are in step with the overall color combination. 
9. Mix Dark Brown and Tan Siding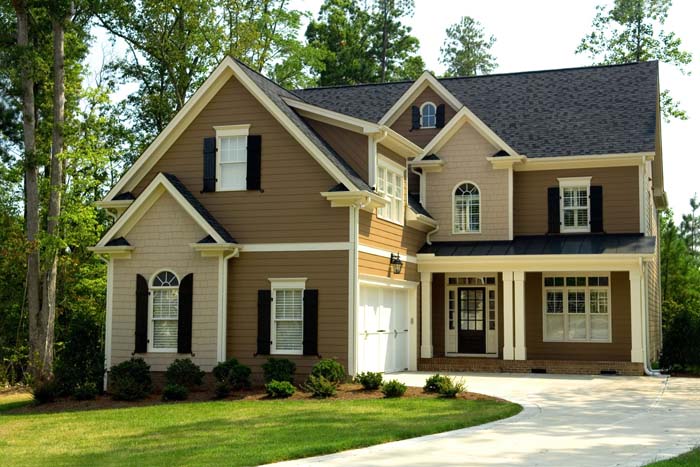 Here's an example of how bold a neutral palette can be. Black window shutters stand out against both the light and dark brown siding.
The beige trim color and black are the connecting spirits between the tan shades. The addition of white garage doors has little effect on the overall feel.
10. Black and White with Medium Tan Siding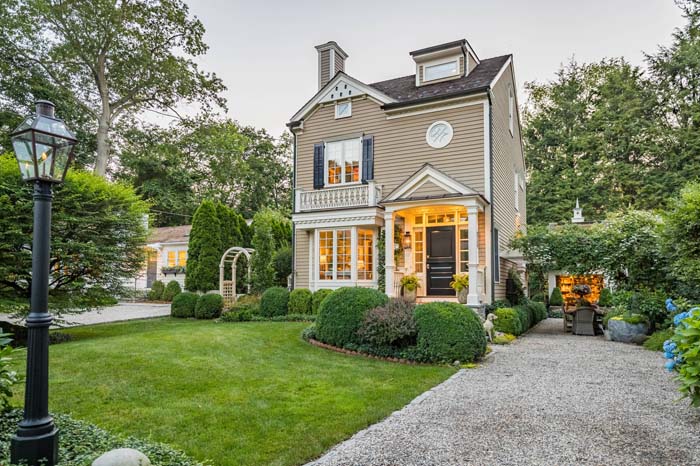 A Traditional style home looks stately among the trees. The tan color siding offers a nice contrast to the lush greenery. Black works as a subtle neutral in the roof, window shutters, and door.
The black connects all three floors of the house. The white trim accentuates all the architectural details, including the gable accents, widow's walk, bay window, and front porch pillars.
11. Light Tan Siding, Gray, and Dark Brown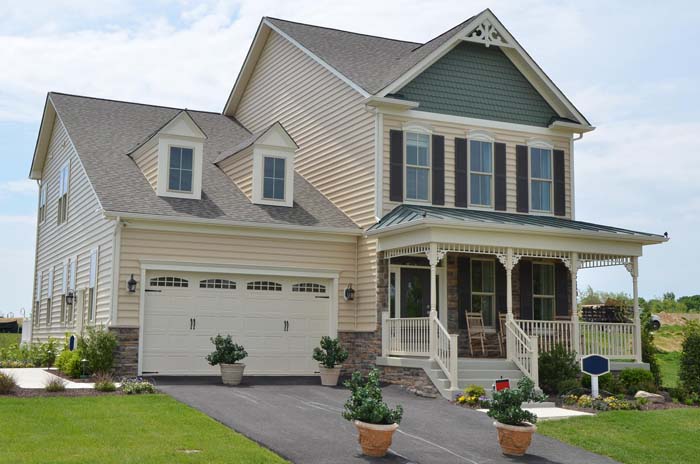 Here's another example of neutrals coming together to create great curb appeal. Tan vinyl siding gets help from both sides of the spectrum.
The deep brown window shutters add a uniform appearance. The beige trim outlines the rest of the home. The gray flashing under the front gable has green undertones, keeping the home from looking lopsided against the room over the garage.
via Bear Mountain Custom Painting
12. Bring in Colors From a Brick Facade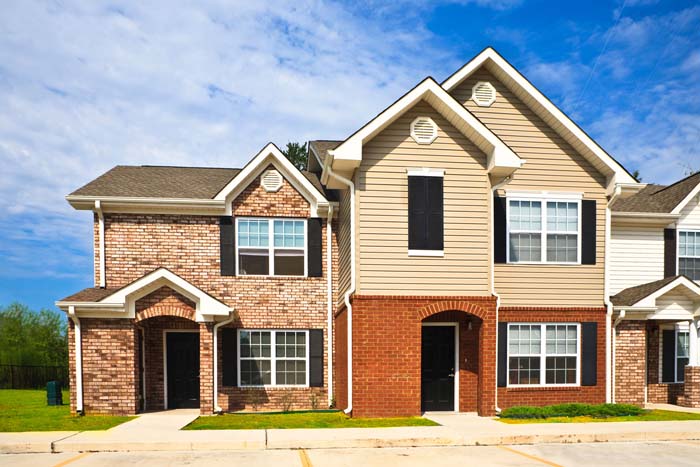 Exterior painting takes on a new challenge when you have to contend with brick facades. The easiest way to handle this is by calling out the brick colors separately.
The tan siding on the upper half and red brick on the lower level are from the colors in the all-brick facade. Dark brown window shutters and doors tie together the pieces.
13. Undertones Raise the Drama of a Black Roof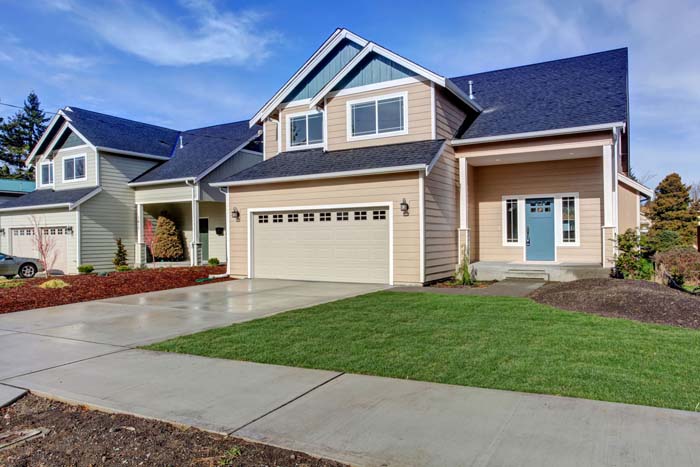 The black roof of this house cannot be ignored. A peachy beige brings energy to the home. The tan garage door adds a neutral to blend in with the driveway.
A medium shade of blue on the gables and front door add to the cheerful vibes.
14. Acid Wash Brick with a Black Roof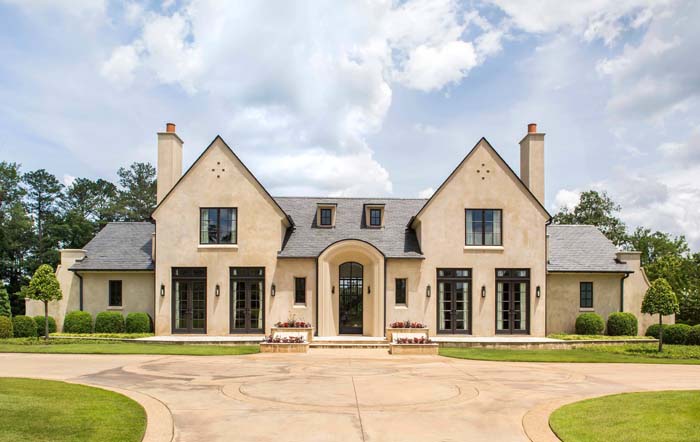 The transitional exterior of this country estate gets an Old-world look by using a paint wash effect.
The symmetry of this home is not subtle, so a basic black trim color is used.
15. Blue Brightens a Beach House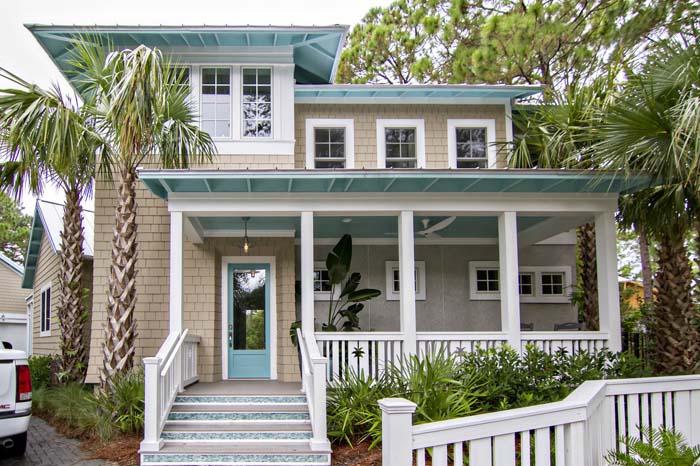 Don't be afraid to use a bright color in your color scheme. A transitional beach house gets some coastal style love with its teal metal roof, door, and porch stair risers.
A medium tan exterior color keeps the vibe cool. The neutral white paint looks great against any beach tan and doesn't disappoint.