Getting the right Christmas gift for everyone on your list is a difficult and most of the time expensive procedure. That will be completely changed today when you read this post.
Instead of wasting time wandering at the stores or scrolling the Internet for ideas, get inspired from our list of 40 Best Christmas DIY Gift Ideas.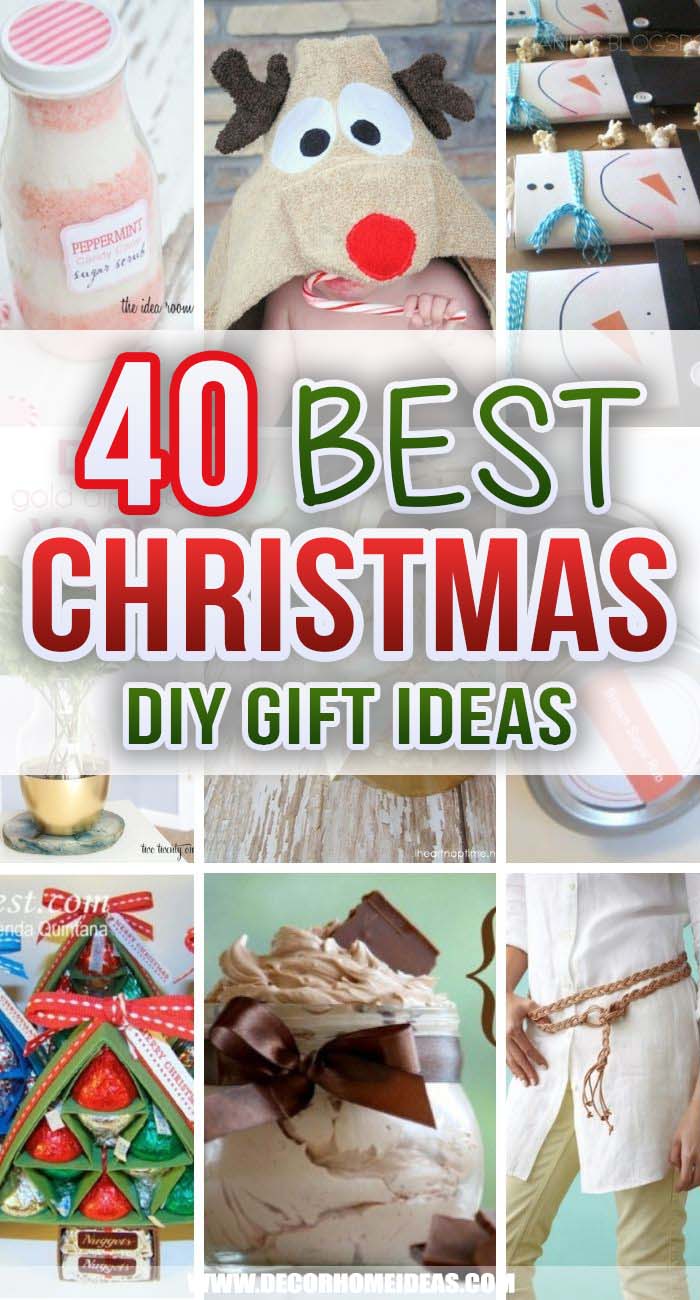 Making the Christmas gifts yourself will save you a huge amount of money and time and will make sure that the gift is suited to the preferences and taste of its future owner.
Don't be another gift giver! Be the gift giver that surprises with knowledge of the receiver and has involved thought and efforts to create a beautiful present that will be actually liked, used and kept.
1. Liven Your Christmas Party with Lovely Puns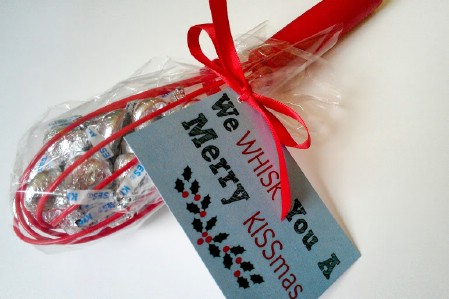 This gift is inspired by the thanks for the welcomeness of a hostess of a Christmas party. A pack of delicious chocolates is put in a silicone whisk, giving them an interesting shape for presenting.
The cellophane wrapping gives the gift a luxury wrapping and yet lets all inside be visible.
The Christmas gift finishes with a silk ribbon holding a humorous wordplay tag.
2. Impress with a Coastal-Inspired Wind Chime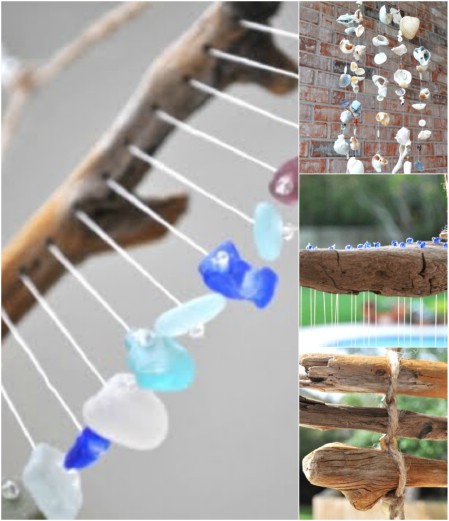 The wind chime is a wanted curb appeal feature for every home. Some people always want to have it but either don't have time to make it or keep on forgetting to buy it.
That makes the wind chime a wanted Christmas gift. Especially, when handcrafted, its essence and value for the receiver increase.
This chime idea takes us to the beach, a nice way to add summer nostalgia to the winter decor.
3. Give the Perfect Present with Customized Beadboard Gift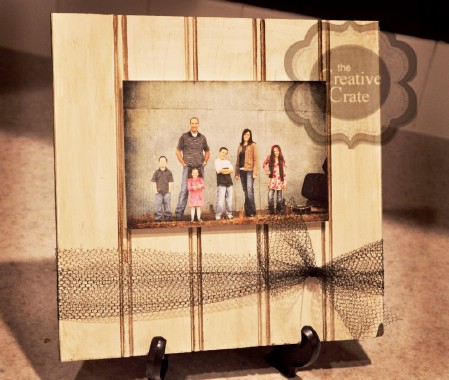 This is a super easy and affordable DIY gift that can be given for any holiday to a parent or grandparent.
The beadboard can be customized in size and finish. If you like the farmhouse look of the idea, then follow the instructions below.
In case you are going to use this idea as a Christmas gift, print out an image where the family is surrounded by festive decor.
4. Upgrade Wardrobe Gifts with Braided Bracelets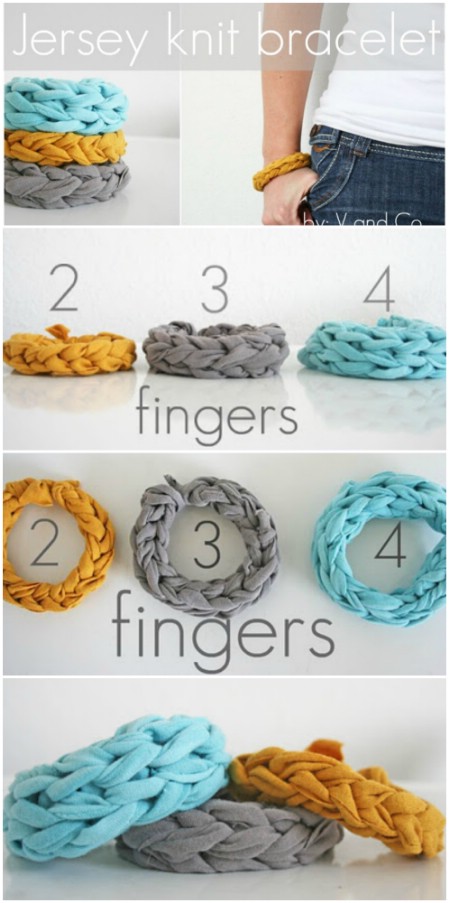 These bracelets are easy, super cute and fashionable. They are made by knitting strips of old jerseys that would otherwise be thrown in the garbage.
This recycling idea turns trash into treasure, the perfect gift for teenagers or toddlers.
5. Showcase Your Rustic Style with a Braided Leather Belt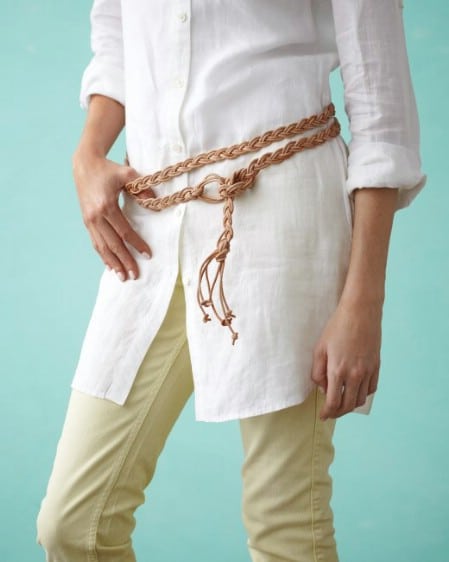 The long leather belts are a universal accessory every woman should have in her wardrobe.
The pattern suggested in the tutorial below is very fashionable and ensures an interesting outfit when added to a long shirt or a dress.
via Martha Stewart
6. Treat Your Skin with a Candy Cane Sugar Scrub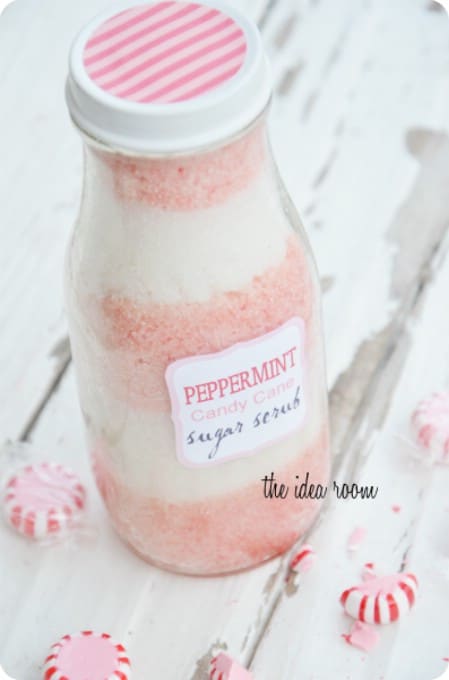 The sugar scrub is the perfect skin treat for the winter season. Colored in the stripes of a sugar cane puts it in our list of most-wanted Christmas gifts.
This gorgeous idea is a wonderful handmade gift that could be enjoyed by women, men and even kids.
Almond and peppermint essential oils add scent to the scrub that will ensure also a relaxing experience.
via The Idea Room
7. Bring Festive Cheer with a Chocolate Tree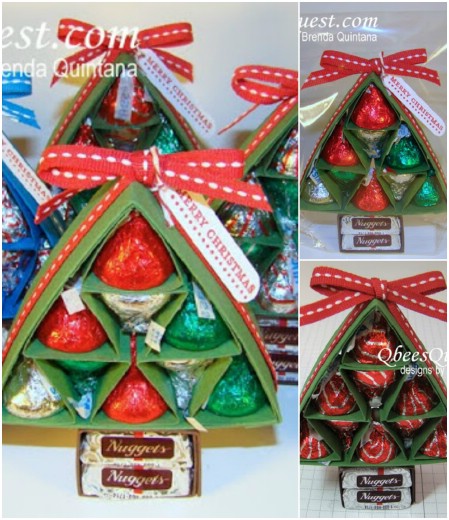 Hershey's kisses are so delicious and most times related to a special occasion.
Put them in a specially designed cardstock Pinetree to make the perfect Christmas gift.
We promise that your friends will be very happy and delighted by this tasty and charming personal treat and they even may not dare to try it.
via Qbees Quest
8. Make a Personalized Coffee Candle Gift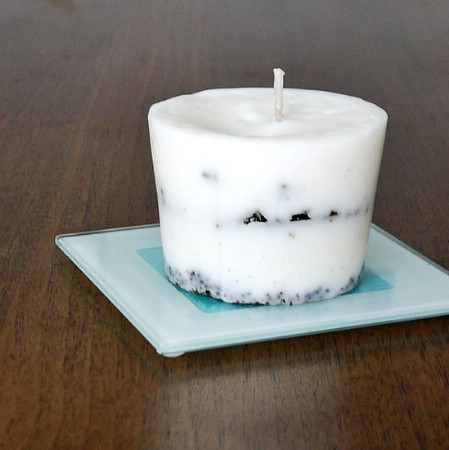 Candles are never enough! So choosing them for a Christmas gift will sure be a good choice.
Making them yourself will add a personal touch coordinated with the taste and character of the future owner.
This white candle shows grained coffee at the bottom and coffee beans at the top. The scent of the coffee is known to be one of the calming ones. It also adds visual interest and texture to the smooth white wax.
via Pop Sugar
9. Step Up Your Gifts with Colorful Kitchen Towels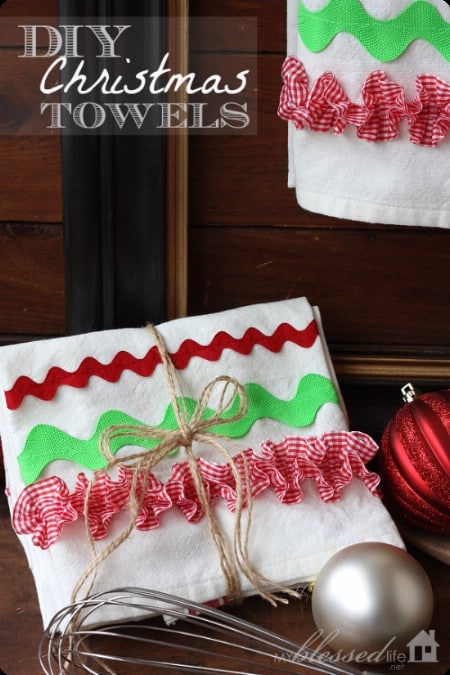 Embellished kitchen towels make such a wonderful handmade gift for Christmas.
The colorful strips in Christmas-related colors and patterns stand out against the white towel surface.
Fold each towel neatly and tie twine around to give it a finished gift look.
via My Blessed Life
10. Get Creative with Etched Pitcher and Glasses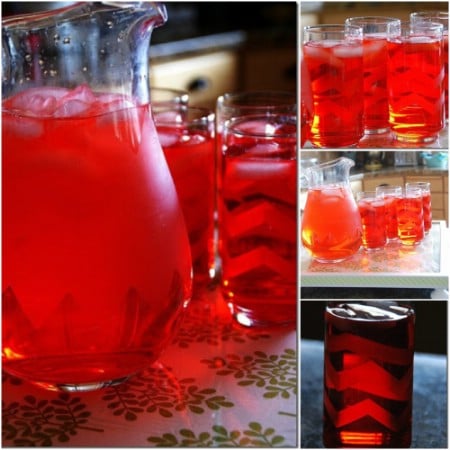 Have you ever etched a glass surface? It's easy, fun and quite quick.
You can do it in the comfort of your home only with a special paste for etching.
This technique and vinyl stickers give endless design varieties of a glass table set.
11. Bring a Cozy Christmas Vibe with Felt Slippers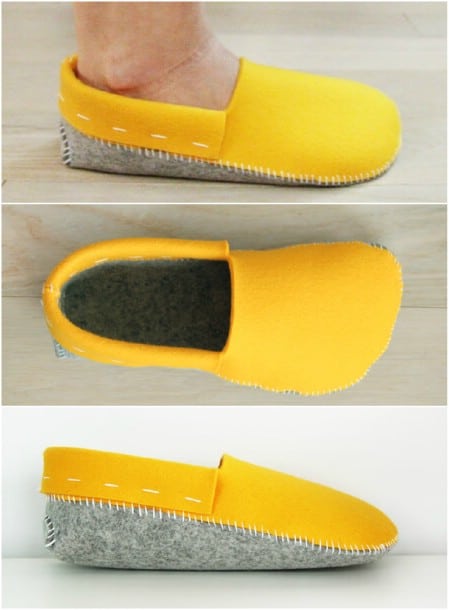 A pair of slippers as a Christmas gift sounds cozy and warm!
They can be of any size and any color! Just grab felt fabric of your choice, a needle, a thread and start making the homemade slippers.
via Zipper Teeth
12. Elevate the Festive Mood with Food Gifts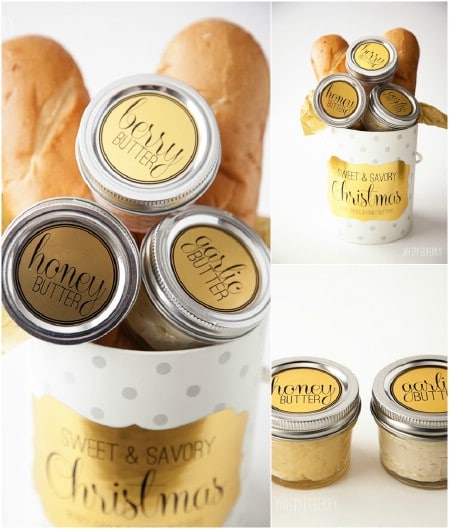 Cinnamon honey butter, dreamy orange butter, berry butter…Mmm, these sound so tasty you want to try them immediately?
Well, these are part of a set with homemade butter with flavors. The tastes are charmingly labeled on the lids of small glass jars. They are sweet and customized- the perfect homemade Christmas gifts for neighbors and friends.
via I Heart Nap Time
13. Spread Christmas Cheer with Gift Baskets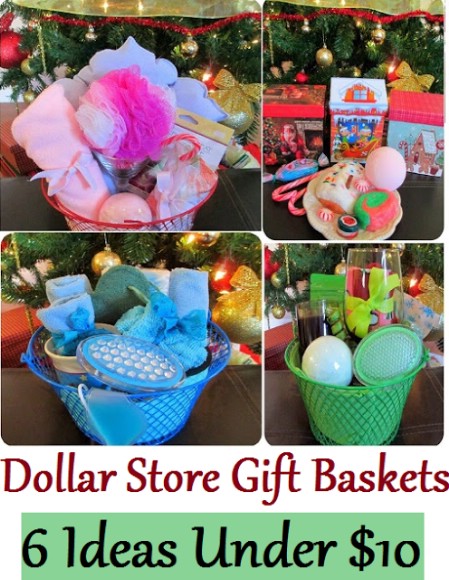 In case you have many people on the list of Christmas gifts, then you would like this budget-friendly idea! The Dollar Store could save you from expensive and boring presents.
There are 6 types of baskets formed according to the preferences and needs of the future owner. They look very attractive when tied up by color.
via Maria's Self
14. Express Your Love with Glass Pendant Necklaces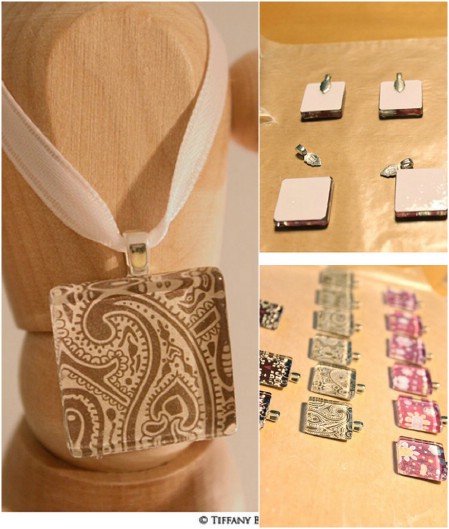 Most women like jewelry and if you go to a jewelry store to buy it, it may cost a lot. So here is a budget-friendly idea- get the supplies and make necklaces yourself.
Stones are quite expensive so instead of buying them, the author suggests "fauxing" them. Choose interesting papers and glue them to the rear side of a glass tile. That makes the designs of the gems endless.
15. Add a Touch of Luxury with Gold-Dipped Vase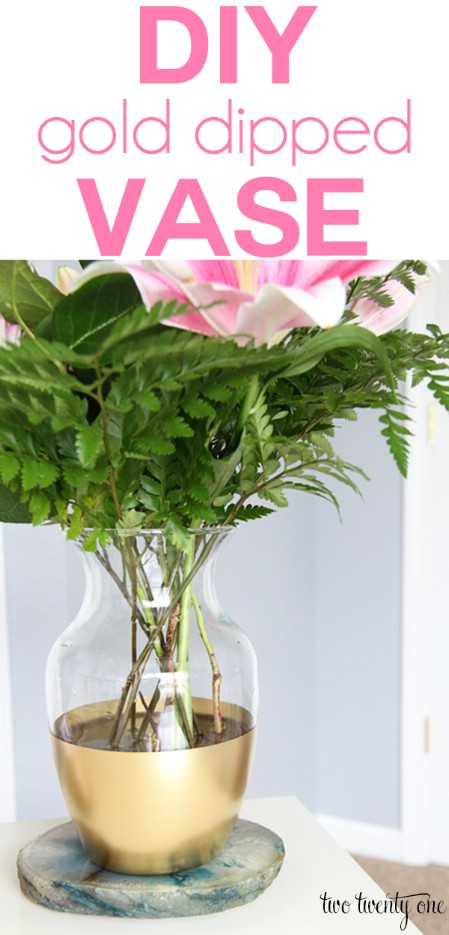 This vase looks so modern you would think it costs a lot! Well, it actually doesn't cost much as long as you find clear glass vases on a deal.
The metallic effect is achieved thanks to the Rustoleum metallic spray applied on the glass once. Use painter's tape to define the limits of the spray paint.
via Two Twenty One
16. Stun with Style with Fluffy Bear Gifts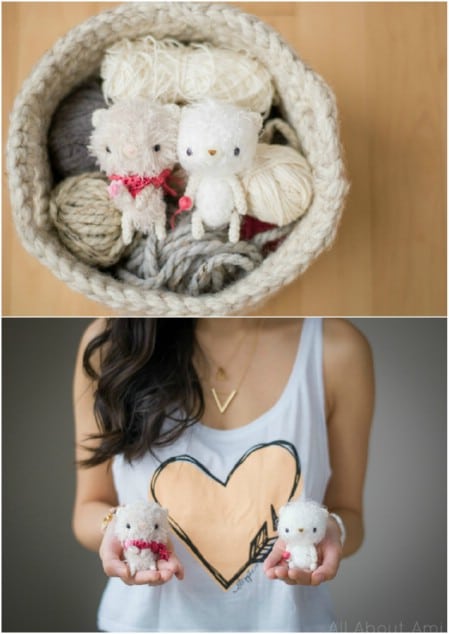 If you are skillful in knitting and crocheting, then you shouldn't worry about the Christmas gifts for the smallest ones. The "Fluff Bears" are two cute creatures with the size of an adult's palm that will become the best friends of the kiddos.
They are both made from eyelash yarn which is very fuzzy. They are called Coco & Muchi- cute names as they creatures are.
via All About Ami
17. Make Christmas Special with Handmade Soap Gifts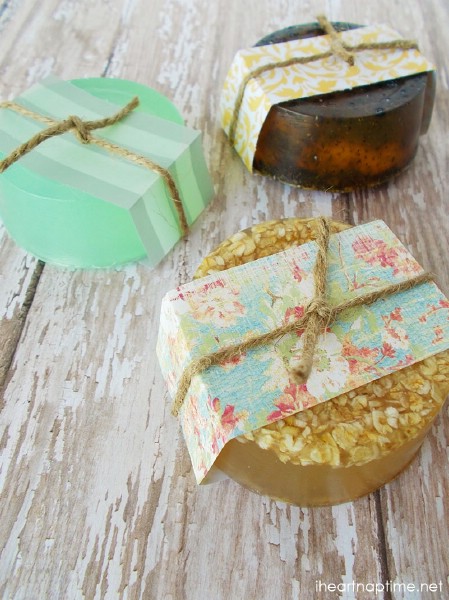 Looking for special gifts for everybody? That can be a problem solved if you go for making personalized soaps. They are easy to make, smell amazing, good for the skin and various!
Only by adding one component to the glycerin, the soaps become flavored, textured and customized.
18. Spread the Joy with Deliciously Fresh Jam Gifts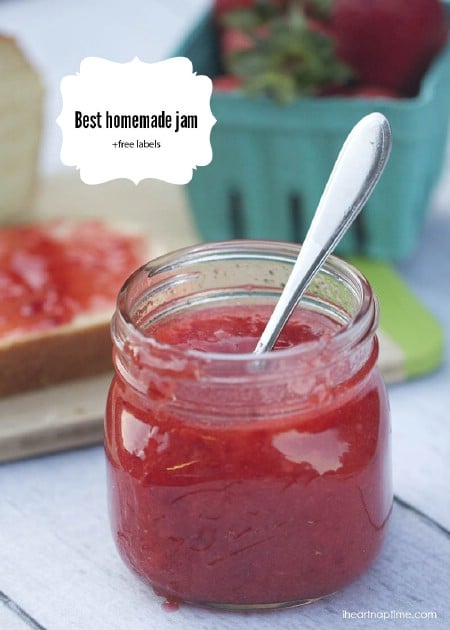 Homemade jam always tastes better than store-bought. If you have made more jars in summer, you can prepare them as Christmas gifts simply by adding a cute holiday-related label and a ribbon.
Since we tend to spend more time indoors in winter, the jam will surely be quickly eaten, especially on a slice of toasted bread.
via I Heart Nap Time
19. Be Bold with a Jingle Bells Christmas Shadow Box Gift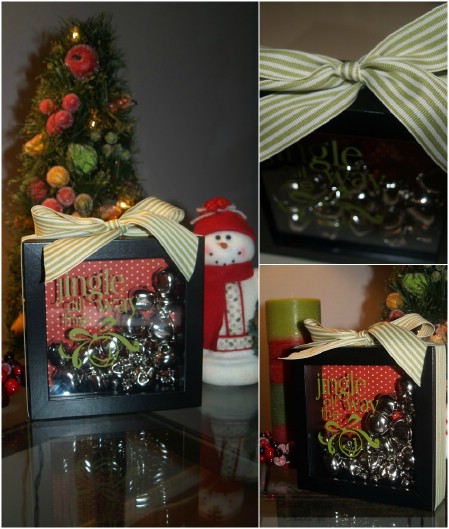 Have you ever seen a Christmas shadow box? The tutorial below reveals the steps of making a festive jingle bell art framed in a dimensional square.
The variety of sizes of jingle bells can be seen through the clear glass and can be heard when you shake the box! It will improve the festive atmosphere and mood once you give it to your friends as a gift.
The added vinyl sticker on the glass, the red piece of paper with gold polka dots at the back and the wide gold ribbon give the shadow box an appealing and festive look.
20. Elevate Your Look with this Stylish Laptop Bag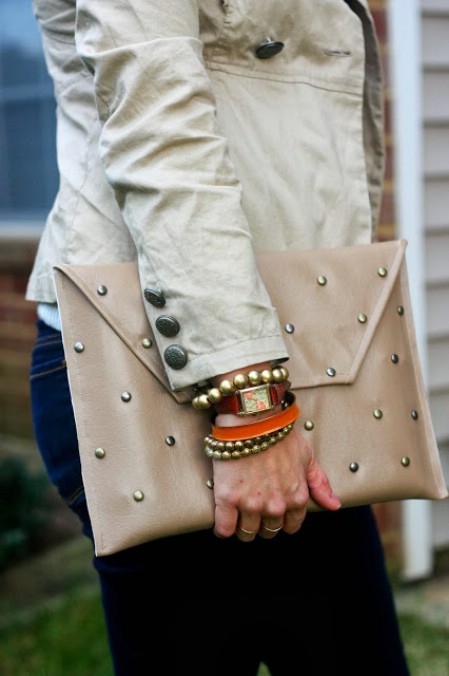 This clutch is so elegant and fancy! Every working woman would love to have it and carry her laptop with a style.
This design is particularly appealing because of the metal dots. The materials are very cheap so you may want to make more of these and give them to your friends as Christmas gifts.
21. Go for Rustic Elegance with Leather Cuffs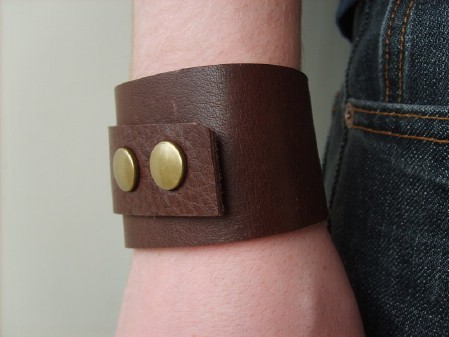 The materials and the design of this bracelet make it unisex. Leather gives it an expensive look while it can actually cost less than $2 if you find scrap leather at the craft store.
Add layers of leather, buttons at different places, make it narrow or wide. The design options are many so you can make a personal leather cuff for every person on your Christmas gift list.
22. Make a Statement with Homemade Lip Balm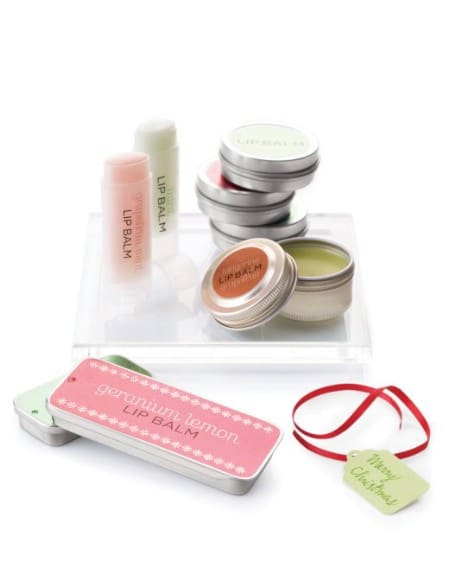 Almost every person suffers from dry and cracked lips in winter. The tutorial below for homemade lip balm lets you make softening and relaxing balms that can be of a taste and a scent you like.
Prepare containers where you will pour the melted balm and add small tags with a Christmas wish.
via Martha Stewart
23. Surprise Your Man with a Chic Apron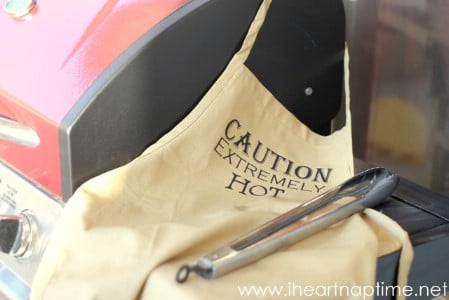 Choosing a gift for a man that is not your husband is extremely difficult, isn't it? Not anymore! This man's apron is fun and cute! It may not be used every day but giving it as a present will make sure one-time usage at least!
Start with finding simple aprons on a deal. Then cut out "CAUTION: EXTREMELY HOT" with heat transfer on your Silhouette (or on freezer paper) and iron on the letters.
24. Pamper Loved One with Mint Chocolate Body Butter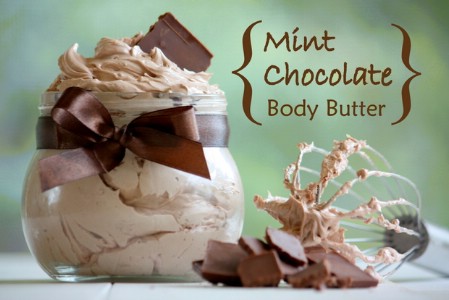 Body butter is an excellent treat for the skin and that is just enough to give it a special place in our DIY Christmas gifts collection.
It looks very tasty but it is good only for applying on the skin. The ingredients involved in the homemade recipe will nourish the skin without leaving greasy spots or a feeling and will make it very soft.
Put the body butter in a nice clear jar and add a ribbon around the neck to distinguish it as a present.
via Mommypotamus
25. Make a Stylish No Sew Skirt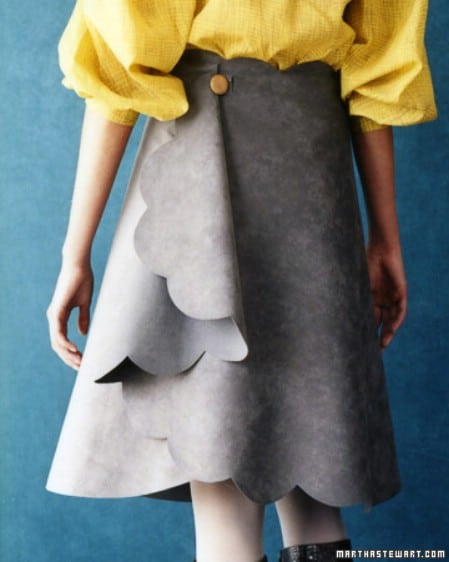 You think that sewing is difficult and you have not attempted making a skirt for yourself, and let alone for gifts. The design and cut of this skirt are such that you need only basic skills, particularly to sew a button.
If you can do that, then you can make this interesting skirt. This idea can easily be part of your list of Christmas gifts if you find fabrics on a deal.
via Martha Stewart
26. Show You Care with a Personalized Journal Gift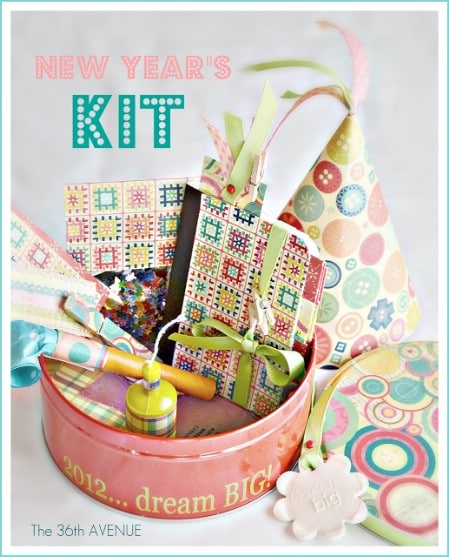 This is a very special gift idea. It is a place to memorize a person's thoughts and experiences. Once you finish your first journal, you will start writing in the next one- it becomes an obsession.
This journal is the perfect gift for a teenager who enters a new phase of life and needs privacy and ways to share everything.
It can be suited for a girl and for a boy with the pattern of the covers. The base is a plain composition book that is given a glam look with craft paper glued to the front and back covers.
via The 36th Avenue
27. Get a Personalized Gift with Photo Clock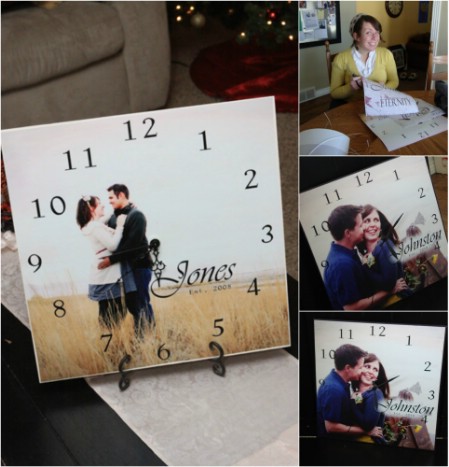 Like most of the DIY Christmas projects here, this idea is cheap, easy and very practical. We tend to have clocks in almost every room of our homes.
This clock idea is personalized with an image and that makes it very special for its future owner. You need an MDF board, a favorite image and clock parts.
via Rosy Red Buttons
28. Stay Warm with a Chic Heat Pack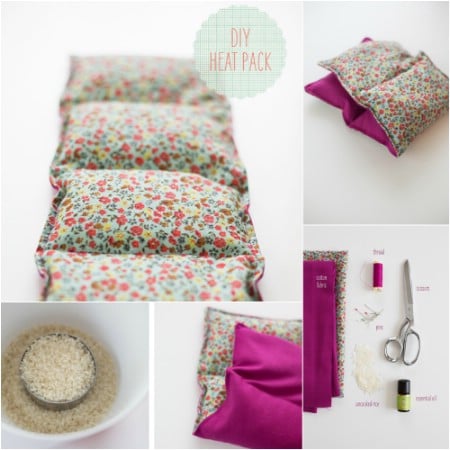 This heat pack idea will be appreciated by people who believe in natural remedies. The pack consists of four compartments made from beautiful fabrics. Each section is filled with rice mixed with essential oil.
Depending on the ache, you can either heat the pack or cool it in the fridge before applying it on the spot. You may change the fabric with a towel that will ensure also a soft touch with the skin.
via Fellow Fellow
29. Craft the Perfect Rosette Accessories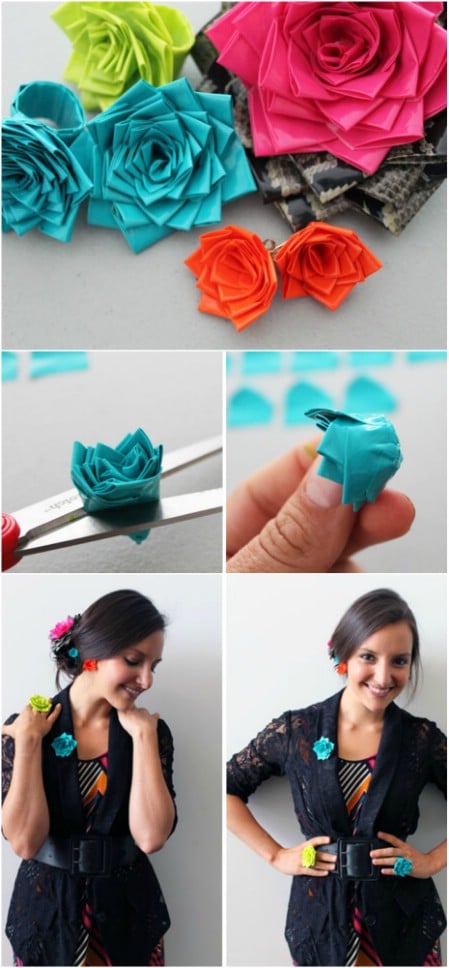 "A fold here, a twist there, repeat a few times, and you've got a charming rosette to turn into a ring, pin, pair of earrings, or a little hair bling." This is how you can use the rose shape as an accessory. You may be wondering how to sew it but believe it or not, no sewing is involved.
Actually, this is one of the easiest and cheapest crafts ever! You need duct tape and scissors. Fold a piece of the tape lengthwise. Make many of these because they are the petals of the rose.
via Brit Co
30. Get Style and Warmth with Rudolph Hooded Towel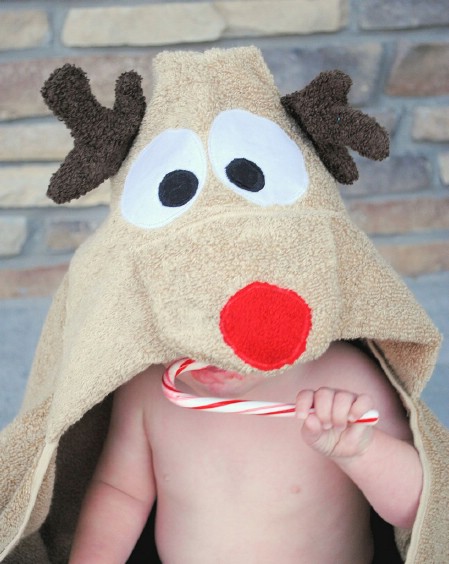 This cute DIY Christmas gift idea is a fun towel for babies and toddlers that love the holiday season and… Rudolph. If you are good at sewing, you will find this project easy.
There is a clear list of the supplies and free pattern pieces that will let you make this hooded towel quicker.
31. Create a Magical Atmosphere with Scented Candles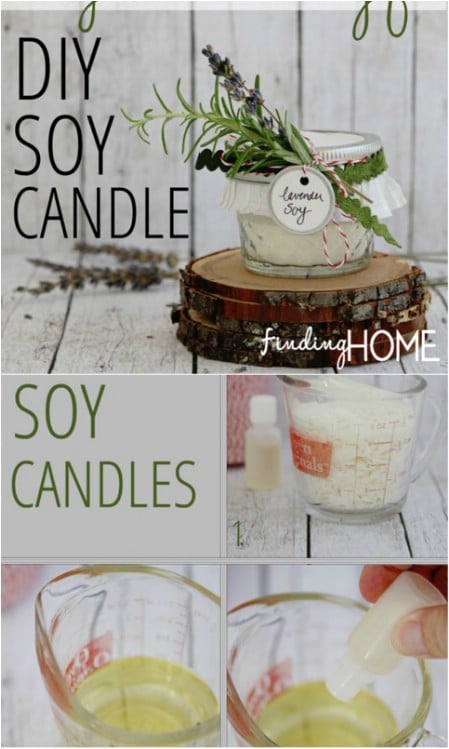 I have seen holiday candles at the stores. They look so festive and appealing! And they do smell fantastic!
You can make your own candles to give at Christmas at home and flavor them with scents that remind Christmas- cinnamon, for example. Choose good jars to pour the wax in and after it has cooled down, you can decorate the jar with a festive red ribbon, some faux flowers or a pinecone twig tied with a ribbon.
via Finding Home
32. Support Your Friend's Skills with a Sewing Kit Gift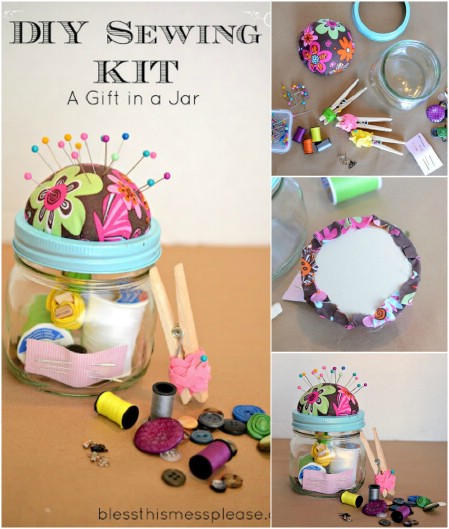 Do you have crafty friends? It may be difficult to surprise them with crafts but it is easy to surprise them with craft supplies, especially such that come in a full set and in a compact package.
The sewing kit comes in a glass jar and contains all possible sewing supplies. It is very easy to find a place for this kit as it is of a small footprint. To enhance its Christmas theme, you can use fabric in colors and patterns related to Christmas to make the pin cushion.
via Bless This Mess
33. Wow Your Kids with a Shark Hooded Towel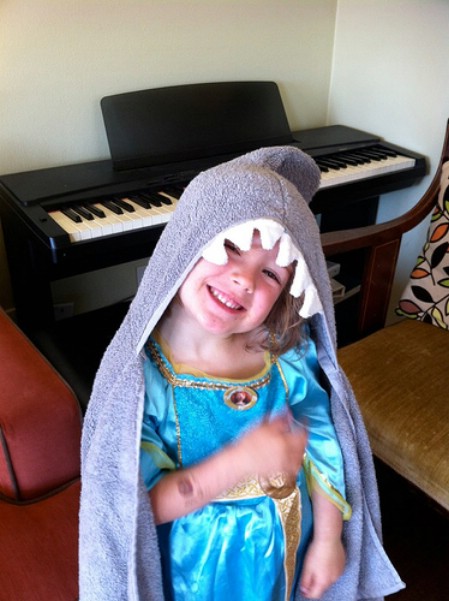 This is an easier idea for a hooded towel with a cute design. It is not inspired by a Christmas character, however, it looks super cool and your kids will surely love it.
For that idea, you need to incorporate your sewing skills.
34. Delight Family and Friends with a Smartphone Case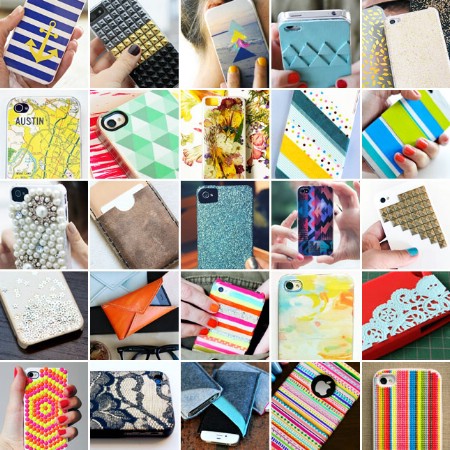 Everyone has a smartphone and therefore everyone needs a smartphone case. This easy math takes us to the next affordable and easy DIY Christmas gift idea.
The designs featured in the link below are various so you may end up making a case for everyone in your Christmas gift list.
via Brit Co
35. Get Traditional Aesthetic with Snowman Popcorn Holder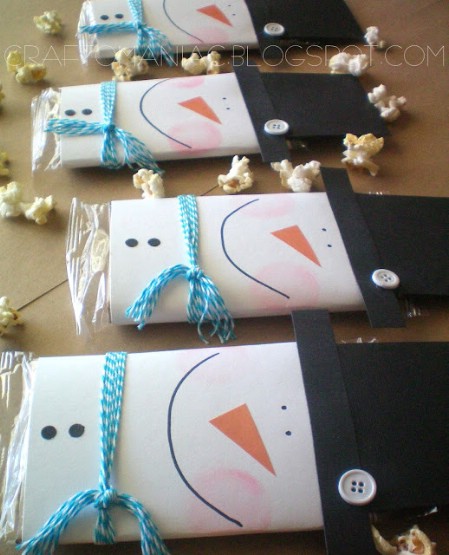 This snowman popcorn holder can be used alone as a gift or as an addition to a family basket gift, for example.
The snowman is made from paper and decorated with pencils, buttons and yarn. Its cute face is greeting from the front and the back, there is a blank white section where you can write a personal statement.
via I Heart Nap Time
36. Make the Perfect Christmas Gift for Your Foodie Friends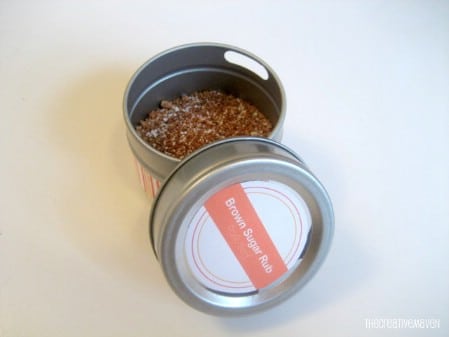 Spice rubs are an essential part of grill making. They taste better than the store-bought ones and can look quite attractive if they are placed in the right container.
This inspiring spice rub idea is a great way to upgrade the spice rack of your kitchen or to make some for friends and relatives as Christmas gifts. If you place the spices in magnetic containers, they can even be added to the fridge!
via Kojo Designs
37. Get Crafty with a Tablet Case Gift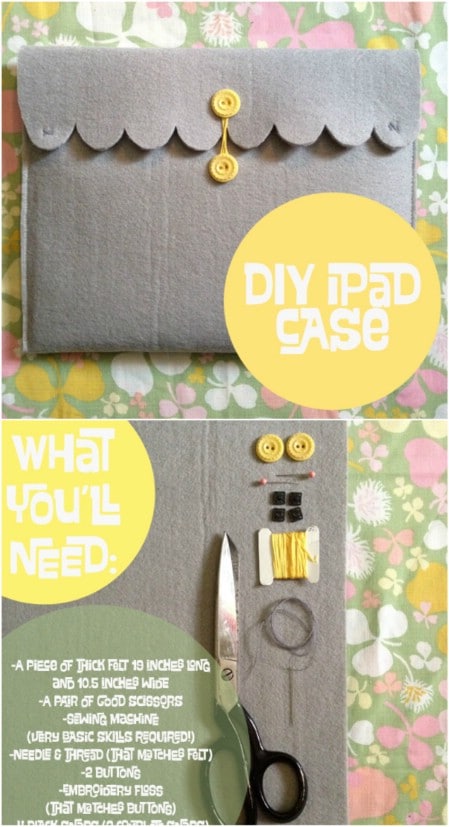 Some felt fabric, a scissor, buttons and a yellow thread create a case with a scalloped edge that will keep a tablet, a smartphone or a laptop safely kept.
If you have already bought a tablet for your kids, you may surprise them with a personalized case for it.
via Oh So Lovely
38. Achieve Timeless Beauty with Vintage Photo Canvases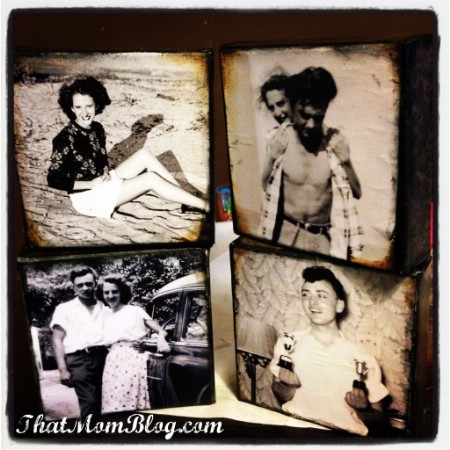 Looking for a family gift? This one is personalized, sentimental and visually interesting. It comes as a set of four blocks. Each one displays a negative photo of nice past memories. Every image has been transferred on the wooden block and given a distressed look at the edges.
The blocks allow different alignments. They can be stacked or arranged in a row.
via That Mom Blog
39. Transform Vinyls into Elegant Bowl Gifts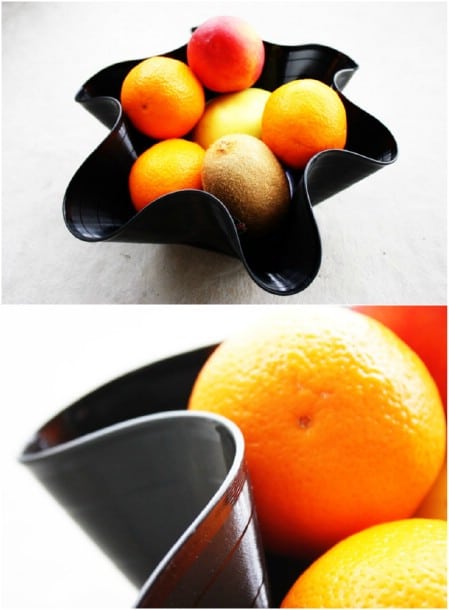 This DIY Christmas gift idea literally "cooks" vinyl records. They are heated in an oven together with a tin can placed in the center. The tin can plays the role of a shaping means.
Once the record and tin have been heated enough, you need to mold the curved shapes of the bowl with your fingers. Don't worry, you won't burn your fingers.
This is a great gift idea for your music-loving friends and musicians.
40. Celebrate Christmas with Wood Slice Ornaments Gifts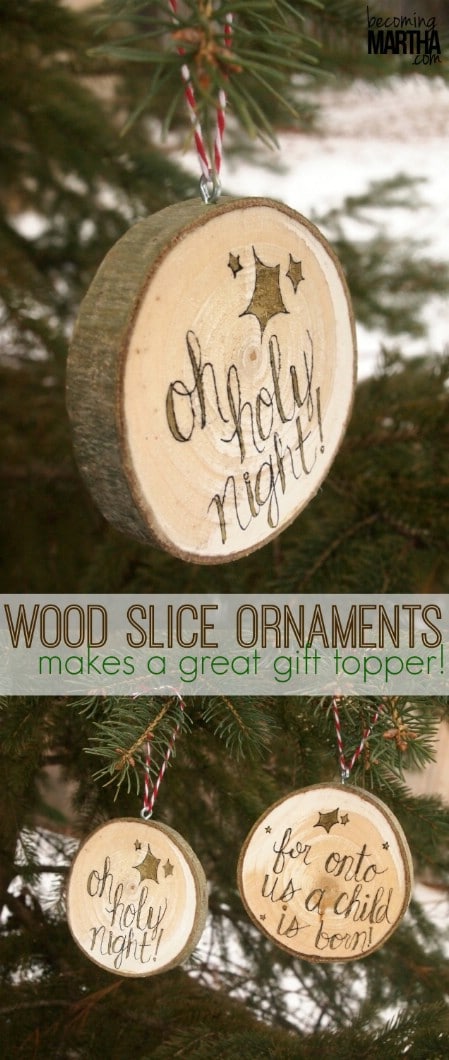 There isn't a more proper Christmas gift than the Christmas ornaments for the holy tree. This idea is inspired by nature and religion. This combination creates whimsy ornaments that enhance the festiveness and add a personal touch to the atmosphere.
The easiest way to add the inscriptions on the wood surface is with markers. Don't forget to seal the surface with a suitable compound like a mod podge, a poly sealer, a varnish to make this craft evergreen.
41. Get Farmhouse Charm with Woven Felt Basket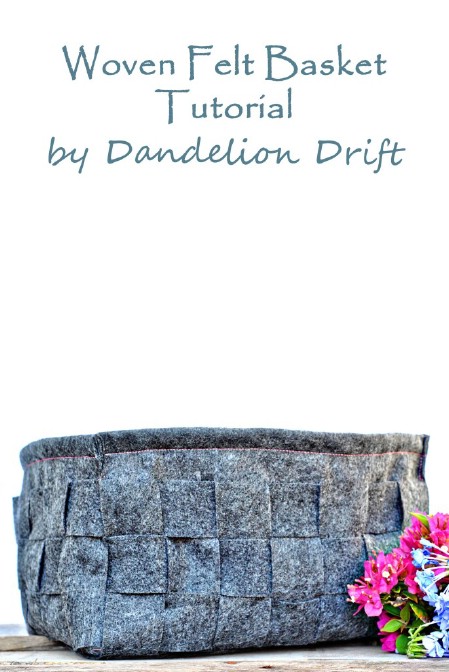 This basket is multifunctional. It can be used to hold a centerpiece, as a container in the kitchen, as a make-up holder or as a place to keep the bath essentials in one place.
Being that multifunctional puts this basket in our DIY Christmas gift list as it is certain that it will find its place and application in the household of your friends.
The tutorial shows the steps for making it with grey felt but you can customize it based on the interior.
via Dandelion Drift