1. Stunning Traditional Red and Green Christmas Tree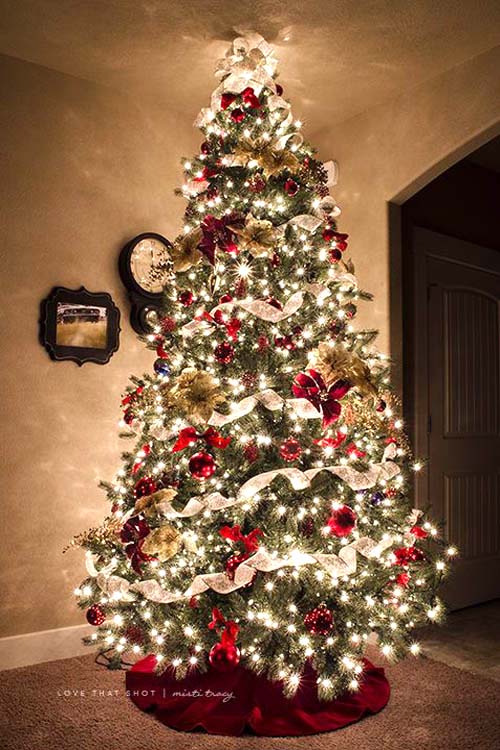 The best time of the year deserves the best Christmas tree design. Go with the traditional colors of green and red. Decorate with bulbs, garlands and ornaments. Accentuate with sparkling fairy lights.
2. Embellish Your Christmas Tree with a Red Rose Garland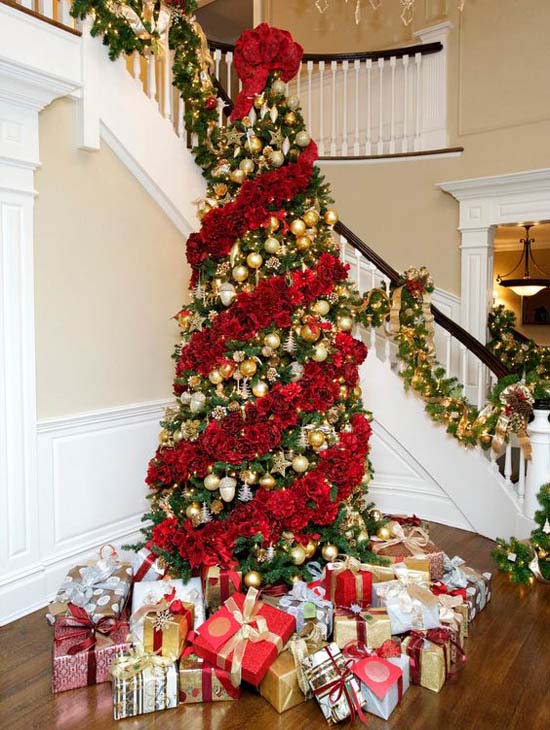 The magnificence of this red tree makes want to sing a happy Christmas tune every time you see it. The gold and silver add more brilliance to the design concept.
3. Decorate Your Christmas Tree with Rustic Pine Cones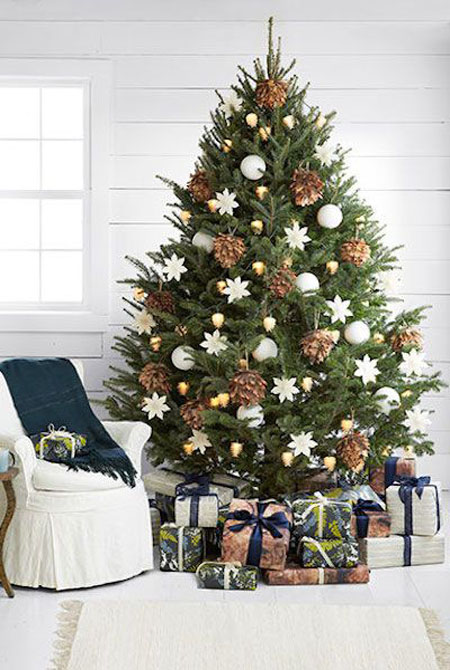 It's a tree, so naturally there should be acorns and pine cones aside from the white and silver ornaments, just so it looks, well…natural.
4. Give Your Christmas Tree a Farmhouse Look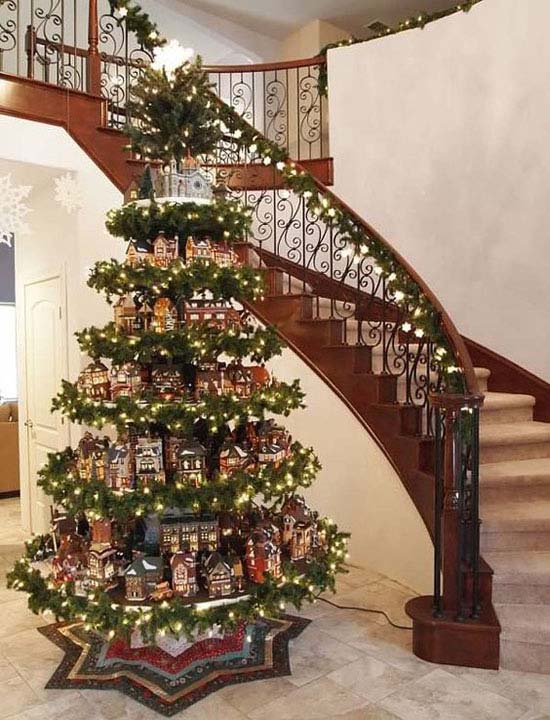 Imaginations go up to the roof during the holidays, to the point where kids (and kids are heart) make little homes for magical little people in a Christmas tree near a staircase.
5. Elevate Your Room Decor with a Wintery Christmas Tree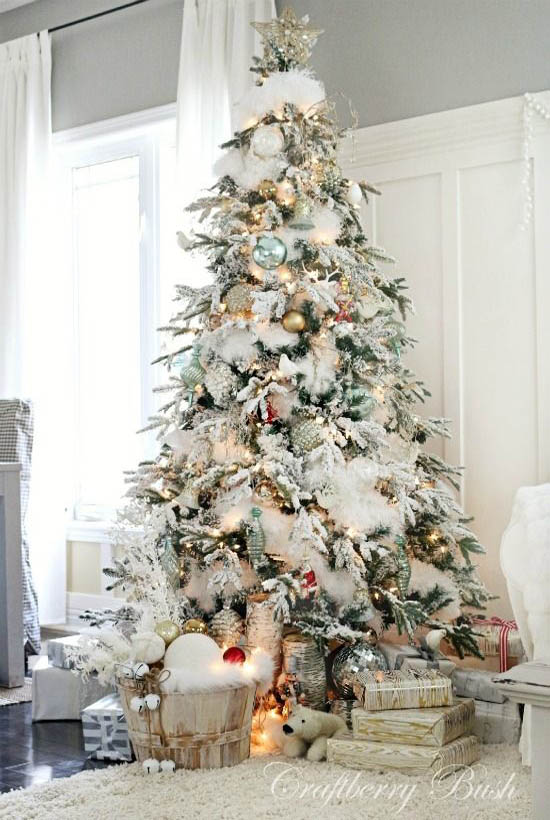 This tree looks cool to the eyes but it also makes you feel warm inside. The overflow of white on the green is just as magnificent as the snow outside.
6. Enchanting Country Christmas Tree with Natural Elements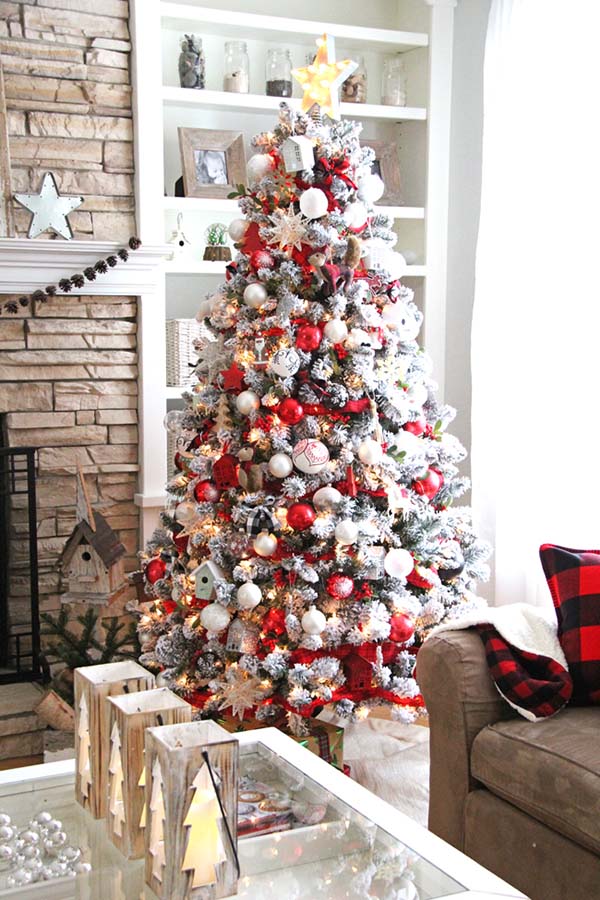 Photo:Credit
This insanely beautiful Christmas tree is made by the blogger Joanna Rooney and it feels a lot like a country Christmas thanks to the red, green, white, plaids, faux fur, and the natural elements.
There is a bunch of artificial cranberries tucked enfolded in the tree. It's a nice joyful touch, isn't it?
7. Make White the Dominant Color in Your Christmas Tree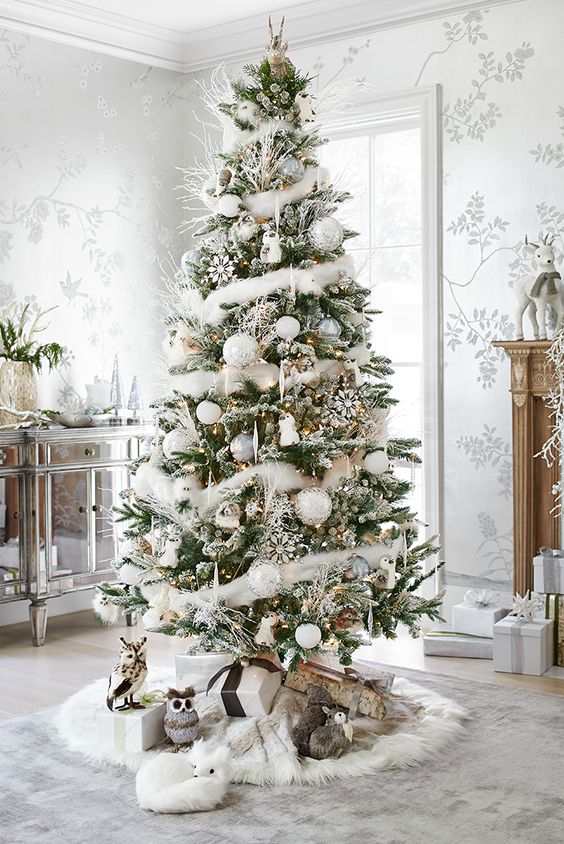 You know what, why don't you skip the tree full of shiny colorful ornaments and go for a simple frosted white tree with a garland and silver figures instead?
It is one of the most elegant and dazzling Christmas tree ideas I've seen so far!
8. Achieve an Elegant Look with Purple Accents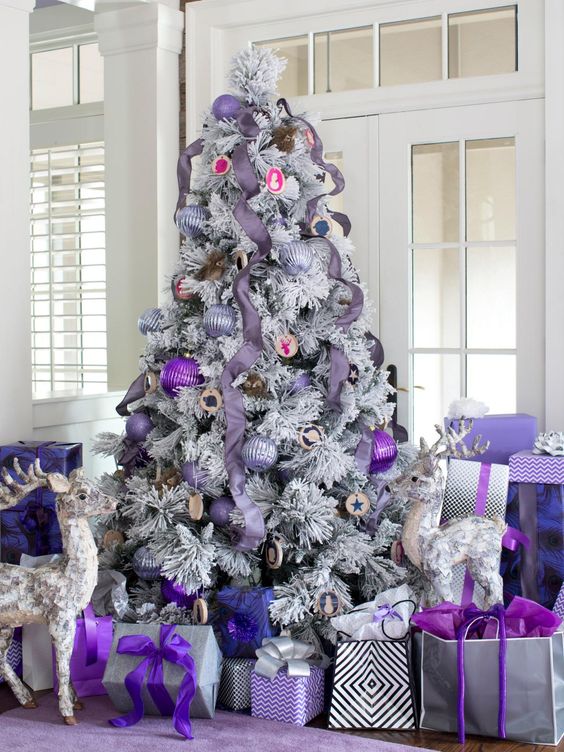 The red-green theme for Christmas? Again?!
Not even close to avant-garde. Switch it up with purple garlands and ornaments this year. It will surely grab everyone's attention to your festive dinner party.
9. Celebrate Christmas with a Frosty White Christmas Tree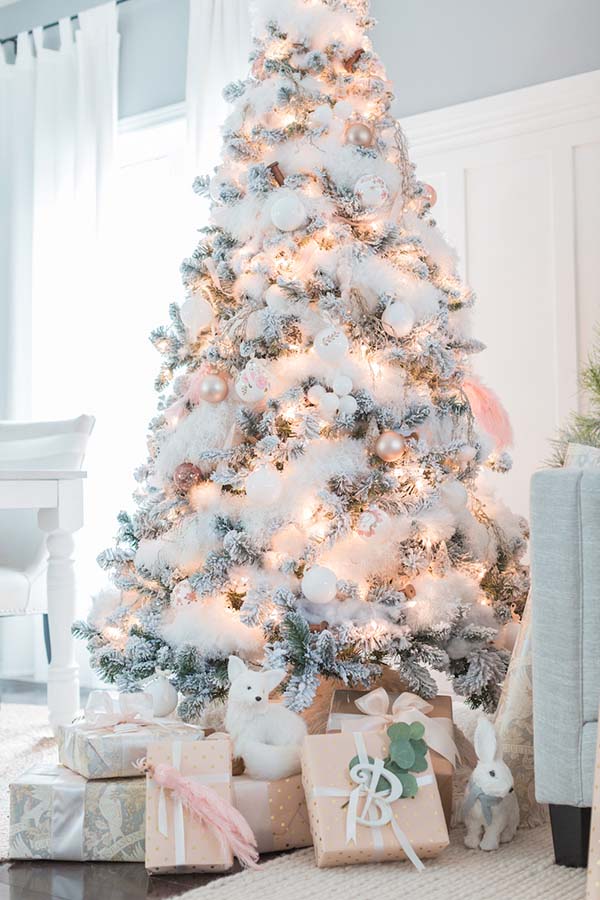 This white frosted Christmas tree has tons of mix possibilities.
For instance, you can display some baby pink or rose gold ornaments (as shown in the picture above) for a girly innocent vibe.
Also, what do you think about the figures displayed around the tree? Cute, eh?
10. Deck the Halls with Turquoise-Infused Christmas Tree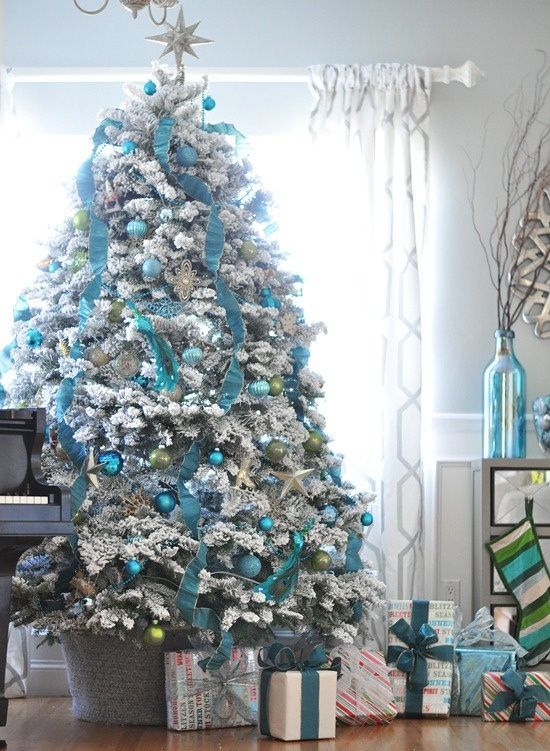 Here is another super cool idea on how to decorate a Christmas tree that catches everyone's eyes.
Instead of decorating the festive tree in the traditional red-green palette, try mixing in pops of turquoise for a glacial effect.
11. Embrace Silver and Gold for a Statement Christmas Tree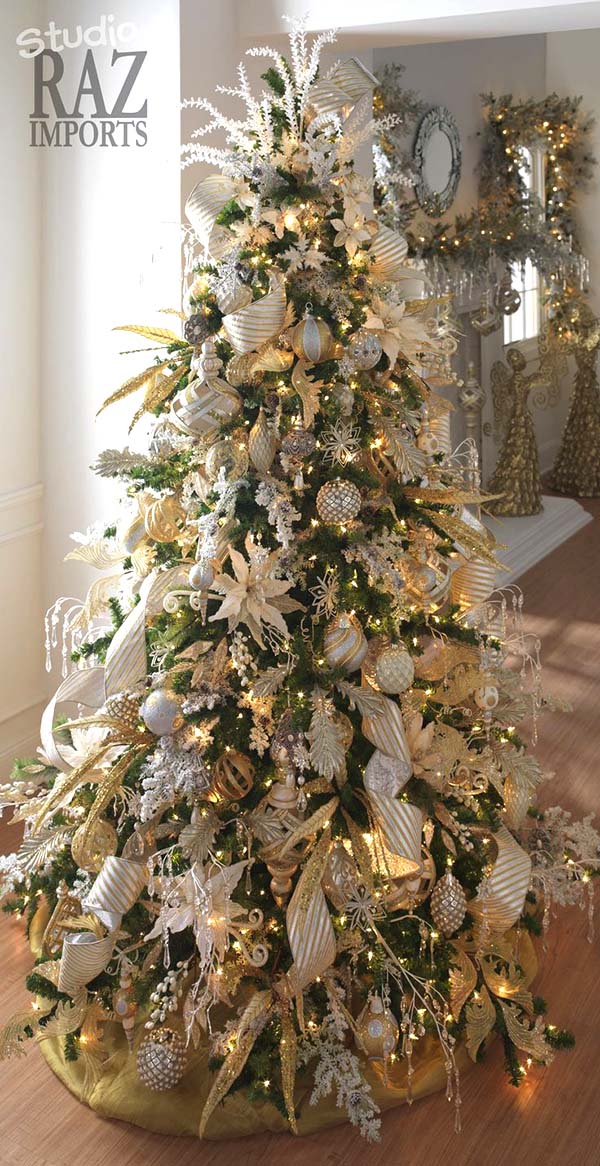 Photo:Credit
When choosing Christmas tree ideas, never be ashamed of going for all glitter to make a strong statement.
All these golden and silver ornaments make the tree look very sparkly and stunning. No doubt everyone likes them!  🙂
12. Enchanting Vintage Pink and Gold Tree with Faux Florals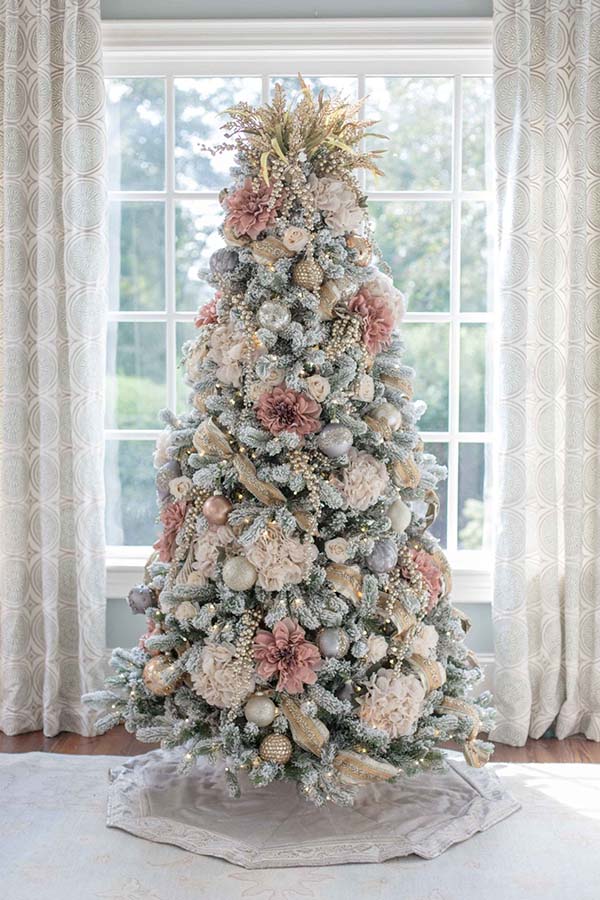 Photo:Credit
To re-create this incredibly stunning vintage style pink and gold Christmas tree, you will need to pick up some faux floral elements.
They are combining so well with the frosted branches and create something elegant and very sophisticated.
13. Top Your Tree with a Unique Vine Twig Deer Head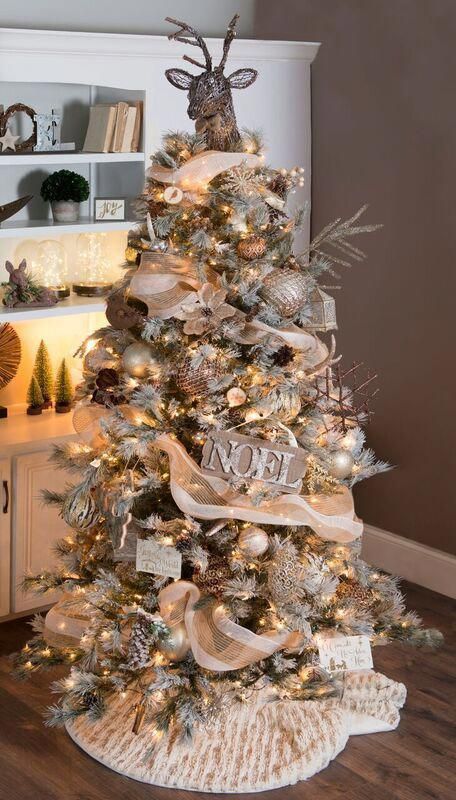 The tree topper is probably the first thing you see when entering a room around Christmas time.
This year, instead of using the good old-fashion Star tree topper, why don't you go for something more unusual and cheerful… let's say – a deer head made of vine twigs?  🙂
14. Alluring Christmas Tree with Navy Blue and Gold Ornaments

Photo:Credit
This all-white Christmas tree decorated with navy blue and gold ball ornaments is one of my favorite holiday decoration themes ever.
The blue color gives an icy touch while the gold adds more glamour. And how doesn't love glamour?
15. Make a Farmhouse-Inspired Christmas Tree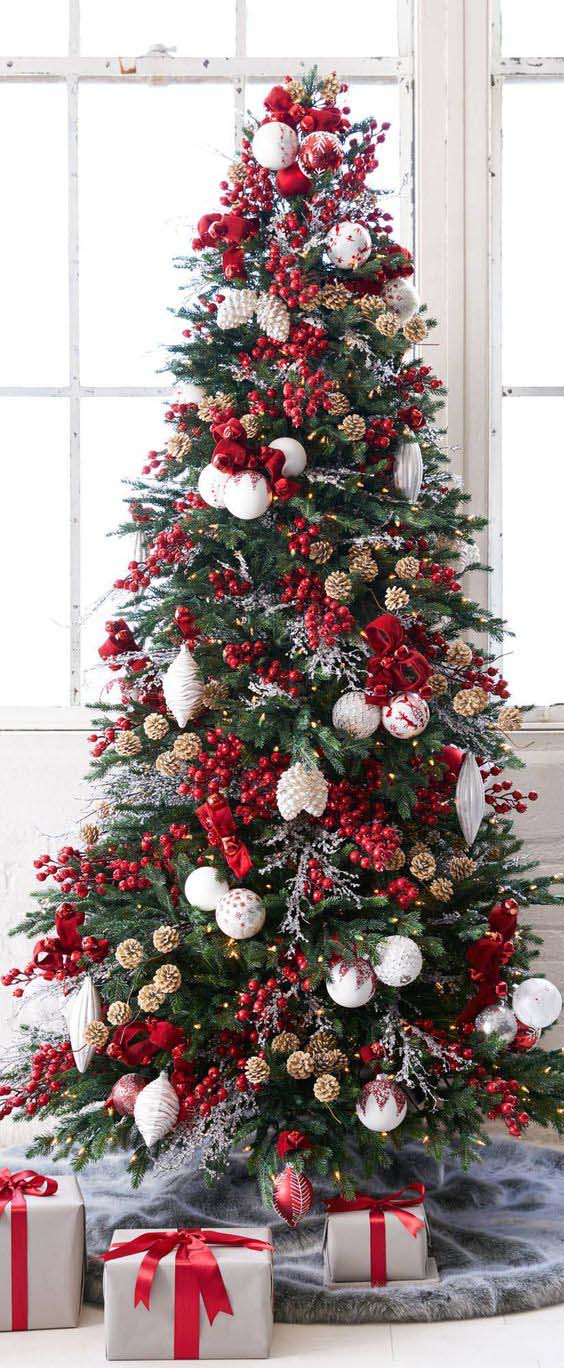 Here is a joyful Christmas tree decorated in red and white. The decoration looks very traditional and organic and yet elegant.
Keep it simple and add a few sprigs of red berries and a bunch of pinecones from the nearest park.
16. Utilize Nature-Inspired Lime and Mint Hues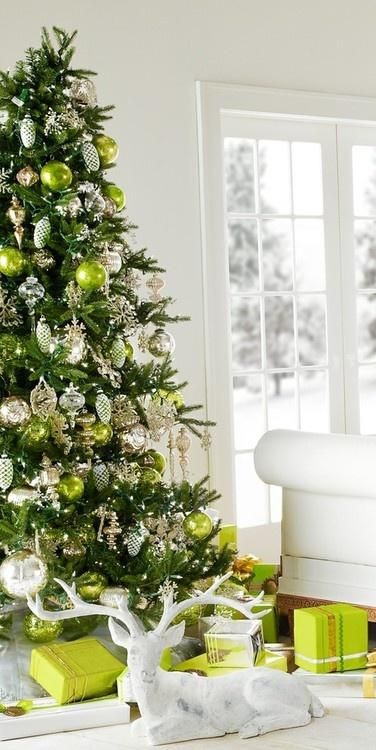 When there is loads of greenery around, hues of lime and mint feel like a breath of fresh air compared to the traditional red and blue Christmas colors.
However, some of you might think it's a bold decision, skip the shimmering Star Christmas tree topper for a more organic look.
17. Add a Rustic Joy Sign on Your Christmas Tree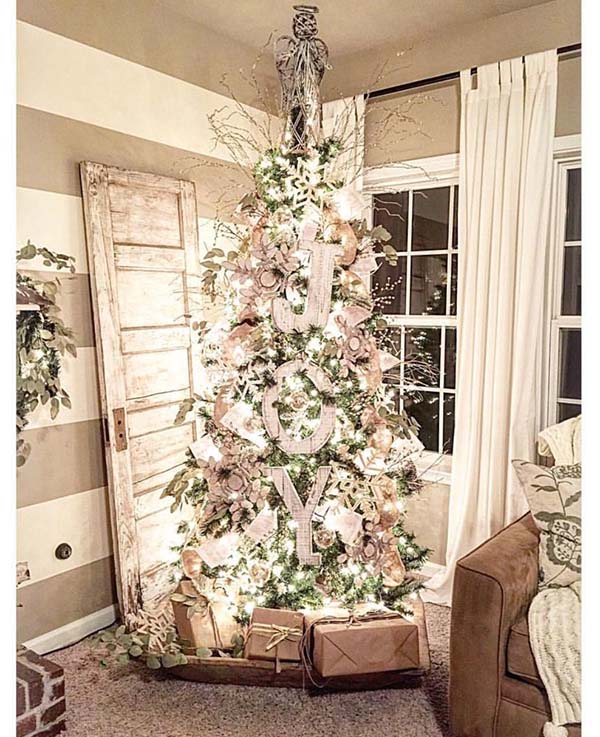 I am a big fan of the small Christmas trees that are well-customized to show the family's taste and spirit.
For instance, when you're done with the decoration, why don't you hang a banner JOY on your tree to spread the joy and love.
18. Create a Colorful Christmas Tree with Rainbow Colors

If you want to make a strong statement and catch your guests' eyes, do not just settle on one color scheme — you've got the whole rainbow to work with.
It is so cheerful and extraordinary without losing the traditional feel. I love it!
19. Get a Sophisticated Look with a Black Christmas Tree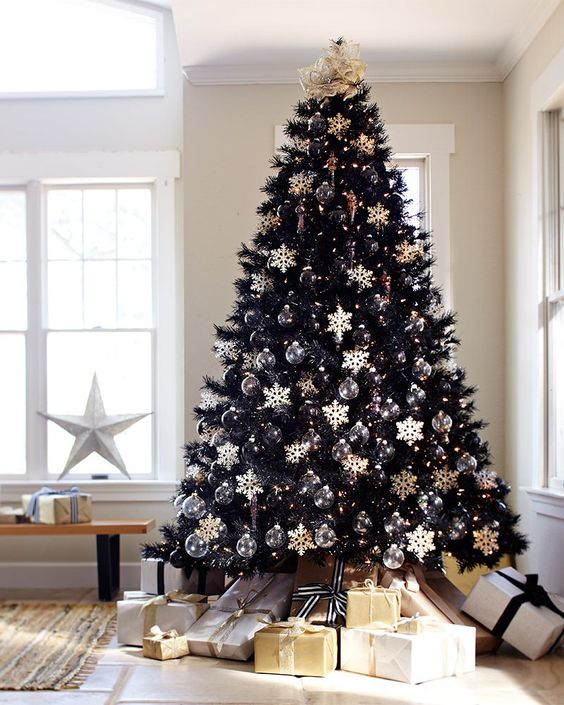 Photo:Credit
This large black festive tree has it all – elegance, texture, and glam thanks to the golden ornaments.
The best thing is that this tree turns into the living room centerpiece itself. Tastefully adding some shimmering elements and understated lights would just reinforce its glam.
20. Decorate Your Christmas Tree with Muted Colors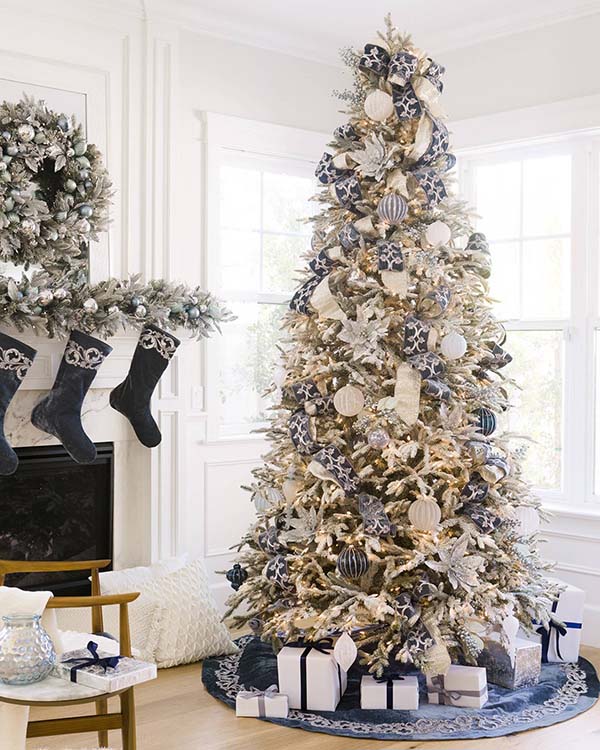 For an understated tree that's still fiercely elegant, use muted colors to complement your faux frosted evergreen.
Besides, it is a cool idea to display the Christmas tree close to the windows because the natural light will make the ornaments look more glowing and festive.
21. Add a Whimsical Twist on Classic Christmas Tree Decor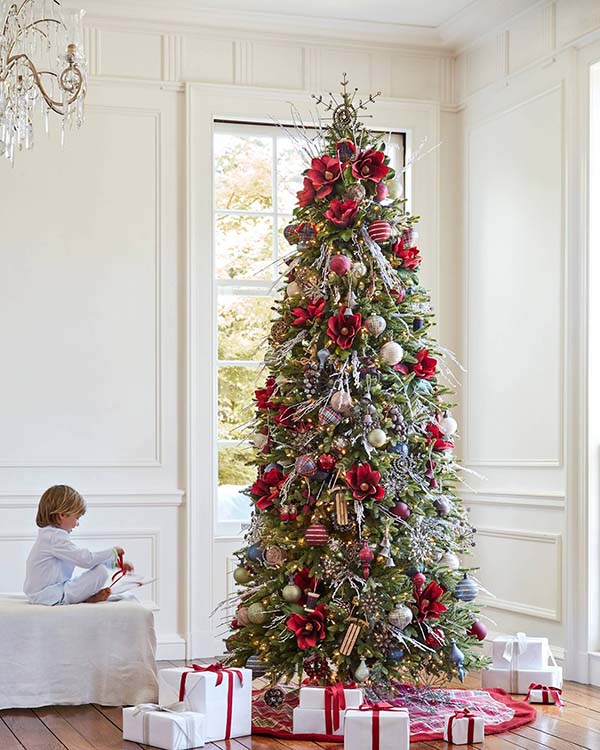 A floral Christmas tree is an unexpected but captivating spin on traditional winter decor, especially if your walls are painted in pale colors.
Stick to the traditions and blend in faux red gardenias right in the evergreens.
22. Chic Rustic Christmas Tree with Muted Hues and Ivory Ribbon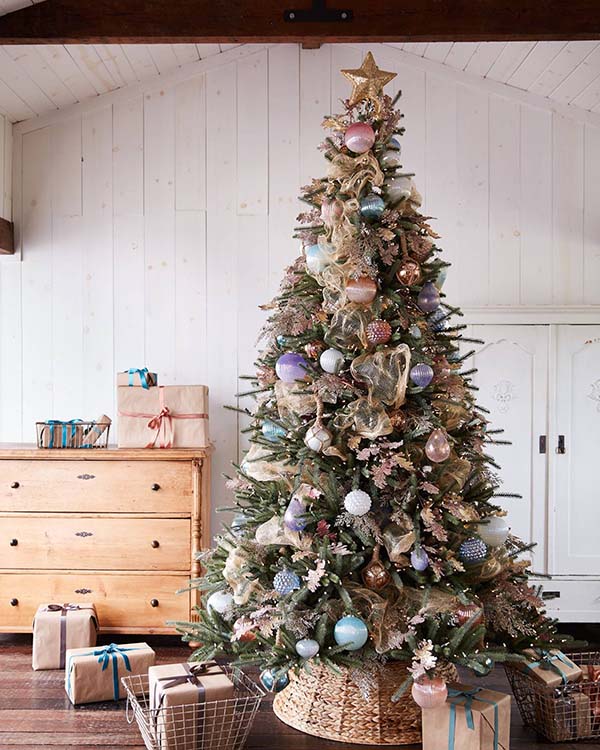 Go for sophisticated rustic with this insanely chic Christmas tree, which features muted white, purple and blue ball ornaments delicate ivory ribbon, and string lights.
The Christmas tree decor ideally fits with the wrapping of the presents around.
23. Adorn Your Christmas Tree with Rustic Farmhouse Decor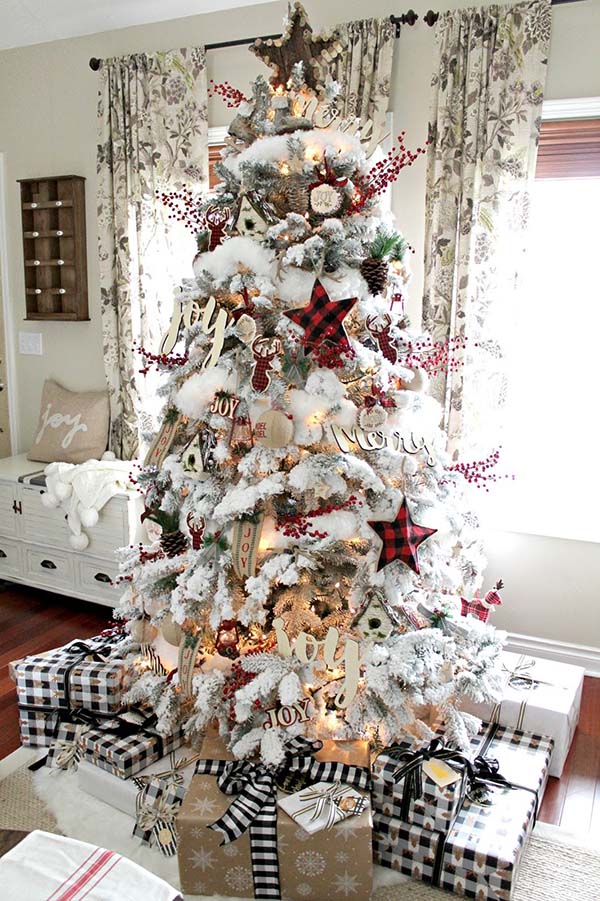 Photo:Credit
The first time I saw this project for a Christmas tree decor, I thought it's a hot mess. However, I kept staring at it and started seeing how amazingly joyful and fun it is.
It is a cute combination of different colors, shapes, wooden signs, materials, and I simply adore it!
24. Make a Santa-Themed Christmas Tree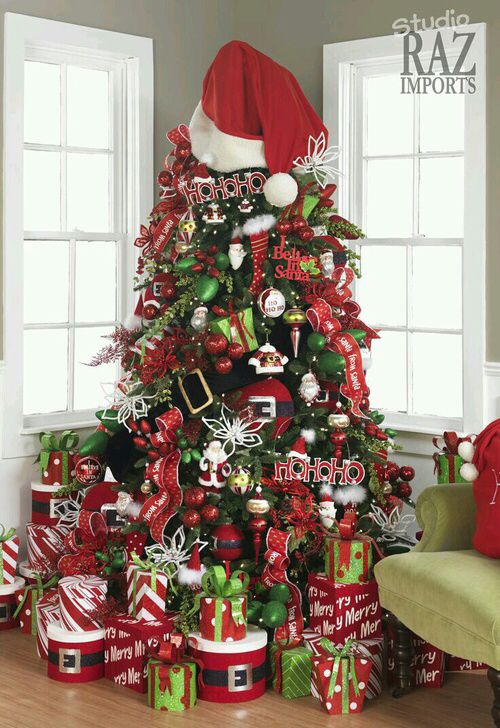 From all the Christmas tree ideas I've found on the internet, this one is my kids' favorite one!
It is basically a fun transformation of the tree into Santa Claus. Instead of the good old Star tree topper, put a hat this time. Instead of shimmering garland, put the Santa's belt (you can find in every dollar store).
Stick to the red-green theme and voila!  🙂
25. Bring Festive Cheer with Photos on a Christmas Tree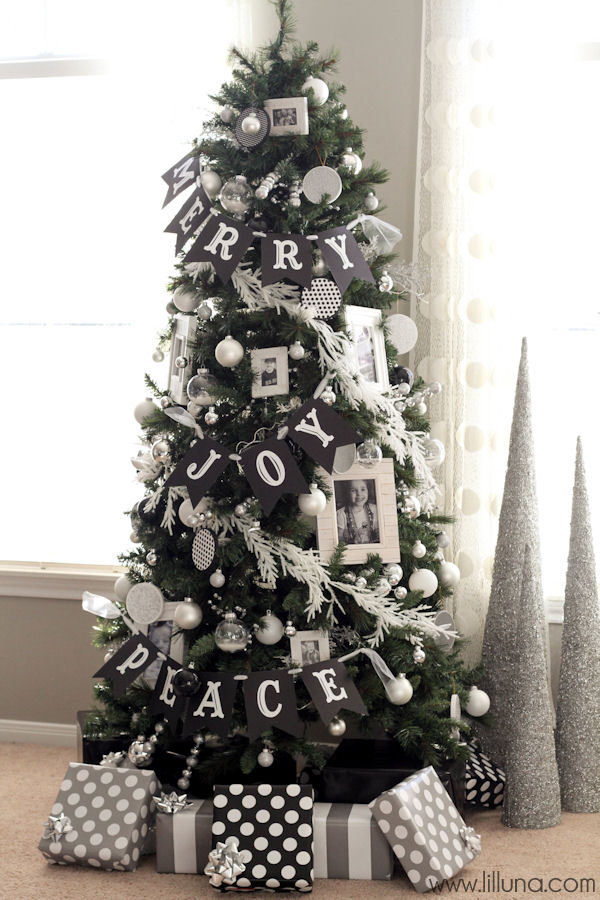 Photo:Credit
In case you suffer from an insignificant obsession with bunting banners, this Christmas tree decor might be your game! These ones are made of black cardstock and White vinyl letters (chalk paint optional).
Hang the trio symmetrically on your tree to spread the joy and peace.  😉
26. Utilize Timeless Christmas Tree Decorations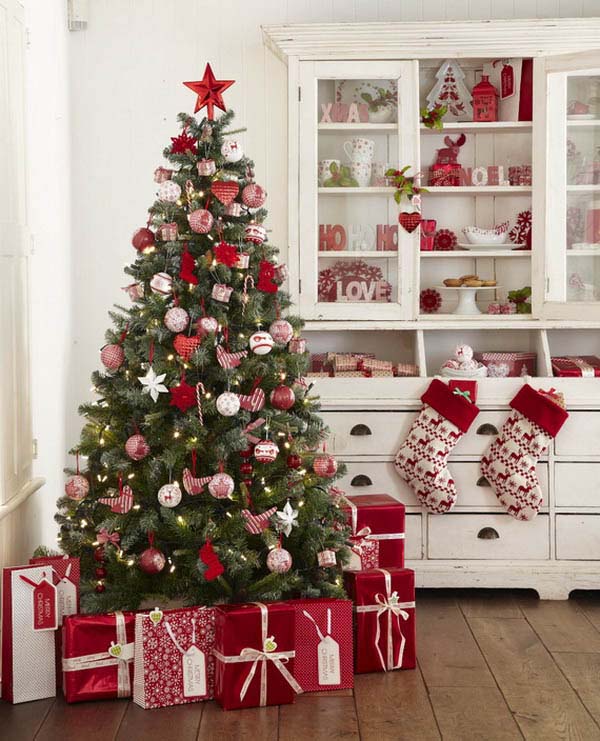 It doesn't get more timeless than a Christmas tree trimmed with a mid-sized star topper, a bunch of candy canes, and loads of classic red and white ornaments.
My point is, give the classic decoration ideas a credit! See how chic and Christmassy this tree looks!  😉
27. Uplift an Empty Corner with a Grand Christmas Tree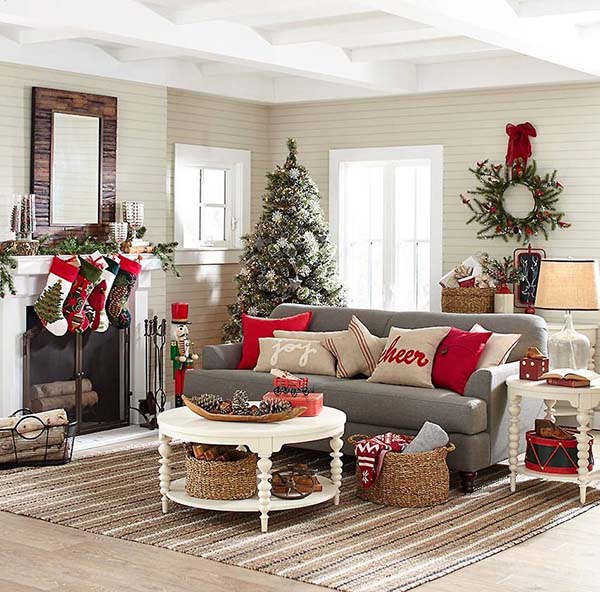 Sometimes simple—like this (almost) naked Christmas tree—works best, especially if you're planning to feature a tree in a spacious living rooms space with tons of other showy holiday decorations.
However, I'd recommend adding a small Christmas tree topper in some muted color for a finishing touch.
28.

Achieve a Seaside Look with Blue Christmas Tree Decor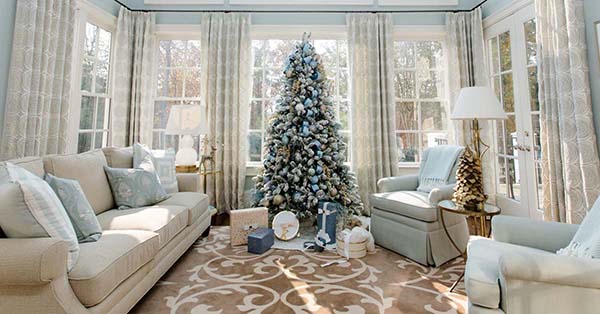 While some snowy decorations can feel a bit too cold or severe, this enormous Christmas tree decor in warm blue feels welcoming and brings some additional warmth to the room thanks to its muted tones and vintage ball ornaments.
It's surely the focal point of this spacious living room.
No matter if you decide to give your Christmas tree some rustic flair, a modernistic gold look, or just decide to stick to the red-green traditions, make sure you find a way to express your personal style and taste. 
Hopefully, my 23 Christmas tree ideas will help you get the right amount of inspiration!  🙂