As the overloaded countertop can make a kitchen look messy and disorganized, this is what the piles of shoes in the entryway do!
If you want to find against the shoe clutter on the floor, then you must start thinking of how to best organize them so that the entryway looks welcoming, neat and organized!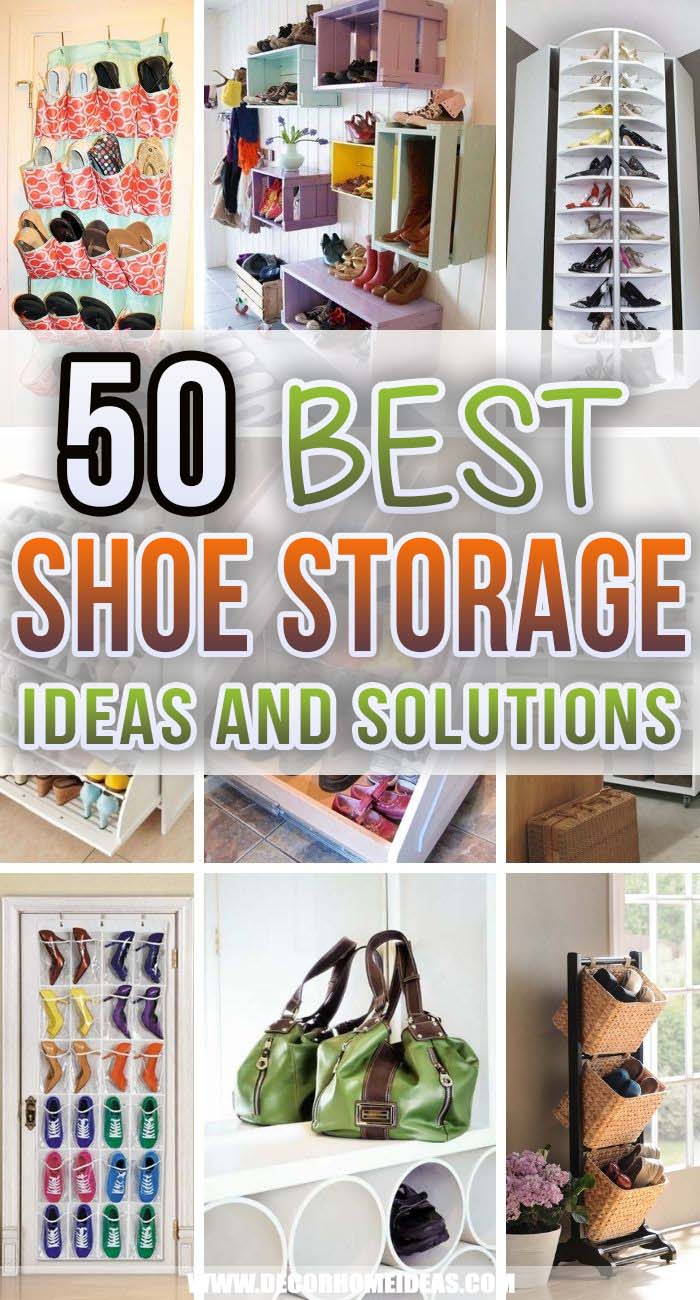 There are many kinds of shoe storage organizers but we have sorted out the best of them all! The 50 Best Shoe Storage Ideas To Keep Your Entryway In Order Every Day will give you an insight in the decluttered world where the storage item fits perfectly the space and the interior of the entryway.
There are ideas for spacious rooms and such for limited spaces. You can choose from affordable organizers found at the Dollar Store to customized racks with a luxurious design!
1. Maximize Space with Over-the-Door Plastic Shoe Organizers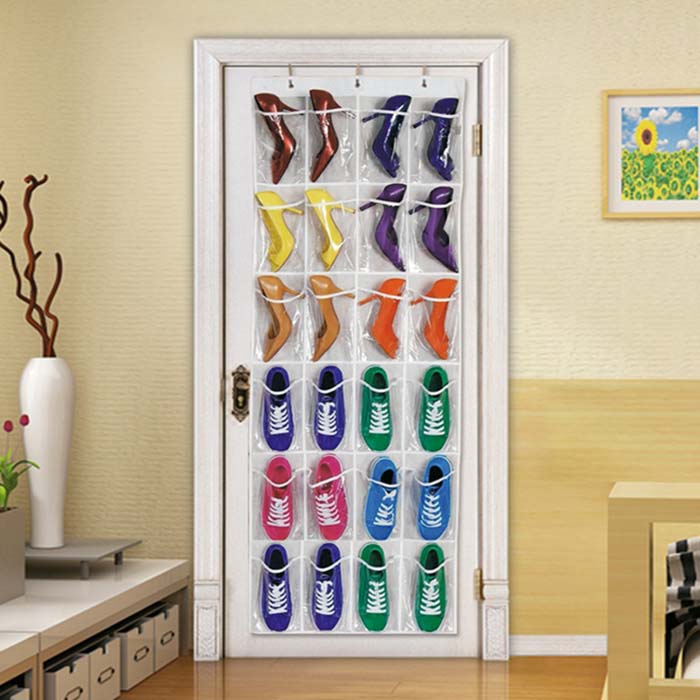 The plastic organizers sold at the Dollar Stores can be applied for a number of storage ideas! You can choose among various sizes, colors and textures to pick up the best one for your interior door.
This model features 24 pockets where you can place a single shoe or one pair, depending on the style and design of the shoe.
The transparency of the plastic makes it easier to get the desired pair quickly.
via Banggood
2. Add Glam to Your Wardrobe with Baby Shoe Hooks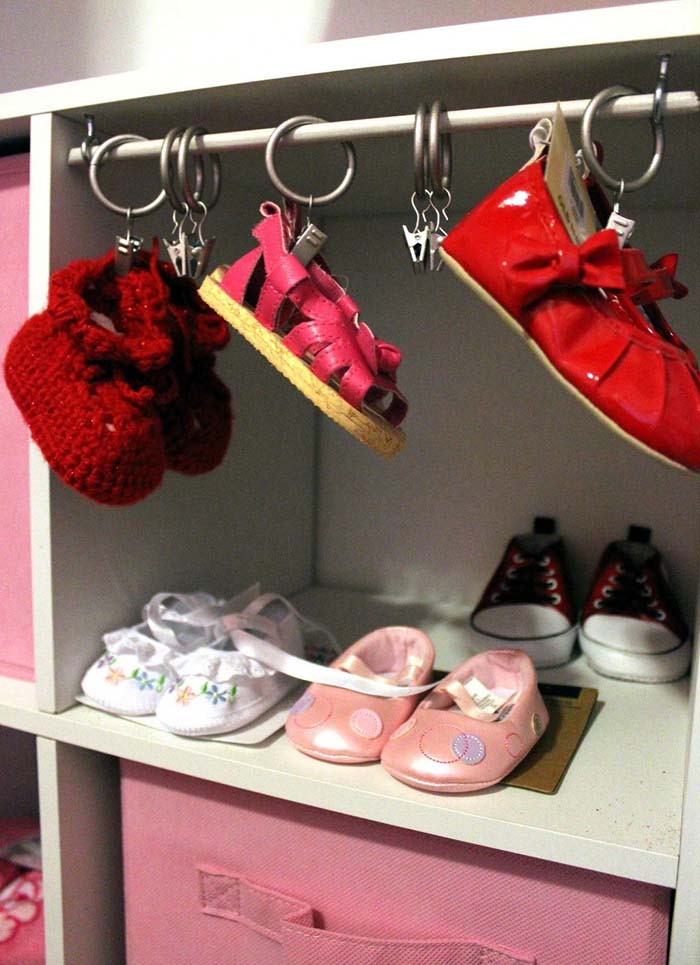 There is no need for an additional storage area for the baby's footwear. This clever idea lets you use the existing storage furniture.
Add a metal rod or a wooden dowel to the top part of the cubby and clip rings. The cute clips will keep each pair neatly stored. When there is no free clip, take the rod down and add another ring! Easy, isn't it?
3. Add a Stylish Touch with a Back-lighted Shoe Cabinets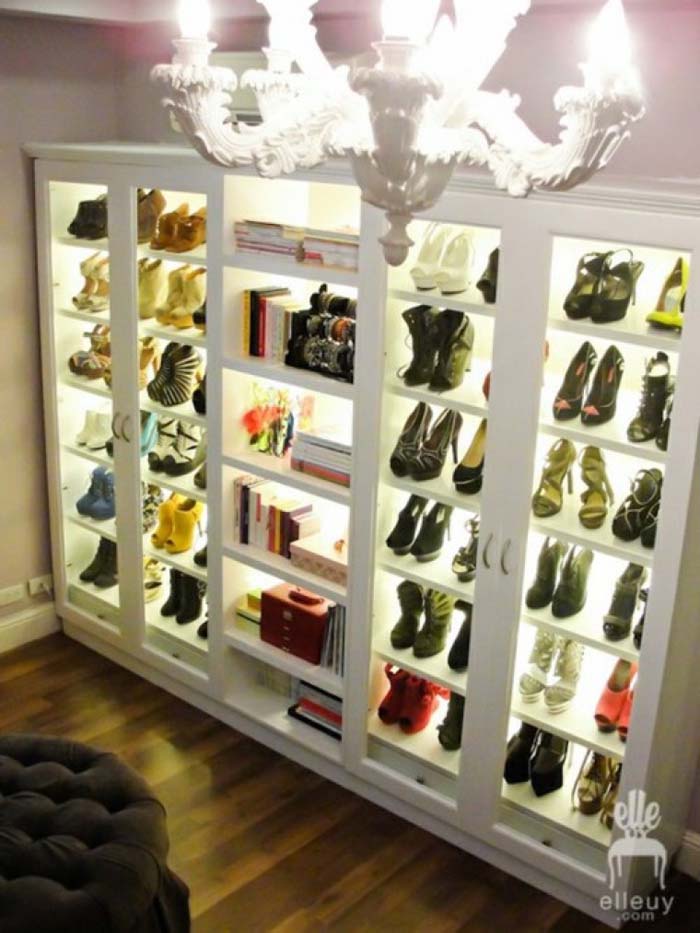 The built-in shoe organizer in this closet reminds a shop window with the back-light feature and the glass doors letting you see the gorgeous high-heeled shoe collection.
The design of this cabinet leaves a middle section acting as an open shelving unit where decorative items are displayed to add some beauty to the atmosphere.
4. Enjoy a Gorgeous High Heel Collection with Shoe Shelves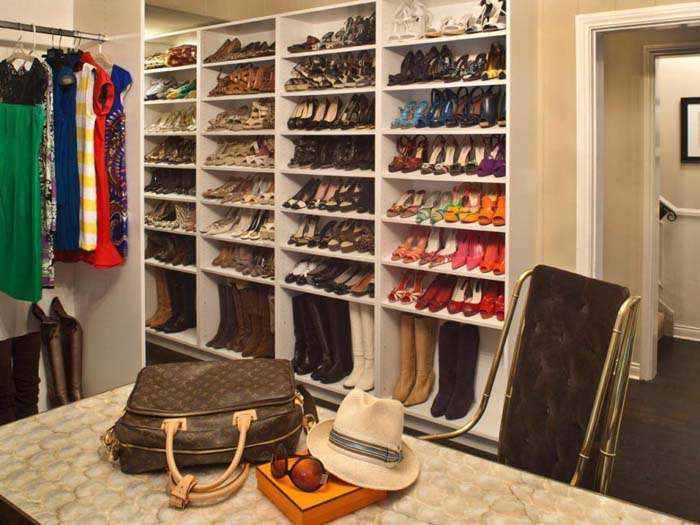 The most practical and appealing way to store all shoes in the closet is the wall cabinet solution. You can have it in two designs- open shelves that give a straight insight over the stored items or equipped with doors for hidden shoe storage.
Either of these allows access, comfort, convenience and proper care for the shoes.
via HGTV
5. Bring Rustic Elegance with a Bathroom Metal Shoe Rack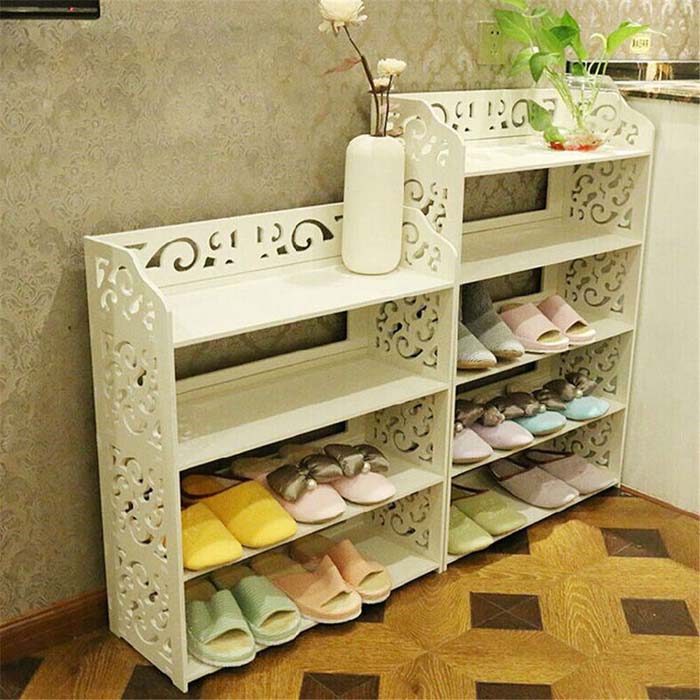 This good-looking metal shoe rack is designed to keep many shoe pairs or indoor slippers at an accessible and visible place.
The number of shelves makes it very practical without ruining the visual design at all. It can be placed in the entryway, in the bathroom, even in the bedroom.
6. Repurpose an Old Pallet into a Rustic Shoe Rack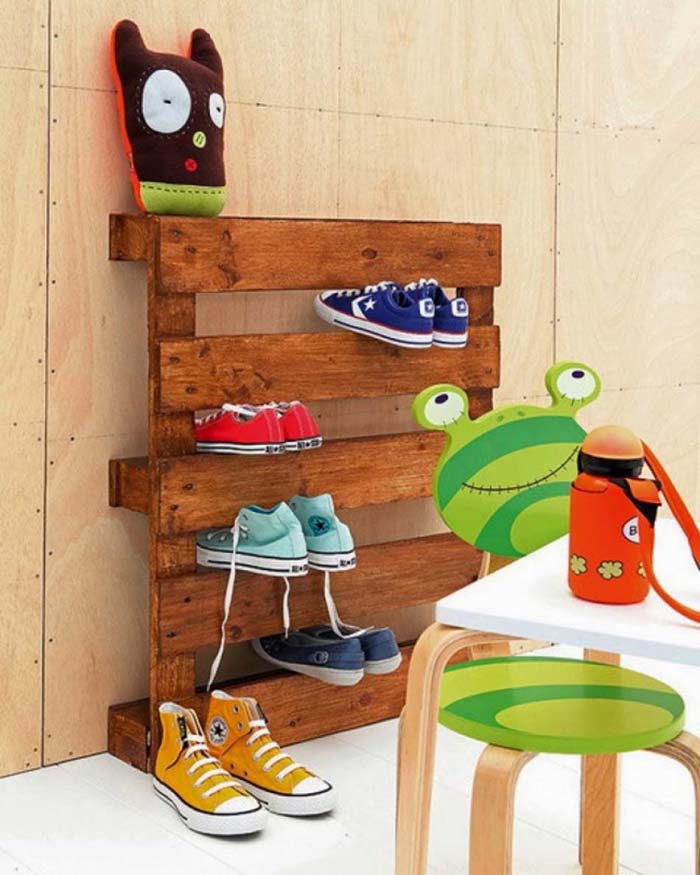 If you are trying to teach your kids to be organized and keep their room neat and tidy, try this cute shoe storage idea.
The functional organizer features a pallet secured to the wall in a vertical position. The gaps between the slats are of the perfect size for putting sneakers, sandals and other flat shoes in. Be careful with leather shoes as the wood may damage them.
via Design Feria
7. Hang Your Kid's Boots with Wall Wood Pegs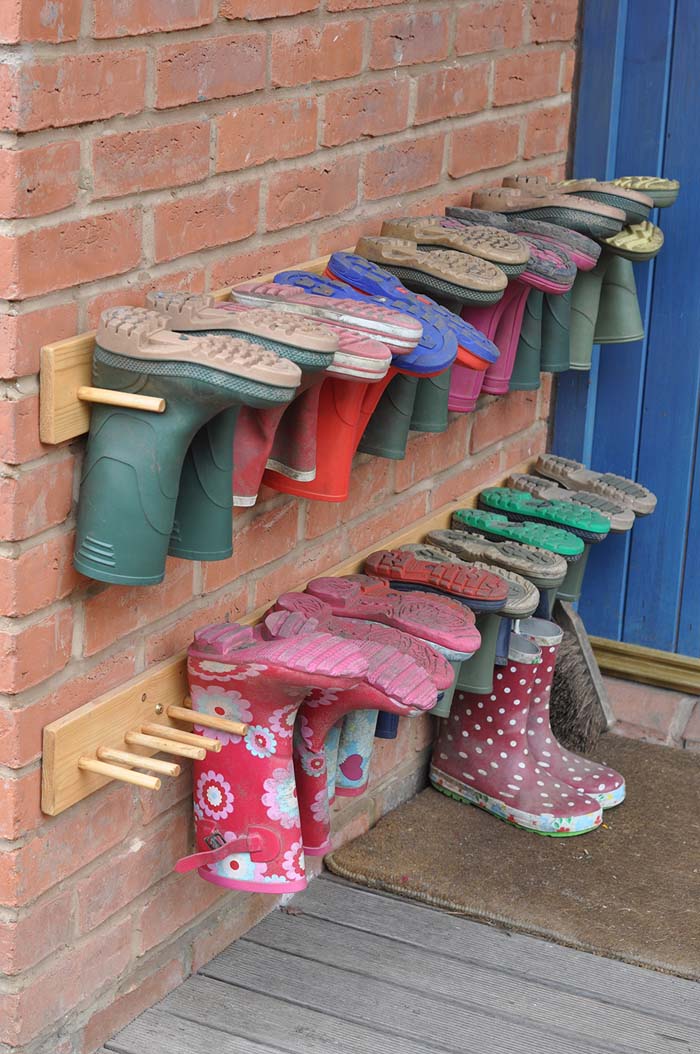 Keep the dirt from the rain boots out from the inside of your home by creating a special shoe rack on the porch. It is of a very simple but practical design featuring pegs inserted on slats.
Keep the boots stored upside down so that water goes out easily and mud stays on the soles.
8. Get Unmatched Aesthetic with a Circular Shoe Rack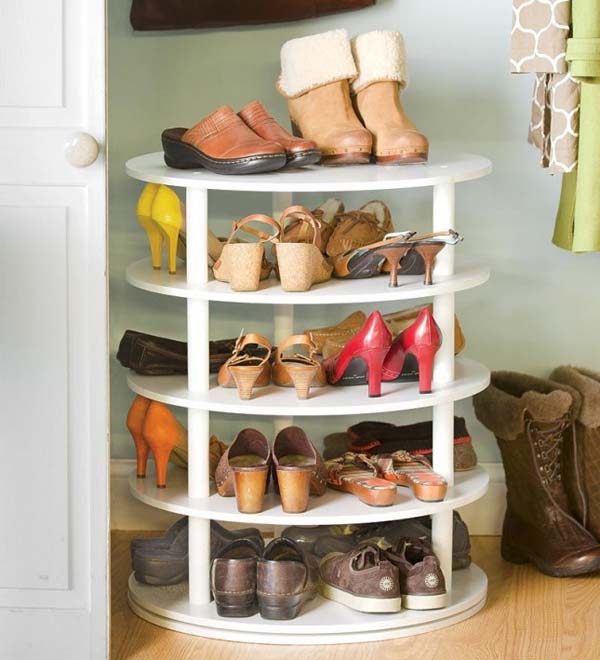 This shoe storage idea is inspired by the Lazy Susan design but in an enlarged scale and number. The stacked round platforms look aesthetic and provide space to store any type of shoes.
Placed in a dead corner of a room, this circular moving rack won't take up much space.
9. Upgrade Your Closet with a Hanging Shoe Organizer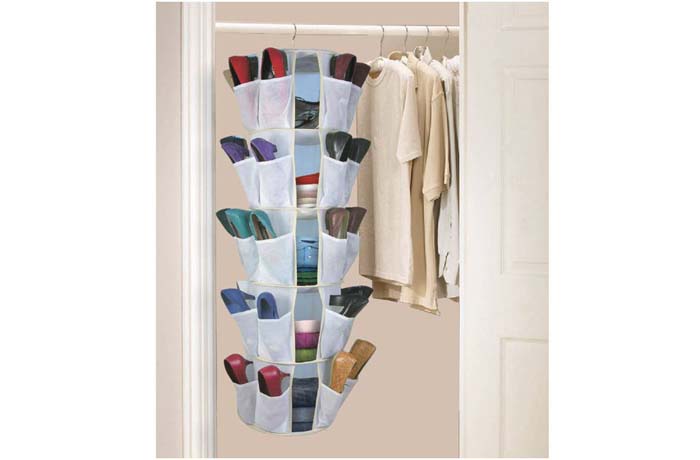 This type of hanging shoe organizer is suitable for suspending on the closet hanger rod so that all pockets are utilized and accessing the pair you may need is easy.
Each pocket takes one shoe only. The space may look insufficient but there are five levels spread around a centered sleeve so 15 pairs of shoes fit in the organizer. The middle section is also usable. You can store scarves, shirts, belts which don't have a dedicated place in the closet.
10. Hide Your Shoes with a Sliding Vertical Wooden Organizer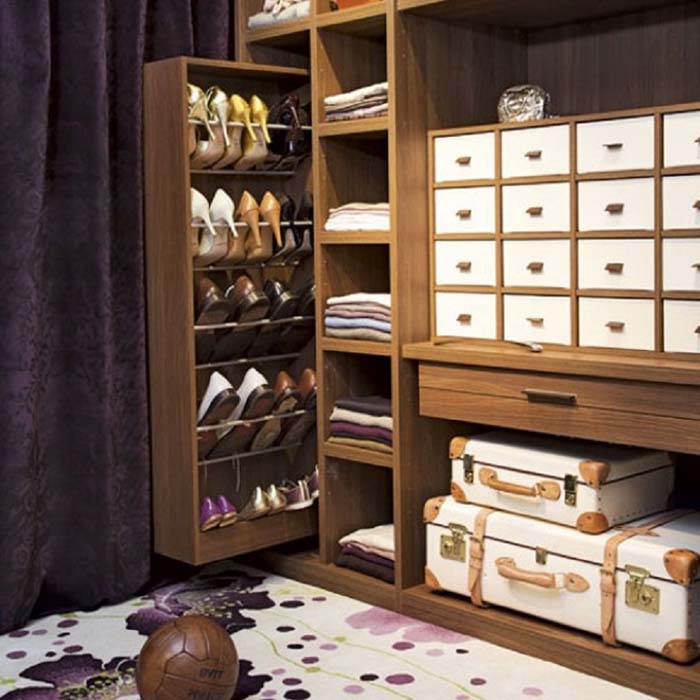 Make a special vertical drawer for the shoes in the closet storage furniture. It has enough storage space ensured by metal bars. The form four levels for neat and supported storage.
When the shoe section is closed it looks like a solid piece of furniture. Once you pull the drawer out it rolls out to let you choose the pair of shoes for the occasion.
11. Enhance Your Wardrobe Storage with a Custom Shoe Rack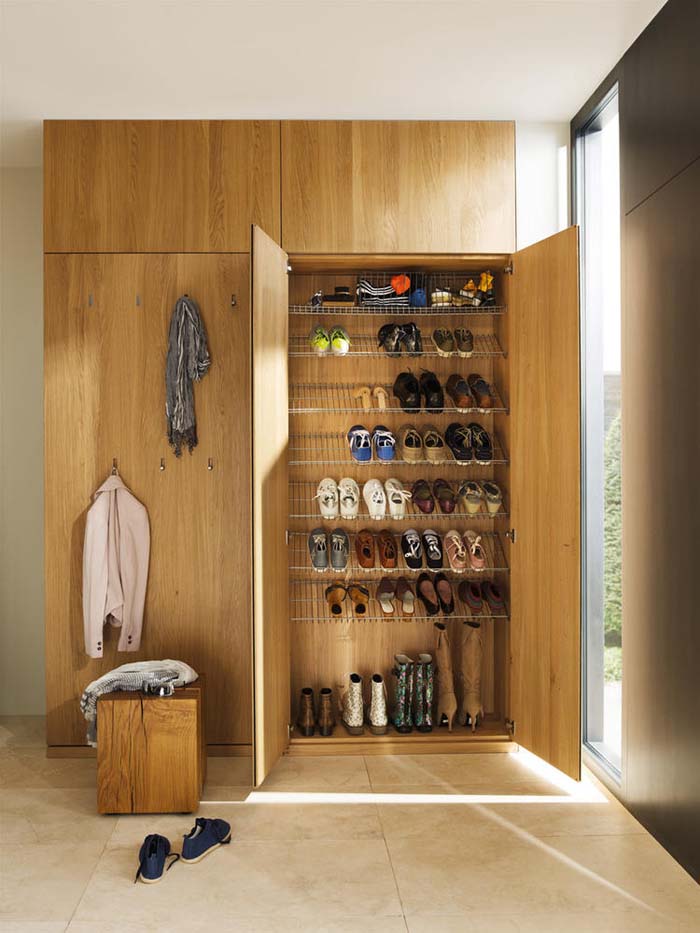 This convenient shoe rack is actually a customized solution in the inside of a standard wardrobe. Metal racks differentiate seven levels for standard shoe storage. The first rack starts at a higher point leaving enough height for the storage of boots.
Metal racks are also comfortable for maintenance and easy location of the item you are looking for. You can add wicker or wire baskets to increase the organization level.
12. Bring an Industrial Vibe with PVC Pipes Shoe Organizers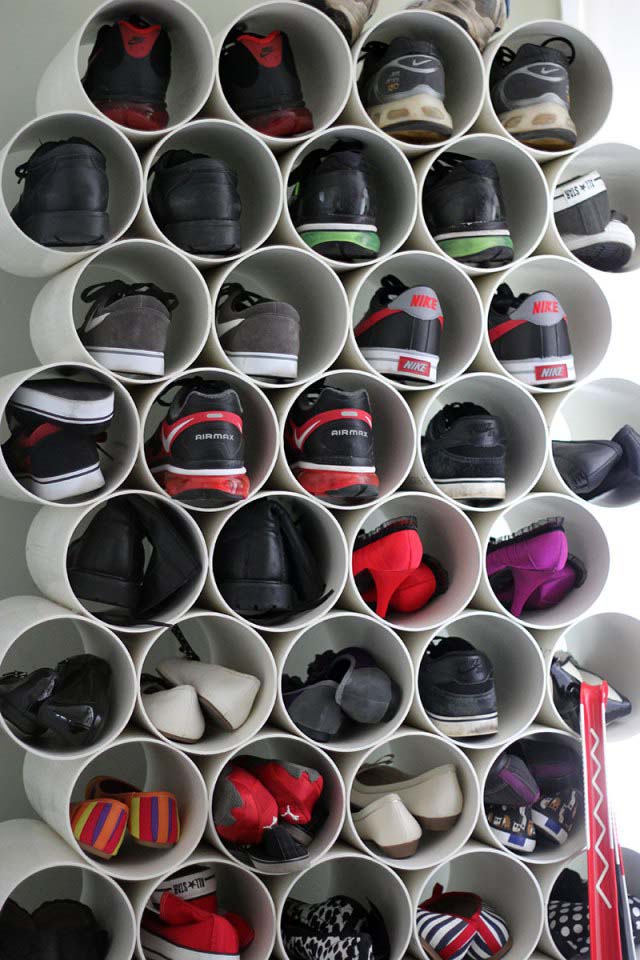 This PVC pipe shoe organizer is perfect for the taste of teenagers needing more space for the number of pairs of shoes they have.
In addition to benefitting from the minimum investment, you also get as many shoe spaces as needed. Simply cut a piece from the pipe and screw it to the wall.
13. Get Creative with Colorful Plastic Shoe Holders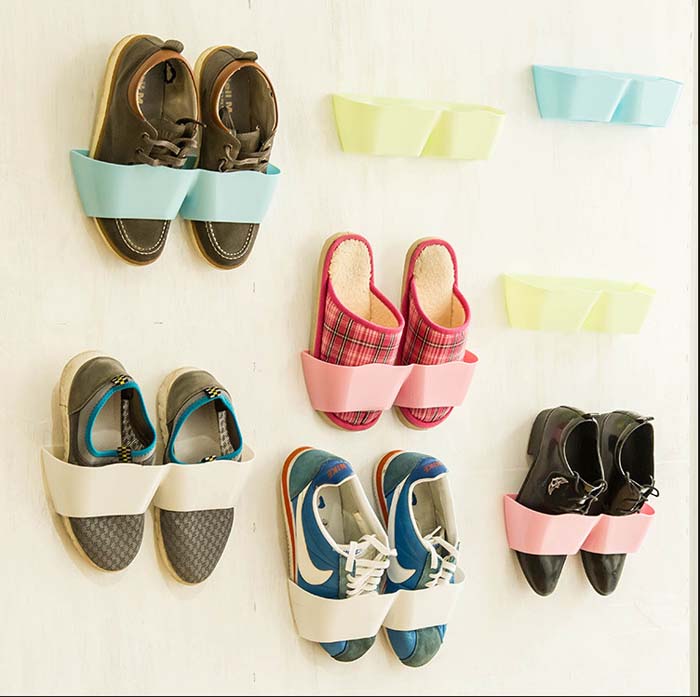 This is one of the most artistic shoe organizers. They are offered in various sizes. If you can't find the desired color, you can ask for a customized pair of plastic holders.
Attaching them to the wall is easy thanks to the adhesive band at the back. Find an empty wall spot on the hallway wall and seal the holders there.
This idea is great for frequently used shoes but it is also perfect for additional storage places on the closet wall or door for dress shoes.
via Aliexpress
14. Upcycle Crates into Rustic Shoe Boxes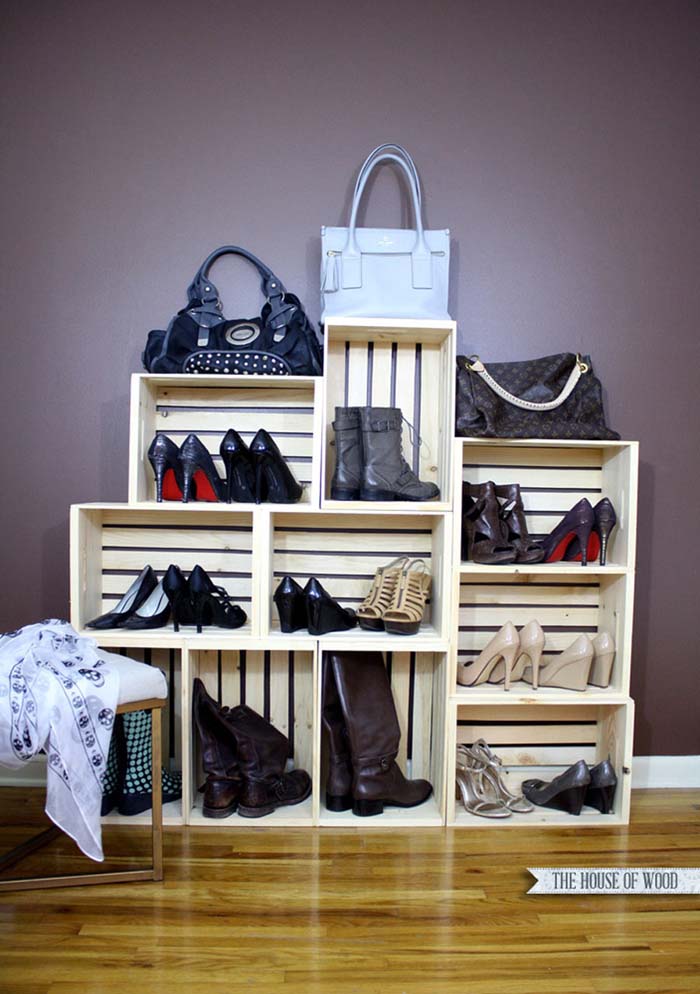 Repurpose crates into shoe boxes to make an appealing shoe organizer in no time! Clean the crates well and if needed rework their surface. You can go for the classic farmhouse look of the natural sanded wood or paint them a color that brightens up the room.
Arranging the crates is another way to give the shoe rack a unique look. Stack them in a pyramid alternating horizontal with vertical positioning. Mix and matching of heights and lengths should be also coherent with the shoes you are going to place inside.
15. Make the Most of a Closet Door with Metal Rods Shoe Rack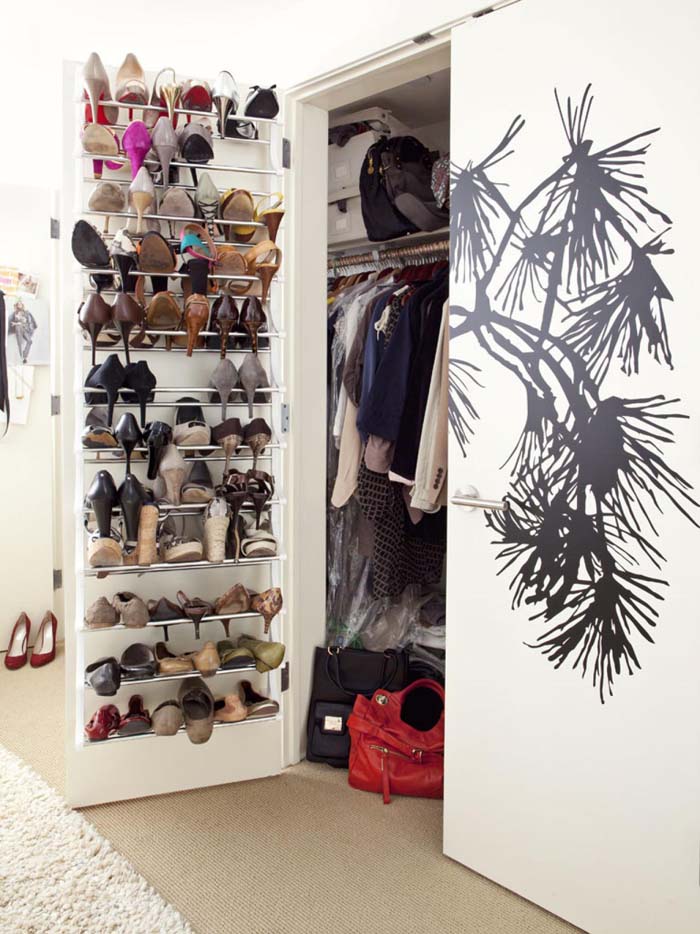 Optimize the storage space in the small closet by utilizing the door space. It can be used for neat storage of scarves or bags simply by adding a coat rack or a metal bar.
Another useful idea requires an additional metal bar device that covers the entire door on the inside. It is rigid enough to take up a big number of shoe pairs and support them neatly in place.
16. Utilize Your Door with a Hanging Shoe Organizer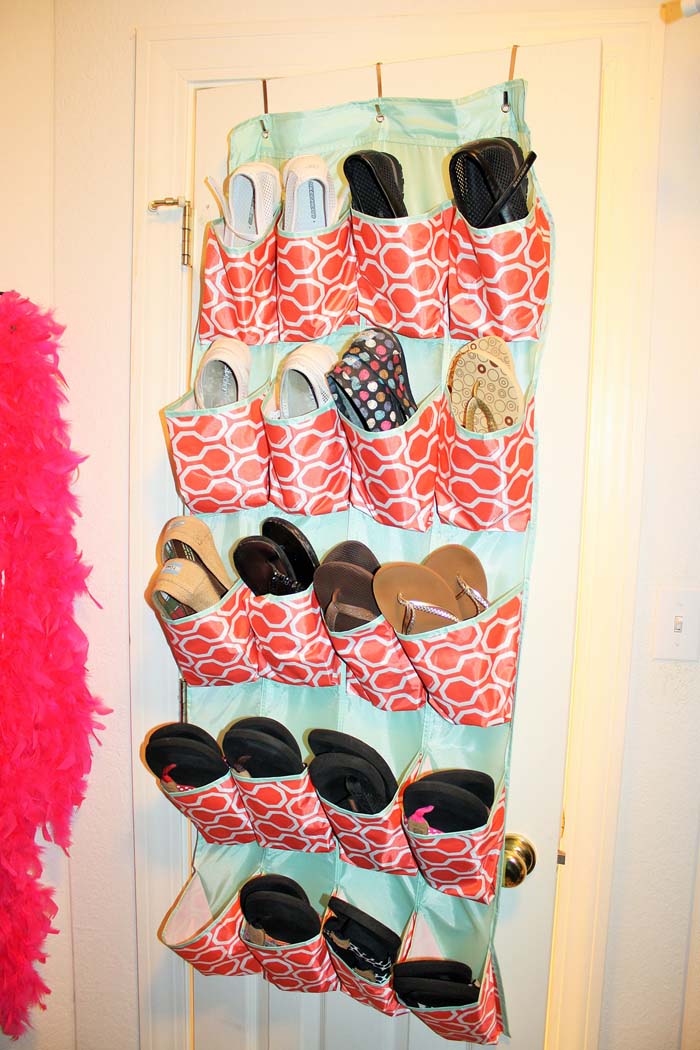 This shoe organizer may not be the most appealing one but is surely a savor when it comes to quick and affordable closet declutter.
This temporary solution is actually a repurposed bathroom wall organizer with pockets. Each pocket can take up one shoe or a pair of flats.
17. Keep Your Shoes Organized in Style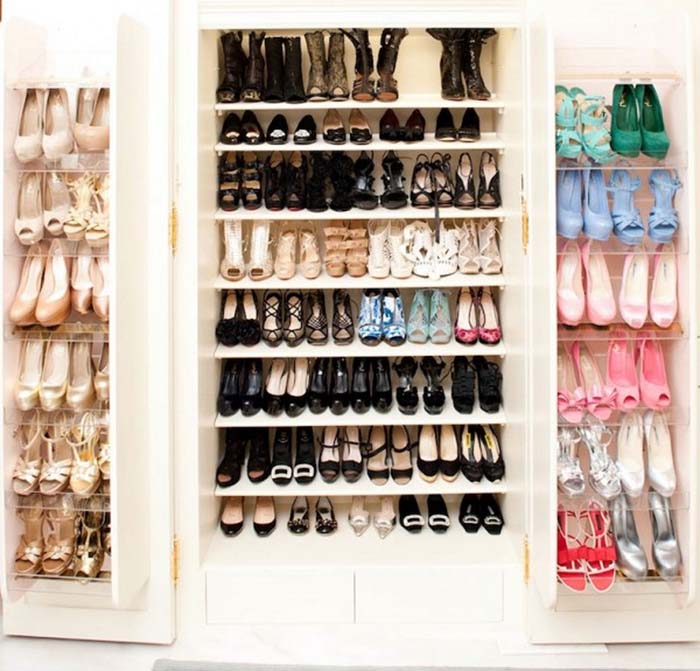 This idea is the most clever storage solution for shoe addicts or shoe shop storage. Ensuring enough space for proper storage of a big number of shoes of a collector is a challenge but not if there is such a practical cabinet.
In addition to the shelves of the cabinet, the design of the doors gives extra space for storage. The hollow space is perfect for fitting inclined plastic devices that secure the shoe pairs.
18. Bring Charm with a Personalized Family Shoe Cabinet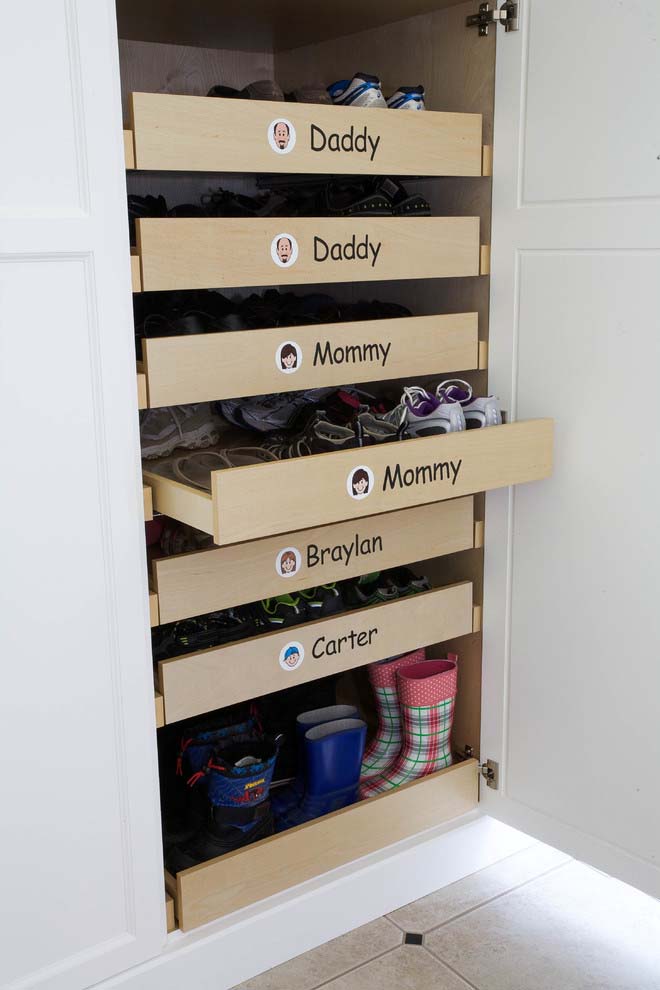 A funny and cute way to make your kids be keener on cleaning and organizing at home! The cabinet for shoes is an entire tall section with pull-out drawers. Every drawer has a tag to label the person it belongs to.
The shallowness of the drawers lets you easily see what is contained in them and that in addition to the cute labels makes storage a fun game.
19. Get Organized with an Under Bed Sliding Shoe Rack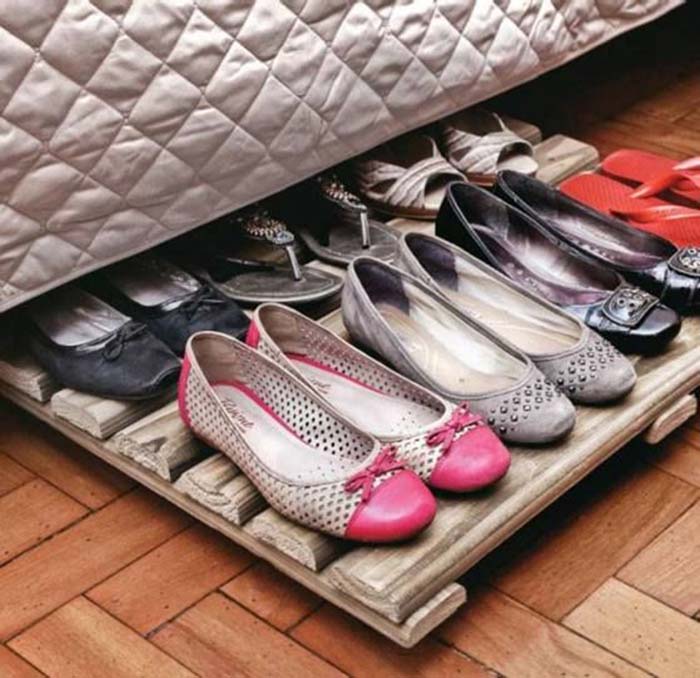 The space under the bed is usually a dust collector. Change that into an advantageous storage place by adding a DIT trolley.
Of course, if the free space is bigger, you can create castor drawers for clothes storage. If the space is limited, the trolley is your savor. Consisting of a flat wooden board or a simple pallet, you have enough surface to organize from 6 to 8 pairs of shoes. Don't forget to add castors to make access to the stored shoes easier.
20. Make a Statement with Artistic Rustic Wire Shoe Racks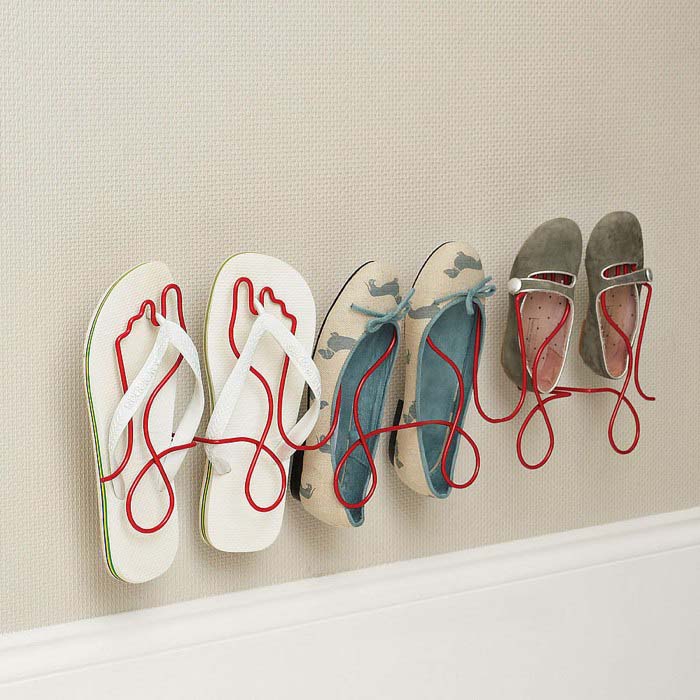 This type of shoe rack is suitable for sandals, flip-flops and flat closed-toe shoes.
It is made from wire twisted in the shape of a footprint. The red color makes the organizer very modern and appealing. One of the advantages it provides is that it comes in a size to store three pairs of shoes. So that makes it one of the most used organizers to save space.
21. Maximize Your Home's Potential with Custom Shoe Drawers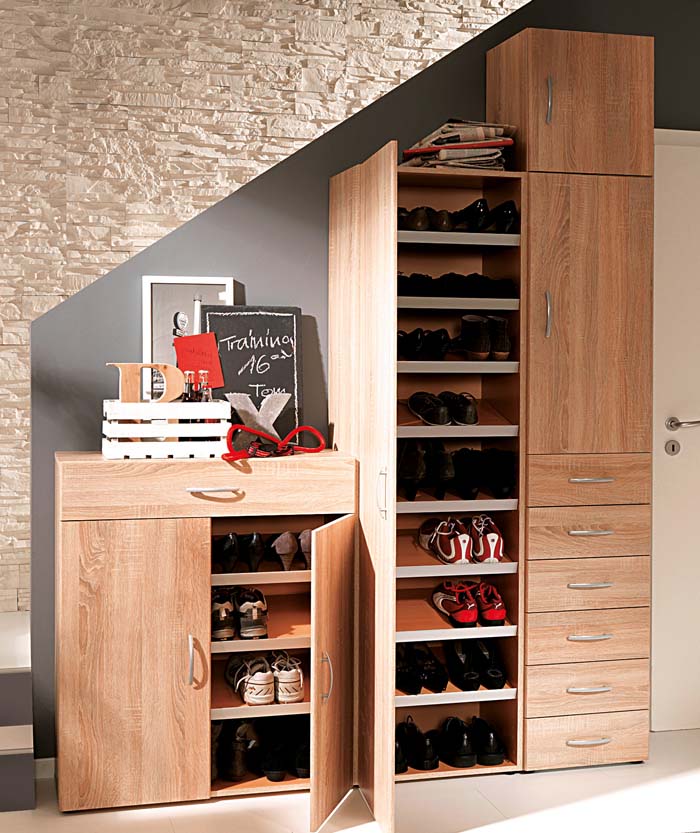 Another area from the house that is usually not utilized is the staircase. There are ideas for customized built-in drawers where shoes or clothes can be stored.
If you are not into dramatic makeovers, simply add wooden cabinets for storage. Made from wood, the cabinets are very functional giving you the option to store shoes or other items on shelves and in drawers.
via Moebel Meile
22. Add a Touch of Class with a Wood and Glass Shoe Organizer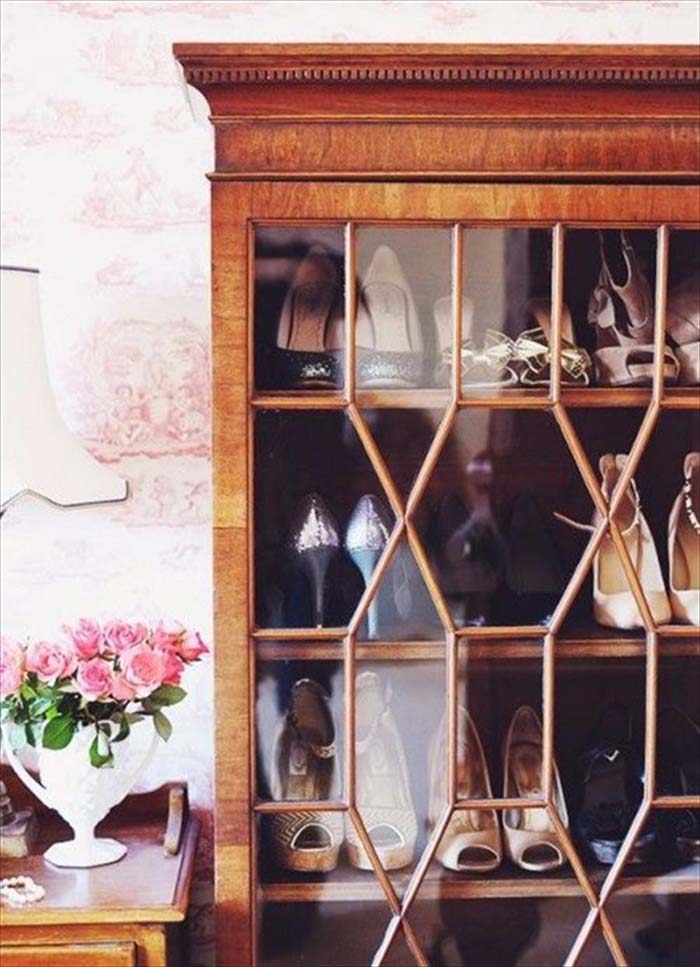 Finding a vintage shoe rack to complement the shabby chic interior of the closet could be difficult. Not if you repurpose a unique vintage cabinet into a shoe storage unit.
The stylish formal look given by the combination of varnished wood and glass doesn't give you any other choice but to display the most special pairs of shoes in there.
23. Find the Perfect Fit for All of Your Shoes in One Space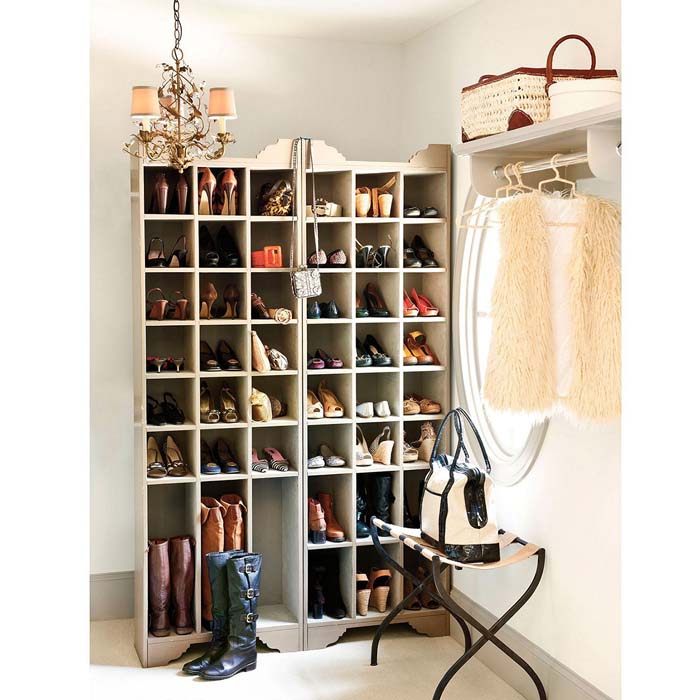 These two sections create a fancy shoe rack at a visible place in the closet. Instead of hiding the pairs behind doors, they are displayed on the open shelves of customized cabinets.
The lower sections are taller to fit in tall boots. The upper levels showcase identical cubbies for flat or high-heeled shoes.
24. Add Splendour to Your Home with a Metal Shoe Mount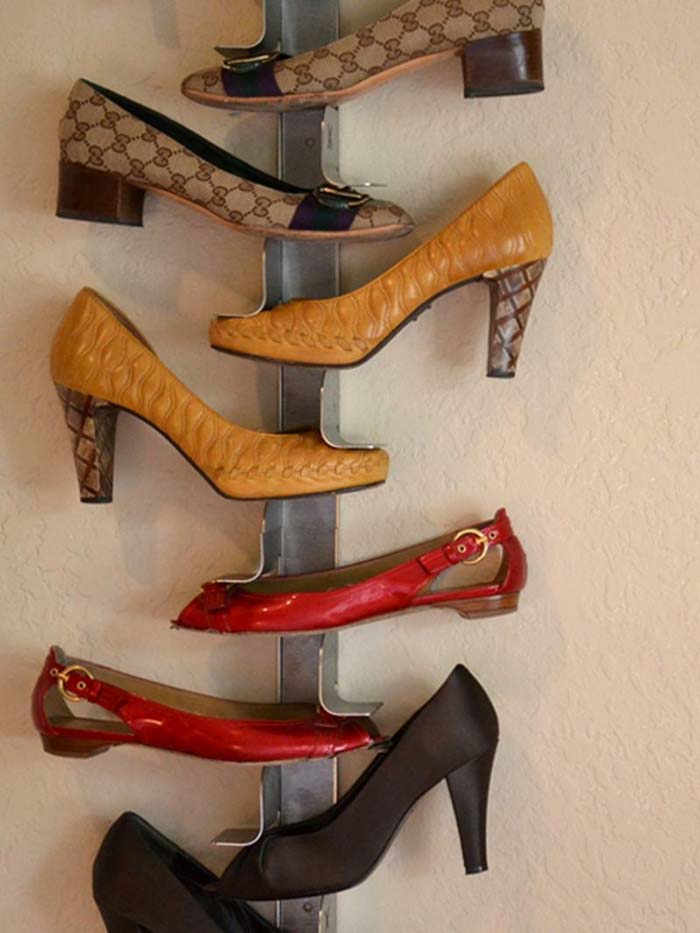 That is one of the simplest shoe rack designs which considers mostly saving of space and accommodating in limited space.
The metal rack is mounted to the wall and features L-shaped plates that keep the shoes supported.
25. Declutter Your Floor with a Metal Shoe Rods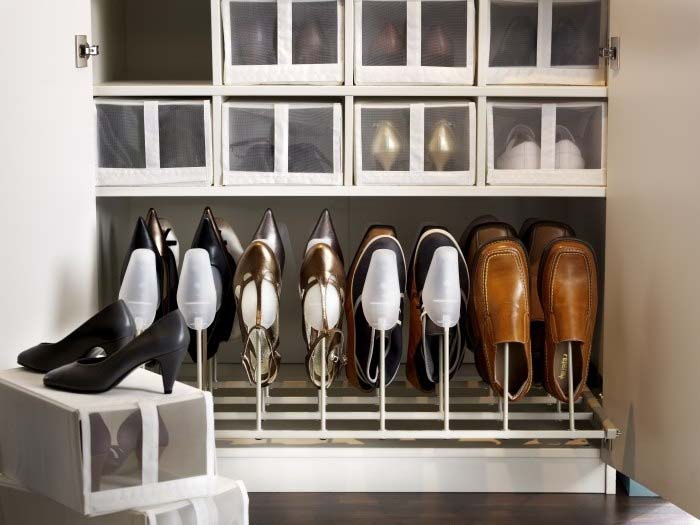 The design of this type of shoe organizer considers keeping the shoes in the perfect shape. The platform stays at the lowest level of a cabinet and features metal rods peeking out a metal grate-like shelf equipped with plastic support tips.
The floor will surely be decluttered when you organize the formal shoes on the metal rod rack. Another benefit of this design is that each shoe from the pair has a dedicated space that prevents it from damage.
via Ikea
26. Add Texture and Character with a Metal Mesh Shoe Rack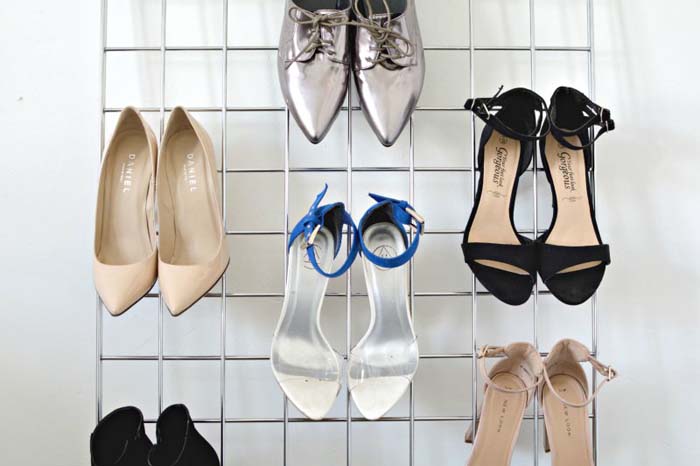 This innovative, affordable and stylish shoe organization idea is perfect for high-heeled shoes since the heels are actually the means to keep them secured.
The gaps of the metallic mesh are very convenient and many so practically, you will never run out of space on this rack.
Another advantage of this DIY shoe organizer is that you clear the floor from the piles of shoes to display them vertically on the rack that takes only a small print from the floor.
via Burkatron
27. Organize Your Shoes with Durable Metal Cubbies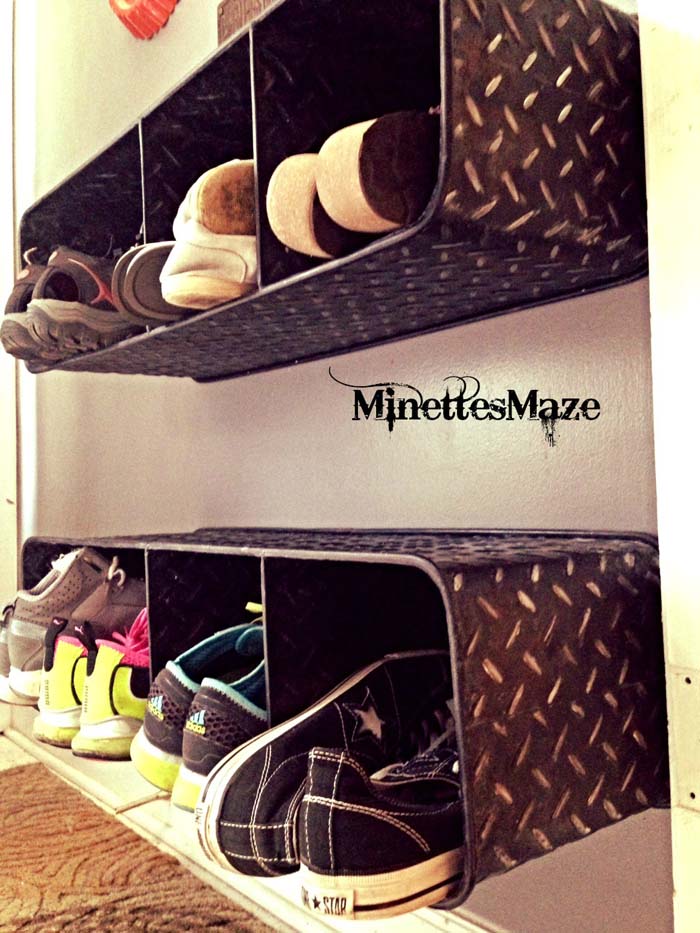 These metal cubbies are made from stainless steel- a great industrial container store solution.
They will last for long years and will keep the shoes well supported. The metal shoe racks can be placed next to each other, one on top of the other or with a space between them.
This depends on the free wall space and what aesthetic pattern you want to create.
28. Deck the Halls with a Mini Shoe Organizer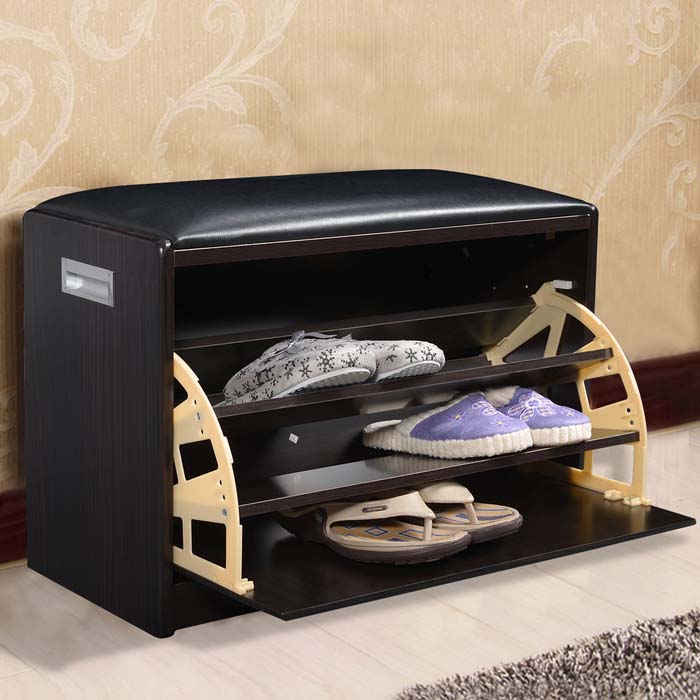 This idea features the design of one of the most traditional shoe storage cabinets but in a mini version. Its size is great for limited spaces but you should know that it limits you in the types of shoes that fit in.
Flat shoes such as slippers, flip-flops and sandals easily fit in the compartments but that is not the case with tall boots and sneakers.
29. Maximize Your Shoe Storage with Cubby Organizers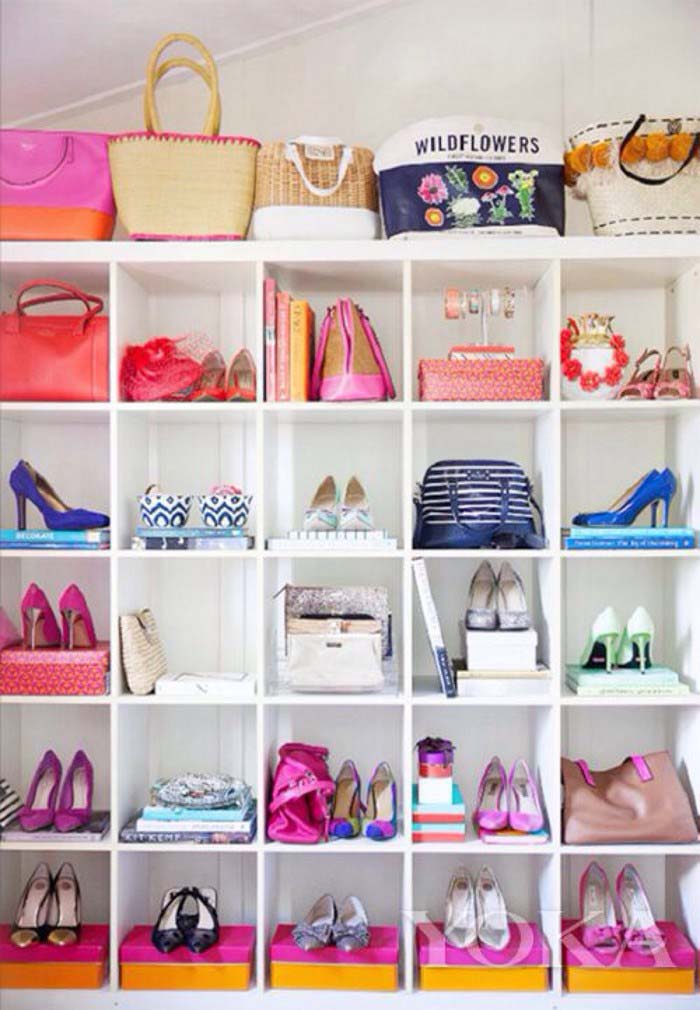 The cubby organizer is one of the best of all shoe storage solutions. The cubic shape ensures the perfect fit of a pair of shoes, even tall boots, and that means keeping them in good shape for a long time.
This idea gives another hint, on how to increase the storage space. Put a box with out-of-season shoes at the bottom of the cubby and place a seasonal pair on top of it. The space is doubled and the organizer looks just as neat.
30. Store Your Footwear with a Mobile Shoe Caddy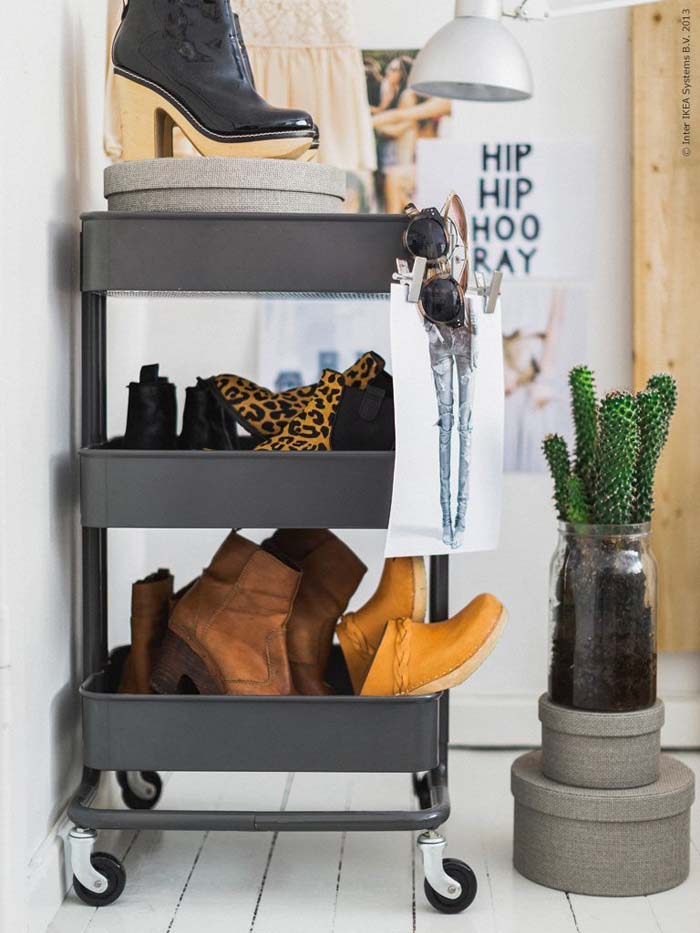 The mobile racks can do miracles with the decluttering goal in any room, including the entryway. When you are limited in space, you need just that type of storage unit to store the items conveniently, move the unit when needed to access another part of the room and ensure that less space is covered.
The mobile racks are perfect for fitting in an entryway corner and store shoes that are most frequently used.
31. Repurpose File Organizers into Stylish Shoe Boxes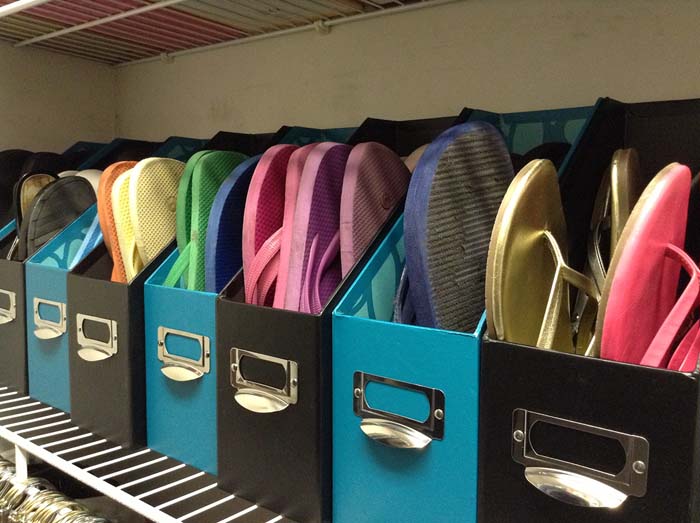 File organizers as shoe storage places? Why not? They are wide enough to take up flat shoes such as slippers and flip-flops. If there is an unused shoe shelf in the closet, place the folders tightly next to each other and see how much decluttered the closet will look.
This idea is to save space as well, especially when compared with the storage of shoes directly on the rack.
32. Stand Out with PVC Pipes Shoe Organizers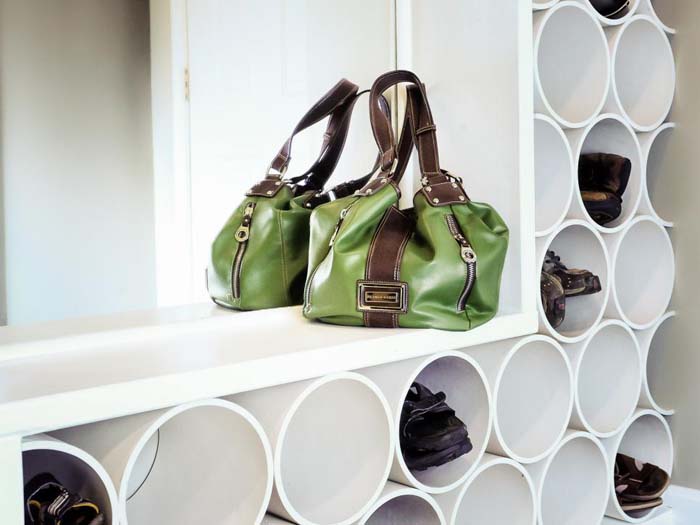 This clever idea is also very affordable and innovative. The shoe storage is made from PVC pipes cut in length to handle the size of one pair.
Pipes are glued to each other covering an empty and unused space from an entryway wall. The curious alignment pattern can be enhanced with the color choice of the pipes. They can be customized with folio or spray paints to get a new texture and color which suits the interior decor of the place.
via HGTV
33. Add a Touch of Homely Luxury with Revolving Shoe Cabinet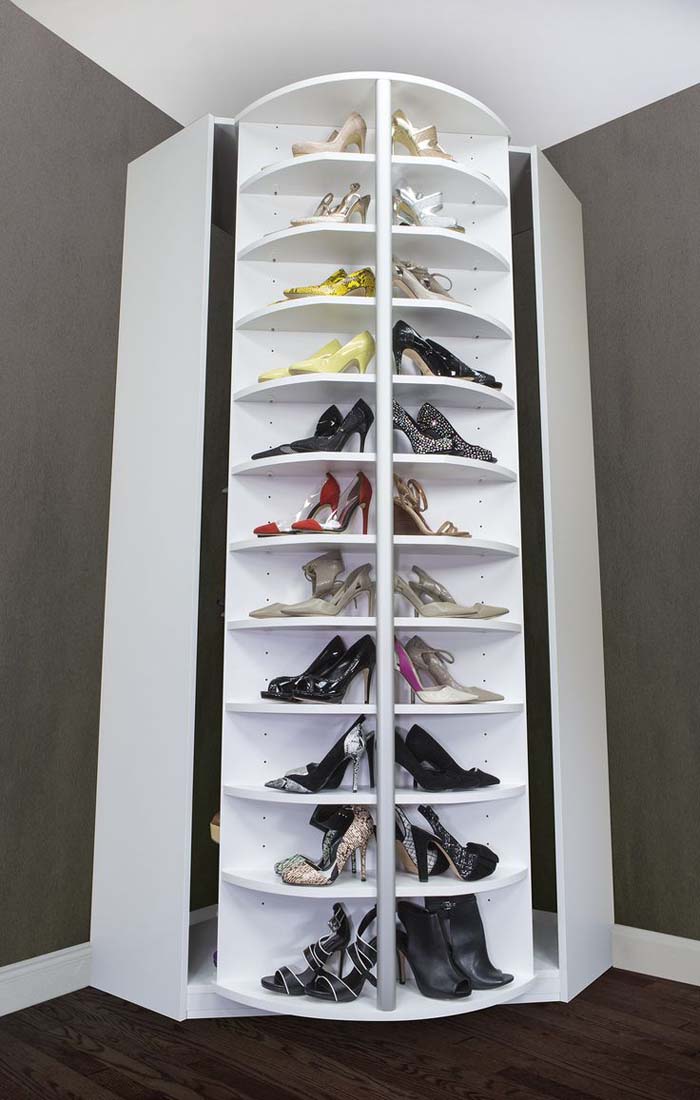 This shoe storage idea is not only practical but very feminine stylish. The organizer features levels for storage of high-heeled shoes starting from the floor and continuing up to the ceiling. The round shape of the platform sections ensures the provision of another advantage of the rack- it's rotating.
Arrange the shoes in height according to their frequency of usage starting from the most used at the lower shelves and less worn on the highest.
34. Create a Lavish Look with Rotating Suspended Shoe Shelves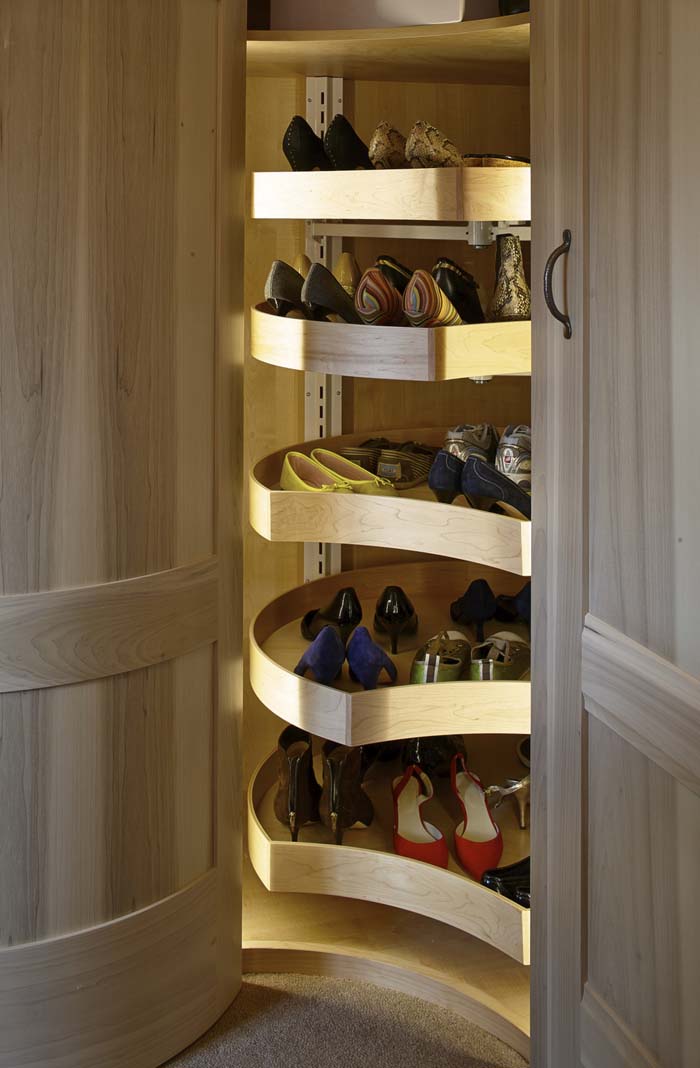 If you are lucky to have a closet room, then you should dedicate some area for your shoes. This cabinet shelves is innovative when it comes to design and access to the contained items.
The platforms are movable to reach easily every pair. Sidelights also help find what you are looking for and give the shelving built-in unit a luxurious design.
via Figura
35. Bring Farmhouse Charm with Rustic Wicker Shoe Baskets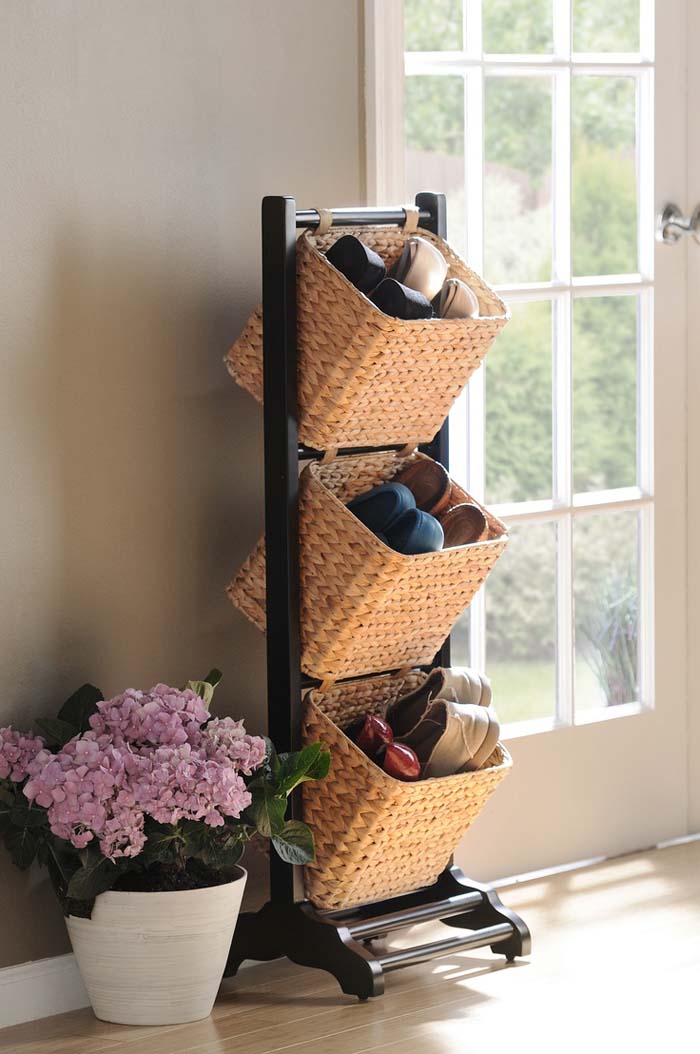 This appealing farmhouse rack for shoe storage lets you store a number of shoes in three inclined wicker baskets.
They are deep enough to accommodate a men's size of shoes and wide to take up to three pairs. The material of the baskets doesn't allow a frequent clean with water or detergents so you should better store in their indoor slippers or formal shoes.
36. Customize Your Shoe Boxes with Pictures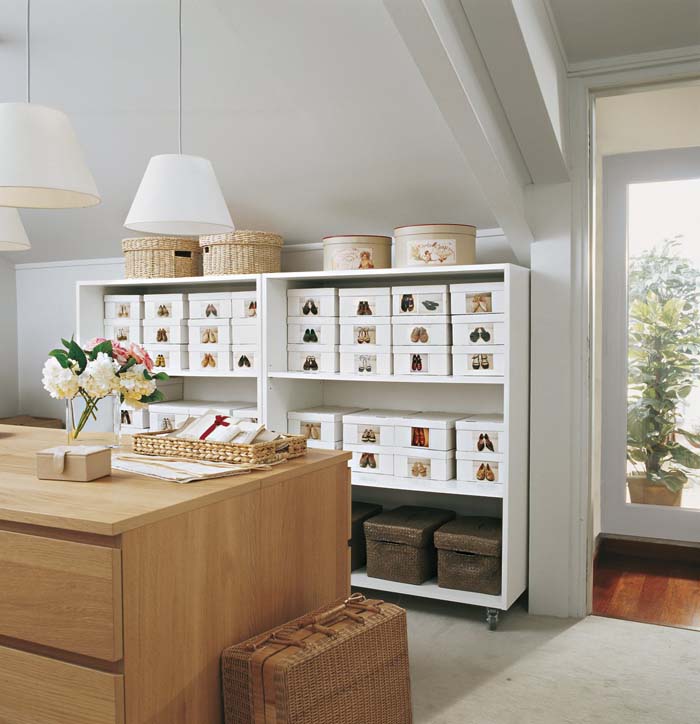 When you want to protect your shoes from any outer interference such as dust and light, you should keep them in closed boxes.
The original boxes you get the shoes in are colorful and placing them all next to each other could create visual chaos. For appealing safe storage, we recommend storage in clear shoe boxes. To make them convenient for quick finding of the pair you are looking for, place a photograph on each front side of the box.
37. Easily Access Your Shoes with a Cabinet Folio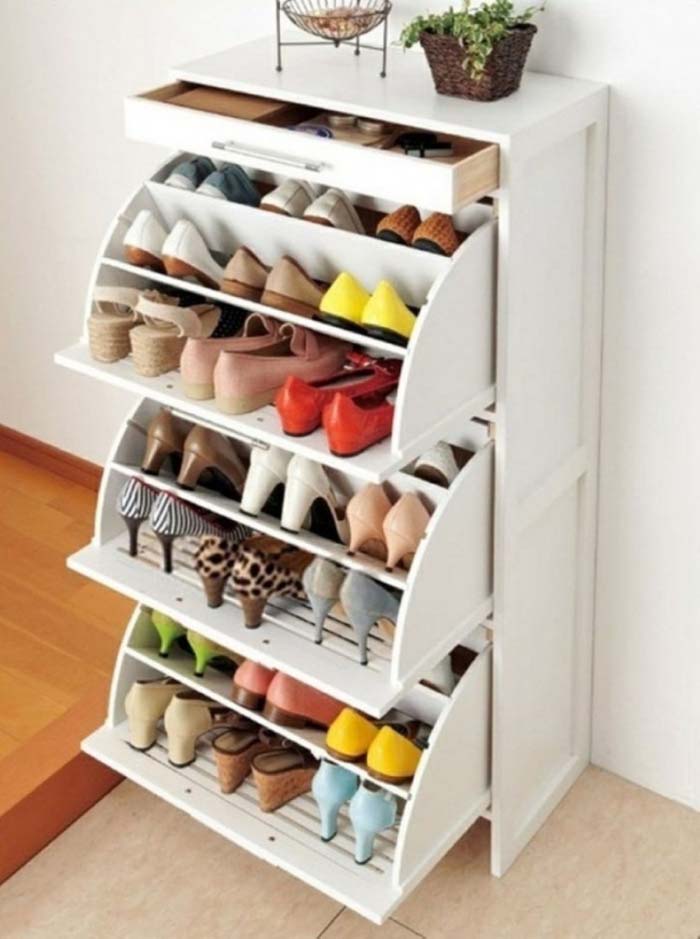 This type of shoe organizers are one of the popular ones that could be found in furniture stores. The shoe cabinet folio is space-saving and accommodates many of the most frequently used shoe pairs.
When you place the pairs of shoes in it, be careful with the positioning.
A rule you can follow is to keep the dress shoes on the bottom rows and those that are most frequently used- at the top since access is easier and quicker.
38. Level Up Your Closet Game with Shoe Wire Hangers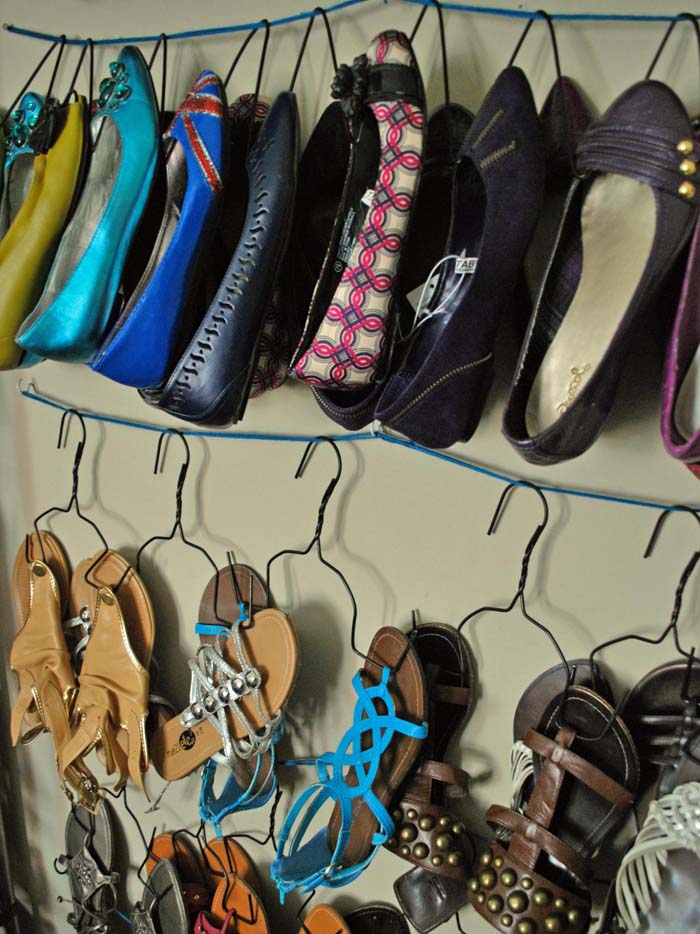 A quick, easy and affordable shoe storage idea! When you are looking for an instant declutter of the entryway and the closet, try this great solution idea.
You need metal wire hangers and a piece of string. Stretch the string on the wall and start stacking the hangers.
39. Build a Rustic Wooden Wall Shoe Cubby Cabinet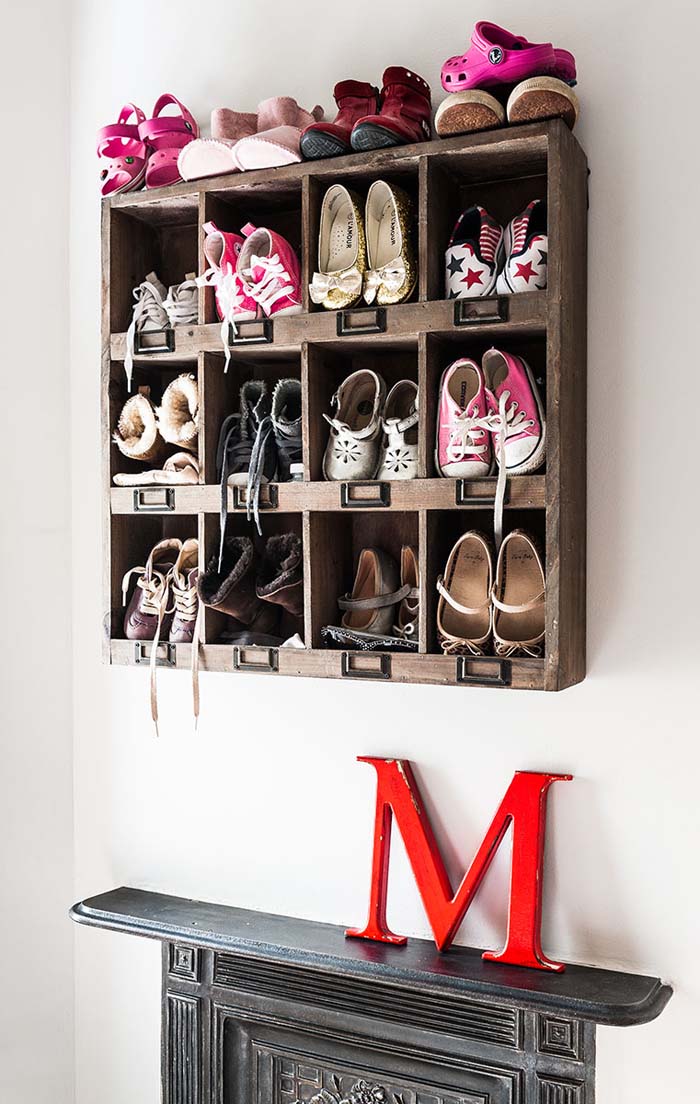 This shoe cubby is actually a repurposed mail cabinet. The texture of the aged wood adds warmth and farmhouse charm to make the shoe storage also a decorative piece.
The cubby sections are quite convenient for the storage of children's shoes. One pair fits perfectly inside the square and the top surface can accommodate a few additional.
40. Give Your Home an Elegant Look with Shoe Drawers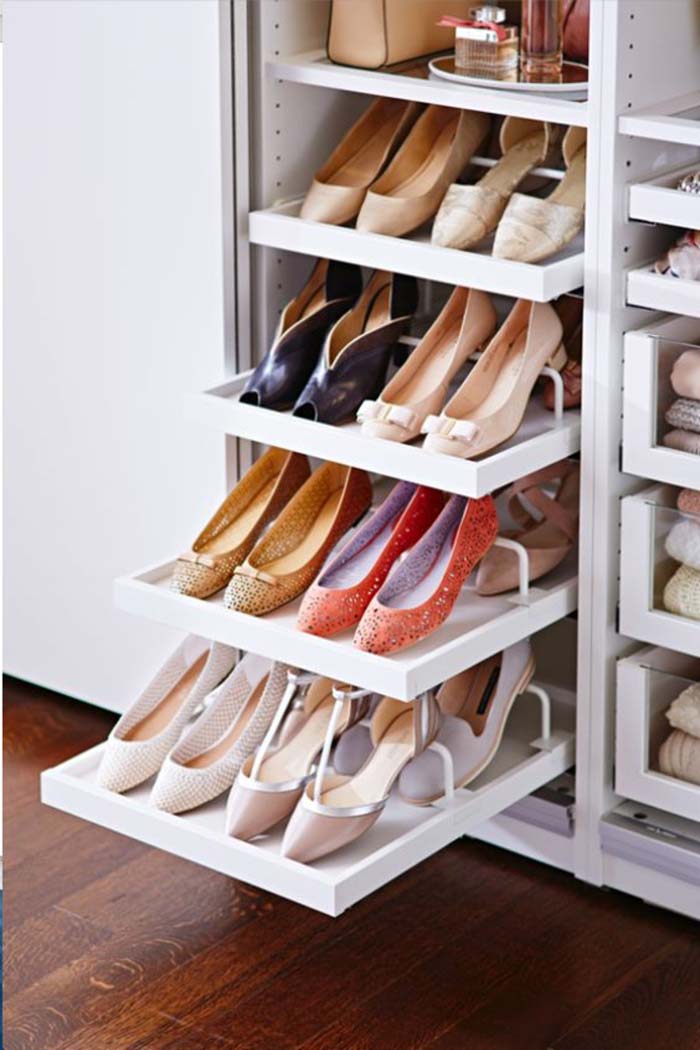 These open-type drawers collect four pairs of shoes at each level. The metal bars on every basis make sure that even high-heel shoes are neatly and properly stored.
The drawers can be pulled out to have access to pairs at the back. When you organize your shoes, don't forget to follow this easy rule- place the frequently worn pairs at the front and at the lower levels and those that are formal and not frequently used at the back and mostly on the top levels.
via Fresh Ideen
41. Turn a Ladder into a Chic Shoe Organizer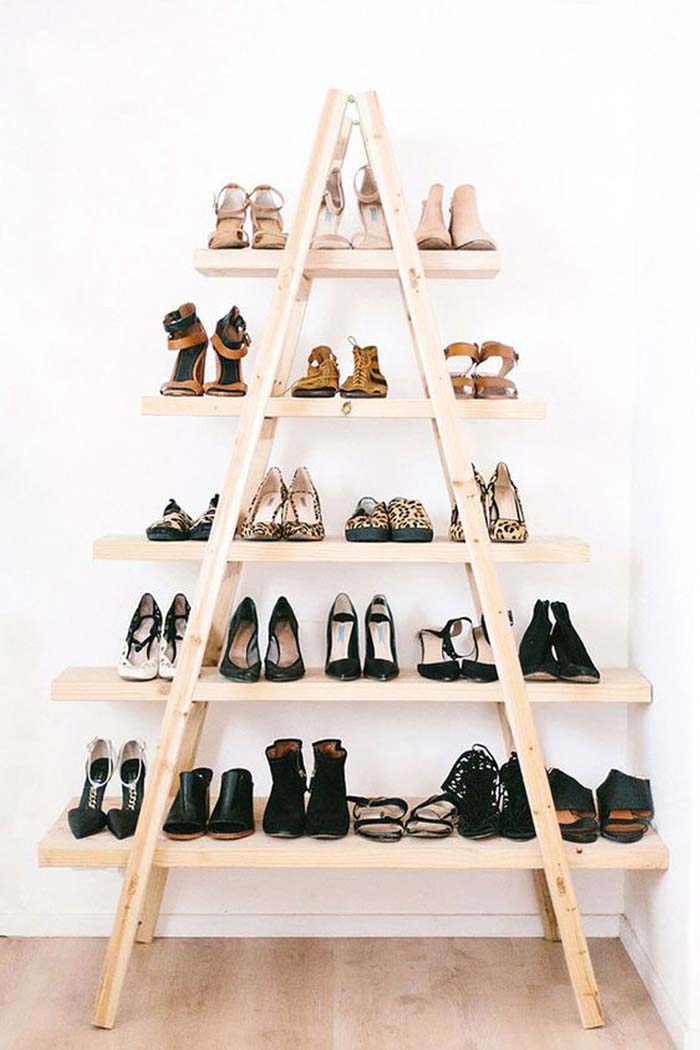 This customized shoe organizer combines modern and farmhouse in one design. The vertical pyramid-like arranged shelves accommodate many pairs of shoes.
The natural look of the wood fits easily the interior being not that attention-drawing but adding a pinch of a charming farmhouse.
42. Elevate Your Teen's Room with a Built-In Wall Shoe Organizer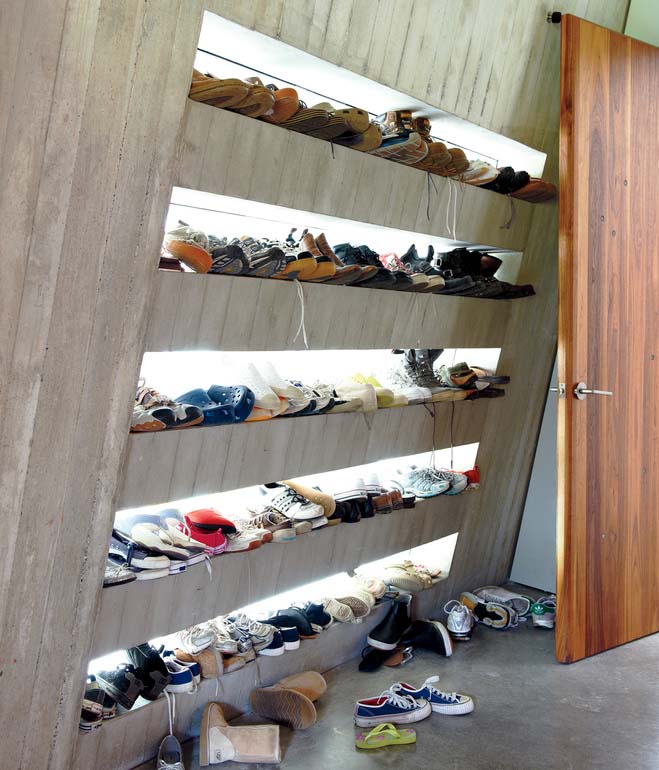 This built-in the wall shoe rack idea is a great space-saving solution for big families. There are five long shelves equipped with backlights where a big number of pairs of shoes can be arranged.
If you have small kids, leave the lower shelves for their shoes to teach them to organize them themselves. the top sections are convenient for shoes of less frequent use and for the shoes of the parents.
43. Unleash Your Creativity with Ottoman Shoe Storage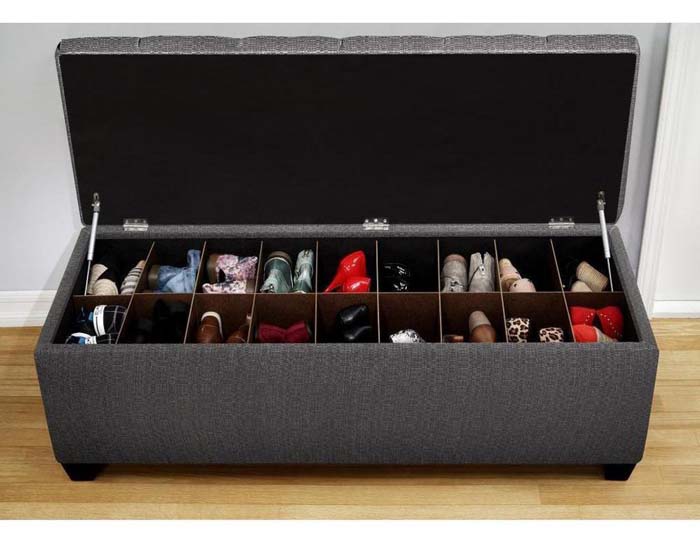 Ottomans are practical not only as extra sitting furniture with a small footprint. Usually, they provide extra storage under the seat.
This shoe-storage ottoman is suitable for a hallway where two people can comfortably sit and prepare to go out. By pulling the seat up a deep storage area is revealed. To make it shoe-suitable, add plastic or cardboard partitions that will differentiate the shoe sections.
44. Add Intrigue to Your Wall with a Stylish Shoe Storage Rack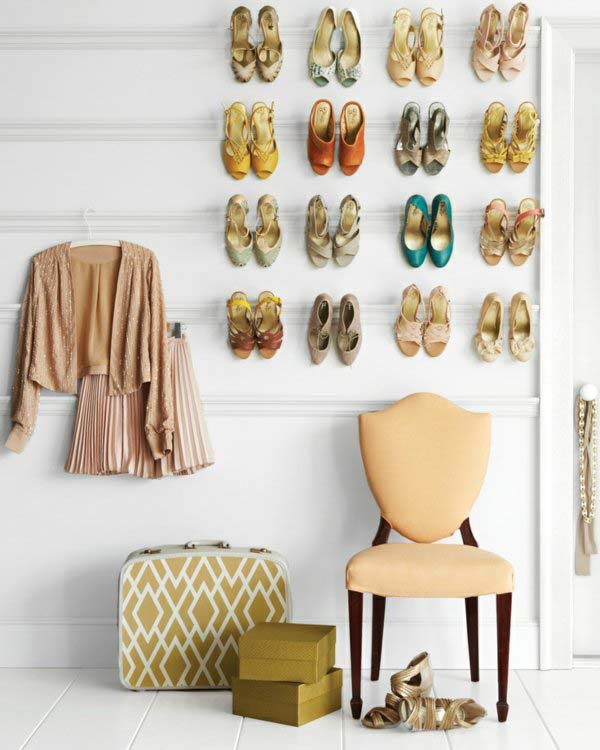 The sleek and simple design of this vertical wall-mounted shoe rack idea is fascinating! Plain pipes are suspended on the entire wall to make a special place for dress shoes and even hangers.
When you choose the pairs to store there, be careful what final visual effect will be created since the rack is the living space. Combine the items by color and by style to get an optimal decorative effect.
45. Utilize Under Stairs for Your Shoe Rack Design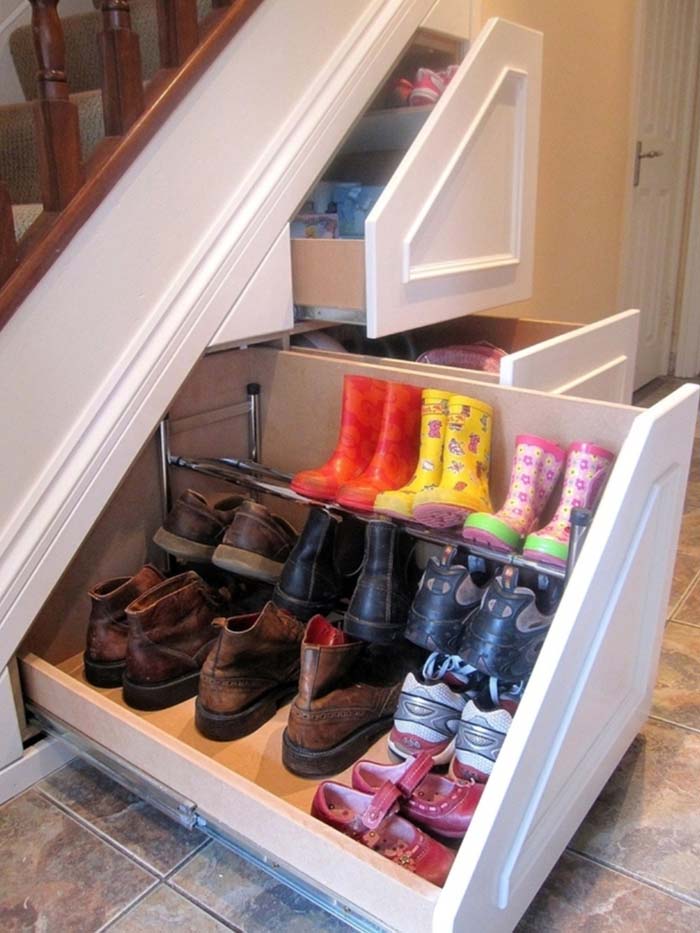 Make the space under the stairs more than just a house structure. Supplying it with drawers following the inclined shape of the staircase, the otherwise unfunctional space becomes a practical shoe or clothes storage.
This is one of the greatest storage ideas that let you think about space-saving storage without covering any of the floor space.
46. Step into Paradise with Walk-in Closet Shoe Shelves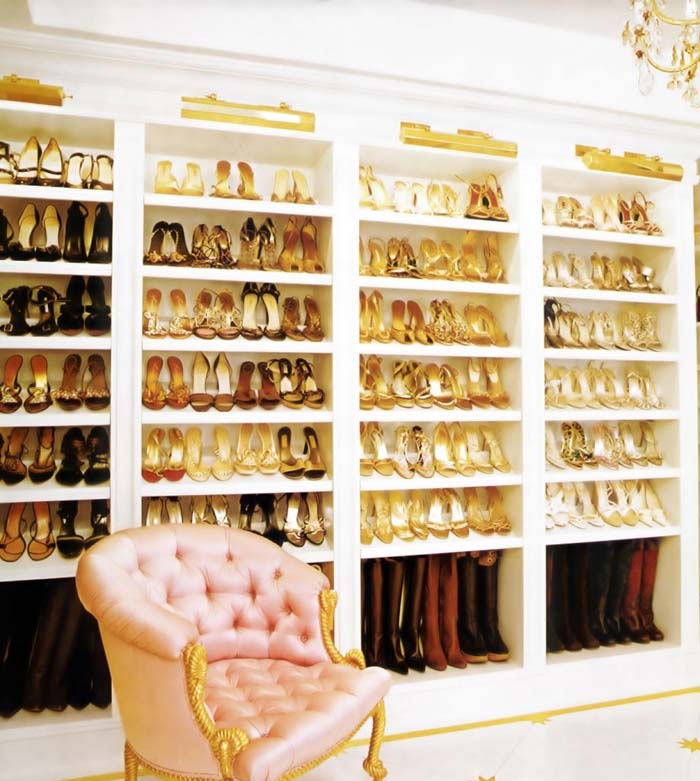 This closet is a visual reproduction of all women's dreams. There is a number of wide and tall open sections for the storage of shoes. The cubbies are built over an entire wall making sure that they don't cover much of the floor space and yet provide large storage space.
If you end up making your dream come true with such a shoe storage design, you will need a fancy stool to reach the pairs on the upper levels.
47. Brighten Up Your Closet with a Colorful Shoe Wall Hanger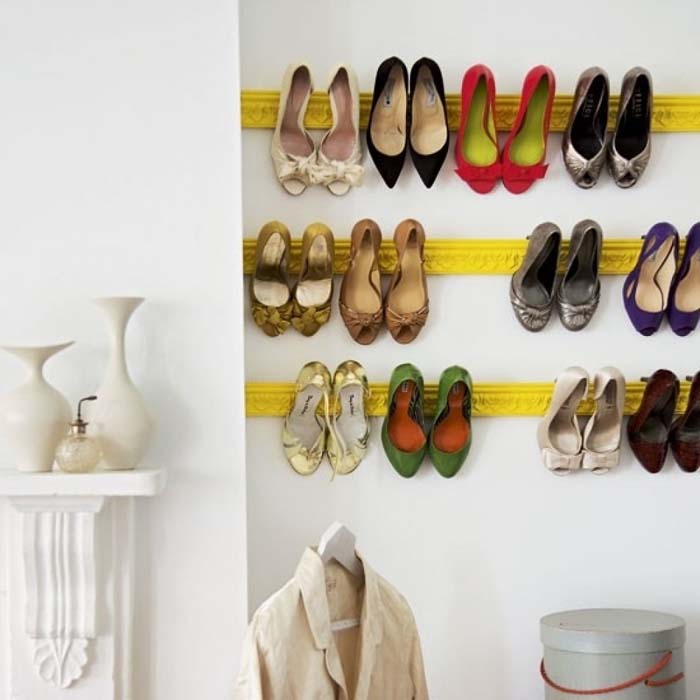 Make a special wall hanger for the collection of formal shoes. This idea is great for shoe shops or for your private closet.
It is made from frames with ornaments painted in bright yellow color. The advantage this shoe storage gives is that you have a clear view over the entire shoe collection and can access the desired pair quickly.
48. Transform Your Bathroom with Wire Mesh Shoe Baskets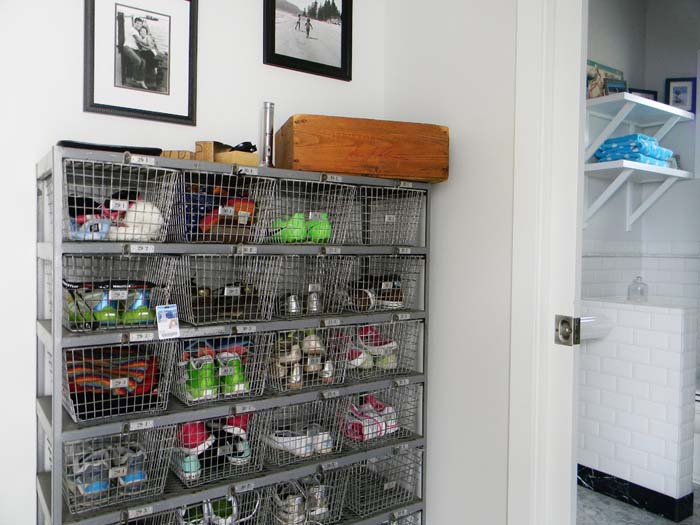 The industrial look of this shoe organizer gives the washroom an interesting interior effect. A metal shelving unit with wire baskets is not usual indoor furniture. Usually, it is used in garages where lots of items need sorting and storage.
Well, if you are a big family, you need a special shoe organizer that can accommodate a number of shoe pairs. The metal mesh design is perfect for this application as it ensures air access to let the shoes "breathe". The open wire sections help find the pair you are looking for quickly.
The six levels of storage will surely declutter the entryway.
49. Elevate Your Home with Wall Hanging Shoe Crates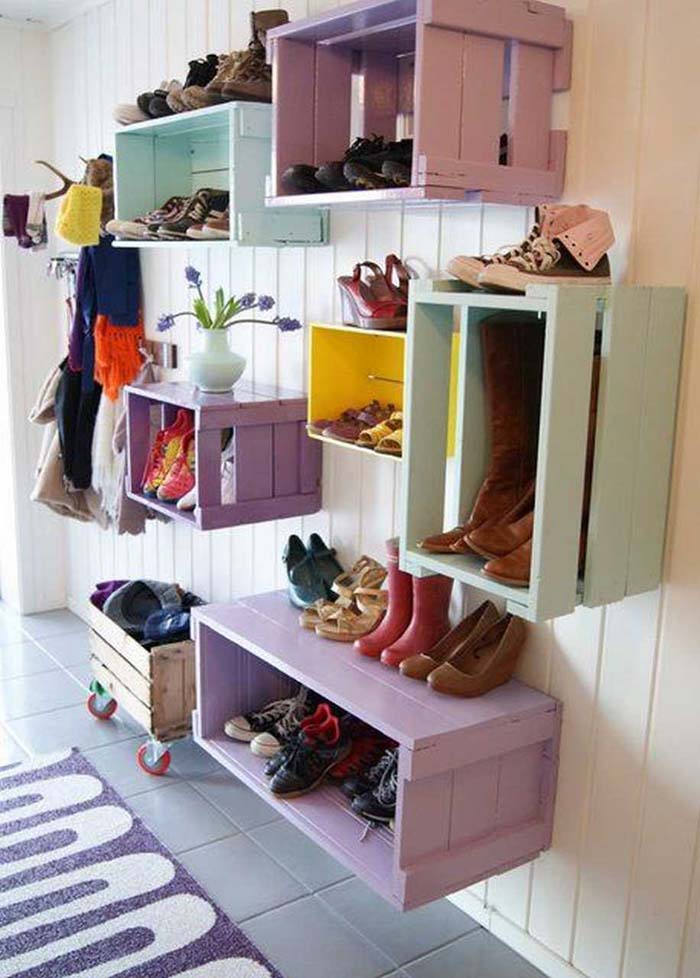 Match the shoe organizer with the farmhouse decor of the hallway. No need to invest in customized organizers, simply screw crates to the shiplap wall.
To give the repurposed wooden cabinets a fresh look, paint them different pastel colors. The vertical space this storage solution covers is a suitable idea for small spaces where floor space is limited.
50. Add Glam and Personality with Wooden Shoe Hanging Hooks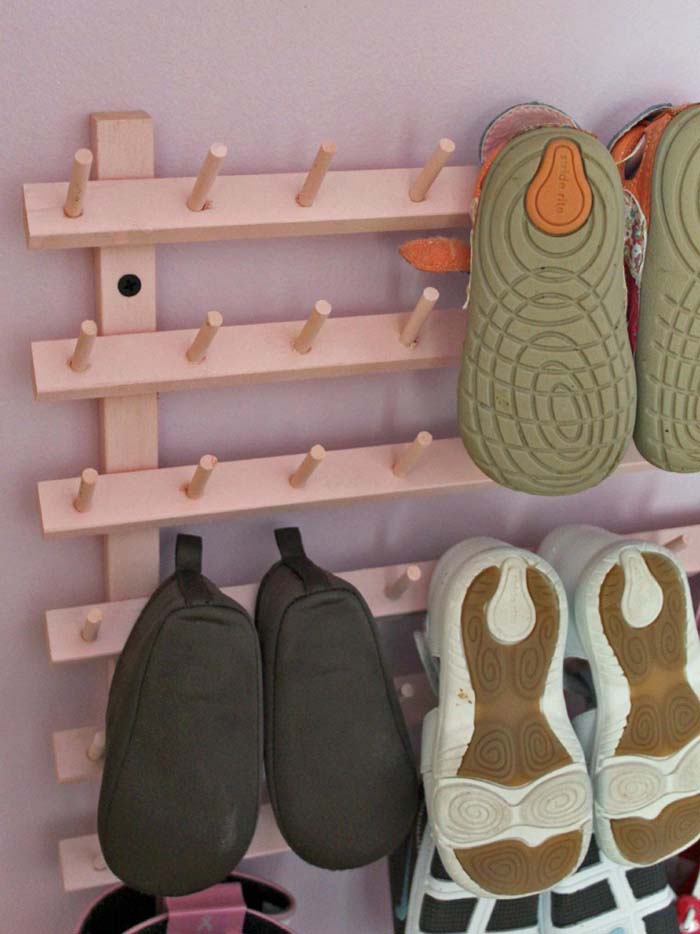 This rack is inspired by the pegboard design which is one of the most practical storage solutions with a space-saving design.
It is a little modified- instead of a board, there are a wooden slat placed at a distance and inclined to let storage of shoes be comfortable and safe.