Whether you're planning a down-home family celebration and want some vintage or rustic decor, or you just want to spruce up your old decorations, these 50 Dollar Store decoration projects are perfect for putting the finishing touches on your holiday decorating.
They're easy of course, and because you make them with items from the Dollar Store, they're also really inexpensive.
1. Mini Stocking Table Décor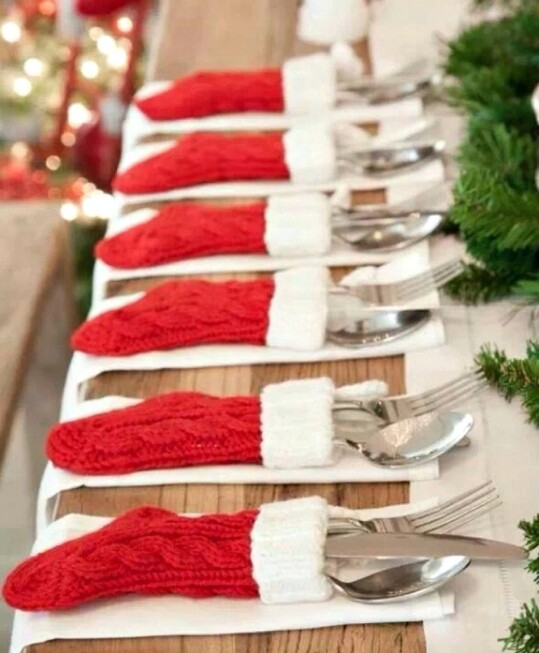 Just pick up a few of those smaller stockings from the Dollar Store, they're normally around 50 cents each, and use them for utensil holders at your dinner table.
You can decorate the stockings if you wish, but they're lovely just the way they are, and they are the perfect accent for your Christmas dinner.
2. Paper Christmas Trees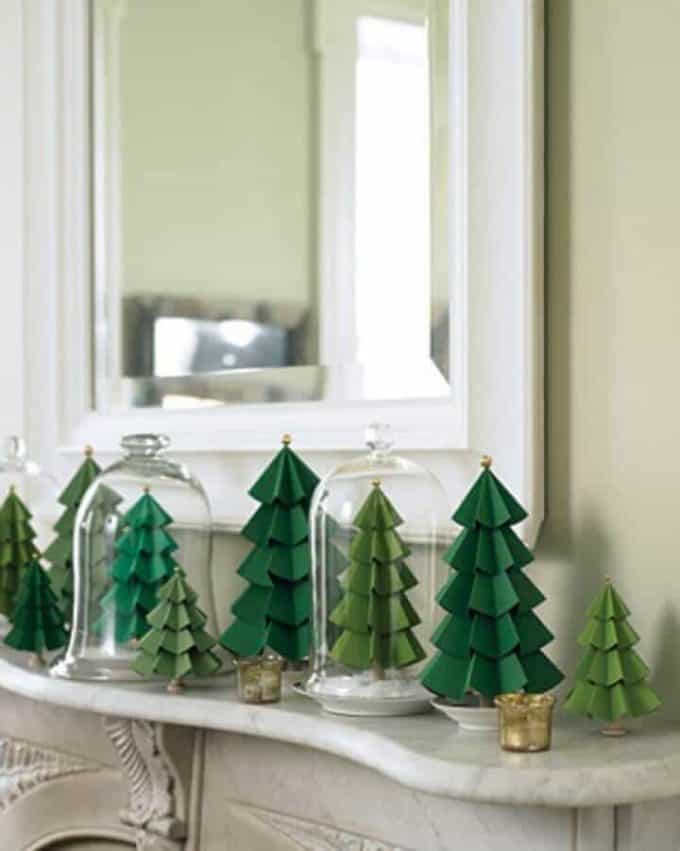 Learn how to make these easy paper Christmas trees for simple tabletop décor that speaks to the holiday season.
These unique crafts will add a welcome boost of festive cheer to your holiday decorations.
via Martha Stewart
3. Snowman Mason Jar Lotion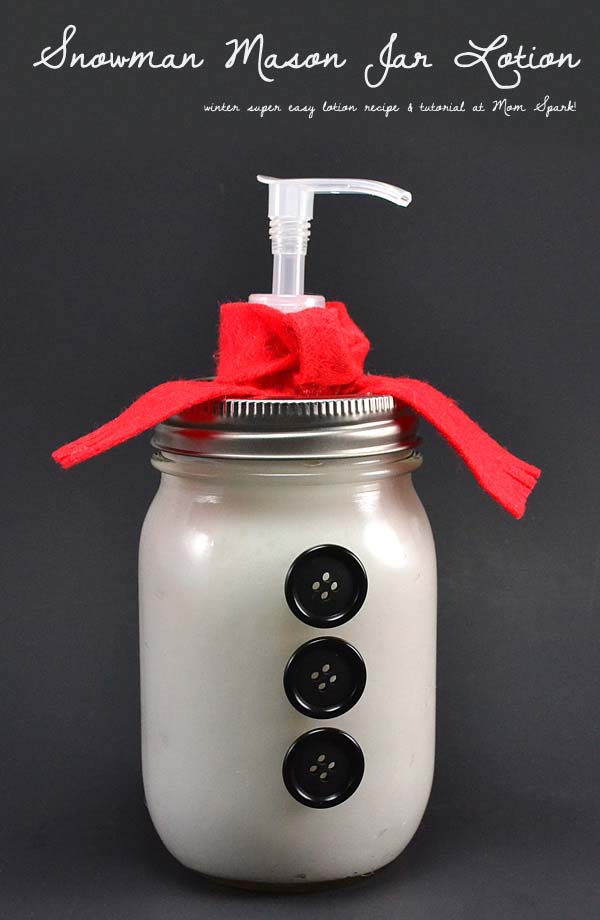 This is a really cute idea, and one that won't cost you much time or money.
You can turn an ordinary mason jar into this adorable snowman lotion jar. Imagine giving these out as gifts.
You can even fill them with lotion that you get from the Dollar Store and one large lotion jar will fill a couple of snowmen.
via Mom Spark
4. DIY Snow Village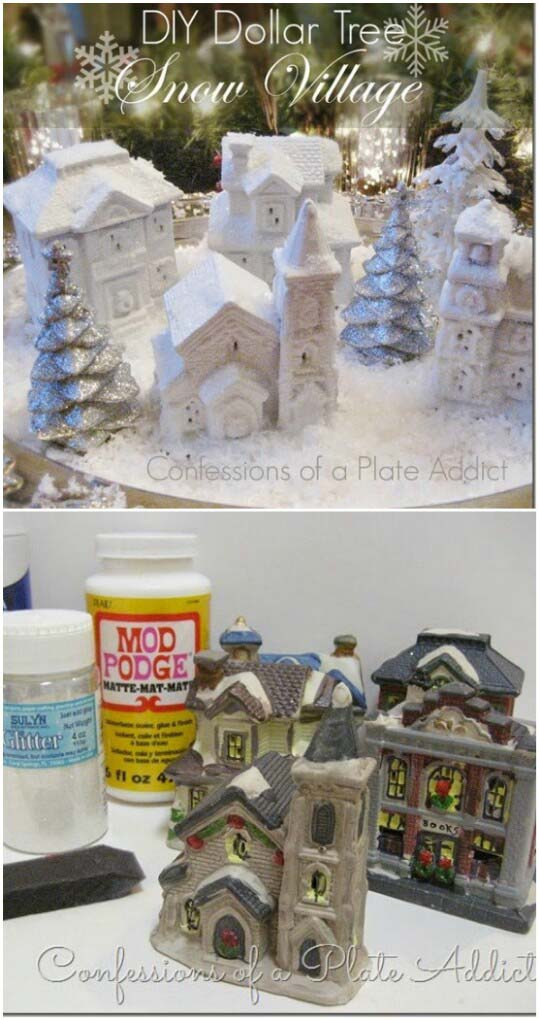 Take those really inexpensive village pieces from the Dollar Store and add a snowy effect to create this gorgeous snow village.
A little Mod Podge and white glitter, and you've got a gorgeous snow village that will perfectly accent any table, mantel, or bar.
5. Ornament Garland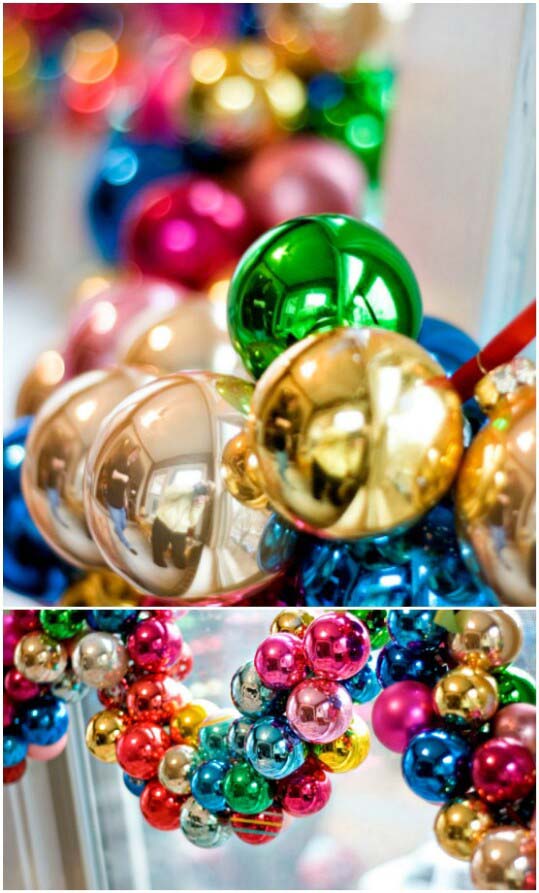 This ornament garland is perfect for decorating the porch or deck, or you could hang it from the fireplace as well.
You'll need wire or ribbon and several inexpensive ornaments to create it.
6. Black and Gold Canning Jar Silhouette Candles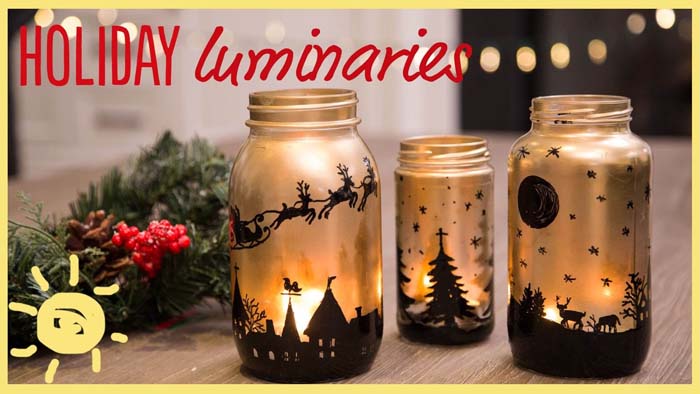 These winter sceneries are adorable decorations for the mantel or the shelf throughout the entire cold season.
Although the drawn pictures may look like a difficult task, there is a trick to make them like a pro. Make a printout to insert in the jar and then trace the figures with a sharpie.
The warm light shades are achieved with a light coat of Rustoleum gold spray paint over plain Mason jars.
via What's Up Moms
7. Burlap Reindeer Ornaments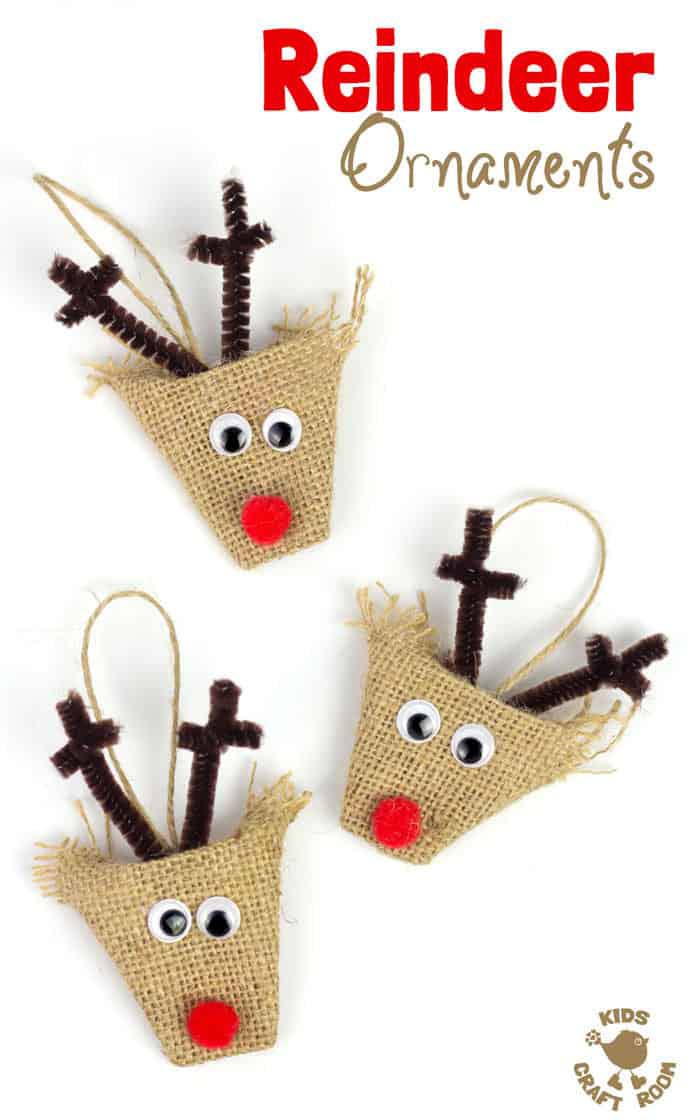 There is a saying that each year a new ornament must beautify the Christmas tree.
This year you can make a cute set of reindeer ornaments that will peek out from the tree and will provoke a wide smile.
Get a package of pipe cleaners from the dollar tree, a piece of burlap, googly eyes, twine and mini red pop-poms.
via Kids Craft Room
8. Chalkboard Christmas Countdown Plate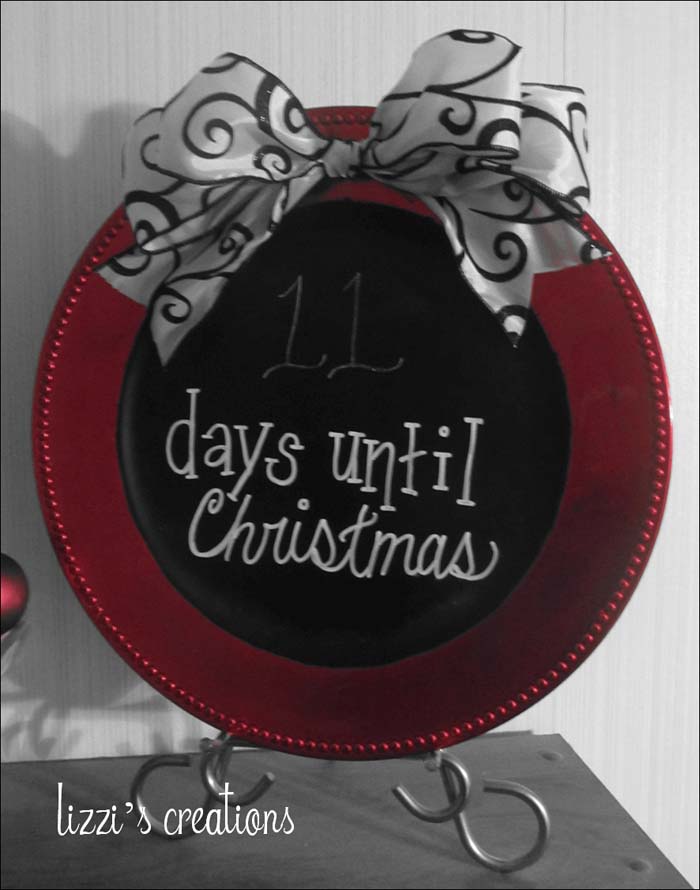 A pretty charger plate from the Dollar tree, some chalkboard paint and a fancy ribbon are all you need to make an editable Christmas calendar.
9. Christmas Apothecary Jars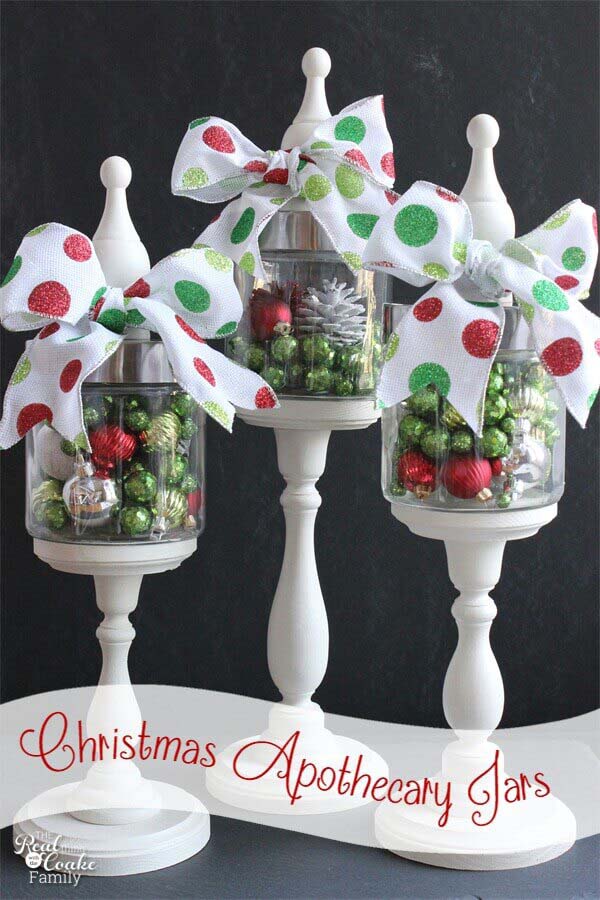 Make non-traditional Christmas trees from apothecary jars. Each of them is placed onto a candle pedestal of different heights to create the tiered shape of the tree.
The inside of the jar is filled with ornaments that are typically hung on the Christmas tree. Finish the decor with a gorgeous ribbon with green, red and gold accents.
via Real Creative Real Organized
10. Christmas Book Page Wreath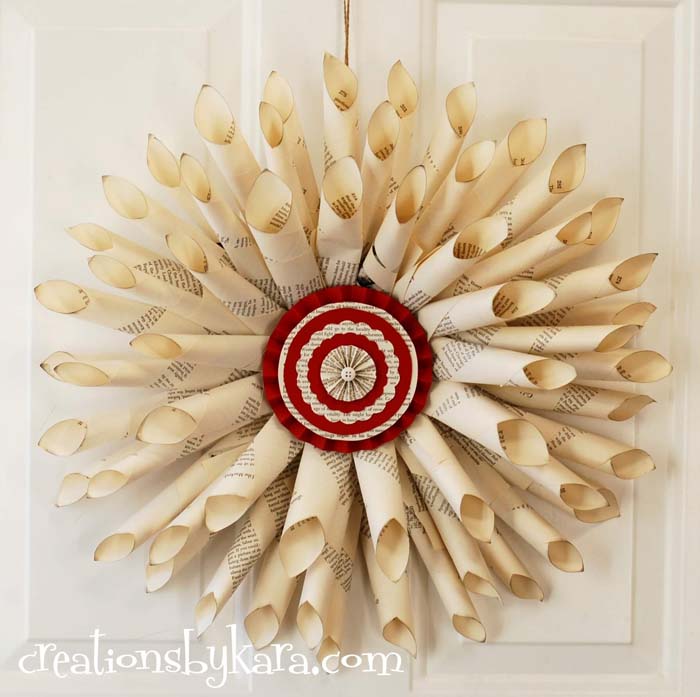 If you are looking for a universal wreath decoration, look no further. This artistic book page wreath can change its theme by replacing the center button-shaped part with new one.
The secret about the interchangeability is in a round piece of foam board circles with a velcro strip that holds the decorative circle without smashing the book page funnels.
11. Christmas Holiday Burlap Mason Jars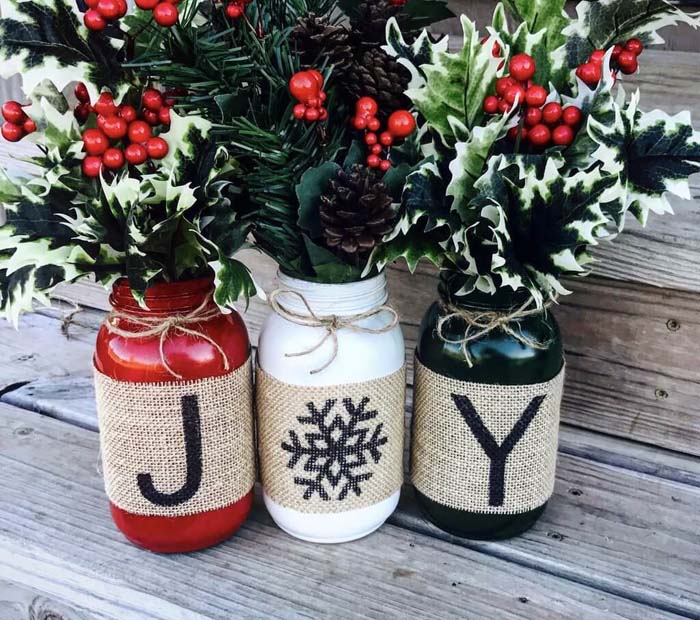 The symbols of Christmas are painted in red, white and green and therefore we see that color combo in most of the winter decor.
Use it to make a set of Mason jar vases perfect for a table centerpiece or a mantle decoration. Wrap them in burlap to give them a farmhouse look and give you a canvas to spell "joy".
12. Clever Plastic Silverware Tree Centerpiece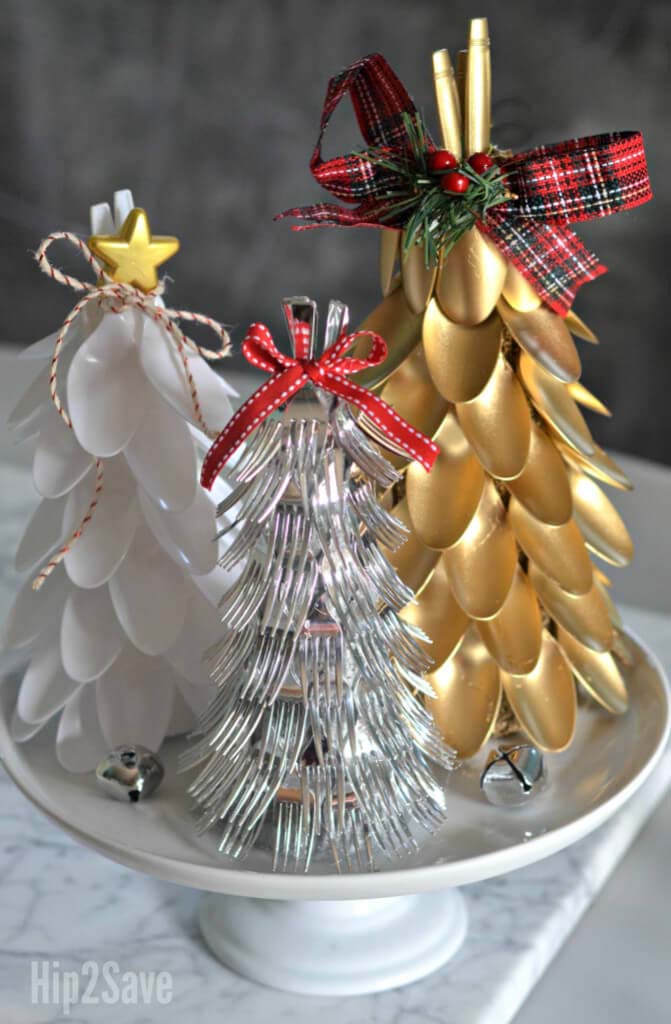 These small Christmas trees are very easy and cheap to make. Get packages of plastic spoons and forks and foam cones.
Cut the handles off using wire cutters and start gluing each piece to the cone.
When ready, paint with silver or gold spray. Finish the tree with a ribbon in Christmas-themed colors.
via Hip 2 Save
13. Coffee Filter Tree And Wreath DIY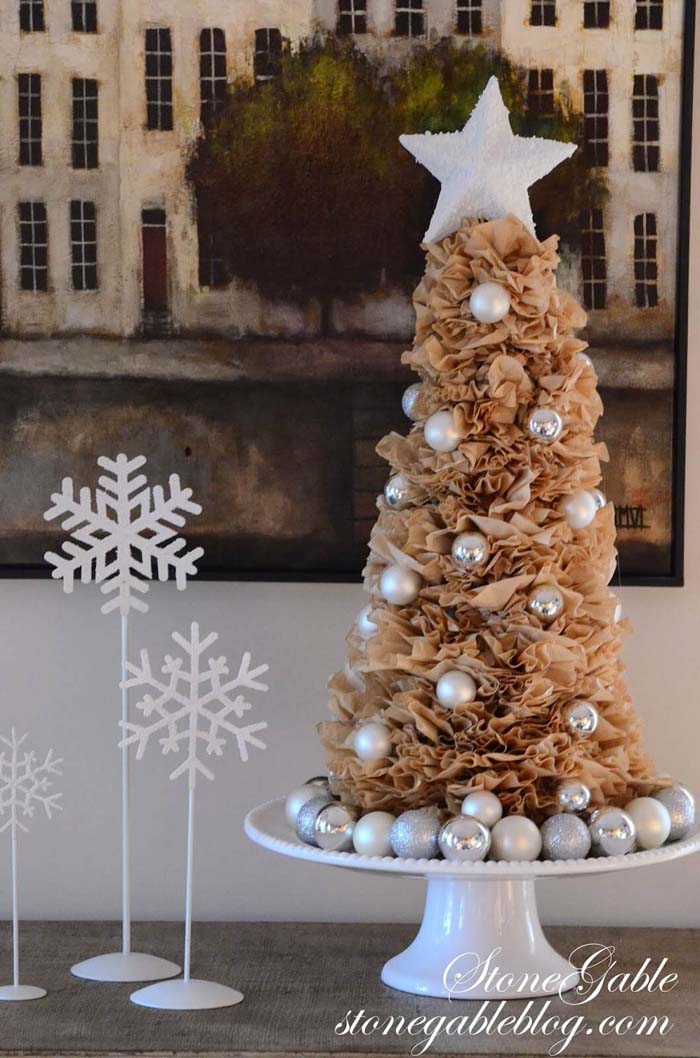 This luxury-looking tree is made out of cheap coffee filters.
Each filter is glued to a frame cone in a tighter crumpled shape to make sure that the foam is covered without ruining the silhouette of the tree.
Place it on a cake stand to have space to surround it with assorted small ball ornaments.
via Stone Gable Blog
14. DIY Christmas Countdown Calendar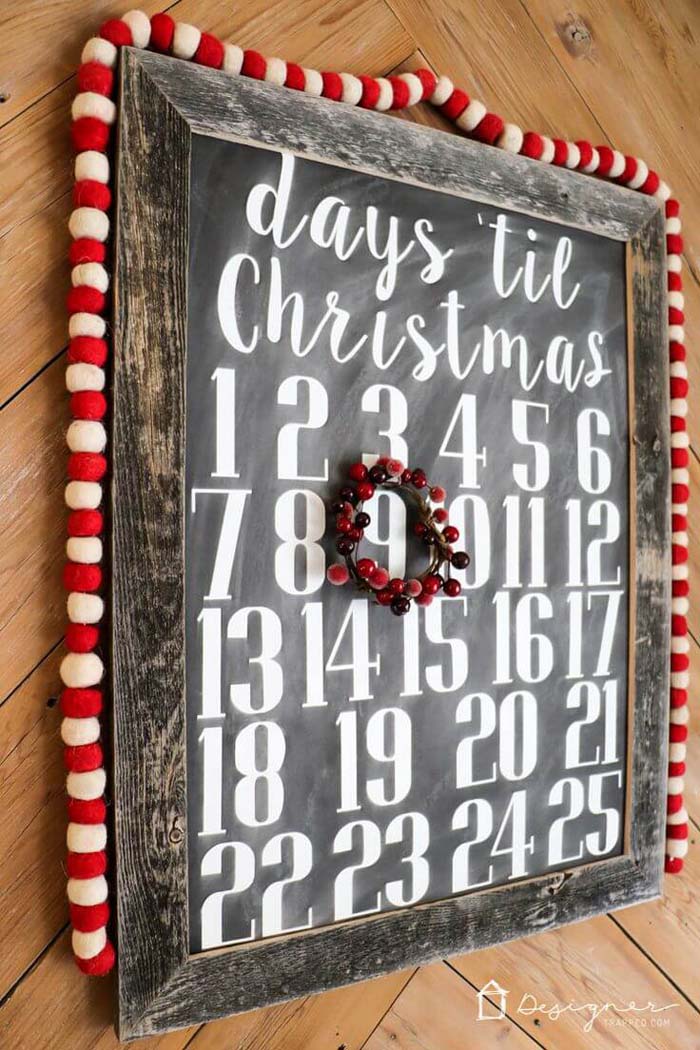 Counting the days to Christmas is a fun thing, not only for kids. If you want to make this a tradition for your family, make a calendar that will last for years.
Get a black foam board from the Dollar store and cut it to fit into the frame you have chosen.
All numbers and letters have been cut on white vinyl with a Cricut machine. If you don't have one, you can buy decals or paint them by hand.
via Designer Trapped
15. DIY Christmas Wall Art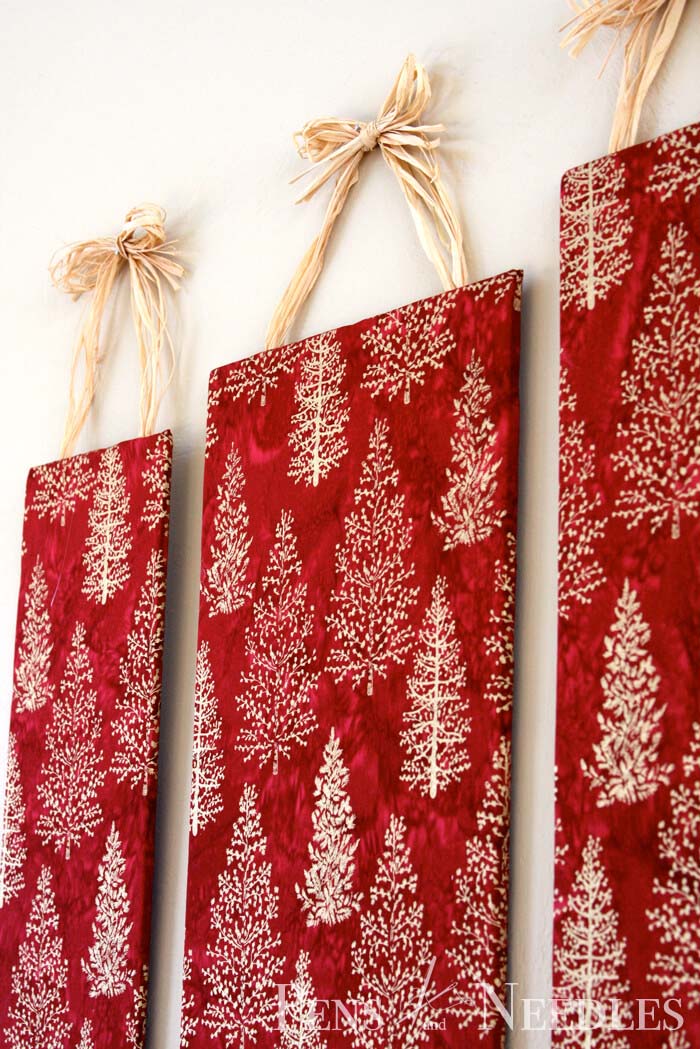 The Christmas mood can be felt from the entryway of your home with this easy wall art!
Making it will take you less than an hour! Get a foam board and cut it into the shapes and sizes you want. Then, cut the chosen fabric a bit wider than the foam board and glue it with the hot glue gun.
To hang these to the wall, cut a piece of raffia, twine or ribbon.
16. DIY Dollar Store Christmas Decor Crafts with Calendars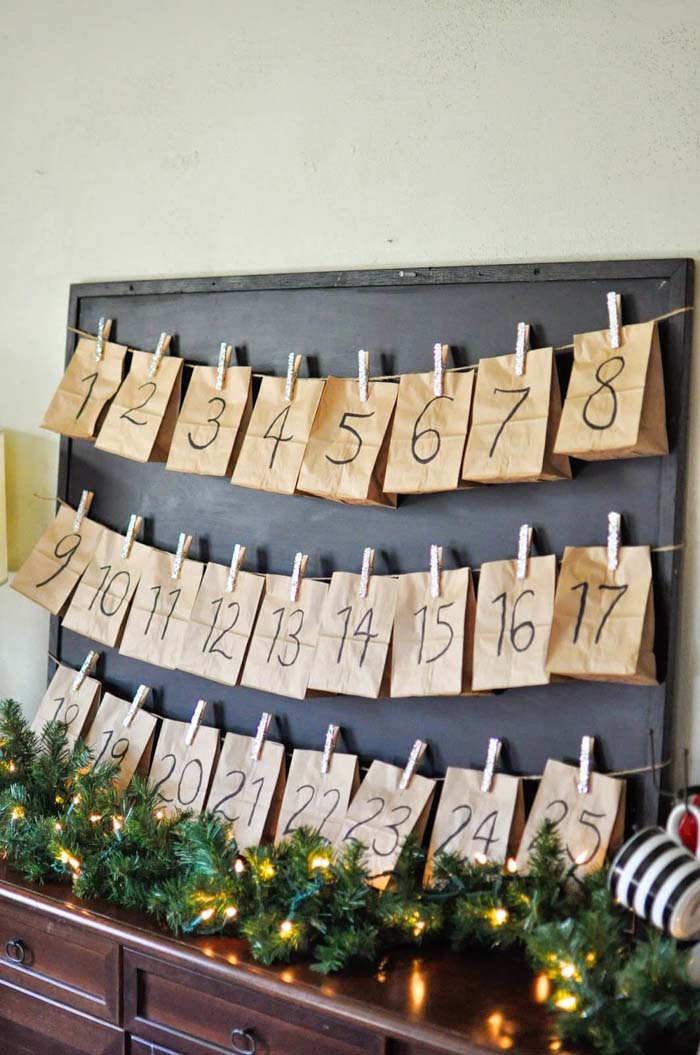 If you already have a framed art in your home, use it as a backdrop for a fun and cheap Christmas calendar.
Hang three lengths of twine on the frame. They are needed to hold the paper bags with the written dates. Hang them with clothespins preliminary decorated with glitter tape or paint.
17. DIY Dollar Store Christmas Decor Crafts with Candles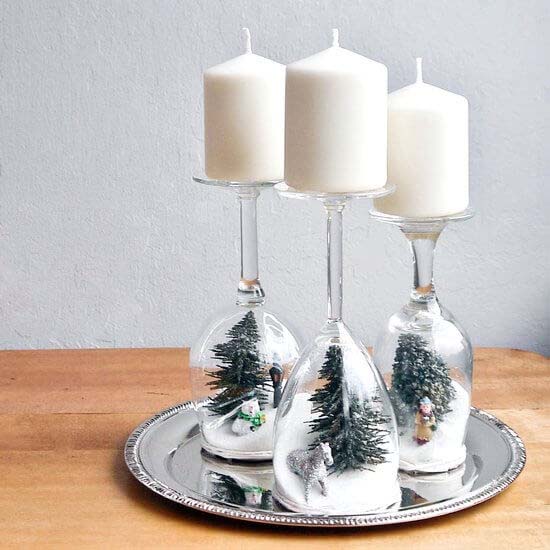 These handmade dioramas are impressive with their fine look and impact.
Plain wine glasses are turned over to embrace a winter picture made of small Christmas ornaments.
Use the stool of the glasses as a candle holder to give the art functionality.
via Pop Sugar
18. DIY Dollar Store Christmas Tree Decoration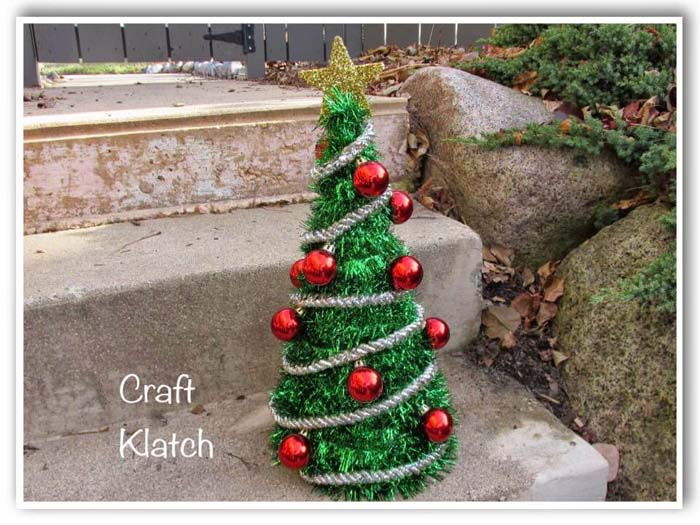 This dual-purpose craft lets you have a Christmas decoration and a hat in one!
Start by creating your cone on a poster board. Then wrap around a tinsel garland with the hot glue gun. Decorate the green tree with small ball ornaments.
via Craft Klatch
19. DIY Dollar Tree Christmas Tray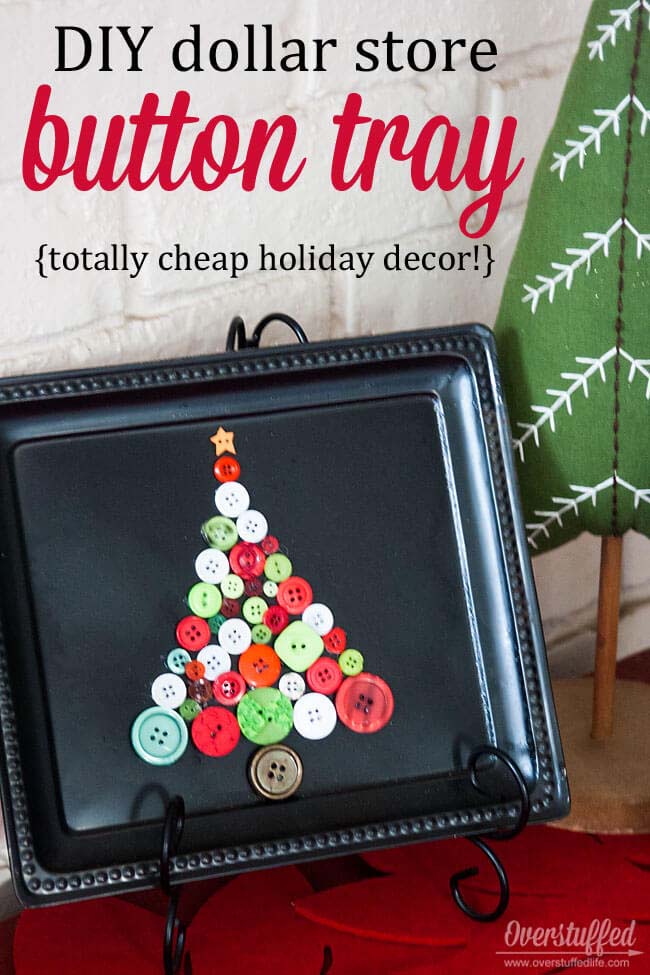 This standing art is easy and safe so you could consider letting your kids leave their imprint on the Christmas decor this year.
Get a tray from the Dollar Store and paint it with black spray to achieve a well-coated contrasting surface.
Now, it's time for the fun part- glue buttons of different colors and sizes to create a Christmas tree.
via Overstuffed Life
20. DIY Dollar Tree JOY Plates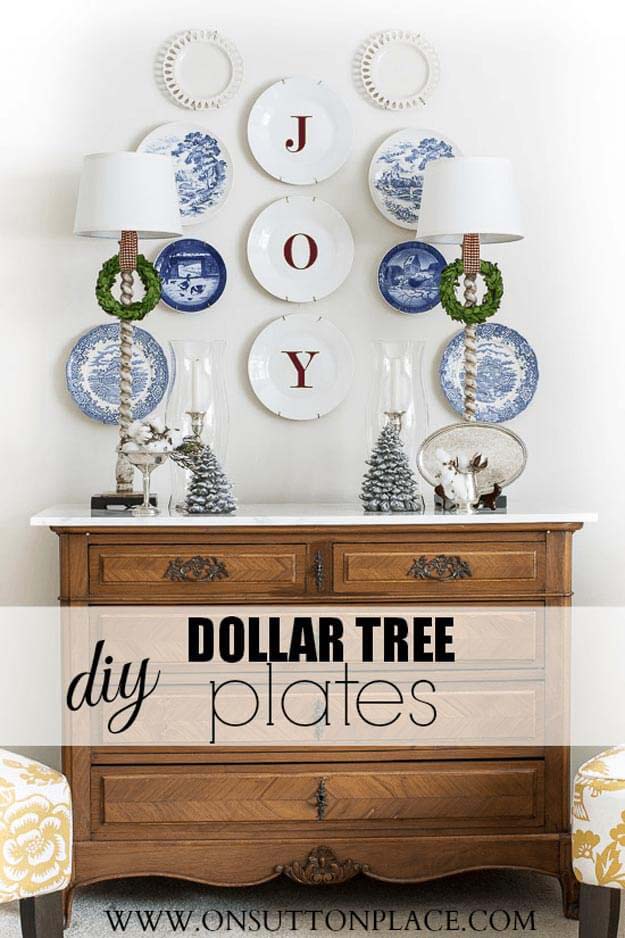 This wall art will look well in any room and will surely bring the Christmas spirit it was intended for.
Who could imagine that three plain white plates from the Dollar store for less than $10 will have such a great impact?
via On Sutton Place
21. DIY Dollar Tree Snow Village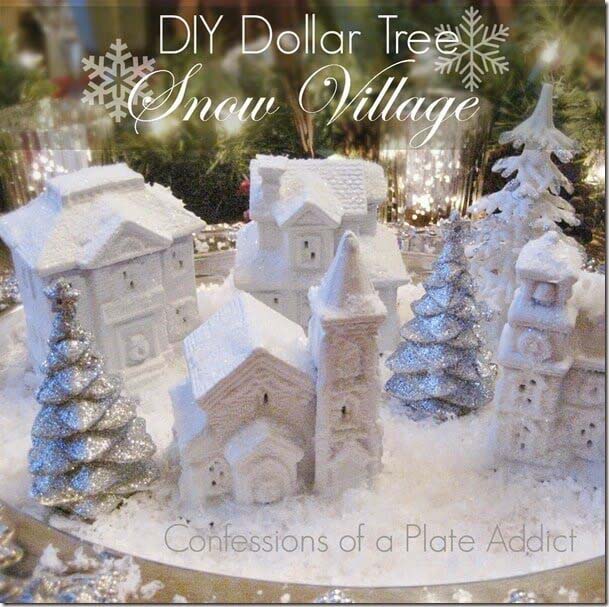 Do you love the small miniature models of buildings? You can have your own but in a winter-themed version for $4 only!
The little houses are those clay ones from the Dollar store. They have been spray-painted in white and then covered with glitter.
Arrange your fairy village on a silver tray or a round cardboard.
via Confession of a Plate Addict
22. DIY Door Hanging Pine Swag Basket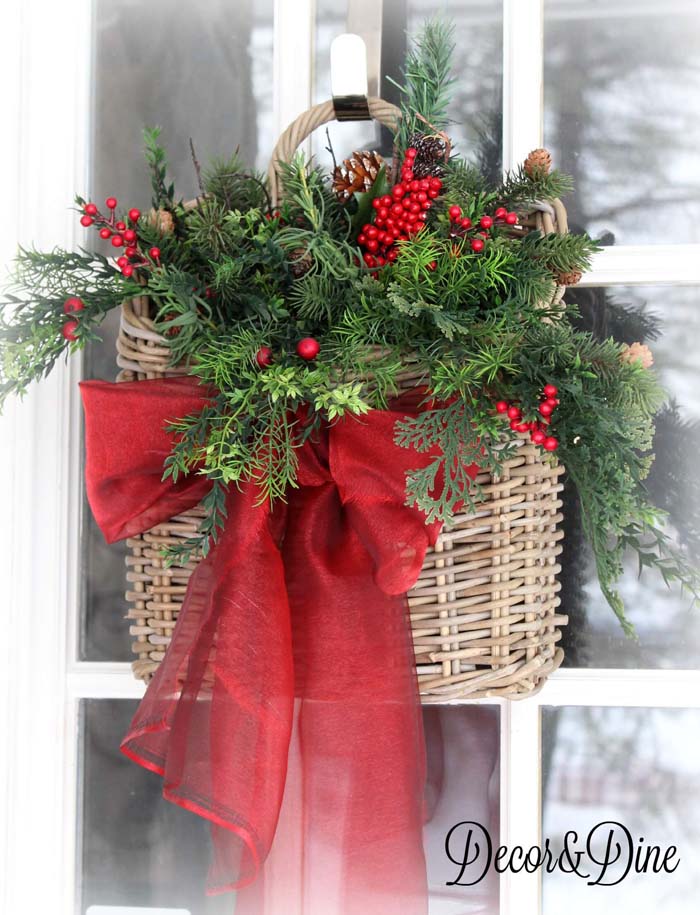 This farmhouse basket is an alternative to the common Christmas wreath.
The pine arrangement can be made of real or faux twigs. Wrap a wide ribbon in front of the basket to make the front door craft more festive.
via Decor and Dine
23. DIY Frosty Mug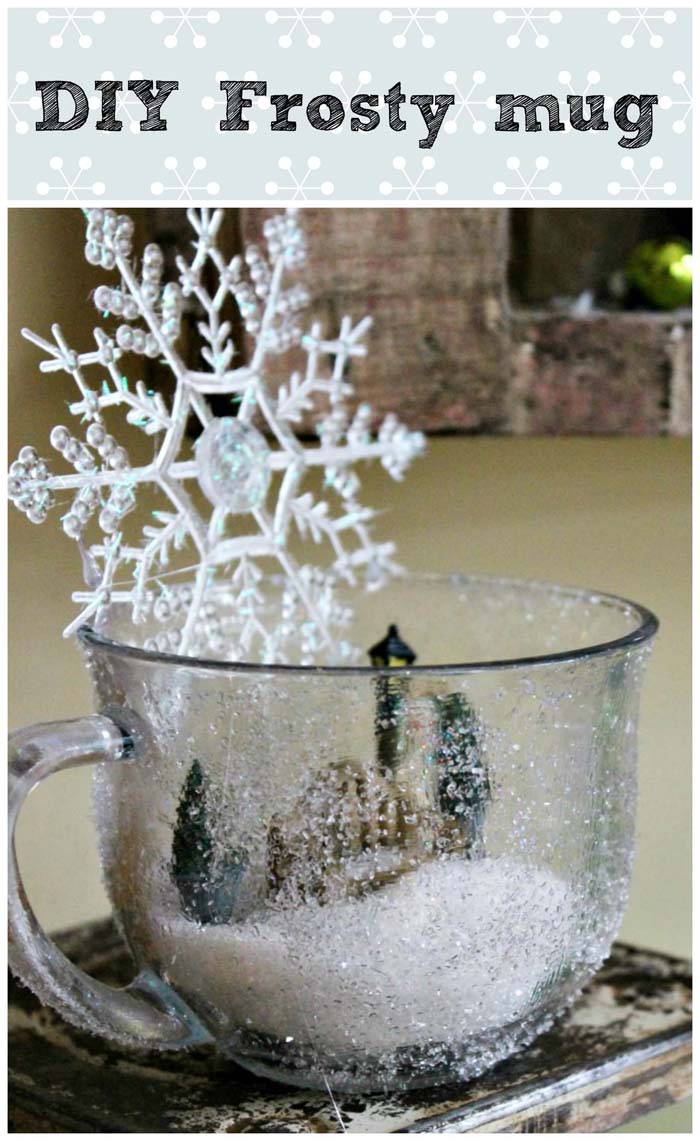 This small fairy world is created with the help of a sparkling mod podge and diamond dust.
The clear mug and the miniatures are from Dollar tree.
via Debbie's Doos
24. DIY Fur Letters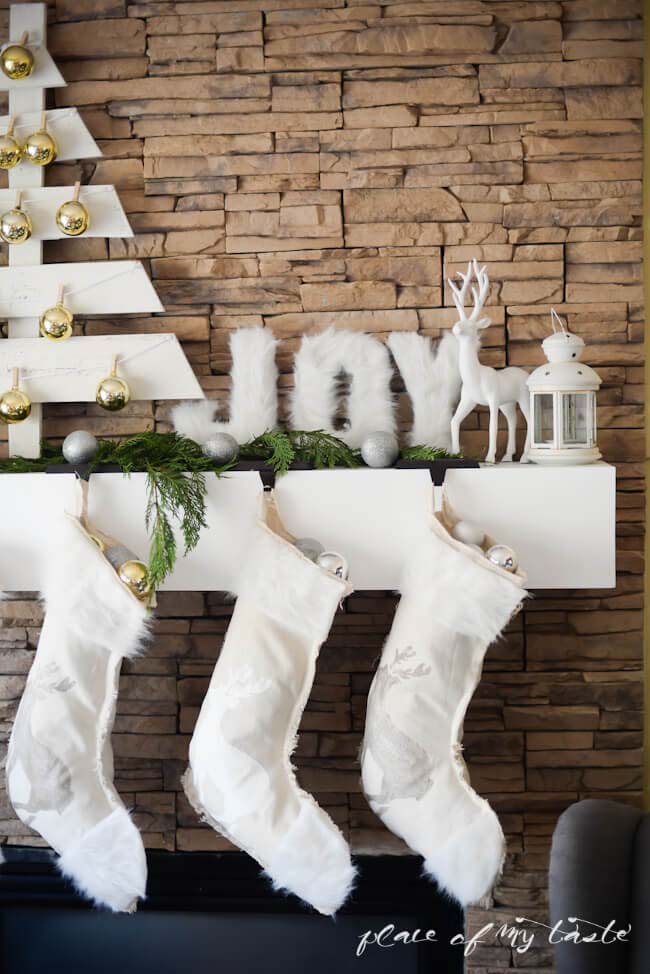 This quick and easy letter craft will add warmth to the living room interior because of its furry surface.
Trace out the letters on a cardboard and then cover them with fur. Easy, isn't it?
25. DIY Gift Box Ornaments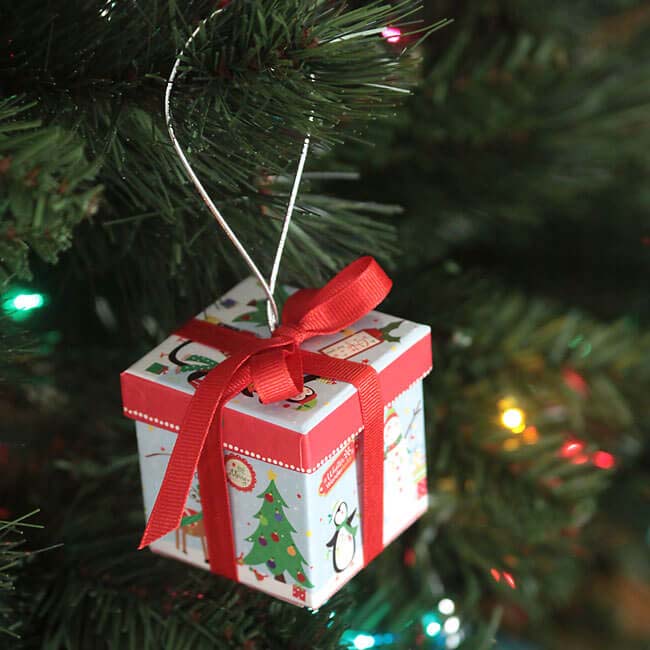 Make these cute gift box ornaments to hang on your Christmas tree and enjoy the result from an easy DIY craft.
The gift box package at the Dollar store comes in a set of 2. Make a hole in the center of the lid and put it through a silver cording. Tie a knot at the bottom to turn the box into an ornament.
26. DIY Painted Christmas Sign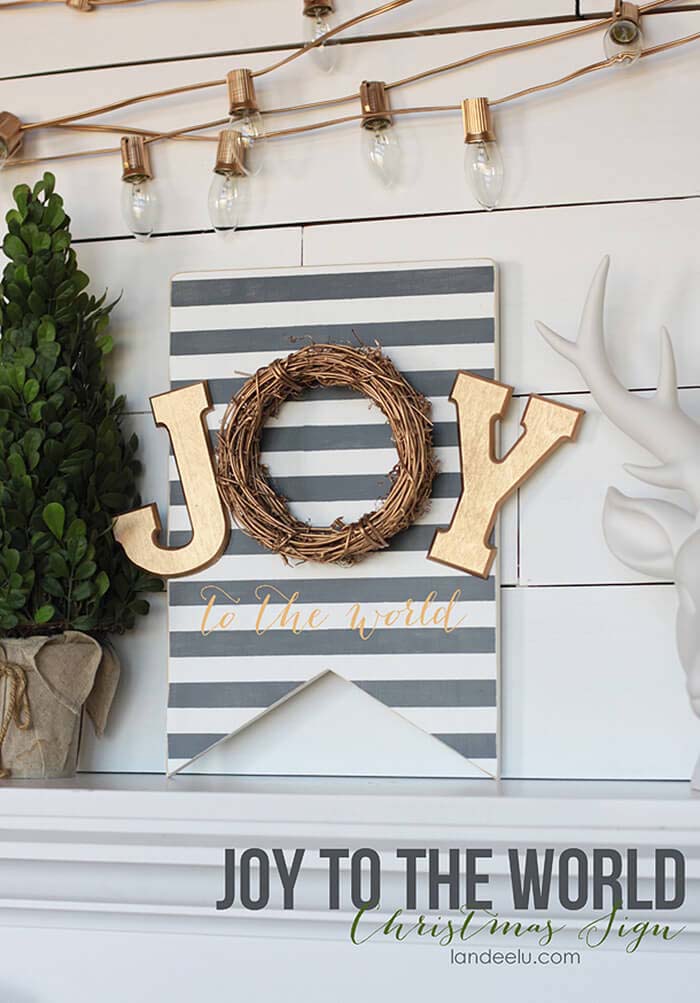 This sign will add a pinch of nautical relaxation, farmhouse charm and Christmas joy to the home. If you like the mixture of effects, get started to make it yourself!
In four easy steps and only a few supplies, you will get a sign that will spread joy inside the house.
27. Dollar Store Christmas Swags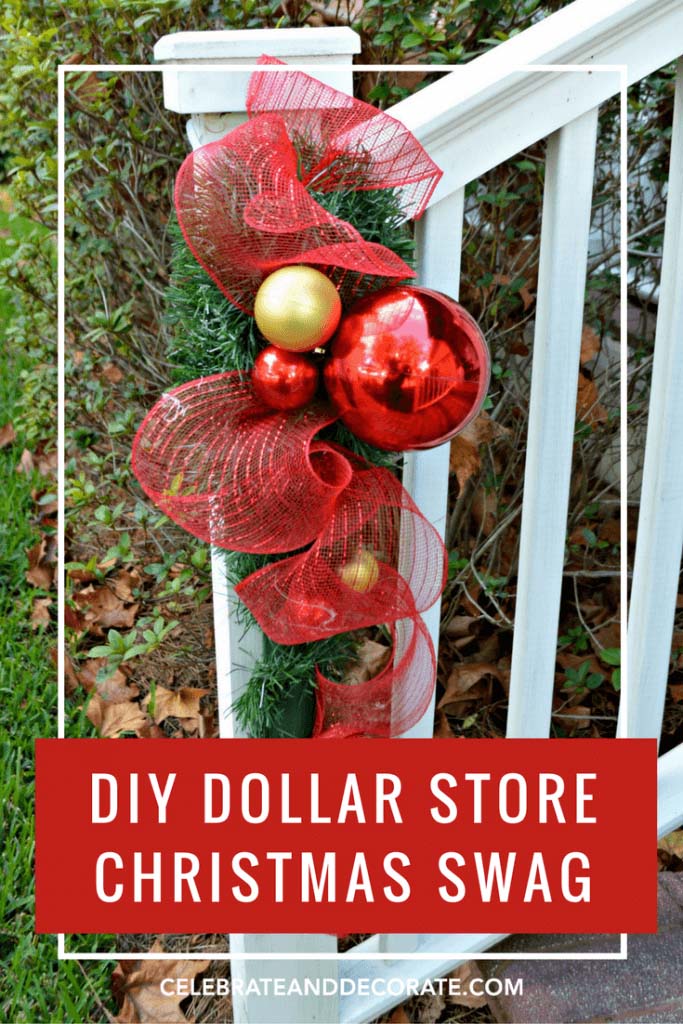 Don't take the Christmas decoration only to the inside of the house. Make these Dollar Store swags that are suitable for decoration of the porch staircase or the front door.
28. Dollar Store Fishbowl Snowman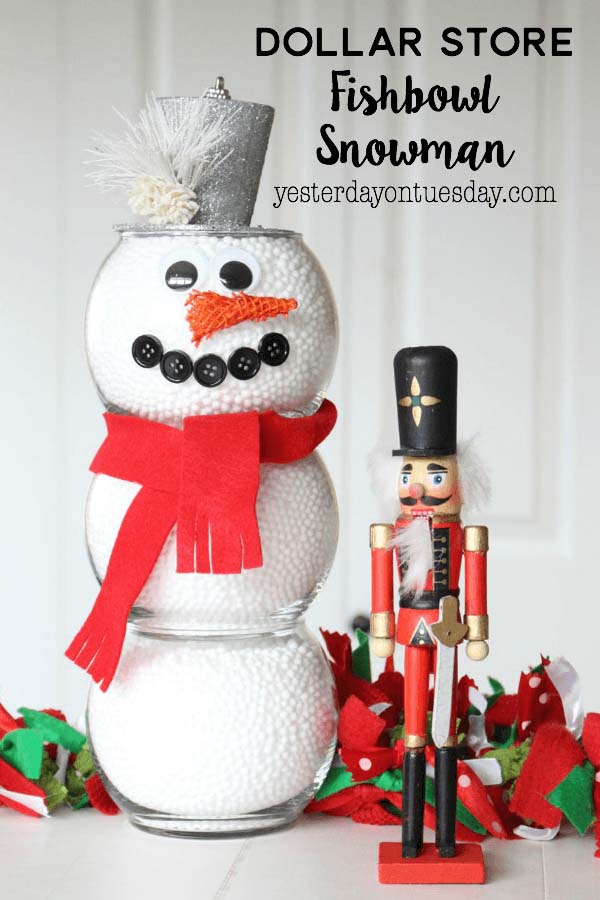 This snowman will add a touch of childish cuteness and whimsy to any space.
The DIY is suitable for kids so make sure to include them to let them have fun Christmas preparation memories.
Start with filling three fishballs with faux snow. Stack them to form the figure of the snowman and continue with gluing the buttons and the fabric pieces.
29. Dollar Store Snowflake Door Hanger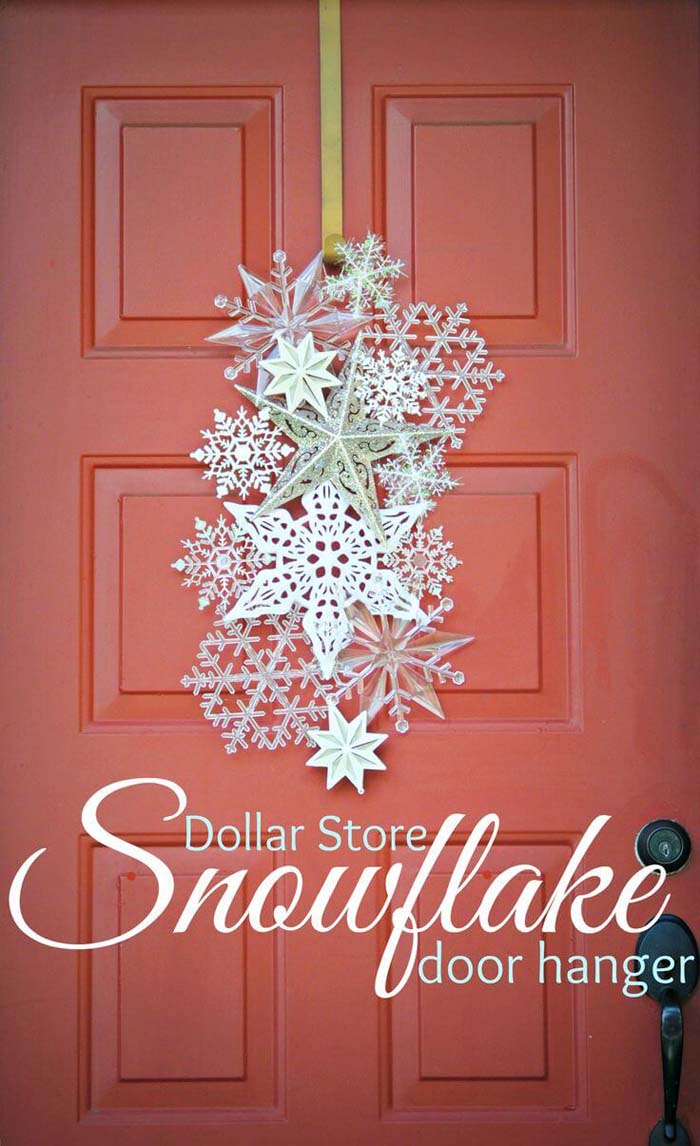 This front door decoration is the easiest craft you have ever seen.
Ten packages of snowflakes from the Dollar Store are glued at a pattern with the hot glue gun to make a magical door hanger that will welcome the guests throughout the winter.
30. Fish Bowl Snowman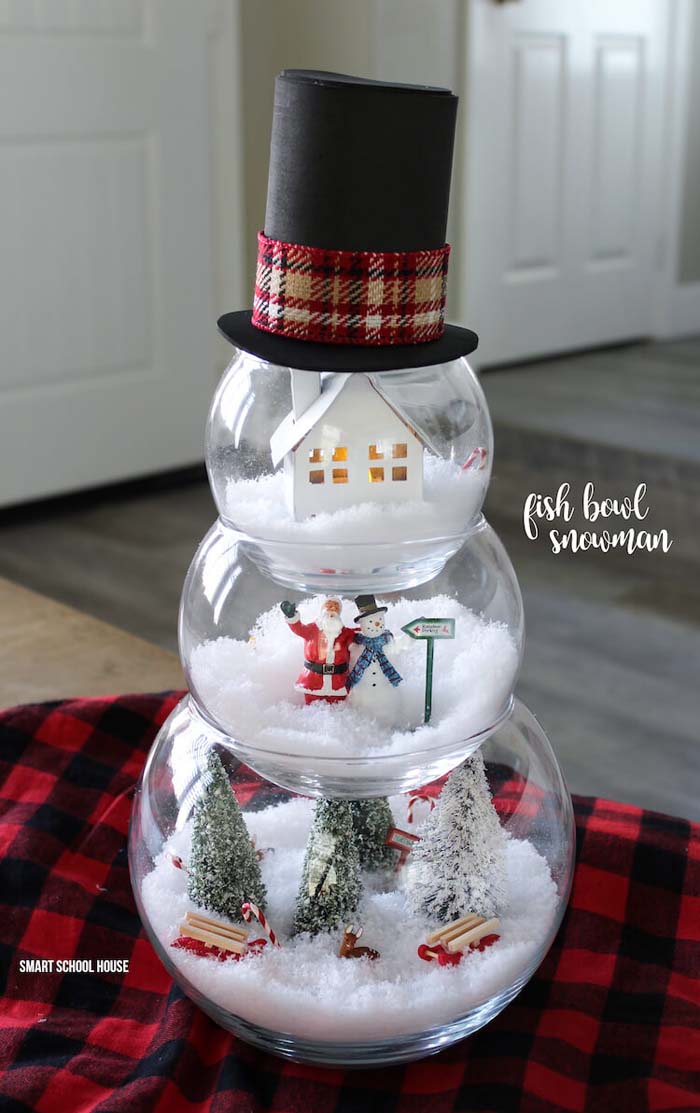 Instead of filling the entire fishball with faux snow, leave half of it empty to let a winter scene with small ornaments be visible.
When the arrangement in each is finished, stack the balls and finish with a paper cylinder on top to imitate a snowman figure.
31. Flecked Pine Cone Topiary Trees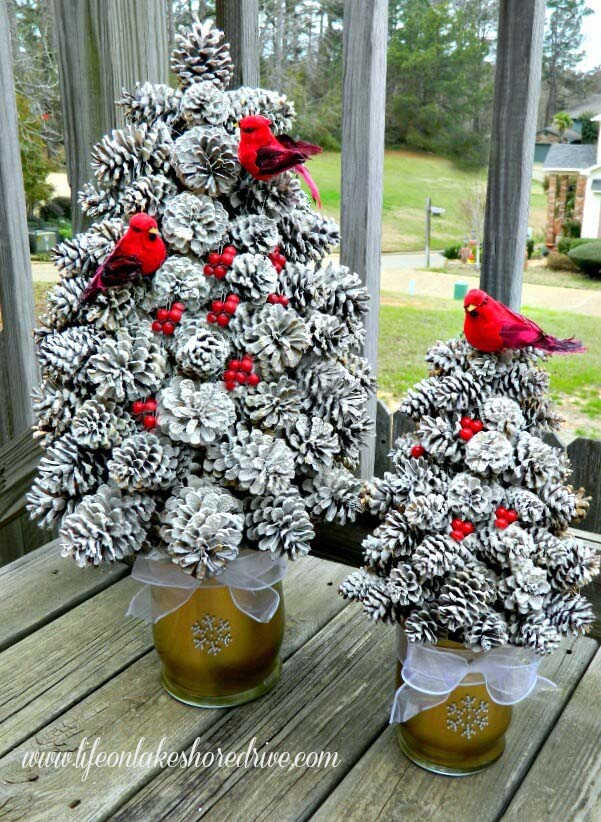 The stylish topiaries come in a Christmas version made of pine cones. Suitable for exposure both indoors and outdoors, you need a pile of pine cones to glue together in the shape of a Christmas tree.
You can leave the cones in their natural color or give them a distant spray with white paint to give them a snow layer.
32. Frosty the Battery Powered Tea Light Snowman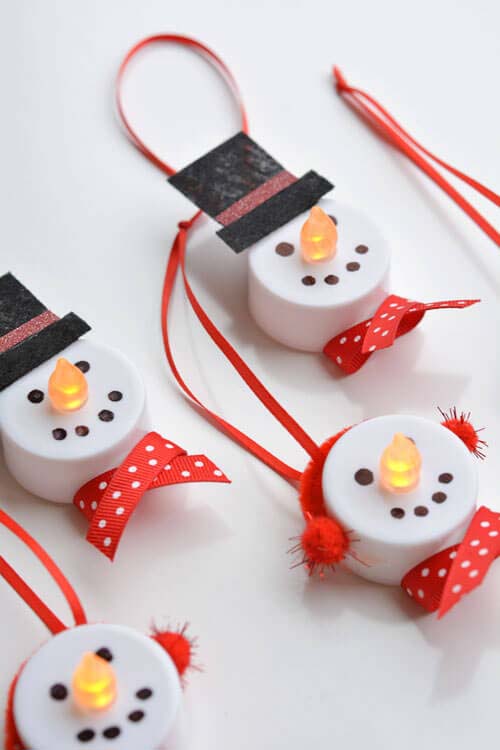 The LED tea lights from the Dollar store become cute snowman ornaments with a quick and easy update.
First, draw the dots to form the eyes and the smile. Then glue bits from ribbon, felt and cardboard in the shape of a scarf, cylinder and ear muffs.
33. Giant Paper Plate Lollipops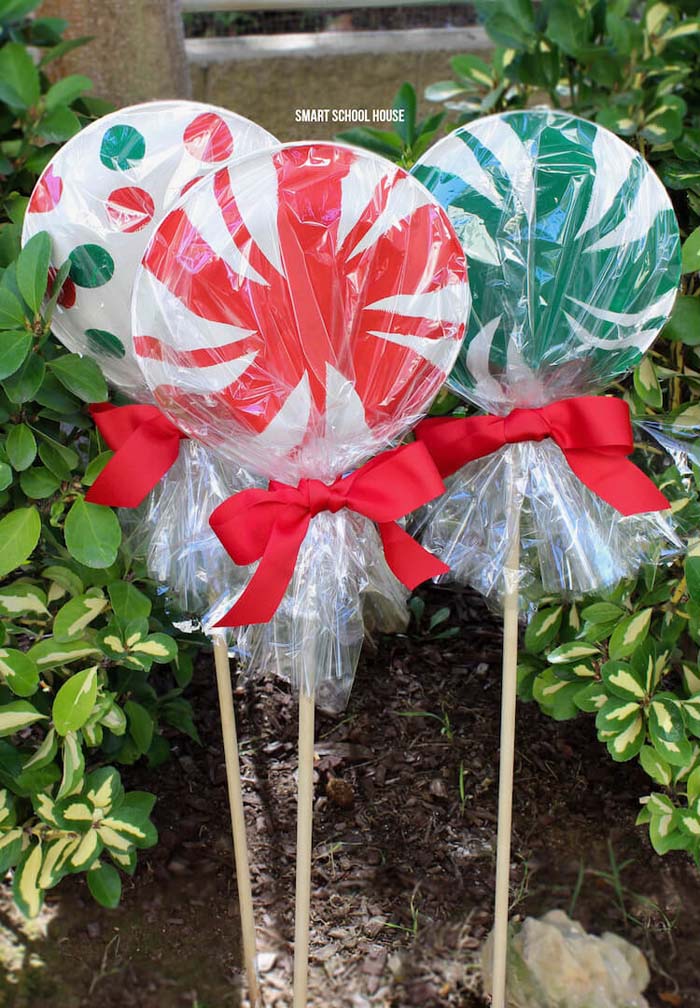 This Christmas craft will make your garden or driveway line cute and festive!
Each giant lollipop costs less than $1 and 5 minutes of your time. Get a set of paper plates and start painting them. To give them the realistic look, wrap each with cellophane and tie it with a large red ribbon!
This idea is so easy that every member of the family will have so much fun making it!
34. Glitzy Gold Dollar Store Reindeer Wreath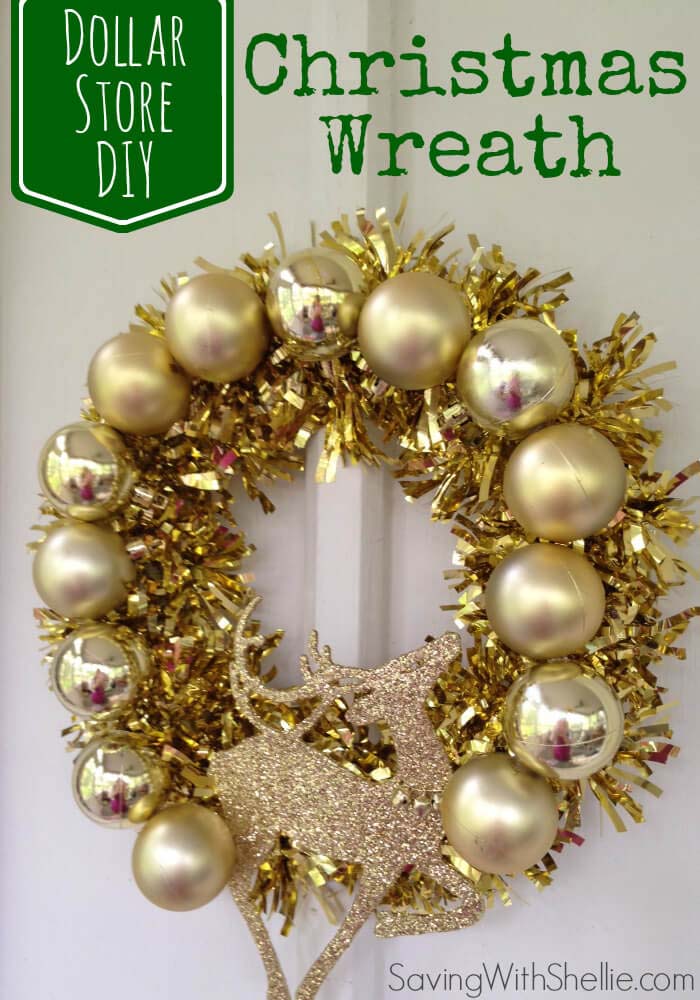 This wreath is one of the most festive Christmas decorations we have seen because of the glitter and glamour in it!
Get a ready tinsel wreath from the Dollar tree and start decorating it with ball ornaments given a generous amount of glue on one of the sides.
Finish the wreath with a sparkling flat ornament in the same color.
via Simply Shellie
35. Gold Bead Pedestal Tree Accent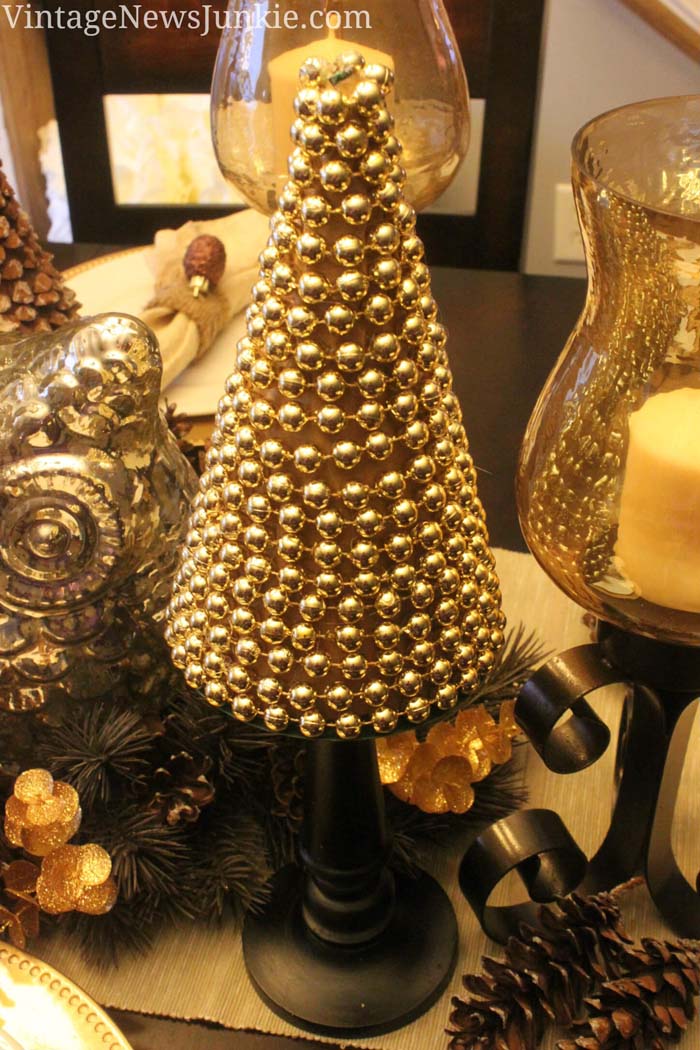 Give the ball garlands another application by turning them into stylish Christmas tree, perfect for accentuating the Christmas decor on the table.
Glue the garland onto a foam or poster paper cone. To give the tree some height and importance, place it onto a candle pedestal or a cake stand.
36. Hand Stenciled Winter Baubles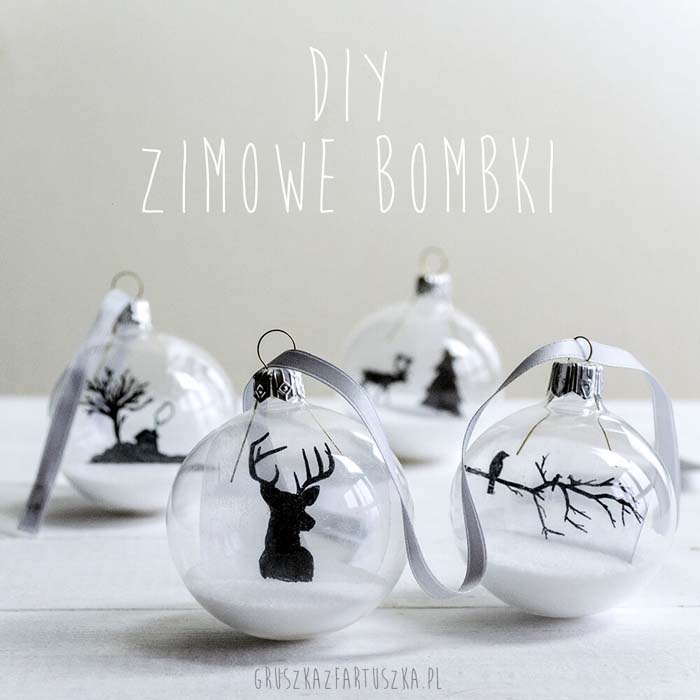 One of the ways to stencil a clear bauble is to do it with a transparent foil. You won't actually paint on the glass surface. Instead, the painting is done on a round piece of foil that is then inserted into the ball.
To hide the end of the foil and to achieve the illusion for a hand-painted bauble, fill the bottom of the ball with salt.
37. Holiday JOY Sign Tutorial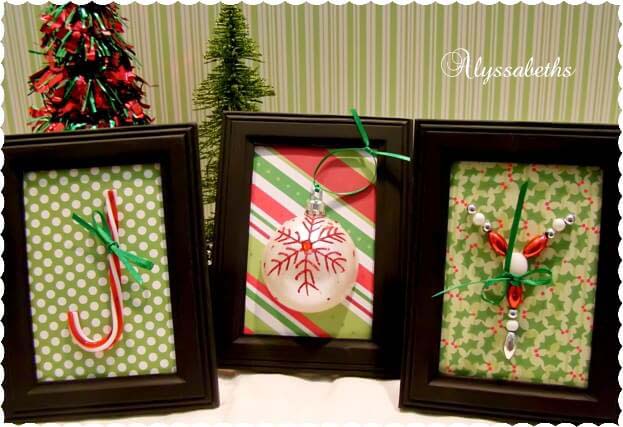 Make a framed art with Christmas motifs and symbols.
Get three identical photo frames from the Dollar store. Cover the backboard with festive paper.
Remove the glass to enable adding the letters made of a plastic candy cane, a ball ornament and a bead craft.
38. Homemade Christmas Ornament: a Jingle Bells Heart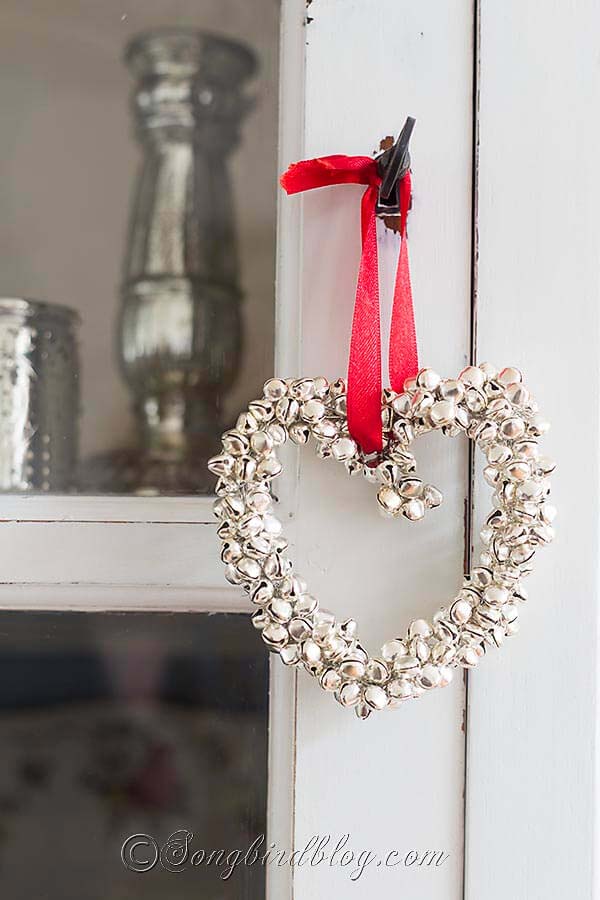 Do you want to feel Christmas with every sense? Then make a fun and cute jingle bells heart that will spread its cheering ringing every time the front door is opened.
Get a jar of tiny jingle bells from the nearby Dollar store. Wire them all on a silver thread. Then, twist a thick wire in the shape of a heart and start weaving your jingle bells thread.
via Songbird Blog
39. Letter and Twine Wine Bottles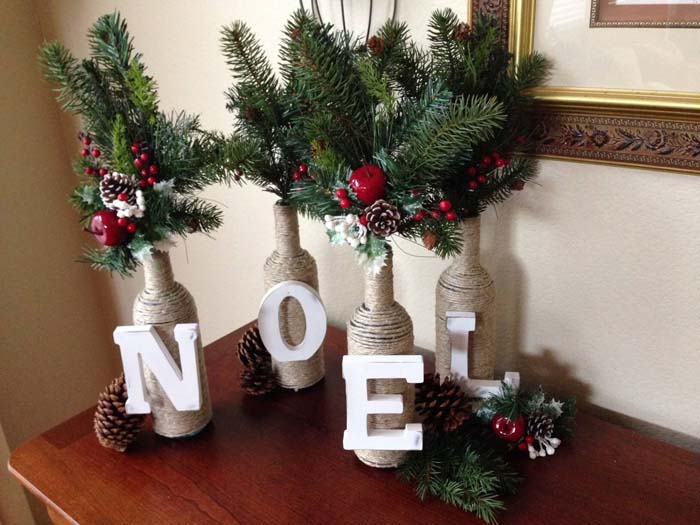 This repurposed wine bottle set will contribute to giving your home a Christmas mood in a farmhouse style.
The twine woven around each bottle is not only a fantastic decoration. It is also a suitable surface for adding further accents like pine cones and letters.
When the bottles are finished, fill them in with real pine twigs that will bring nature into your home and will spread a lovely fresh scent around.
via Crafty DIY Kate
40. Metallic and Lime Ornament Cluster Wreath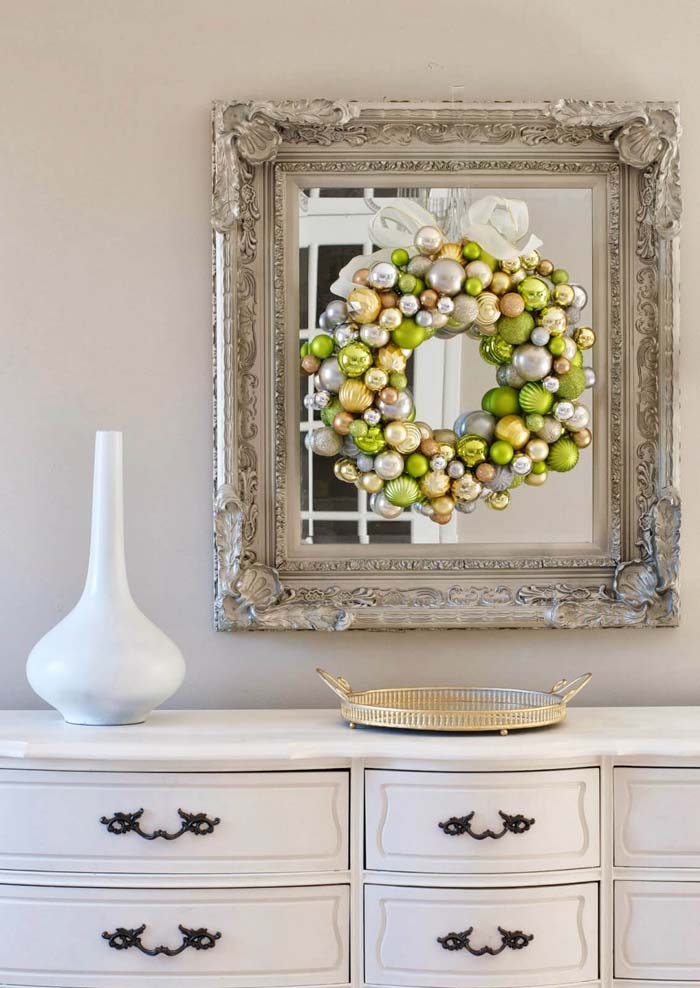 Want to decorate your entryway or your bedroom? This glam wreath will do a Christmas miracle anywhere in the house.
The whole project will cost you around $20 spent at the Dollar Store and not more than a couple of hours.
via Live Love DIY
41. Painted Snowy Mason Jars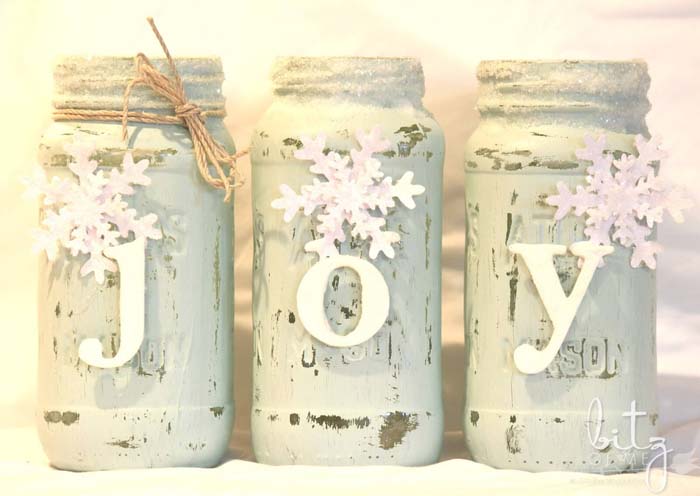 This joyful set of Mason jars will easily find its place in the Christmas decor.
It can be used as it is or each can be used as a vase of pine twigs. In all cases, the impact comes when the three of the jars are together.
via Tiny Bitz Of Me
42. Picture Frame Christmas Wreath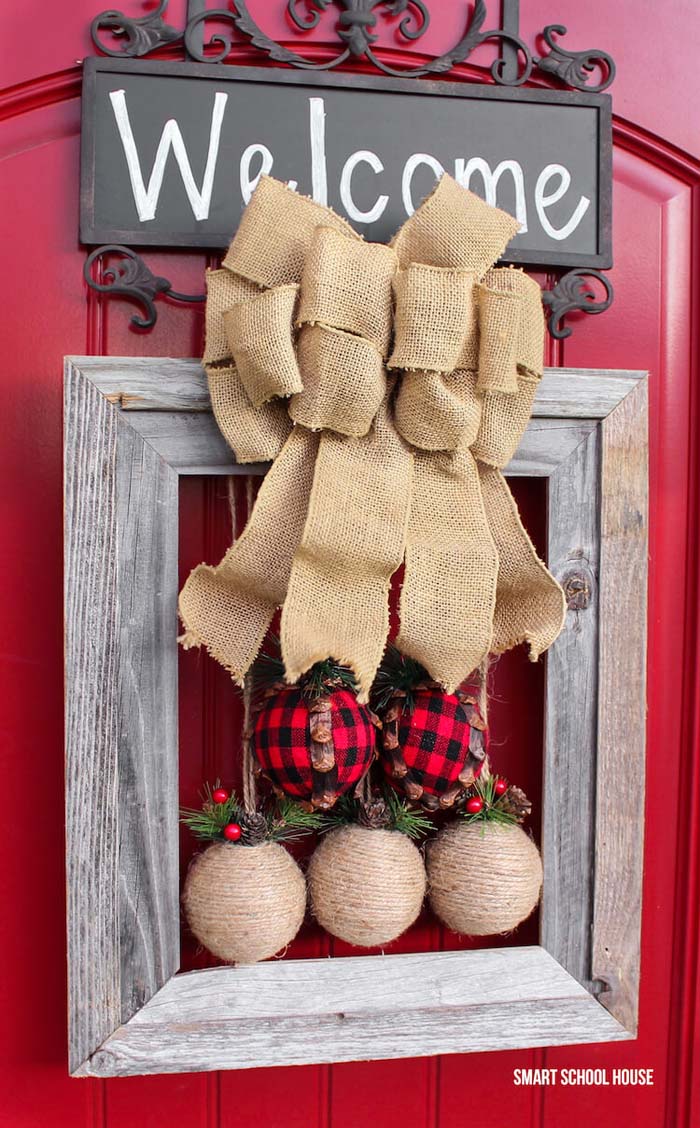 Make your Christmas more rustic with this front door framed art.
It is a school craft project so its level of difficulty won't be high. Prepare a weathered frame, ball and other Christmas ornaments, fabric, twine and a large burlap ribbon.
43. Pinecone, Glass, and Sequin Dangles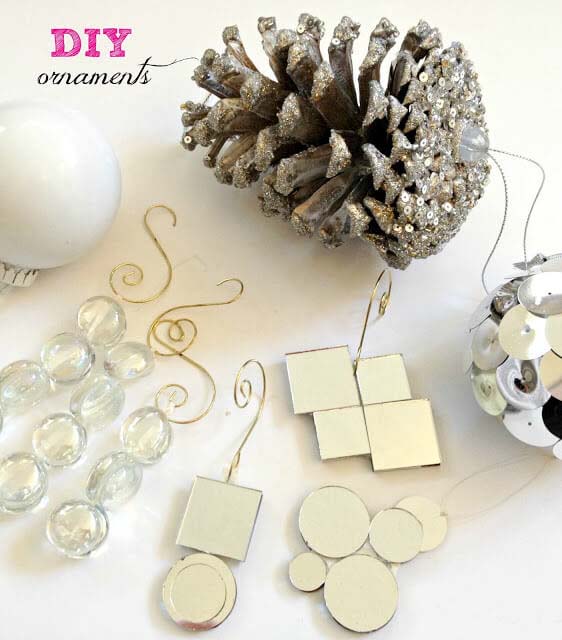 These handmade ornaments will impress you with their ability to reflect the light on the tree.
All you need to do is hot glue transparent beads in a pendant pattern or mirror bits and pieces.
via Live Love DIY
44. Simple 'Joy' Holiday Wall Letters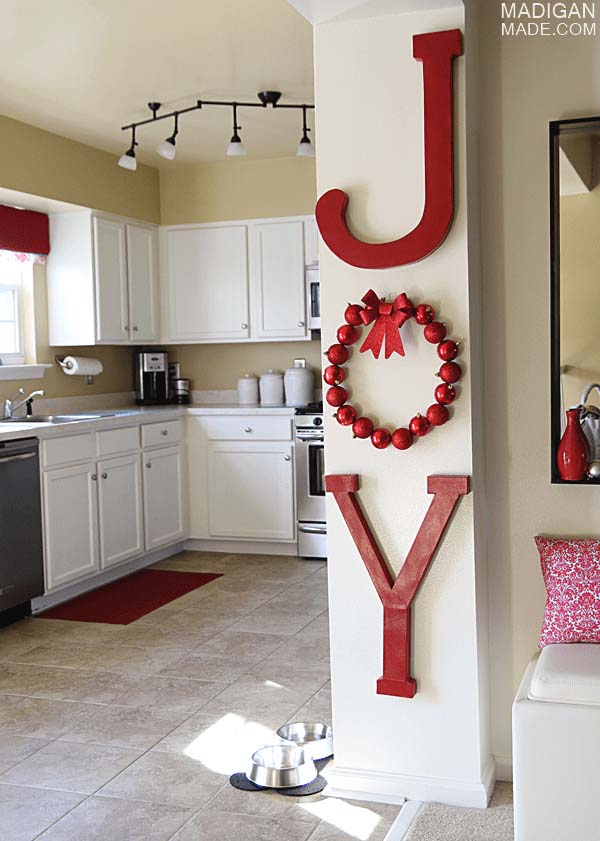 If you have an archway in your home? This Christmas JOY sign is the top choice for this transitional part.
Get J and Y mache letters. Paint them in one of the thematic Christmas colors. Make a ball ornament wreath to use as an O.
Hang them on the wall with picture hanging strips and clear hooks.
via Rosyscription
45. Spray Painted Dollar Store Nutcrackers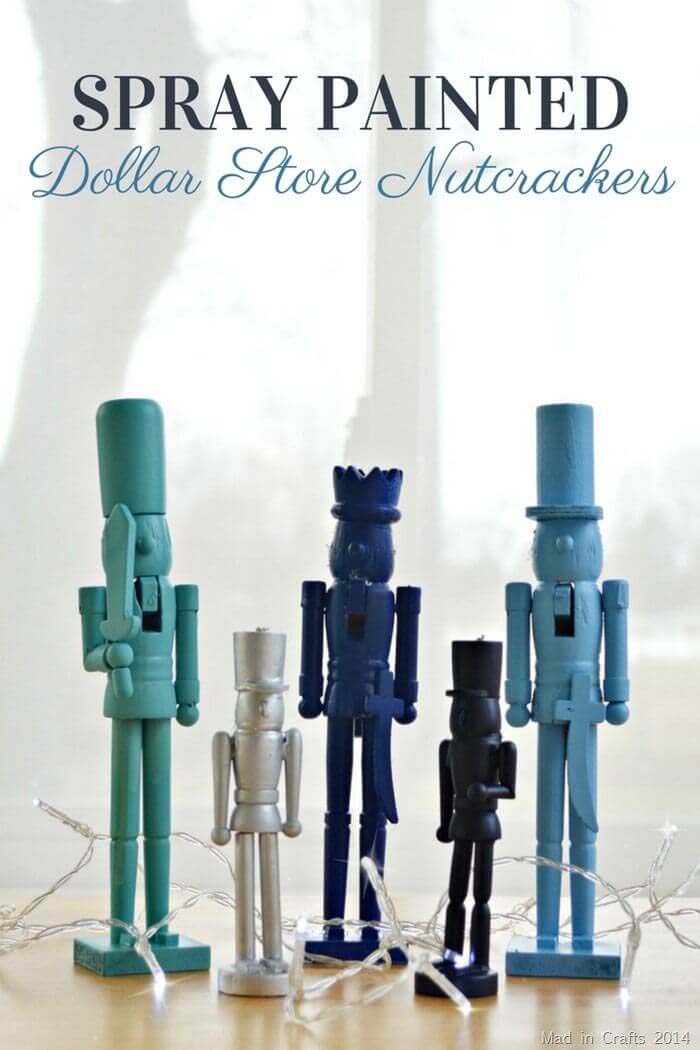 If you want to go out of the traditional Christmas colors, make these nutcrackers. Well, you won't actually make them.
You just have to spray paint the Dollar Store figures. Set them on the mantle or on a shelf, twisting a fairy light around them to create a more festive arrangement.
via Mad In Crafts
46. Tart Tin Tea Light and Fretwork Star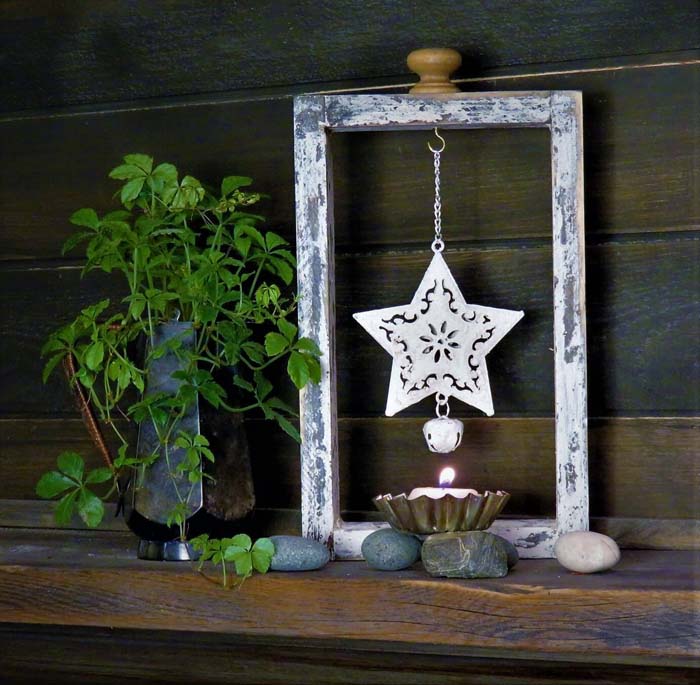 The star is a symbol related to Christmas. If you already have a metal or wooden star, you can incorporate it in a Christmas DIY frame art.
Give the star a Christmas look by hanging a jingle bell to its bottom.
Screw a hook to the bottom of the top frame where you will hang the star.
47. Textured Aquarium Stone Candle Cube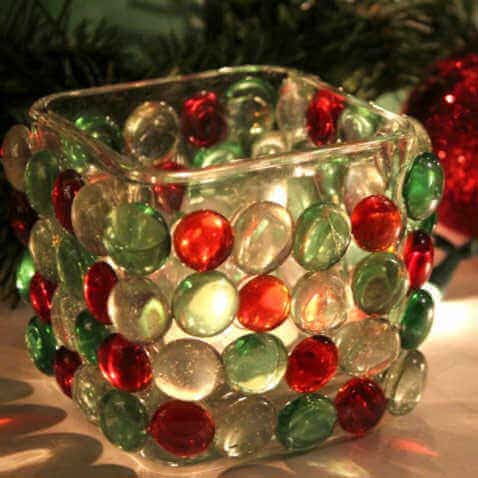 This DIY Christmas Candle holder will enlighten your room with shades of green and white to make the atmosphere more festive.
Glue glass stones onto a glass candle holder and place a tea candle in it.
via One Crazy Mom
48. Waterless Snow Globes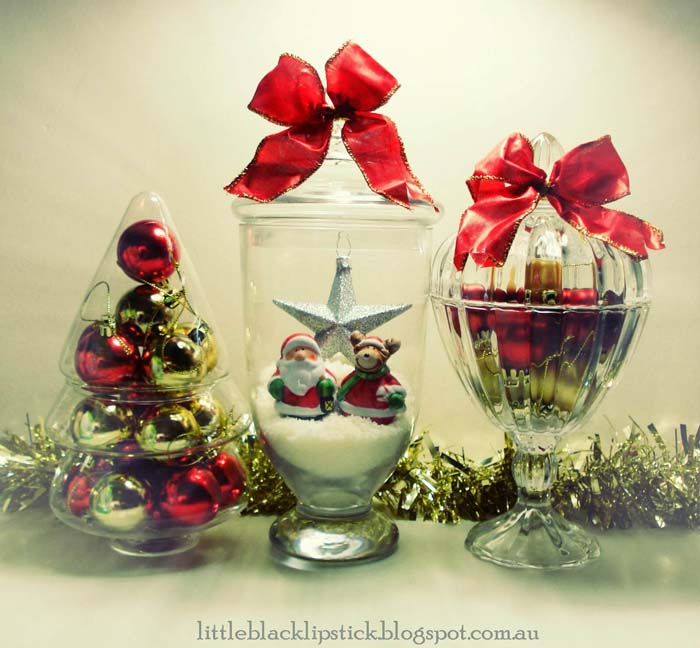 Go to the Dollar Store and start looking for any glassware you could work with to make these snow globes.
Any ornaments, bows, small figures and ribbons will help you create the small worlds behind the glass.
49. Winter Woods Christmas Wreath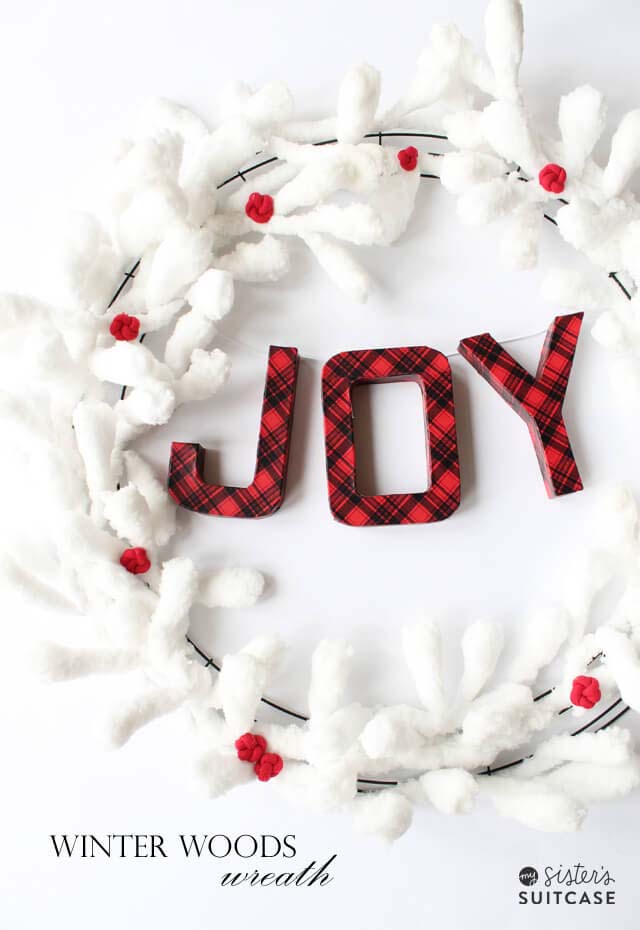 This festive wreath can beautify the front door of your home or become a wall art inside any room.
The basis of this snow-covered wreath is a wireframe. Start by weaving the snowy garland. You can either add faux berries for color or make yourself knots from red cording.
The paper mache letters should be covered with gift paper or crafting tape to give them a Christmas look. Hang them on a thin cord and then tie both ends of the cord to the wireframe.