Living in a small apartment can have more than its share of design challenges. You have to choose everything carefully to maximize the small space.
Are you stuck on choosing colors, couches, and accessorizing?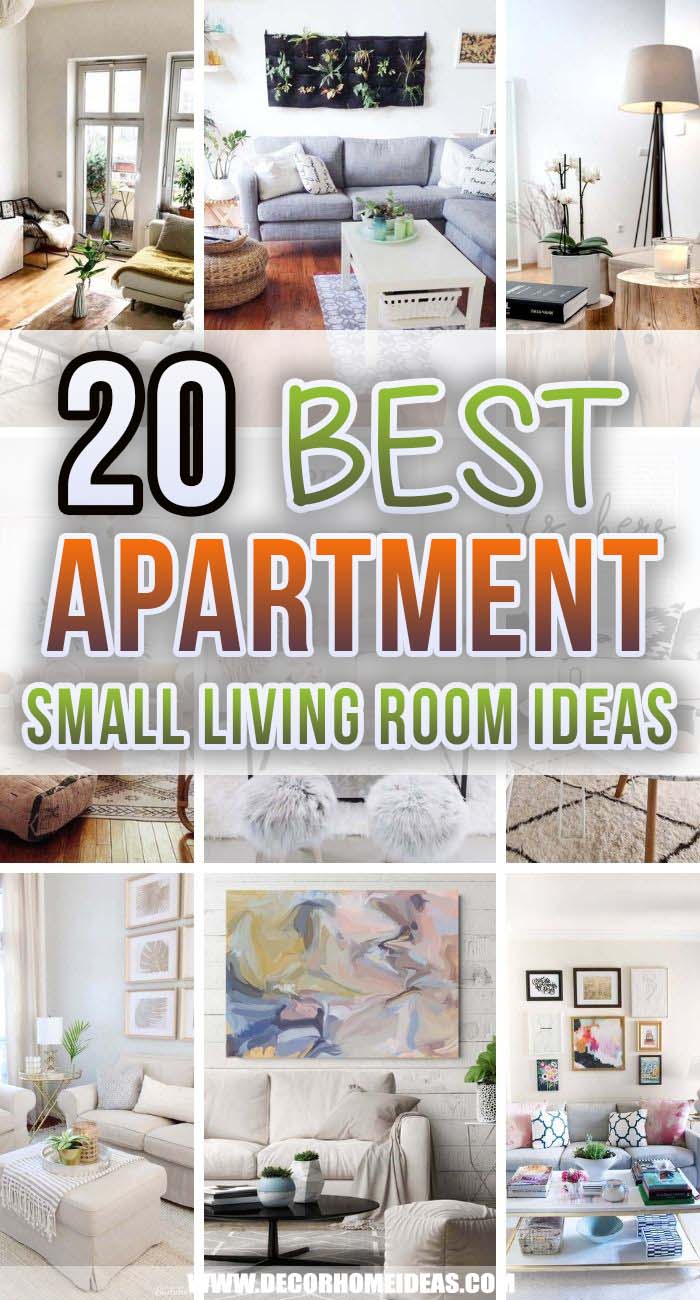 We've found twenty small apartment living room décor ideas to inspire you. We'll show you how you can downsize without sacrificing your personal style or ruining the interior design.
1. Add Modern Flair to Your Home with Log Tables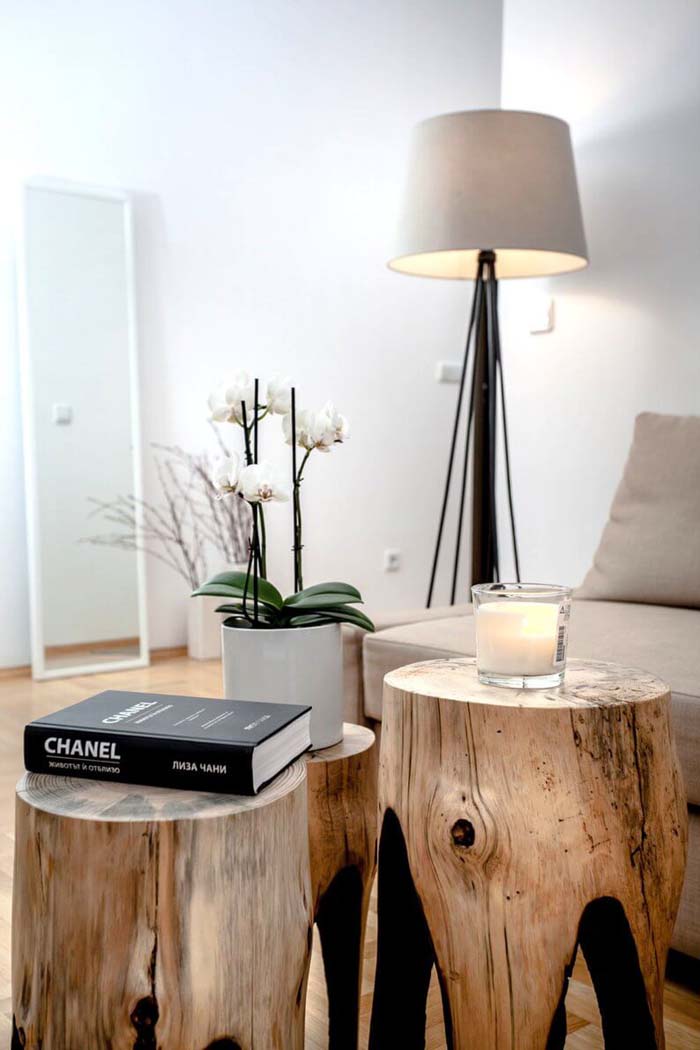 Organic elements add a modern touch to minimalist décor.
The trio of tables cut from a single tree adds warmth and texture. Tripod lamps never go out of style and they also utilize the floor space properly.

2. Create a Light and Textured Living Space with White Walls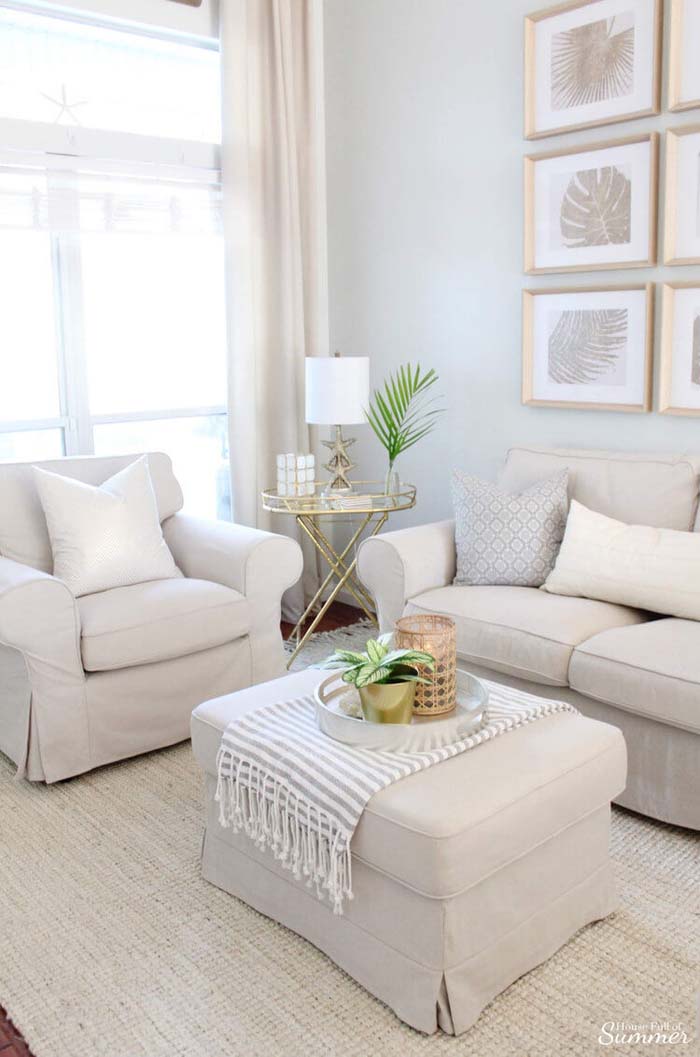 Stick with white when you want to bring in as much light as possible. Creamy whites can stand on their own when you vary the textiles.
Add texture with overstuffed cushions, a throw blanket, and a throw rug. The accent color here is the gold found on the frame and side table.
3. Create a Cohesive Look with White and Pink Accessories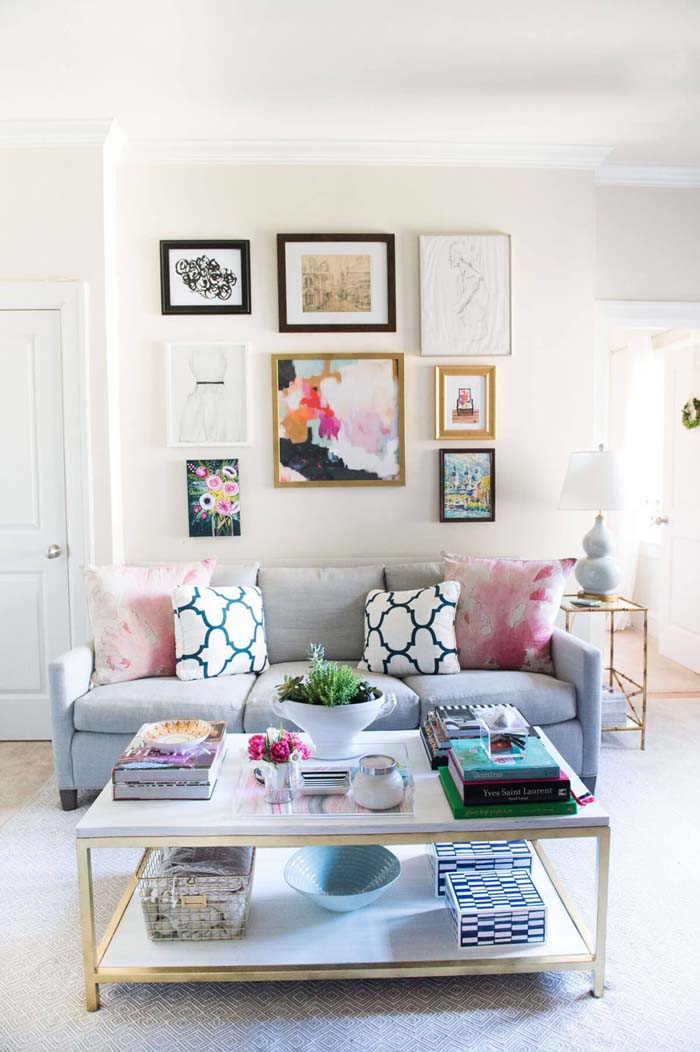 Add color and interest by sticking to one or two colors in your accessories. The two colors here are pink and turquoise.
They're found in the wall prints, cushions, and table. Creamy white walls are anchored by the gray sofa and area rug. Mixing different colors will make your home decor more lively and inviting.
via Mint Wood Home
4. Upgrade Beige Wall Decor with White and Gold Accents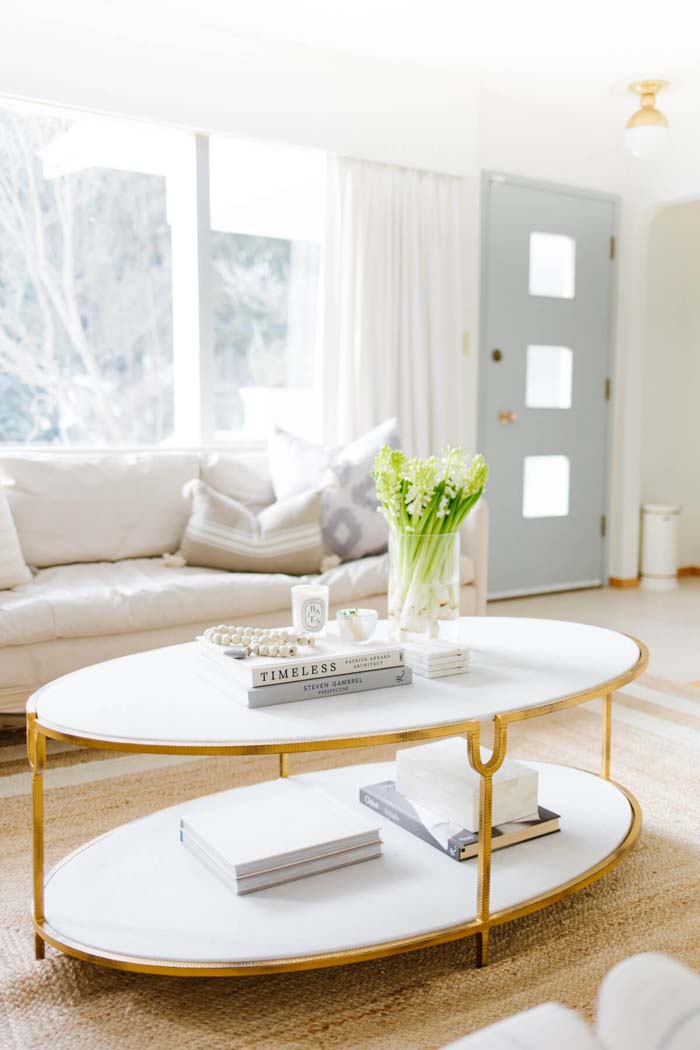 Work with beige walls by adding light, airy curtains and a creamy beige sofa.
The coffee table stands out in pure white with a golden frame. The sisal rug introduces subtle color and texture.
via Monika Hibbs
5. Maximize Space with an L-Shaped Sofa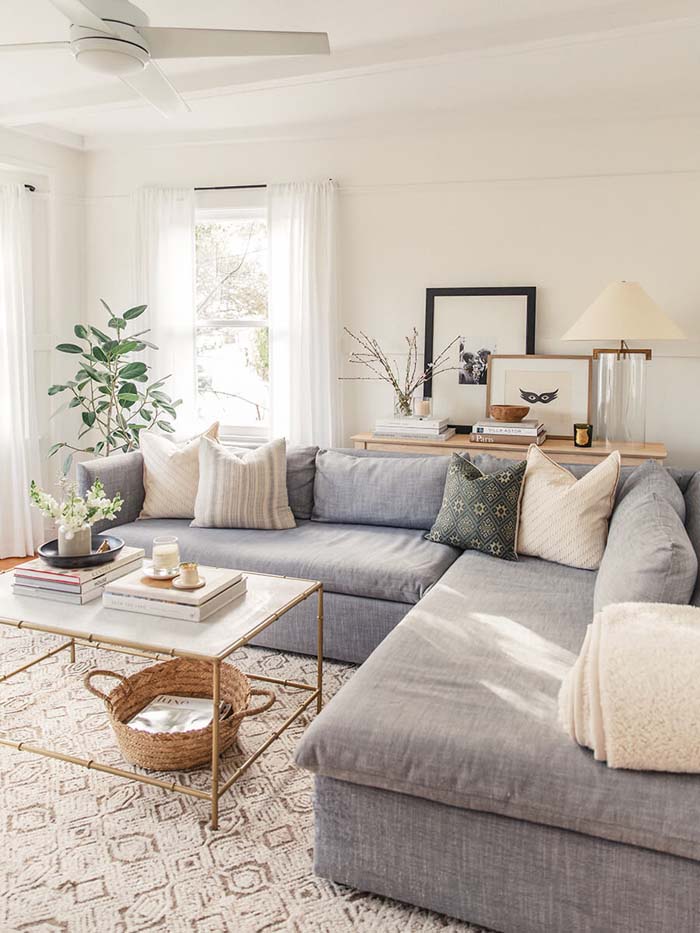 Gain more seating by adding a full sectional sofa in place of a separate couch and chairs.
20 Small Apartment Living Room Decor Ideas and Designs video:
Many sectionals are combined with storage space and sleeper sofas for an overnight guest. This will give you additional functionality in any small room especially if it is a tiny apartment.
via Harlowe James
6. Vintage Reading Nook with a Cozy Fireplace Ambiance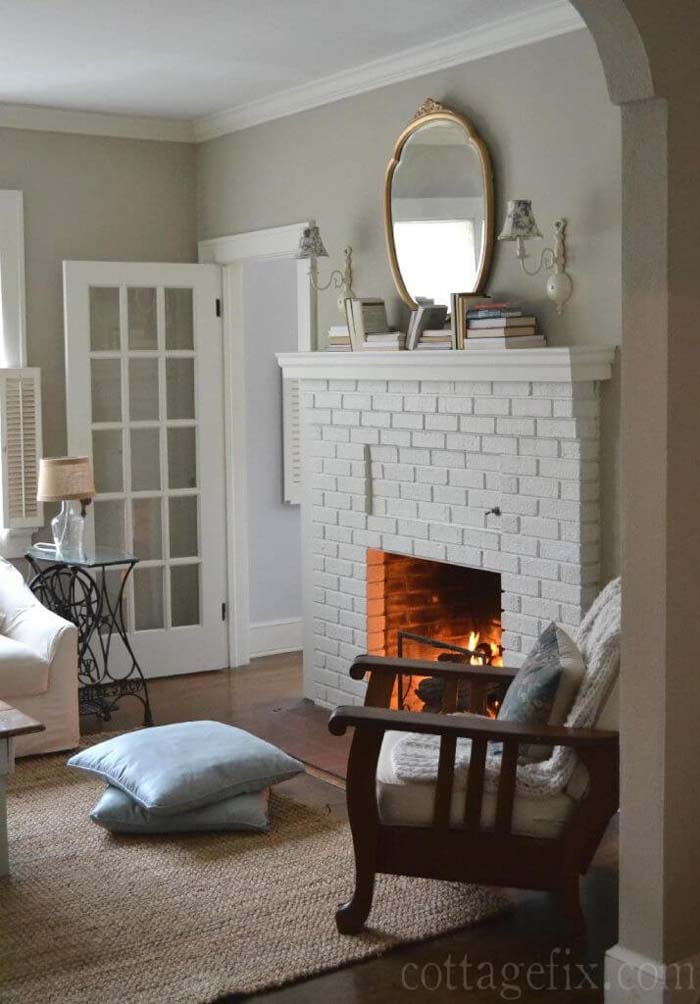 If you want to add a touch of Old World charm, add a reading nook next to a fireplace.
Realistic fireplaces have become affordable and you get the look of a cozy library with one wall outlet. Fireplace tiling is adding the warmth of a brick wall in your living room.
Pick a chair with a thick frame so it isn't overpowered by the size of the fireplace.
via Cottage Fix
7. Elevate Your Living Room with Luxurious Linen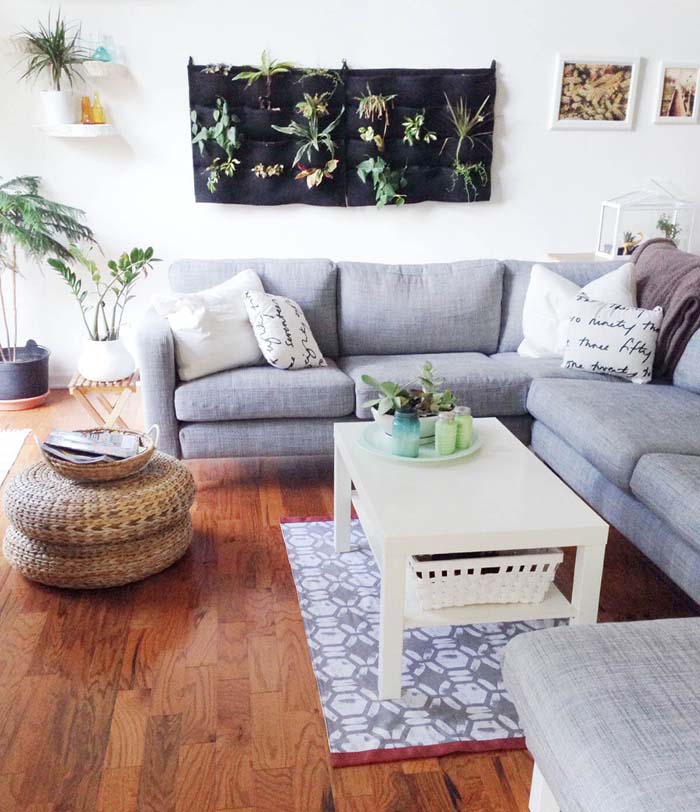 Linen is a high-end textile. By adding a sectional sofa covered in linen, this room gets a luxurious upgrade.
Introducing organic elements, such as the meditation cushions and plants, creates a sense of ease. The vertical garden on the wall becomes an unexpected art piece.
via Bonnie Christine
8. Define Separate Living Areas in a Small House with Bookshelf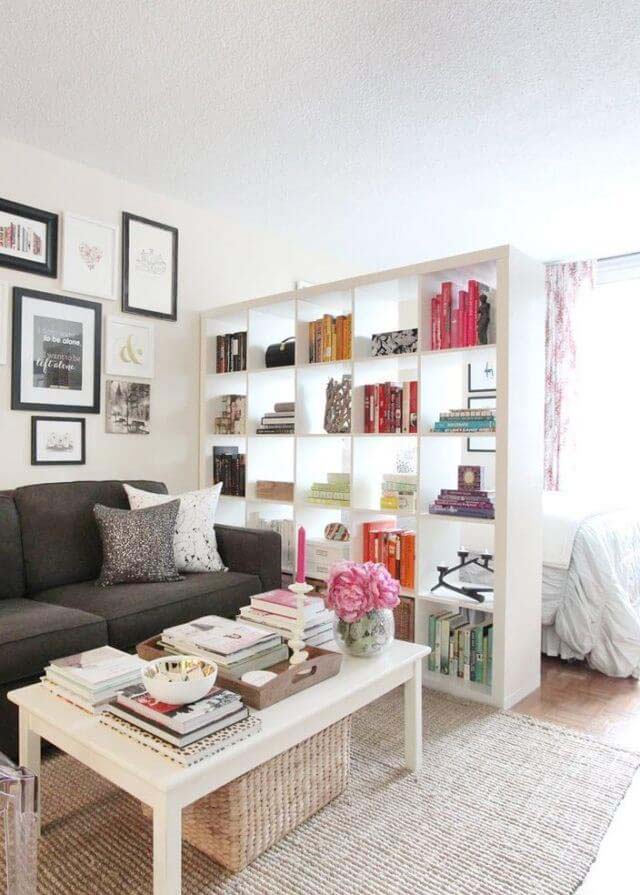 Even if your apartment is small, you can define separate living areas. This room is separated by an IKEA Kallax bookshelf and a sisal area rug. The living room is anchored by the West Elm sofa.
Adding blocks of color by using books in the bookcase and on the coffee table adds personality and style to the room. The rattan chest underneath the coffee table adds texture and much storage.
via York Avenue
9. Simple Prints and Neutral Colors for Minimalist Room Decor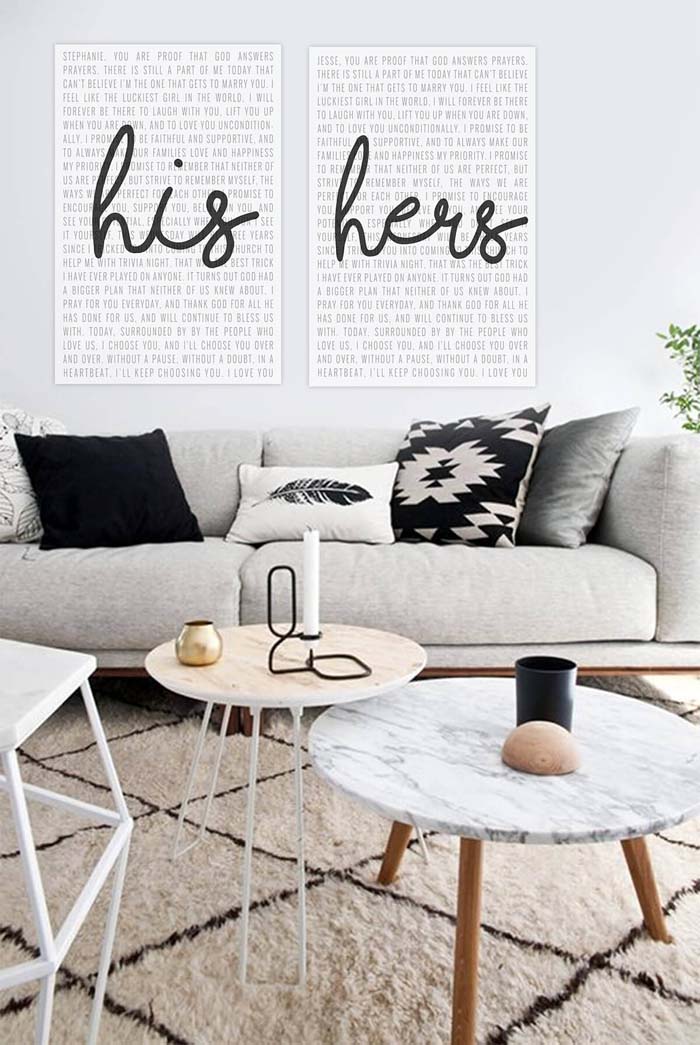 Simple prints and patterns in neutral colors are the hallmark of this room.
Get a minimalist look without spending a lot of money. The wall was filled with two simple posters. The curves of the handwriting match are echoed in the candlestick holder.

10. Embrace Minimalism with an Industrial Living Room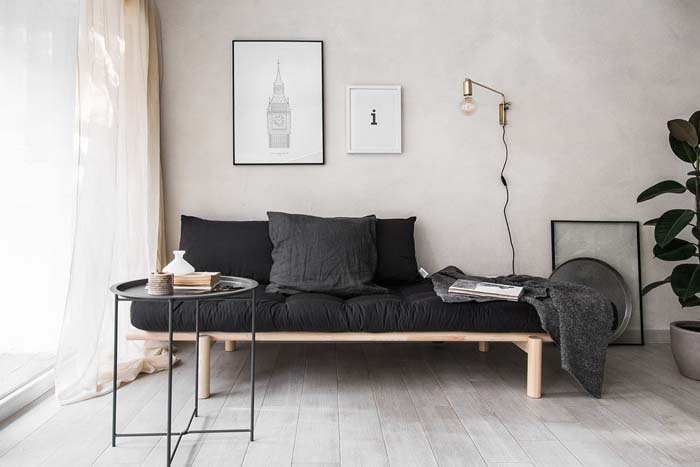 Simple prints and patterns in neutral colors are the hallmark of this room. The curves of the handwriting match are echoed in the candlestick holder.
The wall sconce and Edison bulb add to the Industrial look.
via Passion Shake
11. Seasonal Room Decor with Neutral Base and Accessories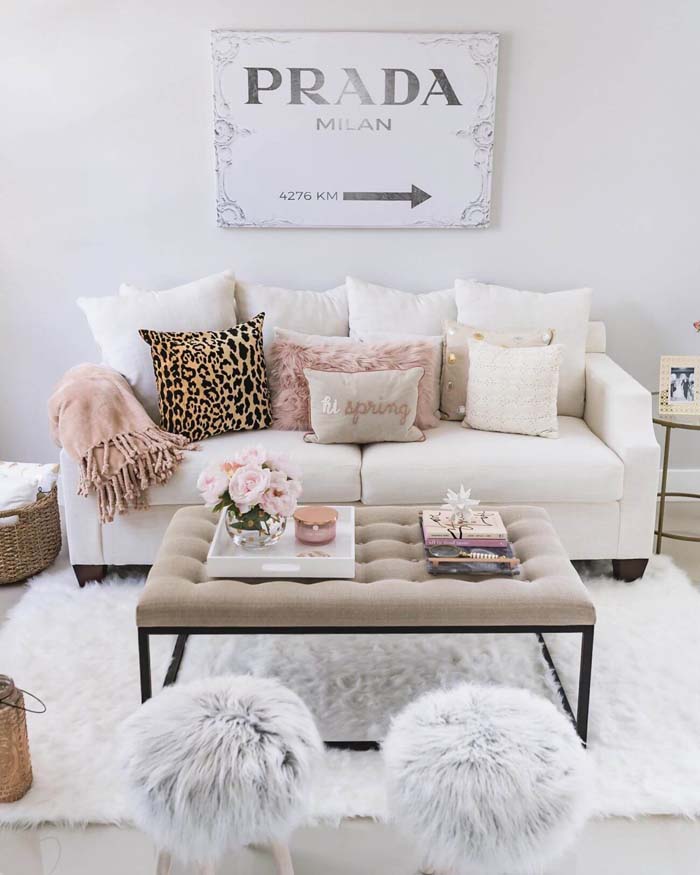 Redecorate your room as the seasons change. Keep your main pieces in neutral colors. The sofa and ottoman, which are functioning as a coffee table, provide the backdrop.
The accessories on the coffee table were carefully chosen to match the sofa.
The throw pillow, blanket, and candle welcome spring in the same soft pink tone. The plush area rug makes the fluffy stools feel right at home.
via The Fancy Things
12. Brighten Up a Dark Living Room with Lamps and Mirrors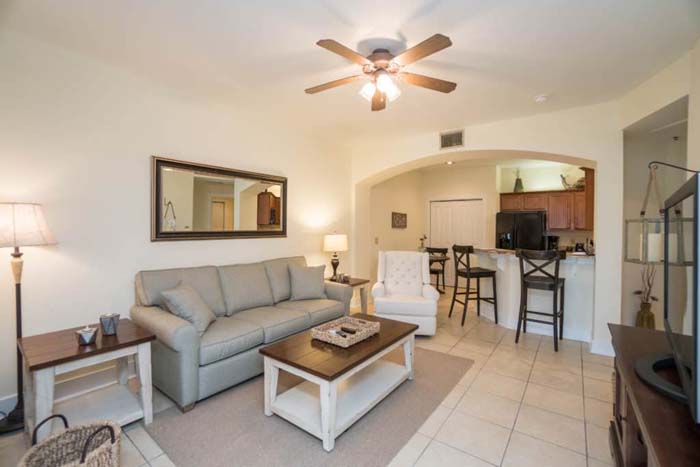 When your apartment has limited access to natural light, adding lamps and mirrors is an old trick to brighten a room.
This room has a lamp at each end of the sofa, ceiling lights in the living room and kitchen, and light on top of the kitchen cabinets.
On the right side of the photo, we see a candle lantern in a hanging planter. There are battery-operated candles that look very realistic.
When you're decorating a room like this, keep the color of the furniture and area rugs on the light side. You want as many reflective surfaces as possible.
13. Black and White Living Room with Nature Accents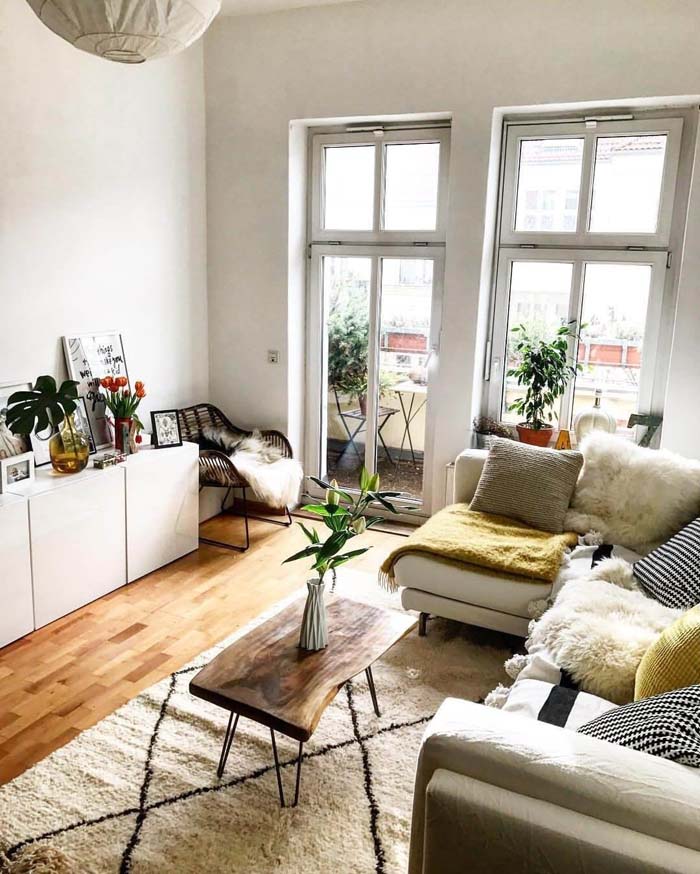 A black and white color scheme doesn't mean a room has to look sterile. The floor anchors the room in warm wood.
Plants on the live edge coffee table and credenza are echoed outside on the porch. Also, take note of how the rug pattern matches the wire legs on the patio set, corner chair, and coffee table.
These elements, along with the high ceilings, create an illusion that the room is larger than it really is.

14. Tropical Living Room with Long Light Curtains and Plants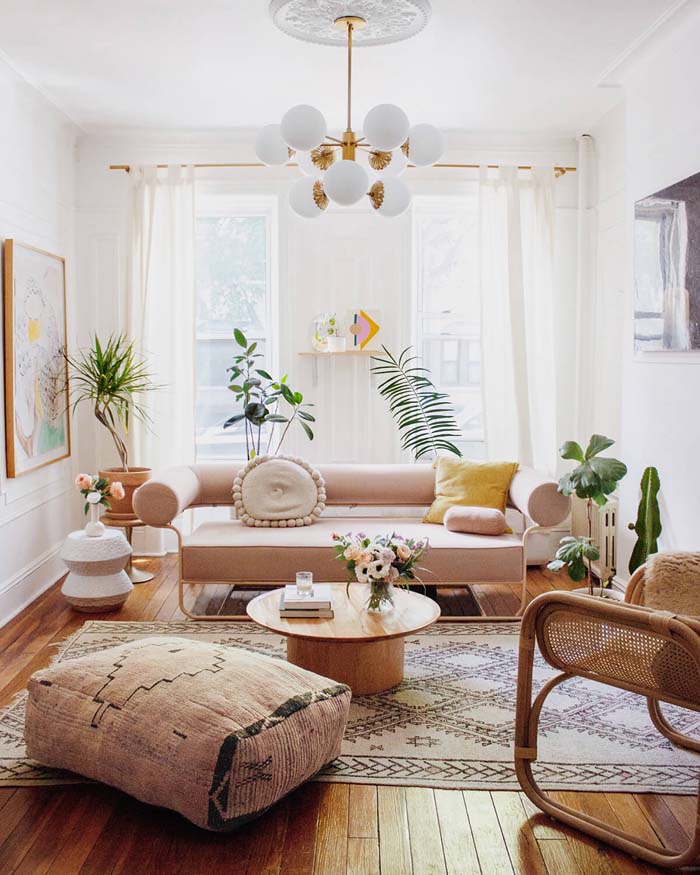 Long light curtains filter and soften the natural light that pours into this room. Tall desert and tropical plants create an organic perimeter around the sofa.
Dark flooring is softened with a beige area rug. The organic textiles and furniture add a tropical feel to this room.
via Reserve Home
15. Set the Right Energy Tone for Your Home with Grayscale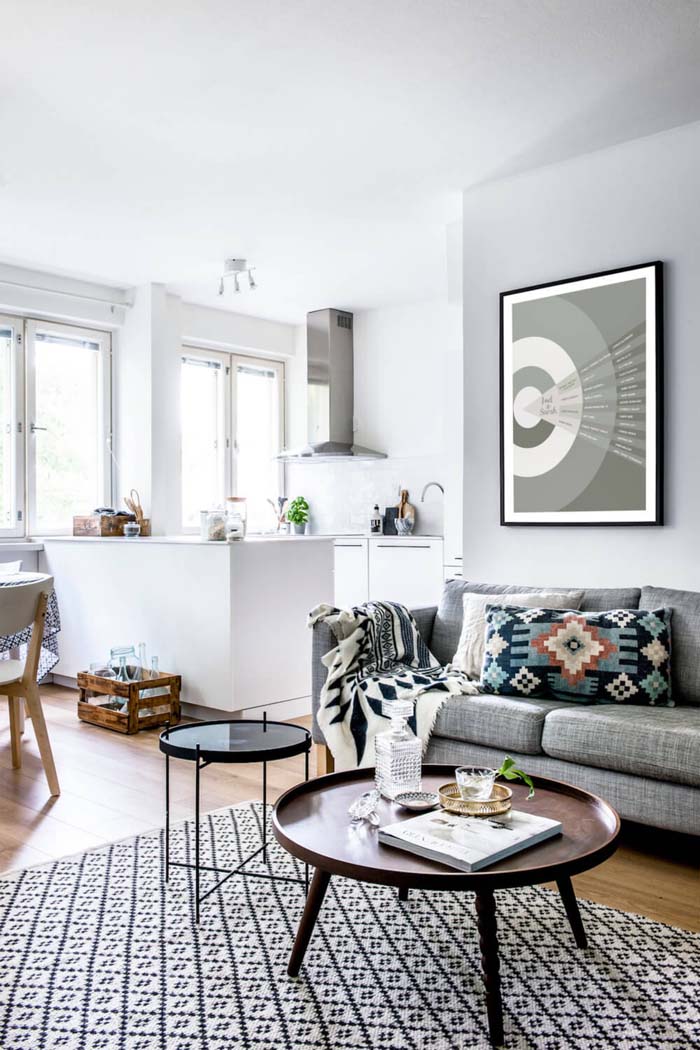 Gray is the new black, and it goes with everything. You can combine gray with white, black, blue, green, brown, and red.
The sofa here works with the patterned rug, wood floor, and even the stainless steel hood in the kitchen.
A throw pillow and blanket throw add unexpected patterns that work well with the area rug.

16. Efficient Corner Entertainment Area with Storage and Style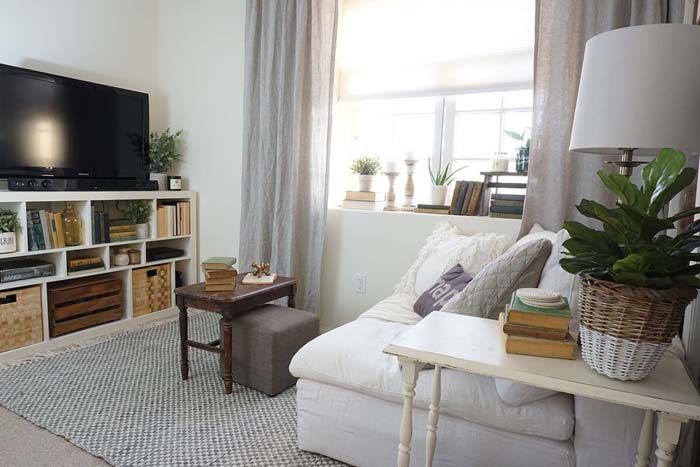 Your entertainment area doesn't have to accommodate all the residents in your building. This corner entertainment section has all the elements needed for a quiet evening at home.
A low side table works as a coffee table. The sectional sofa, cube-shaped ottoman, and side table are ready for kicking back with a drink.
The windowsill acts as a shelf for books and plants. The entertainment unit is large enough to hold the television and a sound bar. Baskets and a slat wooden crate add storage without adding clutter.
17. Embrace Cultural Roots and Natural Elements for Rare Decor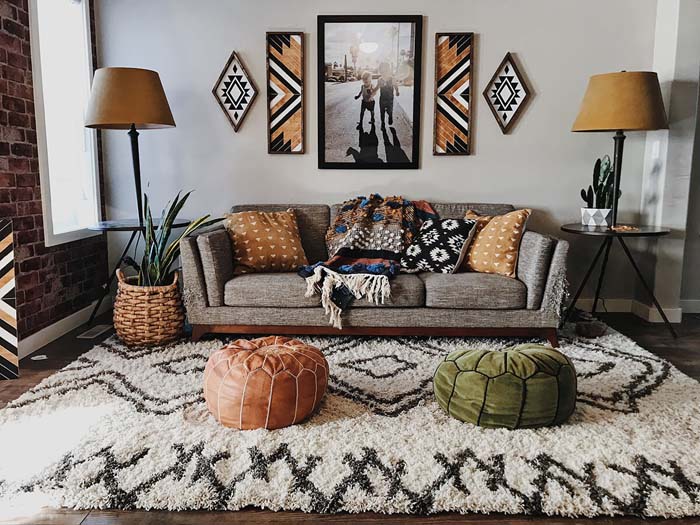 Create a uniquely personal look to your apartment by introducing textiles and art that reflect your heritage or the history of locally indigenous people.
You can also introduce natural materials like the woven basket that holds a Sansevieria plant.
Neutral wall color and sofa allow the warm colors in the carved panels, throw pillows, and rug to stand out. The beige rug captures the natural light.

18. Feminine Space with Shades of Pink and Mercury Glass DIY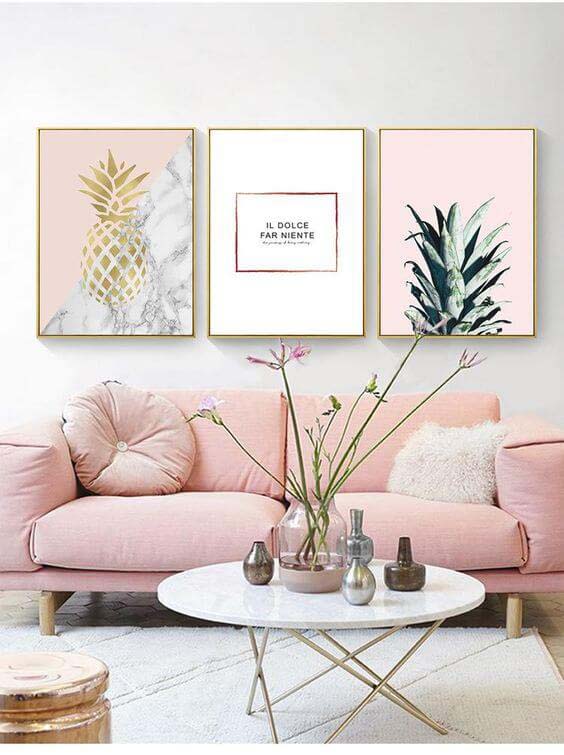 This feminine room works by sticking with a single shade of pink and minimal accessories. Three prints that match in size and frame color create a statement wall. The coffee table is suited to the room with its white tabletop, thin legs, and thin flowers.
Recreate the mercury glass by spray painting small bottles from any dollar store.
19. Let Your Art Take Center Stage in a Neutral Living Room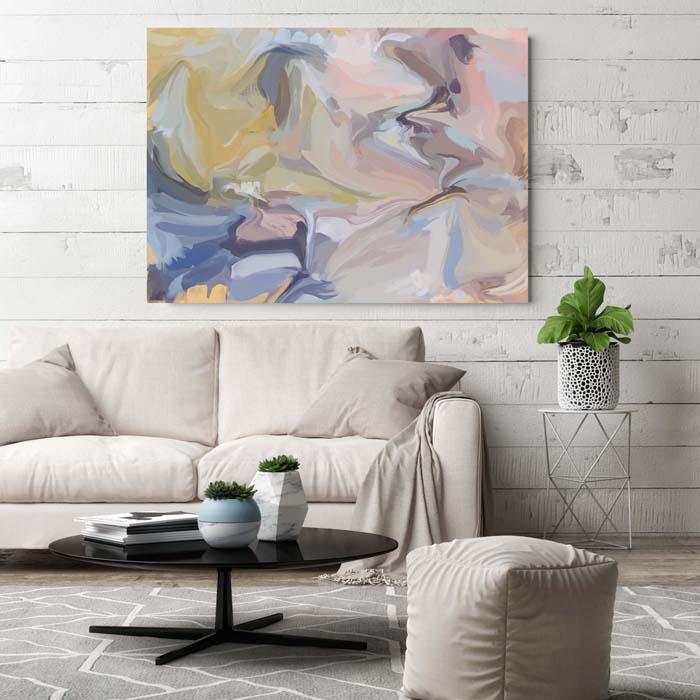 When you want your art to be the focal point, stick to neutral furniture and walls. This flowing abstract painting fits right into this room with neutral tones and whitewashed shiplap walls.
The area rug picks on the beige color scheme. Keep your coffee table low to avoid distracting from the painting.

20. Utilize Space in a Narrow Room with Separate Seating Areas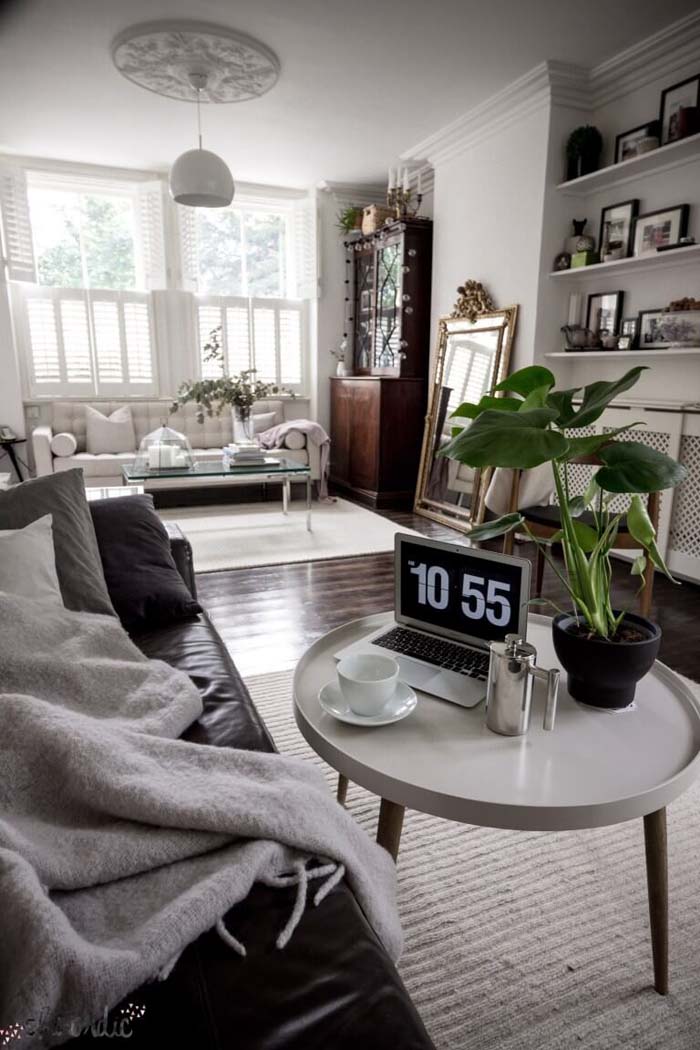 You may find yourself in a situation where a conventional space was opened up like this one. There are no windows behind the camera, so the original owners removed the wall that blocked the light.
If you have to decorate a long room like this, avoid trying to create a single seating area. It'll just wind up looking like a furniture store. Instead, reimagine the space as two separate rooms.
If you need more seating, divide the room even further with a rectangular ottoman or cushioned coffee table positioned in the middle.
Floating shelves will add more storage space and turn that dull white wall into an accent.
via By Shnordic