You might be thinking how unfortunate you are by living in an area where there are no lush green gardens and blooming flowers all year round, right?
Well, there are drought-tolerant plants that are really beautiful and could create a garden oasis in your front or backyard.
We have selected some inexpensive desert landscaping ideas that you can choose from and make your own green paradise even in a desert-like area.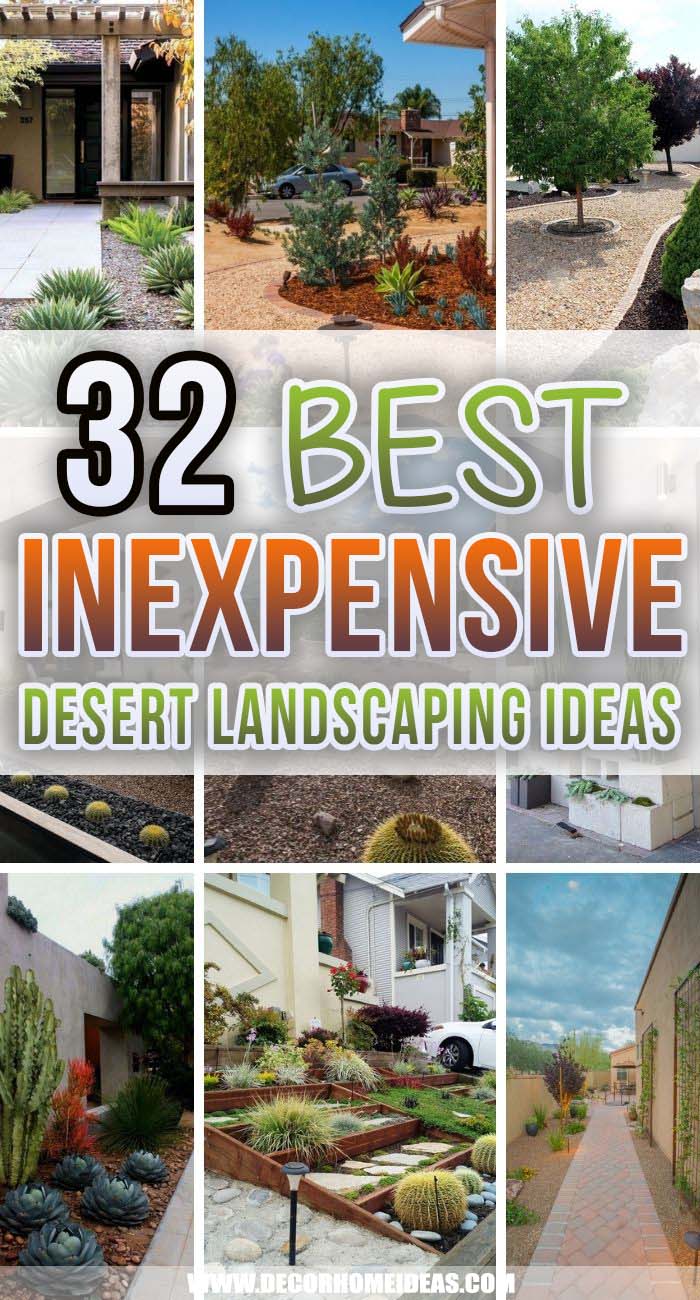 How do you make a desert landscaping?
Use drought-resistant plants like succulents, sedum or salvia – there are native plants that will resist the full-sun heat. Create patterns with rocks, mulch and pebbles to make a unique landscape.
1. Enhance Your Rock Garden with a Vibrant Seating Area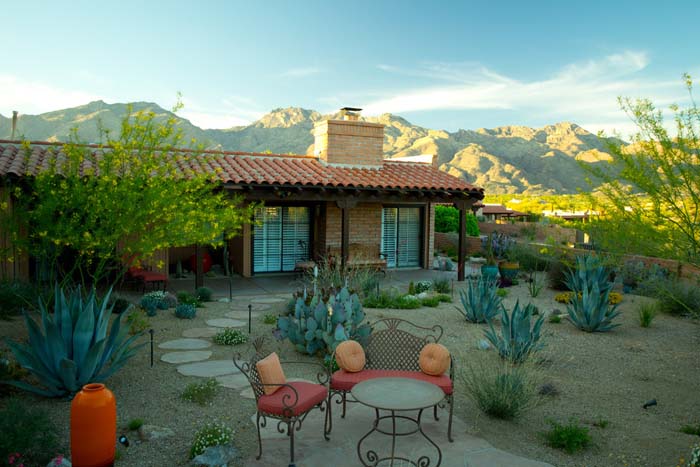 A rock garden gets a colorful boost with a seating area.
Bring the flagstone pavers closer together to create a small patio section. Bright orange cushions and pillows add color.
2. Upgrade Desert Landscape with Multiple Entertainment Areas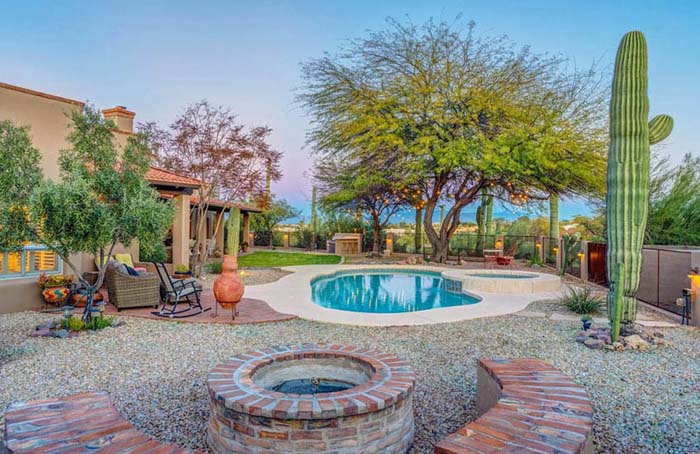 How many entertainment areas are there? There's a fire pit, a second stove near cushioned chairs, a pool, and a picnic bench under the tree.
Lighting, a saguaro, and tall trees around the perimeter tie it all together.
3. Add Glamour and Personality with Aloe Vera in Gravel Bed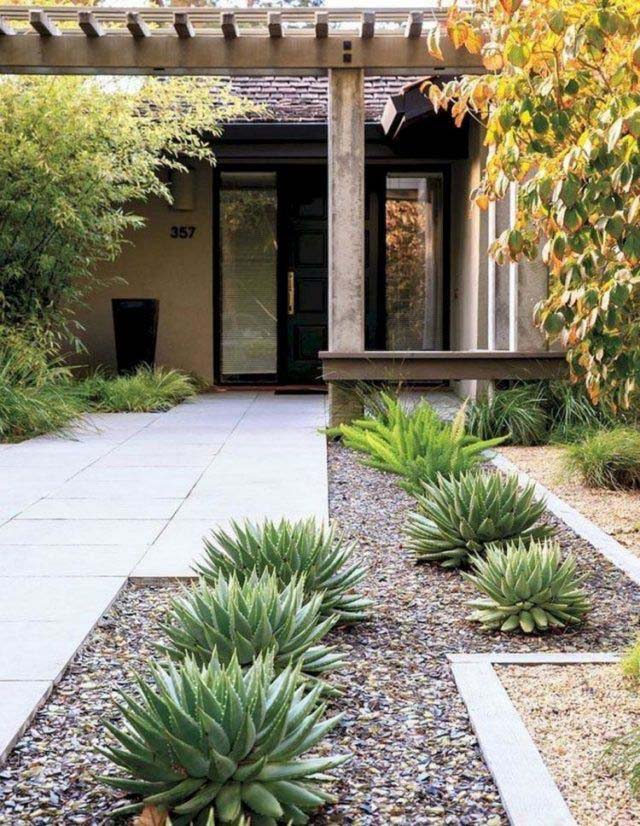 Aloe is a low-growing succulent. They need little in the way of maintenance and have a clean, compact appearance.
They work well here in a bed of pea gravel next to the walkway.
4. Charming Garden Walkway with Bridges and Succulents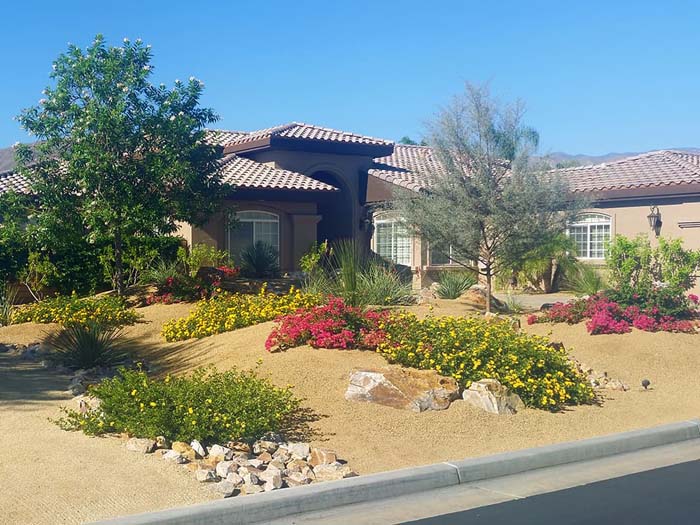 This narrow area has a lot going on. Red and gray bricks were laid out on the main walkway. A small bridge crosses the dried riverbed.
Succulents rest in large planters. The fence supports a trellis that's home to climbing roses.
5. Make a Bold Statement with Your Drought-Resistant Garden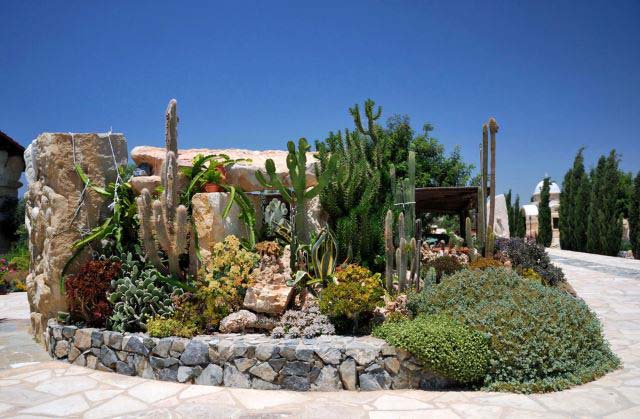 A large stone wall and building debris would have been expensive to excavate. The solution was to add cacti, flowers, and ground cover in and around the site.
32 Inexpensive Desert Landscaping Ideas For a Perfect Drought-Tolerant Garden video:
Saguaro and Organ Pipe cacti will match the height of the wall. Prickly Pear cactus fill in some gaps.
6. Incorporate Cacti in Your Rock GArden for a Rustic Look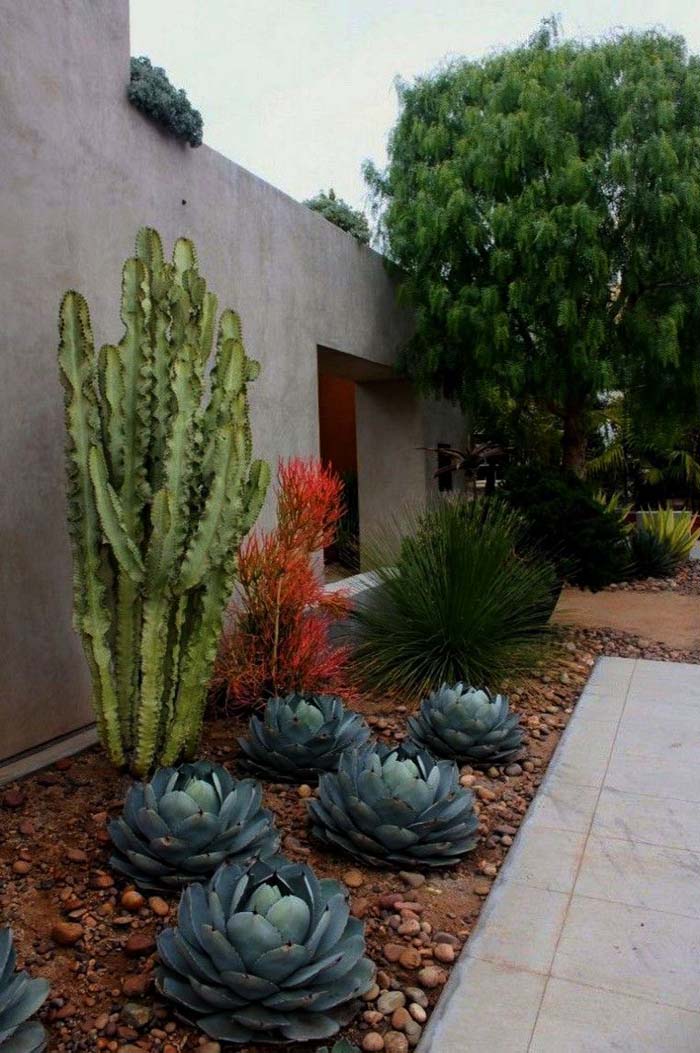 It's difficult to maintain a white rock garden when the reddish-brown clay clings to everything.
Using brown stones allows colors like the blue agave and the sticks on the fire plant to pop.
7. Cinder Blocks with Mother-in-Law Tongue Snake Plants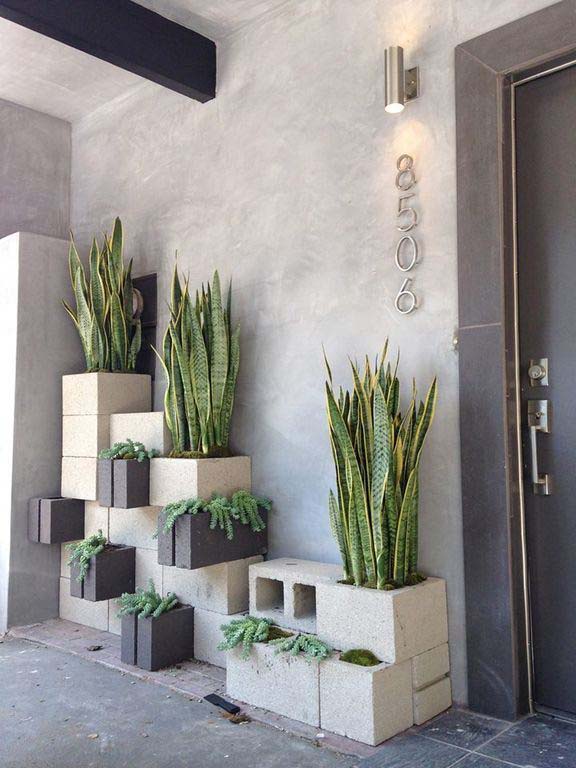 This is one of the most inexpensive landscaping ideas on this list. Mother-in-law Tongue snake plants are planted inside stacked cinder blocks.
Plant ferns such as foxtail asparagus inside standard black concrete blocks.
via Blue Heron
8. Transform a Barren Side of a Home with Columnar Cacti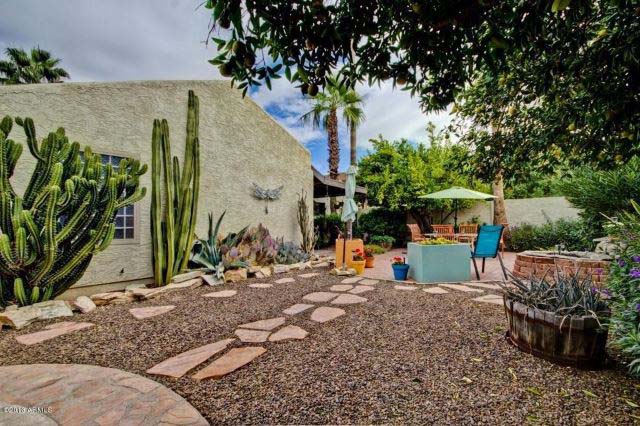 Drop stepping stones onto pea gravel to create paths. With only one window, this side of this home looked barren.
Adding columnar cacti like the Mexican organ pipe cactus and Peruvian apple cactus break up the space and add color.
via Zillow
9. Add Visual Interest with a Sloping Rock Garden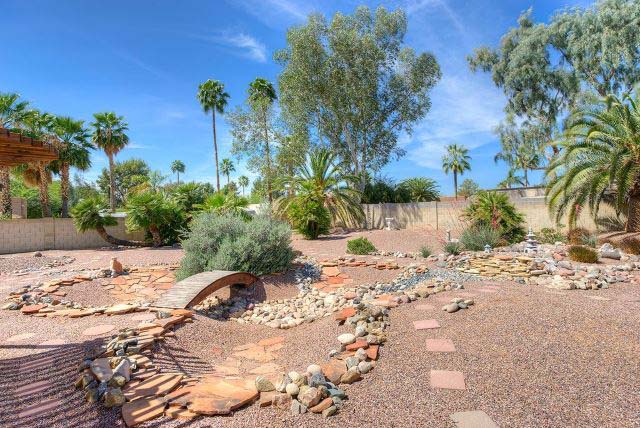 Instead of trying to level out a yard, play with this slope. The rocks follow the slopes as if they're the water following the landscape.
Unlike other examples, there was no need to dig into the ground to add the rocks.
10. Instantly Boost Your Curb Appeal with Drought-Tolerant Grass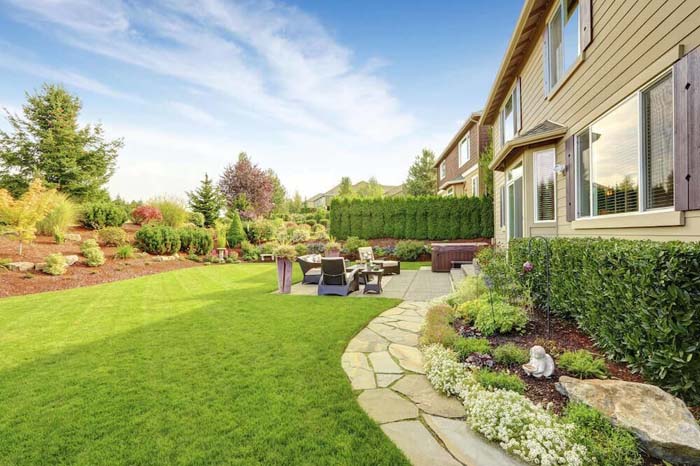 Just because you live in a desert climate doesn't mean you can't have a green lawn.
There's an entire industry dedicated to growing green lawns without water. Look at Ruschia lineolata as an example.
11. Add Color to Your Home with Drought-Tolerant Purple Plants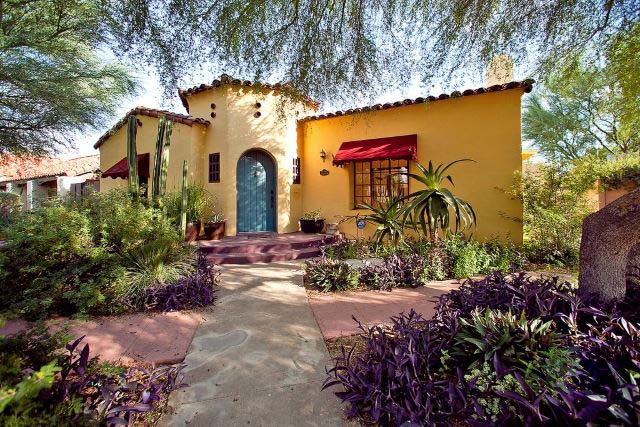 The golden hues of this home are enhanced by the green and purple vegetation that surrounds the path.
Try drought tolerant plants such as Wandering Jew and purple sage bush.
12. Make Your Yard Stand Out with Arid Trees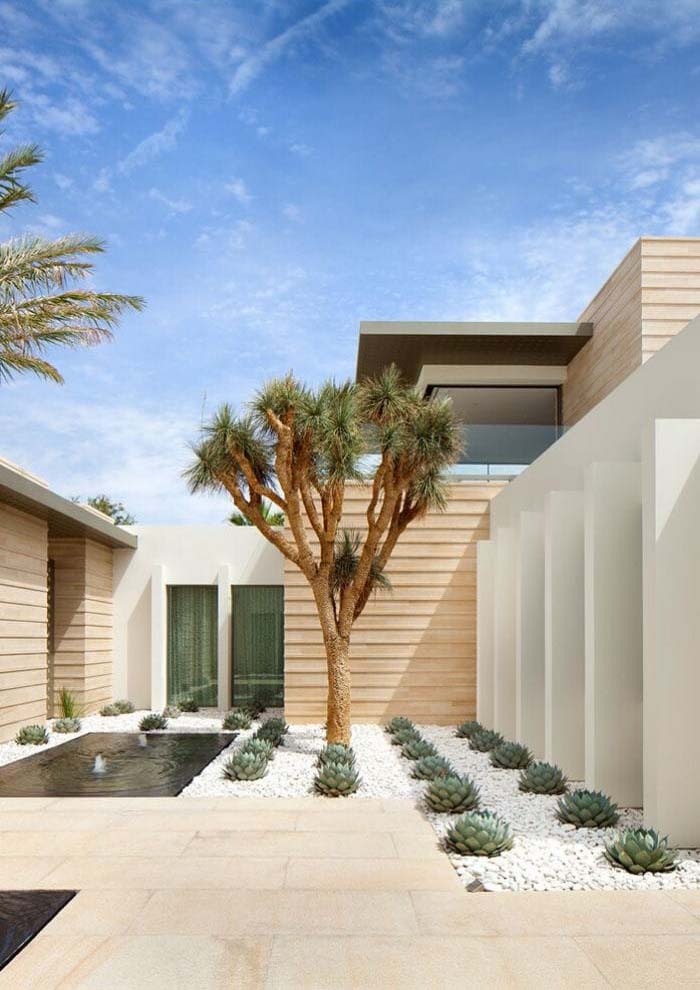 In daylight, we see the Joshua tree still stands as a focal point for this garden.
Other trees that do well in arid climates and sandy soil include Pecan, Catclaw Acacia, and Texas Ebony.
13. Elevate Dry Riverbed Landscape with Bluish-Green Succulents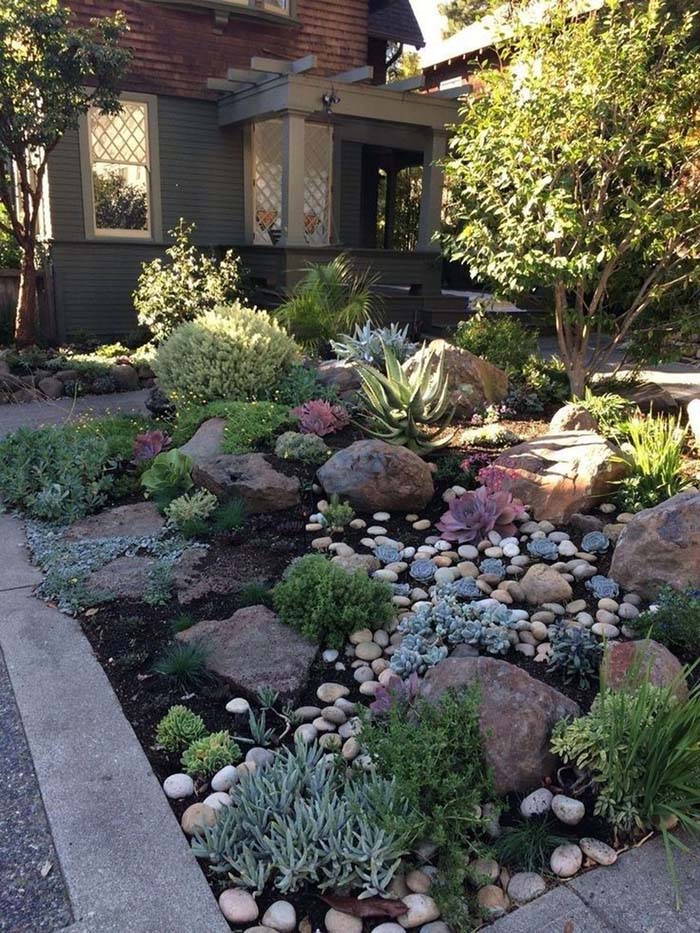 This front yard looks like a dried river bed. Boulders frame the waterway and river rocks fill the path.
Using bluish-green succulents.
14. Make a Stunning Corner Garden Display with Diverse Flora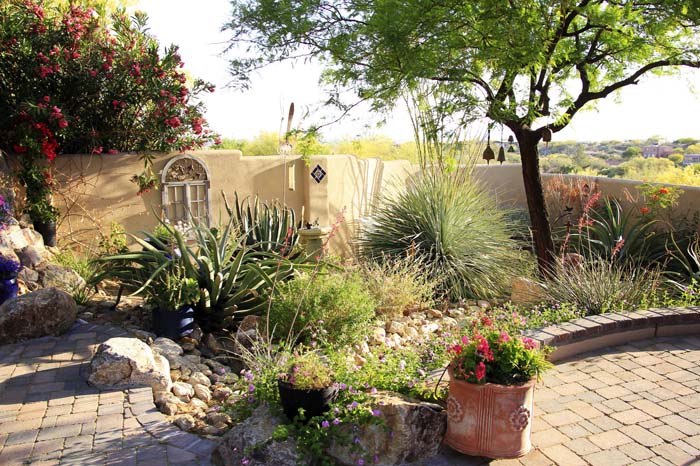 This corner garden is filled with all types of cacti, flowers, and succulents.
Large rocks fill in and around the vegetation. A window frame hanging on the back wall adds interest.
15. Add Splendour to Your Desert Landscape with a Fire Pit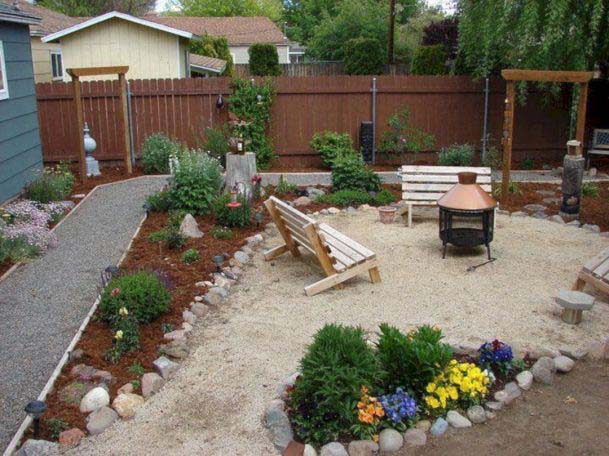 A firepit needs a lot of dry surrounding area.
This is easily done by laying down weed-blocking stuff, pea gravel, and a portable fire pit like the one shown.
16. Enhance Flagstone Path with Drought-Tolerant Ground Cover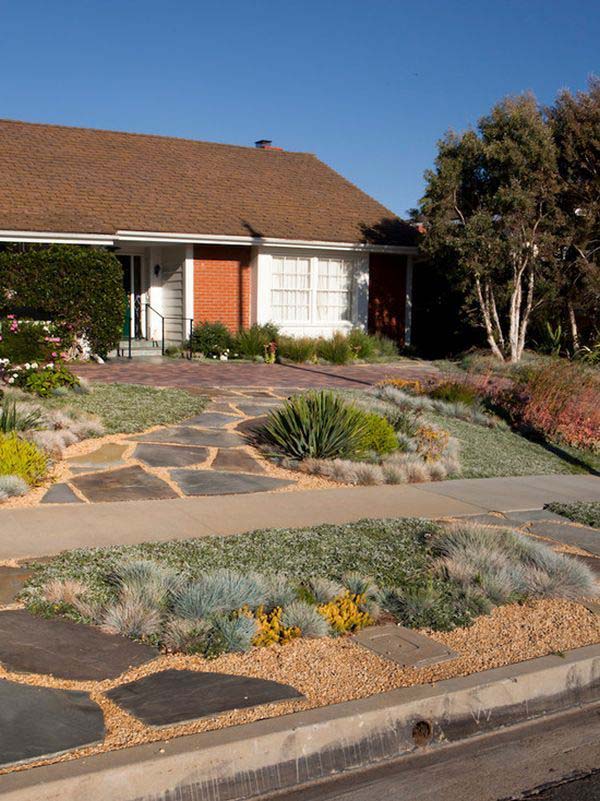 The homeowners extended their walkway to the street by adding flagstone pavers on pea gravel.
Drought tolerant ground cover such as Dymondia fills in the small areas.
17. Add Texture and Definition with a Wildflowers Garden
Wildflowers can be contained in natural-looking beds.
They add plenty of color without looking like they're out of control.
18. Step into Paradise with a Lush Desert Garden Landscape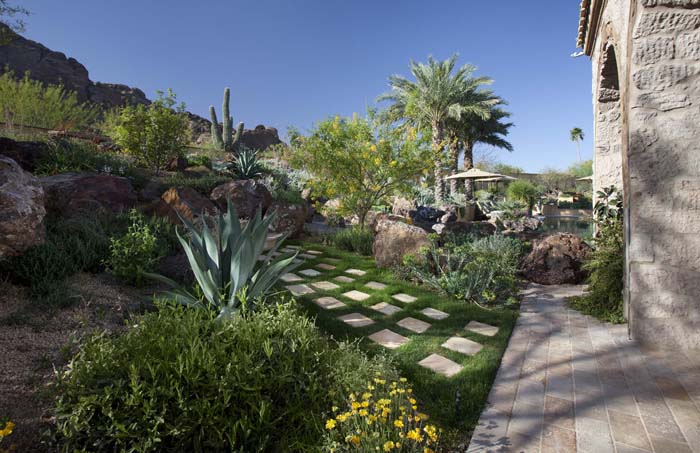 This backyard is a jackpot of desert garden ideas. The hill is dotted with drought-tolerant vegetation.
Square pavers create a path through the heat-loving grass. Desert palms add a dramatic backdrop to the pool and patio area.
19. Bring Contrast to Your Desert Landscape with Large Boulders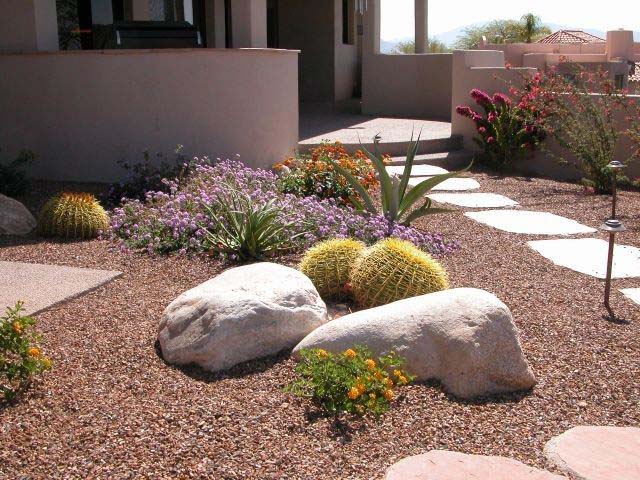 Bringing in large boulders adds interest to this yard.
The contrast of marigolds, golden barrel cacti and desert ice flowers is captivating.
20. Desert Landscape with Golden Barrel Cacti and Date Palms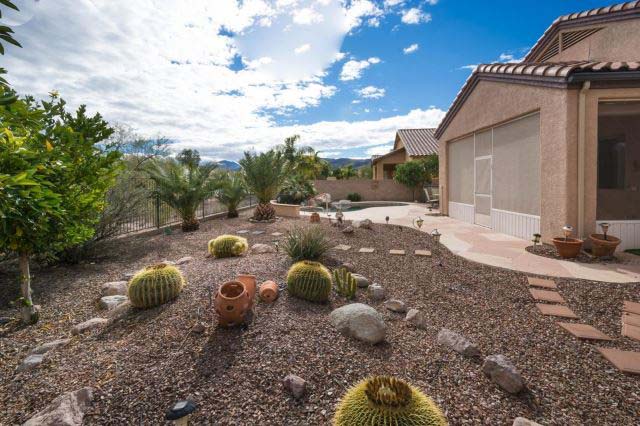 Break up a large yard into sections using medium-size rocks. Golden barrel cacti are contained in one section.
Date palms are planted next to the fence for added privacy. If you're looking for cheap desert landscaping ideas, you can't go wrong here.
21. Add Modern Flair with a Minimalistic Garden Landscape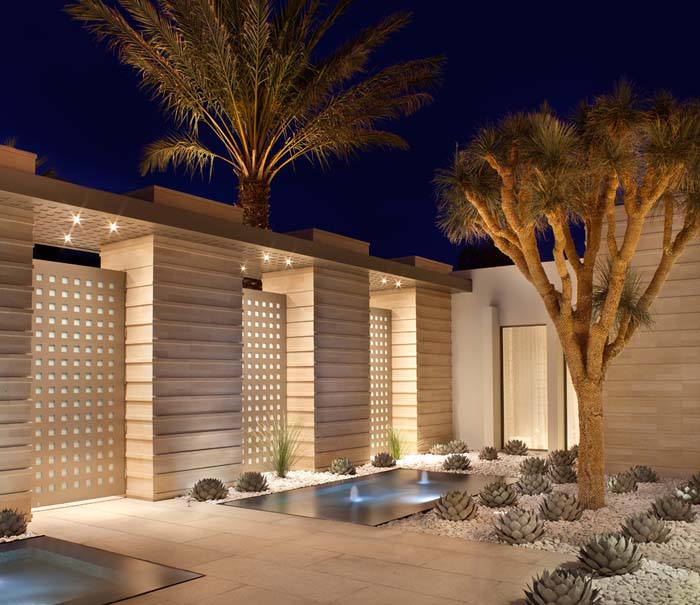 Plants are planted with a purpose to create a high style in this garden.
The magnificent Joshua tree towers among the orderly agave plants.
22. Adorn Backyard Pool with Rock Pathway and Succulents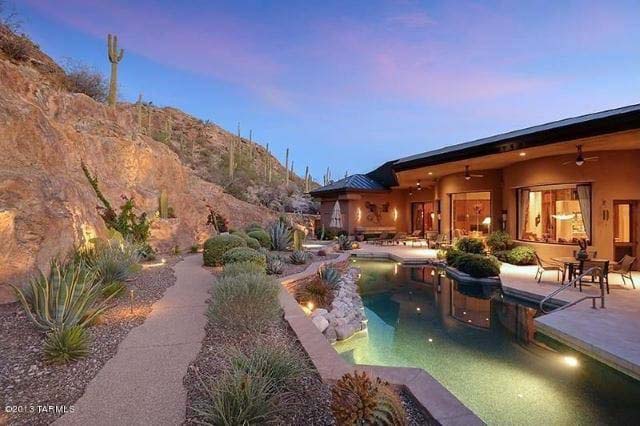 The homeowners created a path through the middle of a rock garden with a line of succulents.
The path follows the pool to the patio area.
via Houzz
23. Modernize Your Porch with Patterned Gardens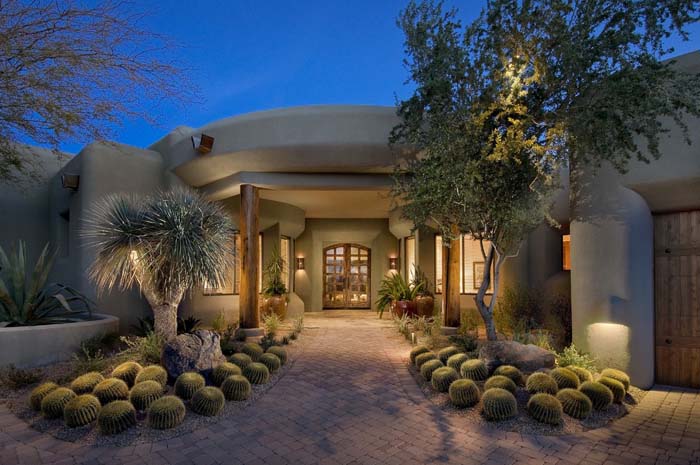 The golden barrel cactus look fuzzy in the garden beds. Square earthen bricks add contrast.
The trees add height to the entrance.
via Studio Nabena
24. Showcase Your Home's Beauty with a Pea Gravel Walkway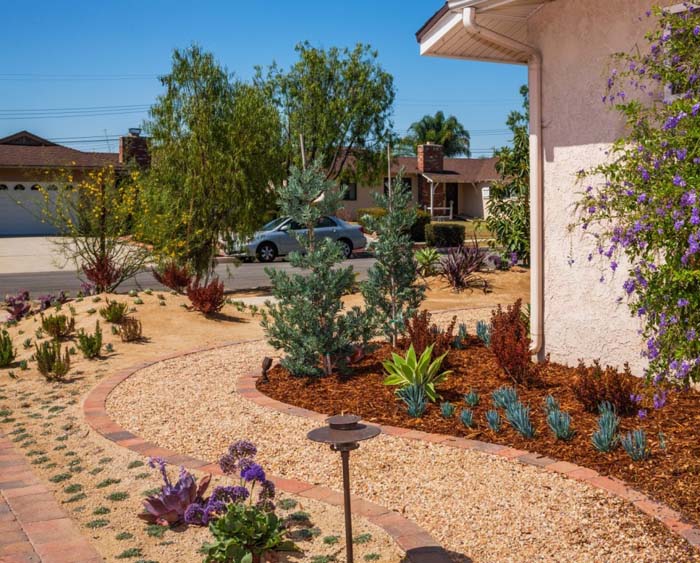 The path around the side of your home doesn't have to be left out of the fun.
Add a path that leads to the backyard. Red bricks and plants like the purple desert salvia keep the small gravel from scattering.
25. Uplift a Modern Home with Contemporary Plant Beds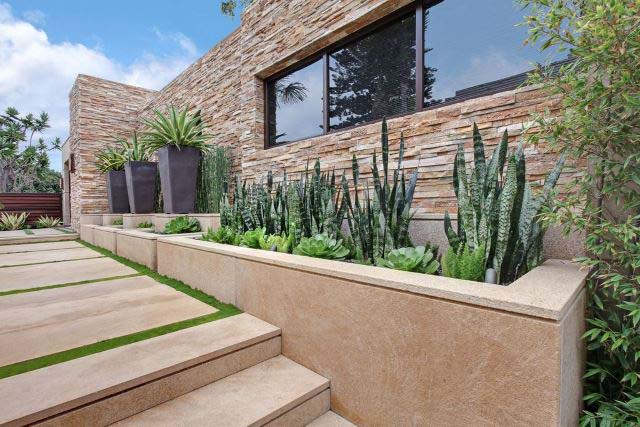 The wall contains Sansevieria trifasciata, which is another variety of snake plants.
They'll grow over two feet high.
26. Elevate Your Raised Garden with Bonsai Trees and Flagstones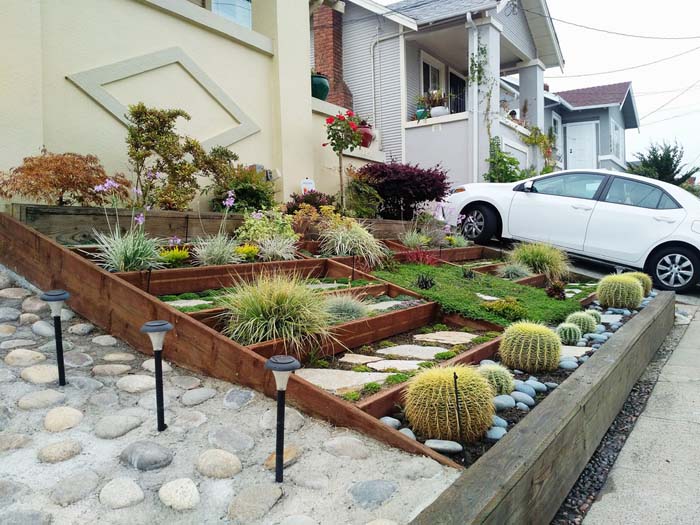 Garden beds don't have to showcase flowers.
Create interest in the tiers with simple plants and flagstones. The top tier showcases bonsai trees.
via Solscapes
27. Indulge in the Lavish Look of Multi-Colored Rock Decor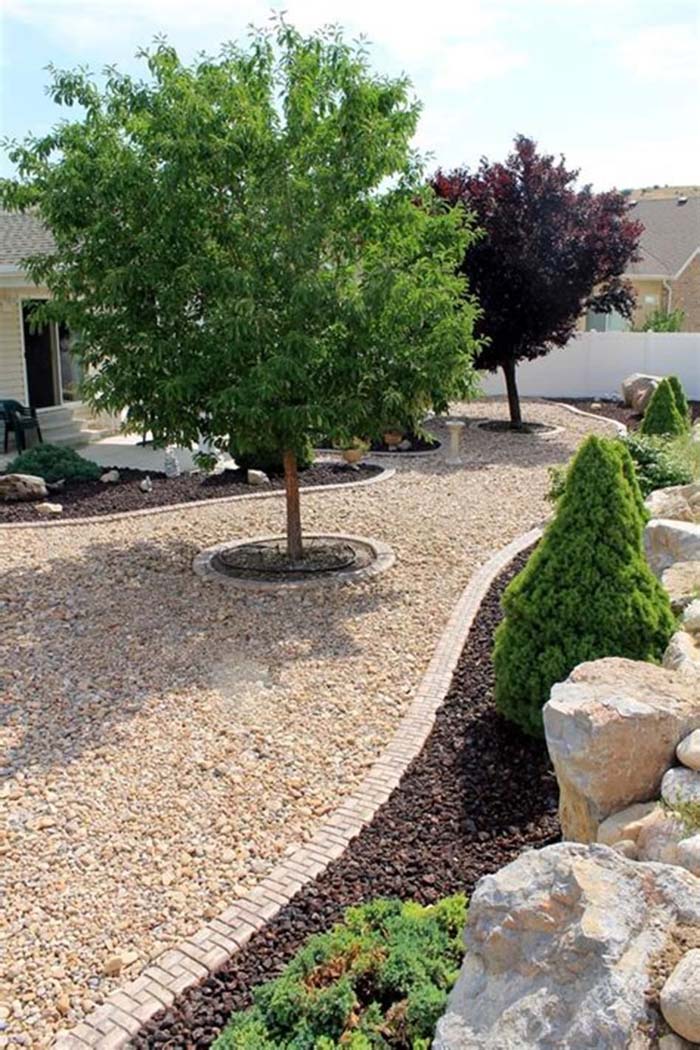 Decorating with rocks doesn't mean it needs to be monochromatic.
Light and dark brown gravel are separated by an edge pattern of small bricks.
28. Rock Riverbed Landscape Design for Low-Maintenance Yards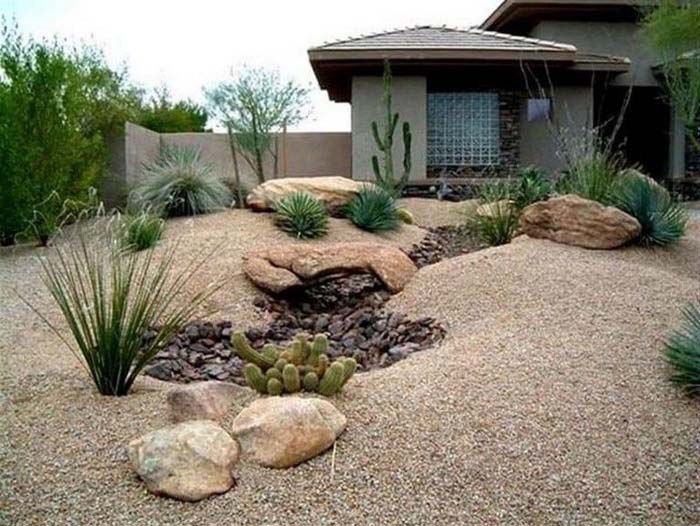 This riverbed idea is almost exclusively made up of rocks. You can create a feature like this using large boulders to create a bridge.
It's a visually interesting yard that takes advantage of its natural slope and requires no maintenance.
29. Upgrade Walkway with Herringbone Brick Path and Vines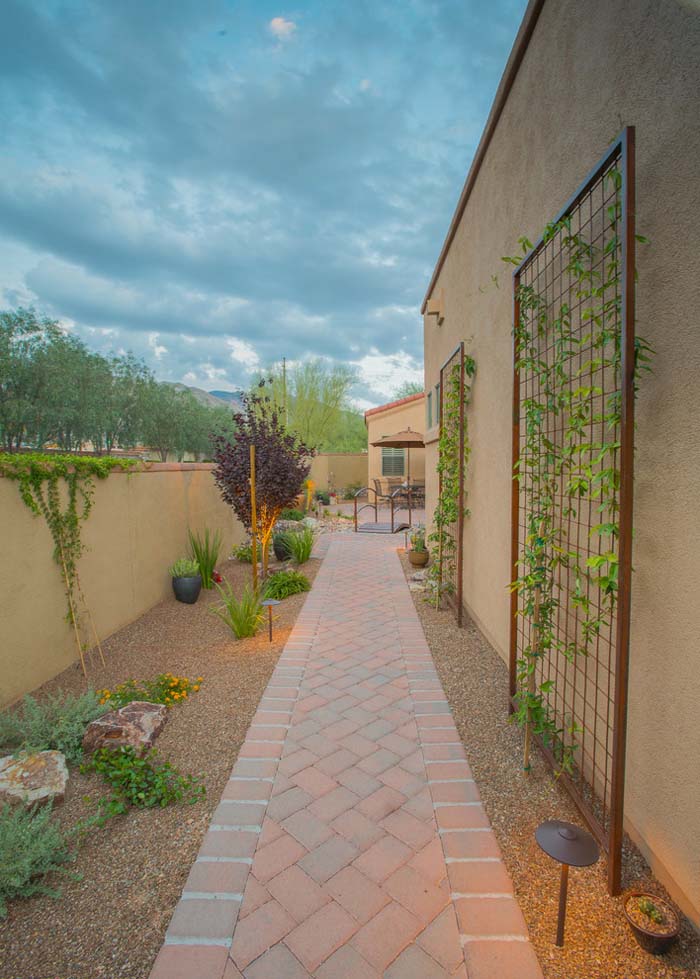 Fill a walkway with pea gravel and add a brick path in a herringbone pattern.
Varieties of flowering vines that tolerate heat are clematis, common trumpet creeper, and honeysuckle.
30. Get Unmatched Aesthetic with a Waterfall and Pond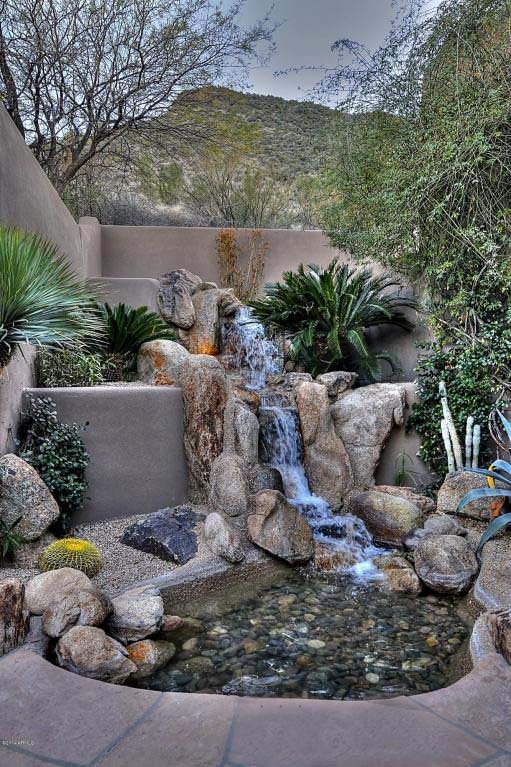 A waterfall reaching a small pond is featured.
Take note of the cacti and boulders resting on the tops of the cement-poured retaining walls.
31. Boulder Desert Landscaping with Brick and Cacti Garden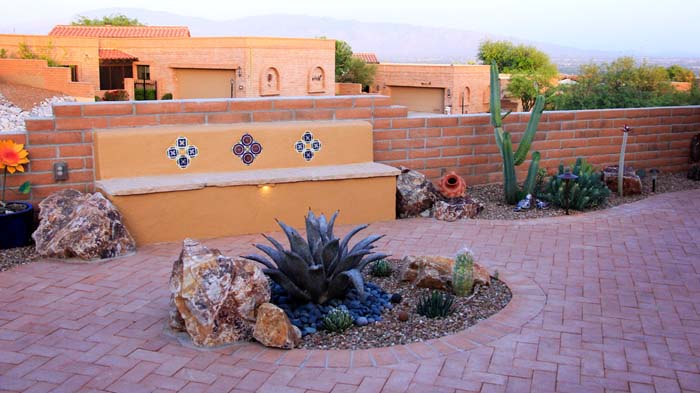 If you have boulders in your yard, use them as a starting point for inexpensive desert landscaping ideas. Bricks are laid out in a diagonal basket weave pattern.
A small circular rock and cacti garden were built next to the boulder. Bench seating was built next to the boulder against the brick half-wall.
32. Add Style to Desert Landscape with Neutral Palettes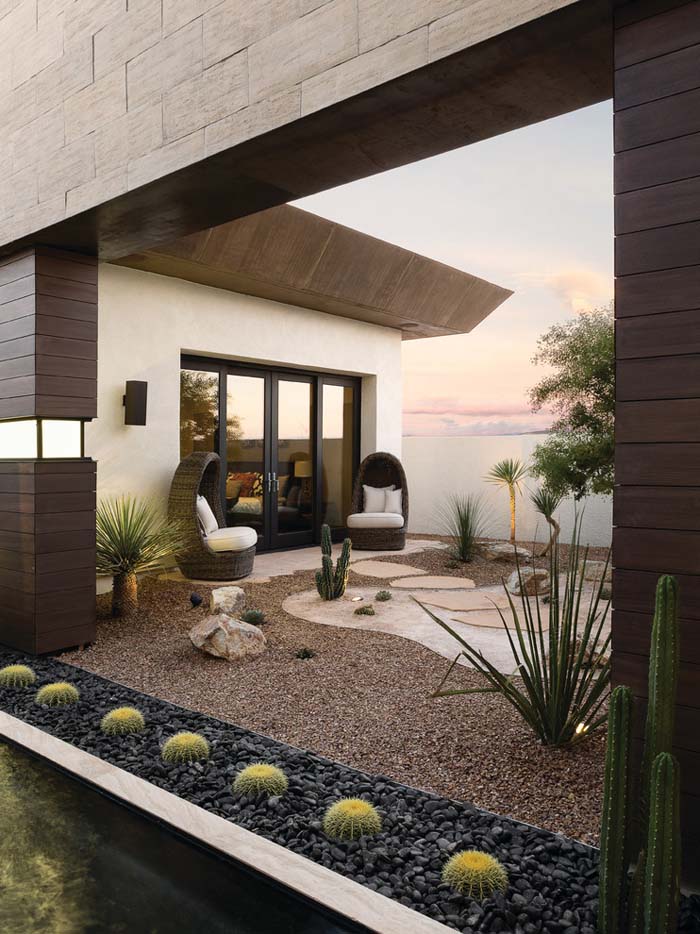 Stick to a neutral color palette to create a high-end, calming desert landscape. A few traditional cacti dot the pea gravel.
Flagstone pavers rest on the walkway. Small golden barrel cactus rest in a row of lava rocks.
33. Create a Glamourous Retreat with Yellow Wildflowers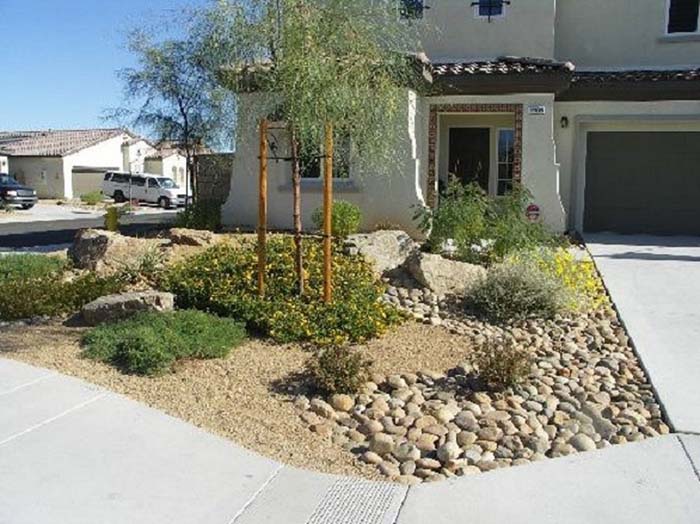 This rock garden got a colorful boost when yellow wildflowers were added around the base of the ironwood tree.
Depending on the climate in your area, look into Brittlebush, Mexican Gold Poppies, and Yellow Cups.