Creating a great backyard oasis doesn't have to be difficult – even if you live in a townhouse. With some simple planning and creative ideas, you can turn your small townhouse backyard into an outdoor space that will be the envy of your friends and neighbors.
Whether you are looking for ways to entertain guests or want to relax and enjoy the outdoors, check out this list of great townhouse backyard ideas we have put together for you.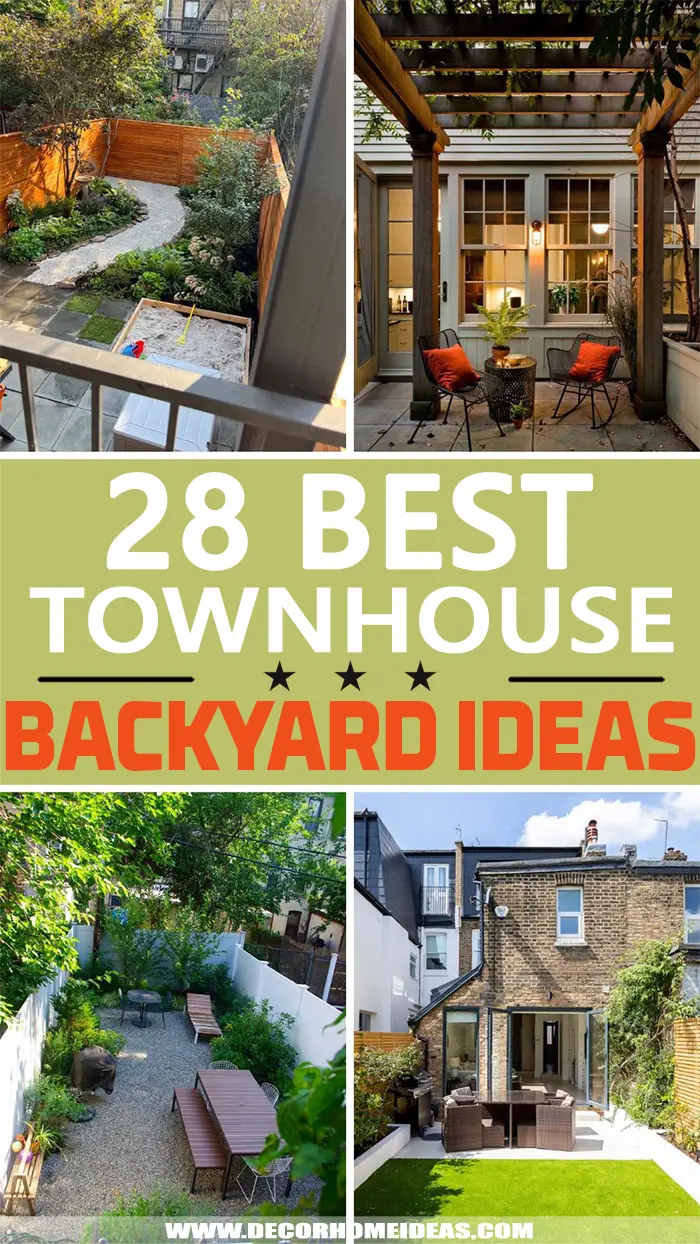 You can do many things with a small area in your backyard. Here are some ideas to consider:
Create a relaxation area: You can set up a hammock, a water feature, or a meditation corner in your backyard. Add a potted plant or two for extra color. This is a great way to create a peaceful and tranquil space to unwind after a long day.
Ultimately, you shouldn't feel constrained when working through townhouse patio design ideas. Small backyards still have big potential. The possibilities are endless and you can create a space that reflects your personal style and interests.
Whether you're in London, New York, or Sydney, making a beautiful backyard on a budget is certainly possible with some creativity and resourcefulness. Here are some tips to consider:
Add some personal touches: Adding personal touches to your backyard can make it feel more unique and special. Consider hanging up some homemade artwork or creating a DIY bird feeder.
1. Simplify the Color Palette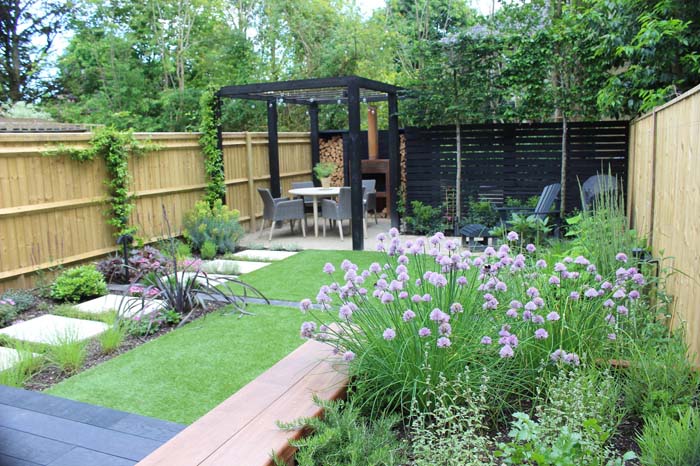 This backyard achieves a minimalist and modern look by integrating a simple linear motif with organic elements.
The back fence and pergola have a modern black look, as do the patio pavers along the side. Sticking to a lavender palette, the florals stand out against the bamboo side fencing.
2. Modern Townhouse Design with Dwarf Trees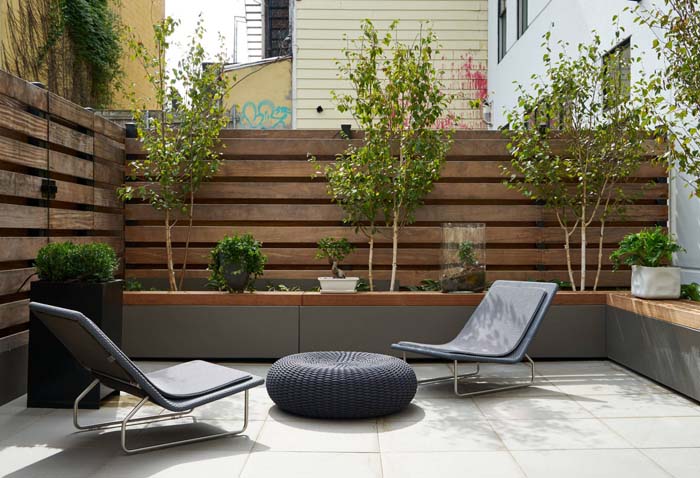 Small trees are a possibility when using a raised garden bed. The wooden horizontal slat fence has the weight the backdrop needs for these thin trees.
The entire patio is kept modern by sticking to a gray and wood color scheme. The sophisticated look is complete by using concrete pavers, a pouf coffee table, and modern lounge chairs.
3. Use Vertical Gardens to Manage Height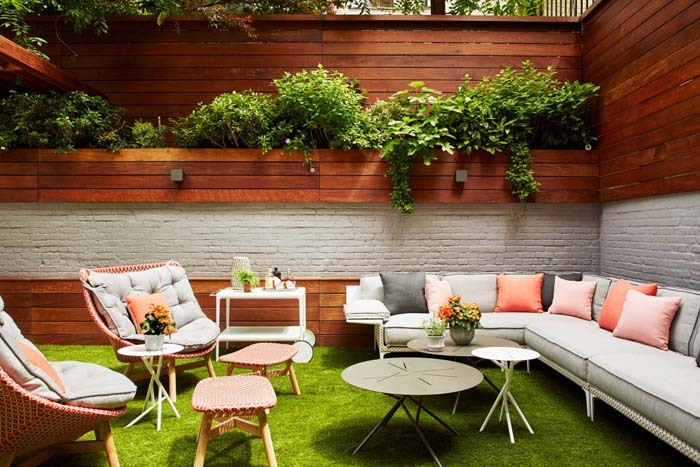 A higher wall doesn't have to feel closed in. Elevation is embraced by using garden beds halfway up the wall. The bottom brick is painted a light beige to bring more light into the space.
Artificial turf replaces a lawn and adds the greenery the space needs. Like the comfortable rattan chairs, an L-shaped couch brings high-end sophistication to the space.
via DHD Architecture and Interior Design
4. Make it Feel Natural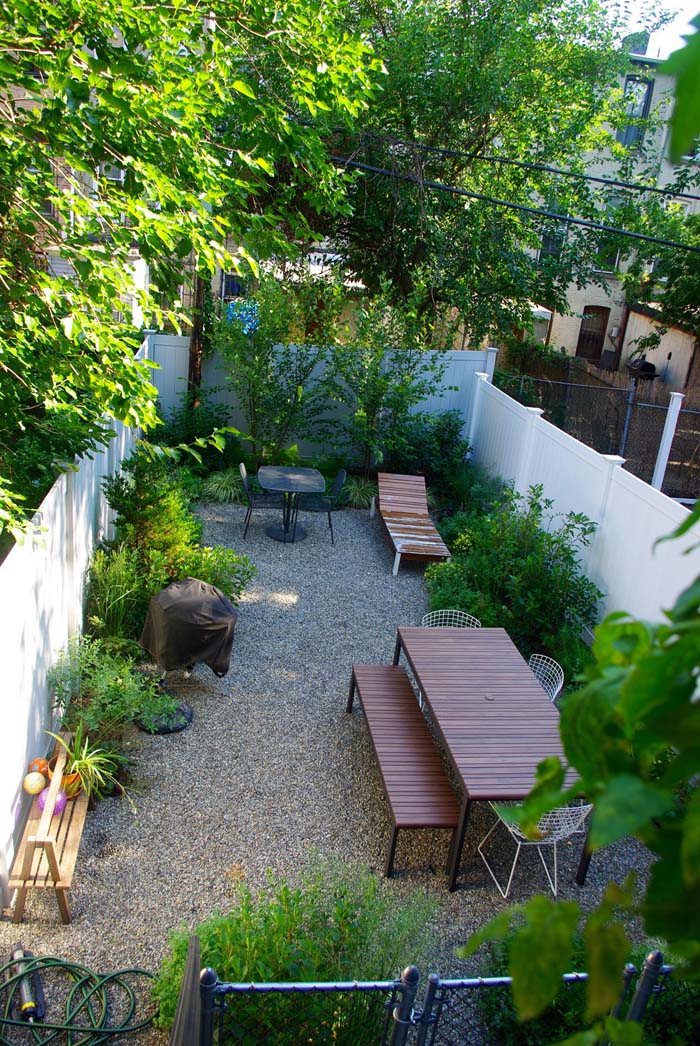 Take landscaping ideas from larger homes and to a smaller piece of real estate. With its greenery around the perimeter, the whitewashed fence looks like it could be in any suburban neighborhood.
Pea gravel makes maintenance easy and eliminates drainage issues. The patio furniture has an industrial reclaimed industrial look.
5. Stunning Pergola and Privacy Fences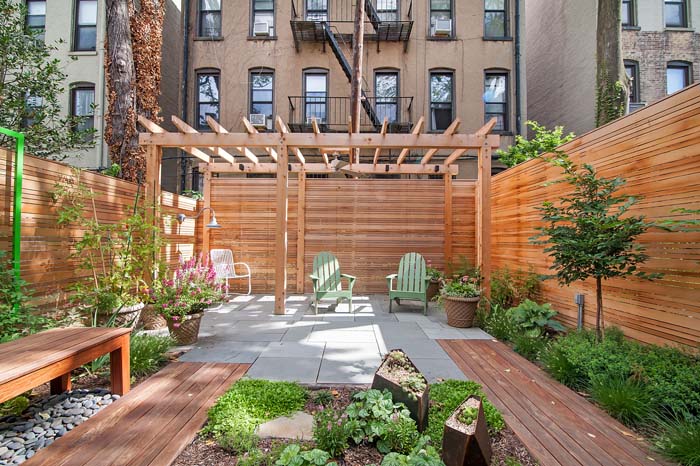 An easy way to eliminate the problems with grass is to eliminate it altogether. This patio uses minimal low ground covering, wooden slats for walkways, gray pavers, and river rocks.
The horizontal slatted fence line leads directly to the large pergola, creating intimacy against the urban backdrop. The light box near the tree indicates that there may be lighting here that we can't readily see. Lights can be hung over the pergola, set up in the garden beds, or even strung through the branches of the tree.
6. Use More Wood and Unique Features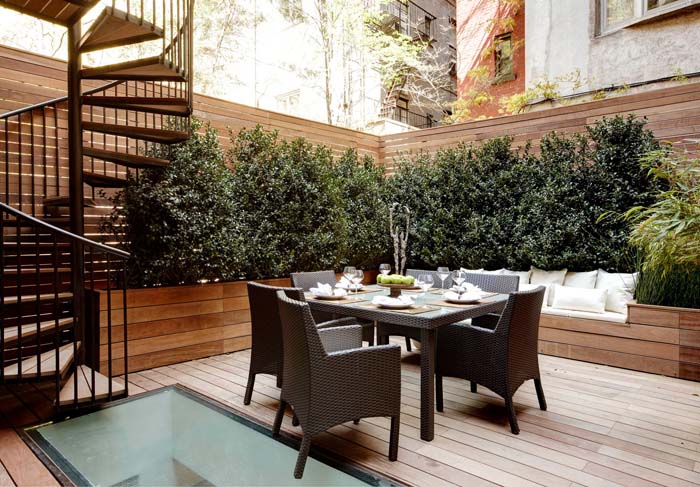 If you have unmovable features in your backyard, bring them into the design.
Traditional patio furniture looks stunning against a backdrop of vertical slat fencing, a raised garden bed full of dwarf arborvitae, and integrated bench seating. The skylight adds an incredibly interesting feature, especially sitting right next to the spiral staircase.
via ANNIE CLAIRE
7. Try Tiered Gardens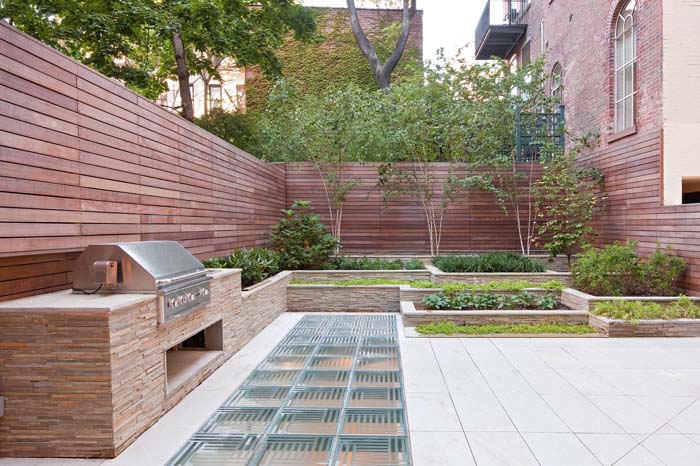 A larger patio doesn't have to be flat. A terraced landscape creates interest without adding labor. This patio had to accommodate a skylight, but that didn't deter the architects from including a full-sized grill and trees.
8. A Path to Nowhere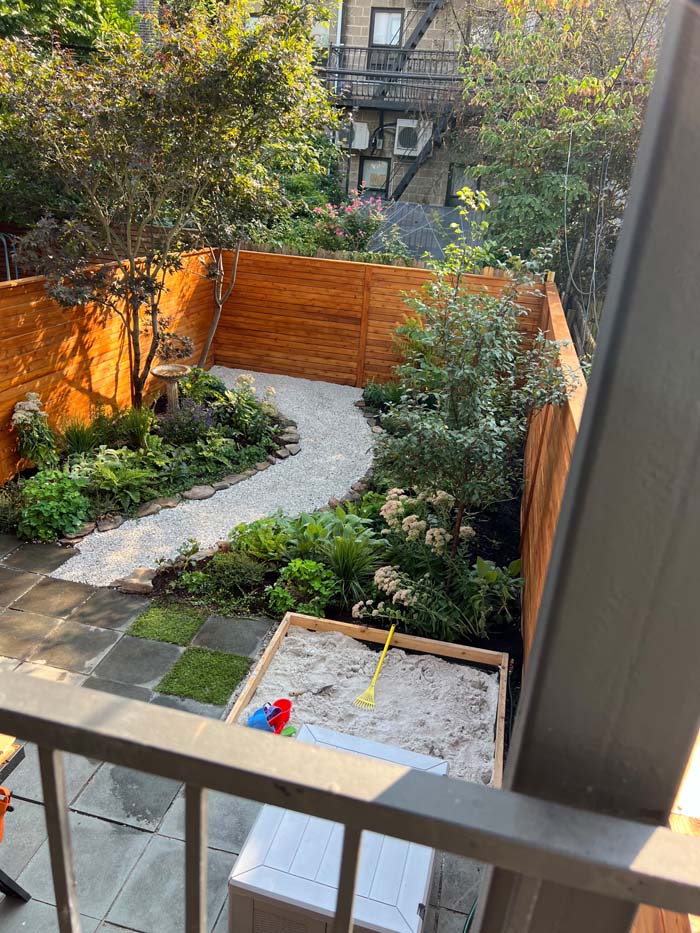 One way to create a visually pleasing garden is to create interesting vignettes within the small space. A dry river bed is an unexpected surprise in this backyard.
The path leads to nowhere, but this is common in many small gardens. The small sandbox can easily be covered with pavers or converted into a Zen garden as the children age out of the play area.
9. Monochrome Gray and Green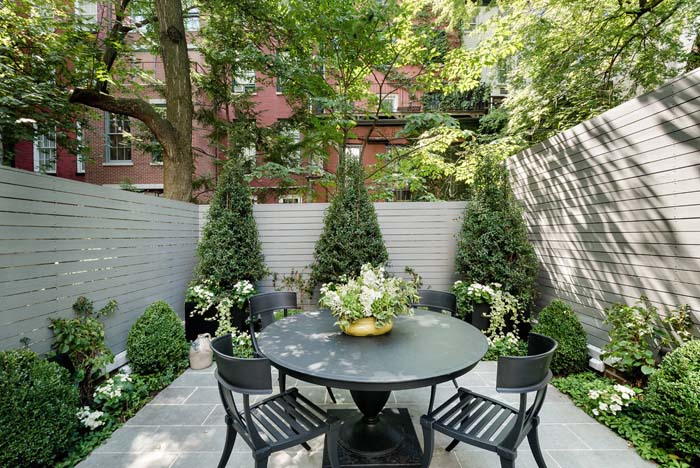 An easy way to unify an area is to stick to one or two colors. This monochromatic backyard keeps things simple by keeping the greenery around the edges and sticking to shades of gray for the fence, pavers, and patio furniture.
Sticking to a single color for the flowers keeps the scene peaceful while softening the overall look.
via Suk Design Group
10. Bluestone Beauty
Bluestone pavers are a popular choice for patios. They can be cut and fit to size, and their colors make them a natural fit in many outdoor settings. You can also get this look by using stamped concrete.
via Imagine Gardens & Landscapes by Beverly Ricci
11. Multiple Purpose Raised Garden Beds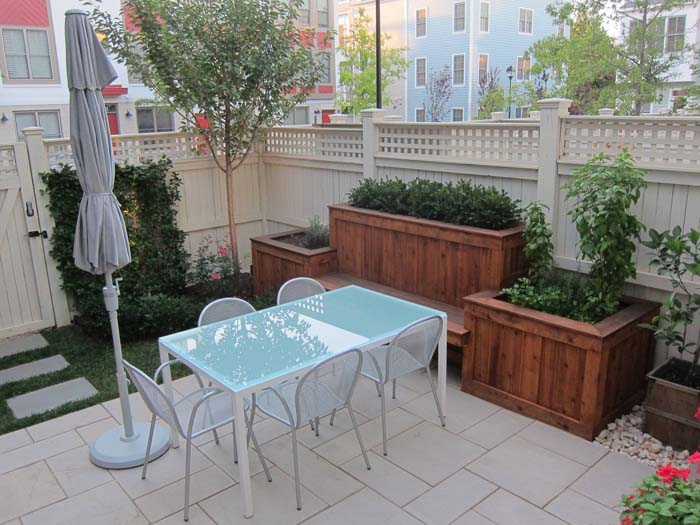 Get creative to create more seating. Planters of different sizes are used to create an inviting bench. The soft green sea glass color adds a pop of color to the table.
By adding a section of lattice across the top of the fence, privacy is maintained while adding in a subtle curiosity factor.
via Pristine Acres
12. Bring the Indoors Outside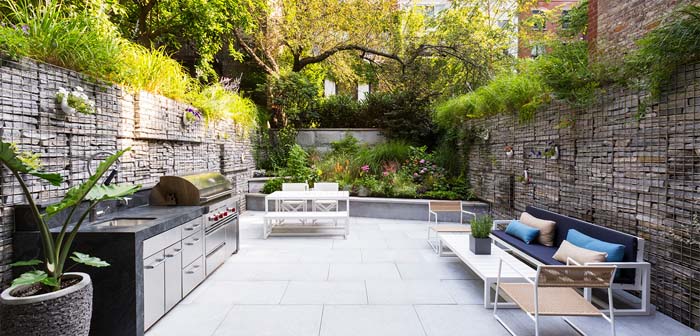 The lush greenery at the far end and along the top perimeter of this patio creates the intimacy of a forest setting. The living wall brings a sense of woodland intimacy.
A vertical garden on each side wall adds to the idea of a secret gathering place in the forest. The interior of the patio looks like an open concept home. You see a modern couch and long coffee table, a full kitchen with running water and a grill, and a small dining area at the far end. It's the perfect setting for entertaining and relaxing.
13. Plant a Tree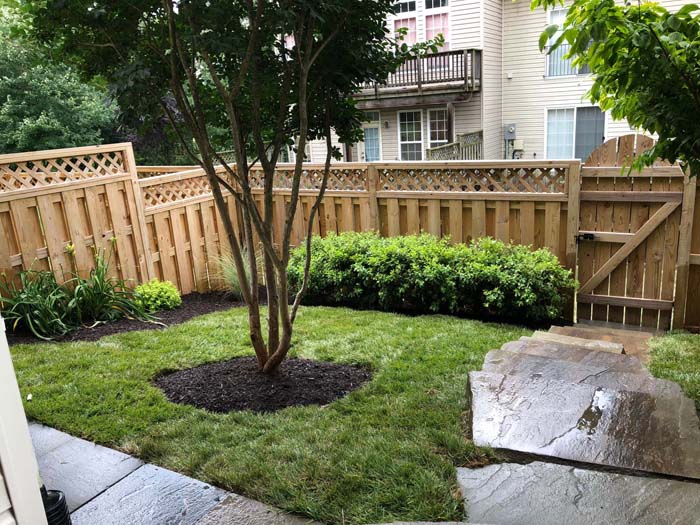 With the proper pruning and care, dwarf trees can thrive in a small backyard. A crepe myrtle can look right at home against the slab steps leading up to the back gate of this privacy fence.
14. Make it Modern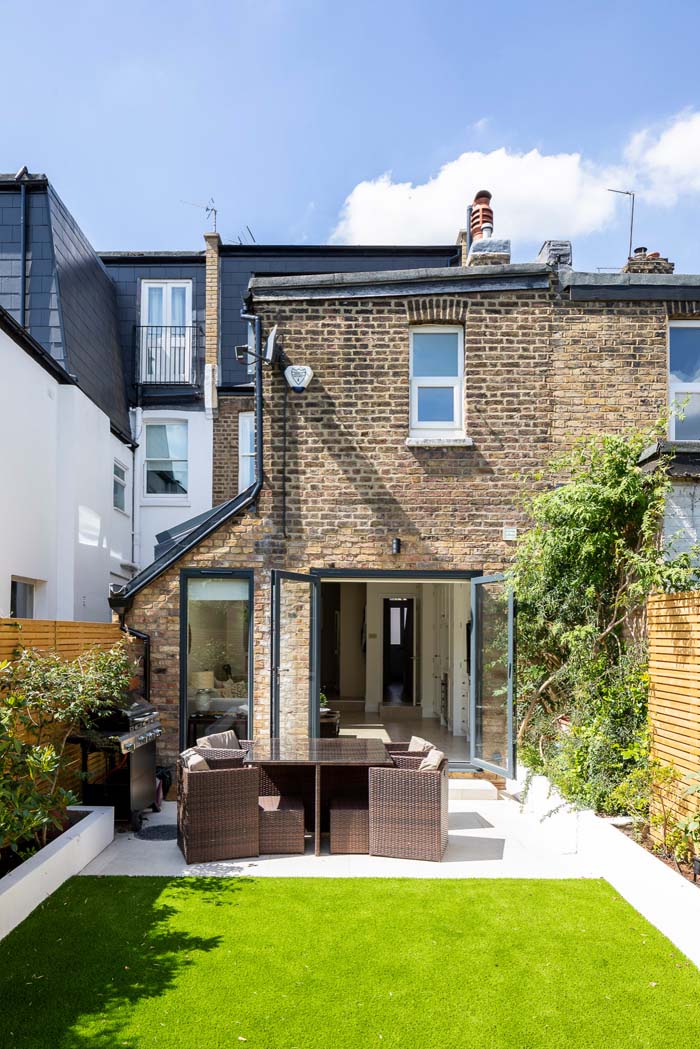 Bright white concrete or pavers look more modern against this old house. The artificial turf needs no care. The bushes are stunning with the climbing vines against the slatted privacy fences flanking each side of the patio.
15. Work with a Slope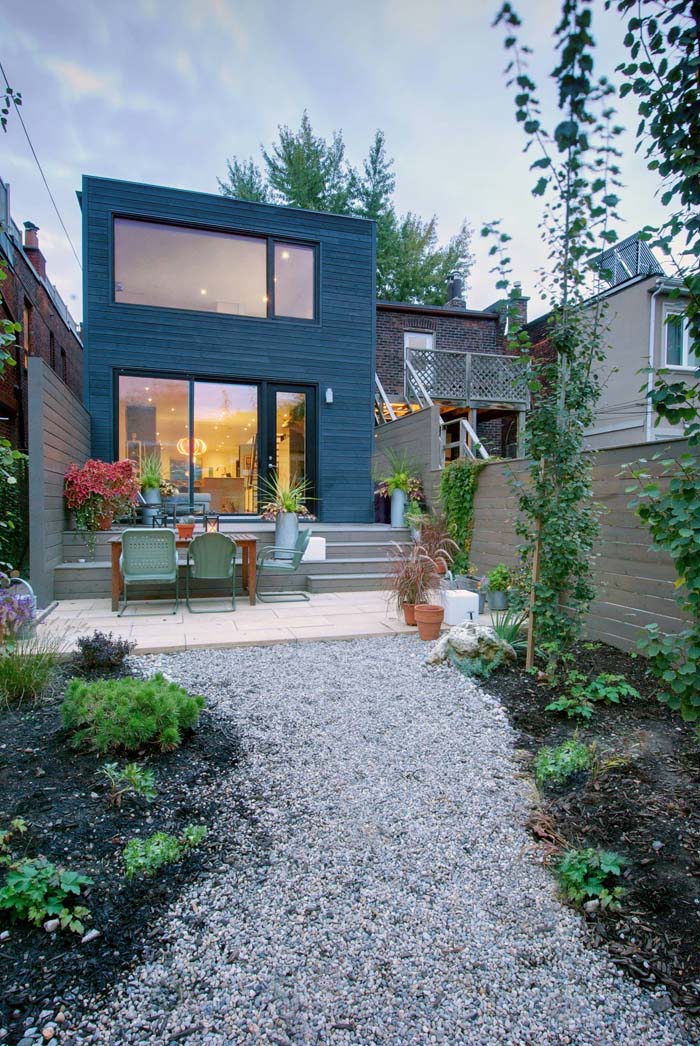 Split a long yard with a slope into sections. The first section is the gray deck, the second is the wide paver patio furnished in a reclaimed look.
The third section is a gravel and garden bed. The bed is showing off low coverings juxtaposed with tall, climbing vines.
16. Frame the Sky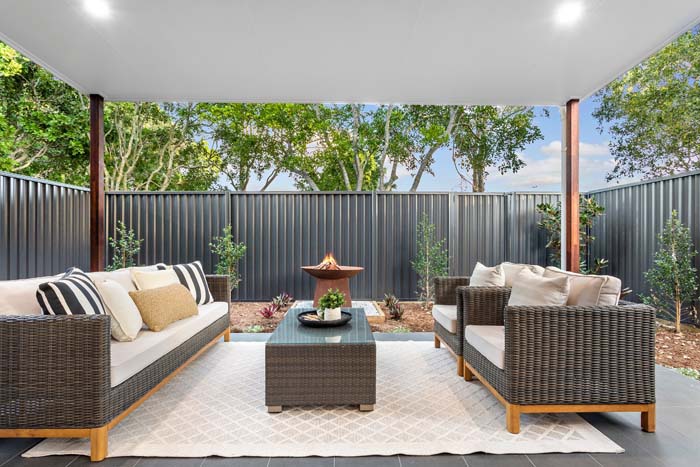 Keeping a neutral palette in this patio shows how nature will find its way into your view. The covered porch and tall gray fence frame the trees and sky.
Everything is designed to bring the eye to this view. Long, gray couches and a coffee table lead to the cozy fire bowl. It's an easy leap for the eye to move up to the sky view. A light throw rug and ceiling keep the warmth of the space glowing after sunset.
via Abbott Builders
17. Pops of Color Add Surprise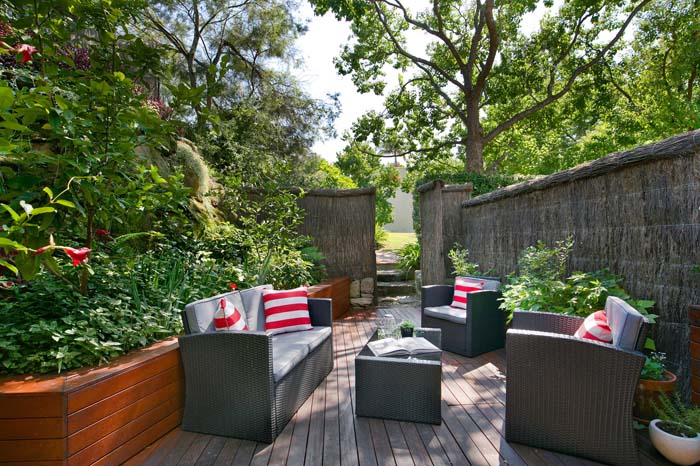 Use colorful throw pillows to keep the visual interest moving through a long patio.
The red and white striped pillows add a whimsical surprise in an otherwise neutral seating area across a simple wooden deck.
18. Add a Water Feature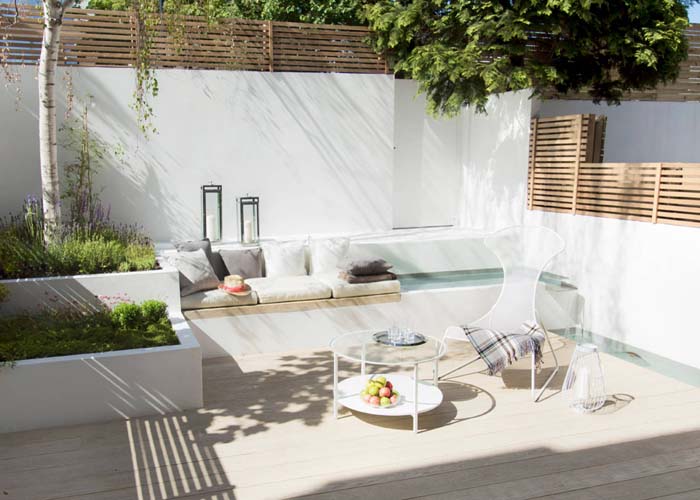 Water features don't have to be a bubbling fountain in the middle of your yard. Keep your modern home looking sleek by introducing the aqua color along the side of the yard.
A terraced garden and bench hide the plumbing. The water flows gently behind a casual seating area.
19. Go All-in with Glass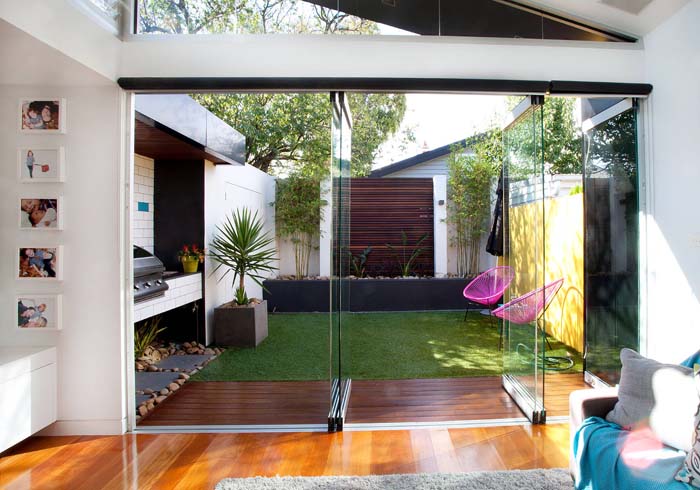 One slick way to enlarge a tiny backyard is to use floor-to-ceiling glass walls. The doors fold out to avoid a double-pane blur.
This small yard maximizes every inch and brings in whimsy with a colorful fence and pink chairs. It maximizes the amount of light coming into the home, too.
20. Refined Garden Magic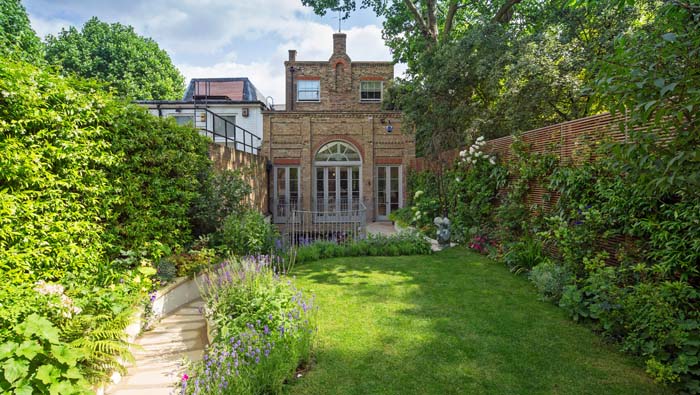 Remember that part of a garden's magic is that it should hold its allure as you gaze on it from inside your home.
This small backyard is transformed into a majestic English garden using climbing ivy and a curved walkway leading to nowhere.
21. Free-standing Pergola and Vines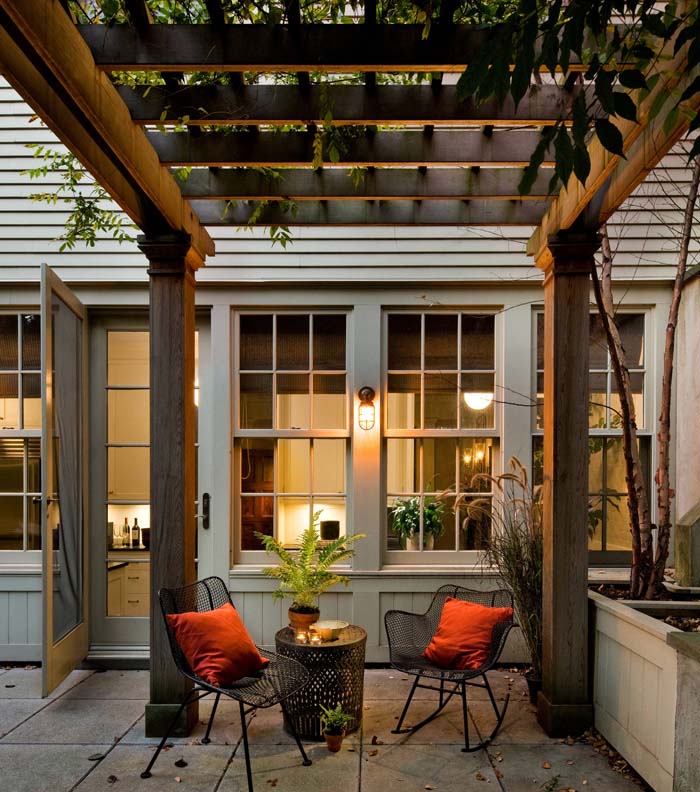 Bring weight to a yard by adding a pergola that's supported by heavy, thick posts.
A small vignette is created with metal mesh furniture, red throw pillows, and a couple of containers with ferns and foliage.
22. Extend Your Home's Style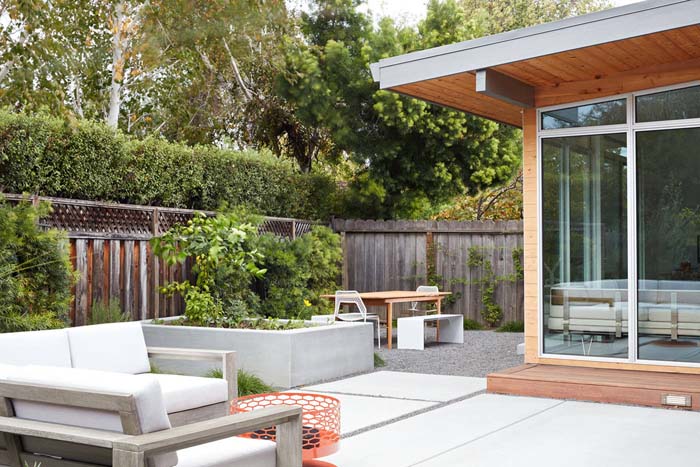 An outdoor patio is consistent with the home's contemporary makeover.
The color theme is white and gray with a wood dining table and white bench in the corner.
23. Divide and Connect Your Spaces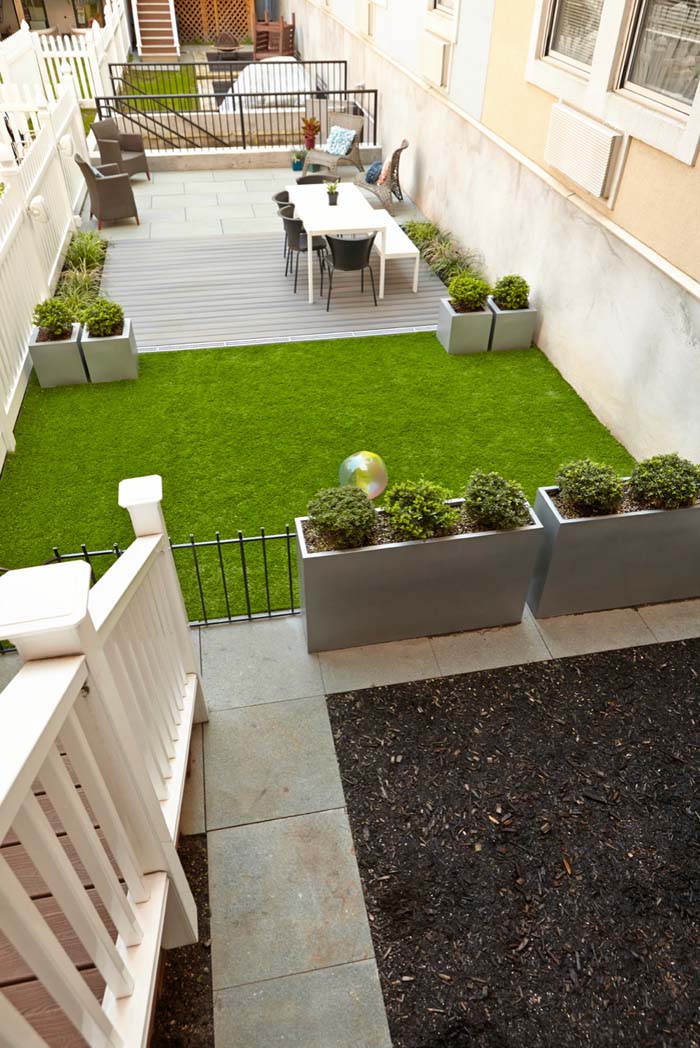 Here's another modern outdoor living space that's partitioned for entertaining. Black fencing keeps the partitions simple and open.
Squared off planters are kept in the same color and the dwarf hedges act as a visual anchor. Composite decking aids in drainage.
24. Add a Pond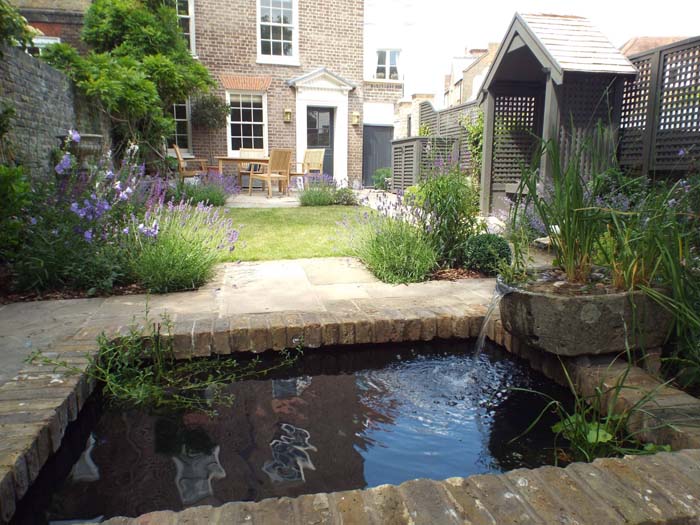 A Georgian townhouse in London gets the full garden treatment. The stone is reclaimed. The water feature has a claw-feet decoration that's a perfect fit for the scene.
25. Add a Stunning Water Wall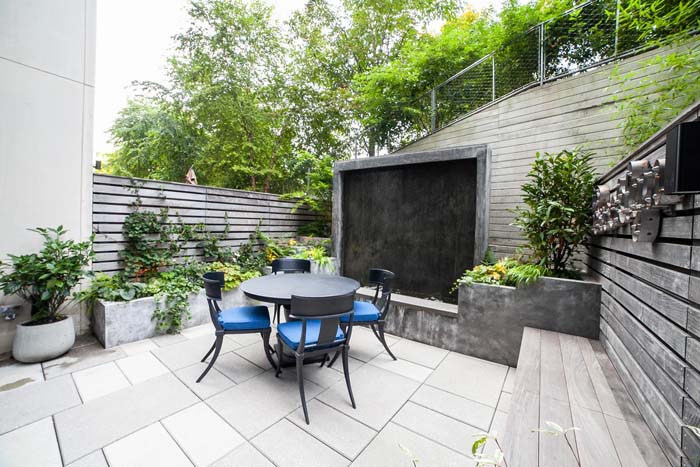 A water wall isn't meant to be a subtle feature. Like the one shown here, it's meant to be the showcase of your townhouse patio. Keep the foliage low and subtle. Keep the color palette neutral and enjoy the show.
via Outside Space NYC Landscape Design
26. You Can Have a Fire Pit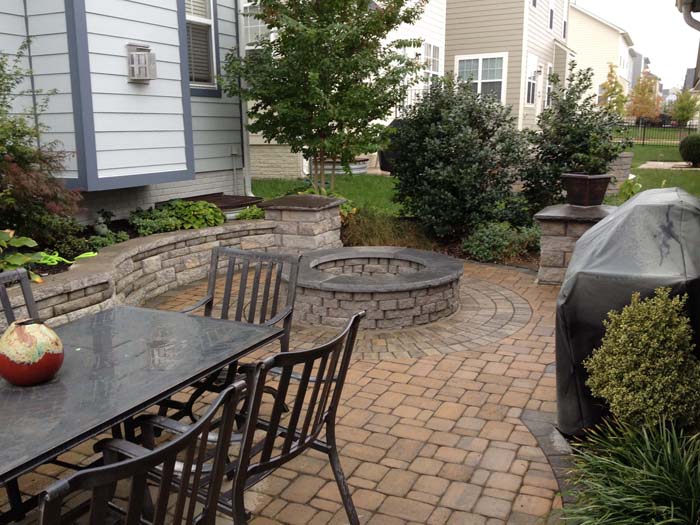 It's hard to go wrong with a fire pit. Since it dawned on mankind that fire could be a useful thing, fire pits have found their way into our homes and hearts.
Be sure the area surrounding the fire pit is fireproof and enjoy the warmth well into the evening.
via Greensward
27. Mix Your Patio Materials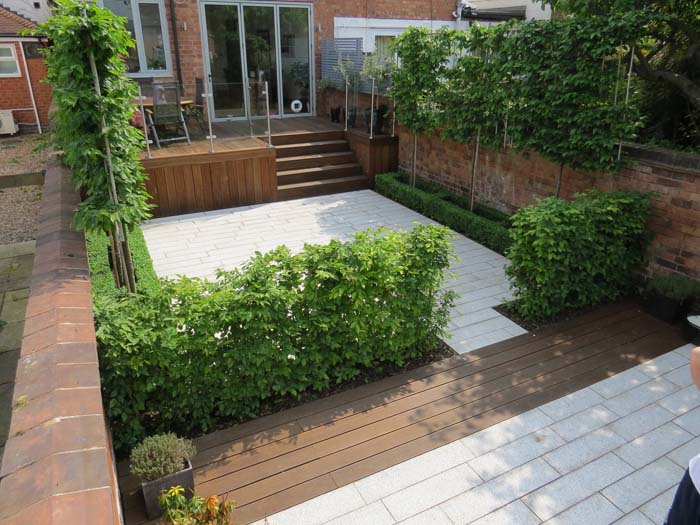 Use climbing vines to extend the height of a brick wall or privacy fence. A row of hedges adds to the privacy of the patio. The deck rail is glass to maintain the view without sacrificing safety.
28. Cobblestones Add Charm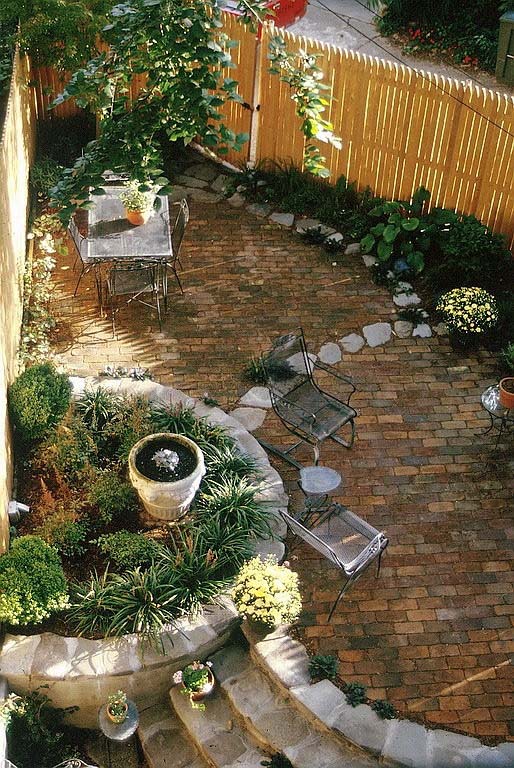 Brown clay bricks lay the foundation for a multi-tier patio. The designer used the same color of larger rocks to separate the seating areas.
Low-growing plants are used to add greenery. What looks like a possible old well is filled in with foliage. A tall urn was converted into a water feature.